Whether you're a therapist, casual learner, or are looking to try out some self-care methods, acupressure is worth exploring. A form of Traditional Chinese Medicine (TCM) that can help to enhance the body's Chi (energy flow), acupressure is still used to this day and is popular all around the world.
So, if you want to learn about acupressure either for work or yourself, this article is for you. As there are so many online courses centered on alternative medicines, it can be hard to know where to start and which courses are even legit. This review is here to help you cut through the noise and discover the best acupressure courses for you.
In this article, I've taken into account different starting points, various skill levels, and end-goals. I've also considered budgets and time constraints – such as whether you're a part-time student or full-time employed, for example..
All in all, I've set out to find the best acupressure courses – whether you're a novice or a practitioner looking to expand their treatments. So, whatever your learning goals, this article should have something for you.
That said, let's get started.
What is the best acupressure course?
Here are my top picks for the best online acupressure classes:
Of these, my top pick is Coursera's 'Acupressure'. It comes in partnership with the University of Minnesota and is led by leading professors in Spirituality & Healing. So you'll be learning from current practitioners as they recount their first-hand experience. You can take this course for free (though you'll have to pay a fee of around $49 if you want certification). And if you like it, you can go on to take the full Specialization.
If you want to take a one-off shorter course, try Udemy's 'Aromatherapy Acupressure for Pain Relief Guide'. As is often the case with Udemy's courses, 'Aromatherapy Acupressure' is geared toward hobbyist learners who are keen to self-treat.
In the end, the best acupressure course for you will be the one that appeals to your skill level and needs. It's also worth taking into account different learning styles and the amount of extra resources/practice exercises available.
So, without further ado, read our mini reviews below to get the full details!
Best Acupressure Courses Reviews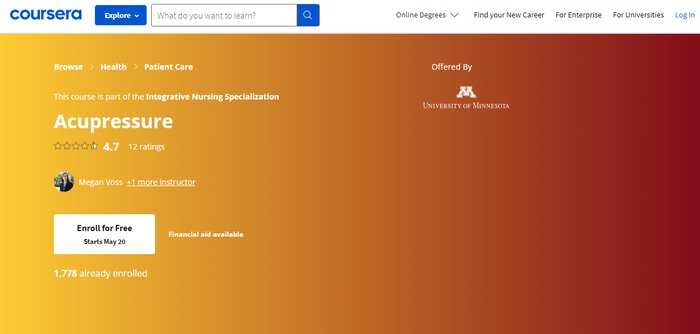 Platform: Coursera | Teachers: Megan Voss & Kim Christensen | Course length: Approx. 15 hours to complete
Coursera's Acupressure course is part of the Integrative Nursing Specialization and is led by University of Minnesota's Megan Voss and Kim Christensen. Both professors specialize in Spirituality & Healing, and Voss also serves as a clinical associate professor at the School of Nursing.
You'll learn to:
Understand the basic concepts of East Asian Medicine
Address acupressure protocols for pain management and wellbeing
Identify when and how acupressure can be used in symptom management
Use acupressure in your professional and personal practice
Evaluate the evidence base for acupressure
Pros:
Gain a deeper understanding of acupressure
Great balance of professional and personal use
Offered by The University of Minnesota
Useful and well-explained concepts
Cons:
Audio and video quality could be better
Mostly geared toward nursing students
Who it's for: As the Specialization implies, this course is mostly aimed toward nursing students who are interested in learning 'whole-body' healing. That being said, the course is a great introduction to EAM (East Asian Medicine) and has merit for self-users and client-facing practitioners alike.
Overall: This course is suited to anyone looking to gain a deeper knowledge of acupressure and its uses. You'll also learn from current practitioners as they recount their first-hand experience. It's especially helpful for healthcare providers looking to understand more holistic medicines and therapies.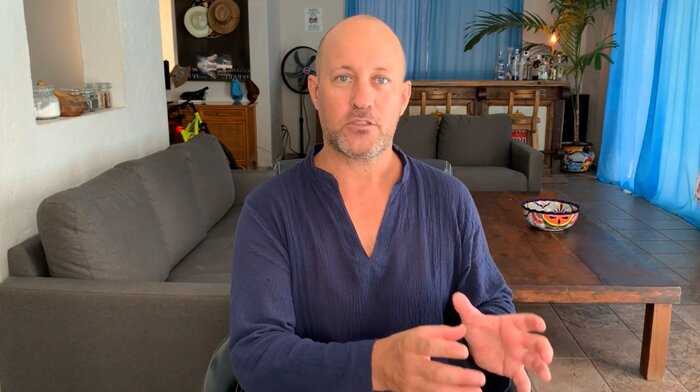 Platform: Udemy | Teacher: Mark Perren-Jones | Course length: 38 lectures totalling 2 hours and 4 minutes in length
Mark Perren-Jones is a certified Aromatherapist, Acupuncturist, and spa owner. He brings this blend of skills to a new class focused on effective pain relief guidance. With over 200,000 students to date across 60+ courses, Perren-Jones is clearly doing something right.
You'll learn to:
Use aromatherapy and acupressure techniques to treat pain
Understand different essentials oils' properties
Treat yourself and others
Identify the best acupoints for certain symptoms
Distinguish between warming and cooling oils
Pros:
A helpful and practical course divulging trade secrets
Easy to understand with a clear introduction
Uncomplicated teaching style
Excellent resources for future reference
Cons:
Delivery style is sometimes quite fast
Not as long as other courses
Who it's for: Perren-Jones designed this course for anyone with an interest in aromatherapy and acupressure – particularly those looking to use it for self-treatment or treating friends and family. That being said, as a qualified Acupuncturist himself, Perren-Jones shares a lot of tips that are helpful for incorporating into client sessions.
Overall: A short but extremely useful course for both self-carers and qualified therapists. You'll learn how to improve your treatments through effective combinations of aromatherapy and acupressure points – either for yourself, your friends, or your clients.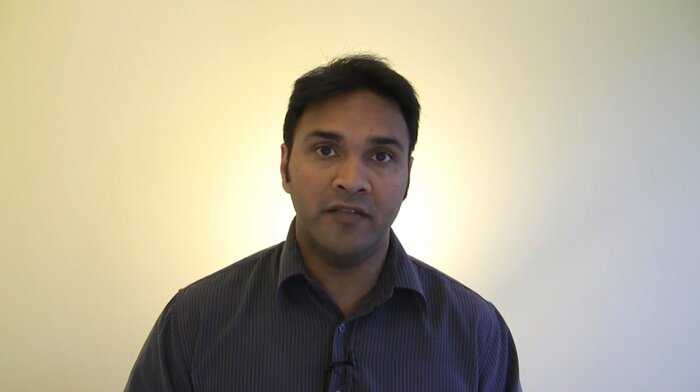 Platform: Udemy | Teacher: Jeffrey Chand | Course length: 22 lectures totalling 2 hours and 38 minutes
With a 4.8 instructor rating and 3,000+ students on Udemy, Jeffrey Chand is a Registered Acupuncturist. He is also passionate about bringing his practical experience to educate a range of health-focused students.
You'll learn to:
Identify acupoints to relieve muscle tension, pain, and stress
Relieve pain through attention to the meridians
Massage along the meridian
Incorporate acupressure into your treatments
Understand the basics of TCM theory
Pros:
Excellent course with clear teaching
Interesting and in-depth knowledge for therapists
Offers a good overview of TCM
Helpful demo videos to support learning
Cons:
Could be too basic for some
Less user-friendly than other courses
Who it's for: This course is perfect for those who are practicing TCM, massage, or acupuncture. So, if you're someone who offers treatments, Chand's course gives you some helpful techniques to incorporate into these practices.
Overall: A highly-favored class that offers a clear overview of TCM and acupressure points. While the course isn't as comprehensive as others on this list, it comes with helpful demo videos and Chand's delivery is confident and informative.
4. Acupressure (Natural Health Courses)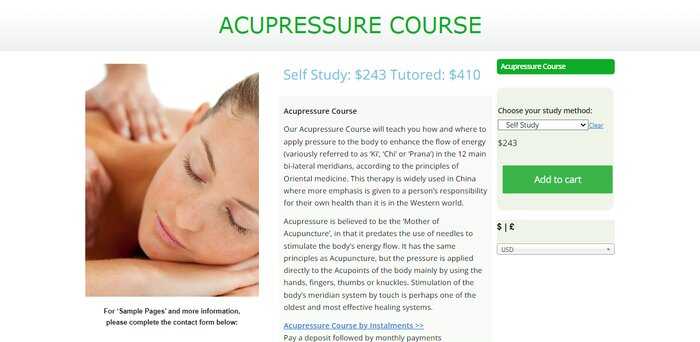 Platform: Natural Health Courses | Teacher: Various | Course length: Self-paced with 12 lessons presented in four modules (approx. 3-4 months + practice time)
Whether you're a therapist or a self-help learner, Natural Health Courses offer over 65 courses in holistic therapies – all taught by leading experts. Their acupressure course is no exception and by the end of the class, you'll be awarded an insurable qualification and diploma.
You'll learn to:
Describe and apply acupressure techniques
Understand Eastern vs Western theories
Identify and treat key acupoints
Put together professional treatment sequences
Gain hands-on experience of client/practitioner relationships
Pros:
Practical exercises with every module
Self-paced with no end date
Well laid out and easy to follow
Self-study vs tutored options
Cons:
Some complaints of unresponsive teachers
Less 1-1 teaching than an in-person course
Who it's for: This course contains over 100 hours of acupressure theory and is geared toward aspiring/current practitioners and hobbyist learners alike. With the option to gain a 'Theory-Only' diploma, this appeals to students interested in the theory side, as well as practical learning and client-therapist experience.
Overall: A well-rounded course that blends theory and practice effectively, encouraging a base knowledge of TCM as well as the practical application of acupressure. No previous knowledge of holistic medicine is needed, and The School of Natural Health Sciences (who run the course) promise to take you from beginner to expert by the end of the class.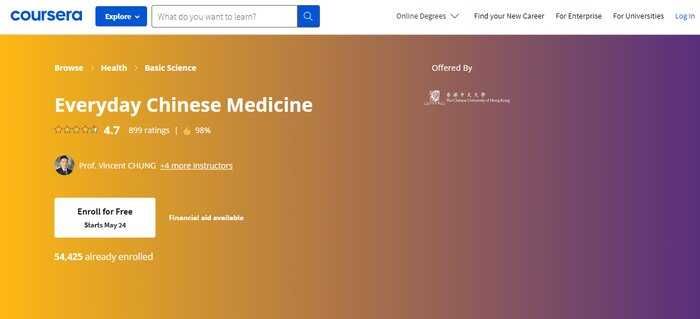 Platform: Coursera | Teachers: Vincent Chung, Wendy Wong, Justin Che-Yuen, Zhi-xiu Lin, and Ching Liong | Course length: Approx 9 hours
Led by The Chinese University of Hong Kong, Coursera's 'Everyday Chinese Medicine' is an education program for the general public. Promoting awareness and practical application, the professors in this series specialize in public health and medicine.
You'll learn to:
Develop a basic understanding of CM theory
Bridge the gap between base theories and clinical practices
Compare and contrast Eastern and Western health principles
Diagnose your own CM body constitution
Develop a self-care plan according to CM
Pros:
Informative and to-the-point course content
A great basis for anyone exploring CM
Enjoyable material and easy-to-follow tests
Concise explanations and clear graphics
Cons:
Not suited to complete beginners
No active discussion forum or 1-1 feedback
Who it's for: This course is suited to anyone interested in Chinese or Integrative Medicine. Many students come to the class with a passion for herbalism and stay for the theories and integrative teaching offered. That being said, the course can be a bit heavy for complete beginners so a basic grasp of life science theories is desirable.
Overall: An in-depth course that offers a well-rounded look at Chinese vs. Western Medicine. It also goes into traditional theories and later integrations with modern approaches. However, it is very theory-heavy, and this can be a bit much for entry-level learners.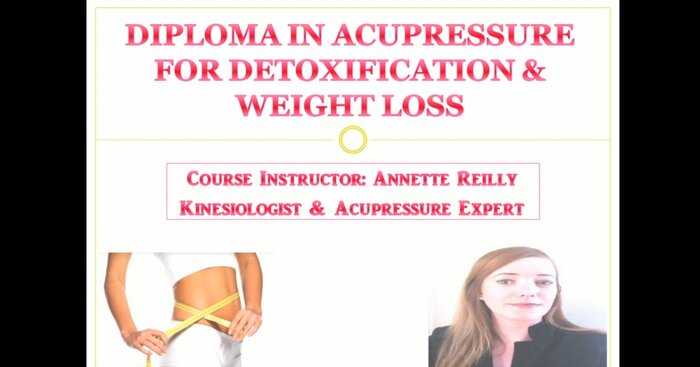 Platform: Udemy | Teacher: Annette Igoe | Course length: 31 lectures totalling 45 minutes
Annette Igoe is an acupressure expert with 27,000+ students on Udemy alone. A #1 best-selling Udemy instructor, she is also an accredited writer and researcher with further experience in Kinesiology and TCM.
You'll learn to:
Defuse stress in the body through acupressure techniques
Boost your energy levels through alternative practices
Rebalance the body's hormones with acupressure
Overcome addictions and detoxify the body
Use acupressure-based weight loss techniques
Pros:
Touches on common issues such as stress and addiction
Exact pressure point demonstrations for weight loss
Applicable for natural therapists looking to expand their practice
Detailed teaching + bonus video
Cons:
Visuals aren't always clear
Audio quality varies
Who it's for: This course is designed for anyone with an interest in detoxification for weight loss through acupressure. It's also ideal for natural therapists and anyone in the fields of alternative medicine who are looking to update or expand their treatments.
Overall: A well-laid out course with helpful information and clear structure. While the course is a lot shorter than others on this list, it's still highly informative with useful take-away points. The reference images also help to show the right pressure points and techniques.

Platform: Centre of Excellence | Teacher: Various | Course length: Self-paced with 11 modules (up to 150 hours)
Centre of Excellence is the recipient of nine international business awards for its fully-certified or accredited courses. With 1.5 million courses sold to date and lifetime access available, it's no wonder more and more students are turning to the platform.
You'll learn to:
Understand acupressure theories and how to apply them
Describe the meridian system and the organs within it
Gain a better understanding of key acupoints
Evaluate important safety points
Improve your practice by hearing first-hand information
Pros:
Fully certified and accredited course
Study group access to reinforce learning
Multiple choice quizzes to test knowledge
Lifetime access available
Cons:
No 1-1 clinical assessment
Additional charge for certificate
Who it's for: Centre of Excellence promotes this course for beginners and established therapists. If you have some basic knowledge of acupuncture, this course will likely build upon that. But, the first few modules are an introduction. So, if you're an intermediate learner, you might not get the most out of the first half of this course.
Overall: An accredited and well-rounded course covering acupuncture traditions and developments. All in all, there is a good balance of theory and practice as well as evaluations of acupuncture's pros and cons.

Platform: learndirect | Teacher: Various | Course length: 10 hours of guided learning
Learndirect's acupressure course sets out to help students learn key acupressure techniques with the goal of treating patients and improving self-health. You'll also study the meridian system and developments from Chinese medicine of the body as a whole.
You'll learn to:
Understand Eastern and Western approaches to health
Determine key acupressure points for ailments
Incorporate acupressure treatments into your own practice
Identify special situations and patient conditions
Undertake emergency treatments
Pros:
Tutor support included
Attention to multiple theories
No prerequisites needed
Includes information about future career paths
Cons:
No group forum for class discussions
More expensive than other courses on this list
Who it's for: This course has a broad appeal to anyone with an interest in alternative medicine. It's designed for both hobbyist learners or self-treaters and aspiring or current professionals treating others.
Overall: A well-rounded, instructor-guided course that teaches you the key principles of acupressure and TCM theories. You'll come away with a more detailed understanding of the meridian system, as well as the Five Elements Theory. Plus, you'll also be able to put the techniques learned into practice straight away.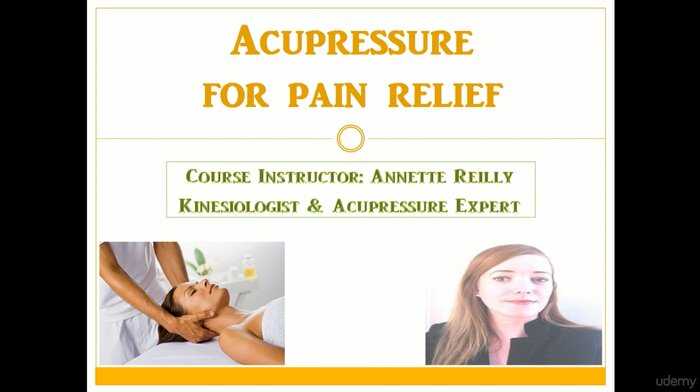 Platform: Udemy | Teacher: Annette Igoe | Course length: 32 lessons totalling 32 minutes
Another course led by Kinesiologist Annette Igoe, this class focuses on acupressure for pain relief. As Igoe advertises, this course will teach you where, when, and how to apply acupressure in order to reduce body pains and aches.
You'll learn to:
Apply pressure to acupoints
Understand the role of the meridians, and The Meridian Clock
Identify the most potent points for certain pains
Discuss the benefits of acupressure
Assess and treat inflammation
Pros:
Concise and interesting insight into TCM and acupressure points
Clear step-by-step structure
Bonus printable and downloadable resources
Quiz and case study to receive qualification
Cons:
Lack of video demonstrations
Not as comprehensive as other courses
Who it's for: Igoe has created this course for learners of 'all levels'. It's also suited to self-healers and practicing therapists alike. So, whether you want to use acupressure on yourself or others, this course contains plenty of bite-sized information on acupressure and TCM.
Overall: While the course is one of the shorter ones on this list, it packs in a lot of helpful information. Not to mention, to attain a qualification, you do have to put in additional work – namely, taking on the course quiz and further case study.
Platform: Udemy | Teacher: Annette Igoe | Course length: 140 lectures totalling 2 hours and 27 minutes
The third class by Annette Igoe that's featured on this list, 'Acupressure MasterClass' is a longer course geared toward anyone interested in acupressure for all body systems.
You'll learn to:
Apply pressure to key acupoints
Comprehend the role of the meridians
Conduct an acupressure session from start to finish
Apply acupressure for all body systems
Set up your treatment area for acupressure
Pros:
Well-explained and easy-to-understand course content
Covers a broad range of areas and conditions
100+ downloadable resources
Designed for self- or professional treatment
Cons:
Graphics not always user-friendly
Non-interactive course
Who it's for: Like most of Igoe's Udemy courses, this class is suited to students of all levels, meaning no prior knowledge of acupressure is required. That being said, this class does delve into the specifics of the body systems, so a basic understanding of biology is desirable.
Overall: A generous course that considers TCM foundations and its development into treating all body systems. You'll learn how to apply pressure for particular conditions and to understand the body as a whole.
What are the advantages of taking an acupressure course?
In short, there are many. Such as:
Learning a new skill to begin or further your career
Understanding the body to better maintain your own health
Opening doors to new careers such as natural therapy and massage
Finding a new self-care hobby that's both relaxing and good for the body and mind
Improve your understanding of alternative medicine and even biology
Buyers guide: what to look out for in an acupressure course
Choosing the right acupressure course can be difficult – especially when there are so many out there. But, I'd recommend considering these points before making a choice:
Teacher experience – if you're going to spend time and money on a course, you want to make sure that the teacher knows what they're talking about. Moreover, you want them to present information in a way that's helpful and engaging
Develops skills – even a foundational course will give you a springboard to go off from. In short, a course should encourage you to continue learning and progress your skills further
Practical results – acupressure is a skill that proves its benefits in practice. So, whether you're using it on yourself or others, you want there to be a noticeable improvement in the area you're treating
Syllabus and skill level – importantly, you want to take a course that's right for your skill level and goals. So, if you're already a natural therapist looking to incorporate acupressure techniques, you probably don't need an overview of alternative medicine
Price – of course, when it comes to online courses, money is a deciding factor. But, it's also worth taking into account the value you'll get out of a course. For example, if a course is twice the price but taught by an instructor with 10x the experience, this might generate more value in the long run
How much do online acupressure courses cost?
The courses on this list vary in price – especially as some are subscription sites rather than buy-alone courses. But, for the pay-per-course purchases, you're looking at anywhere from $40 to $200+ depending on the course content and the instructor.
For example, Natural Health Courses' 'Acupressure' course is $210 for self-study and $410 for tutored. But, this is largely because of the school's prestige, coupled with the fact that you get a professional certification at the end.
Other courses are considerably cheaper, such as Udemy's 'Acupressure for Pain Relief' at $43. But, this is also a much shorter course at 33 minutes compared to NHC's 100 hours. So, it's worth weighing up the syllabus, instructor experience, and the course length before deciding which is best for you.
With Coursera, you can take individual courses like their 'Acupressure' course for free (without certification), purchase larger Specializations on a one off basis, or go for a Coursera Plus subscription with unlimited access to 90% of the Coursera catalog. 
So, this means you can take the University of Minnesota's acupressure course, along with the wider Integrative Nursing Specialization and can also take 'Everyday Chinese Medicine', offered by The Chinese University of Hong Kong. Not to mention, you can mix and match courses from all other disciplines to get the best value for money.
For a more detailed look at Coursera, see here.
How long does it take to learn acupressure online?
The courses on this list vary in length from around thirty minutes to 100+ hours! And, with most of these classes, you also have to account for practice time. As acupressure is a vocational subject, it'll be the physical work and training that will lead to results.
Plus, many of the courses on this list have extra resources, quizzes, and even case studies, so you should definitely be taking your learning beyond the online content. You (or your clients) can also see and feel results, so your progress at the subject will be measurable.
How do we rank our results?
To put it briefly, we rank our results according to which courses we believe to be the best. Of course, this is subjective, but the factors we consider are:
Teacher experience
Provides transferable skills
Has a strong, varied syllabus
Is well taught and explained
Student feedback
Production quality
Overall impressions
Where we can, we take the courses in order to review them. But, where this isn't possible, we still research the course for student feedback, course syllabus, teacher experience, and overall impressions.
Conclusion
With the wealth of platforms and online tutors out there, you're not short of options when it comes to learning acupressure.
As mentioned above, my top pick is Coursera's 'Acupressure' course. It's an exceptional option and part of a larger Nursing Specialization on the platform. Offered by the University of Minnesota, you'll gain a strong and well-rounded understanding of acupressure as taught by Spirituality & Healing specialists.
Beyond this, there are multiple courses offered on Udemy. My favorite is 'Aromatherapy Acupressure for Pain Relief Guide'. This is because the concepts are well-explained and clearly presented. It also makes both aromatherapy and acupressure more accessible through friendly and jargon-free teaching.
If you're looking for a specialist platform you could try Natural Health Courses' 'Acupressure'. This is because it offers a professional qualification, 100+ hours of teaching, and both self-study or tutored options.
Of course, the best course for you will appeal to your interests, skill level, and learning style. Luckily, most of these courses offer previews or at least a look at the syllabus before committing. So, hopefully, this article has given you a better idea of the best acupressure course for you!
Related articles: Best online Yoga class, best online Meditation class
Best Acupressure course – frequently asked questions
What is the best online acupressure class?
My top pick is Coursera's 'Acupressure' course.
How much does an online acupressure course cost?
Courses vary on this list depending on course length, teacher experience, etc. So, you're looking at anywhere between $43 and $410.
How long do online acupressure classes take?
The classes on this list range from 33 minutes to 100 hours. But, you should also account for practice time.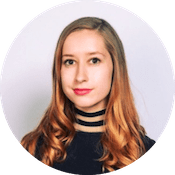 Rebecca graduated from King's College university with a first class honours in English Language, followed by a Masters' Degree in Eighteenth Century Studies.