Teaching is a profession that can change lives. We've all had that teacher who taught us something that changed us forever.
But is it possible to learn how to teach online? And if so, what is the best way of going about it? I've spent some time researching, testing and sampling teaching courses online, and I'm here to share the very best with you.
Alongside describing the best online teaching courses, I'll also go over the cost, how long it takes to become a teacher, a guide on what to look out for in your teaching course and more.
As an aside, none of these courses are professional qualifications. The pathway to becoming a fully qualified teacher will vary by country. These options are for anyone in the world with the slightest interest in teaching, as well as professional teachers who want to learn about specific topics.
So, let's get started.
What is the best online teaching course?
These are our top teaching course recommendations:
How I decided
I chose my top pick, Teaching and learning in the diverse classroom (edX), for a couple of reasons. 
Firstly, with 5 weeks of teaching, this course is easily the longest and most comprehensive on the list. The focus on a diverse classroom gives a broad subject grounded in a specific direction, whilst also being applicable to all aspiring teachers.
edX partners with some of the leading universities in the world for their content. This course is offered by Cornell, one of the best Universities in the US. 
The vast majority of content on edX can be accessed through Free Audit Tracks. To receive a certificate you purchase the course.
Cousera also offers a very comprehensive introduction to teaching with Foundations of teaching for learning: Being a teacher. Like edX, you can take this course for free and upgrade to receive a certificate if you want one. 
I've tried to make this a varied list in terms of both the courses offered and the sites that provide them. If you're already a teacher, or you're just generally interested in using new technology in the classroom, there are loads of options. 
Teaching with Google Classroom from Udemy and Online teaching: Using Zoom to connect with learners from Coursera both focus on teaching using resources that came into focus during the pandemic and are here to stay. 
Best teaching course reviews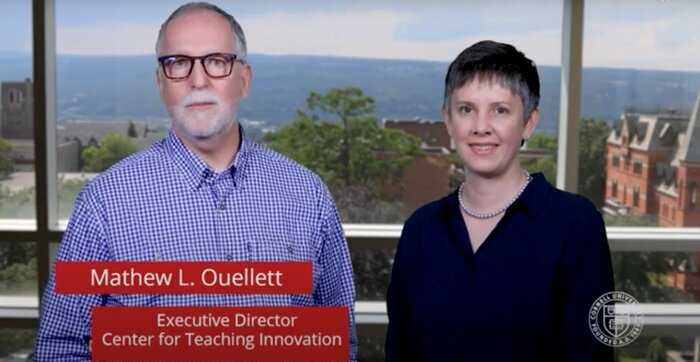 Platform: edX | Teachers: Matthew L. Ouellett and Melina Ivanchikova | Course length: 5 weeks with 2-4 hours per week (recommended)
To kick off our list we have, in my opinion, the best online education course on the internet. And there are a couple of reasons for this.
Firstly, this course is by far one of the most comprehensive education courses. It provides a broad overview of instructors, students, curriculum and other key aspects of teaching, all grounded in teaching for a diverse classroom, which, let's face it, is every classroom.
That alone would make the course worth it. But edX is also unique in that it partners with top universities across the world to offer its classes. This option is no exception, offered in partnership with Cornell, one of America's top universities.
Your instructors are at the top of the game in the field of education, including Matthew Ouellett, the Executive Director for the Center of Teaching Innovation and Melina Ivanchikova, Associate Director of Inclusive Teaching at the same center.
To top it all off, this course is available for free. Meaning you can access all of the content without paying anything (unless you want the certificate). This is useful if you feel you haven't enjoyed the course, which, based on all the info I've described, would be very surprising!
You will learn:
Using a framework for inclusive course design
Reflecting on the implications of instructors' social identities
Reflecting on the implications of student's social identities
Identify evidence-based pedagogical strategies
Increase your confidence to facilitate inclusivity
Assess your curriculum for historic exclusion
Pros:
Led by highly qualified instructors from a world-class university
Very comprehensive, with hours of content you can get through at your own pace
Applicable for teachers of a wide range of classrooms
Focuses on concepts, like self-reflection, which are rare but very important
Covers key aspects of teaching, such as curriculum, students etc. in a unique way
Offers direct strategies and tips as well as more philosophical insight
The paid audit track offers a certificate of completion
Available for free
Cons:
Need to enroll at a certain time
You need to pay if you want a certificate
Best for: Both beginner and experienced teachers who want insight on how to ensure they're managing a diverse classroom as best as they can
Overall: We all learn in very different ways, so by nature every classroom is a diverse classroom. That's what makes this course so important. It would be helpful for teachers, old and new, from all different backgrounds because it offers strategies and insight into challenges all teachers have to face. The lessons dig into the more philosophical insight into education, whilst also offering practical strategies for changing your curriculum. To top it all off, it's led by top educators from a world-leading university and is available for free.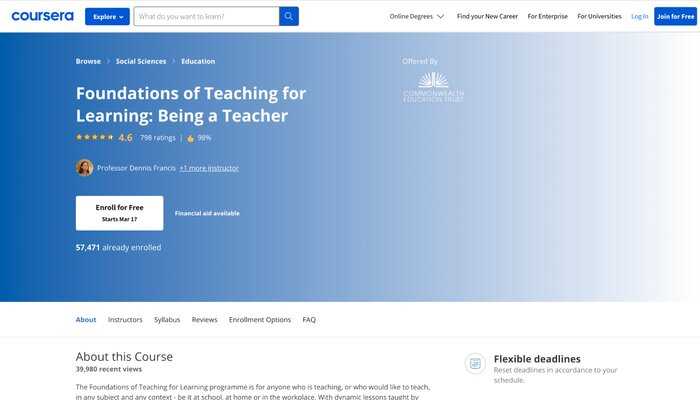 Platform: Coursera | Teachers: Prof Dennis Francis and Prof John MacBeath | Course length: 11 hours
At the number two spot, we have Coursera. This site is very similar to edX in several key ways. Firstly, both partner with leading universities and educational institutions to create their courses. The course can be taken for free, though you have to pay for a certificate. 
And, finally, both sites have top quality courses. This teaching class is no exception. Each lesson focuses in detail on the specific skills required for being a teacher. Overall, it provides a very strong foundation in the profession.
The course is offered in partnership with the Commonwealth Education Trust, a London-based charity focused on providing resources to teachers across the world.
You will learn:
What it means to be a teacher
How can teachers improve through models of continuous development
The philosophy of education
The differing identities and motivations of teachers
Strategies for managing classrooms
Understanding the way different students respond
How to communicate
The importance of teaching
The difference between Asking and Telling teaching styles
Differences in social identities
How do you learn best?
Pros:
Led by two professors with a wealth of experiences and understanding
Rare insight into what it means to be a teacher
Combines philosophical questions with actual strategies
Takes teaching seriously and focuses on how teaching has impacted the world
Very comprehensive with 11 hours of video
Includes additional readings and quizzes
Gets you to really reflect on your own understanding and experience of teaching
Content can be taken free (without certification)
Cons:
Some complaints about the audio quality
Best for: Newbies who want a broad and philosophical introduction to teaching and teachers who want a chance to reflect on their experiences
Overall: Teaching is a universal activity that many of us take for granted. At school, most of us are told to just obey the teacher and teacher's themselves tend to just follow whatever is on the curriculum. So this course is a really welcome and refreshing insight into what it actually means to be a teacher. It allows you to reflect on what teaching means to you and why you're interested in it, whilst also offering more practical strategies for the classroom. Led by two professors from top universities, the quality of this one is very high.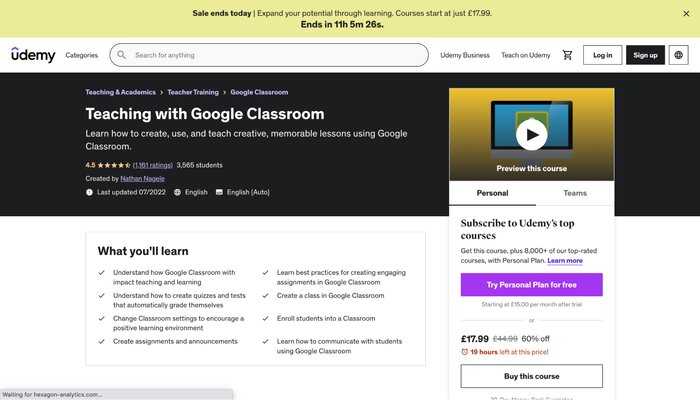 Platform: Udemy | Teachers: Nathan Nagele | Course length: 4.5 hours
Accelerated by the Covid-19 pandemic, the use of technology for teaching has never been more prominent. Google Classrooms has become a particularly efficient, popular and helpful tool for teachers around the world.
This course aims to get you equipped with everything you need to know about using Google Classrooms. It can be used by both existing teachers who want to incorporate the tech in their teaching or non-teachers who want to learn how it's used.
The class is offered by Udemy, which sells all of its courses individually. Classes are also often on sale, meaning that you can often purchase a course for cheaper than the original price. With over 3,000 students and a 4.5-star rating, this is one of the site's most popular and well-received teaching courses.
You will learn:
An introduction to Google Classroom
Google Classroom updates
Setting up your class
Managing your class
Teaching with Google Classroom
Grading
Student view
New online educators
Answering your questions
Archived/outdated lessons
Pros:
Accessible to everyone; both existing and aspiring teachers can gain something
Gives real insight into the benefits of technology for the day-to-day classroom
Led by an instructor with real experience and interest in educational technology
Well structured, gradually introducing each key concept
Up to date, which is essential yet somewhat rare among similar courses
Breaks down the content in an easily digestible way
Cons:
Sometimes the presentation and delivery are a little too fast
Best for: Existing teachers who are required to use Google Classroom in their day-to-day job, as well as anyone interested in the uses of technology for teaching
Overall: Technology is changing how we teach and there is no going back. Google Classroom is one of the most popular educational tools among educators, so getting a good grounding in it is essential. With its well-structured, easy-to-follow lessons and an instructor with a clear passion for EdTech, this class does just that and is an ideal introduction for both teachers using Google Classroom and anyone interested in what it does.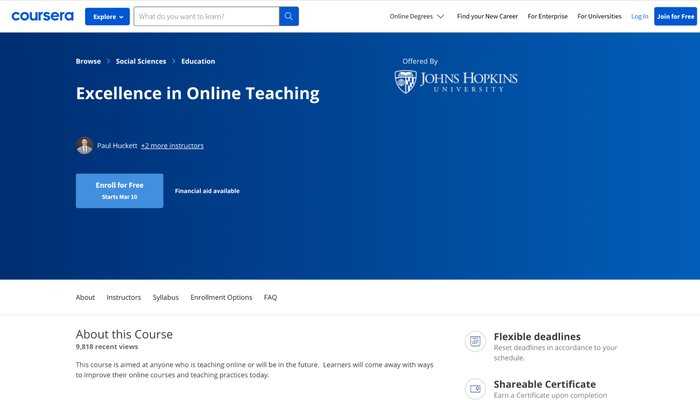 Platform: Coursera | Teachers: Paul Huckett, Dr Olysha Magruder and Michael J. Reese | Course length: 11 hours
Our fourth spot on the list is offered by Coursera, again. However, this course focuses on a specific type of teaching for the modern world.
Whereas the number three option focuses on using a specific technology to help with teaching, some educators, both experienced and aspiring, might find that they need a broader overview of how to get ahead in online teaching.
That's what this course is all about. Led by a top educational team from John Hopkins University, this course is ideal for anyone who wants to equip themselves with the skills required for teaching in the new age.
You will learn:
Foundations for facilitating online learning
Being inclusive with online teaching
The Universal Design for Learning (UDL)
Effective technologies for online teaching
How to apply technology for your specific course
Engaging a sense of community online
Professional and personal development in the teaching practice
Pros:
Offers insight into the direction that teaching is going
Taught by instructors with academic credentials in teaching and learning
Collaborate with a leading US university
Provides skills that will stay with you as you progress in your career
Demonstrates how broad principles can be applied to specific situations
Combination of resources, including videos, readings and quizzes
Free, unless you want the shareable certificate
Cons:
Need to select the paid option if you want the certificate 
Best for: Teachers who want to prepare themselves for the changing world of online education
Overall: As technology develops, online teaching will become more and more common. So teachers will increasingly need to think about how they can use technology to enhance their student's learning. This course offers a brilliant foundation for teachers who want to understand how technology can help all of their tasks, whether it's keeping a class engaged with the curriculum or fostering a sense of community. To top it all off, the course is led by academics from a leading university and the content is free (without certification).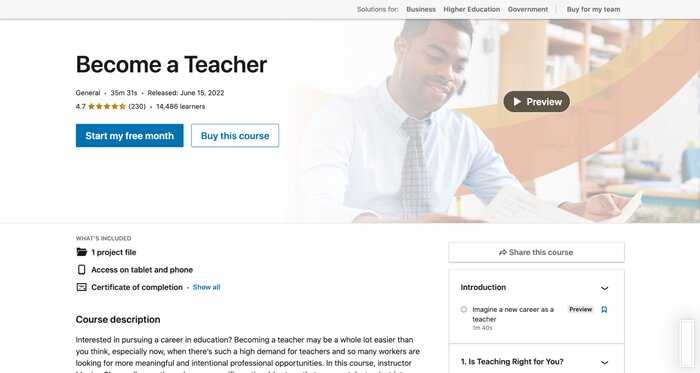 Platform: LinkedIn Learning | Teachers: Dr Monica Clem | Course length: 35 minutes
LinkedIn and teaching may not seem to go hand-in-hand, but there are a couple of reasons why the world's biggest professional network can be a great place to learn how to teach.
Firstly, teaching is a profession like any other. And LinkedIn is uniquely positioned to offer insight into the professional world of a teacher.
This also goes both ways, as the world of business also requires teachers in order to share information and educate students about the corporate world. You don't get LinkedIn Learning without teachers.
This course has over 14,000 students and a 4.7-star rating, making it one of LinkedIn Learning's most popular and well-received teaching courses.
You will learn:
How to figure out if teaching is right for you
Transferable skills for the classroom
Pathways to teaching: certification and undergraduate qualifications
Finding a teaching job
The perfect resume
Acing the interview
Continuing education to advance your career
Pros:
Very brief, providing the ideal overview
Aimed at total outsiders to the profession who want to know if it's right for them
Focuses on the professional pathways to becoming a teacher
Offers unique guidance on whether teaching is right for you
Also provides practical advice for a teaching career
Includes a project and certificate of completion
Very clearly explained
Cons:
Very brief
Could go offer more insight into what's required in the classroom itself
Best for: Outsiders to the teaching industry who want to know how to get started
Overall: Whereas other courses on this list focus on more general insights into teaching, this course looks specifically into teaching as a profession. You'll get top information on how to train as a teacher, tips for interviewing well and finding a job and more philosophical advice on how to figure out whether or not teaching is right for you. If you are considering becoming a teacher professionally, check this class out.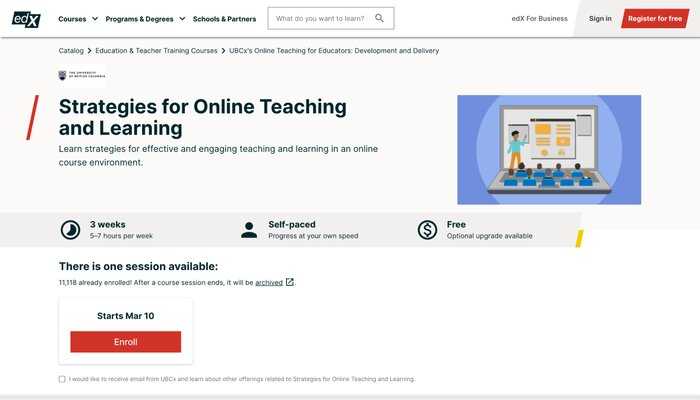 Platform: edX | Teachers: Donata Bonassisa | Course length: 3 weeks with 5 to 7 hours per weeks
Like Coursera, edX has its own course in online teaching, which goes to show just how popular and in-demand the skill has become.
This course is offered in collaboration with the University of British Columbia, one of Canada's best universities.
Your instructor will be Donata Bonassisa, who has over 25 years of experience teaching at primary, secondary and adult levels and has developed several distance learning courses.
And don't forget, with edX, the content is available for free.
You will learn:
Delivering online education content
Using established distance learning principles
Learning best practices for teaching online
Conducting appropriate assessments
Taking into account different learner demographics
Tips for supporting students online
Fostering an inclusive and interactive learning environment
Pros:
Led by a very experienced structure in education generally and distanced learning specifically
Teaches an increasingly in-demand skill in the teaching world
Covers a lot of content and is applicable to a range of educators
Taught by a world-class university with leading pedagogical insight
Paid audit includes a certificate of completion
Illuminated with examples and case studies
Content available for free
Cons:
Need to enroll at a certain time
Best for: Teachers who find they are having to grapple with online learning and are struggling
Overall: As online and distance learning becomes an increasing practice, courses like this are becoming more and more necessary. Like Coursera's Excellence in online teaching, this class will take you through the essentials of educating online, providing direct insight through examples and case studies. Led by an instructor from a top university, with experience in primary and secondary education, and distance learning specifically, this course is available for free, so it is well worth checking out if you're interested.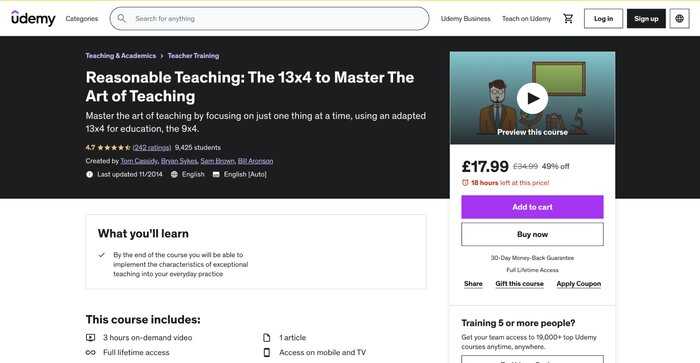 Platform: Udemy | Teachers: Tom Cassidy, Brian Sykes, Sam Brown and Bill Aronson | Course length: 3 hours
At number 7, we find a course from Udemy. Don't forget, Udemy courses are sold separately and are often on sale, so you can access them for cheaper than the initial price.
This course suggests that there are 9 key characteristics of exceptional teaching. They argue that each skill requires one week of focus, so it takes 9 weeks to cover them all. Once they're all covered, they suggest you repeat the cycle 4 times, hence the 9×4 rule.
With over 9,000 students and a 4.7-star rating, this course is led by instructors each with a range of experiences that means they offer a unique insight.
You will learn:
The importance of the 9×4 rule
Planning
Clarity of structure
Managing students well
Outcomes must be achievement
Structure must be appropriate
Content must be engaging
Manage resources well
Outcomes must be authentic
Pros:
Offers very clear, direct tips
Takes broad advice and applies it specifically to teaching
Range of different instructors meaning each offers unique insight
Provides a different approach to teaching
Very actionable
Clear instruction
Provides tools that can be used directly in the classroom
Cons:
Combination of instructors might be distracting
Some might be skeptical about the idea of concrete 'rules' when teaching is so diverse
Best for: Anyone who prefers to learn through direct, actionable advice
Overall: This course stands out because of the range of backgrounds its instructors come from, which keeps things very interesting. It's also refreshing to have a course offering direct and actionable advice that teachers can go on and use directly in the classroom. Whereas a lot of the courses on this list are more theoretical, if you're a practical type of teacher, this might be the course for you.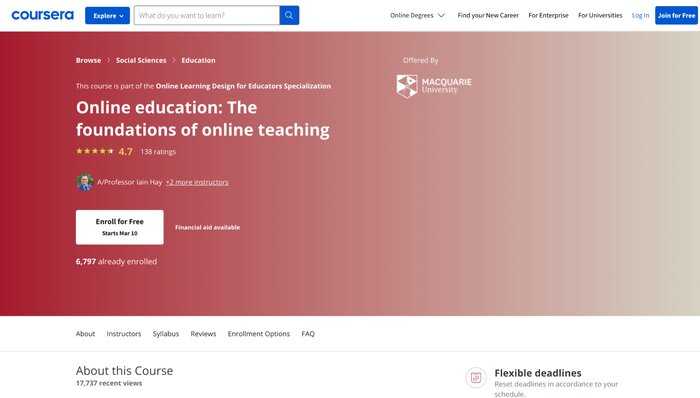 Platform: Coursera | Teachers: Professor Iain Hay, Jada Bennett and Billy Bruce | Course length: 21 hours
At number 8, we have another entry for Coursera, and again the focus is on online teaching.
This course is offered in partnership with Macquarie University, one of Australia's top university institutions. Although teaching has traditionally been a profession shaped by national governments, online education means borders between countries matter less and less.
As a result, you shouldn't take a course based on whether it's offered by an Australian or an American University, but based on whether you feel the content is right for you.
This course is led by Professor Iain Hay, Director of Professional Learning and Engagement at the Macquarie School of Education, and his team.
You will learn:
The evolution of online learning and where it's going
The key concept of transactional distance
The Critical Community of Inquiry Model
The types of presence that shape a teacher's interactions
Practical tips to prevent cognitive overload
Creating a welcoming online environment
How to create a learning community online
What's expected to happen next in online education
Pros:
Grounded in academic concepts
Provides insight into what's next for teaching
Partnered with one of Australia's top universities
Taught by academics who really know their stuff
Provides practical tips and tricks for success in online teaching
Includes a plethora of resources, including readings and quizzes
Available for free (without certification)
Cons:
Could be more specific with the strategies and tips
Quite academic, which might be overwhelming for newer and aspiring teachers
Best for: Professional teachers who want a strong grounding in the history, direction and uses of online learning
Overall: Teaching might seem like something that has been around forever, but the way we think of the profession now has been the product of academics, policymakers and teachers thinking hard about the best way to educate students. The teachers of today have the opportunity to do the same with online learning, and this course provides a strong foundation in the key concepts of online teaching, including its history, strategies current teachers can use and its trajectory. If you're interested in the academic concepts behind education, this is a great place to start.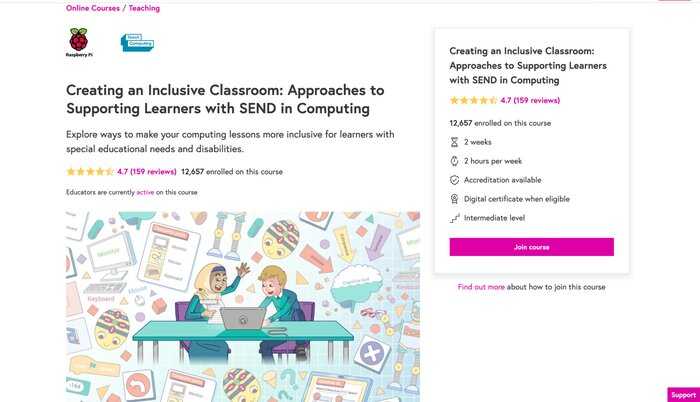 Platform: Raspberry Pi | Teachers: Raspberry Pi | Course length: 2 weeks with 2 hours per week (recommended)
At the 9th spot on the list, we find Raspberry Pi, an e-learning site devoted to offering insight into computing and technology.
Unlike a lot of e-learning sites, Raspberry Pi has its own section devoted to teaching. They clearly recognize the value of online learning in the world of the future, so they're a great place to learn about education.
This course has over 12,000 enrolled and a 4.7-star rating, making it a very acclaimed course. It is ideal for teachers working with SEND (special educational needs and disabilities) pupils.
You will learn:
An outline of areas of need
Barriers for learners with SEND
General classroom approaches
Specific approaches in programming
How to make programming accessible
The benefits of sensory outputs
Using physical computing devices
Pros:
Very comprehensive
Focuses on a specific group of students often ignored
Shows how you can use technology to help people in specific ways
The option for both a subscription to Raspberry Pi and buying the course as a one-off, depending on your preferences
High-quality production value on video lessons
Includes CPD certification
Cons:
Focuses mainly on computing teachers, whereas lots of SEND teachers could benefit from using technology
Best for: Teachers of computing in primary and secondary school settings
Overall: A big theme of this list is how technology is impacting education. In fact all of these courses are examples of technology impacting education. But what sets this course apart is its focus on a specific group of often-ignored learners and how technology can assist with their education. This is one of the more advanced courses on the list, ideal for secondary and primary school teachers.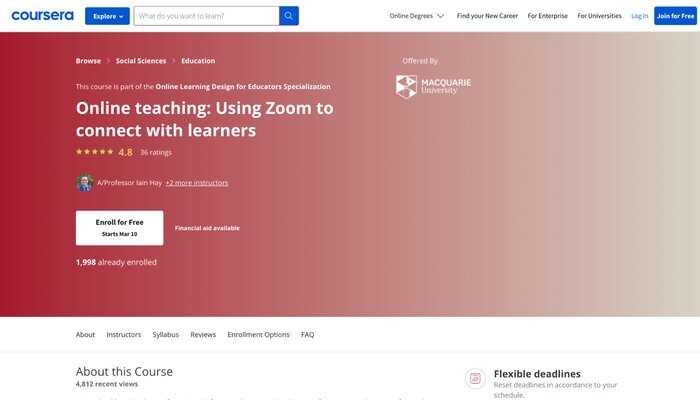 Platform: Udemy | Teachers: Professor Iain Hay, Jada Bennett and Billy Bruce | Course length: 17 hours
This pick is another offering from Coursera, also taught by Professor Iain Hay and his team at Macquarie University.
Like the previous course, this class is all about using technology in education, however, here the specific focus is on Zoom.
Again, throughout the pandemic, Zoom became a primary mechanism for learning. Although in-person teaching has become the norm again, Zoom is still an important tool for schools across the world, so it's well worth learning a few tricks for both new and experienced teachers.
You will learn:
How Zoom works
Zoom resources
Creating a safe and supportive space in Zoom
Using settings to create a virtual classroom
Zoom fatigue
Increasing interaction
Building confidence
Facilitating learner engagement and collaboration
Designing a lesson plan for Zoom
Pros:
Takes a deep dive into a specific technology used by teachers across the world
Provides you with a range of skills and strategies for when they are most appropriate
Led by an experienced educational team
Taught in collaboration with a leading university
Engaging instruction
Well organized, each lesson building on the last
Available for free (with a fee for certification)
Cons:
Subject matter is a little light in terms of getting a whole course out of it
Best for: Any kind of teacher who uses Zoom in their work
Overall: We all remember how difficult the pandemic was, especially when it came to engaging students with their education. But Zoom can be an amazing resource for education, as this course demonstrates. Its real strength lies in the fact that the instructors provide you with a range of tips, and they tell you when they are most appropriate. This is added to by all of the other benefits of Coursera, including quality instruction, partnership with leading universities and free content.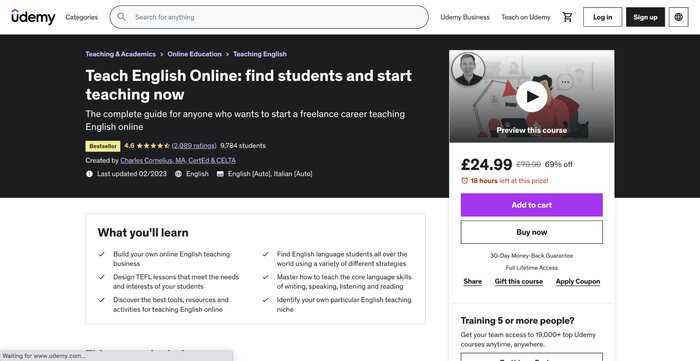 Platform: Udemy | Teachers: Charles Cornelius | Course length: 6 hours
I want to make this a diverse list and show you that there are so many different options when it comes to learning how to teach. So far, we've looked at courses that provide broad insights into teaching, classes on specific technologies and lessons on how the two come together.
However, for the penultimate spot on the list, I've decided to include a course on teaching a specific subject. As the world becomes more connected, learning new languages has become of interest to more and more people, and English is one of the most popular.
This course is one of the most popular teaching courses on Udemy, with over 9,000 students, led by an instructor with 20 years of experience and over 85,000 students on Udemy.
You will learn:
An English teacher's essential toolkit
The content of your lessons
How to find students
Getting paid
Where to work from
Teaching speaking
How to teach listening
Teaching reading and writing
Spelling and grammar
Vocabulary and pronunciation
Examination preparation
Pros:
Covers each aspect of English comprehensively
Led by an experienced English teacher and teacher-trainer
Focus on online teaching, where there isn't as much guidance for English specifically
Insight into both the actual practice of teaching as well as career elements, like finding students
Demonstrates the benefits of online teaching
Very accessible, with insights for beginners and English teachers who want to transition to online
Cons:
Aimed more at beginner teachers, which may disappoint existing English teachers who want to transition online
Focus only on English (other courses do exist for other subjects)
Best for: Beginner English teachers looking to crossover to the online space
Overall: As we near the end of the list, I've decided to focus on a course in a specific subject. As the world becomes more and more connected, languages, and especially English, are a skill that more and more people want to learn. So, if you're interested in teaching them, now is a great time to start. And this course, with its comprehensive overview, experienced instructor and expert advice will provide you with a great foundation. 
Platform: edX | Teachers: USC Clinical Faculty | Course length: 3 terms
Finally, to round off our list, I've included a Masters from the University of Southern California. This is just to show you the scope of opportunities out there when it comes to learning how to be a teacher online.
Unlike the other courses on this list, a Masters requires your explicit time and commitment, although it is possible to take some Masters courses part-time. A Masters is a very high level qualification, so the cost and time is a big investment, but prepares you very well for the future.
This programme is designed for K-12 teachers who want to take their work a step further. You'll need a Bachelor's Degree to be eligible for this course.
You will learn:
Curriculum and pedagogy in urban schools
Contexts for educational agency
Access and equity in education
Integrated language development across the curriculum
Fieldwork insight into professional teachers
Developing your own pedagogical knowledge and style
Pros:
Offered by a top university
Available online, so can be learnt anywhere in the world
Collaborate with leading faculty and likeminded students
Includes an essential practical element
Grounds you with core theories, developing your intellectual understanding
Prepares you well for the profession
Cons:
A big commitment
US-centric
Best for: K-12 teachers who want to improve their professional work in urban schools and communities
Overall: Rounding off our list, I've opted to also mention a Masters. Offered through edX. This MAT is taught by the University of Southern California. It combines both theories of pedagogy with fieldwork that will allow you to develop your identity as a teacher. A Masters goes a lot deeper in terms of the content than any other type of course on this list, and this is reflected in the cost and time commitments. However, if you want to take your teaching that one step further, it is definitely worth considering. 
What are the advantages of taking an online teaching course?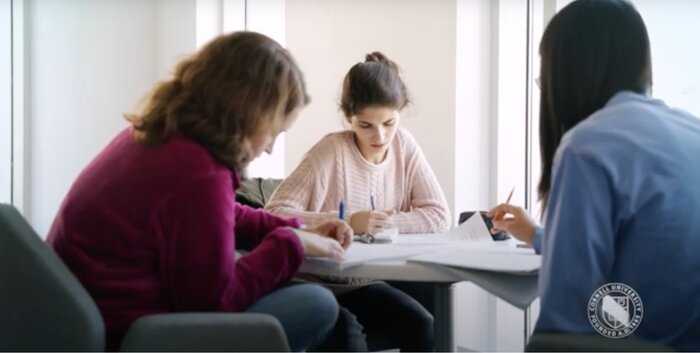 It used to be the case that in order to learn how to teach you had to go to a specific training college.
However, the technology we have today means you can learn how to teach online. This includes:
Access to top instructors from all around the world
You can learn when you like and fit everything around your schedule
You can combine different platforms with in-person teaching to achieve your personal goals
There's access to endless additional materials
The skill will stay with you for life
Other skills like confidence, understanding and engagement will improve
Learning a new skill is great for engaging the brain
Sets you up well for a career in an in-demand profession
Buyers guide: what to look out for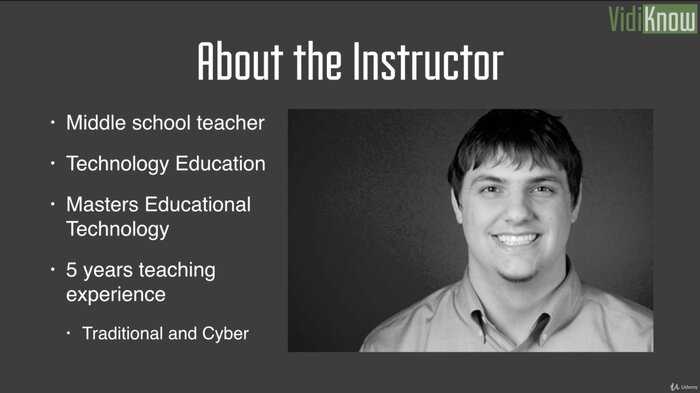 With so many choices, it can be hard to know what to look out for when selecting the best teaching course for you.
So here's a helpful buyers guide to look out for:
Positive reviews and feedback from both users and sites like Learnopoly
Positive feedback from teachers and the education community
The credentials of the instructor
How long the course is and what each lesson will teach you
Any additional materials
What kind of teaching (a specific subject, online teaching etc.) does the course focus on
How many people are enrolled
Is there any free trial or refund available?
How much does it cost?
Courses on this list range from being free to costing $39.99 per month. The USC Masters costs around $60k which is a lot cheaper than an in-person masters. 
There are a couple of differences in how the courses on this list are priced.
For example, some sites, like LinkedIn Learning, offer subscription services, where you pay a monthly fee for access to all of the content on their site. This is a good option if a couple of courses from the site are of interest to you.
Others on this list sell their courses individually. This is a better option if you think that you're only interested in one specific class, especially as, for sites like Udemy, they are often on sale.
Finally, there are the free options, including edX and Coursera. These require payment if you wish to access the certification. However, the content itself is available for free, which is of course remarkable. 
How long does it take to learn how to teach?
Courses on this list range from 35 minutes to 5 weeks. The masters is 3 terms.
There are a couple of factors that will also impact how long it takes to learn how to teach. For example, lots of these courses have additional resources which will really add to your learning but which you consume at your own pace.
Also, you might want to account for personal practice. Like any new skill, teaching requires practice in order to truly embed whatever you've learnt in your course. So, whether it's one-on-one or in the classroom, these experiences will also contribute to your learning.
Conclusion
So, there you have it, my top twelve picks for the best teaching course online.
My number one pick is Teaching and learning in the diverse classroom, offered by edX. 
This site is unique because it offers courses in a range of disciplines from some of the top universities and educational institutions in the world, such as Harvard and Cambridge.
And yet, astoundingly, you can also audit the content for free, though you will need to if you want a certificate.
We are all unique in how we learn, so any classroom is a diverse classroom. As a result, this class offers a comprehensive overview of an essential topic for all teachers. And, as it's free, there are no financial risks if you don't like it.
Coursera, like edX, offers courses from leading universities without charging a fee for the content.
Cousera's Foundations of teaching for learning: Being a teacher is another great overview of teaching. If you're looking for a course on how technology is changing teaching then check out Excellence in online teaching. 
In order to keep this list broad, I've also included classes aimed at existing teachers. I recommend Teaching with Google Classroom from Udemy, Creating an inclusive classroom: Approaches to supporting learners with SEND in computing from Raspberry Pi and Online teaching: Using Zoom to connect with learners by Coursera.  
Teaching Courses Frequently asked questions
How much does an online teaching course cost?
Courses on this list range from being free to costing $39.99 per month. The USC Masters costs $59,836, though these are subject to change. 
How long do online teaching courses take?
Courses on this list range from 35 minutes to 5 weeks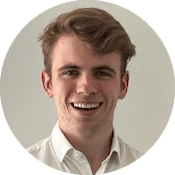 Charlie is a student reading politics at King's College London. He is also a passionate musician with over 14 years of experience. In his free time, he also enjoys cinema, long-distance running and learning new things.