As a researcher who analyzes funding trends for global nonprofits, I know that raw data is not enough.
If you want to see patterns, gain insights, and make informed decisions, you need to transform your database into compelling visuals that'll help you see the big picture.
Tableau is a powerful tool that helps you do this. It's an elegant, intuitive, drag-and-drop platform that will let you visualize data into compelling maps, charts, histograms, graphs, and more.
And if you're looking for the best Tableau courses, you've landed on the right page.
After comparing dozens of course structures, formats, instructor expertise, student reviews, and more, I've curated my top 10 picks for Tableau courses.
This blog is all you need to choose what's worth your investment. I've selected a good mix of classes for all skill levels, and you'll be sure to find the right fit for you.
Let's jump in!
What is the best Tableau course?
Here are my top picks:
For me, the best course is the Data Visualization with Tableau Specialization on Coursera. It offers an excellent balance of theory and practice that will help you make sure that your visualizations are grounded on solid principles that make them clear, effective, and engaging.
Aside from expert-led instruction all throughout its extensive course content, you'll try your hand at data visualization projects and keep improving upon feedback from peers and graded assessments. It's beginner-friendly and will give you a solid foundation in Tableau.
But if you're looking for a more fast-paced course that also gives you tutorials on more Tableau products, Jed Guinto's Udemy course Tableau 2023-24 Training for Data Analysts + Certification is a great option.
His course is updated to reflect the latest features of Tableau. Plus, he takes you through the entire Tableau ecosystem so you can get a strong grasp of the specific abilities you'll use for each platform. He also gives tips on breaking into data analytics careers.
Best free Tableau course
Tableau Essential Training on LinkedIn Learning is a great course and can be accessed with a month-long free trial. It provides clear explanations of essential Tableau skills and breaks down Tableau into digestible lectures that are easy to follow.
But Tableau courses are not one-size-fits-all. Ultimately, it all depends on your target skill level, learning style, and preferences.
Best Tableau course reviews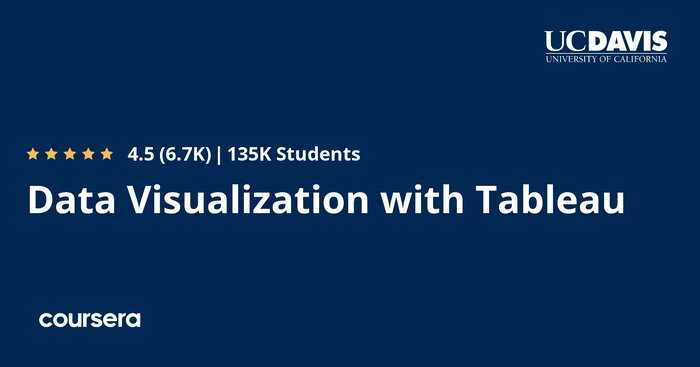 Platform: Coursera | Teachers: Govind Acharya, Hunter Whitney, Suk Brar | Length: 54 hours
You might think there's no place for a little bit of theory in learning a hands-on tool like Tableau. But principles will make sure that your data visualization projects are clear, effective, and accurate.
Led by business intelligence experts from UC Davis with decades of experience between them, this specialization is a mix of theory and hands-on practice that will show you how to create high-impact data dashboards grounded in solid principles.
You will learn how to:
Recommend improvements based on meaningful and insightful charts that you'll create
Captivate your audience when presenting data using key elements from neuroscience
Assess the effectiveness of your data and dashboards
Pros
Provides a good balance of concepts and execution of data visualization
Offers a mix of videos, readings, practice quizzes, and graded work with peer feedback
Ends with a final project for a portfolio-worthy data visualization
Cons
May be too slow-paced for some learners
A few Tableau commands have been updated since the making of this course
Who it's for: Best for newbies who've never used Tableau before, have no prior knowledge of the platform, and have limited background in data in general.
Overall: Consider this course a part of your launchpad into data analytics if you aspire to break into that career. It's beginner-friendly and covers so much more than creating visuals.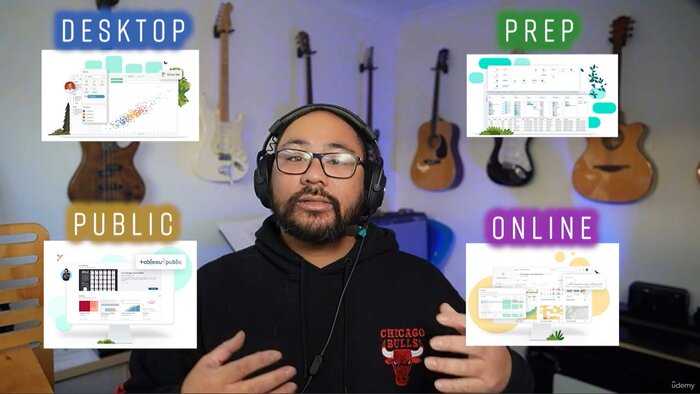 Platform: Udemy | Teacher: Jed Guinto | Length: 33.5 hours of on-demand video
Jed Guinto is a career transitioner who broke into data analytics from his already high-level background in aerospace engineering, systems design, and computer programming. His course on Udemy covers the complete Tableau ecosystem like no other – from Tableau Public to Desktop, Prep, Bridge, and more.
His course is structured to take you from beginner to advanced Tableau skills, with bonus sections on career planning and project management.
You'll learn how to:
Use different products in the Tableau platform
Learn advanced techniques to manipulate and transform data in Tableau Prep
Prepare for all sorts of certification exams, including Tableau Desktop Certification, Tableau Certified Associate, and Tableau Certified Data Analyst
Build portfolio-worthy visualizations to increase your employability
Understand what employers and stakeholders look for so you can land a role in data analytics
Pros
Very well-produced series of lectures
Offers loads of extra resources, including 100 downloadable materials and 17 articles
Guarantees a full refund within 30 days if you are not satisfied with the course
Cons
Some students complain of a lack of instructor support
Limited practices or scenario-based training according to some reviews
Who it's for: This course is perfect for students or career transitioners who want to pursue careers in data analytics or related fields. It's also a great choice for anyone who wants to learn Tableau from scratch. And if you're already a data professional who wants to make visually appealing reports, this course is a great option.
Overall: Jed Guinto's course will teach you everything you need to know about Tableau. If you are serious about learning Tableau and pursuing a career in data analytics, then I highly recommend this course. It's an excellent investment in your future and will give you the skills you need to succeed in this field.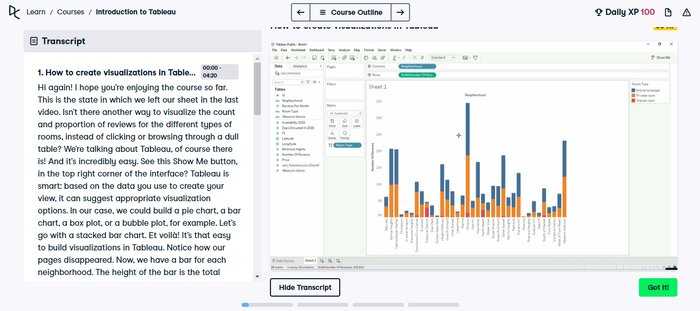 Platform: DataCamp | Teacher: Maarten Van den Broeck | Length: 23 videos totaling to 6 hours
DataCamp offers a unique, gamified learning experience for learning Tableau. The course provides you with your very own virtual machine and you can manipulate Tableau within the course and without leaving your browser. Everything is provided for you within DataCamp including your workbooks, data sources, and the Tableau virtual machine.
Each lecture is worth a specific number of XP and you'll progress through the course seeing that number go up each time. You'll also be working with education, health, and infrastructure data. A pretty good mix to add some versatility to your Tableau skills.
You will learn how to:
Navigate the interface of Tableau and get familiar with Tableau jargon
Apply best practices to prepare and present visually appealing data
Add reference, trend, and forecasting lines to your views
Understand the differences between worksheets, dashboards, and story
Pros
Comes with 66 exercises and interactive quizzes to reinforce learning
First chapter is free and each succeeding chapter has a free preview
The trial allows you to try the hands-on assessments and use the virtual machine
Easy to follow with options to view transcripts
Cons
Geared towards beginners and intermediates with limited options for advanced learners
Exercises can be simplistic according to some reviews
No option to buy a single course since you have to subscribe to the platform
Who it's for: If you've tried learning Tableau before and want a refresher, this course is ideal for you so you can quickly brush up on Tableau skills. But if you're a beginner with no background in Tableau at all
Overall: DataCamp offers a superb hands-on experience that's set apart from other platforms. If you learn by doing and want to dive right into playing with Tableau, DataCamp is the platform for you.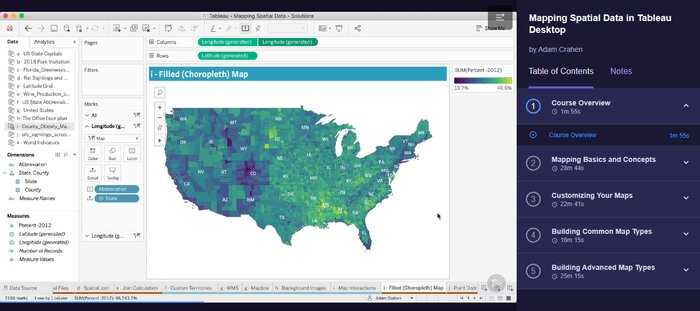 Platform: Pluralsight | Teacher: Adam Crahen | Length: 1 hour and 34 minutes
Creating maps is among the coolest features of Tableau, and this course by former Tableau Zen Master Adam Crahen will show you how to take full advantage of that. With maps, you can understand and visualize your data in a new way.
You can access this course on Pluralsight, a subscription-based platform that offers access to thousands of other courses. You'll get a strong grasp of this Tableau skill with hands-on practice, and move on to other skills if you want to learn more.
You'll learn how to:
Use Tableau to build different types of creative and effective maps
Know when to use and what specific maps to use for various contexts
Customize map styles and layers
Use different map services and extensions
Pros
Offers a 10-day premium free trial so you can get a good feel if this is worth your investment
Focuses on honing a specific skill so you can be confident in spatial mapping
Allows you to practice and apply your knowledge in real-world scenarios
Cons
Requires prerequisite knowledge of Tableau
Uses Tableau Desktop which can be a disadvantage if you only have Tableau Public
Who it's for: This course is best for data analysts and other professionals who work with geographic data. If you already have prior knowledge of Tableau and are interested in learning how to create effective maps, then this course is a great option for you.
Overall: This course is a great way to add a new valuable skill to your toolkit. By showing you how to use Tableau to create effective maps, you'll gain confidence in answering spatial questions and wow your audience with stunning visualization.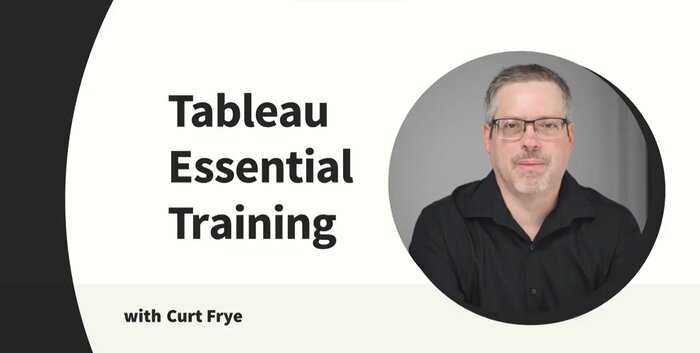 Platform: LinkedIn Learning | Teacher: Curt Frye | Length: 4 hours and 42 minutes
This course is a series of videos that are well-structured, easy to follow, and straight to the point. Curt Frye, who is the creator of dozens of online courses on business analysis, gives clear explanations for each fundamental Tableau skill.
You can purchase his course for $30 or subscribe to LinkedIn Learning for $19.99 per month. Aside from having access to thousands of courses that suit your interests, you can also proceed with the Data Analyst learning path that this Tableau course is a part of. It's a great deal.
You will learn how to:
Analyze data from multiple sources such as Excel, SQL, and cloud-based platforms
Create data visualizations using real-world examples
Manage Tableau worksheets and workbooks
Format, annotate, and share your data visualization
Pros
Includes free preview of each chapter
Uses the latest version of Tableau as of this writing
Accessible via desktop, tablet, and phone for a real on-the-go learning experience
Continuing Education Units are available for those working toward professional certification
Cons
Focuses on working with the platform and leaves out tips on best practices for presenting your data
No personalized feedback since it's on-demand
Who it's for: If you're busy and still want a hands-on tutorial on Tableau without taking a lot of time out of your schedule, this course is great. Especially if your skill level is between beginner to intermediate and you're looking for a fast-paced, on-demand class.
Overall: You can't go wrong with this class, which is one of the highest-rated courses on LinkedIn Learning at 4.8/5 stars and reviewed by thousands of learners. The videos cut to the chase and dive right into showing you the know-how of the platform.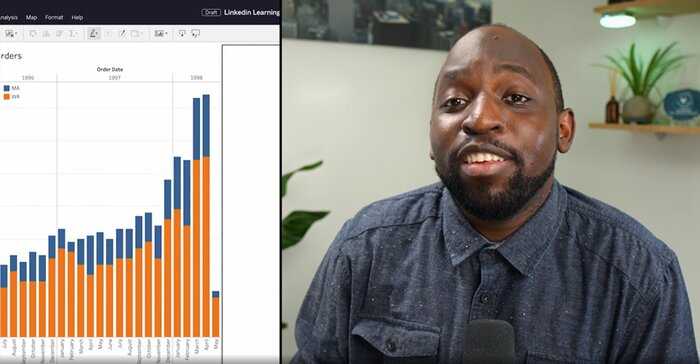 Platform: LinkedIn Learning | Teacher: Tim Ngwena | Length: 1 hour and 14 minutes
More popularly known as Tableau Tim, Tim Ngwena has been dubbed the "Bob Ross of Tableau". In this course, he offers something different than most courses. Instead of focusing on technical skills, he offers a guided tour of Tableau's entire product suite, so you can step back and get a bird's eye view of the platform before diving deep.
You'll learn:
The main components of the Tableau ecosystem and how they work together
The differences between Tableau Server, Tableau Cloud, Tableau Prep, and other Tableau tools
Other technologies you can use with Tableau to enhance functions
Pros
No need to download anything to understand the platform
Saves you time by letting you know what specific platform to learn for your role
Shows practical real-world examples of business cases to help you see Tableau at play and its appropriate use for different contexts
Cons
Since it's not technical, there are no hands-on exercises
Who it's for: If you're curious about Tableau and want to get an overview of it without getting your hands dirty with dashboarding, this course is ideal. It's also great if you're already using a different platform and just want to stay updated with everything related to Tableau. You never know when knowledge of Tableau will come in handy!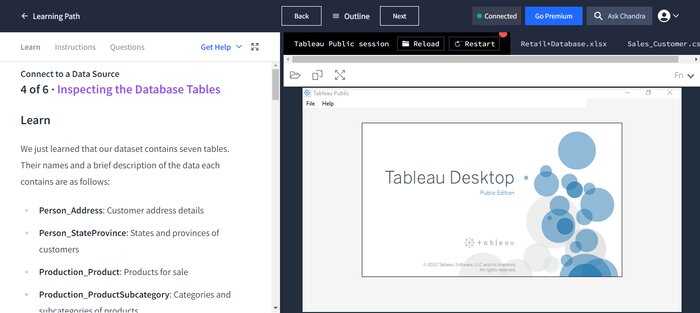 Platform: DataQuest | Length: 4 hours per week for 4 weeks
Want to take a break from video-based learning? DataQuest has you covered.
DataQuest offers a text-based learning style for Tableau. In each lecture and exercise, you'll see a side-by-side view of the written instructions and the Tableau virtual playground, so you can apply what you learn right away. Everything is provided – from your workbooks and data to the Tableau virtual learning machine.
You'll learn how to:
Create and interpret charts in different business scenarios
Model, organize, and analyze data
Communicate insights through data storytelling
Pros
Easy to revisit specific information
Includes photos in the instructions to make it easy to follow
Since it's text-based, you can read and learn at your own speed
Access to a community forum where you can ask questions and get help from other students
Cons
Can be more time-consuming
Can be less engaging than video-based learning, depending on your preference
Who it's for: This course is best for people who prefer to learn by reading and following step-by-step instructions that way.
Overall:  If you find yourself struggling to follow video tutorials sometimes, this text-based Tableau course is a great fit for learning at your own pace and practicing what you learn immediately. It's also best for learners (like me) who prefer quiet learning environments.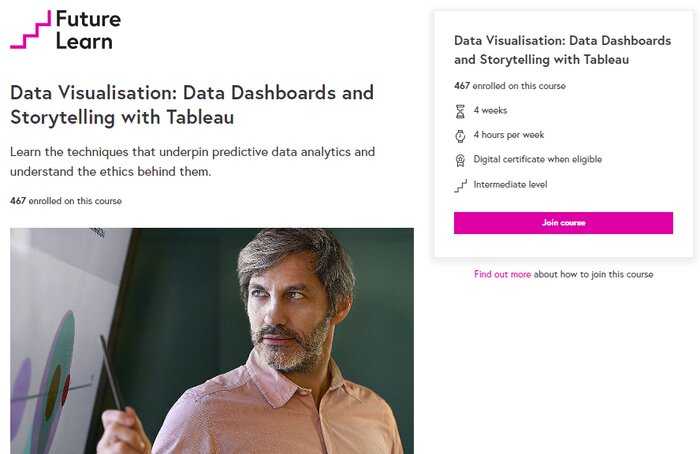 Platform: FutureLearn | Teacher: Alastair Gill | Length: 4 hours per week for 4 weeks
Alastair Gill has more than 15 years of experience in data science. His class focuses on using Tableau to make business predictions that are grounded in ethical considerations related to data. You'll explore different models for analysis,
You can buy this course for a single payment or opt for a FutureLearn subscription for a monthly fee. A subscription gives you access to more than 1,000 courses plus digital certificates and tests to cement your learning.
You'll learn how to:
Use statistical techniques and test and refine models for data analysis
Apply predictive analytics tools like regression, forecasting, and clustering
Communicate with different audiences that fit your visualization
Address ethical concerns related to data
Pros
Offers a good mix of theory and practice
Includes a progress page to help you keep track and stay motivated
Lets you access a global community of learners
Comes with a mix of bite-sized videos, articles, and practical activities
Cons
Focuses more on specific skills rather than an A-Z overview of Tableau
Who it's for: This course is suitable for intermediates and professionals alike. If you already analyze and present data at work, this course is also great for helping you deepen your knowledge of predictive analysis and data-related ethics.
Overall: This class adds an extra layer of expertise to your Tableau skill set and can help you become an asset to your organization.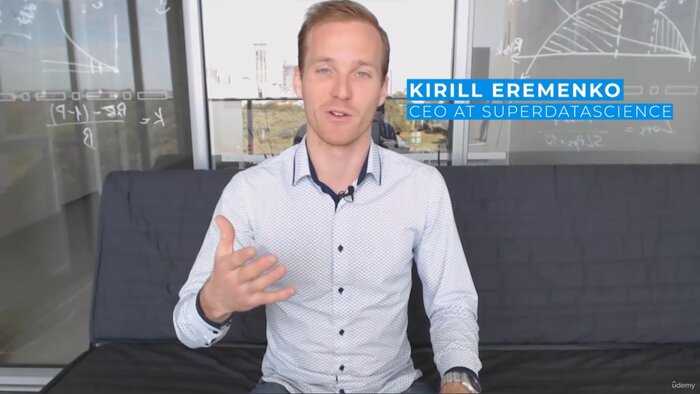 Platform: Udemy | Teacher: Kirill Eremenko | Length: 8.5 hours of on-demand video
Kirill Eremenko is a leading data science instructor with more than 2 million students on Udemy. His course follows a spiral structure that breaks down Tableau into step-by-step digestible lectures. Each section moves up in difficulty while solidifying the skills you learn in preceding lessons. Within a month, you'll get a handle on basic to advanced Tableau skills.
You'll learn how to:
Apply Tableau's advanced features to solve real-world problems
Create stunning data visualizations
Explore and analyze data from various sources
Build interactive dashboards that tell stories with your data
Pros
Lifetime access to all the course materials
Hands-on learning and you'll make your first chart on the first section
Covers a wide range of Tableau skills from basic to advanced
Self-paced learning which is great if you have a busy schedule
Cons
The pace may be too fast for some learners
No personalized feedback from peers or instructor
Who it's for: Best for progressive learners who want to move from basic to advanced in one course.
Overall: Kirill's Udemy course is well-loved by hundreds of thousands of learners and for a good reason. He has a clear teaching style that will give you an easy-to-follow A-Z overview of Tableau to help you build a solid Tableau skill set.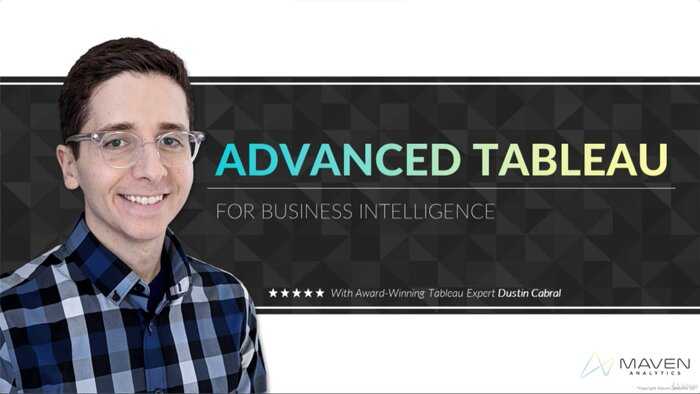 Platform: Udemy | Teacher: Dustin Cabral | Length: 97 lectures totaling 11 hours and 4 minutes
Dustin Cabral is an award-winning Tableau developer with more than a decade of experience in analytics. Throughout his Udemy course, you'll play the role of an analyst of a fictional company. You'll use expert-level Tableau skills from dynamic design techniques to predictive data analytics to solve problems in your fun and challenging role.
You'll learn how to:
Apply dynamic formatting to create engaging visualizations
Integrate R and Python to Tableau
Master sophisticated Tableau tools such as custom templates, animations, and geospatial mapping
Create professional-quality reports
Pros
Comes with a 94-page PDF and extra downloadable resources
Role-based learning with hands-on and practical problems
Lifetime access to course materials
Cons
Not as comprehensive since it's geared toward experienced Tableau users
Uses Tableau Desktop which can be a disadvantage if you only have Tableau Public
Who it's for: A great fit for aspiring data science professionals or experienced Tableau users looking for a challenge. This course will elevate your skills and prep you to perform high-level data analysis with Tableau.
Overall: If you want to set yourself apart from Tableau users and master this platform with expert skills, this course is a must-have. 
What are the advantages of taking a Tableau course?
Master the art of data visualization: A Tableau course will help you transform raw data into appealing visuals that will help you see patterns and insights. All so that you can make or recommend informed decisions and develop business strategies.
Advance your career: Tableau is listed in many job descriptions for roles in data analytics. With a Tableau course, you'll develop a portfolio of visuals that you can use to showcase your skills to potential employers. A course can prep you for certifications too, which is a plus!
Become a captivating data storyteller: Being a clear and engaging communicator is a soft skill that will take you places and set you apart in your organization. Taking a Tableau class will help you harness that skill, so your data speaks volumes.
Buyers guide: What to look out for
There's a plethora of Tableau courses out there, so here are a few things to keep in mind when choosing what's right for you:
Your skill level: Are you a beginner who needs to learn the basics of data visualization? Or an experienced Tableau user looking to sharpen a specific skill? Make sure to choose a course that's tailored to your skill level so you can follow along.
Your goals: If you're looking to get certified on Tableau, look for courses that also help prepare you for exams as well. If you want an A-Z overview of the platform, look for classes that zero in on walking you through beginner to advanced Tableau skills.
The format of the course: Do you prefer a completely on-demand program for a self-paced type of learning? Or do you thrive on practicing and acting on feedback from an instructor or other students?
Thankfully, you'll never run out of options. No matter your learning style or skill level, rest assured there's a Tableau course for you.
How much does it cost?
Plenty of the courses on this list can be audited for free or accessed with a free trial. And the ones that are paid can range from a one-off fee of $30 – $125.
Make sure to be on the lookout for promos, too. Platforms like Udemy have sale seasons that offer courses for as low as $10. They also have a 30-day money-back guarantee that offers a full refund if you ever find yourself totally dissatisfied with the course.
Another thing to be on the lookout for is the added cost depending on the specific Tableau platform you'll use.
If you're looking to learn the free web-based version of Tableau which is Tableau Public, you won't have to pay anything and you can start learning right away.
But if you want the full suite of features that come with Tableau Desktop, you'll have to pay for a license and the price starts at $350 per individual user per year.
All in all, it's generally inexpensive to learn Tableau. But consider it an investment in your career potential. Especially given the rise of jobs in the data analytics field that require a good handle on data visualization skills.
How long does it take to learn Tableau?
Tableau is easy to learn but can be hard to master.
It has a user-friendly drag-and-drop interface, so it's easy to get started. But it might take some time before you can feel confident executing the most complex functions of Tableau.
The courses on this list vary in duration, with some lasting less than two hours for a specific skill, and others can last 30 – 40 hours.
Some instructors on this list recommend giving yourself a week or two of practice outside of the courses to recall and execute the basic skills you've learned once you start.
On the other hand, it can take between two to six months before you really feel confident in performing the most advanced features of Tableau.
The key is to be patient with yourself as a learner and really dedicate the time you need to get a strong grasp of Tableau.
Fortunately, many of the courses on this list are self-paced and offer lifetime access to class materials. That means you can revisit lessons any time and keep practicing.
Conclusion
After comparing different Tableau courses online, I'll have to say that if I could recommend one course, it would be the Coursera Specialization, Data Visualization with Tableau.
I think it offers a great balance between theory and practice, so you can ground your Tableau skills in principles that will make you an effective data analyst and communicator.
With hands-on practice, peer feedback, and a portfolio-worthy capstone project, you'll reinforce your learning on top of an already extensive and well-structured course that covers all the technical Tableau skills, plus storytelling and learning to assess what makes a visualization effective.
The second runner-up would be Jed Guinto's Udemy course Tableau 2023-24 Training for Data Analysts + Certification. His course is more fast-paced, covers different Tableau products, and also caters to different learners to fit different goals. 
It covers Tableau from beginner to advanced levels. It also aims to prepare you for Tableau certification exams and helps you understand what employers and stakeholders look for in data analysts.
Ultimately, it's all up to you. The best Tableau course will depend on your learning style, preferences, and how much time and money you want to invest.
Tableau courses frequently asked questions
What is the best Tableau course?
I highly recommend the Coursera specialization, Data Visualization with Tableau. It has extensive course content and has an excellent combination of technical and soft skills in mastering Tableau. Plus it comes with hands-on practice and peer feedback to reinforce learning.
How much does a Tableau course cost?
Tableau courses can cost between $30 – $125 in one-time payments. If you opt for subscription-based platforms, you'll have to pay between $38 – 49 per month or $199 – $399 per year.
How long does a Tableau course take?
Course length varies from less than two hours of lectures zeroing in on one Tableau skill or 40 hours to learn a wider range of skills. Make sure to also factor in the time you need to practice outside of these classes.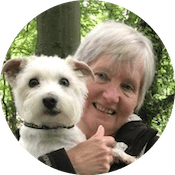 Liz Hurley has 30+ years of high school teaching experience and is one of our senior writers here at Learnopoly.