Alice Waters is an American chef and author, known for sparking America's "slow food" revolution in the 70s. Opening her own restaurant, Chez Panisse, in 1971, she became the first woman to win the James Beard Award.
Seen by many as spearheading the nation's farm-to-table revolution, it's safe to say Waters knows a thing or two about cooking artfully with fresh, organic produce.
But, just how good is Alice Waters' MasterClass? And can it really change the way you see and cook with food?
These are the points I'll address in this Alice Waters MasterClass review.
.
Quick summary
You'll learn:
Alice's fresh food philosophy
How to navigate a farmer's market
Advice for cooking different produce
How to best stock your pantry
Alice's food pairing tips and recipes
How to eat seasonally and economically
Alice's tricks for preparing a fresh dinner
How to cook simply with minimal fuss
Pros
Learn from a trusted restaurateur
Varied ingredients and substitutes
Eco-friendly and economical choices
Inclusive cuisine (not just American)
Cons
Less attention to gluten-free options
Some high-end equipment used
Experimental rather than set recipes
Length of course: 3 hours, 47 minutes, made up of 17 lessons
Best for: those interested in developing their relationship with cooking and making the most of fresh, local produce. Great for those who want to experiment with ingredients rather than stick to recipes.
Overall: a fun and eye-opening course teaching you how to use fresh but minimal ingredients. Waters takes you through her cooking philosophy and shares over 30 recipes. This class mostly takes place in Waters' home kitchen as she cooks in real-time. She also takes you to her restaurant, Chez Panisse, and to her local market. I personally really enjoyed how her cooking philosophy and felt a lot more confident about freeing myself from recipes.
Here's what this Alice Waters MasterClass will cover:
About Alice Waters and MasterClass
A sneak peek at what's inside
Pros and cons
Who it's for
How much it costs
Is there anything better?
What others thought of the course
How unique the content is
Final verdict: is it worth it?
Let's get started:
About Alice Waters
If you're here, you likely have some idea of who Alice Waters is and what she's known for. So, I'll spare you the biography and sum up some key career points:
As a 5-time winner of the James Beard award, Waters is famed for her organic and locally-grown menus at her Berkeley restaurant, Chez Panisse
Studying abroad in France and falling in love with European eating styles, Waters has gone on to write numerous books about how to cook simply and fuss-free
In 1995, Waters founded the Edible Schoolyard Project, which teaches children to grow their own food. She even inspired Michelle Obama's White House vegetable garden!
If you haven't seen the Alice Waters MasterClass trailer yet, it's worth checking out here:
About Masterclass
MasterClass is an e-learning platform founded in 2015. Since its beginning, it's slowly risen to the top of the online learning scene with its high production values and in-depth courses. To date, it boasts 150+ classes.
Its unique selling point is its celebrity-level teaching — so you can be assured you're learning from the best.
Courses include James Cameron teaches Filmmaking, Niki Nakayama teaching Modern Japanese Cooking, and Apollonia Poilane teaching Bread Baking — to name a few.
That being said, and having taken many MasterClasses myself, I can say that it's not for everyone. So, in this review, I'll weigh up the pros and cons to help you decide whether Alice Waters' MasterClass is a fit for you.
If you want more detail on MasterClass and some of its most popular classes check out our Masterclass review and best MasterClass article.
Inside Alice Waters' MasterClass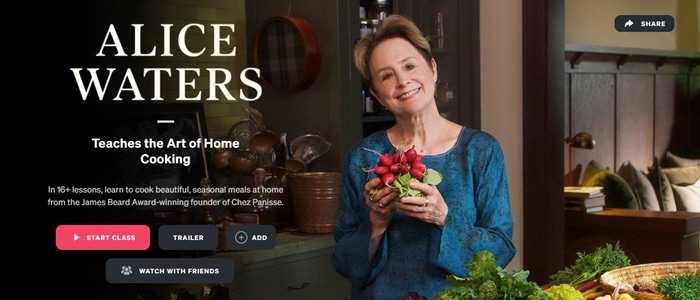 Alice Waters' MasterClass is 3 hours, 47 minutes long, and has 17 lessons.
The class includes a 77-page Workbook with chapter reviews, recipes, and more.
In this course, you join Waters in her home kitchen as she takes you through her favorite recipes. You also get a glimpse at how she runs Chez Panisse, and how she chooses fresh produce at her local market.
To give you a better idea of what you'll get from this MasterClass, here are my chapter breakdowns:
Lessons 1-2: Alice's Philosophy of Food and The Farmer's Market: Learning from the Source
"I believe that cooking is about all of your senses"
In her opening section, Waters sets down what she'd like you to take from this MasterClass. This includes her lesson aims as well as how this class should change how you feel about cooking.
As she sees it, cooking should be stress-free and open to all. And, first and foremost, high quality ingredients are where all good meals begin.
So, inviting your into her kitchen and to her local market, Waters teaches you how to:
Find quality ingredients at the grocery store/farmer's market
Build foundational knowledge of fresh produce
Connect with local farmers and grocers
Identify what's fresh and what's not
In this chapter, Waters aims to get you thinking about what she terms your "edible education." Namely, this is how you develop your intuition and taste for fresh produce and seasonal ingredients.
Seeing the farmer's market as the starting place for her meal planning, Waters also takes you through a typical market purchase and how she decides which ingredients to use first.
One perk of this chapter is being able to hear Waters' thought process on how she plans her meals. Using a shopping trip as her reference point, she teaches you how to evaluate your produce in terms of what's more perishable and what ingredients go together.
So, by the end of the lesson, you'll gain insight into how you can plan meals ahead of time, based solely on what's available.
Lesson 3: A Vegetable Lunch: Roasted, Steamed, and Raw
In this lesson, Waters guides you through a simple, meat-free lunch menu. For her, simplicity is the greatest value in cooking and the best way you can bring out food's natural flavors.
With this in mind, you'll learn:
How to time your cooking (with a full menu in mind)
Waters' top 3 cooking styles (and what they work best for)
3 real-time recipes for different vegetables
Techniques for cutting produce and retaining nutrients
Taking you through her exact process for cooking an at-home lunch, Waters shares 3 simple recipes for you to try at home. While doing so, she also shares her advice for bringing out flavors by roasting, steaming, or dressing raw produce.
By the end of this lesson, you'll have a better idea of what cooking type works best for different vegetables, as well as the pros and cons of each in terms of taste and nutrition. 
Having brought you into her home kitchen, Waters turns her focus to her key cooking utensils:
Lesson 4: Alice's Essential Kitchen Tools
"Just like ingredients, invest in what you need and no more"
In this chapter, Waters takes you through some of her practical everyday cooking tools. Introducing you to her daughter, Fanny, the pair discuss their minimalist philosophies when it comes to equipment.
You'll learn:
Waters' #1 most important kitchen tool
Which inexpensive tools are the best
What certain utensils are used for
How to minimize clutter and maximize utility
The best cooking pans to invest in
With an emphasis on tools that are inexpensive and eco-friendly, Waters shows you some of her most prized cookware. While most of these are low-budget, Waters does invest a bit more into certain items — and she tells you exactly why.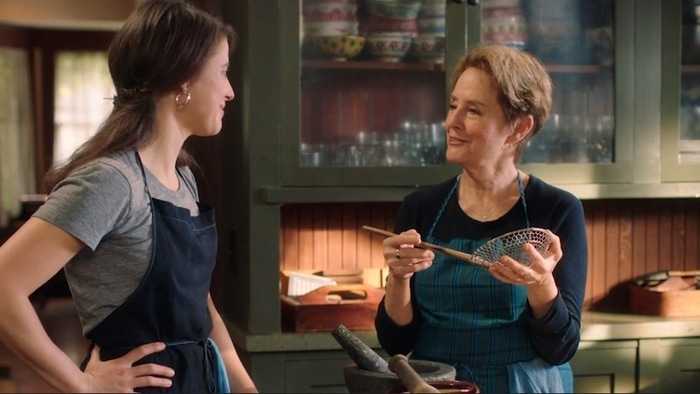 So, in this lesson, you'll learn Waters' take on which tools are worth the money, and which you could do without. As she sees it, cooking is a sensory experience, and regardless of fancy equipment, your hands will always be your best tools!
Despite this being a tool-focused lesson, one key takeaway for me was actually Waters' attention to composting. Insisting on using plastic-free items, Waters also takes you through ways you can minimize waste by starting a compost bin.
And, as her daughter testifies, you can do this even without a garden!
This takes you on to:
Lesson 5: A Well-Stocked Pantry
"How I stock my pantry allows me to cook in the way I do — simply"
In this section, Waters dispels the myth of what a pantry is. She offers a new perspective on this, and shares her tips for a fuss-free cooking experience. As she sees it, your pantry is something you should rely on, and it's the basis for all of her cooking.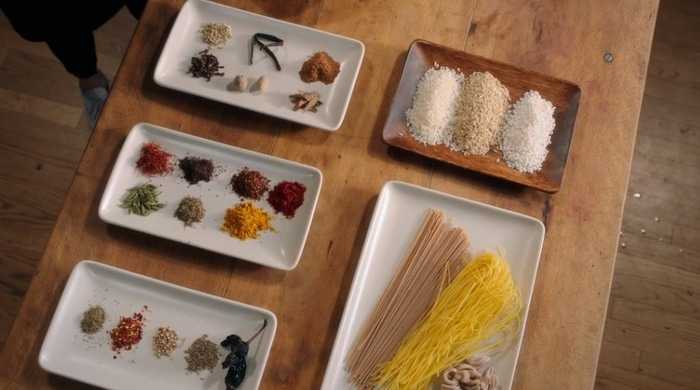 Showing you some of her pantry staples, Waters advises you on:
The basic items your pantry should have
How to choose the best quality products
Cost-effective ways to get premium ingredients
How to read labels to assess quality
Ideas for arranging your pantry/spice drawer
Here, Waters shares some of her favorite techniques for getting high quality ingredients on a budget. This includes where you should look when buying oils/vinegars and how you can expand your awareness of local products.
She also teaches you how to group spices and herbs by taste profile and region. If you're on a budget, this is a great way to create simple yet vibrant meals and to keep your at-home menus interesting.
Waters even discusses the different types of salts available on the market, and her personal recommendations for which 2 salts you should always have to hand.
Lesson 6: Cooking for Your Pantry: Alice's Staples
In this chapter, Waters gives you some strategies for "prepping" your pantry for future meals. With her waste-free mindset at the centre of this chapter, Water shows you how you can preserve leftovers and store them for other dishes.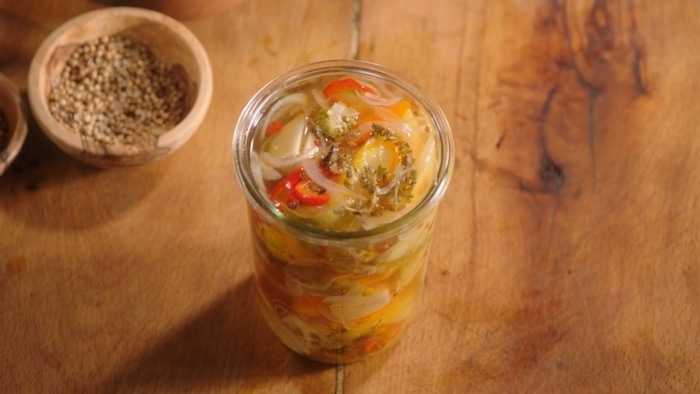 Focusing on versatile products, Waters gives you some tidbits on how you can extend the life of pantry items and use them to amp up different meals.
So, in this lesson, you'll learn how to:
Choose the right vegetables for preserving
Cook pantry-based meals to stock your fridge
Use up every part of green vegetables
Marry flavors for simple but tasty meals
Prevent food waste by using overripe fruit
Along with sharing her personal philosophies about flavor profiles and pantry must-haves, Waters also guides you through 4 easy recipes to minimize food waste.
Giving you insight into how fresh produce matures, you'll learn how to make the most of produce at every stage of ripeness. You'll also learn how to tackle some common cooking dilemmas such as preventing burning, counteracting bitterness, and balancing flavors.
While Waters does give you recipes in your Workbook, it's worth noting that she's very spontaneous in her cooking. She doesn't rely on measurements, and, as she says, you can substitute her ingredients with other products (she lists alternative ideas at the end of each recipe).
Lesson 7: Leaves, Herbs, and Aromatics
"Tending to plants throughout the season is a delicious meditation to me"
With her focus on using every part of a plant, Waters takes you through some of her favorite leaves and aromatics to cook with. So, in this section, you'll learn how to successfully pair herbs and use up all of your produce.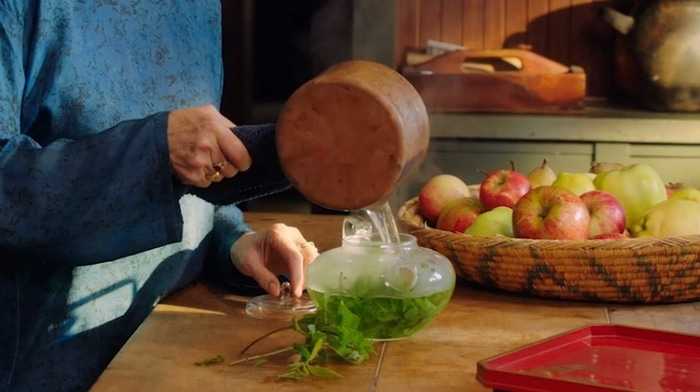 Sharing some of her favorite recipes for using fresh herbs, Waters teaches you how to:
Understand the uses of different leaves
Grow your own "essential" herbs (and what this means!)
Pair herbs and leaves according to season
Discern between strong and subtle herb flavors
Make your own herbal tea
Here, Waters teaches you how to master the art of herb pairing. As she says, tasting herbs is a key way to develop your edible education. It also prompts you to experiment with combinations and discern your own preferences.
While this is mostly subjective, Waters does verbalise what she believes to be some fool-proof combinations, as well as what herbs work best for marinades vs. salads.
This takes you on to:
Lessons 8-9: Cooking from Your Kitchen Garden: Salsa Verde & Preparing a Beautiful Salad
In this 2-part lesson, Waters teaches you how to make a couple of her staples: a simple green sauce and a French-inspired salad. With attention to the flavor pairings from the previous lesson, Waters shows you how to bring fresh herbs to life.
With this in mind, you'll learn:
How to pair and substitute herbs
Waters' method for dicing herbs
How to enhance or tame flavors
Waters' tips for getting kids to eat well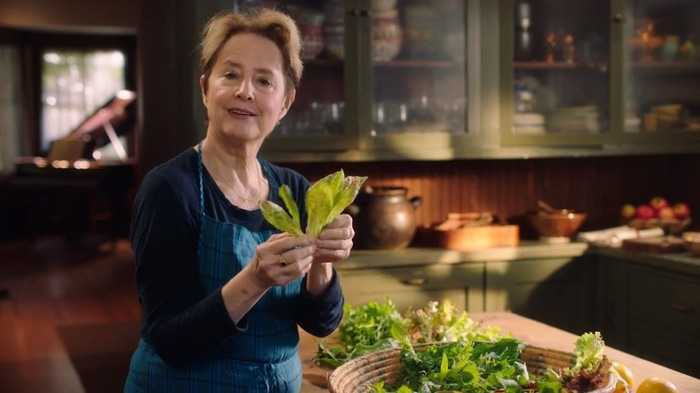 Right off the bat, Waters shares her personal experience visiting France for the first time. While she's mentioned this before, it's here that she really talks about the influence France had on her cooking style.
In particular, she cares less about gadgets or excessive ingredients and instead looks for what's high-quality and simple. With attention to harvesting your own leaves where possible, Waters gives you her step-by-step recipes for using different leaves to bring out their flavors.
Lessons 10-11: Chez Panisse Cooking: Galette & Ravioli
In this section, Waters takes you to her restaurant, Chez Panisse, to show you 2 of her chefs' recipes. As she sees it, much of her home-cooking values translate to her restaurant cooking. So, here, you learn 2 of her favorite recipes that they cook over and over.
You'll gain insight into how to:
Make your own pastry dough and cook a galette
Work confidently with pastry and master key techniques
Choose effective fruit pairings for pastry-based desserts
Use pasta machines to cook a ravioli dish from scratch
As Waters admits, these are 2 of the more complicated recipes at Chez Panisse. But, she says, if you cook them regularly, they become second nature.
Taking you through these recipes step by step, Waters gives you insight into how professional chefs work on a daily basis.
And, while you might not have a pasta machine at home, the bulk of the steps are still useful in teaching you desserts and sauces.
In the Workbook, there are also some variations on these dishes, so you can adjust them to what you have available.
Speaking of which, this takes you on to Waters' framework for choosing produce:
Lesson 12: Follow the Rhythms of Nature: Seasonal Eating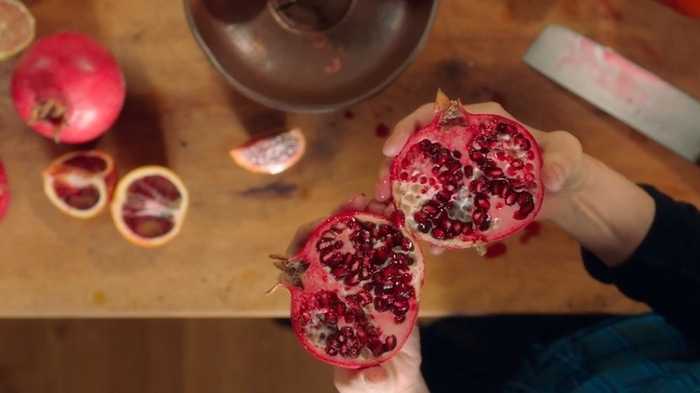 "Food is a living thing. So, you need to know that after it's been picked, it's always changing"
Challenging you to go out and taste what's in season, Waters teaches you her framework for seasonal eating.
With this in mind, you'll learn how to:
Taste to discern flavors and ripeness
Put together a seasonal fruit bowl
Repurpose fruit that's past its prime
Choose the right fruit for different dishes
Use your senses to assess fruit quality
In real time, Waters shows you some of her market-fresh produce, along with pickings from her garden. While discussing the perfect pairings for each season, she also takes you through her mental process for putting together a seasonal fruit bowl.
Here, Waters shares her exact tips for expressing the season by considering factors like color and taste. For winter, in particular, she gives you some actionable advice on how to use your pantry when fruit is scarce.
Harking back to her goal to free you from recipes, this chapter is a practical starting point for choosing fresh ingredients. It also gives you a basic framework that you can experiment with, and urges you to make the most of the produce that's at its best.
With this in mind, Waters shares with you her final menu for:
Lessons 13-14: A Market Fresh Dinner: Planning and Prep & Finish and Serve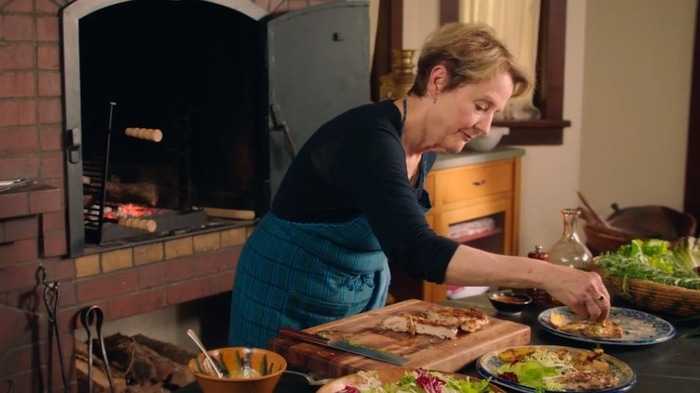 "I don't want to have to worry about last-minute preparation"
In this chapter, Waters guides you through a simple 3-course menu, from planning to plating. She also lists some alternative menus in the Workbook that are great for preparing in advance.
So, in this section, Waters teaches you how to:
Plan your cooking for accurate timing
Set realistic portions for your menu
Bring simple and seasonal ingredients to life
Use flame-cooking to get the most flavor
Cooking her own menu in real time, Waters shares her tips for cooking simple ingredients effectively. For example, she teaches you her hacks for cooking crispy chicken on the grill and even gives you a crash course lesson in heat distribution.
By the end of the lesson, you'll learn how to cook a 3-course meal confidently for a group of 4 or more. Waters also gives you some tidbits on plating and how to elevate simple ingredients within a dish.
Overall, this lesson gave unique insight into how Waters cooks for large groups of people. She takes you through every detail, from how to keep your food at a steady temperature to what steps to prioritize.
If you're keen to learn how to strategize your cooking to keep even the biggest menus manageable, this lesson will likely be a highlight for you.
Lesson 15: Coming Back to the Table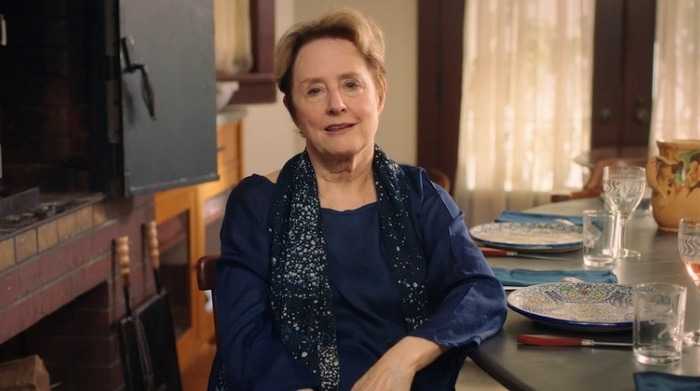 Reflecting on the "slow food" mindset she learned in France, Waters teaches you how to put care into what you cook and eat. As she sees it, enjoying food is both personal and communal, and it should be something you experience with all your senses.
So, prompting you to make the most of home cooking, Waters teaches you:
How to elevate home cooking to make it an event
The benefits of handmade food vs. takeouts
How to connect with where your food comes from
Her process for setting a table for company
In this lesson, Waters ponders the benefits of home cooking vs. ordering in. As she hopes she's taught you, the slow food experience is an enriching one and helps to bring people together.
With this in mind, Waters takes you through her table-setting routine, which she believes is part of making dining an event. While her preferences are subjective, it was nice to see how table-setting can enhance the dining experience — even for everyday purposes.
As she puts it, all of these choices help people to slow down and enjoy their meals as both nourishment and time spent together.
From here, Waters takes you on to her final chapters:
Lessons 16-17: The Power of Food: The Edible Schoolyard and BONUS: Alice's Egg in a Spoon
"Food is our shared language"
In these final lessons, Waters introduces you to her "Edible Schoolyard Project," which she began more than 20 years ago. This is part of her mission to teach children how to grow food, as well as encouraging people to eat locally and sustainably.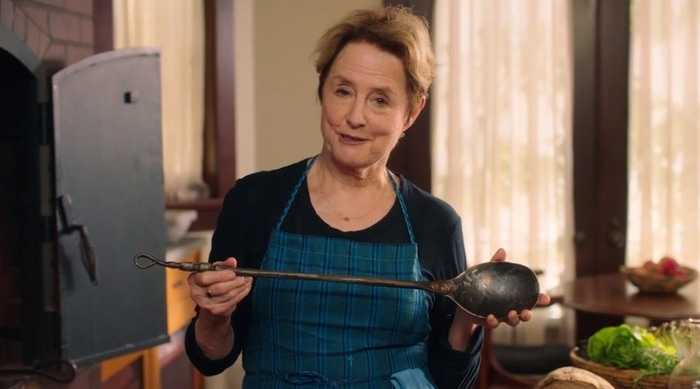 She also parts with a bonus recipe for a simple but flavorful eggs-on-toast dish. With this in mind, you'll learn:
The key principles of Waters' project
What Waters' thinks is the most important lesson
The common values we need to prevent food waste
Waters' parting advice for eating sustainably
By the end of this lesson, you'll have an idea of the bigger picture at stake in Waters' teachings. As she insists, cooking simply and seasonally not only enhances our own health and relationship with food, but feeds into the global effort to keep the planet healthy.
What I liked about Alice Waters' MasterClass
Learn from a trusted restaurateur
Aside from being a published author of many recipe books, Waters also has her own restaurant that's been going strong since 1971. With a new menu every week, Waters clearly knows what she's talking about when it comes to cooking with simple and sustainable ingredients.
In this MasterClass, you get the chance to learn from Waters herself as she takes you through her food philosophy. With the class framed mostly by "sit-in" lessons in Waters' home kitchen, you get an intimate look at how Waters really cooks at home.
Varied ingredients and substitutes
Both in the video lessons and the Workbook, Waters backs up all her recipes with alternative ingredients and substitutes. This is great for those with allergies or those who want to experiment with different flavor pairings.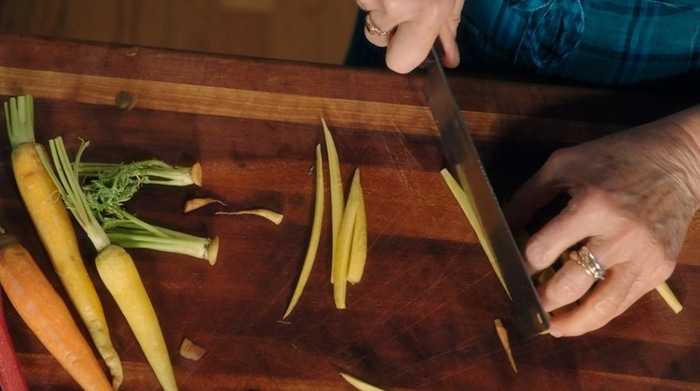 Waters' recipes are also mostly plant-based, which makes this MasterClass perfect for vegetarians or vegans. But, it's worth noting that Waters doesn't cater to specific dietary requirements, so you'll see a range of recipes in the videos and Workbook.
Eco-friendly and economical choices
"No waste" is at the heart of Waters' cooking. Throughout the course, she teaches you how to pick the best produce and use all of it for your meals. With her market-first approach and emphasis on composting, this course champions eco-consciousness — which is a bonus for everyone!
Inclusive cuisine (not just American)
Having studied abroad and been inspired by European styles of cooking and eating, Waters has a unique point of view when it comes to home cooking. Many of her recipes are French-inspired but don't fit into any 1 category.
Because of her influences, this means you get a range of recipes that depart from fitting any 1 cuisine. Using a range of fresh produce, too, you get a well-rounded recipe collection with ingredients you might not have expected.
What I think could be improved
Less attention to gluten-free options
As mentioned, Waters doesn't cater to specific dietary requirements. So, while she does provide substitute ingredients, you won't find, say, gluten-free or nut-free options. Luckily, most of Waters' recipes are plant-based with the exception of staples like eggs and milk.
Some high-end equipment used
This is a minor point, but there are moments in the course where Waters focuses on high-end equipment. One example of this is in her pasta recipe, where her chef uses a pasta machine to make ravioli from scratch.
Overall, these are fairly minimal, and the only other equipment she refers to is fire-cooking and cast-iron pans. She also admits that not everyone has access to these, so she does her best to provide alternatives where possible.
Experimental rather than set recipes
Early on, Waters shares her aim to free you from the constraints of recipes. So, it's no surprise that her recipes are a lot more flexible than you'd expect elsewhere. Often, Waters doesn't use exact measurements, and focuses on tasting as you go.
In general, this is a plus for the course — it's certainly less intimidating to know you have license to play. If you prefer more thorough recipes, the Workbook does include exact steps, but it's definitely more characteristic of Waters to be spontaneous.
Who's this course for?
In my view, this course is best suited to anyone who's:
Eager to improve their home cooking
A fan of "slow food" and sustainability
Keen to make healthier food choices
Looking to simplify their cooking style
While food enthusiasts will likely get the most out of this course, I do think Waters' advice is helpful for anyone looking to cook more economically and cut down on kitchen-fuss. Waters' recipes are always minimal and focus on bringing out flavor almost effortlessly.
However, if you're more interested in high-end restaurant-style cooking, you might not get as much out of this course. Waters doesn't use fancy tools or typically chef-style techniques — it's all about keeping things simple.
So, if any of the above bullets sound like you, I think this MasterClass would be a great fit.
How much does the Alice Waters MasterClass cost?
At the time of writing MasterClass had three subscription offers. The cost of these (per month) is:
Individual (1 user) $15
Duo (2 users) $20
Family (6 users) $23
All are billed annually, which at first glance may seem pricey.
However, you can considerably reduce your costs by joining with friends or family. And of course by taking as many courses as possible.
With over 150 courses on the platform you're likely to find quite a few to interest you. Even if you buy an individual membership and find only 10% of the courses of interest this still works out to only $12 a course:
$180 (annual individual membership fee) / 15 courses = $12.
And if you join with friends or family then the cost of each course is drastically reduced. Check out our MasterClass review or MasterClass cost articles to see how.
Bearing in mind that these classes are taught by global leaders in their fields the value is unbeatable. You can pay over $100 for an online course taught by someone you've never even heard of, never mind the calibre of chef on MasterClass!
What's more, MasterClass also offers a 30 day refund if you're unhappy with your purchase.
You can also purchase MasterClass as a gift.
Alternatives
Aside from Waters' course, there's a range of cooking classes both on and outside of MasterClass. At the time of writing, here are some of the food and drink classes MasterClass offer:
Outside of MasterClass, there are some other options. One example is Udemy's Healthy Cooking Fundamentals, which is probably the closest match to Waters' fresh-market-focus. There are also plenty of choices on Skillshare.
While there are some cheaper options out there, they're a lot shorter than Waters' MasterClass and usually less attentive to the "slow food" philosophy.
Probably the closest to MasterClass for quality of production and calibre of chef is YesChef, which is a specialist cooking platform. And if you like to mix up your cooking and baking with other crafts you could try Craftsy.
The verdict?
If you're more interested in cooking basics, rather than developing your approach to food, a more recipe-focused course might be a better starting point.
But, if you're a fan of Walters' and are eager to change how you see and work with food, I think her MasterClass is invaluable. You also have the bonus of hearing from an award-winning chef.
So, it's worth considering what you want to get out of this MasterClass before committing to it.
And, remember, with the all-access pass, you can take any or all of the MasterClass courses!
Alice Walters' MasterClass: what others have said
My aim here is to present the most fair and balanced review of Alice Waters' MasterClass. So, it's worth drawing attention to both good and bad reviews.
While researching the course on Reddit and similar forums, I found largely positive reviews. That being said, the course wasn't without its flaws. For some viewers, Waters' principles meant buying more expensive ingredients more often:
"I absolutely adored this class [...]. However, I struggle to do this in a way that doesn't absolutely wreck my budget. [...] To buy the truly high-quality produce that is as flavourful and produced in a way that is good for the environment is very expensive" -- Comment from MasterClass
Waters also deviates from other chefs in her menu planning. In this class, at least, she doesn't focus so much on appetizers and main entrees, but rather on making a range of dishes for sharing. And, while this course is vegetarian-friendly, there's less attention to vegetarian main meals:
"Any ideas for people who are vegetarian? Entrees are the biggest challenge -- I know I can use Alice's principles in soup, dessert, salad… but what about entrees?" -- Comment from MasterClass
As a non-vegetarian, I didn't notice this too much myself. In fact, there's a great bonus recipe for an easy vegetarian lunch. That being said, Waters does prefer making smaller dishes rather than large meals. So, if you're cooking on a busy weekday, this isn't always the best option.
However, Waters' class had a largely positive rating, with viewers enjoying her intimate teaching style and fresh approach to home-cooking:
"This was my first MasterClass and I am SO happy I picked this one. Alice is so genuinely sincere and enjoying her true love of healthy nutrition was so informative and inspiring [...]. I learned so many things [...] and have been to our farmers market twice now" -- Comment from MasterClass
"Such a joy to watch! Reminded me how I miss the love I have of cooking for guests and loved ones. [...] Such a homely warm way of presenting our connecting to earth, soil and each other through food" -- Comment from MasterClass
"This has been a great class for me… since starting, I've found and frequented two of our local farmers markets and increased my herb garden. Looking forward to testing some of the recipes [...] So inspired!" -- Comment from MasterClass
Overall, most users got a lot from the MasterClass and were inspired to embark on their fresh-food journeys. I think it helps that Waters' tips are concrete and actionable. You really can get started wherever you are!
How long it took to complete the course
At 3 hours and 47 minutes long, Alice Waters' MasterClass is of an average length. Her lessons usually vary between 5 and 20 minutes long, and you can easily group lessons together to spread them out over a week.
Is the course content unique?
In short, this course isn't 100% unique. As a published author, Waters has shared a lot of her food philosophies and recipes in the past (most of the recipes in the Workbook come from her books).
Along with this, Waters also talks a lot about her Edible Schoolyard Project with the media and aims to promote the slow food movement where she can.
That being said, this was the first time I'd seen Waters teach on an almost 1-1 basis. It was definitely a far-cry from her interviews, which, in my view, feel a lot more distant.
As one user pointed out, there's also a huge benefit to seeing Waters guide you through the recipes as opposed to reading them from a book. For visual and practical learners, this really helps bring the lessons to life.
And, with MasterClass, you have the bonus of all content being in one easily accessible place. This includes the Workbook recipes and even a community forum to discuss each lesson.
What you will need
While Waters goes into a lot more depth in the course about what cookware is worthwhile, you'll need a few basics to try her recipes:
1 or 2 sharp knives
A cutting board
Saucepans and baking trays
Sieves
A pestle and mortar
Is Alice Waters' MasterClass worth it?
If you know a little bit about Waters and what she tries to promote, you'll likely enjoy this course. For me, it struck a great balance between sharing recipes and prompting you to experiment.
This course is suited to anyone looking to develop their relationship with food. Whether you're a fan of cooking or not, this class excels at stripping back the cooking process to the basics.
While the class does include 1 or 2 more complicated recipes, it's definitely more focused on cooking simply with fresh but minimal ingredients. So, if you liked what you saw in the trailer and lesson plan, you should come away feeling inspired!
And, to get the most out of MasterClass, it's worth taking as many courses as possible that interest you. With 150+ classes to choose from, this should be easy.
For example, you can learn Interior Design from Kelly Wearstler, Storytelling and Humor from David Sedaris, and Photography from Annie Leibovitz.
Also, MasterClass has a 30-day refund policy if you're not happy with your purchase. This reduces your risk of losing money if a class isn't for you.
Frequently asked questions
How much does Alice Waters' MasterClass cost?
A MasterClass all-access-pass costs $180 a year ($15 a month). This gives you access to Alice Waters' MasterClass, alongside 150+ other courses.
How long is Alice Waters' MasterClass?
Alice Waters' MasterClass is 3 hours and 47 minutes long and consists of 17 videos.
Can you get Alice Waters' MasterClass for free?
Unfortunately you can't get the Alice Waters MasterClass for free. But MasterClass allows you to sample her class for free and offers a range of purchasing options as well as a refund if you're not happy.
Can I get a refund if I don't like the Alice Waters MasterClass?
Yes, MasterClass operates a 30 day refund policy if you purchase directly through them. If you purchase through other providers, their returns policy may apply.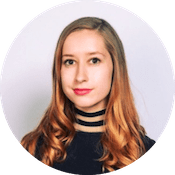 Rebecca graduated from King's College university with a first class honours in English Language, followed by a Masters' Degree in Eighteenth Century Studies.