Are you a filmmaker, movie enthusiast, passionate writer, or visionary photographer? Then MZed could be the platform for you.
I'm no stranger to online courses and I've taken many classes related to filmmaking, from screenwriting to deep-end cinematography.
So, in this MZed review, I'll be covering all the information you need to know, including prices (and how to get the best value), pros and cons, and my favorite courses so far.
But first, here's the highlights:
.
Quick summary
Pros
Carefully curated courses from leading experts in the filmmaking industry
Abundance of tips, tricks, and actionable techniques that you can put into practice to materially improve your filmmaking
Covers every element of filmmaking and is suitable for all skill levels
Well-organized and easy to navigate
Offers exclusive benefits for subscribers such as discounts and access to the iOS app
Most courses provide professional accreditation on completion
Cons
Absence of a dedicated social forum for users
No lifetime access for the whole platform
Best for: Anyone interested in filmmaking – be it as a hobby or a professional aspiration, MZed can help users of all levels to learn, improve, and excel.
Cost: The current price for a yearly subscription is $349, however there are other purchasing options that can be viewed here.
Overall: MZed is a great learning tool for anyone who is passionate and dedicated to moving pictures and photography. There is so much to learn from experts in the field, and the content is regularly updated so that you stay on top of the latest trends. MZed has definitely changed my perspective on filmmaking and helped me consider new techniques, making me a better artist.
In order to give you the most comprehensive review possible I'll be covering:
What is MZed?
How does MZed work?
My review of 3 classes
What I liked about MZed and what could be improved
Who MZed is for
How much MZed costs
MZed's refund policy
Alternatives to MZed
What others have said about MZed
Is MZed worth it?
FAQ
So, let's jump into the review!
What is MZed?
If you're a filmmaking student who hasn't heard of MZed yet, you're in for a treat.
MZed was founded by photographer Monte Zucker as an online learning platform for passionate students of filmmaking and photography.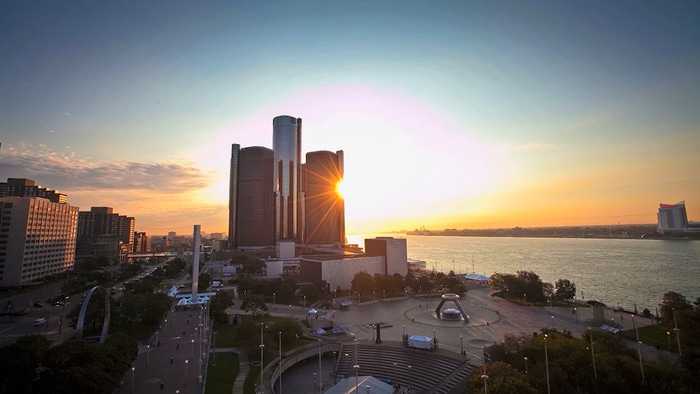 This platform stands out from other filmmaking courses or YouTube tutorials as it provides its learners with a range of courses to choose from that cover every corner of the filmmaking industry.
It's the complete package.
Besides the immense variety of subjects, there's also a great diversity of professional teachers, many of whom are highly accredited and well-regarded within the industry, such as Philip Bloom and Tom Cross.
By subscribing to MZedPro or purchasing an individual course, you can rest assured that you will be taught by one of the best filmmakers out there – learning practical techniques that you can experiment with right away.
MZed offers over 39 courses with 450 classes between them, many of which offer their students a professional industry certification for completion.
There are endless reasons to love MZed but the best is by far the straightforward accessibility of a platform that's all about film and photography.
How does MZed work?
MZed specializes in online courses related to filmmaking and photography. They currently have nearly 40 courses that cover a range of topics and vary in duration.
The courses are created and led by filmmaking experts and are usually conducted as a one-to-one class. Some courses are slightly different with a more hands-on approach, as you watch a teacher teach a masterclass in front of students.
Each course is broken down into modules making it easier for students to follow and organize their learning.
Here are some of the skills you can learn or improve on:
Cinematography
Directing
Editing
Screenwriting
Visual storytelling
Lighting
Color Grading
Audio
Producing
Photography
Depending on the kind of purchase you make ––whether it's an annual subscription, an individual course, or even an individual class ––you'll have different ways of accessing the content.
With an MZedPro subscription, you can download classes via the iOS app and watch them offline but you cannot download classes onto your laptop. Also, you won't have access to this content for life, only while your subscription is still active.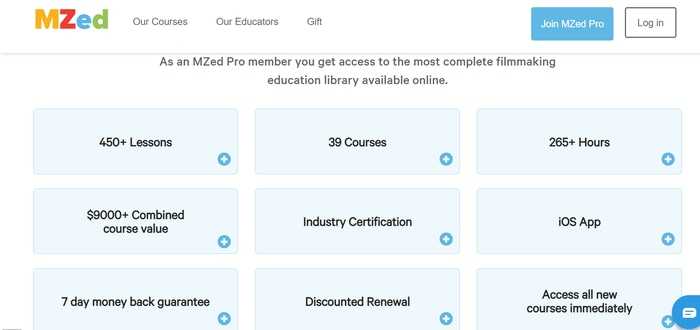 However, if you purchase an individual course or class, you can download your selected content onto your laptop and keep it forever!
These options make MZed a truly flexible and adaptable platform that's great for all types of learners.
My review of 3 classes
To help you get an inside look into MZed's courses, here are three mini reviews of courses I have sampled so far.
I chose these courses because they offered a variety of different subjects, such as the basics of filmmaking, lighting, storytelling, screenwriting, and directing.
I completed 5 hours of Philip Bloom's Cinematic Masterclass, 3 hours of The Art of Visual Storytelling with Alex Buono, and all of Short Films 101 with Seth Worley.
Here's what they're all about:
Philip Bloom's Cinematic Masterclass
You will learn to:
Create memorable storytelling
Master composition and framing
How to select and make the most of your equipment
Get to grips with lighting, audio fundamentals and post-production techniques
Conduct fruitful interviews
Pros:
The course is well organized and covers a range of fundamental filmmaking techniques
Philip Bloom's expertise and confidence provides learners with unique tips and tricks for achieving cool effects
This masterclass is suitable and adaptable for learners of all stages
Cons:
Some modules are packed with more information than others, making them slightly confusing
There is no direct way to communicate with other students of the course
Length of Course: 9 hours and 27 minutes long and consists of 9 modules
Best for: While this course covers many fundamentals, making it ideal for beginners, Philip also provides in-depth sections which more advanced filmmakers can benefit from.
Overall: This masterclass is comprehensive, well organized, and engaging! Philip Bloom is a proficient and charismatic teacher who uses his experience to his advantage, covering the basics as well as the more intricate parts of filmmaking.
The Art of Visual Storytelling with Alex Buono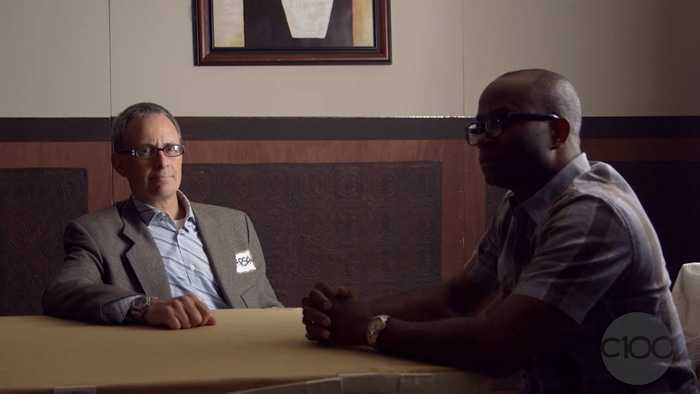 You will learn:
How to prepare a shoot and adapt it to the genre
Best programs and apps to use
How to set up a master shot
When to adjust the set and when to fix elements in post-production
How to direct and shoot a commercial and interview
The best low-cost lighting tools to use
About the history and evolution of filmmaking
Pros:
Alex Buono is an academy award-winning cinematographer and producer with seventeen years of set experience, making him an expert in directing
The class is interactive as Alex teaches a live audience who volunteers to help him direct example shots
The course is pragmatic and provides learners with direct and real examples of how to adjust and improve their skills and techniques
Cons:
The course is not as engaging as some other courses, as the rhythm is quite slow and each module packs in a lot of information
It is not a suitable course for beginners
Length of Course: 4 hours and 13 minutes long and consisting of 13 modules.
Best for: Filmmakers who have some set experience and who are looking for straightforward advice on how to improve. Over the different modules, Alex covers lighting, audio, cameras, directing, pitching, and organizing, so the course is available for all kinds of filmmakers and not just directors.
Overall: Alex Buono is clearly a very experienced and self-assured filmmaker who knows how to problem-solve, get the best out of his crew, and help others become better filmmakers. The course is intensive but very valuable for those who have some experience already.
Short Films 101 with Seth Worley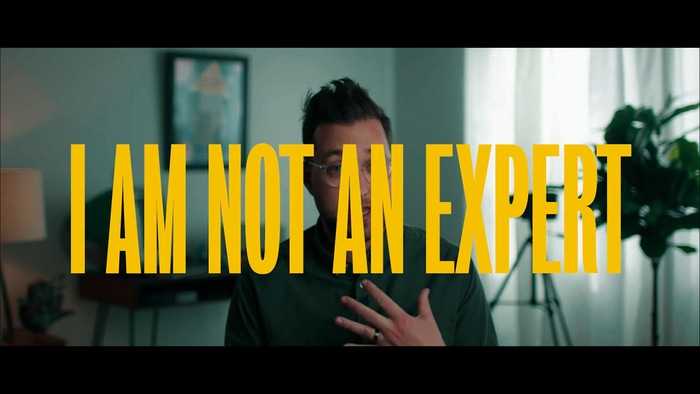 You will learn:
How to improve your filmmaking voice, vision, and execution
The value in finding a connection between the audience's interests and your own
How to embrace your cinematic influences and incorporate them into your work
Why short films are rewarding and valuable learning experiences
How to analyze other films and improve your short's structure
Tips for writing a short film script
To organize a shot and use mood/story boards
How to direct and take care of your crew
Best tips for editing in post-production
Pros:
Seth Worley is an award-winning writer and director with an extensive background in short filmmaking, both good and bad, which has helped him improve along the way
The course is organized into bite-sized modules, condensed with information and fun analogies
Cons:
The course is very short despite the large amount of information in each module. Some learners might feel underwhelmed by certain modules that are under five minutes long (but this might suit those with busy schedules)
Despite the use of some of Seth's own filmmaking examples, the course doesn't provide the learner with enough practical demonstrations
Length of Course: 1 hour and 6 minutes long and consists of 15 modules
Best for: This course is suitable for everyone, from the most advanced short filmmaker to a brand new beginner. You don't need any experience to enjoy this course and create your first short film, but if you do have experience, Seth has some great advice that might change your perspective.
Overall: The course is short but engaging, fun, and surprisingly useful! I found that it really helped me change my view on my own projects and get a better understanding of how other filmmakers, actors, and screenwriters feel on set.
What I liked about MZed
Expert teaching
MZed's teachers might not be household names for the average person, but they are big names in the filmmaking industry.
This proves that they are accredited individuals who are recognized and regarded by their peers — making them great people to learn from!
Most of filmmaking happens behind the scenes — while you might know the names of many famous actors and directors, you don't always know the names of the directors of photography, producers, editors, lighting technicians, managers, etc.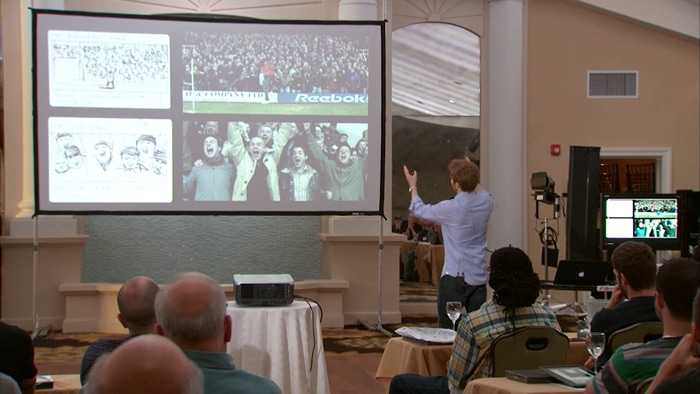 This is where MZed comes in, taking all these behind-the-scenes experts and placing them center stage, giving them a platform to share the secrets, tips, and techniques of their trade with future filmmakers and movie enthusiasts.
All the courses I have taken on this platform have been engaging, packed with useful information, and have provided good demonstrations of technique. I can safely say I feel like I'm in good hands with MZed's teaching staff.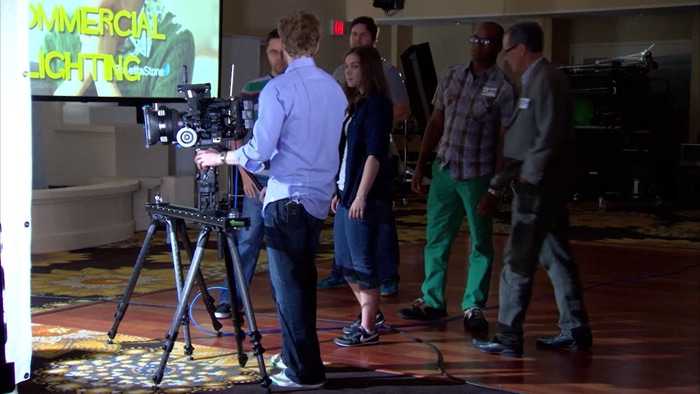 Courses for all levels
As I mentioned above, a course like Alex Buono's 'The Art of Visual Storytelling' is definitely catered to those who have some experience on set and understand cameras, lighting, and audio already. These courses are designed to help people improve and try new techniques and angles.
But then courses like Seth Worley's 'Short Films 101' are excellent for absolute beginners who want to have some fun with friends and create a short film or begin a filmmaking portfolio.
And then there are great comprehensive courses, like 'Philip Bloom's Cinematic Masterclass', which occupy a middle ground between beginner and advanced filmmaking, providing opportunities for all students to learn, experiment, and refine their filmmaking skills.
Top-Notch Organization
One of the best things about MZed is how easy it is to navigate. You don't have to be a computer whizz to use it, and there are several features that make it easier to find what you're looking for.
For instance, the platform allows you to search for course bys, filtering through:
Category
Certification
Educator
Price
Resolution
Difficulty
So, for instance, if you're interested in a screenwriting course, with or without certification, run by any educator, for under $99, in HD definition, and beginner-friendly, then MZed will suggest 'Writing 101' or 'Writing 201' with Seth Worley.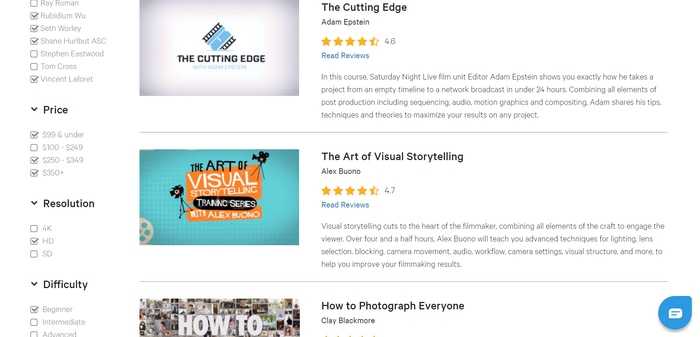 This feature helps you save time and discover if the platform has what you're looking for before you subscribe. You can also look through their educators and find out which courses they have taught for MZed.
What could be improved
Would benefit from more interaction between learners
For me, MZed's biggest and virtually only downfall is that it does not offer a designated community space for MZed learners.
While MZed has invested in promoting the 'I am MZedPro' movement to demonstrate how its learners have developed thanks to the platform, there isn't a group, forum, or space where learners can share their work, make suggestions, and help each other improve.
Other filmmaking platforms such as FullTime Filmmaker and Future Filmmakers do offer exclusive opportunities for their learners to communicate amongst themselves, and with an art that is as interactive as filmmaking, MZed could really benefit from something like this.
Having said this, in every MZed course I have taken so far, the teachers do emphasize the importance of sharing your work with others and how you can grow from doing so. And, of course, the lack of a social forum in no way undermines the quality of the courses and teaching that MZed offers.
This might be something that MZed is considering for the future, but for now, they do offer industry discounts for MZedPro members on video-sharing platforms such as Vimeo, thus encouraging users to put their work out there!
Who MZed is for
Movie and TV enthusiasts
Photographers looking to experiment with film
Camera lovers who want to get the best out of their equipment
Screenwriters who want to get a better understanding of how their script translates to the set
Aspiring or experienced directors who wish to get the most out of their actors and crew
Producers
Movie editors looking for new tools, techniques, and tips
Actors who would like to try directing or screenwriting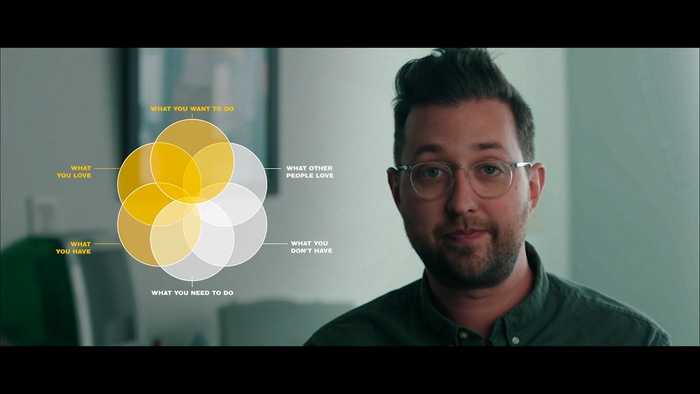 In short, you don't have to have any experience to enjoy MZed, all you really need is a hunger to learn and a passion for film or photography.
How much does MZed cost?
So, how can you begin your filmmaking learning with MZed? It's easy!
There are three ways you can enjoy MZed:
Subscription
Individual course purchase
Individual class purchase
So, here's the breakdown.
The easiest and best way to make the most of the platform is to subscribe to MZedPro. An annual subscription costs $349 dollars and provides users will full access to all MZed classes and courses instantly.
Although the subscription is annual, if you break it down you'll be paying roughly $30 per month for over 255 hours of classes. And, the overall combined value of all the courses is over $9000!
In addition, MZedPro offers you exclusive perks. For instance, if you love MZed as much as I do, when you renew your subscription it costs you only $199!
You can also download the exclusive iOS app enabling you to download individual classes to watch offline.
Now if you're not ready to subscribe to MZedPro just yet, there are other options available.
The next best option is to purchase one course individually. This is great as, if you are only interested in one specific course and teacher, you can still purchase it without having to buy an annual subscription. With individual purchases, you can also download the entire course and keep it forever.
However, it is important to note that some courses are not available to purchase individually and are exclusive to MZedPro users.
Individual courses vary in prices, with the current cheapest one costing $29 and the most expensive costing $999.
So, looking at it this way, if you're only interested in a course that costs $29 dollars, then purchasing it individually is your best bet.
Nonetheless, if there is at least one more course you're interested in — and, if you're a movie lover there will likely be more — then the subscription offers you the best value for money.
The final way to use MZed is to purchase individual classes from a specific course. These prices vary from course to course. For instance, if a course costs $199 but the six individual classes cost $79 each, then you'll end up paying $474.
MZed refund
If you would like to try MZed but you're scared it won't be worth it, you can get a refund if you select an MZedPro subscription.
Once you've paid your annual subscription, you have seven days to request a full refund. However, if you purchase an individual course, class, or if you go past the first seven days, you cannot get a refund.
The best way to enjoy MZed is to find a selection of courses you're interested in so that you make the most out of your subscription and get the best value for money!
MZed Alternatives
Naturally, there are many platforms similar to MZed that aim to teach and inspire the next generation of filmmakers.
Some alternative platforms to MZed are MasterClass, FullTime Filmmaker, and Tomorrow's Filmmakers.
MasterClass
MasterClass is a very popular online learning platform which is subscription-based like MZed. The main difference is that it offers an abundance of courses from all different subjects, from cooking with Gordan Ramsay to singing with Christina Aguillera.
It offers many filmmaking courses, with Martin Scorcese and James Cameron, Samuel L. Jackson teaching acting, adventure photography with Jimmy Chin, and photography with Annie Leibovitz, among several others.  There's also a MasterClass Session with Marques Brownlee on creating videos that go viral.
This is a great option if you're interested in a range of different activities and pastimes, want something financially accessible, and like to learn from familiar faces.
However, if you're looking for something that focuses on film, and especially professional filmmaking, then a platform like MZed, Tomorrow's Filmmakers, or FullTime Filmmaker might be a better choice.
Tomorrow's Filmmakers
Tomorrow's Filmmakers provides users with a lifetime membership with access to over 1000 video classes, personal mentorship, a private Facebook community group, and access to exclusive discounts.
Their usual price is $697 for the lifelong membership, however, at the time of writing they offer a special $97 price!
At this discounted price this membership is the cheapest of the four, offering an all-inclusive and comprehensive filmmaking course that is suitable for beginners through to experts. They also offer a 30-day money-back guarantee and allow you to view the course curriculum before signing up!
Although the platform does not have the same celebrity names as teachers as MasterClass and MZed do, if you're looking for something accessible and comprehensive, or even a complimentary platform to MZed, then this might be an option worth exploring.
FullTime Filmmaker
FullTime Filmmaker is more expensive than any of the other options, coming in at $997. However, this is not a subscription service. The FullTime Filmmaker membership is lifelong and only requires one purchase.
Once you have purchased the service, you get access to all current and future videos, access to an exclusive Facebook Group, video contests, and free downloads. They also offer a 30-day refund policy, so the risk of losing your money if you're not happy with the service is minimal.
FullTime Filmmaker says it is designed for beginner and intermediate filmmakers but believes that its platform can benefit anyone. If you're not sure whether it is the right platform for you, you can access a short free sample on their website.
The key difference is that a lifelong purchase implies that you are a really committed filmmaker who is prepared to invest in your trade. However, if you're interested in getting into filmmaking, it might be better to start off with a platform that's cheaper and easier to use such as MZed.
If pure photography and photography editing is more your thing, you should read our PHLEARN, KellyBone One, Masters of Photography or The School of Photography Reviews. Or better still, check out our Best Online Photography Course review and our Best Video Editing Class review
Whereas if you're looking to develop your general creativity, alongside film making, you could check out CreativeLive.
What others have said
I want to give you the best and most balanced MZed review so let's take a look at what other people have said about it.
I looked at comments users had made about MZed on Google, Reddit, and YouTube.
While there were a couple of negative comments regarding a specific course or customer service, I wasn't surprised to see that the vast majority of users love MZed!
One criticism that came up was about MZed's subscription renewal policy. A couple of users mentioned that MZed did not notify them before their subscription was renewed and had to request a refund.
MZed is constantly checking in on what their users say and actively responds to comments. It's worth noting that this is a common issue with automatic renewal subscriptions.
Make sure to write down the exact date of your renewal and check your inboxes regularly. And, don't forget that if you love MZed and do wish to renew it, MZedPro subscribers get a $150 discount on renewal.
Another user complained about the lack of content and compared MZed to MasterClass – another great subscription-based online learning platform.
'Need more content! I just found MasterClass is cheaper and has more courses.' - Facebook
MasterClass does indeed offer over 22 filmmaking-related courses for $180 per year. While MasterClass is cheaper, they do not specialize in filmmaking courses like MZed does.
The platforms have different strong points and provide learners with different opportunities from different teachers. While MasterClass might have big celebrity names such as Annie Leibovitz, Shonda Rhimes, Natalie Portman, and, Martin Scorcese, MZed's teachers are experts who are well-regarded in the filmmaking industry.
Objectively, MZed offers more filmmaking content than MasterClass as they have over 39 courses dedicated to the art.
Most users' comments were very complimentary, applauding MZed's range and quality:
'Amazing product! The videos are so in-depth. I am an avid YouTuber and found I was reaching a ceiling of in-depth industry knowledge. I found MZed and it was what I was looking for. Really high quality, deep knowledge. What was cool was the different types of knowledge from writing, camera, color, photography, it really has everything in the multimedia industry! I think it is worth it.' - Facebook
This user highlights the way in which MZed offers thorough teaching which prepares users for the professional environment of filmmaking.
Another user praises their customer support rather than criticizing it which suggests that MZed has taken criticism on board and improved their platform inside and out.
'Amazing customer support, I had issues with a download but it was solved very quickly and pleasantly. The content is amazing too. A big recommendation to any (aspiring) filmmaker.' - Facebook
So while MZed will naturally not be the best platform for everyone, and even though it has its limitations, most users applaud its quality of teaching, diversity of courses and subjects, and overall administration.
Is MZed worth it?
In a word: yes.
MZed is undoubtedly a great platform for both aspiring and experienced filmmakers.
One reason I can think of not to go ahead with checking it out is the cost. But then again, given the value you get, I really think that it's well worth it. You can also view it as an investment in your skills, and in comparison to a lot of equipment out there, it's actually relatively cheap.
With industry leading teachers, well put together syllabuses, and a strong focus on actionable techniques, MZed really is a great platform.
If you are passionate about movies, keen to improve your skills, and eager to become more professional, then MZed is definitely a valuable tool for you.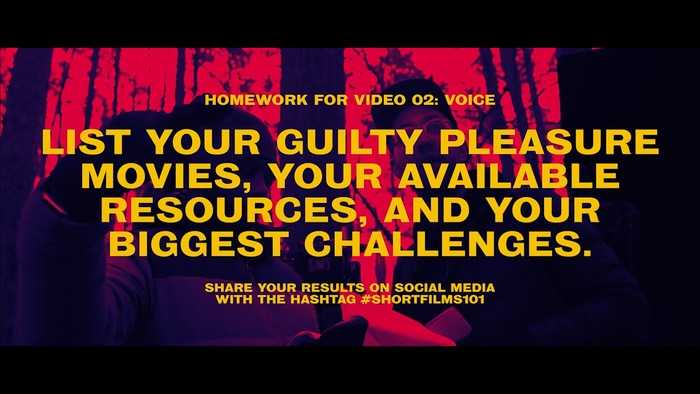 The best way to get the most value for money is to subscribe to MZedPro and take as many courses that interest you. This way you're not only learning more by having access to a wide variety of courses, but you're also saving, as purchasing the courses individually would be more expensive.
Don't forget that if you're still unsure of whether or not MZed is for you, you can get a full refund within the first seven days after your MZedPro purchase. You cannot refund individual classes and courses, but you do get to download them and keep them forever!
Frequently asked questions
How much does MZed cost?
An MZedPro subscription costs an annual fee of $349, while individual courses and classes' prices vary.
Does MZed have a refund policy?
MZed does have a refund policy reserved for MZedPro subscribers. You cannot get a refund for individual courses or classes, but you can get a full refund within the first seven days after your MzedPro subscription. 
How many courses are there?
MZed provides learners with over 39 courses, 450 lessons, and 265 hours of content! 
Does MZed have a free trial?
MZed does not offer a full free trial for the whole platform. However, there are a variety of free classes from selected courses that you can enjoy free of charge with a Free MZed account.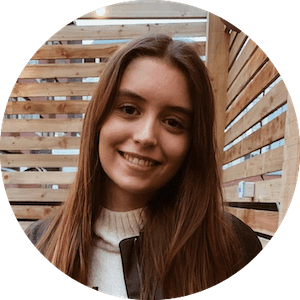 Lauryn is an English Literature and Creative Writing graduate and Journalism Master's student. She's passionate about the arts, writing, photography, storytelling, and editing – anything creative really!