Looking for the best video editing courses to make you a pro editor? Look no further!
This article's here to help you find the best online video editing class, based on credentials, price, time, and quality.
It can be hard to find the perfect fit for you when there are so many options out there, so we're here to make it easier.
We've taken everything into consideration, from the editing programs available such as Premier Pro and iMovie through to class format, to come up with the top 10 video editing courses that will take you from beginner to professional.
So, let's jump right in!
What is the best video editing course?
These are our top ten video editing class recommendations:
Our top choice is Video Editing with Adobe Premiere Pro for Beginners on Skillshare – a well-rounded class for editing novices that will teach you all the essentials.
It's also a great choice as Skillshare allows you to explore many different courses at once through their subscription model. After enjoying a free trial, if you choose to subscribe you can work on your video editing and at the same time pick up another skill like photography or videography.
However if you're looking for a quick stand-alone course that doesn't require a subscription, is detailed and dynamic, and grants you lifetime access, the Adobe Premiere Rush CC for Beginners on Udemy is an excellent choice.
All the courses we've selected are great, comprehensive, and expertly taught classes, but we've ordered them based on what they can offer you: from the most general beginner friendly to the most specialized. Each offers something special so it's just a matter of finding the perfect fit for you.
Best free video editing courses
If you want to master editing but you're not quite ready to spend a lot of money, these three courses offer great free trials. If you're new to Skillshare you can enjoy a month of free access and get started with the course before you decide if it's the one for you.
Inside the Edit also offers a two-week free trial which is worth looking at.
Best video editing reviews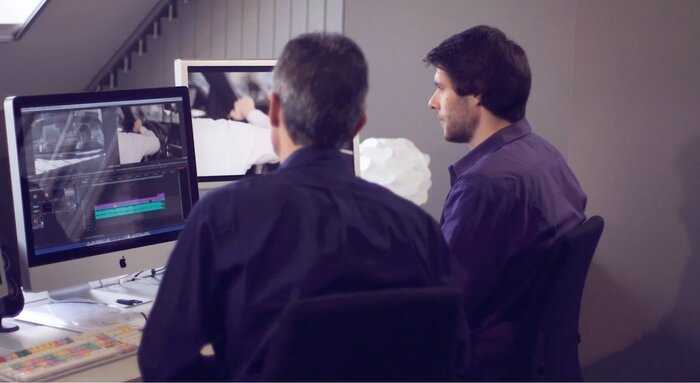 Platform: Skillshare | Teacher: Jordy Vandeput | Length: 19 video lessons totaling 3 hours and 22 minutes
If you're looking for an all-encompassing class that will take you from absolute beginner to being comfortable with Adobe Premiere Pro, this is the course for you.
Jordy Vandeput is an experienced tutor who trains his students in editing and production, making him the perfect person to guide you through the complex world of video editing.
What you will learn:
How to create and organize your Premiere Pro projects
To create and use layers to the best advantage
How to master a variety of tools and techniques including masks and blending
To edit and transform audio
How to create creative effects such as animation, graphics, and text
To round-off your editing and export your video successfully
Pros:
The course is short with easily digestible video lessons so you can learn quickly and start editing straight away
Learn from an experienced tutor with a large following on YouTube
As the class is on Skillshare, you can follow up this course with more advanced or specialized courses once you've finished
Cons:
The course doesn't go into too much depth into techniques as it is a course designed for beginners
This class is limited to Premiere Pro so if you're looking to edit on other platforms, it is quite limited
This course is definitely a beginner-friendly approach to Adobe's Premiere Pro, one of the most popular editing platforms.
It will take you through all the basics, from opening Premiere Pro and creating your first project to finally exporting it with a range of creative and technical edits.
This is our top-rated course as it will help you master most of the complexities of video editing, and above all help you to quickly and confidently build a foundation on which you can then develop your skills further with other Skillshare courses.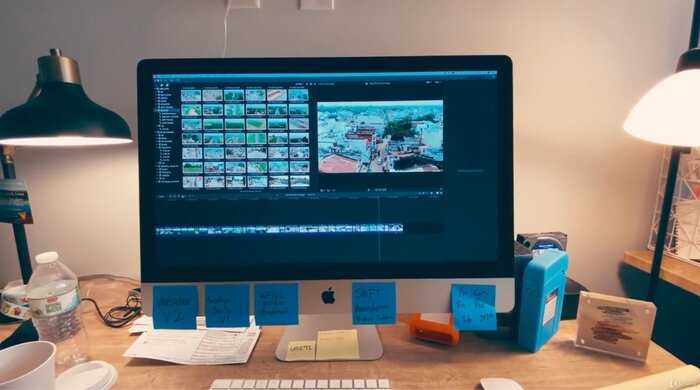 Platform: Udemy | Teacher: Johnny Sturgeon | Length: 12 video lessons totaling 33 minutes
There are many different editing platforms available out there, and perhaps Premiere Rush CC is the one for you. While it's often considered to be easier to tackle than Premiere Pro, it can still be confusing for absolute beginners, so this is the best course to help you navigate it.
The instructor, Johnny Sturgeon, is an experienced editor with a specific passion for Adobe's Premiere Rush, believing it's the best platform for editors starting out who have busy schedules. If that's you, this might be the course you should try.
What you will learn:
How to create a brand-new Premiere Rush project
To edit the interface to your preference
How to edit with a video timeline, place clips and use different layers
To edit creatively using a mix of tools and techniques
Personalize your video using transitions, color grading, and effects
Play with speed to add dynamics and dimension to your video
Adjust sound and scale
To export your video for social media
Pros:
Once you purchase this class you will have lifetime access to all of its content so it's yours to enjoy and go over whenever you need it
You get a certificate of completion which you can use professionally
The tutor is a student himself so knows how to help you learn in a fun and effective way
Cons:
This course is for Premiere Rush CC only, so while there are some similarities with Premiere Pro the skills you learn are likely to be limited to this platform
Some students believe there should be more detail covering certain tools and techniques, however as this is a course for beginners, it is incredibly comprehensive
This is another course for beginners, and specifically one for video editors in a bit of a rush, who don't have as much time to dedicate to a more complex software such as Premiere Pro.
Overall, it's a comprehensive, engaging course with lifetime access and a variety of different tools now under your belt! You can go from an absolute novice to a confident editor which may help you professionally or to achieve your personal goals.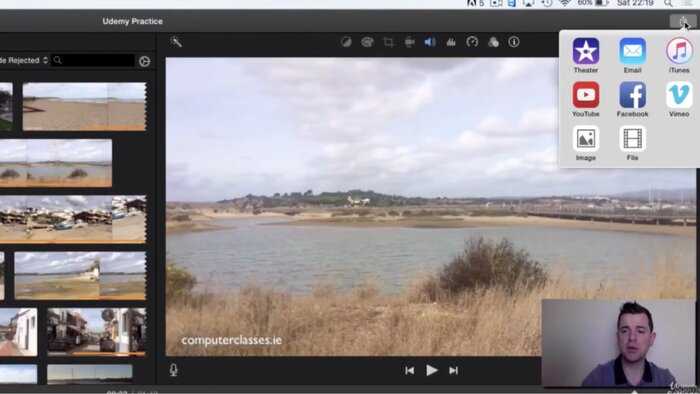 Platform: Udemy | Teacher: Colin Marks | Length: 27 lectures totaling 2 hours and 54 minutes
If you're familiar with Apple products, you've probably come across iMovie, perhaps you've even tried to edit with it before. Well, it's not always as easy to navigate as it may seem. If you really want to master this software, taking this class will help you improve and edit your videos in the best way possible.
Colin Marks has over 15 years of experience teaching people how to perfect their editing skills. He's determined to help you become the best editor you can, whether you want to professionally edit videos or just make a cool montage for your best friend.
You will learn:
How to navigate the iMovie software
To organize your projects and videos in the best way possible
How to create a timeline and slot videos into the right place
How to edit sound and image to perfect your video
Export videos successfully at the end of the editing process
Pros:
A great course to take if you already have a MacBook or iMac as it doesn't require purchasing editing software and you can maximize what you already have
Under three hours long and packed with information so that you can learn quickly and get to work
You get lifetime access to the course's content so that you can always refer back to it when you need to
Cons:
iMovie is limited to Apple products, and it is a very different software from Adobe's Premiere Pro or Rush, so make sure if you need to edit professionally, that you can edit on a Mac before purchasing this course
Some users find the fast pace a little hard to follow, but as you get lifetime access remember you can always re-watch!
This class is intended for beginners who want to quickly learn how to edit a video on iMovie. It's also great for experienced editors who use different software and aren't accustomed to iMovie.
iMovie Video Editing for Beginners is an excellent class to take if you're short on time, have an Apple device, and really want to make a good video. It's easy to follow, provides lifetime access, and ultimately helps you master the iMovie software.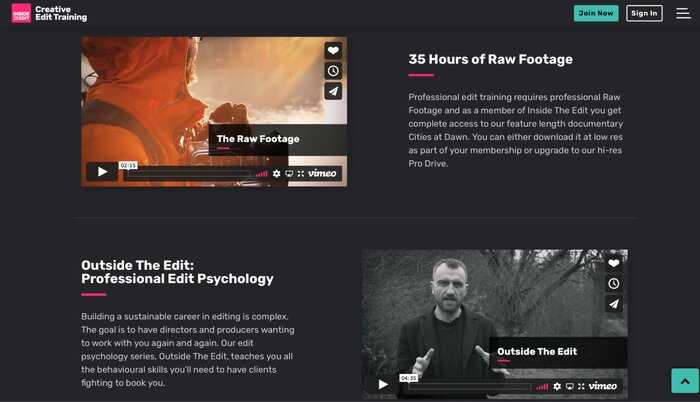 Platform: Inside the Edit
Creative Edit Training is an editing course like no other. It's not about learning the basics of editing software and blending tools, it's about getting to grips with the creativity and vision necessary to make a great video.
Paddy Bird, the creator of Inside the Edit, is an acclaimed editor with experience working in all kinds of TV, from reality shows to political documentaries. The aim of the course is to make you understand all elements of editing, not just the technical ones but the creative and logistical ones too.
Throughout the course you will have access to hours of raw documentary footage which will be yours to edit and apply the theory you have learned, as well as new tutorials uploaded every week to update your learning.
What you will learn:
How to build visionary sequences that tell a good story
To cut a scene, working on timing
How to master visual techniques and special effects
To pitch your video editing skills to production teams
How to connect with clients and work with production
To tell a story honestly and creatively in order to move your audiences
Pros:
Improve your editing skills from an artistic point of view using the technical skills you already have
You get to learn about the production side of editing and creating video for film and TV
You can use whatever software you preferer to edit the 35 hours of raw footage to edit
Access to multiple levels from beginner to advanced so that you can see your progress
Cons:
This course will not teach you any software-based editing techniques, it is not an all-comprehensive course but one that focuses on creativity
Some people believe that creative editing teaching is not necessary as you learn to perfect your art as you edit, however some might struggle with creativity more than others
The course is not intended for beginners, in fact it's preferable to take this course if you are already a well-versed editor with familiarity and experience with editing software. The aim of the class is to take your technical expertise and use it to your advantage, taking a well-edited video to an incredible one that will take your breath away.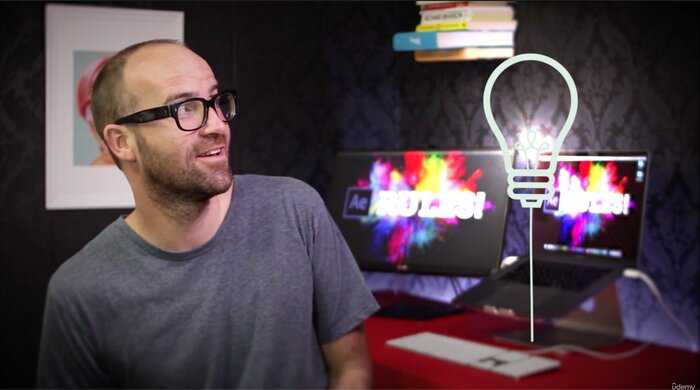 Platform: Udemy | Teacher: Daniel Walter Scott | Length: 50 video lessons totaling 6 hours and 28 minutes
Are you looking to level up your editing game? Well, taking this special effects course with Daniel Walter Scott is just what you need. Adobe After Effects is a dynamic software that allows you to create animations, special effects, and animated graphics – perfect for all sorts of videos, from a fun short film to a professional presentation.
What you will learn:
How to use different software to your advantage a create a dynamic video
To create infographics, voice-overs, and animated graphs
Professional motion graphic techniques
How to wow your fellow employees
Pros:
Develop a different part of your editing portfolio with these advanced data visualization techniques
Well-paced class that requires no previous notion of After Effects
Lifetime access so that you can take your time and make the most of the content
Cons:
This course requires quite a lot of previously installed or purchased software in order to put the theory into practice, so make sure you already have these applications before purchasing
While this course is designed for Adobe After Effects beginners, it's preferable to have some knowledge of Adobe Creative Cloud. The course is quite fast paced but as you get lifetime access you can always refer back to the classes and take it slowly.
If you're looking to grasp the basics of video editing, this isn't likely the course for you. However, if you want to step it up and learn new features that will help you stand out then this class is a great one to add to your arsenal.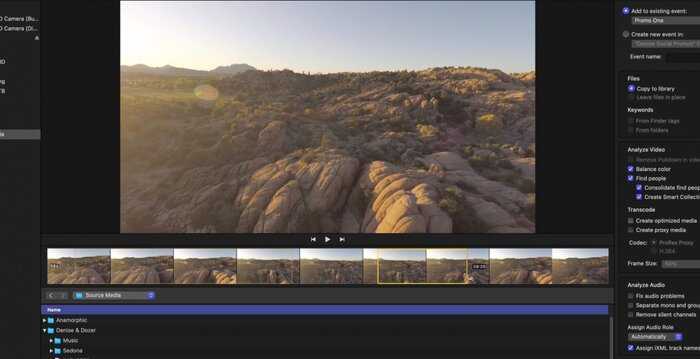 Platform: Ripple Training | Teacher: Steve Martin | Length: 6 hours and 55 minutes
Ripple Training's Final Cut Pro class prides itself on taking you on a detailed step-by-step process: from opening up a project for the first time to completing your very first video.
Steve is the mind behind Ripple Training, with over twenty years of experience with Final Cut Pro, and is therefore the best person to guide you through Apple's most advanced editing software. If iMovie isn't giving you all the options you need but you still want to take advantage of your Apple computer, then this might be the course for you!
You will learn:
How to organize your files and projects effectively
To trim video clips and crop to your ideal frame
How to use color correction and effects to maximize your video's quality
Essential keyboard shortcuts to help you make quick edits
To successfully import media from different sources
How to add text and transitions to personalize your video
To edit audio, balancing dialogue, sound, and music
How to perfect your video for social media engagement
Pros:
An extensive, beginner-friendly course that takes you from novice to advanced editor
Includes media files for editing practice
Downloadable content so you can watch from any device at any time
Cons:
The class is of course limited to Final Cut Pro and Apple product users
This course is also slightly more expensive than other courses, but for the scope of material covered it is well worth it
This is a beginner-friendly course that does not require any previous knowledge of video editing. It is more complex than iMovie so it's best for people who need to edit for work or who really want to pursue their video editing. It is a great option for those who already have a MacBook or iMac as it is only compatible with Apple computers.
This course is by far one of the most comprehensive editing courses out there! It's divided in over 40 sections but takes less than seven hours to complete, meaning you will definitely get a lot of content for your money.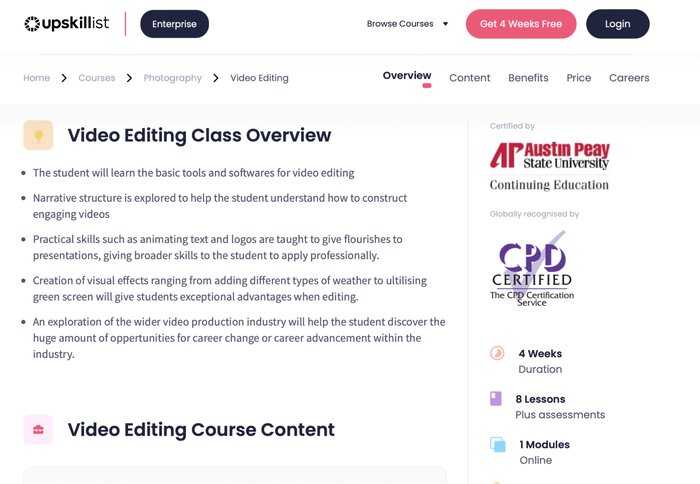 Platform: Upskillist
If you're looking to develop your video editing skills and also explore other creative skills while you're at it, this is a good option for you!
The course focuses on Adobe Premiere Pro and After effects and aims to give you an overview of the editing world. Not only the technical side of Adobe editing but also the creative and professional world of editing and film production.
You will learn:
How to organize your projects and work with Adobe interfaces
To create engaging videos through a creative and logical narrative structure
How to create animations, add text, and use dynamic transitions
How the production industry works and how you can play a part in it with your video editing skills
Pros:
A University accredited course that provides you with a diploma of completion
You get to try out the course for free for four weeks before deciding if you would like to take other classes on the platform
Learn at your own pace over the four-week period, molding your learning around your professional and personal life
Cons:
Upskillist doesn't offer much information about the course but rather encourages you to try the free trial. However, you do get four weeks for free so why not give it a go?
This course is for editing beginners, but specifically those who have an interest in pursuing editing as a career. Upskillist is a platform that allows you to explore many different skills with the end goal of advancing your professional prospects. So, if you don't know much about editing but would love to work in film or TV, this could be an excellent choice.
While this course might not be the most comprehensive or the one with the shortest duration, it offers other advantages such as the extended free trial and the ability to merge your video editing skills with other creative areas.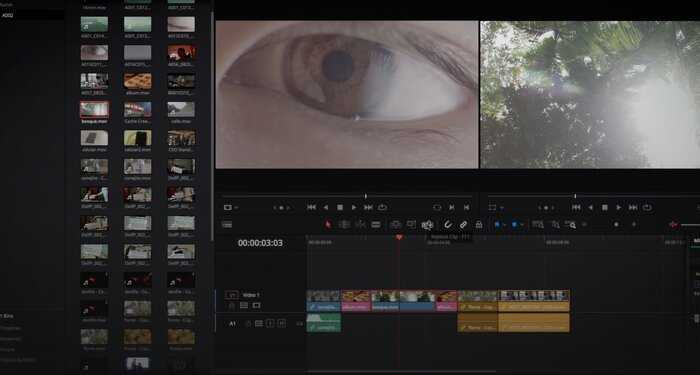 Platform: Domestika | Teacher: Leo Fallas | Length: 43 video lessons totaling 5 hours and 54 minutes
Are you an intermediate video editor ready to get serious about color? Well, this is the class for you as DaVinci Resolve is one of the most popular software for color grading and correction. Your tutor, Leo Fallas is a professional colorist and post-producer so you're definitely in good hands!
What you will learn:
How to navigate DaVinci Resolve, upload media, and save your content
To prepare and personalize your interface, making editing tools instantly recognizable
How to create and add effects to make your video dynamic and exciting
To export your file in a variety of digital formats depending on your needs
Pros:
The course actually offers six small courses that help you progress over time
There is a large number of extra downloadable material available to aid you in your learning
Lifetime access so you can refer back to the course throughout your editing journey
Students receive a certificate upon completion
Cons:
The course is administered in Spanish with English subtitles, so if you wish to edit while you watch the course might be hard to follow
While this class is very comprehensive it isn't the best choice if you don't have any editing experience at all. It's best suited to those who have some editing experience as it allows you to build on your skills and explore new techniques with the DaVinci Resolve.
If you're looking for the next step in your editing career this is a great course to take as it offers an immense amount of content for a reduced price – and lifetime access!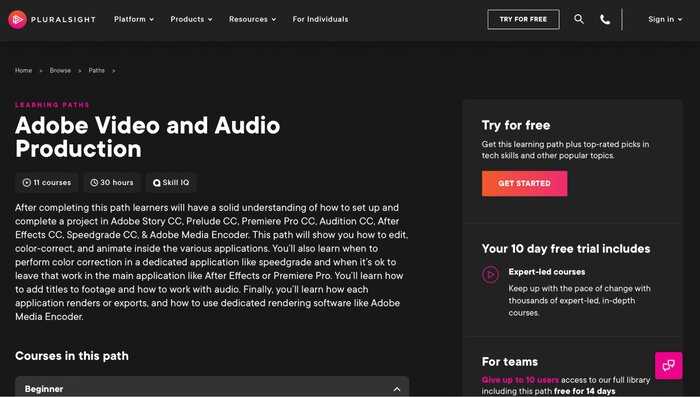 Platform: Pluralsight | Teacher: Multiple teachers depending on course | Length: 11 courses totaling 30 hours
Pluralsight is one of the biggest platforms for creative and tech industries, offering courses in coding, video game design, and of course video editing. Pluralsight users can choose between two video editing learning paths, but we recommend the Adobe Video and Audio Production path.
Instead of having just one tutor, this Pluralsight learning path is taught by a variety of experts who specialize in different areas of editing.
You will learn:
How to create an Adobe video project from start to finish
To make basic edits such as cuts and crops
How to add special effects, text, animation, and color-correct
To understand the connection between screenwriting, narrative sequences, and editing
How to edit audio including noise reduction
To export videos using appropriate software such as Adobe Media Encoder
Pros:
This class is unique as it teaches you how to use a variety of Adobe platforms, including Story CC, Prelude CC, Premiere Pro CC, among others
The platform is very adaptable, making it easy to find the perfect classes for you based on your editing level and learning goals
The course isn't limited to just the technical side of editing, but also covers other industry-relevant skills such as screenwriting
Cons:
You may require a premium membership to access some of the classes in this learning path
This course offers different classes for beginner, intermediate, and advanced students, which means you can pick the right lesson for you and also progress to a harder class in the future.
In short, this is a good choice for beginners that would like to stick to one platform, have a variety of expert tutors, and get to know everything there is to know about editing with Adobe software.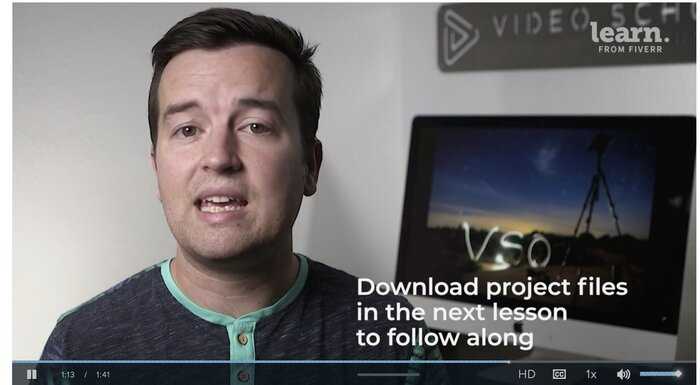 Platform: CreativeLive | Teacher: Phil Ebiner | Length: 96 video lessons totaling 6 hours and 53 minutes
Last but not least, CreativeLive also offers an excellent video editing platform, with expert tutor, editor, and photographer, Phil Ebiner.
CreativeLive is known for encouraging its students to develop their artistic and professional skills, so if you're looking to work on your skills and perhaps pick up adjacent ones while you're at it, this is a course worth looking at.
What you will learn:
How to navigate and personalize the Premiere Pro interface
To import and transform media including video and audio clips
How to master skills such as cutting, creating a narrative sequence, syncing sound and video, and making transitions
Perfect your color correction skills
Mix audio like a pro and make your videos pop
How to use green screen to achieve incredible effects
To export your audio in the best format for your end goal
Pros:
CreativeLive offers you the flexibility of purchasing individual courses for affordable prices or subscribing to enjoy other courses for a monthly fee
Lifetime access so that you can develop your skills on the go, wherever and whenever
Offers additional downloadable content to complement your learning
Cons:
The course is limited to Adobe software which can be quite expensive, however the course itself is very affordable
The course is very beginner-friendly and aims to take you all the way through your first steps as an editor to a stage where you feel confident in your skills.
This is an excellent course for those of you who are looking to explore other creative skills such as photography and videography as well as video editing. It's a great class to take for an affordable price and top-notch content.
What are the advantages of taking a video editing class
Video editing is a transferable skill that you can use across platforms, software, and jobs
Editing is equal parts technical and creative meaning that it is a highly intellectual skill to learn and a great thing to have under your belt
Many creative jobs these days require video editing, so picking up this skill can increase your employability chances
Learning how to edit videos can widen your creative awareness in other art forms such as technology, filmmaking, or screenwriting
Most video editing classes are affordable and short, meaning that with little investment you can learn a lot in a short amount of time
Buyer's guide: what to look out for
The number one thing to look out for when choosing the best video editing class for you is the type of software that is used. As we've said throughout the article, different courses teach you how to use different platforms, including Adobe Premiere Pro, Rush, and After Effects, or Apple's iMovie or Final Cut Pro.
Here are some other features to look out for:
Lifelong access: sometimes editing can be fiddly and hard to get the first time around. Picking a course that allows you to re-watch the content while you edit can be really helpful
Raw footage: Not a must as you can always gather, download, or film some raw footage yourself, but having footage to edit and apply your theory to can really help you progress
Duration: Most classes are quite short, ranging between a couple of hours to a couple of days. Think about the amount of time you have available outside of work and your personal commitments. Also consider if there's a timeframe by which you need to complete the course and whether or not it is feasible
Price: You can get really comprehensive video editing classes for affordable prices, so make sure that if you're paying for an expensive course that it is really a cut above the rest and fulfills all your needs. Often it is preferable to take many more affordable courses than one big expensive one
How much does it cost?
Luckily, in this day and age you can get great courses for really affordable prices. In fact, many of the courses listed in this article are under $20, which means you can even take multiple courses and really develop your skills to the max.
Of course, there are more expensive options out there, but with video editing more expense doesn't necessarily mean better quality.
If you're looking for a course with a price point of $100 or more, really consider what it offers you that a cheaper one can't? Perhaps if you're signing up for a learning platform with a subscription model that offers access to multiple courses, this might be a good option, but always check that you are interested in more than one course before purchasing.
Another element to consider with video editing is the expense of the software itself. Sadly, you can't edit without a specialized program.
You can find some free software online but it's not always trustworthy and is often very limited. If you want to edit professionally or really take your artistic editing to the next level, popular software programs such as Premiere Pro, Premiere Rush, iMovie and Final Cut Pro are great options – but they come at a cost. So, make sure you already have the necessary software or can afford it before purchasing a course!
How long does it take to learn video editing?
The important thing to remember with video editing is that practice makes perfect, and practice takes time. Many of the courses we have suggested are quite short, under 10 hours long. However, this is because these courses give you detailed walk-throughs or examples of how to edit and which tools to use. You'll likely find that when you're editing your own work though, it will take much longer.
If you really want to perfect the art of editing, don't expect to learn everything in a weekend! But you can definitely progress quite quickly, especially if you learn specific shortcuts for the software you're using.
And remember that it's not a race! Editing well takes a lot of time and dedication. You'll try things that don't always work until you find your own style. This is why courses that provide lifelong access or long timeframes are the best.
Conclusion
The first thing you'll find if you search for whether or not video editing courses are necessary is that you learn editing on the job. While this may be true, you can't edit without a basic foundation of techniques, tools, and an understanding of your software interface.
In order to truly master video editing, taking a class is your best bet as it will allow you to learn the technical skill quickly so that you can move on to working creatively and become the best editor you can be.
Whether you're a novice looking to expand your professional range of skills, a creative with a passion for film, or a data scientist looking for an innovative way to visualize your work, there's a course for everyone and we hope this guide has helped you find the right one for you.
So, to wrap it up, if you're looking for a great all-around detailed course on Premiere Pro, go for Skillshare's Video Editing with Adobe Premiere Pro for Beginners – and enjoy your free trial while you're at it.
However, if you're short on time Udemy's course on Premiere Rush CC might be a better choice, as the course is short, digestible, and the software is often easier to get a grasp of.
It all depends on what you're looking for though: if you're after a more creative approach go for Inside the Edit, or if you want to become a master of color, give Domestika's Introduction to DaVinci Resolve a go!
Related articles: Best YouTube courses, best videography courses.
Frequently asked questions
How much does a video editing course cost?
Video editing classes can cost as little as $15 and as much as a couple of hundreds. Find one that matches your software and timeframe requirements and consider whether you would prefer a more expensive subscription model that allows you to learn other skills too.
How long do video editing courses take?
Video editing courses can be as short as a couple of hours. However, some take over 10 hours to complete. It all depends on the software used, the pace of the course, and the level of editing.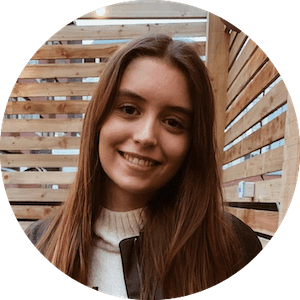 Lauryn is an English Literature and Creative Writing graduate and Journalism Master's student. She's passionate about the arts, writing, photography, storytelling, and editing – anything creative really!