Want to know what the best Udemy courses are? Well, you've come to the right place.
In this article, we'll be providing details of the best Udemy courses.
This means that you'll be able to learn all about the top classes offered by one of the most popular e-learning sites in the world!
This article will look at:
Best Udemy course overall
Best Udemy course by category
Best Python course on Udemy
Best Javascript course on Udemy
Best Udemy courses to make money
Best free Udemy courses
Best Udemy course with certificate
With so many courses out there, it was hard to choose which was the top for each category.
So we used a combination of reviews, ratings, enrolments, credentials, course descriptions and more to pick out the best of the best.
Without further ado, let's dive straight in and take a look at the top courses Udemy has to offer…
Best Udemy courses overall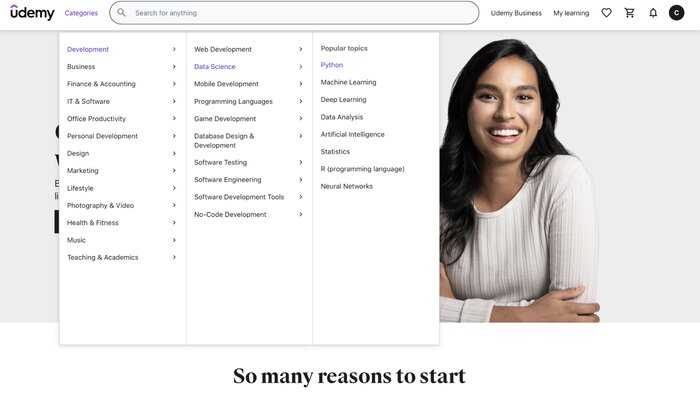 Our top 5 Udemy courses overall are:
These are by no means the only options on Udemy. With over 204,000 courses you're absolutely spoiled for choice when it comes to your education.
We decided that these courses were the top Udemy courses overall because they all included at least 100,000 ratings with exceptionally positive feedback, they're led by quality instructors and they are incredibly popular.
For more information on Udemy check out our other articles: Udemy review, Udemy Cost and Udemy Refund.
Best Udemy course by category

Udemy has an incredible range of learning categories to choose from.
Here are the top Udemy courses by each of the major categories they offer:
Best Python course on Udemy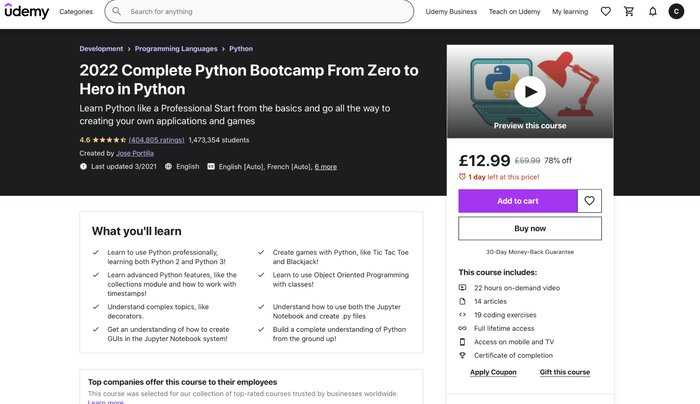 Python is one of the most popular programming languages out there. With Udemy, you can access over 2,000 courses relating to the language, joining millions of learners in the process. The above courses are by far the most popular and give you the best grounding in how to actually apply lessons to your coding work and projects. Features #2 in our best Python courses review.
Best Javascript course on Udemy
The Complete JavaScript Course 2020: From Zero To Expert (131,000+ students)
JavaScript: Understanding The Weird Parts (43,000+ students)
Modern JavaScript From The Beginning (28,000+ students)
Another massively popular programming language, Udemy has over 1000 courses for you to get equipped with JavaScript. These three courses are all highly rated and popular, with the first helping you to become a coding master in no time.
Best Udemy courses to make money
An Entire MBA In 1 Course: Award Winning Business School Prof (51,000+ students)
The Complete Foundation Stock Trading Course (42,000+ students)
The Complete Investment Banking Course 2023 (28,000+ students)
The internet has unlocked a wide range of new ways to make money. Here are just a few of the different ways you can use Udemy classes to increase your income. All of these courses teach using a variety of methods and have excellent feedback.
Best free Udemy courses
Code Your First Game: Arcade Classic In JavaScript On Canvas (27,000+ students)
A Mini Course On Time Management (26,000+ students)
Introductory Photography Course (17,000+ students)
It might come as a shock that Udemy offers courses absolutely free! Here are just a few of the most highly rated and popular. To browse all the free content Udemy has to offer, click the link below:
Best Udemy course with certificate
Udemy also offers completion certificates for the majority of courses that they teach. These credibly demonstrate that you have put in the hours to learn and adopt a new skill, and can be put on your LinkedIn, shown to employers or shown off to friends and family.
Best Udemy course reviews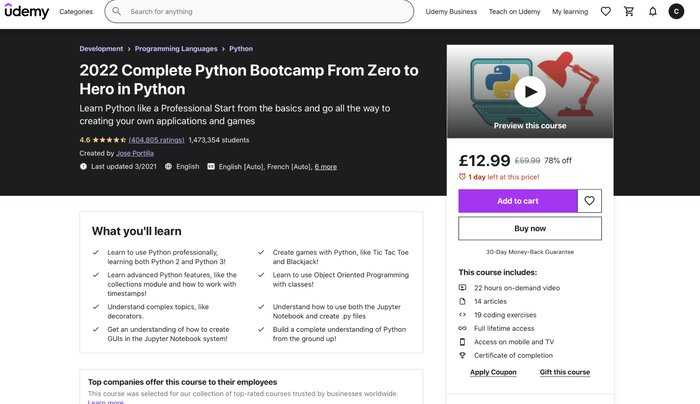 What You'll Learn:
How to code professionally with Python 2 and 3
Advanced features, like working with timestamps
Understanding decorators and how to create GUI's
How to create games with Python
Using the Jupyter notebook
Pros:
Incredibly comprehensive with 22 hours of video lessons
Additional learning resources including 19 coding exercises
Designed to teach you everything from scratch
Very straightforward to understand
Useful for beginners as well as intermediates; easy to follow but not basic
Cons:
Some projects may be a bit of a step up for beginners
Teaching can be a bit rushed
Best for: Anyone interested in a comprehensive understanding of the world of Python. You might want to familiarize yourself with some coding basics first, but you don't need to have any prior experience with the language.
Number of students: 1,484,000+
Overall: This is Udemy's most popular, recognisable and raved about course. And with good reason. It does exactly what the title says, taking you from zero to hero by rapidly but methodically building your knowledge about the language and its applications. You'll be pro in no time with this course.
This course takes the top spot in our review of Best Online Excel Courses.
What You'll Learn:
Excel's most common and useful functions
How to maintain large data sets
Using dynamic formulas
How to automate your daily tasks through Macros and VBA
Pros:
An education that will improve your productivity at work
Teaches you insights about a day to day tool
A top quality instructor
Analytical and in-depth lessons
The learning doesn't stop with the lessons with 42 downloadable resources
Cons:
The VBA section could be better explained
Best for: Anyone who uses Excel in their day to day job and feels like they aren't getting a lot from it.
Number of students: 952,000+
Overall: Excel is one of the most common tools used by offices across the globe. This course provides you with a massive advantage as you go in-depth with how to properly use its many functions to improve your productivity, all taught in concise and clear lessons with a top instructor.
What You'll Learn:
Using machine learning with Python and R
How to make robust models and accurate predictions
Advanced techniques like dimensionality reduction
Developing your intuition and analytical skills
Topics like reinforcing and deep learning
Pros:
44 hours of video lessons; this is a deep, deep course
Lots of examples
Teaches analytical and intuition skills as well as practical applications
Makes machine learning more accessible
Ambitious in scope and actually challenges learners to try new things
Cons:
Doesn't explain mathematical background in as much detail
A little unclear at times
Best for: You don't need to know what dimensionality reduction is, but you do need a bit of mathematical understanding to gain anything from this course.
Number of students: 856,000+
Overall: Machine learning will define the future, so taking the first step into that world with this course is a great idea. You'll learn all the practical basics of machine learning, both in terms of the intuition behind them and the actual application in Python and R.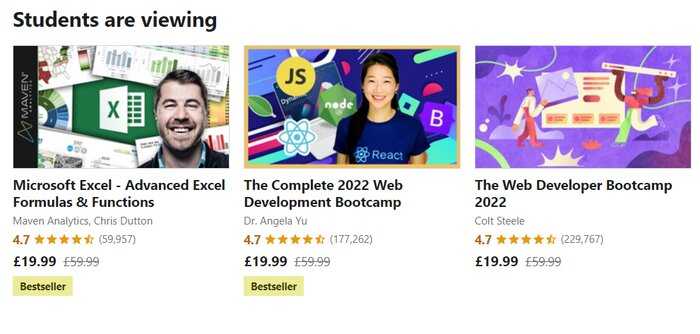 What You'll Learn:
The fundamentals of several languages including HTML5 and CSS3
How to create full stack applications
Writing complex web apps and games
Recognise and prevent security exploits
Mastering the command line interface
Pros:
Incredible scope: 63.5 video lessons and 116 downloadable resources
Deeply knowledgeable instructor
Lots of detail
Small pointers to make your coding better
Combines theory and practical work
Cons:
Lectures can be a little rushed because of the level of content
Best for: People with a computer and the willingness to devote a lot of time to learning about development.
Number of students: 766,000+
Overall: This is one of the biggest courses in the online learning community. Just reading the comments will give you a sense of how good this course is. The instructor is incredibly clear and knows exactly what he's doing and the scope of content is massive.
What You'll Learn:
How to grow a business online from scratch
How to make money as an affiliate marketer
Freelancing and marketing
How to become a digital marketing expert
Pros:
Covers entire area of the field
Gives you the means to improve your income or change careers
Direct and effective strategies
Informative teaching style
Cons:
Best for: Those looking to get into, and make money from, digital marketing and looking for strategies and trade secrets to achieve this.
Number of students: 650,000+
Overall: With 12 courses in 1, you'll learn everything you need to know about this rapidly expanding field, and you'll have the direct strategies and tips for becoming a digital marketing expert.
How to find the best courses on Udemy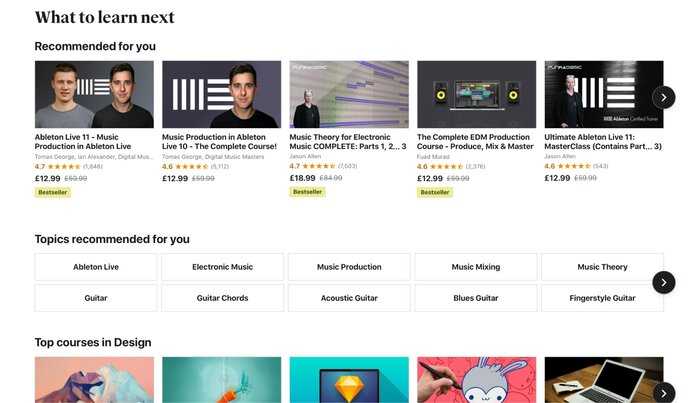 As you can see, Udemy has an incredible amount of amazing courses on offer, so much so that it can be difficult to know where to start choosing the right one for you.
Luckily, we have a couple of tips for finding great courses with Udemy.
There are several main ways you can browse Udemy courses:
By Category
By Topics Recommended For You
By Search
You can see all the categories Udemy has to offer on the top tab of the home page.
Once you have used Udemy enough times, the site will start recommending courses to you. This will appear in a variety of ways on the home page.
Scrolling down will take you to the What To Learn Next section, which will include courses that are 'Recommended For You,' courses Udemy suggests 'Because You Viewed X Course' and 'Featured Courses' in whatever category you've most recently browsed.
Finally, if you've been recommended a certain course or are looking for a specific discipline, you can always use the Search Bar at the top of the home page.
Here's a list of easy ways to browse the absolute best Udemy has to offer:
Reading reviews from impartial sites like Learnopoly
Reading student comments and reviews on the course page
Checking the average rating and how many people have rated
Looking at the instructor's credentials
Looking at how many are enrolled in the course and how long it has been established
Conclusion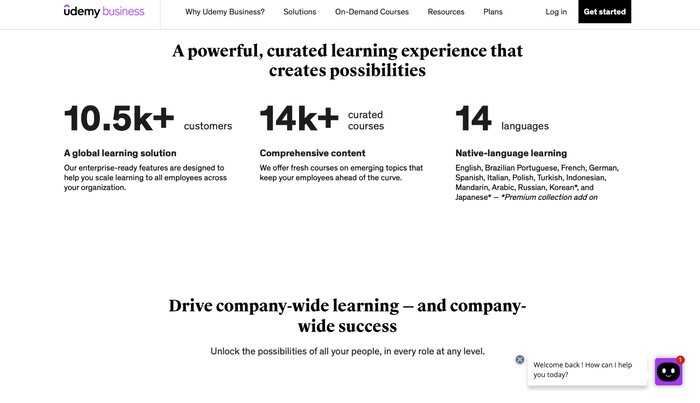 Udemy is a wonderful way to learn, with hundreds of thousands of courses in categories designed for you to improve your knowledge and skill set.
With so many courses on offer, looking for the right one for you may seem overwhelming.
But, given the transparency and comprehensiveness of the feedback and review system, finding a course is actually incredibly easy.
Udemy's most popular courses tend to be in IT and development, including 2023 Complete Python Bootcamp: From Zero To Hero In Python and The Web Developer Bootcamp.
Udemy is also known for its ability to garner great instructors and courses that help with improving productivity, employability and life skills.
Hopefully, this article has helped you find the best Udemy course for you.
Related articles: Udemy review, How much does Udemy cost?, Is Udemy accredited? How often does Udemy have sales? Udemy Alternatives, Udemy vs Coursera, Coursera Alternatives, Udemy for business, Udemy statistics, MasterClass Alternatives, Best online soap making courses, Best online embroidery classes, Best public speaking classes, Best AI courses
FAQs
What are the best courses in Udemy?
2023 Complete Python Bootcamp: From Zero To Hero In Python, Microsoft Excel – Excel From Beginner To Advanced, Machine Learning A-Z – Hands-On Python And R In Data Science, The Web Developer Bootcamp and The Complete Digital Marketing Course: 12 Courses In 1.
What is the best python course on Udemy?
2023 Complete PythonBootcamp: From Zero To Hero In Python.
What is the best javascript course on Udemy?
The Complete JavaScript Course 2020: From Zero To Expert.
What is the best free course on Udemy?
Introductory Photography Course.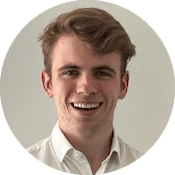 Charlie is a student reading politics at King's College London. He is also a passionate musician with over 14 years of experience. In his free time, he also enjoys cinema, long-distance running and learning new things.