Udemy and Coursera both ranked as top eLearning platforms in 2023.
But which is better, Udemy or Coursera?
In this Udemy vs Coursera review I'll compare their differences in terms of course provision, cost, numbers of students, quality of teachers, certification and platform features.
Basically, with this Udemy vs Coursera comparison, I'll give you a thorough understanding of which of the two best suits your needs.
The review is detailed. But if you're pressed for time the headlines are:
Udemy has a greater number and range of courses. It's more reasonably priced and offers more to business users than Coursera. It does provide sharable certificates of completion but these are not accredited.
Coursera's instructors are top professionals from globally respected institutions so the quality of teaching is more consistent than on Udemy (which allows anyone to offer courses on its platform). It also offers courses to degree level and all its certificates are accredited and shareable. Paid courses are more expensive than Udemy but much of its content can be taken for free without certification.
Both platforms allow you to purchase courses individually, so you can dip in and out of each. It's only if you want to purchase a subscription that you need to choose.
This side by side comparison table provides an overview of the key differences between Coursera and Udemy.
Quick summary: Udemy vs Coursera – which is better?
Udemy
Coursera
Avg Course rating
4.4
4.7
# of users
50+ million
92+ million
# of Courses
204,000+ across 12 categories
7,000+ across 10 categories
Teachers
Anyone can create and offer a course
Professionals from top institutions
Pricing
Individual courses from $12.99.
Monthly subscription $29.99
Many individual course types from c.$49.99
Monthly subscription $59, Annual $399
Free content
500+ courses
2,500+ courses
Accredited certificates
No
Yes
Features
High quality video content & downloadable resources
Massive choice of course content from professional to fun
Non accredited certification
High quality video content & downloadable resources
Focus on professional topics
Community forum
Accredited certification
Offers full degree programs
Specialization
Anyone can create and offer courses on any topic
Open access to university quality education
Pros
Impressive range of courses
Frequent sales & 500+ free courses
Passionate instructors with high profile contributors
Teaches in demand professional skills with many creative and fun courses too
Accredited certificates from the world's top organisations
Lots of free content
Instructors from top institutions
Strong focus on professional skills
Community forum
Cons
Course quality varies
Course certificates not accredited
Confusing pricing
More expensive than Udemy
Best for anyone who:
Wants access to a wide variety of content (from work-related to fun and creative)
Is not seeking formal certification
Is a business owner/manager looking to upskill teams
Values accredited certification
Is looking for promotion or a career change
Prefers a more structured academic approach to learning
More information
Visit Udemy
Visit Coursera
About Udemy and Coursera
Now let's take a closer look at both platforms to find out what they're all about
About Udemy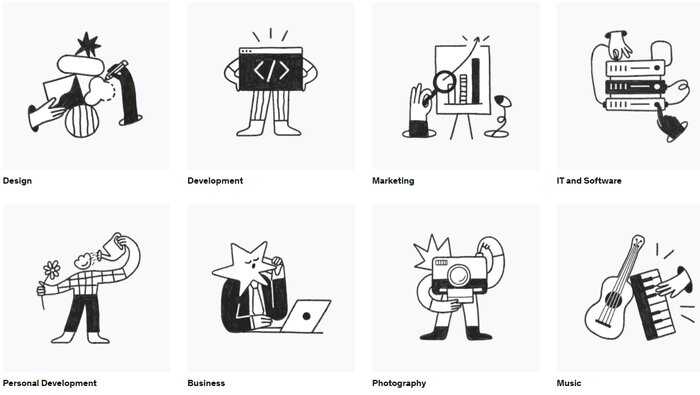 Udemy was launched in 2009 with a mission to improve life through learning. It gives everyone the opportunity to create and offer quality online courses on its platform.
It now has over 50 million registered users and offers 204,000+ courses across 12 categories. Udemy is an all round provider and offers courses in both professional and personal development.
You can buy courses singly on Udemy. Each one is individually priced and led by an instructor who practises the discipline. Purchasing a course gives you lifetime access to it, and all of its resources. You can access some courses for free.
Udemy also offers a monthly subscription called the Personal Plan. This gives you unlimited access to a curated collection of 6,000+ top courses for as long as your subscription is active.
It is the largest Ed Tech company of its kind and 80% of Fortune 100 companies trust Udemy for employee upskilling including Apple, Unicef, PayPal, Accenture, Samsung, Unilever, Instacart, and Okta.
For a more in-depth look at Udemy you check out our Udemy review.
About Coursera

Coursera was formed in 2012 to transform lives through open access to world class education. It provides certified courses led by professionals from leading institutions such as Yale, Stanford and Google.
The focus is on in-demand professional topics, but there are personal development courses too in subjects such as languages or arts and creativity.
Cousera has 92 million registered users and is partnered with 250+ leading universities and industry educators to offer 7,000+ courses and degree programs across 11 categories.
There are many different ways to learn on Coursera. You can buy individual courses and certifications outright, take a lot of content for free or subscribe on a monthly or annual basis.
More than 100 Fortune 500 companies, and 6,000+ businesses, campuses and governments come to Coursera to learn.
Coursera attracted as many learners in 2020 alone as its closest competitor did in its entire existence.
For more detail visit our Coursera review.
Summary: Compared to Udemy, Cousera has double the number of registered users despite being newer and having fewer courses. Both platforms offer courses across a similar range of topics and disciplines though Coursera has a greater focus on developing professional skills.
Udemy vs Coursera courses
This side by side comparison of Udemy vs Coursera sums up the course offering of each platform:
Udemy
Coursera
# of courses
204,000, 12 categories
7,000, 10 categories
Categories
Development
Business
Finance & accounting
IT & software
Office productivity
Personal development
Design
Marketing
Lifestyle
Photography & video
Health & fitness
Teaching & academics
Arts & humanities
Business
Computer science
Health
Information technology
Language learning
Math & logic
Personal development
Physical science and engineering
Social sciences

# of free courses
500+
2,500+
More info
Visit Udemy
Visit Coursera
Now let's take a deeper look.
Udemy courses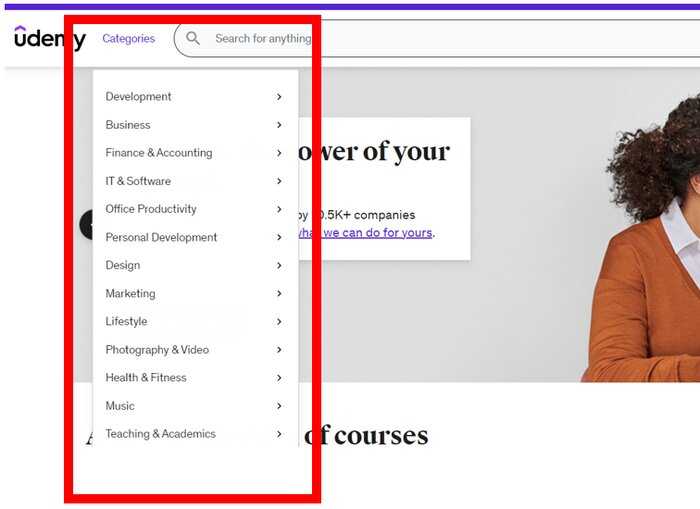 There are 204,000+ courses available on Udemy across 12 categories.
Udemy courses are generally in pre recorded video format. They can be anything from an hour to over 20 hours long in total and are broken down into bite size lessons.
They're led by your instructor walking you through ideas and skills relevant to your discipline and can be consumed on demand, whenever you like.
There are also additional learning resources available with most courses. These will often be downloadable texts, articles and other materials relevant to what you're studying.
You can browse the Udemy catalogue by:
Category
Topics recommended for you
Or Search
Categories are accessed from the tab at the top of the home page. Clicking on any one of these will take you to all the courses offered within that category.
Once you have used Udemy, the site will start recommending courses to you on your home page.
Finally, if you're looking for a specific course or discipline, you can always use the Search Bar at the top of the home page.
Best Udemy courses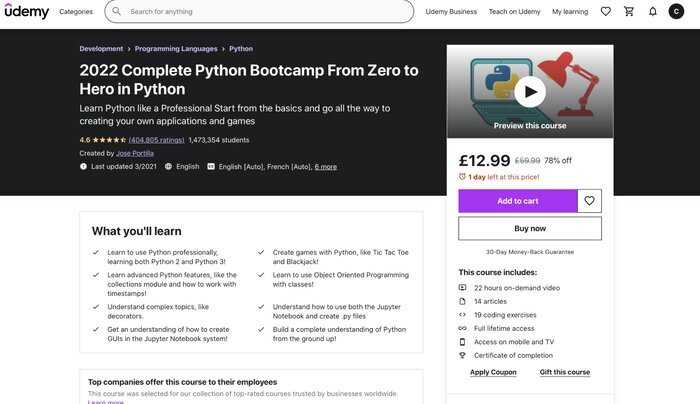 Udemy has a wide range of classes, so narrowing down the best is a difficult task.
And, of course, what's best for you depends on what you're interested in and what kind of teaching suits you.
To give you the broadest possible overview, I've grouped together the best courses from each of Udemy's main categories below. And you can also check out our article, Best Courses on Udemy for more granular detail.
Development: 2020 Complete Python Development Programme: From Zero To Hero In Python Learn to use Python professionally, ideal for those who have never programmed before.
Business: Agile Crash Course: Agile Project Management, Agile Delivery Apply Agile to your projects and appreciate its advantages over traditional project launching.
Finance & Accounting: The Complete Financial Analyst And Training Course Master picking stocks, managing a portfolio, building a financial model, and more.
IT & Software: IT Troubleshooting Skills Training Minimize problem duration and learn good practices for problem identification.
Office Productivity: Microsoft Excel – Excel From Beginner To Advanced Build a solid understanding of Excel and how to automate your daily tasks (features top in our Best Excel Courses review).
Personal Development: Become A Superlearner 2 Learn to read 3x faster than the average college graduate and master tips for recalling vast amounts of info (features second in our Best Speed Reading Course review).
Design: The Udemy Drawing Course: Beginner To Advanced Covers all the fundamentals including drawing faces and realistic perspective drawing.
Marketing: The Complete Digital Marketing Course Shows you how to grow a business online from scratch and profit from your digital marketing knowledge.
Health & Fitness: Cognitive Behavioral Therapy (CBT) Practitioner Certificate Learn the fundamentals of CBT, one of the most widely used and recognized practices in psychology and mental health.
Music: Pianoforall: An Incredible New Way To Learn Piano And Keyboard Progress quickly as you learn the best techniques for reading sheet music and playing-by-ear in lots of genres (rates #6 in our Best Online Piano Classes review).
Coursera courses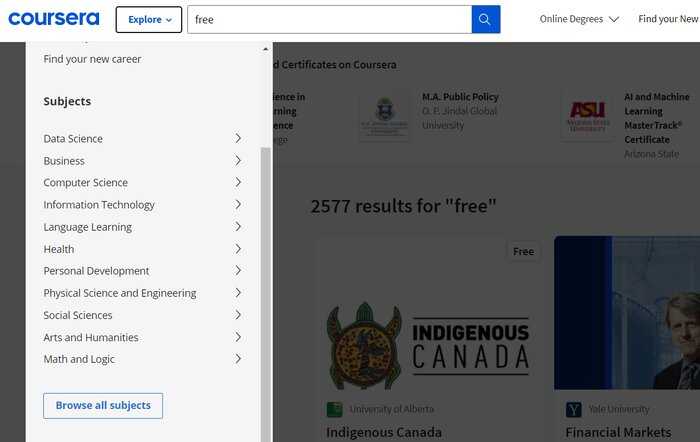 Coursera offers over 7,000 courses across ten categories (or subjects as Coursera terms them).
It also offers users a variety of learning pathways. Briefly these are:
| | | |
| --- | --- | --- |
| Option | Goal | Length |
| Courses | Gain knowledge | 4-12 hrs |
| Guided Projects | Learn a discrete practical skill | 1-2 hrs |
| Specializations | Master a range of related skills | 1-3 months |
| Professional Certificates | Get job ready for a career | 4-7 months |
| MasterTrack Certificates | Learn at Master's level and earn credit towards a full Master's degree | 4-7 months |
| Degrees | Earn a full degree | 2-4 years |
Given the number of different learning pathways it's hard to generalize what learning with Coursera is like. But overall, in a typical lesson you can expect:
Video lectures and accompanying transcripts. These can be consumed on demand in your own time
Quizzes, questions, projects and assignments to test your progress
Opportunities to connect with other students to discuss problems and share experiences
Access to supporting resources such as podcasts, pdf files, e books, readings, Ted talks, case studies and examples, etc.
There are quite a few ways to navigate the Coursera platform to find what you're looking for. You first have to sign up with an email address but this costs nothing.
After that you can use use:
Search if you know the subjects and topics that most interest you
What we Offer if you want to explore the different learning paths on Coursera
Explore to browse by subject
And, as with Udemy, once you have visited the platform Coursera will use your browsing history to suggest programs that might suit you.
Best Coursera courses

Once again, what's best for you depends on your interests and goals. So I've rounded up a selection of the best Coursera courses based on the different learning paths available. These are:
Course: Machine Learning – Stanford University Learn what learning is, how machines do it without explicit programming, and how to apply machine learning techniques to new problems.
Guided Project: Google Ads for Beginners – Paid Media Create a Google Ads account, do effective keyword research, navigate the Google Ad dashboard and create an optimized campaign.
Specialization: Excel Skills for Business – MacQuarie University Discover how to use Excel to solve a range of business problems and use advanced features and techniques confidently (rated in our Best Excel Course review).
Professional Certificate: IBM Cyber Security Analyst – IBM Learn everything you need to get job ready for a role in the Cybersecurity industry.
MasterTrack: Social Work: Practice, Policy and Research – Michigan University Study the key research, knowledge, policy and frameworks that guide social work practice.
Coursera Degrees: Bachelor of Science in Computer Science – University of London Master in-demand computing skills, solve complex problems, sharpen your creativity and be given the opportunity to shine in one of seven specialist fields.
Summary: Compared to Coursera, Udemy has far more courses. Both platforms provide professional courses that will help you progress in, or even change, your career. However, Coursera's catalogue is more academic and 'serious'. Whereas, with Udemy you can also learn fun things like how to play an instrument, bake, or even do magic tricks.
Udemy vs Coursera teachers & quality
No platform can be better than the quality of its teachers.
Obviously a good teacher has great subject knowledge and passion, along with an ability to communicate. But beyond that they need to establish very clear objectives and outcomes for their course.
In other words they need to set out what you should know, understand and be able to do at the end of a lesson, that you couldn't do at the start. And they should know how to get you where they want you to be – incrementally, step by step, in a logical way.
So how do Udemy and Coursera compare with respect to their teachers?
Udemy teachers and quality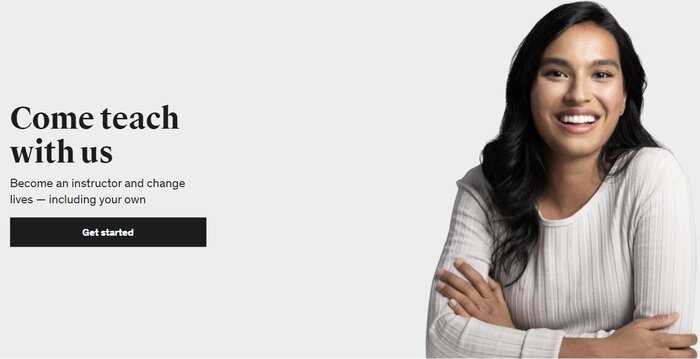 Udemy is a platform which gives anyone who is passionate about what they know, and wants to share it, the opportunity to create and offer a course on its platform.
There are guidelines as to what is allowed on the site. For instance, each course must contain at least 30 minutes of video and at least five separate lectures, and there are restricted topics eg: anything to do with dating or sexuality.
However, it's not necessary for any instructor to have any formal teaching experience.
That said, a number of Udemy's instructors are tenured professors, award winning artists or Tech CEOs. They include:
Rob Percival – web developer and entrepreneur who has taught over 120k students to code on Udemy
Victor Bastos – internet developer who has taught over 50k students web development from scratch
Jose Portilla – head of data science at Pierian Data who teaches the top course, From Zero to Hero in Python
The process for becoming an instructor on Udemy is to:
Sign up on the site
Create your learning objectives and a course outline
Produce your course and submit a test video for feedback on quality
Submit your course for review and evaluation
If the course meets Udemy's standards and does not violate any of its policies it will be published.
From that point on, Udemy operates a 5* rating system so the best courses will always make it to the top. At the time of writing, the overall average for a course on Udemy is 4.4/5.
Coursera teachers and quality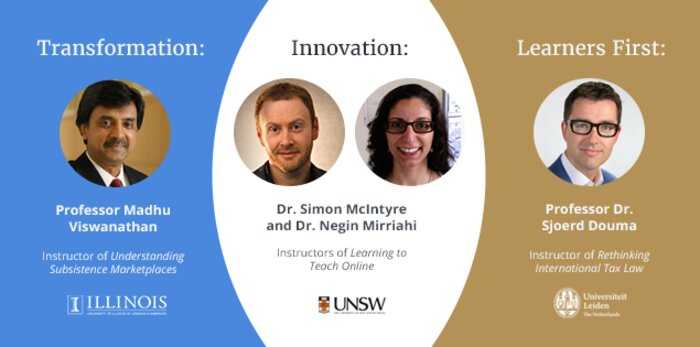 Coursera is partnered with 250+ of the world's top universities and institutions. These include Yale, Stanford, Google and IBM.
It is top trainers and academics from these institutions that provide the teaching on Coursera.
Amongst them are:
Nobel prize winners
Best selling authors
Academics from prestigious universities such as Princeton and Yale
C-suite executives from the world's leading companies
Practising experts in their respective fields
At the time of writing the average course rating for a Coursera course was 4.7/5.
Summary: In contrast to Udemy, Coursera's instructors come from globally recognized institutions. Many are academics with years of experience of teaching. So the teaching quality is likely to be more consistent as compared to Udemy. That's not to say that there aren't great teachers on Udemy, just that the quality is likely to be more variable.
Udemy vs Coursera: pricing
Udemy costs
Coursera costs
Per course
$12.99 – $199
Courses: $49+
Guided projects: $9.99+
Specialisations and Professional Certificates: from $39.99 per month
Subscription
$29.99 per month (billed monthly) for access to 6,000 curated courses
$59 per month or $399 for a year for access to 90% of the Coursera catalogue
Free trial
7 day free trial on subscription
7 day free trial on subscriptions, Specializations and Professional Certificates
Refunds
30 day refund on individual courses.
Monthly subscription can be cancelled at any time
14 day refund on individual courses & annual subscription.
Monthly subscription can be cancelled at any time.
Free courses
500 free courses
2,000 plus free courses – certificates must be purchased.
More info
Visit Udemy
Visit Coursera
Udemy cost
Udemy courses can cost anything between $12.99 and $199.99.
However, there is the chance to get major discounts on the majority of their courses. For more information see our article, how often does Udemy have sales?
And there are over 500 courses that can be taken completely free of charge.
Udemy also offers a subscription called Personal Plan. This gives unlimited access to 6,000 curated courses. It comes with a seven day free trial, after that it costs $26.99 per month.
Subscriptions can be cancelled at any time, you will continue to have access to courses until the next payment is due.
Udemy courses can be refunded within 30-days, providing your request meets the eligibility criteria. Udemy may reject a refund if a significant portion of the course has already been taken, excessive refunds have been requested or your account has been reported for abuse.
For more granular detail on Udemy costings and refunds check our article Udemy Cost.
Coursera cost
Because it provides so many learning pathways, Coursera's pricing structure can seem confusing. It is explained fully in our article Coursera cost. But in summary:
Coursera Plus subscription: gives you unlimited access to 90% of the Coursera catalogue. It costs either $59 monthly, or $399 up front for the year
Courses: can be taken for free. If you wish to receive a certificate you can purchase the course. Coursera Courses start at $49
Guided Projects: are designed to teach a specific skill and start at $9.99 each
Coursera Specializations and Professional Certificates: Both these options start at $39 per month – how much you pay depends on how long it takes you to complete the course
Coursera MasterTrack: These are modules taken from a full Master's program and count towards the full Master's degree if you want to take things further. They start at $2,000 for the full module
Coursera Degrees: are full online bachelor's degree and master's programs from leading universities. Tuition fees for a Coursera degree start at $9,000 for the full program. You pay as you go for the courses you are enrolled in each term
Coursera also offers:
Seven day free trials with:

Coursera Plus monthly subscription
Specializations
Professional Certificates

And 14 day money back guarantees on most of its products.
Summary: Compared to Udemy, subscription costs for Coursera are more expensive. Also, whilst Coursera offers more purchasing options, Udemy is likely to be cheaper if you are purchasing courses individually given that Udemy has frequent sales.
Udemy vs Coursera certificate value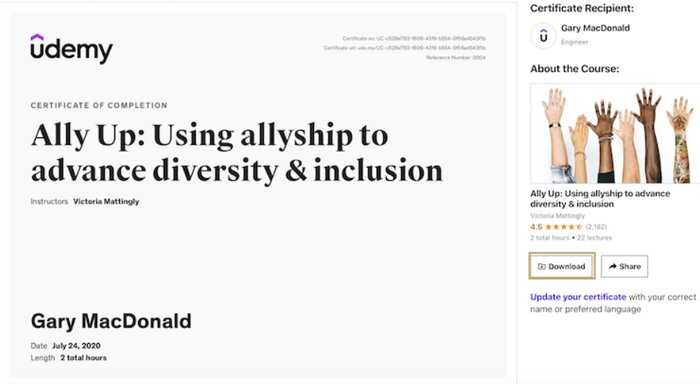 Udemy do offer certificates of completion for paid courses. But as Udemy is not an accredited institution their certificates can't be used as evidence of formal accreditation.
Certificates can be downloaded as a .pdf or .jpeg file, or shared to LinkedIn, Twitter or Facebook.
A Coursera Certificate is issued by whichever partner institution has provided the course. Since Coursera's partners are all top universities or companies, Coursera certificates do provide official recognition from accredited institutions.
So if obtaining an accredited certificate is important to you, Coursera is probably the platform you should choose.
You can read more about the value of a Coursera certificate in our article Coursera Certificate: How it works and is it worth it?
Udemy vs Coursera features
Let's take a closer look at what features each platform offers
Udemy features
204,000+ courses including in-demand professional skills as well as many fun and creative options
Teaching – The opportunity for anyone to create and offer a course on its platform – though Udemy does have many high profile instructors, including tech CEO's and award winning artists
Individual courses that you pay for separately
A monthly subscription (The Personal Plan) giving access to 6,000 of the most popular courses
500+ free courses
On-demand video lessons accompanied by downloadable learning materials
Coursera features
7,000 courses and degrees with a strong focus on professional skills
250 prestigious partner institutions including Yale, Harvard, Caltech, Google and Accenture
Teaching from leading academics and professionals, including nobel prize winners, top authors, c-suite executives and leaders in their respective fields.
Variety of learning pathways
Courses to buy singly or monthly/annual subscriptions
Accredited certification
2,000+ courses that can be taken free
Access to a community forum of fellow learners to collaborate, ask questions and share successes
On-demand video lessons accompanied by downloadable learning materials
Udemy vs Coursera: Which is best for Businesses?
Both Udemy and Coursera offer products for business. This side by side comparison table sets out the differences between them:
Udemy
Coursera
Small teams
Team Plan (up to 20 users)$360 per user per year
6,500 courses + the mobile app
Team Plan (small/med companies)$399 per user per year
5,000 courses, 100 skillsets & 1,900 guided projects
Larger teams
Enterprise Plan (21+ users) contact sales
As above + custom topics and the ability to host proprietary courses
Enterprise Plan large companies contact sales
As above + job based learning programs, authoring tools, an account manager and user analytics
Leader-ship
Leadership Development Program contact sales
100+ Exec level courses from top institutions
Live events
AI analytics and insights
–
Summary: Udemy offers more for less – including a Leadership Development Program, making it slightly better for business users in our view.
Udemy and Coursera alternatives
eLearning is a growth business and there are plenty of choices out there if you want to take your learning online.
Closest to Coursera is edX. It was founded in the same year and has Harvard, Stanford, Oxford and other world class learning partners on board. Offerings and pricings are broadly similar to Coursera. The main difference is in the number of courses available. The course library for Coursera is much larger and Coursera has nearly three times as many learners. Check out our article, edX vs Coursera for more detail.
Closest to Udemy is Skillshare. Both allow anyone to create and offer a course on their platform. However, Skillshare has far fewer courses (35,000) and they have a strong focus on creativity. Another difference is that courses can be purchased individually on Udemy, whereas Skillshare is a subscription only platform, which may work better for some learners.
Finally, there's MasterClass which is quite different compared to Udemy and Coursera. MasterClass offers classes hosted by celebrities. For example, cooking with Gordon Ramsay, writing with Margaret Atwood and Jazz with Herbie Hancock. The focus is on the experience rather than academic learning, and the platform is famed for its cinema quality production values.
MasterClass have also started to offer MasterClass Sessions which are project led, 30 day courses that you start with a cohort of fellow students who you collaborate with and receive feedback from. MasterClass is a subscription only platform and your annual pass gives you access to every MasterClass including the Sessions.
For more comparisons, check out our article Coursera Alternatives.
Udemy vs Coursera: pros, cons, and who they are best for
Having explored both platforms thoroughly, I'll now share what I liked about each, what I thought could be improved and who each platform is best for.
Udemy
Pros:
Comprehensive range of courses
Reasonably priced with constant sales, deals and promotions
500+ free courses
Passionate instructors with many high profile contributors
Teaches skills that equip you for the changing nature of work as well as offering many creative and fun courses too
Cons:
Not all courses are of equal quality
Course certificates aren't accredited by any university or institution
Best for those who:
Enjoy learning and want access to a wide variety of content – from work-related to fun and creative
Are looking to develop skills in tech and computing, but struggling to find a way in
Those that like to take courses as they come, rather than purchase a whole subscription
High flyers who can't seem to fit learning new things in their busy schedule
Business owners and managers looking for a wholesale way to educate their team
Coursera
Pros:
The chance to earn accredited certificates from the world's top organisations
Lots of free content for you to sample
Offers lots of learning paths as well as monthly or annual subscription
Instructors from top universities and institutions
Strong focus on developing professional skills
Has a community forum where you can ask questions and share successes
81% of learners give its courses a 5* rating
Cons:
Confusing pricing due to so many ways to learn
More expensive compared to Udemy
Best for:
Students who would value certification from world-class universities and institutions
Learners looking for open source but high-quality channels of education
Anyone looking for promotion, a new job or a career change
Those looking to open new doors into the world of tech or computer science
Busy people looking to fit in some high quality learning at a time that suits them
Business teams and business leaders looking to invest in the continuing professional development of their teams
Conclusion: Udemy vs Coursera
In summary, comparing Udemy to Coursera:
Udemy's courses are more varied, Coursera's more academic and work related
Teaching quality is more consistent on Coursera – though a number of Udemy's instructors are also high profile professionals
Udemy's certificates of completion are not accredited, Coursera's are
Coursera is the more expensive of the two.
Udemy offers business users more for less
That said, the answer to the question "Which is better, Udemy or Coursera?" depends on what you are looking for.
If you are seriously wanting to progress at work, change career, or master a new and in-demand skill then Coursera is likely to be your best bet. Especially if you are seeking accredited certification from a world renowned institution.
If certification is less important to you, then with 204,000+ courses on offer on Udemy, you are certain to find courses broadly similar to those offered by Coursera. Many of which will be delivered by practising professionals who are passionate about sharing what they know.
The good news is that both platforms offer:
Plenty of free content for you to sample before committing yourself
The opportunity to buy courses individually so you can dip in and out of each
Free trials and refunds minimizing your risk of paying for something you don't benefit from
It's only if you are considering purchasing a subscription that you really need to choose between Udemy and Coursera. In that case, I would advise exploring the free content on both platforms before committing yourself.
Comparing Udemy vs Coursera: our methodology
I navigated every corner of each platform to gather relevant information on costs, refunds and the range and quality of what's on offer.
I also sampled several specific courses from each. This included courses in topics I felt confident in which helped me gauge the quality of the teaching. And courses I knew little or nothing about to see if claims that no prior experience was necessary were backed up by good introductory content and incremental teaching that kept me engaged and learning.
Finally, I looked elsewhere across the internet to gather other people's opinions on each platform, and to explore potential alternatives.
Relevant articles: Udemy Alternatives, Coursera Alternatives, Udemy vs Skillshare, Udemy vs LinkedIn Learning, Udemy vs Codecademy, Pluralsight vs Udemy and Skillshare vs MasterClass
Frequently Asked Questions
Which is better, Coursera or Udemy?
Coursera is better for those seeking academic style, accredited certification. Udemy will suit those less concerned about certification who want access to a massive range of professional, as well as fun, courses.
Which is cheaper, Coursera or Udemy?
Both platforms have a lot of content that can be accessed for free. However, in terms of paid for content, Udemy is cheaper
Which platform has the most courses, Coursera or Udemy?
Udemy has over 20x the number of courses compared to Coursera.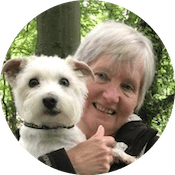 Liz Hurley has 30+ years of high school teaching experience and is one of our senior writers here at Learnopoly.