Both Udemy and LinkedIn Learning have been listed as top online learning platforms of 2023.
But, which is better – Udemy or LinkedIn Learning?
In this Udemy vs LinkedIn Learning review, I'll compare their differences in terms of cost, teaching, user friendliness, and provision. I'll also consider whether the platforms offer certificates, and whether any particular features stand out.
With my Udemy vs LinkedIn Learning comparison you'll get a clear understanding of which platform will best fit your needs.
This review is in-depth. But, if you're pushed for time, here are the highlights:
Udemy has the highest number of courses, with over 204,000 classes to date. It also boasts over 50 million users and over 75 language options.
LinkedIn has a higher number of course categories to choose from, falling under the umbrellas of Business, Creative, and Technology. LinkedIn Learning certificates also show up directly onto your LinkedIn profile.
Both platforms offer single-course purchases, so you can invest however much or little you'd like. That being said, Udemy and LinkedIn Learning also have subscription options, which work out as better value for money overall.
This side-by-side comparison table shows Udemy's and LinkedIn Learning's key differences:
Quick summary: Udemy vs LinkedIn Learning – which is better?
Udemy
LinkedIn Learning
Average course rating
4.4
4.5
# of users
50+ million
27+ million
# of courses
204,000+ across 12 categories
17,000+ across 30+ categories
Teachers
Anyone can create and teach a course
Professionals from top institutions and industry leaders
Pricing
Individual courses from $12.99
Monthly subscription $29.99
Individual course average $35
Monthly subscription $39.99
Free content
500+ courses
8 free learning paths
Accredited certificates
No
No
Features
High quality video content & downloadable resources
Range of courses from professional to hobbies
Non-accredited certification
High quality video content & downloadable resources
Range of courses from career growth to wellbeing
Tailored to mobile and desktop viewing
Non-accredited certification
Specialization
Anyone can create and offer courses on any topic
Must apply to teach, all courses fall under Business/Technology or Creative
Pros
Huge volume of courses
Constant sales and deals
Passionate instructors and high calibre contributors
Teaches in-demand skills
Highly rated instructors with real-world experience
Chance to earn a LinkedIn Learning certificate
Well-structured for online and offline viewing
Broad scope of topics to choose from
Suitable for all skill levels
Cons
Course quality can vary
Certificates not accredited
Pricing frequently changes
Certificates not accredited
Best for anyone who:
Is passionate about a particular topic, either for a career or a hobby
Does not require formal certifications
Wants to upskill their teams
Professionals or enthusiasts looking to grow their careers
Wants to learn new skills or build upon existing ones
Students looking to market their skills
More information
Visit Udemy
Visit LinkedIn
About Udemy and LinkedIn Learning
Now, let's look at both Udemy and LinkedIn Learning in more detail.
About Udemy

Citing itself as a global destination for online learning, Udemy first launched in May 2010. It now boasts over 50 million users and more than 200,000 courses.
Widely considered one of the best e-learning platforms of 2023, Udemy continues to reach more and more people and fuel their professional and personal lives.
Unlike some learning providers, which are subscription-service only, Udemy offers single-purchase courses. So, this gives you flexibility to study when you can and according to your own commitments. You can even access some courses for free.
That being said, Udemy's Personal Plan is a monthly subscription, which usually works out better in the long-run. This option gives you access to 6,000+ courses for as long as your subscription is valid.
Not to mention, Udemy has over 12,500 enterprise customers, including gofundme, eventbrite, Survey Monkey, and Nordea.
For a more thorough look at Udemy, you can also check out our Udemy review.
About LinkedIn Learning

Founded in 1995 (initially as Lynda.com), LinkedIn Learning has gone on to become one of the biggest providers of online courses. To date, it boasts over 27 million users and 17,000+ courses.
LinkedIn Learning focuses on in-demand topics as well as personal development (think wellness and mindfulness).
And having reached 17 million users in only four years, it's shown itself to be a true competitor in the e-learning world.
One perk of LinkedIn Learning is that you have the chance to try the entire platform free of charge for one month. So, it's no surprise that people are flocking over to LinkedIn Learning to find out what it has to offer.
If that wasn't enough, being part of the world's largest professional networking site is undoubtedly impressive to any employers who see their courses on your profile. And, if you're a managing professional, you can even buy LinkedIn Learning for your team.
For more details, check out our LinkedIn Learning review.
Summary: While LinkedIn Learning was technically founded in the 90s, it was acquired more recently than Udemy and is a smaller platform. Udemy has a much larger student base and its topics are more varied. That being said, LinkedIn Learning has a lot more course categories, and is primarily focused on career development.
Udemy vs LinkedIn Learning courses
Here's a side-by-side comparison of Udemy vs LinkedIn Learning's courses:
Udemy
LinkedIn Learning
# of courses
204,000, 12 categories
17,000, 30+ categories
Categories
Development
Business
Finance & accounting
IT & software
Office productivity
Personal development
Design
Marketing
Lifestyle
Photography & video
Health & fitness
Teaching & academics
Business analysis & strategy
Software & tools
Career development
Animation & illustration
Audio & music
Cloud computing
Data science
Database management
Customer service
Finance & accounting
Human resources
Leadership & management
Marketing
Professional development
Project management
Sales
Small business & entrepreneurship
Training & education
Graphic design
Photography
Product & manufacturing
User Experience
Video
Web design& more!
# of free courses
500+
8 learning paths with 20 courses
Now let's take a deeper look:
Udemy courses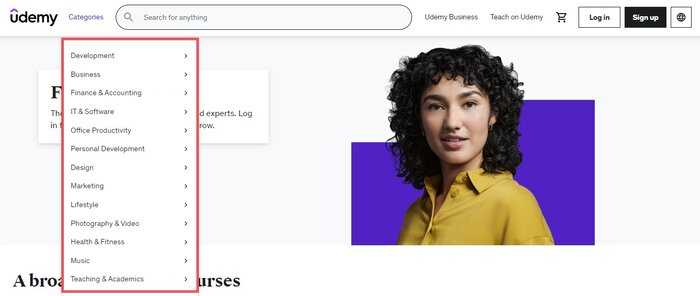 Udemy has over 204,000 courses across 12 categories to choose from.
Their classes consist of (usually) pre-recorded video content with additional downloadable resources. They range in length from about an hour to 20+ hours and are broken down into bite sized manageable lessons.
In any given class your instructor(s) will break down key skills and theories for you to process, and often set tasks relevant to your chosen discipline. You can re-watch these videos however many times you'd like.
You can also browse Udemy by:
Course categories
Recommended courses
Search bar
You'll find the course categories at the top of Udemy's homepage. Once you've selected a subject, you can view all the courses available in that category.
Another of Udemy's great features is that it tailors courses to your interests once you begin engaging with content. So, the more courses you view, the more Udemy learns your interests and recommends classes relating to these.
Finally, if you're looking for something more specific, you can always use the search bar at the top of the page to search by keywords.
Best Udemy courses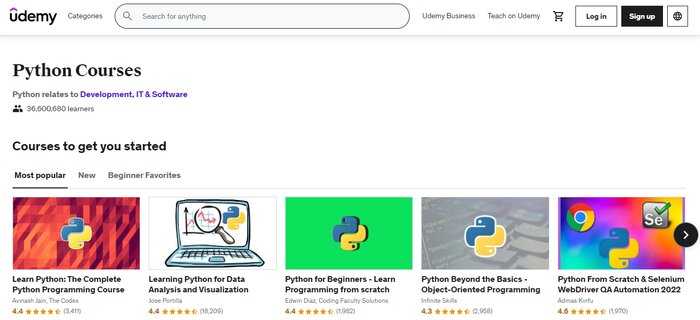 Because Udemy has such a variety of classes to choose from, it's a tough job narrowing down the best courses overall.
Besides, the best course for you depends entirely on your own interests and what skills you're looking to develop.
But to give you a broad overview, I've grouped together the best courses in Udemy's main categories below. You can also check out our article: Best Courses on Udemy to find out more.
Development: 2020 Complete Python Development Programme: From Zero to Hero in Python Start from the basics and grow your professional Python knowledge
Business: Agile Crash Course: Agile Project Management, Agile Delivery Learn about the key concepts of Agile Project Management
Finance & Accounting: The Complete Financial Analyst and Training Course Learn to perform financial statement analysis, master Microsoft packages, and build a company's Balance sheet from scratch
IT & Software: IT Troubleshooting Skills Training Minimize problem duration, standardize troubleshooting, and practice efficient problem solving
Office Productivity: Microsoft Excel – Excel from Beginners to Advanced Learn the most common Excel functions, use PivotTables, and unlock the platform's potential
Product Development: Become a Super Learner 2 Master the skills of the world's fastest readers to learn knowledge both easily and quickly
Design: The Ultimate Drawing Course: Beginner to Advanced Draw faces and figures from your head, master realistic light and shadow, and understand art fundamentals
Marketing: The Complete Digital Marketing Course Grow an online business from scratch, make money as an affiliate marketer, and get hired as a digital marketing expert
Health & Fitness: Cognitive Behavioral Therapy (CBT) Practitioner Certificate Learn to understand and apply cognitive psychology to everyday life and challenges
Music: Pianoforall: An Incredible New Way to Learn Piano and Keyboard Learn piano in weeks from basics to advanced, and play by ear
LinkedIn Learning Courses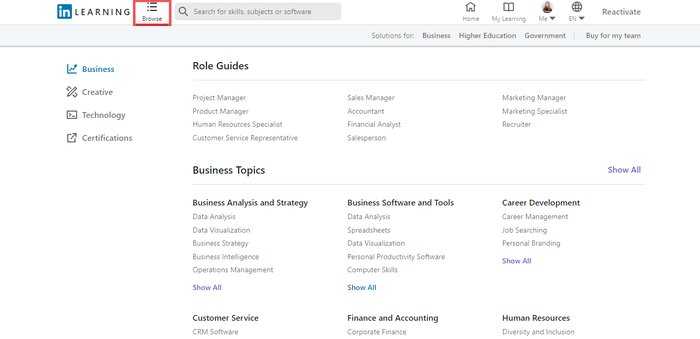 While Udemy trumps LinkedIn Learning for overall number of classes, LinkedIn Learning covers far more categories and sub-categories than its competitor.
And, because LinkedIn Learning certificates can be directly showcased onto your LinkedIn profile, the platform is a convenient way to keep your digital career presence on top form.
Like Udemy, LinkedIn Learning structures its courses in a video format, with your instructor(s) guiding you through various topics and setting assignments/extra research along the way.
And as most courses come with additional resources, you can also take your learning beyond the classroom and read articles, journals, etc. while on-the-go.
You can easily browse classes by:
Setting your interests and industry when signing up
Browsing by topic
Using the search bar to type in keywords
Taking plenty of courses to get recommendations
You'll find the "Browse" button in the top left corner of the LinkedIn Learning homepage. From here, you can explore categories and subcategories under Business, Creative, and Technology – as well as certifications.
Once you've started to engage with the platform, LinkedIn Learning will begin recommending topics and courses on your main homepage.
Of course, if you're looking for a particular subject, you can always use the search bar.
Best LinkedIn Learning courses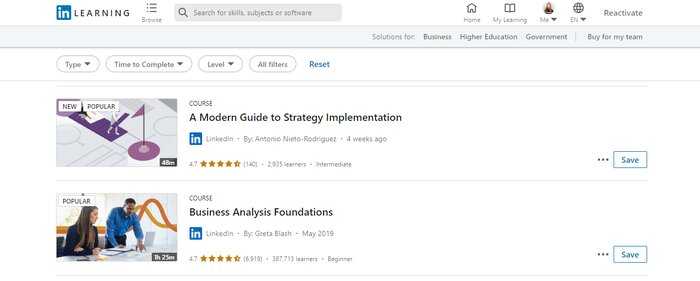 With more of a focus on career-based topics, as well as work/life balance and wellness, we've grouped together some of the best LinkedIn Learning courses below.
Business Analysis & Strategy: Excel: Lookup Functions In Depth Understand how to use lookup functions efficiently and to your workflow's best interests
Software & Tools: Outlook: Efficient Email Management Discover new ways of working with Outlook to make your email experience less time-consuming
Career Development: Delivering an Authentic Elevator Pitch Learn how to craft an authentic personal pitch and make a great first impression
AEC: After Effects 2020 New Features Gain practical tips on how to get the most out of After Effect's newest updates
Animation & Illustration: Figure Drawing: Tonal Rendering Step-by-step guide to enhancing dimension and drama in figure drawings
Audio & Music: Carter Beauford: Under the Table and Drumming Learn drumming from a world-class musician, including left-hand lead, open hand approaches, cymbal setup, and time feel
Cloud Computing: Introduction to AWS for Non-Engineers: 1 Cloud Concepts Make use of Amazon Web Services and cloud computing as a non-engineer – focuses on cloud design principles
Data Science: Power BI Essential Training Discover how to glean data insights using Power BI
Database Management: SQL Essential Training Understand the major features of SQL, including creating tables, defining relationships, manipulating strings, and data wrangling
Customer Service: Business Etiquette: Phone, Email, and Text Learn appropriate communication methods for different customer service scenarios, set up a signature, use autoresponders, initiate greetings, and more
Finance & Accounting: Financial Basics Everyone Should Know Understand how banks works, how to save for retirement, and how to understand the finance industry
Human Resources: Expert Tips for Answering Common Interview Questions Get expert advice on how to ace your next job interview and land the position over your competitors
Leadership & Management: Jodi Glickman on Pitching Yourself Learn how to sell your ideas through a successful pitch
Marketing: Brand and Marketing Integration Define different types of integration and understand where to place marketing objectives within these frameworks
Professional Development: The Six Morning Habits of High Performers Learn the six habits of the most successful people in industry and become a better version of yourself
Project Management: Project Management Foundations Make your projects more successful by understanding how to build a project plan and manage resources
Sales: Solution Sales Understand the modern buyer and develop strategy to elevate relationships and "solution-sell"
Read mini reviews of these courses in our article best LinkedIn Learning Courses.
Udemy vs. LinkedIn Learning teachers & course quality
It goes without saying that teacher quality can make or break a course.
Of course, a good teacher will have knowledge, skills, and passion for their subject, along with the ability to distil complex information in a way that's easy to follow. Beyond that, they also need to set and meet their course objectives.
In short, you need to know what you can expect to learn from the course at the beginning. And, by the end of the class, you should come away with new knowledge of the subject matter and an enhanced understanding of the goals set earlier.
With this in mind, how do Udemy and LinkedIn Learning compare when it comes to teacher quality?
Udemy teachers and quality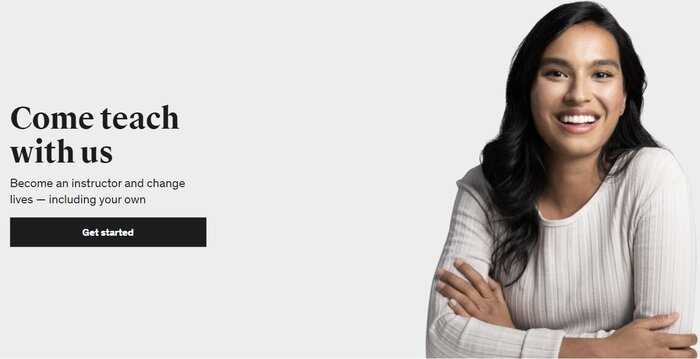 Put simply, Udemy allows anyone the opportunity to create and share a class. However, there are a few guidelines. These include: a minimum of 30 minutes per course, at least five separate lectures, and suitable-for-work topics only.
Further than that, it's not essential for Udemy instructors to have any formal training in their course category.
However, this doesn't mean that Udemy is lacking in esteemed academics and professionals. For example, some high-achieving Udemy instructors include:
Rob Percival – web developer and teacher with a degree in mathematics from Cambridge University
Jose Portilla – head of Data Science at Pierian Training, with a current total of 3 million students on Udemy
Phil Ebiner – top-rated instructor with years of experience in video editing – including feature films
Here's how to become a Udemy instructor:
Sign up to Udemy
Create your learning targets and a course outline
Film your course and submit a test video for feedback
Submit your class for approval
If your course meets Udemy's standards, it will be published.
After this, Udemy ranks its courses on a 5* system. So, even though Udemy is open to all, only the best courses will make it to the top. At the time of writing, Udemy's average course rating is 4.4.
LinkedIn Learning teachers and quality

Unlike Udemy, which allows anyone to submit courses for evaluation, LinkedIn Learning requires all aspiring teachers to submit a personal application for review. You must also have a LinkedIn profile, which will be referenced in the application process.
Because of this, LinkedIn Learning has an incredibly high caliber of teachers, including:
Michael McDonald – professor of Research and Finance at Fairfield University and experienced firm-advisor
Dina Shapiro – brand strategist, marketing executive, and founder of her own firm: Yorkville Consulting
Brad Batesole – marketing thought leader and Chief Learning Officer at Madecraft, leading top teams on their marketing strategy (including LinkedIn!)
At the time of writing, the average course rating on LinkedIn Learning is 4.5.
Summary: Udemy and LinkedIn Learning both review any course submissions before publications. However, LinkedIn Learning is the only platform that actually vets its instructors before letting them create a course.
Udemy vs. LinkedIn Learning: pricing
Udemy costs
LinkedIn Learning costs
Per course
$12.99 – $199.99
$35 – $40
Subscription
$29.99 per month (billed monthly) for access to 6,000 curated courses
$39.99 per month (billed monthly) or $24.99 per month (billed annually) for access to all courses
Free trials
7 day free trial on subscription
1-month free trial
Refunds
30-day refund policy on individual courses
Subscription can be cancelled at any time
30-day refund policy on individual courses
Subscription can be cancelled at any time
Free courses
500 free courses
8 free learning paths
Udemy cost
Individual Udemy courses can cost anywhere from $12.99 – £199.99.
That being said, there are often chances to get discounts on major classes. For more detail on this, see our article: How often does Udemy have sales?
Plus, there are over 500 courses that are completely free.
Udemy also has its own subscription service (known as a Personal Plan). This gives you access to 6,000 curated courses. Starting off with a 7-day free trial, it'll then cost you $29.99 a month.
You can cancel your subscription at any time. You'll even continue to get access to these courses until the next payment is due.
Like many e-learning platforms, Udemy has a 30-day refund policy on its courses if your request meets the eligibility criteria.
So, your refund may be rejected or significantly reduced if, for instance, you've taken a large portion of the course or have been known to request refunds excessively.
For more information on this, you can check out our Udemy cost article.
LinkedIn Learning cost
For individual course prices, you're looking at around $35-$40 per LinkedIn Learning course.
However, there are 8 free learning pathways and regular discounts across the platform – not to mention free course access periods to aid jobseekers.
You can subscribe to LinkedIn Learning either monthly or annually, and both are preceded by a 30-day trial period.
Like with Udemy, you can cancel your subscription at any time and continue to receive course access until your next billing date is due.
Also, LinkedIn Learning operates a 30-day refund policy on its individual courses. If you believe your situation warrants an exception to this rule, you can submit your account for review.
Udemy vs. LinkedIn Learning certificate value
For its paid courses, Udemy offers a certificate of completion. But, because Udemy isn't a formal institution, these certificates are not accredited.
You can download your certificate as a PDF or JPEG file – and/or you can share it to sites like LinkedIn, Facebook, and Twitter.
LinkedIn Learning also offers certificates on all of their paid courses. Again, because they're not a formally-recognized institution, these certificates are not accredited.
But, even though they aren't formally accepted, they are still great merits to potential employers if you display them on your job profile or mention them in your resumé.
Summary: In my opinion, the LinkedIn Learning certificates in particular are a great way to bolster your LinkedIn profile and they still help you to stand out in the job market. It's even easier than sharing the Udemy certificates as LinkedIn Learning is part of the very site many employers are searching on!
Udemy vs. LinkedIn Learning features
Now, let's have a closer look at Udemy's and LinkedIn Learning's features.
Udemy features
204,000+ courses in both high-demand skills and hobbyist topics
Teaching – Anyone can create a Udemy course and share their knowledge. At the same time, Udemy boasts some expert mentors from CEOs to revered academics
Individual courses that you pay for separately
A monthly subscription giving you access to 6,000 courses
500+ free courses
On-demand video lessons and downloadable resources
LinkedIn Learning features
17,000 courses in over 30 categories, covering professional, creative, and wellness topics
Teaching – All aspiring teachers must apply for a spot on LinkedIn Learning. These applications will be reviewed and teachers are contacted if there is an opening for their area
Individual courses that you pay for separately
A monthly or annual subscription giving you access to all 17,000+ courses
8 free learning pathways and generous discounts
On-demand video lessons and downloadable resources
Udemy vs. LinkedIn Learning customer support
Udemy customer support

Udemy has customer support services available for both students and instructors. These include a customer service webpage with frequently asked questions. You can also browse these by topics, which include account setup, troubleshooting, and refund requests.
If you find that your question is not already covered, you can submit a personal request via Udemy's contact form. After sending your ticket, you'll hear back via email within 3-5 business days.
LinkedIn Learning customer support

LinkedIn Learning also has its own Help Center with resources, learning shortcuts, and recommended topics. With a search bar as well, you can browse your exact query to find results.
Further to this, you can contact an agent via Live Chat or by email. LinkedIn Learning's live chat is probably the quickest way to get your question answered, and is usually the first port of call if the Help Center doesn't have what you're looking for.
You can also leave feedback under any support articles to help LinkedIn Learning improve their customer service and Help Center information.
Udemy vs. LinkedIn Learning: which is best for Businesses?
Both Udemy and LinkedIn Learning offer products for businesses. This side-by-side comparison table sets out the differences between them:
Udemy
LinkedIn Learning
Small teams
Team Plan (up to 20 users), $360 per user per year
6,500 courses + mobile app
LinkedIn Learning for Teams (up to 20 users)
Free demo then pay per seat per year
Larger teams
Enterprise Plan (21+ users)
Contact sales
As above + custom topics and ability to host proprietary courses
Contact sales
Free demo then personalized by team size
Customized learning paths
Leadership
Leadership Development Program
Contact sales
100+ executive level courses from top institutions
Live events
AI analytics and insights
N/A
Summary: If you're a small business, LinkedIn Learning works out a lot cheaper while still providing personalized industry content to suit your business. However, if you are part of a larger enterprise, Udemy's Enterprise or Leadership Development Program might be worth the investment.
Udemy and LinkedIn Learning alternatives
In 2023, there's no shortage of eLearning platforms out there. So, if you're looking for an alternative to Udemy and LinkedIn Learning, we've got you covered.
Coursera
Formed in 2012, Coursera now has over 92 million users and 7,000 courses from top institutions like Yale and Stanford. So, it's no surprise that it ranks on our list of Udemy/LinkedIn Learning alternatives.
With 11+ categories and 250+ prestigious partner institutions, Coursera offers both pay-by-course and subscription options.
Perhaps its best selling point is that it includes accredited courses with certificates. So, if you're after more formal training that can go toward a degree or even offer a standalone certificate, this is the platform for you. Find out more in our Coursera review or our article, Coursera vs LinkedIn Learning.
Skillshare
With anyone able to create and offer a course on Skillshare, there's undeniably a mixed bag of quality and skill level. Skillshare also has a stronger focus on creative disciplines and vocational courses.
That being said, there are 35,000 courses on the platform – which is a wider selection than what LinkedIn Learning currently offers. Skillshare is also a subscription-only platform, so you do not pay for individual classes.
Plus, at $168 for an annual subscription, this only works out at $14 monthly. This is a lot cheaper than some individual course purchase on other sites! Check out our Skillshare review for more granular detail.
MasterClass
Finally, MasterClass is a very unique platform. Unlike Udemy and Skillshare, where anyone can host courses, MasterClass is hosted by the best of the best. Namely, they boast celebrity-level tutelage, from Gordon Ramsay to Bill Clinton.
Along with this feature, MasterClass is also known for its high production values and offers cinema-quality video lessons. And, in fact, at only $15 a month for an individual membership, this is pretty great value for money.
MasterClass has also started to offer MasterClass Sessions, which are 30-day courses you follow with a cohort of other students. You can find out more about this here.
If you want to explore these comparisons further, see our article on Udemy alternatives.
Udemy vs. LinkedIn Learning: pros and cons and who are they best for?
Having delved into both platforms' features, here's what I liked about each, what I thought could be improved, and who each platform is best for.
Udemy
Pros:
Impressive range of courses
Generous deals and sales
Over 500 free courses
Keen instructors with high profile contributors
Good balance of professional vs. creative courses
Cons:
Course quality can vary
Certificates are not accredited
Best for:
Passionate learners eager to learn a range of skills or hobbies
Those looking to develop skills in difficult-to-access areas like tech
Anyone who wants to try a course or two before committing to a subscription
Businesses looking to upskill their team
LinkedIn Learning
Pros:
Highly rated instructors with real-world experience
Directly connected to LinkedIn itself
Well-structured courses for online and offline viewing
Great scope of course categories
Cons:
Pricing is quick to change
Certificates are not accredited
Best for:
Professionals/enthusiasts looking to enhance their skills
Those in tech/business fields who are keen to upskill
Anyone interested in personal and professional development
Graphic designers or artists who are learning new/evolving packages
Conclusion: Udemy vs. LinkedIn Learning
In summary, here's how Udemy and LinkedIn Learning compare:
Udemy has a wider selection of courses, but LinkedIn Learning's course categories are more extensive
Teaching quality is more consistent on LinkedIn Learning as instructors must apply before submitting a course
Neither Udemy nor LinkedIn Learning have accredited courses
LinkedIn Learning works out as slightly cheaper if going by subscription prices
Udemy offers more options for businesses
But, to answer the question: "which is better?" really depends on what you are looking for.
If you're wanting to use an elearning platform in a professional but individual capacity, I'd say LinkedIn Learning is the better option. You can also take learning paths, which offer richer content consisting of multiple related courses.
That being said, Udemy offers a lot more resources for businesses. This includes live events, proprietary course hosting, and AI analytics in its leadership program.
LinkedIn Learning offers business packages on a case-by-case basis. So, you'll have to submit a proposal to receive a personalized plan.
That being said, both platforms offer:
Free content for you to sample
The option to buy individual courses or subscribe
Free trials and refunds to minimize risk
Because of this, I would advise navigating both sites and sampling what you can. Sometimes, what works for you depends on user experience.
So, try watching some free content and browsing the class categories to get a better feel for what both platforms have to offer.
Comparing Udemy and LinkedIn Learning: our methodology
I searched through each platform to gain all relevant information on pricing, subscription details, range, and quality.
Plus, I even sampled several courses from each to get a better understanding of how the platforms work. For variety, I tried courses in topics I was familiar with, and also some I was new to. This was a good way to figure out if claims of "beginner-friendly" content really held up.
Beyond this, I looked elsewhere on the Internet to garner other opinions from users with good and bad experiences. This was also a good way to find alternative platforms that people recommended.
Related article: Udemy vs Codecademy, Udemy vs Pluralsight, edX vs Pluralsight
Frequently asked questions
What's better, Udemy or LinkedIn Learning?
LinkedIn Learning is better for those seeking professional guidance and upskilling. This is especially the case when it comes to employment skills like landing new roles or selling pitches. From a business/group perspective, Udemy has more to offer.
Which is cheaper, Udemy or LinkedIn Learning?
While LinkedIn Learning's subscription plan works out slightly cheaper per month if you go for the annual option, individual courses on each platform vary greatly.
Which has more courses, Udemy or LinkedIn Learning?
Udemy easily has the most courses (a whopping 204,000+ compared to LinkedIn Learning's 17,000). But, LinkedIn Learning does offer more course categories.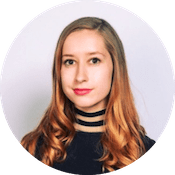 Rebecca graduated from King's College university with a first class honours in English Language, followed by a Masters' Degree in Eighteenth Century Studies.