Are you looking for the best LinkedIn Learning classes?
Then you're in the right place.
LinkedIn Learning offers 16,000+ courses in business, technology, and creative sectors. To date, the platform boasts over 27 million users and their classes are taught by industry experts.
In this best LinkedIn Learning Courses article, I'll help you cut through the noise to find the best LinkedIn Learning courses for you.
So, if you want to find the top courses on one of the leading e-learning platforms, read on!
Best LinkedIn Learning courses overall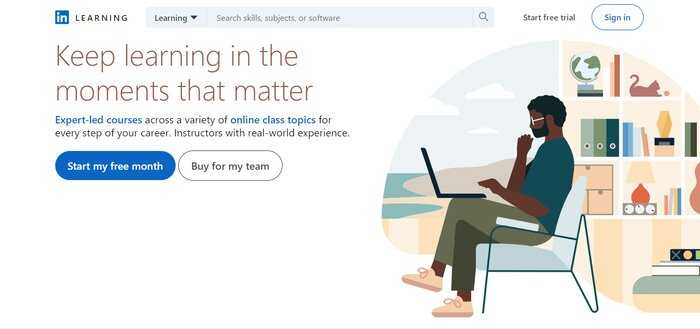 I chose the best LinkedIn Learning courses by looking at view count, reviews, course descriptions, and credentials. So, with that in mind, here are the best LinkedIn Learning classes:
"Financial Basics Everyone Should Know" (liked by 5k+ users, 4.7 rating
"Brand and Marketing Integration" (liked by 4k+ users, 4.7 rating)
"Sharepoint Online Admin Essential Training" (liked by 500+ users, 4.7 rating)
"Logo Design: Techniques" (liked by 3k+ users, 4.8 rating)
"Developing Your Emotional Intelligence" (liked by 65k+ users, 4.7 rating)
"Excel: Lookup Functions In Depth" (liked by 145k+ users, 4.8 rating)
"HTML Essential Training" (liked by 23k+ users, 4.7 rating)
"SQL Essential Training" (liked by 62k+ users, 4.7 rating)
"Digital Transformation" (liked by 13k+ users, 4.6 rating)
"Learning Personal Branding" (liked by 94k+ users, 4.6 rating)
"Programming Foundations: Databases" (liked by 11k+ users, 4.7 rating)
"Customer Service Foundations" (liked by 25k+ users, 4.7 rating)
"Strategic Thinking" (liked by 83k+ users, 4.7 rating)
"Project Management Foundations" (liked by 55k+ users, 4.7 rating)
"Solution Sales" (liked by 14k+ users, 4.8 rating)
Of these classes, our top pick for the best LinkedIn Learning course is "Financial Basics Everyone Should Know." This is because the class is detailed and clear enough for anyone in or outside of the financial sector. Its advice is well-explained and relevant to everyone.
Best LinkedIn Learning course reviews
As you can see, LinkedIn Learning has a wide range of classes in the BTC fields (business, technology, and creative). There are also two main course types:
LinkedIn Learning Courses – These are focused instructional classes on a specific topic. You can find these by browsing categories or using the search box
LinkedIn Learning Paths – Unlike the single courses, LinkedIn's Learning Path option provides several courses focused on a larger topic. These give you a detailed learning experience with a range of courses and teachers
That being said, here are the best LinkedIn Learning classes in each category:
Category: Finance | Instructor: Michael McDonald | Length: 1 hour 17 minutes | Liked by: 6,000 users | Certificate: Yes | Free: No
One of LinkedIn Learning's most popular courses, this class is taught by Researcher and Professor of Finance, Michael McDonald. McDonald has helped to advise firms on capital investments, valuation issues, and capital allocation to enhance business strategy. He's even been cited by the Wall Street Journal and Bloomberg.
So, this class covers financial basics that are valuable for both business and personal accounts, how to save for retirement, and how to understand the financial industry. This course was our top pick because of its broad depth of learning and its relevance across industries.
You'll learn:
How banks operate and how to obtain loans
The best strategies for stock-investment
Different ways to invest in stocks/bonds
How insurance functions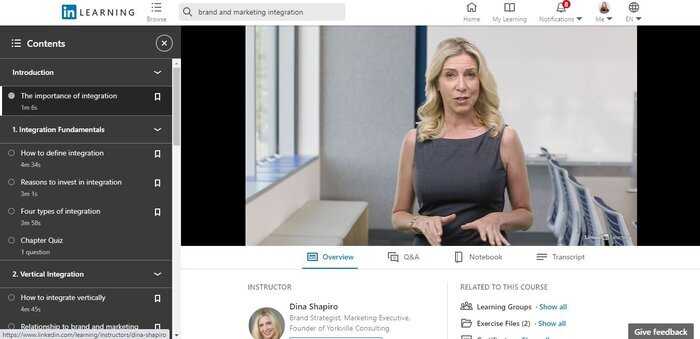 Category: Marketing | Instructor: Dina Shapiro | Length: 59 minutes 30 seconds | Liked by: 4,938 users | Certificate: Yes | Free: No
Dina Shapiro is a brand strategist, marketing executive, and even founded her own firm: Yorkville Consulting. As well as this, she also teaches at the ANA School of Marketing, which makes her the perfect teacher for brand/marketing integration class.
Like most LinkedIn Learning courses, this class includes a mixture of video lessons, chapter quizzes, exercise files, and a learning group. This, plus the continuing education units available is what makes the course a winner for us.
You'll learn how to:
Define different types of integration
Understand where and how to frame marketing objectives
Incorporate integration strategies into your own company
Overcome obstacles to integration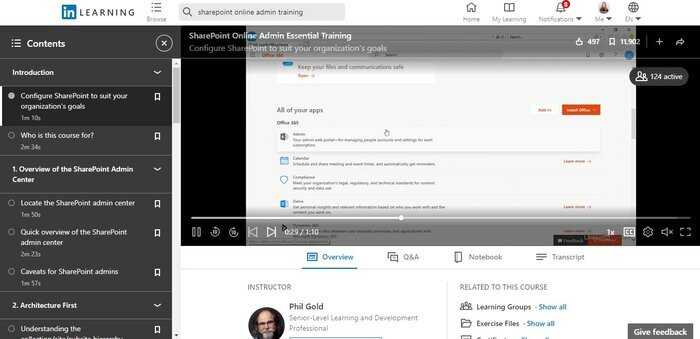 Category: Content Management | Instructor: Phil Gold | Length: 1 hour 48 minutes | Liked by: 581 users | Certificate: Yes | Free: Course
Phil Gold is a senior-level Learning and Development Professional. He teaches multiple LinkedIn Learning courses for Microsoft packages and various apps. Along with this, he has a proven knack for distilling complex technical concepts into plain language.
With a 4.7 rating, this course is well-esteemed by students looking to grasp SharePoint. As an excellent resource that suits beginners and long-time users, this class makes our list as one of the top Microsoft-specific courses.
You'll learn to:
Use Microsoft SharePoint as a complete beginner
Sharpen your knowledge of the platform for administrative purposes
Utilize SharePoint for your business goals
Maximize User Experience with SharePoint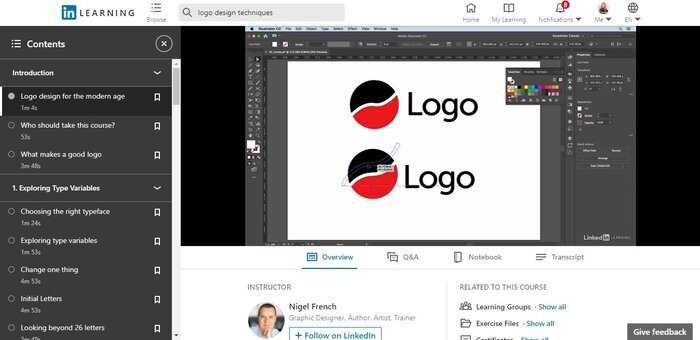 Category: Graphic Design | Instructor: Nigel French | Length: 4 hours 34 minutes | Liked by: 3,886 users | Certificate: Yes | Free: No
Graphic Designer, Author, and Trainer, Nigel French has over 20 years' experience in Graphic Design and is the author of Adobe-published, InDesign Type (now in its third edition).
In this course, you'll discover the key elements of a successful logo, and learn how to create your own. One of the highest rated graphic design classes on LinkedIn Learning, this is an in-demand topic and a useful skill for any professional graphic designer.
You'll learn how to:
Create effective logos with visual and marketing impact in mind
Understand the importance of color and shape
Adopt theoretical and practical graphic design knowledge
Prepare an impressive portfolio to showcase at interviews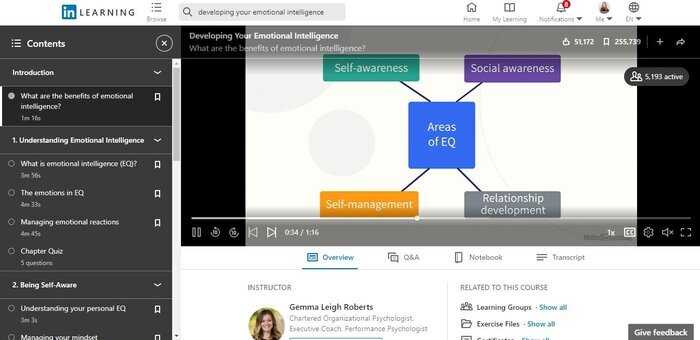 Category: Wellness | Instructor: Gemma Leigh Roberts | Length: 1 hour | Liked by: 65,770 users | Certificate: Yes | Free: No
Gemma Leigh Roberts. Roberts is a Performance Psychologist and Executive Coach. She's worked with leading companies like Disney and BP to help build resilient teams. On top of this, she's the author of LinkedIn Learning's newsletter, Mindset Matters.
So, if you're looking to improve your collaborative relationships at work and identify triggers that impact emotional intelligence, this course is for you. Roberts aims to help you refine your thinking and shift your perspective in order to have the best possible mindset in your career.
You'll learn how to:
Develop your emotional intelligence at work
Use emotional intelligence theory to build relationships
Identify triggers and hijacks
Empathize, listen, and communicate effectively
Align your intention and impact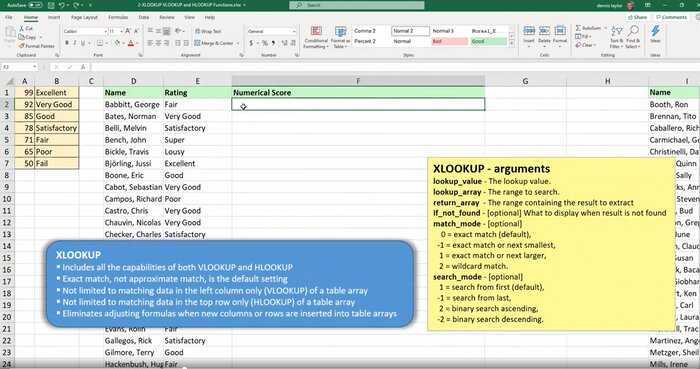 Category: Data Analysis | Instructor: Dennis Taylor | Length: 1 hour 8 minutes | Liked by: 145,391 | Certificate: Yes | Free: No
Dennis Taylor is an Excel expert with 25+ years' experience with the program. He has also authored and co-authored multiple books on spreadsheet software. Among his publications include Teach Yourself Excel 2000.
So, in this course, you'll get down to the nitty gritty of lookup functions and how to best utilize Excel for data entry, mapping, and analysis. Like the other paid courses on LinkedIn Learning, you'll also earn a certificate of completion, which you can display on your LinkedIn profile.
You'll learn to:
Easily retrieve information across spreadsheets
Use X/V/HLOOKUP functions
Explore MATCH and INDEX functions to extract data
Implement functions efficiently in your workflow
Best structure data for use with lookup functions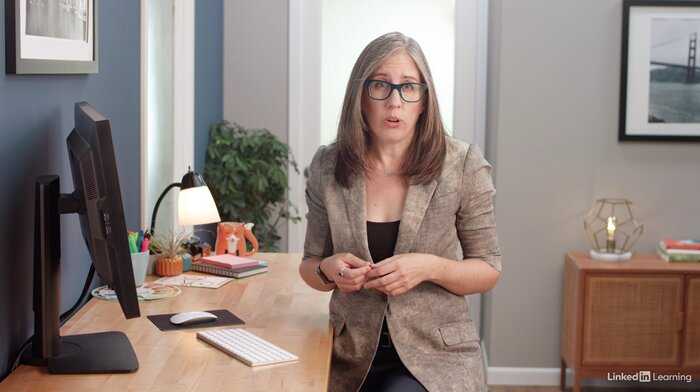 Category: Web Design | Instructor: Jen Simmons | Length: 2 hours 45 minutes | Liked by: 23,566 users | Certificate: Yes | Free: No
Jen Simmons is a Designer and Developer Advocate at Mozilla. As well as this, she is also a member of the CSS Working Group. In fact, Simmons has been creating websites since 1996 and now works as an independent consultant and trainer of the responsive design process.
In this class, you'll learn how to implement HTML for front-end development services. Although this course is currently her only on LinkedIn Learning, Simmons is well-established when it comes to making videos and speaking at conferences about her passion for web design.
So, in this class, you'll learn how to:
Build a website through Hypertext Markup Language
Develop effective content for your audience
Use HTML to its full potential in web design
Format, debug, and improve navigation
Insert media, identify content, and promote interaction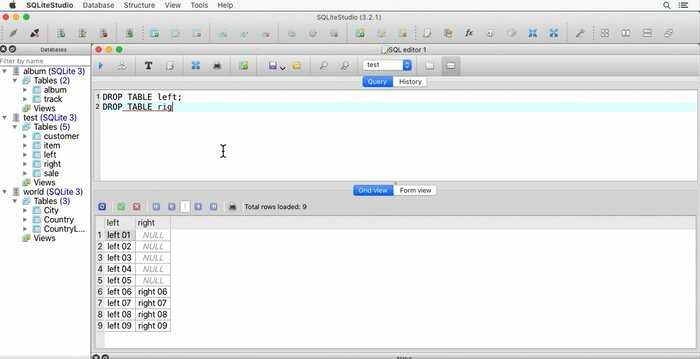 Category: Software Development | Instructor: Bill Weinman | Length: 3 hours | Liked by: 62,007 users | Certificate: Yes | Free: No
Bill Weinman is a Tech Advocate, Entrepreneur, and Programming Expert. He's also a freelance author and educator for LinkedIn. So, in this class, you'll be learning from an expert in C++, Python, and, of course, SQL training.
In this course, you'll learn how to code and manage relational databases – a required skill in any tech career. Weinman will also take you through the basics of SQL, including how to create tables and manipulate numbers and dates. You'll become versed in how to use SQL to define relationships and automate actions.
More specifically, you'll cover:
SQL installation and data organization
The SELECT statement and updating data
Constraining columns and filtering data
Conditional expressions and JOIN
How to relate multiple tables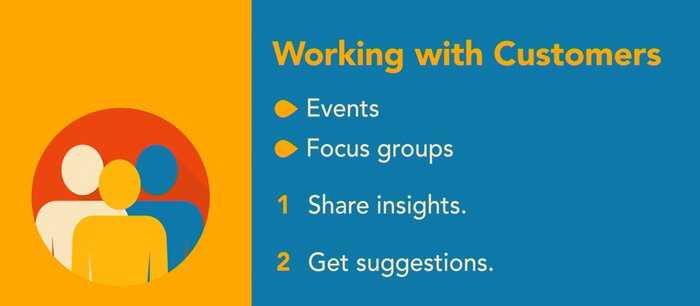 Category: Google | Instructor: Peter High | Length: 47 minutes 28 seconds | Liked by: 13,955 users | Certificate: Yes | Free: No
President of Metis Strategy and author of multiple IT strategy books, Peter High instructs this foundational course on digital transformation. High also has his own podcast on world-class IT, where he interviews CEOs, CIOS, and IT academics.
Although under an hour, this course is helpful in getting individuals and businesses to understand digitization and transformation. With excellent delivery, High teaches you how to best adapt to these ever-occurring transformations.
You'll learn to:
Grasp what digital transformation means for businesses
Adapt to the digital transformation trend
Identify the different stages of digital maturity
Draw insights from digital native companies like Google/Netflix
Create a strategic digital transformation plan for your organization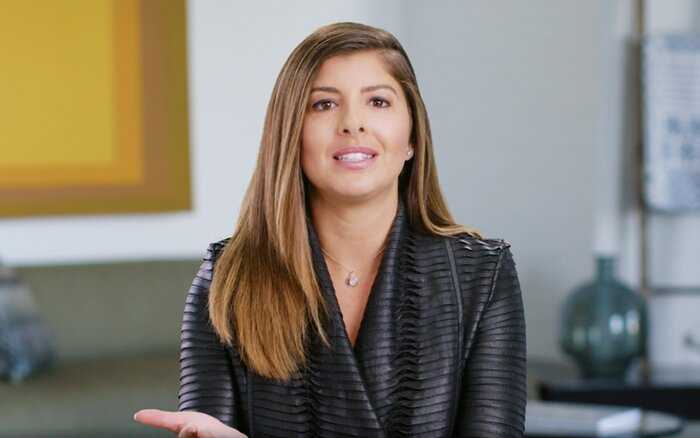 Category: Career Development | Instructor: Chelsea Krost Length: 47 minutes 54 seconds Liked by: 94,455 users Certificate: Yes Free: No
Chelsea Krost is a pioneer in Influencer Marketing, as well as a brand strategist and keynote speaker. A Forbes contributor, she even hosts her own Twitter Chat, #MillennialTalk. With that in mind, you'll be learning from the spokesperson for brands like Intel, MasterCard, and IBM.
So, considering these accolades, and that this is another short-but-sweet course, this class is perfect for individuals or businesses looking to improve and define their personal brands. In just shy of an hour, Krost will show you how to get ahead in your career by investing in your brand image.
You'll learn:
The secrets of personal branding from a marketing expert
How to craft your messaging and develop your brand story
Why you should be investing in personal branding
Krost's top tips for defining your target audience
How to grow your personal brand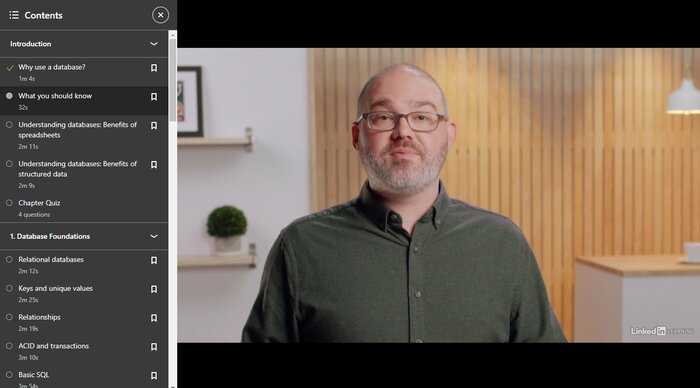 Category: Database Management | Instructor: Scott Simpson Length: 1 hour 25 minutes Liked by: 11,797 users Certificate: Yes Free: No
With an MA in Education and 56 technology courses under his belt, Scott Simpson leads this class and programming foundations. A lover of all things tech from a young age, Simpson went on to work for Apple by the time he was in college and also helped to shape LinkedIn Learning as a content producer.
So, in this beginner's class, you'll gain an overview of databases as they relate to programming foundations. As a starting point, once you get beyond basic programming, you'll need a database. Simpson takes you through the characteristics of these databases and guides you through the basics of database programming.
In particular, you'll learn how to:
Understand and use key terminology
Design the best system to contain your data
Write queries to extract the data you need
How to plan a database and create tables
Define the needs of your applications, data, and users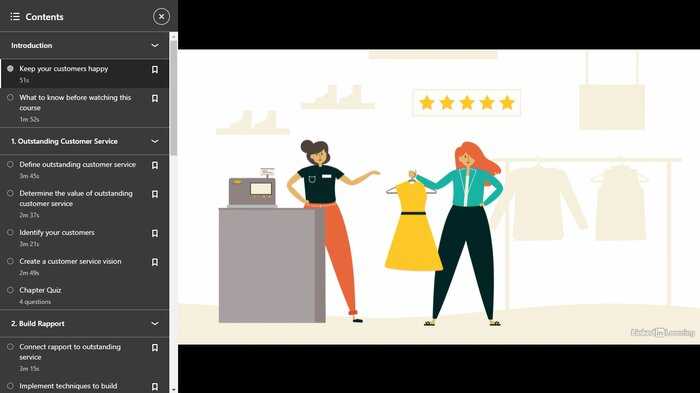 Category: Customer Service | Instructor: Jeff Toister Length: 1 hour 22 minutes Liked by: 25,195 users Certificate: Yes | Free: No
Jeff Toister is an author, consultant, and trainer specializing in customer service skills. President of Toister Performance Solutions, Inc., Toister helps companies to unlock their teams' customer service potential. He is also the author of a customer-service book, The Service Culture Handbook.
With expert and industry-backed advice, Toister teaches you how to keep your customers happy and loyal. He also delves into how to overcome underlying issues and maximize your team's potential. That being said, this class is suited to staff and managers, with its advice applicable to a range of customer-focused roles.
You'll learn how to:
Make your customers feel happy, valued, and committed to your business
Develop the skills needed to deliver outstanding customer service
Build winning relationships and provide the right service
Effectively handle angry or dissatisfied customers
Gain customer feedback for service improvement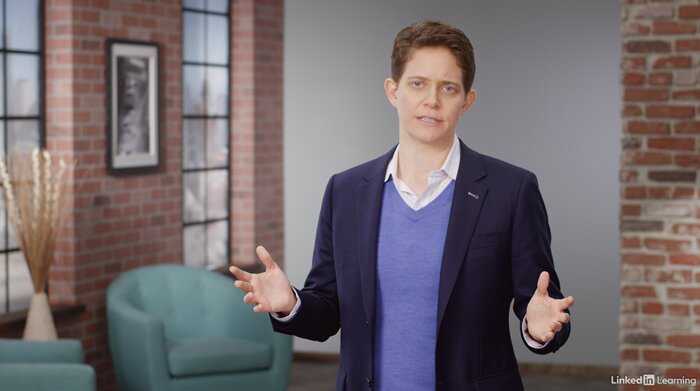 Category: Leadership and Management | Instructor: Dorie Clark | Length: 36 minutes 16 seconds | Liked by: 83,384 users | Certificate: Yes | Free: No
Dorie Clark is Professor of Business Administration at Duke University and a published author. Her book, Stand Out was named the number one leadership book in 2015 by Inc. and was a Washington Post best-seller.
A frequent writer for the Harvard Business Review, Clark brings her expertise to a bite-size leadership course with a focus on strategic thinking. In particular, she focuses on what strategic thinking is and why it's so valuable across organizations. As she notes, it's an increasingly important skill the higher you ascend the career ladder.
With this in mind, you'll learn how to:
Use strategic thinking to guide the direction of your team
Come up with solutions to key business problems
Create a plan for your team's future development
Implement strategic thinking within your team
Understand the sequence of strategy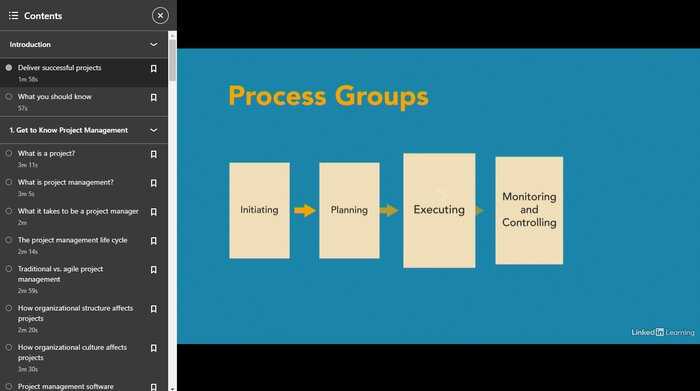 Category: Project Management | Instructor: Bonnie Biafore | Length: 3 hours 20 minutes | Liked by: 55,569 users | Certificate: Yes | Free: No
Certified project management professional, Bonnie Biafore has 25+ years' experience in project management and training. Along with this, she also has over 25 publications on the subject, including the award-winning, Successful Project Management.
So, it's safe to say Biafore is worth listening to when it comes to project management foundations! In this class, Biafore takes you through the steps to making your project management more successful (whether large- or small-scale). Helpfully, this course also included practical exercises.
Overall, this class will teach you how to:
Identify the definition of project management
Differentiate between traditional and agile project management
Determine how organizational structure affects projects
Examine strategies to gather requirements
Craft a quality plan for your project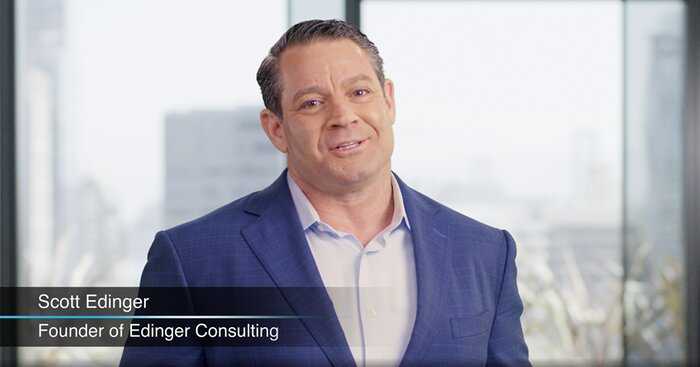 Category: Sales | Instructor: Scott Edinger | Length: 55 minutes 57 seconds | Liked by: 14,116 users | Certificate: Yes | Free: No
Scott Edinger is a consultant, author, and speaker, as well as a recognized expert on leadership for revenue growth. AT&T and the Los Angeles Times are among the companies who have hired Edinger to promote their growth.
With this in mind, this course delivers on actionable tips to help you develop sales solutions. Dismissing outdated sales tactics, Edinger instead turns his attention to how you can create real value for your customers and successfully close more deals. You'll learn what selling a solution really means and how to cultivate relationships with customers.
You'll also learn to:
Develop the solution-selling mindset
Cultivate peer-level relationships with customers
Identify real objectives and create value
Implement the solution-selling methodology
Create natural sales interactions that accelerate growth
How to find the best courses on LinkedIn Learning

From the above, you can hopefully tell that LinkedIn has a range of classes and class categories to choose from. As great as this is, it can make it difficult to know where to start looking for the best course(s) for you.
So, with that in mind, here are our top tips for finding the best courses on LinkedIn Learning:
Search by job title/skill
Explore the top courses of the week
Browse by category and sub-category
You can also sort courses by:
Upload date
Best match
View count
And, because LinkedIn Learning is part of LinkedIn, by connecting your profile you'll automatically be recommended courses based on your own skillset/accounts following.
Besides, once you start taking courses, the recommendations will only get more personalized from there. So, really, the best way to find the right LinkedIn Learning courses is to take plenty of them!
Not to mention, there are countless ways to find the best LinkedIn Learning classes that go beyond the platform itself. You can do this by:
Reading reviews from impartial sites like Learnopoly
Checking out student comments/reviews on the course page
Assessing the average rating and course popularity
Looking at the instructors' credentials
Seeing how many students are enrolled/how long the course has been established
How much does LinkedIn Learning cost?

Overall, there are a couple of LinkedIn Learning pricing options. They include:
Monthly/Annual subscription
For a monthly subscription, you're looking at $39.99/month or $24.99/month annually. Of course, the latter works out as more cost-effective, because you save about 38% over the year. If you're not sure whether the yearly plan will be worthwhile for you, LinkedIn Learning offers a one-month free trial, which you can cancel anytime.
Pay-as-you-go prices
If you're looking to buy a course individually, prices vary, but you're usually looking at a $35-$40 price range. With this in mind, it's a lot more cost-effective to opt for the subscription, especially when it comes with a free trial for one month!
Also, from time to time, LinkedIn Learning opens some of its shorter courses for free as a goodwill gesture. This is usually a limited time offer to allow job seekers to improve their skills and employability.
Plus, almost all LinkedIn Learning courses include a preview/sample viewing, so you can get a feel for what the course is about before you take it. You can also read students' reviews and access the instructor's complete LinkedIn profile.
How to get the best value out of LinkedIn Learning
As mentioned earlier, the best way to get the most value out of LinkedIn Learning is to take as many courses as possible. This can be through individual classes or the LinkedIn Learning Paths. Either way, engaging with the platform will help it to recognize your interests. It can then cater to your career path and give you relevant recommendations.
Besides, as LinkedIn Learning is predominantly subscription-based, you generally get out what you put into it. If you're willing to dedicate time and attention to learning the skills offered, your hard work will pay off. Plus, with a certificate of learning at the end, I'd say LinkedIn Learning is a worthy investment in your career.
Our methodology
It is challenging to summarize the best courses on LinkedIn Learning – considering it's such a vast platform that covers a wide range of career interests.
So, that being said, here is how I chose the best courses:
Focusing on "umbrella" topics and in-demand fields
Searching for the highest rated courses
Filtering by most reviewed and most enrolled
Seeing what people said both on and outside of LinkedIn Learning
Conclusion

Overall, LinkedIn Learning is one of the best-known and most easily recognizable e-learning platforms out there. Because it connects to LinkedIn, it's then easy to showcase your accomplishments and connect with industry experts.
As you can see from above, there are countless classes in a wide range of categories, which means there'll always be something for you. And, because the classes tend to be shorter, I'd say this makes LinkedIn Learning a lot more accessible than, say, Udacity.
So, in my opinion, whether you're new to an industry or an established professional, there's always something worth learning on LinkedIn Learning. The platform is geared toward all levels and it definitely isn't a beginners-only website. Besides, because of the level of tutelage, this is a great starting point for anyone looking to advance in their current field.
As I see it, with a one-month free trial and enviable pricing across subscriptions, there really is nothing to lose and a whole lot to gain with LinkedIn Learning.
Relevant article: Best public speaking classes
FAQs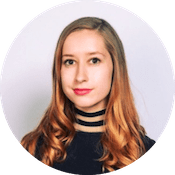 Rebecca graduated from King's College university with a first class honours in English Language, followed by a Masters' Degree in Eighteenth Century Studies.