If you love crafting and exploring new artistic hobbies, there are many online learning platforms out there offering great courses.
You may have heard of Creativebug, a video-based platform focused on all things craft, from quilting to macrame. But is it worth the monthly subscription? What can you learn, and what kind of quality are the lessons?
This comprehensive Creativebug review will answer all these questions and more.
I took a deep dive into the world of Creativebug to find out whether the platform is a good investment, and how you can get the most value out of this resource. 
.
Quick summary
Features
Huge range of content over ten different categories, including Knitting, Quilting and Kids
Daily Practice series to inspire you to create a consistent artistic practice
A resource library full of patterns and recipes
The ability to ask questions and chat to other learners
Pros
Experienced teachers with impressive resumes
Enormous range of content guaranteed to provide fresh inspiration
Low cost compared to alternative platforms
High quality production with a smooth viewing experience 
Easy to navigate site with easily accessible support
Cons
Most content is aimed at beginners, but for seasoned creatives there's so many categories you're bound to learn something new
Not all topics equally well covered. Eg: plenty of content about crocheting and knitting, but little on machine embroidery
Best for: Those who love learning new creative skills and are looking for daily sources of inspiration. 
Cost: At the time of writing, monthly subscription starts at $7.95.
Overall: An amazing online resource for seasoned creatives and beginners alike. Creativebug is bursting with inspiring, high-quality content. I was so impressed by the quality of their teachers, and I think that Creativebug is well worth the price.
This detailed review will cover everything you need to know about Creativebug, including:
What is Creativebug and who are the instructors?
How does Creativebug work?
How much does Creativebug cost?
Creativebug free trial and refund
Best Creativebug classes
How I reviewed Creativebug
What I liked about Creativebug and thought could be improved
Who Creativebug is for
Can I buy Creativebug as a gift?
Tips for finding great classes on Creativebug
Is Creativebug legit
Alternatives
What others have said
Evaluating Creativebug
How to open a Creativebug account
Is Creativebug worth it?
Frequently asked questions
So, let's get into it!
What is Creativebug?

Creativebug is an online learning platform specializing in all things creative – from knitting and quilting to seasonal craft projects and kid-friendly activities. It has hundreds of classes guaranteed to inspire you to tap into your creativity.
In addition to the traditional online class format with multiple video lessons for you to follow at your own pace, Creativebug also has a series of 'Daily Practice' collections, which include 30 days of prompts to get you creating for a month to build a daily art practice. As there are over 70 Daily Practice 30-day prompts to choose from, you have enough material for over five years of making!
Another great feature of this site is their pattern library, where you can browse patterns for toys, clothes, accessories and more. 
Who are the instructors?
You're in safe hands with Creativebug's expert instructors. As experienced professionals from an array of fascinating backgrounds, you can be sure that you're learning from the best.
For example, watercolor painting instructor Yao Cheng is a professional artist who has run her own design studio for over a decade, and whose work has been featured in design magazines such as Southern Living, and is sold nationwide in West Elm stores.
Fine artist and illustrator Lisa Congdon teaches an array of classes, including "Sketchbook Explorations' and 'Creative Boot Camp'. Her clients include the MoMA and Harvard University, and she is the author of five books and a popular daily blog charting her life as an artist and offering inspiration and advice.
Rebecca Ringquist is a Portland-based visual artist and designer who teaches the art of embroidery online and in person. She was awarded an Illinois Arts Council Fellowship in 2005, and her work has been exhibited across the United States, including at the Museum of Art and Design in New York City.
There are many, many more instructors specializing in a whole range of different creative mediums – this is just a small sample to illustrate their expertise.
How does Creativebug work?
Creativebug is a subscription learning platform dedicated to high-quality arts and crafts video courses. For a monthly fee, you can access thousands of classes, as well as an online library of patterns, templates and recipes, daily prompts to build your artistic practice and access to community spaces.
There are several levels of subscriptions available.
An 'Unlimited' membership gets you access to all of Creativebug's classes, their impressive resource library, access to Creativebug community galleries and forums and the ability to earn reward points every month with their Craft Squad Rewards. On top of this, you can choose one class per month to keep forever.
Creativebug features classes on all things creative, broken down into these categories:
Art and Design
Sewing
Quilting
Paper
Knitting
Crochet
Food and Home
Jewelry
Holiday and Party
Kids
With such a wide array of creative topics, and plenty of expert teachers, with a Creativebug subscription there are endless opportunities to develop your practice and learn new skills.
How much does Creativebug cost?
A Creativebug Unlimited subscription costs $7.95 a month. It gives you access to the existing Creativebug class archive, plus new classes from top artists that are released daily, as well as downloadable patterns, templates and recipes and access to community galleries and forums.
An Unlimited Plus subscription is $9.95 a month. In addition to all the benefits listed above, you are able to choose one class each month to keep forever.
If you choose Annual Unlimited Plus, then an annual payment of $71.40 works out at $5.95 a month – what a bargain!
Each of these options provide access to thousands of diverse courses, providing amazing value whatever plan you choose. Whether you complete a course on quilting or watercolor, these are lifelong skills you won't regret investing in.
Creativebug refund
Creativebug doesn't seem to have a refund policy. But you can cancel or even pause your subscription at any time, hassle free.
Creativebug free trial
The great news is that a seven day free trial is available with either the Unlimited or the Unlimited Plus membership, so you can have a look around the site and decide if you want to commit. Creativebug is a super flexible site, and users can upgrade, downgrade, pause or cancel memberships at any time.
There is also a great selection of free classes you can browse to get a feel of the teaching style.
What a lesson is like
You can expect high-quality videos from friendly and experienced instructors. They include a mixture of theory and practical demonstrations with over-the-shoulder shots. 
Instructors will generally offer a short introduction, and a fascinating peek at their own practice and workspaces. The well-edited and easy to follow videos also come with downloadable resources such as patterns and materials lists.
Best Creativebug classes
I've delved deep into the very best courses available on Creativebug. Here are the five most popular courses on the platform:
Sewing Machine Basics taught by Liesl Gibson
Beginning Watercolor taught by Yao Cheng
Basic Line Drawing taught by Lisa Congdon
Creative Boot Camp – Six Exercises to Spark Artistic Discovery taught by Lisa Congdon
Image Transfers taught by Courtney Cerruti
Of course, the best Creativebug class will depend on you and what you're interested in – and with such a wide range of options, there's certainly something for everyone.
I've broken down the best classes by category below, so you can get a more in-depth idea about the best courses available.
Art and Design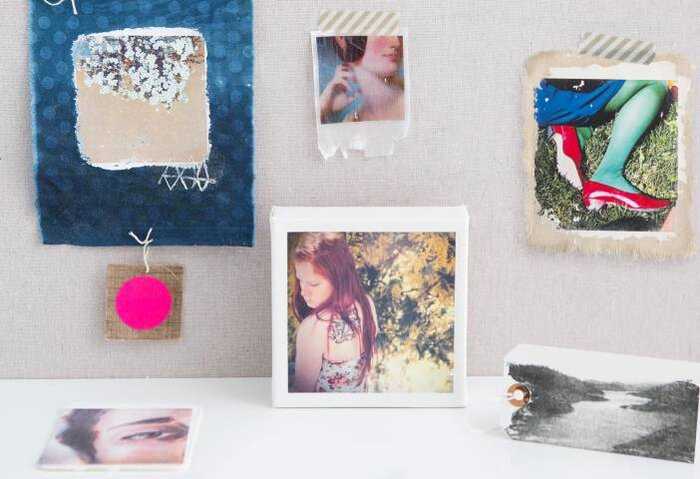 Image Transfers taught by Courtney Cerruti
Courtney is Creativebug's Editor-in Chief, the author of 5 art books, and an experienced in person and online teacher. Brimming with inspiration and ideas, in this class Courtney will show you how to create image transfers to bring a new level of creative imagery to your work.
You'll learn everything from how to transfer black and white images, work with photocopies and found images, use packing tape, medium, solvent and acrylic transfers to achieve amazing results. You also gain access to an itemized supply list and can leave comments, ask questions and interact with other students.
A great course for anyone who wants to expand their creative horizons, or those curious about the art of image transfers.
Resist Painting Techniques with Watercolor taught by Yao Cheng
Ohio-based artist Yao Cheng is a watercolor wizz, and in this course she teaches the fascinating art of watercolor resist, using masking fluid to create beautiful results. This in a in-depth guide, covering how to create abstract resist patterns using different brushes, sketching geometric patterns in pencil, painting resist landscape patterns, creating resist patterns with drawing gum and a pencil nib, as well as how to create patterns on top of watercolor washes and use different watercolor wash techniques over patterns.
Ideal for those with a little experience in the medium of watercolor who wants to learn a whole new dimension to this beautiful artform. 
Sewing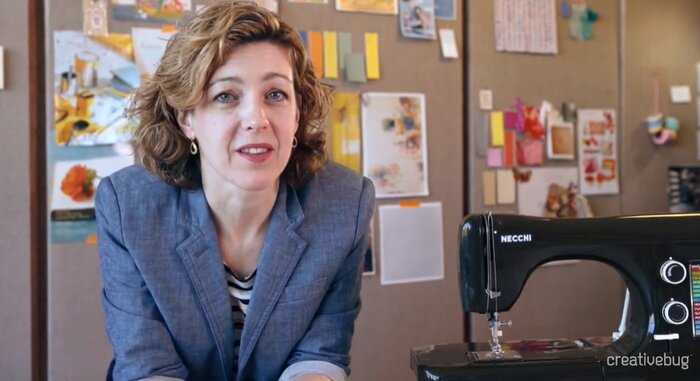 Sewing Machine Basics taught by Liesl Gibson
Liesl Gibson is an experienced seamstress, and the designer behind several labels such as Oliver + S, and Lisette for Butterick. She also designs fabric and is the author of several books on sewing and dressmaking.
In this short 7 minute class, Lisel will show you everything you need to know about your sewing machine, opening up a whole new world of creative possibilities. Lisel covers the essential skills of threading your machine and winding your bobbin, to set you up for success.
This course is ideal for complete beginners, as it will make the sometimes overwhelming sewing machine simple and easy to use for whatever projects you wish to undertake.
Embroidery Sampler taught by Rebecca Ringquist
Rebecca Ringquist is a visual artist and designer who lectures, teaches and exhibits nationally. In contrast to the Sewing Machine Basics course, this class focuses on the art of hand embroidery.
You will learn how to choose your threads, thread your embroidery needle and set up your hoop, and how to use a whole range of stitches, including running stitch, backstitch, chain stitch, and knots such as french knot, bullion knot and spider web knot. Finally, you'll learn how to tie off your threads and finish your project.
Ideal for beginners, this class will provide a firm foundation for exploring the wonderful world of embroidery.
Quilting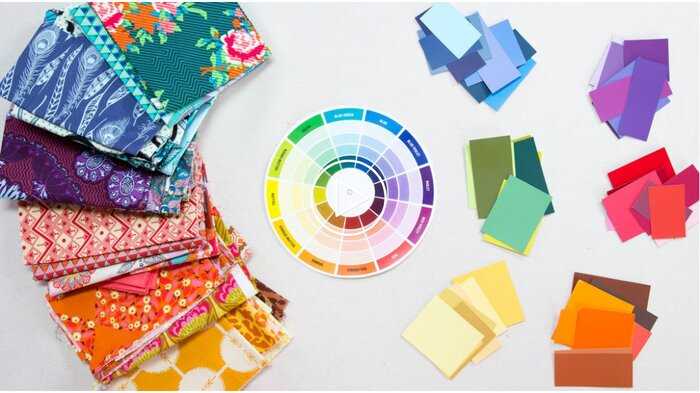 Creating Color Palettes taught by Anna Maria Horner
Anna Maria Horner is a master of many mediums, from painting to embroidery to writing. As an experienced textile designer, she's the ideal teacher for all things quilting and color theory.
This course teaches you how to move beyond traditional color palettes to create your own amazing designs. You'll learn how to understand a color wheel and categorize color, and translate your knowledge into printed fabric, before building your own personal color palette to create dynamic compositions in patchwork quilting.
Ideal for any quilting fan looking to develop their skills, this course will have you coloring with confidence in no time.
Big Stitch Hand Quilting taught by Tara Faughnan
As a professional freelance textile designer and quilter, Tara Faughnan is the ideal instructor for this class on big stitch hand quilting. Covering everything you need to know, from sewing a 'bar' quilt top, matching fabric and thread colors and how to hand quilt using cotton, pearl and metallic threads, you'll gain the knowledge and confidence to get quilting on your own.
As Tara covers all the basics, this is a great class for a total beginner, or anyone interested in learning a new form of quilting. 
Paper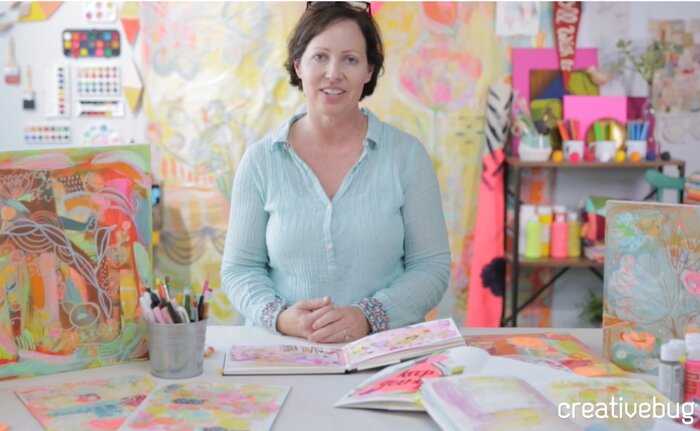 Creative Sketchbooking taught by Pam Garrison
You're in safe hands with Pam Garrison, art journaling expert who has been published in numerous bookings and magazines. She guides you through developing your own unique sketchbooking style. Divided into four parts, this course covers playing with pens and paint, painted backgrounds and responsive drawing, playing with collage and taking your designs out of the sketchbook and onto the canvas.
Pam encourages you to find the artist within, and this is a great course for anyone on any stage of their creative journey, from beginner to seasoned artist in need of a little inspiration.
Creative Boot Camp – Six Exercises to Spark Artistic Discovery taught by Lisa Congdon
Lisa Congdon has worked for big names such as MoMA and Harvard University, and she is the author of five books on creating. This course is aimed to spark your artistic discovery, playing with new mediums and techniques. Starting with lines and circles, you will move on to working with color, making a mess, working in monochrome, taking your sketchbook out into the world and finally making an accordion book.
If you're new to creating, this is the perfect class to build your confidence and build a creative practice.
Knitting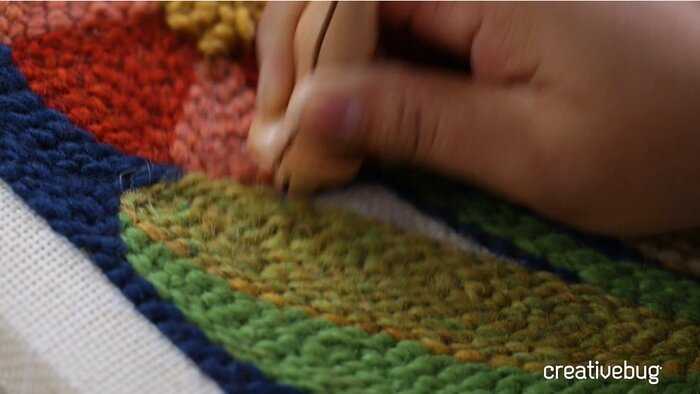 Punch Needle Embroidery Workshop taught by Arounna Khounnoraj
Social media sensation Arounna Khounnaraj amassed a following showing off her beautiful punch needle designs, and in this course she teaches you how to make your own! This Canada-based artist and educator will guide you through how to use a punch needle tool, draw inspiration from yarn, paint a design on canvas, prepare a frame, transfer a pattern onto canvas and finish off your punch needle piece.
If you love working with yarn then this is an ideal course for you, but don't worry – if you're a beginner, Arounna takes you through the whole process step by step.
How to Knit taught by Carla Scott
As editor of Knit Simple and Vogue Knitting magazines, it's fair to say that Carla Scott knows her stuff when it comes to knitting. In this course she teaches you the basics of knitting, from choosing your materials, making a gauge swatch, casting on with knits, purls and stockinette stitch, adding color, increasing, decreasing, and picking up dropped stitches, as well as binding off and weaving in ends, before learning finishing techniques and how to read a pattern.
Perfect for a total beginner, this is a great introduction to a versatile skill.
Crochet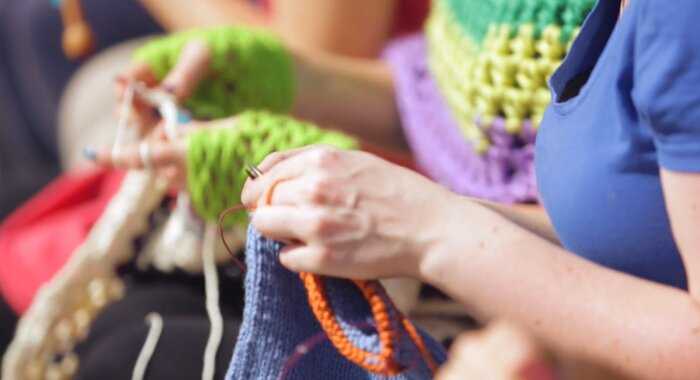 How to Crochet taught by Carla Scott
Not only an expert knitter, Carla Scott is an embroidery whizz too. In this mulit-part course endorsed by the Yarn Craft Council, you'll learn everything you need to know about the art of crochet. In part one, Carla covers all the fundamentals you need to get started, including basic stitches and how to understand gauge. Then in part two, you'll move on to advanced techniques such as changing colors and increasing and decreasing.
Whether you're new to crochet or need a skills refresher, this is a comprehensive course guaranteed to get you crocheting.
Crochet a Rag Rug taught by Cal Patch
With clients like Urban Outfitters and Gap, as well as twenty years experience designing and teaching all things textile, Cal Patch is the perfect teacher to guide you through crochet techniques to create your very own rag rug. Creating your own materials from old fabric, Cal teaches you how to shred fabric to make strips and connect them up, how to work a chain stitch, single crochet stitch and a slip stitch, putting it all together to make your own rag rug.
Perfect for the eco conscious, this is a great way to use up old materials and create something new and beautiful for your home.
Food and Home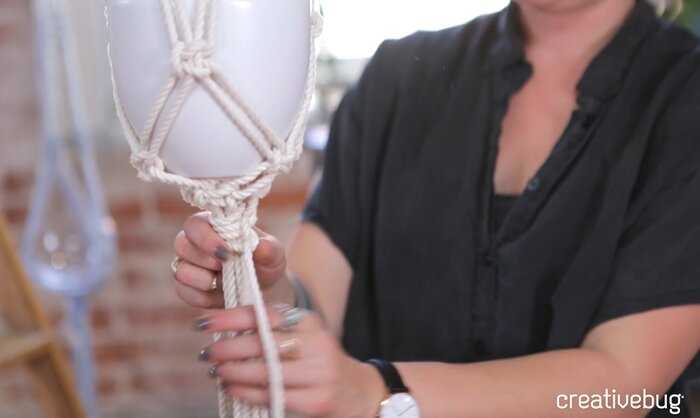 Make a Classic Macrame Plant Hanger taught by Emily Katz
Macrame plant hangers are a popular interior design accessory – and why spend money on kitting out your home when you could make your own? Emily Katz is a macrame expert who spends her time teaching, making and designing. You'll learn the foundations of macrame whilst making your own plant hanger from top to bottom. This is a great course for a total beginner, as you will learn the basics of this craft and produce a beautiful accessory.
Cricut Paper Flowers: Make a Hydrangea taught by Lia Griffith
Lia Griffit is a paper crafting genius, who has collaborated with top brands including Martha Stewart. She breaks down the process behind creating beautifully realistic hydrangeas to decorate your home or give as a handmade gift. You'll learn all about what materials you need for this craft, as well as how to cut your petals and leaves using a Cricut machine and assemble your final piece. This course is designed to be completed using a Cricut machine, but there are plenty of other tutorials available that don't require specialist equipment.
Jewelry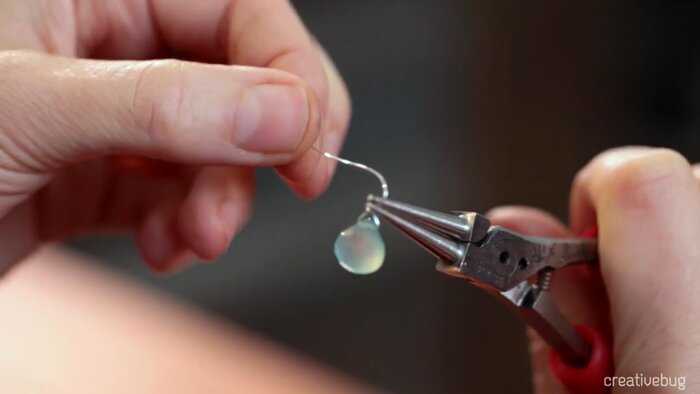 Wire Wrapping taught by Alix Bluh
Wire wrapping is a great way to incorporate gems into your handmade jewelry, whether you're making necklaces, earrings, bracelets or charms. Jewelry designer Alix Bluh, whose work has been shown in galleries across the US and can be found in several high-end jewelry retailers, is on hand to show you how. Including a list of materials and step by step instructions on three different wire wrapping techniques, you'll be a master in no time.
This course would be ideal for someone already interested in jewelry design who wants to take their skills further.
Magpie Cuff taught by Liz Smith
This project-focused course will teach you how to repurpose odds and ends such as beads and scraps of fabric to create a beautiful, unique bracelet. Instructor Liz Smith is passionate about beading, drawing inspiration from the traditional Venetian artform. This course covers how to set up a tabletop loom, use basic weaving techniques using beads and fibers and finishing off your cuff with a beautiful clasp.
This is a great course for any crafter or maker with plenty of scraps lying around, ready to be transformed into a beautiful piece of jewelry.
Holiday and Party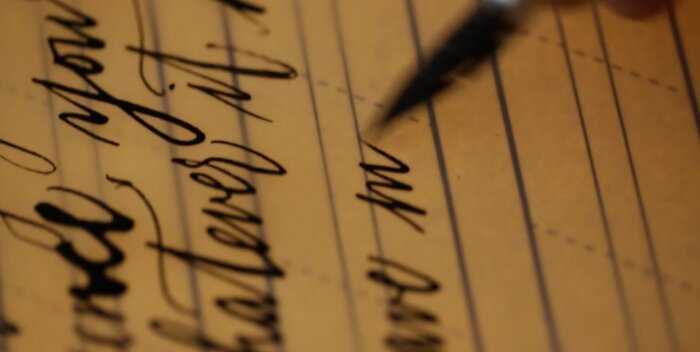 Beginning Calligraphy taught by Maybelle Imasa-Stukuls
Calligraphy is an exquisite art form with a long tradition – and modern calligraphy master Maybelle Imasa-Stukuls is on hand to teach you how to master the pen and incorporate calligraphy into your daily life. This four-part course, designed to be completed over a month, covers getting started with your tools and materials, starting off with letters, words and phrases, using white ink on black paper, and how to put it all together with beautiful layouts.
This is an ideal course for total beginners, as it will teach you everything you need to know with no prior experience necessary.
How to Make Watercolor Cards taught by Courtney Cerruti
Handmade cards are a beautiful personal touch for any occasion, and in this course artist Courtney Cerruti will take you through the making process in a simple, accessible way, building your confidence in the medium of watercolor. You will learn how to cut and prepare your cards, hand paint motifs in watercolor, use a stencil with watercolor, incorporate a family photo into your cards, photocopy and scale your work to create a set of cards, and how to add a festive watercolor lining to the inside of an envelope.
Perfect for those who love creating handmade gifts with personal touches, this course is suitable for beginners and experienced crafters alike.
Kids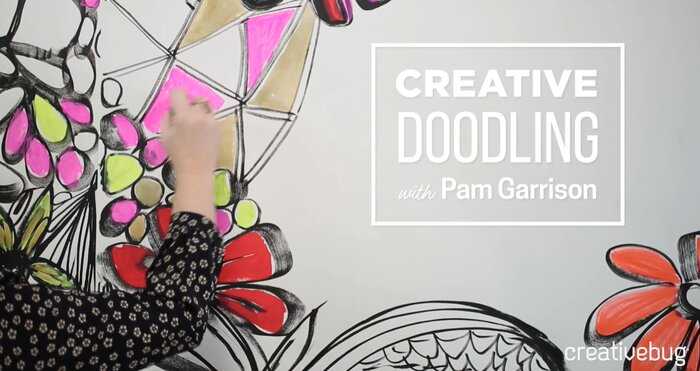 Creative Doodling taught by Pam Garrison
Doodling is a fantastic and accessible way to get creative, and this four part course is perfect for kids and adults alike. Professional artist Pam Garrison will guide you through getting the most out of your doodles, including how to use basic marking techniques using color and scale, exploring pens and lettering, working on different types of paper and filling in with line and color work.
This is a brilliant course if you love to doodle and want to take it further, or if you're feeling a little stuck and in need of inspiration. The accessible content and materials make it perfect for kids.
House Book taught by Jody Alexander
This short course is a great rainy-day activity to try with kids – creating your own folding house book! Kids can decorate the inside and outside of their house, and even make up stories about who lives there. The techniques in this course can also be developed further to create a dynamic artists book. Jody is a librarian and book maker, and she expertly guides you through the house-book making process.
Creativebug for business
Creativebug has a program for libraries and schools. 
To organize access, visit this page, where you can find links to school and library licensing pages to enter your details and request further information.
A library or school license gives an institution an all-access pass for every skill level, with thousands of classes available. Group users get all the benefits of individual users, including the ability to save favorite classes and take notes, with personalized landing pages for school systems.
How I reviewed Creativebug
I reviewed Creativebug by taking advantage of their great seven day free trial offer to explore the site and test out some classes. I made sure to read plenty of reviews to find
out about other users' experience, and consider different skill levels for potential users.
I tried some of Creativebug's individual classes across multiple categories in mediums I am familiar with, such as line drawing. And ones that I am a total newbie in, like quilting. I made  sure to complete the set exercises to get a good feel for each course.
My personal favorites are courses like 'Creative Boot Camp'  and 'Sketchbook Explorations' that focus on finding inspiration and connecting to your creativity. I've also been following along with the 'Daily Practice: Keeping a Sketchbook' class, to test out their longer-term courses. 
What I liked about Creativebug
Huge Range of Classes
Creativebug has an amazing range of content, from knitting and crochet to kids' activities and painting. Not only that, but the courses really vary in length and intensity from a few minutes for learning crafting hacks, to longer courses designed to be taken over several weeks. So no matter how you create, you're bound to find something on Creativebug to suit your needs.
Daily Practice
I am a big fan of Creativebug's Daily Practice feature, which has a collection of 30-day prompts designed to inspire you and help build a creative practice. Ranging from inky monoprints to hand stitching story quilts, these are a great way to spark creativity and make something fun every day.
Group Forums
Group forums are a fantastic way to ask questions and chat with other learners, giving a great community aspect to the learning experience. Creativebug's community forums are a valuable course of advice and camaraderie.
Expert Teachers
With such a vast array of mediums and projects, Creativebug has done an amazing job of sourcing fantastic teachers who are often experts in their field, professional artists/makers or experienced mentors. The quality of teaching is fantastic!
What could be improved
Some courses require a lot of equipment
Some courses are not very accessible and require you to have your own specialist equipment (for example, a sewing machine or Cricut paper cutter), and won't be suitable for all users. However, there are literally thousands of options, and plenty of these require basic equipment like paper and pens, or everyday objects that can be found lying around your home.
Search function can be hard to navigate
When searching for the most popular courses, often the results weren't displayed in the right order (e.g. less popular courses were displayed at the top of the search, with more popular courses further down). This wasn't that big of a problem however, as a quick scan revealed the most popular courses with Creativebug's transparent reviewing system.
Who Creativebug is for
Anyone who wants to learn a new skill. With classes on anything from quilting to creating handmade cards, there's an endless amount of skills to master
Those who are looking for fun crafting activities to do with their kids. Creativebug has a whole section of kid-friendly activities, so your little ones will never get bored
People looking to develop a daily artistic practice, with special courses full of prompts designed to inspire a month of making in an vast array of areas, from holiday painting to creating rubber stamps
Can I buy Creativebug as a gift?
Yes you can! Simply fill out a form on their website with the name and email address of the gift recipient, and choose between a three month subscription ($29.85), a six month subscription ($59.70) or a year's subscription ($71.40). The year's subscription is an amazing offer, as you get 40% off!
Tips to finding great courses on Creativebug
Finding great courses on Creativebug is simple and easy.
The menu allows you to browse by category. And you can even search within categories if you're looking for something more specific:

You can also use their search engine, and filter results by class type, category, and even instructor. It's also possible to sort results by relevance, release date, most popular and top rated.

When browsing search results, you can see how long the course is, who teaches it, how many users have reviewed it and a star rating. So you can make an informed decision about whether the course is right for you: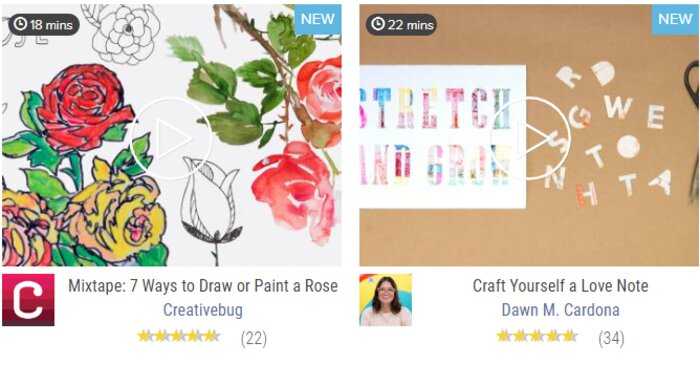 You can also scroll down when on the class landing page to read student reviews, and get a feel for their experiences of the course.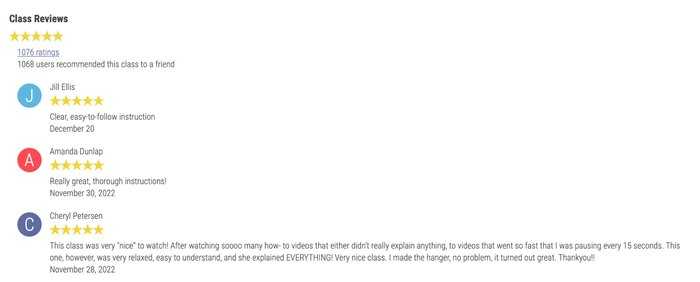 Plus, each course has a link to the teacher's profile, so you can read all about their background and expertise. 
Is Creativebug legit?
You might be thinking that all this amazing content available for less than $10 a month is too good to be true, but I can assure you that Creativebug is totally legit. It was founded in 2012 and has built up an excellent reputation for all things creative. I've tried and tested it myself, and can assure you that this is a very real site offering an amazing service.
Creativebug alternatives
There are plenty of other creative learning platforms, each with their own strengths and weaknesses. The platform that's right for you depends on your budget, current skill level, and learning goals. Here are a few alternatives to Creativebug:
Skillshare offers 40,000+ courses, many of them creative and craftsy. If you want a platform that has a good range of creative classes but also gives you access to courses in a much broader range of categories, Skillshare is a good alternative.
Creative Fabrica is another online crafting platform. It has many high quality classes, though these are not its main focus. With a mission to improve access to digital resources it has 6 million+ downloadable products such as fonts, patterns, logo creation kits and AI tools. So if creative products are something you could benefit from this might be a better choice.
Craftsy has a similar creative focus, with a massive range of classes, and excellent teachers. However, in my opinion the Creativebug interface is easier to navigate, and provides an all-round smoother user experience.
Creativebug reviews: What others have said
I wanted to write the most balanced review of Creativebug possible, so I had a look to see what others were saying.
Sarah from nearlythere blog felt that the platform was well suited to small, specific projects and envisioned it being used in a social way::
"The projects seem specific enough that you could conceivably watch a little class, and finish a project in that afternoon… Invite your friends over to make Painted Canvas Pillows or Watercolor Silhouettes!"
Aly from JOANN blog commented that you couldn't speed up playback speed, (this has now been fixed) and that there was less content about machine embroidery on Creativebug compared to alternative site Craftsy. However, she is generally very positive about Creativebug, and a big fan of their Daily Practice series which she describes as
"One of the biggest pros of Creativebug… I love the way it breaks the process of learning into small, non overwhelming pieces"
The reviews from across the web are generally pretty positive, which is a great sign for Creativebug!
Evaluating Creativebug
Features: A Creativebug membership grants you access to thousands of courses on a wide range of topics, a Daily Practice series, pattern library and community forums.
Content quality: Lessons are generally of a very high quality, with expert instructors and great visuals.
Content breadth: 10 Categories range from Art and Design to Quilting. Content ranges from small projects to longer lessons exploring creativity and artistic practice.
Teachers: Creativebug's teachers are generally extremely experienced in their field, either as working professional artists and designers, or teachers and mentors.
Supporting materials: Downloadable PDFs usually accompany lessons. Creativebug also has a pattern library that you can access if you're looking for something specific.
Payments & refunds: An Unlimited subscription is $7.95 a month, whilst an Unlimited Plus subscription is $9.95 a month. You can get a yearly Unlimited subscription for $71.40 ($5.95 per month) which is a great deal. I couldn't find any evidence of a refund policy, but you can cancel or pause your subscription at any time.
Support: Creativebug has a great help center with detailed FAQs and email addresses, phone numbers and an online form to fill out if you need support with any aspect of the site.
How to open a Creativebug account
It's straightforward and easy to open a Creativebug account.
Head to creativebug.com and select 'Start Free Trial'
You can sign up with you email address, Facebook account or Amazon account
Fill out your details in the form provided, select the level of subscription you want and you're ready to go!
Is Creativebug worth it?
In my opinion, yes!
Creativebug is a great-value learning resource, especially if you go for the annual subscription, which works out at $5.95 per month.
If you're looking for crafting inspiration and you have a broad range of interests, then Creativebug is definitely worth it! However, if you're looking for specific, high-level crafting tuition, this may not be the platform for you, as most of the content is aimed at beginners or people who enjoy crafting as a hobby.
Creativbug has many benefits, including its wide range of topics, its Daily Practice series and great pattern library full of downloadable resources. The teaching is of a really high standard, as the teachers are all successful artists and makers with plenty of experience.
As Creativebug has a subscription-based model, I would recommend taking as many classes as possible to get the most value for money.
Creativebug Review – Frequently asked questions
How much does Creativebug cost?
An Unlimited subscription is $7.95 a month, whilst an Unlimited Plus subscription is $9.95 a month. You can get a yearly Unlimited subscription for $71.40, which works out at $5.95 per month.
Does Creativebug have a refund policy?
Not that I could see,  however you can pause or cancel your subscription at any time.
How many courses are there on Creativebug?
There are over a thousand courses covering a massive range of topics, from embroidery to book-making.
Does Creativebug have a free trial?
Yes! Creativebug offers a great seven day free trial.
Does Creativebug give certificates?
No. The site is focused on fun hobbies rather than career-based skills but it offers many opportunities to learn fascinating new techniques in all things craft.
What languages is Creativebug available in?
Creativebug is available in English.

Hannah is currently studying a Masters in Modern Literature and Culture at King's College London.  In her spare time she enjoys hiking, writing and cooking.