If you're searching for the very best VFX course online in 2023, this article is here to help.
The world of special effects is fascinating and complicated. But luckily there are plenty of courses out there to help you get to grips with VFX.
That said, it can get tricky to figure out the right class. A good course won't just gloss over the surface. It should also provide a strong foundation of skills and techniques that will truly make you a visual effects specialist.
To help with that, I've spent 2 weeks carefully researching and selecting courses for this best online VFX course review.
I looked at the range of visual effects specialties (from gaming to movies), different software uses (Houdini, Adobe, and more), and, of course, Considered the price and value for money, alongside many other factors.
Without further ado, let's dive in!
Ten best online visual effects courses
Below you can find the list of top 10 best online VFX courses:
How I decided
My top recommendation is Udemy's After Effects CC class. It includes everything you need to build a strong foundation or refresh your knowledge of After Effects. With its amazing production, in-depth material, and 50+ practice projects this course will leave you 100% satisfied with your level of expertise in visual effects.
Secondly is Jordy Vandeput's Skillshare course. It too covers Adobe After Effects CC but is shorter than my top choice, whilst still providing a great basic understanding of one of the most demanded programs in the industry, so it can be a great starting point. It's also available with a Skillshare subscription giving you access to over 40,000 other courses – including 130 other VFX courses.
If you're looking to learn the visual effects used in your favorite films then look no further than the Film FX course, or the Introduction to VFX for Cinema course on Domestika.
For those interested in the gaming aspect of VFX, I suggest the VFXApprentice platform or the Unreal Engine 4 – VFX for Games course on Udemy.
See also our article, best videography courses.
Best free VFX courses
If you're interested in a free visual effects course, here is the list of the best courses you can find for free:
The Skillshare and LinkedIn Learning courses aren't strictly speaking free But, both Skillshare and LinkedIn Learning have a month long free trial period during which you could complete your course and test out the platform for potential future subscription.
Rebelway offers a selection of free courses for all levels from beginner to intermediate that you can access via quick registration on the website.
Best online VFX course reviews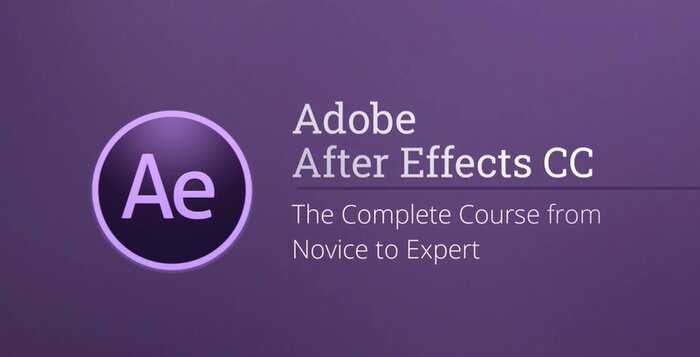 Platform: Udemy | Teacher: Louay Zambarakji | Length: 34.5 hours of video lectures
Louay Zambarakji is a certified master practitioner in neuro-linguistic programming and informatics engineering. He has Consulted for the UN, UNESCO and is the founder of the Ultimate Result Coaching group. His experience as a coach and a Consultant make him an amazing teacher. His extensive knowledge of visual effects goes back to when PacMan was the height of VFX.
Now Louay is sharing his experience with Adobe After Effects with you.
You'll learn to:
Use all of After Effects – in a dynamic, hands on approach
Master visual time effects on videos and motion graphics
Use a wide range of specialized visual effects – from motion and camera tracking to chromakeying to rotoscoping to stabilizing and many more…
Manipulate text and create text animations in 2D and 3D
Work comfortably in the 3D space with cameras, lights, and shadows
Combining and compositing techniques to create the most stunning visual effects
Pros:
Learn from a highly qualified professional with a real passion for teaching
Thorough and in-depth learning materials in a variety of forms: video lectures, articles, and downloadable resources
50+ hands-on projects included in the course to cement knowledge and skills
Amazing testimonials left by previous students with a course rating of 4.7/5
Feedback and communication with the teacher and the community of students
Cons:
Beginner oriented but still useful if you are experienced and want to refresh your Adobe After Effects knowledge
Some might find this course a bit on the long side
Who it is for: Students starting their VFX journey. Those interested in mastering the Adobe After Effects program and also those who want to revisit the basic aspects for better results.
Overall: An intense and saturated course that is packed with valuable information on the Adobe After Effects program. It provides high-quality guidance from an experienced tutor and an extensive range of helpful material. This course will take you from beginner to intermediate through lectures, articles, and hands-on projects.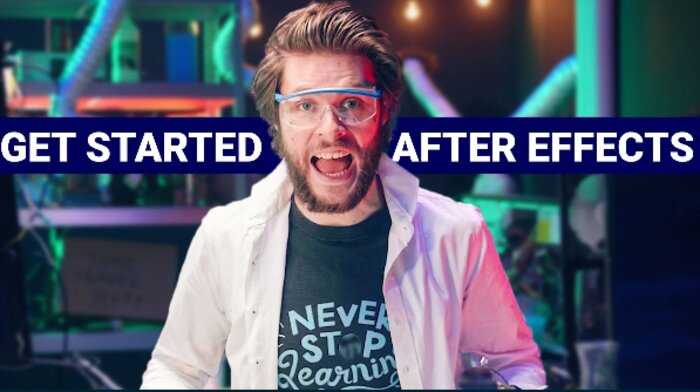 Platform: Skillshare | Teacher: Jordy Vandeput | Length: 3 hours and 5 minutes
Jordy Vandeput is a filmmaker and content creator. He is a co-founder of YouTube channel 'Cinecom' which has over 2 million subscribers and focuses on filmmaking, video editing, special effects, color correction, and many other important aspects of filmmaking.
Jordy is passionate about spreading his knowledge of cinematography and has been awarded a Top Teacher status on Skillshare for his exciting and useful courses. In this course, Jordy will take you on a fascinating journey into the magical world of VFX and teach you how to manipulate reality on screen.
What you'll learn:
The User Interface and the functionalities of the most important panels in Adobe After Effects
Masking in VFX and how to use this phenomenon of visual perception
How to seamlessly blend layers of footage and images together
Camera tracking – one of the most crucial processes in the VFX chain
To create animations and use motion design to bring them to life
The basic fundamentals of CGI
Pros:
An opportunity to learn from an experienced filmmaker with 10+ years of teaching experience
Concise and carefully structured
Includes a hands-on video project to practice your new skills
Feedback provided from the tutor on the project
76% of past students' reviews state that the course has 'exceeded their expectations'
Cons:
Relatively short and only pays attention to the very fundamentals of After Effects
Who it is for: If you are a film enthusiast with some experience in basic video editing and montage but would like to advance your skill and add visual effects to your projects then this course is for you. You don't need any previous experience working with Adobe After Effects. But some knowledge of video editing is recommended.
Overall: An amazing course taught by an expert in the industry who'll help you further your understanding of video editing and image manipulation. Pick this course if you are looking for something short but packed with information specifically on Adobe After Effects. You'll also get your own work reviewed by a professional who can offer valuable insight on potential areas for development and help you track your progress.

Platform: The VFX School | Teacher: David Ferreira | Length: approximately 12 hours
David Ferreira has over 10 years of experience in VFX, digital sculpting, animation, compositing, and tracking. He has mastered the Houdini program and became a professional VFX artist.
In this course, he will be sharing his extensive visual effects knowledge with you, guiding you on your journey to becoming a professional VFX artist. His course will teach you how to harness the power of the Houdini software and apply it to your projects.
You'll learn how to:
Master the Houdini software and become a pro at using it to your advantage
Create realistic 3D models just like you see in Marvel movies
Animate 3D models and control their movement
Develop and control particle systems in an efficient way
Manipulate volume, size, and space for realistic and believable smoke effects
Compose the shot in Houdini, polishing the final look of your project to perfection
Pros:
A chance to master the Houdini software, commonly used in the visual effects industry
Learn from real examples of successful VFX projects
Find your unique view of special effects and use Houdini to put your vision into reality
Amazing production levels with high quality educational materials and examples
Access to a Q&A community forum
Choose your own pace of learning and adjust the speed to your needs
Cons:
You will need to purchase the Houdini software if you don't already have it
The end project is rather a recreation of a movie scene with your personal twist than a completely original work
Who it is for: Anyone with an interest in uncovering the secrets behind visual effects in their favorite superhero movies. Also suitable for anyone who wants to learn in detail Film FX. It is targeted at beginners in Houdini software use but students must have a basic understanding of 3D concepts.
Overall: An outstanding opportunity to discover the techniques behind some of the most successful VFX in cinema. It will help you understand what goes into the process of post-production and how ideas come to life on screen. Try this course if you have a serious interest in films and visual effects. It will give you a thorough understanding of the fundamentals of Houdini and prepare you for more complicated projects.
Platform: CG Spectrum | Teachers: Alex Lori, Ben Fox, Justin Mohlman, Yuri Perrini, Yinglei Yang, Dave Pascuito, Jorge Razon, Billy Dao, Enric Joanmiquel | Length: 9 months
Become a professional VFX artist with this extensive and in-depth course. The tutors are the leading figures in the industry – people behind such projects as 'Game of Thrones', 'Interstellar', 'Mortal Kombat', 'Bridgerton', 'Spider-Man: Far From Home', and many more. This course will help you launch your VFX career with expert guidance and mentorship.
What you'll learn:
3D modeling, animation, and visual effects using software like Maya, Houdini, and Substance painter
The 12 Principles of Animation and how to apply them for the most realistic results
To create 3D characters and environments from scratch
How to apply lighting and rendering techniques
Professional presentation of your work and how to create a perfect portfolio
How to use simulation and particles techniques
Pros:
Learn VFX from seasoned industry Pros with years of real-world experience
A real chance to become a professional visual effects artist
Flexible schedules – plan your learning to your convenience
Gain job-ready relevant skills that employers and studios look for
Choose between private 1-on-1 or small group (max. 4) classes
Provides a personalized education experience with feedback and support from the mentors
Graduate the course with a complete demo reel and an impressive portfolio as well as an industry-recognized certificate
Several payment plans to facilitate your educational experience – monthly, per term, and upfront
Cons:
Lasts 9 months, with c.40 hours of commitment weekly, so it's only suitable if you have the time and energy to commit to it
An expensive course, with small group classes costing around $8,000 (but remember – you're paying for 9 months of top quality education, equivalent to a university module)
Who it is for: If you're looking to pursue VFX as a serious career path this course is for you. You'll also need basic computer skills for this course, as well as a computer suitable for the softwares (computer and hardware requirements can be found on the CGSpectrum website).
Overall: Taught by renowned and skilled artists, this course is an incredible opportunity for you to become a pro yourself. You'll learn the most fascinating tricks, techniques, and methods that are used in big-screen productions and adored by millions. It offers not only excellent production, material, tutors, and exercises, but also a chance to discover your own unique vision in VFX.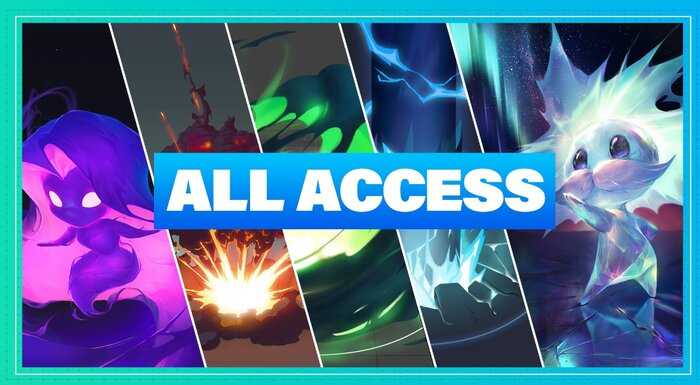 Platform: VFX Apprentice | Teacher: Jason Keyser | Length: Up to the student
This course is led by Jason Keyser, the founder of VFX Apprentice. He has 13+ years of experience working as both 2D FX and 3D VFX artist, animating for the Powerpuff Girls, Netflix, and multiple projects for Riot Games. The All Access course also features FX artists and animators who worked on projects like League of Legends, World of Warcraft, Hearthstone, Spider-Man: Into the Spiderverse, Angry Birds, Mortal Kombat, Arcane, and Rise of the Teenage Mutant Ninja Turtles.
It's a perfect opportunity to learn visual and special effects in video games and action movies from the world-leading professionals.
What you'll learn:
Fundamental design principles of animation
Drawing foundations – from paper and pen to Photoshop
An understanding of the key concepts behind your favorite video games and animations
To create varied effects for your own unique animated characters
The basic functionality and key concepts of modeling for VFX in Blender
To use a technical approach to VFX and bringing the elements to life
Particle animation and creation of booms and blasts in different softwares
Pros:
All-inclusive bundle that will take you from a beginner to a seasoned pro
Discover the advanced apprenticeship level courses and learn how to create game-ready assets
Build a trustworthy and credible artist portfolio
Receive guidance and mentorship from the world renowned experts
Everything you need to become a top-level VFX artist in one bundle!
Lifetime access to all the community Discord channels
New courses and lessons added automatically to the library
Cons:
This course bundle is a serious financial investment that will require a lot of time and dedication
Mostly focused on the use of VFX in the gaming industry
Who it is for: Video game enthusiasts eager to start their own journey as a VFX artist. If you are interested in professionally pursuing VFX as a career – this course will be perfect for you.
Overall: This All-Access Bundle is a fantastic chance for you to discover and explore the world of visual effects in gaming and animation. Taught by those behind world-famous projects, it's a learning experience that will leave you a pro whatever your starting point. I recommend it for those whose intentions are to launch a career in VFX. This course will not only provide learning material, but also guidance with job applications and portfolio building.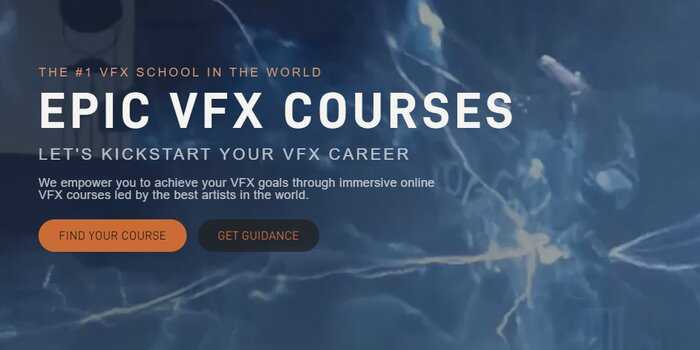 Platform: Rebelway | Teacher: Saber Jlassi | Length: Depends on course chosen
Ever wondered how they make magical special effects in Doctor Strange? Or watched Love x Death x Robots animations and thought – how do they make them look so alive? Well, wonder no more. With the Rebelway VFX course platform you can learn from people behind your favorite movies and shows about the intricacies and secrets of VFX.
Step-by-step progress from beginner to intermediate to professional and develop your own portfolio with the help of world-leading masters of visual special effects.
What you'll learn:
The basics of working with such programs as Houdini and Unreal Engine
How to create magic special effects and apply them to your animations
Details of composition and explosion special effects
To launch your VFX career as a visual effects specialist
Realtime FX for games and cinematics
Coding in Python for FX artists
To create a professional and polished portfolio
Pros:
Excellent opportunity to explore different areas of VFX all in one platform
Subscribe selectively to courses you like the most
Challenges you to explore areas of visual effects you could not notice before – find out why visual artists might need math
Build a trustworthy and solid portfolio to help start your career
Learn from the masterminds behind your favorite games, movies, and more
Access a library of free VFX courses upon creating an account on the platform
Receive valuable certifications at the end of every course
Cons:
Each course has a minimum length of several weeks so it can be time Consuming
Not all courses might have spots – some sell out quicker than others
Certain courses start on specific dates which might be inconvenient for some (however, you can find plenty of prerecorded courses as well!)
Who it is for: If you are seriously interested in pursuing VFX as your career path – this platform is perfect for you. It will take you from the newbie to seasoned pro with step-by-step guidance from world-leading professionals in their art. It also provides plenty of options to branch out.
Overall: The Rebelway platform is an excellent opportunity for you to discover the world of VFX in all of its depth. It's courses have outstanding production values and careful and attentive teaching methods. I'm certain that this platform will be a great learning experience both for beginners and those looking to polish their already mastered skills in visual effects.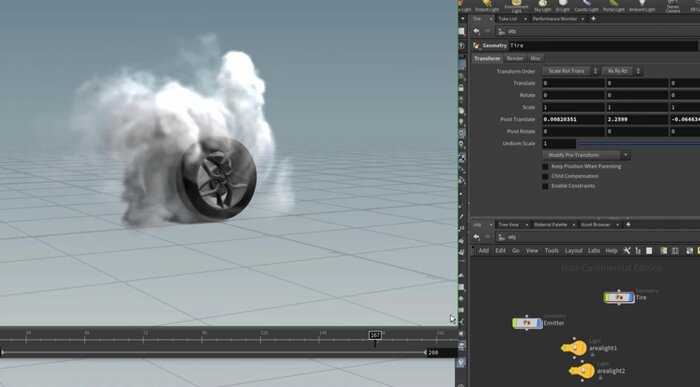 Platform: Udemy | Teacher: Raffi Bedross | Length: 18 hours and 10 minutes
Are you just starting your VFX journey and searching for guidance in navigating the unknown world of editing programs? Well, look no further, because Raffi Bedross provides an excellent opportunity to discover the Houdini FX software, designed for 3D modelling, VFX, animation, and more.
Raffi is an FX artist with 17+ years of experience in the industry whose invaluable advice will help you get through the basics of handling editing softwares.
You'll learn how to:
Set up your own personalized shortcuts and get familiar with the software
Use 3D-modeling in Houdini 19
Create rain, fire, sandstorms, and many more effects in Houdini 19
Animate and layer explosions and 3D-models for realistic effects in cinema and video games
Understand the complex concept of the Rigid Bodies in Houdini 19
Put together a professional computer graphics commercial using the software
Pros:
Covers all the introductory aspects of the software, providing you with a solid base layer of knowledge
Updated with relevant and useful material that will be applicable in real VFX projects
Allows you to explore the software in an engaging way
Amazing course reviews from previous students
Outstanding teaching approach that will make this a pleasant and enjoyable course
Cons:
Only focuses on the very basic aspects of VFX software usage
Only explains how to use the Houdini software
Who it is for: Anyone interested in learning how to make visual effects from the ground up. Game developers who wish to use Houdini to enhance their games. Anyone with a desire to learn Houdini.
Overall: A great course that covers the fundamentals of using the Houdini software, which then can be used in further learning of VFX. It will leave you with lots of useful skills that you will apply in future projects and they can help you build a good portfolio.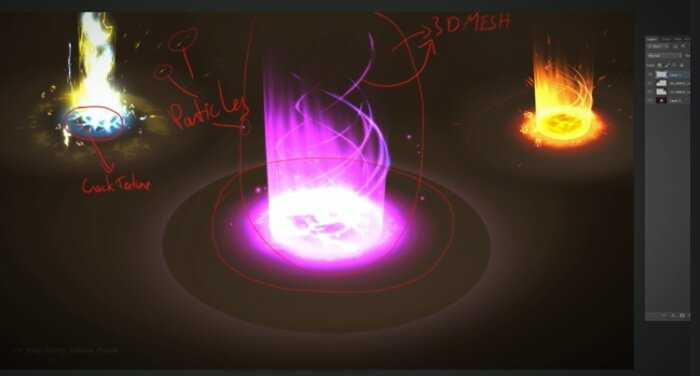 Platform: Udemy | Teacher: Gabriel Aguiar | Length: 7 hours and 8 minutes
This course explores in depth the VFX gaming world and is taught by Gabriel Aguiar. He has 10+ years of experience as a game designer, 3D generalist, programmer, and a special effects artist. In his course, Gabriel shares with you the valuable knowledge he gained through his work experience and reveals to you the secrets behind your favorite video game animations.
What you'll learn:
How to use Unreal Engine 4 software for realistic and impressive effects
Many invaluable tips and tricks
How to manipulate animation and 3D to cast magic spells, fireballs, and many other effects
To put life and realism into your potential projects through vivid animations
Fundamental concepts about VFX in gaming specifically
To create textures, meshes and shaders for Game VFX
Pros:
Taught by a qualified professional
Great opportunity to discover the Unreal Engine 4 software in depth for beginners
Will help you start your VFX career
Includes downloadable resources and assignments
Direct communication with the course leader and the community
Can be bought separately, as a specific course and not a part of a bundle
Set your own pace while learning with pre-recorded video lectures
Cons:
Focuses only on Unreal Engine 4 software
Specifically about gaming VFX rather than cinematic
Who it is for: Beginners interested in the Unreal Engine software. This course will take you from step 1 all the way to intermediate. If you are already a seasoned pro, it might help you refresh your memory or learn about a different software to the one you're currently using.
Overall: A short but saturated course, tightly packed with extensive material focused specifically on gaming VFX. I would suggest you take a look at this course if you are passionate and interested in video game development and would like to pursue a further career in it later. However, for those who would prefer to learn the more cinematic aspect of VFX this course might not be ideal.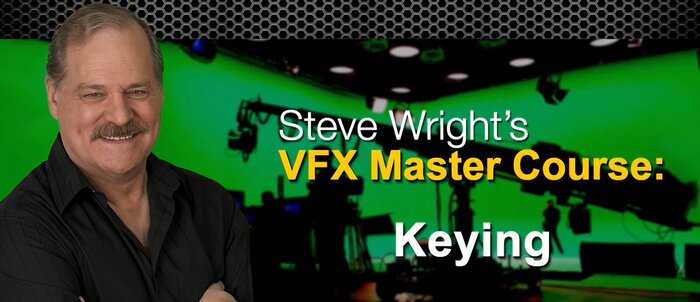 Platform: LinkedIn Learning | Teacher: Steve Wright | Length: 12 hours
This course is presented to you by Steve Wright, the author of 'Digital Compositing for Film and Video'. It provides an in depth exploration of the aspect of keying in the VFX industry. Green-screens, blue-screens, floating points, all of this will be explained to you in great detail with careful teaching methods.
What you'll learn:
Answers to the questions: what is keying in the VFX world? How does one 'key' something?
The difference between a blue-screen and a green-screen
Color correction, edge refinement, spill suppression, and many more software abilities
How to use NUKE software
The process of pre- and post-production
Creating your own incredible visual effects in the most realistic way
Pros:
An extremely in-depth course covering almost all aspects of VFX keying
Provides you with an opportunity to learn from a certified professional
You can access it for free through the free one-month trial on the website
Includes downloadable materials and a certificate of completion
Maintains a strong 4.9/5 rating with tens of happy reviews from past students
Cons:
Doesn't use the more common softwares such as Houdini or Unreal Engine
Focuses mainly on VFX keying, without getting into other branches of visual effects
Who it is for: Those interested specifically in working with video and film who want to know more about keying and working with video files. Mainly oriented towards those who have already started their VFX journey and would like to get better at green-screening and keying.
Overall: I would recommend this course if you are mostly interested in cinematic visual effects rather than gaming. This course is extremely specific and focuses solely and only on video and film. It might seem intense because of the tightly packed information in it, but the material will leave you filled with new skills and motivation to immediately start applying them in your projects.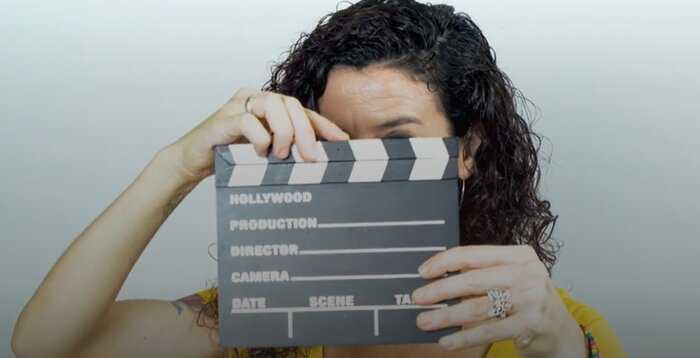 Platform: Domestika | Teacher: Carolina Jiménez | Length: 1 hour
Carolina Jiménez is a visual effects artist specifically for cinema. Her extensive resume includes such impressive works as 'The Hobbit', 'Justice League', 'Prometheus', and many more. With such extensive top-tier knowledge in cinematography and VFX, Carolina is an amazing teacher who wants to share with you the intricate details of visual effects in film.
This course doesn't necessarily focus on a hands-on approach to VFX but it teaches you about VFX from a different perspective – as a key part of the filmmaking process as a whole.
You'll learn to:
Understand the history behind post-production in cinema and its importance as part of the process
Distinguish the different phases of the filmmaking process
Recognize the steps of pre- and post-production
View filmmaking as a careful combination of key elements that get tied together in post-production process
Comprehend each different VFX phase in great detail and understand which one is the most interesting for you
Create your own demo reel showing off your skills as a VFX artist
Pros:
Taught by an excellent tutor with extensive work experience in the film industry
A chance to get valuable insight into potential career opportunities
Get a fresh look on VFX as part of a process and not a separate phenomenon
Includes hands-on exercises and downloadable material for independent learning
Gives you access to a community of fellow students
Consistent ratings of 95% satisfaction with the course from past students
Cons:
Strong focus on theoretical aspects of VFX rather than practical
Only available in Spanish with English subtitles
Who it is for: Students who want to pursue a career in visual effects, Pros seeking advice on how to Construct a professional reel, and anyone curious about the significance of a VFX studio in major projects.
Overall: Differs from the others on the list because it brings a new way of looking at visual effects. With Carolina's experience and knowledge, this course is an amazing opportunity to get insight not only into VFX but the film industry as a whole. Really helpful for anyone who is thinking of pursuing a career connected to filmmaking who is unsure which specific aspect to focus on. A short and engaging course that will leave you with an understanding of the special role VFX plays in cinema.
What are the advantages of taking an online VFX course?
Potential professional opportunities. With the rise of technology, the film and gaming industry has significantly changed, with VFX now being one of the most demanded positions on set. Taking an online VFX course might open doors to you that you didn't even know about before.
Work that can be done from a distance. An ideal way to work in a creative field without having to leave your house!
Maintain control of your learning process. Change the course pace, amount of information per session, time, location, and so on. Everything is in your hands!
Learn the ins and outs of movie production and game development. Explore the industry processes and perspectives from different angles, VFX being one of them to see if maybe you belong there, but just not in the VFX department. Find your own way and set on your personal journey to self-discovery.
Buyer's guide: what to look out for
There's a number of things to think about when selecting the best online VFX training.
Think about the price of the course – courses in this selection range from free to hundreds of dollars, so before choosing the right one for you consider how much you're willing to invest.
Are you interested in a particular area of VFX? Gaming or cinematic? Explosions or water? 3D-animation and modeling or VFX keying? Consider all options and choose the course that best addresses what you specifically want to learn.
Another crucial factor to consider is the teacher's experience and style. It's critical, especially with a discipline like VFX, to choose an inspiring teacher whose work inspires you. So we recommend looking at the teachers' portfolios before beginning the course. Consider whether you prefer laid-back and easygoing instruction or exclusively academic teaching.
Consider your course objectives: are you wanting to simply broaden your knowledge or are you serious about pursuing a professional path related to VFX, directly or indirectly? You can then choose the course that will provide you the required results.
How much does it cost?
The courses and suggestions here vary from between around $60-$8,000.
Some can be taken as part of a free trial to a subscription platform. These include those on Skillshare and LinkedIn Learning. With their free trials you get the chance to sample all available courses, including those on VFX. However, they typically do not contain customised feedback or direct communication with the tutor.
Several of the suggestions here are on specialist platforms such as VFXApprentice, The VFX School, Rebelway and CG Spectrum. Subscriptions to these platforms mean you will not only have platform wide access to every course, but also have access to assignments, feedback, materials and portfolio building projects. This explains their higher price.
Separately purchased courses, like those available on Udemy, allow you to select the most relevant course for you without committing a lot of time or money. They're a good investment if you have just one particular aspect you would like to tackle.
How long does it take to learn VFX?
There is no specific time frame for fully learning VFX. Because of the industry's breadth and variety, you can spend months studying just one aspect of visual effects. Which is why it is critical to set your specific goals for the course before beginning.
If you want to pursue VFX as a career, we recommend looking at longer courses or course platforms that will provide you with a well-rounded understanding of at least the fundamental principles from which you can progress. These classes might run anywhere from weeks to months to years, so you must be committed.
If you just want to brush up on your knowledge or master a specific skill (like VFX-keying), a shorter but more focused training would suffice. Those courses will not Consume much of your time while still providing you with a good knowledge background.
Conclusion
When looking for the ideal VFX course for you, the options can seem limitless.
If you are looking to purchase a single course that Udemy provides many VFX options. The courses reviewed here, After Effects CC and the Houdini Bootcamp will both provide you with everything you need to build a strong foundation in both software options.
Another option to consider would be one of the platforms or course bundles shown in the list. These include the Film FX program, Foundations of VFX or the VFX-A All Access Bundle. They require a greater commitment in time and money but through access to everything the platform has to offer, will provide a broad coverage of all dimensions of VFX.
And with free trial periods for Skillshare, LinkedIn Learning and Rebelway you can sample both platforms for little risk.
We hope you found this article helpful in finding the best VFX course!
Related articles: Best YouTube courses, best game development courses
Best online VFX courses: Frequently Asked Questions
What is the best online VFX course?
My top recommendation is Udemy's After Effects CC program. It has everything you need to get started with After Effects or refresh your expertise.
How much does the best VFX course cost?
Courses on here vary from $60-$8,000 dollars. Some can be sampled as part of a free trial.
How long does the best VFX course take?
The length of your educational journey will vary based on your ultimate aim. You can discover our recommendations for both longer and shorter courses on this list and choose whatever is more convenient for you.

Maria is a second year English BA student at King's College London with a real passion for creative writing, reading, and anything connected to text in general.