If you're like me, then you've found yourself standing in front of a beautiful painting thinking — how did they do that?!
Learning how to create a masterpiece from scratch can seem intimidating, even impossible. But here at Learnopoly, we've got you covered.
This best online watercolour classes review provides everything you need to find a class that's a great fit for you. Whether you're a total beginner or a keen artist ready to hone your skills or discover new perspectives.
So grab your brushes, and let's dive in.
What is the best online watercolor course?
These are our top picks:
Paint Realistic Watercolor and Botanicals – Studio Basics (Udemy)
Paint Realistic Watercolor and Botanicals – Chasing Autumn (Udemy)
Watercolor Portrait from a Photo (Skillshare)
Molly Murrah's Watercolor Magic (Creative Live)
Watercolor Illustration with Japanese Influence (Domestika)
Watercolor Jumpstart (Angela Fehr)
Urban Landscapes in Watercolor (Domestika)
We've gone with The Mechanics of Watercolor Painting course on Udemy as our top pick. It's an incredibly strong foundation in watercolor techniques from a highly successful artist. And it's easily digestible and comes with a bunch of at-home activities to hone your skills.
We chose the second and third ranked classes (a series on botanical painting) because of their beginner-friendly in depth content. Plus they provide the opportunity to immediately put your new knowledge into practice to create some beautiful guided paintings.
Others were chosen either for their strong technical grounding, or their fresh new perspectives that leave you inspired and eager to put brush to paper.
The two Skillshare classes that stood out were 'Watercolor Portrait from a Photo' and 'Watercolor Illustration: Transform Daily Objects into Whimsical Characters'. And with a Skillshare membership you can take both of these courses plus thousands of other classes on the platform.
Best free online watercolor course
Best online watercolor course reviews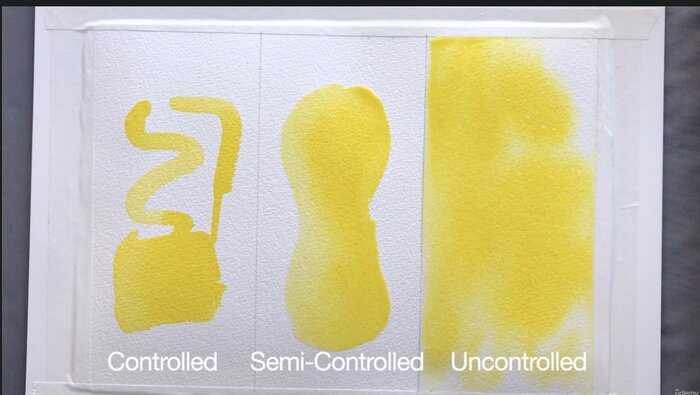 Platform: Udemy | Teacher: Jill Poyerd | Length: 38 video lesson totaling 4 hours
If you're looking to hone your technical skills, then professional artist, writer and curator Jill Poyerd has you covered. You'll come away with a great understanding of the fundamentals of watercolor due to the level of technical detail.
You will learn how to:
Set up your workspace
Hold your brush, including the correct angles, pressure and movements to achieve the best results
Appreciate color theory, using paint charts to get to know your colors
Mix colors and dilute paint
Make the best use of timing it when painting with watercolors
Understand the ins and outs of brushes, from bristle fiber to matching your brush to your paint
Paint with white to capture tones and shades
Pros:
Jill is an incredibly comprehensive teacher, going into amazing detail so that you can build an really strong foundation
There are over 30 student activities that come along with the videos, so you'll have a structured way to put Jill's techniques into action
If you have any questions, you can leave them in the Q&A box for Jill to answer, or search previous questions to find out what others have been asking. This is a really great feature as you can have direct contact with the teacher and fellow students
Although this course is heavy on the theory and technical approaches, in the final section Jills demonstrates their use in a painting demonstration, which really helps make some of the more abstract concepts understandable
Cons:
This is a technical class, so if your learning style is more based around follow-along demonstrations and real-life examples, then this might not be the course for you
As one reviewer puts it, you're not going to leave this class with a masterpiece, as in some other follow-along courses because you're learning more about theory than actually painting. However, it is a great preparation for your next steps, applying these techniques to take your painting to the next level
Who it's for: Great for beginners, as it will build an exceptionally strong foundation in theory and techniques. It's also good for those with a little experience, helping you master your equipment to set you up for future success.
Overall: Detailed, clear and technical, this course will equip you with all the skills you need to build a strong foundation in watercolor painting.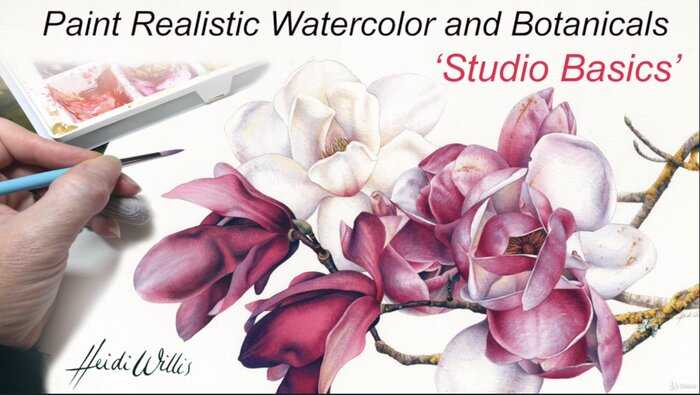 Platform: Udemy | Teacher: Heidi Willis | Length: 20 video lessons, totalling 3 hours and 8 minutes
As well as being a successful exhibiting artist in her native Australian, Heidi Willis is in huge demand as a teacher, with her in-person watercolor classes often booked out a year in advance.
This course is designed for total beginners with all the skills and knowledge you need to build a great base. Heidi's speciality is botanical painting, but it doesn't place too great an emphasis on this genre, so would be useful for anyone.
What you will learn:
How to choose your materials and set up your workspace, from brushes and paper to palettes and masking fluid.
Basic work practices, including laying out your palettes, finding references and choosing color
The very first steps of drawing and the image transfer process
How to put all this theory into practice in a series of fun practical exercises at the end of the course, exploring 'wet on wet', 'even washes' and 'tonal variations.'
Pros:
Heidi is all about learning through play, and she encourages you to just pick up a brush and have some fun. Any new artistic medium can be daunting, but Heidi makes learning extremely approachable.
Packed full of helpful information from a seasoned professional, this is an excellent guide to the practical side of painting, which can seem super confusing to someone who has never experimented with watercolors before
Heidi's speciality is botanical drawing, so if this is a style you're interested in learning, you will pick up plenty of tips and tricks relevant to this genre.
Cons:
For the majority of the course there is very little actual painting involved. So if you've got your paints and brushes all set up and raring to go, you might have to be a little patient! Heidi's focus is on building a strong foundation rather than diving straight in, and this will be immensely valuable in the long term.
Despite the name, botanical drawing isn't at the front and center of this class. It's a more broad look at materials, best practices and great techniques that could be applied to all watercolor styles.
Who it's for: 'Studio Basics' is designed for absolute beginners. Heidi has absolutely no expectation for her audience other than a desire to learn! However, even if you do have a bit of experience with watercolors you're still likely to learn some useful information.
Overall: A great, approachable way in to learning practical advice about watercolor painting.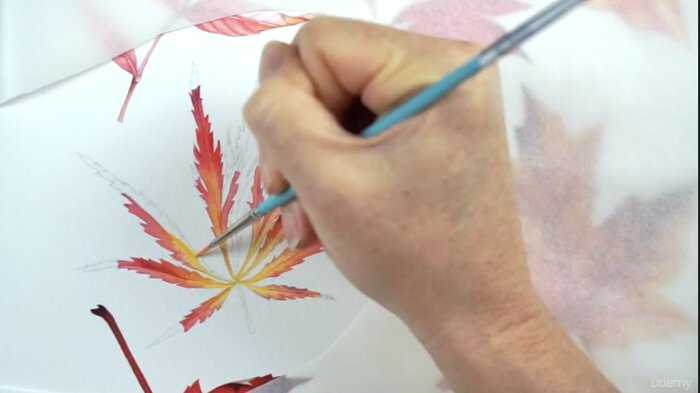 Platform: Udemy | Teacher: Heidi Willis | Length: 21 videos, totalling 3 hours and 49 minutes
This is a direct follow-on from Heidi's 'Introduction to Botanical Painting' course. It offers a fantastic opportunity to put all the skills you learned there into practice. You'll paint a series of seven beautiful autumn leaves designed to help you practice specific techniques. Heidi's fun teaching style focuses on the process of learning, rather than creating a 'perfect' end product.
You will learn how to:
Pick your botanical subjects and form a connection to them in their natural environment
Create simple washes to create a great base for your paintings
Work with complex shapes and textures
Create layers of glaze and work with soft highlights to create the elusive sheen that botanical subjects often have.
Develop logical painting strategies to make painting complex subjects less intimidating
Pros:
Heidi is an encouraging teacher with infectious enthusiasm for her subjects that will inspire you to create your own works
This course is all about building confidence, applying abstract techniques to real subjects, breaking down painting as a problem-solving exercise – painting botanical subjects can be daunting, but this 'Chasing Autumn' makes it fun and simple.
You can purchase all the materials you'll need in a special package put together by Heidi at a discounted rate, to take the stress out of picking paints, paper and brushes from a seemingly endless array
You will leave this class with seven beautiful paintings, and a deeper understanding of how to implement botanical painting techniques.
Cons
If you're not interested in painting autumn leaves, then maybe this isn't the course for you! That being said, the techniques that you will practice can be applied to all kinds of watercolor painting.
Heidi is an informal, holistic teacher – those who want to get straight to the point might feel a little impatient with her first few videos, which focus on the process of choosing subjects, rather than painting itself. However, if you stick around, you'll get to the good stuff soon enough.
Who it's for: Anyone interested in botanical painting, with a little bit of experience and a desire to practice. Even if you're not that into botanical painting, you will learn some useful transferable technique.
Overall: This is a fun, practical course designed to get you painting with confidence, taught by a seasoned professional.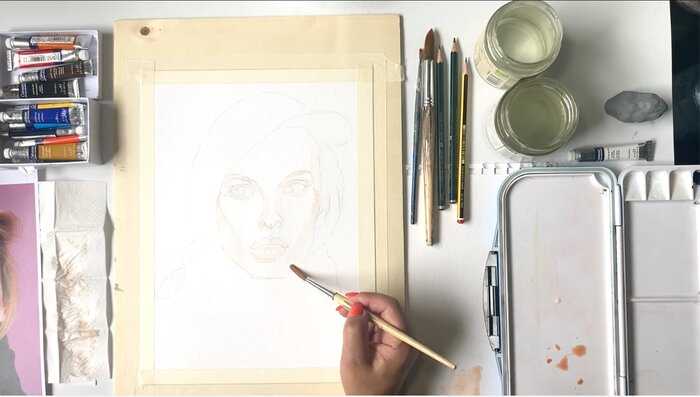 Platform: Skillshare | Teacher: Nadia-Valeska Devonish | Length: 15 videos, totalling 1 hour and 58 minutes
Nadia is an artist currently based in Berlin, but she's also studied art in Chile, Spain and New Zealand. So, she brings a wealth of artistic perspectives and techniques to her work. This is a practical course focused on creating a watercolor portrait from a photograph. By the end you should have produced your own mini-masterpiece!
What you will learn:
How to find the materials you will need for this project
The best places to source reference images for your portraits, and what will make a captivating picture
Some basic information about the human face that will help you draw a realistic base for your portrait
Step by step guidance on how to create your portrait, focusing of different areas of the face to build detail and character.
Pros:
A quick, simple class with a clear goal – if you're not interested in an intensive deep dive into the ins and outs of brush bristles, and want a concrete result (your very own painting!) then this could be the course for you
Nadia's demonstration is clear and easy to follow – by using her technique of breaking down the face into different sections, you can apply her instructions to many different subjects
Skillshare provides great support and direct connection with the teacher – there is a section where you can make comments, ask Nadia questions and even share your finished projects.
Cons:
As this is a very practical course focused on painting a portrait from a photograph, this is not the best place to get an overall introduction into watercolor painting as a whole
We only get to see these techniques demonstrated on caucasian skin tones, so it would be great to learn more about how to mix colors and use these techniques on other skin tones
Who it's for: Anyone who wants to dive right in and get painting. Whether you're a seasoned painter wanting to branch out into portraits, or a beginner wanting to try the medium out.
Overall: A clear, easy to follow class, which should result in a great painting of your own at the end.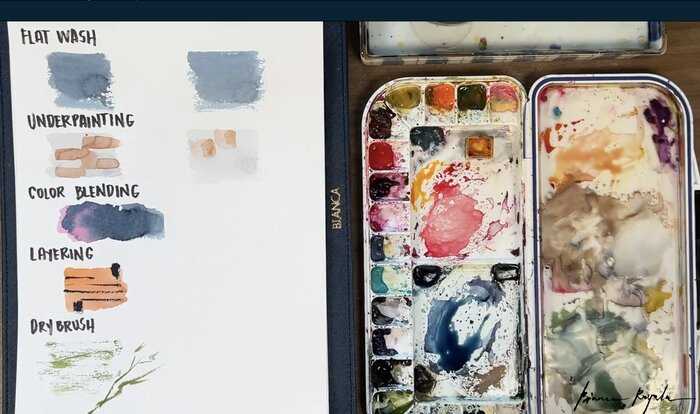 Platform: Skillshare | Teacher: Bianca Rayala | Length: 10 videos, totalling 1hour and 35 minutes
Bianca Rayala is a top teacher on Skillshare, and its easy to see why. She teaches a vast range of watercolor courses, but this one makes our top picks because of its interesting techniques and impressive projects. Bianca will teach you a whole range of fun techniques that you can use to capture atmosphere in landscape painting.
What you will learn:
A wealth of techniques, from flat wash, underpainting and color blending to dry brush, sponge painting and 'scumbling'
The basics of what materials you will need, with a focus on paper and brushes
Some insights about how to understand your subject to capture it in your painting
How to put these techniques into action with two fun projects that will (hopefully!) result in some impressive paintings.
Pros:
Bianca is a top teacher and this course is extremely professionally produced, with great visuals
This is a fresh and interesting take on a traditional medium, with a focus on expression and fun rather than precision
Creating the two class projects offers an excellent way to put these techniques into practice, and there is also a space to share your work and ask questions, creating the feeling of a learning community
Cons:
Bianca's style is playful and fun, but it might not be the right one for you if you want to learn the more traditional basics of watercolors.
Although this is intended for beginners, some of the techniques are quite advanced, so this may not be suitable for complete beginners
Who it is for: A fun, practical course for someone with a bit of watercolor experience who wants to try new things.
Overall: Bianca is a great teacher and her class is focused less on accurate and photorealistic paintings, and more on expressing the mood of a landscape, giving you plenty of opportunities to play around with different techniques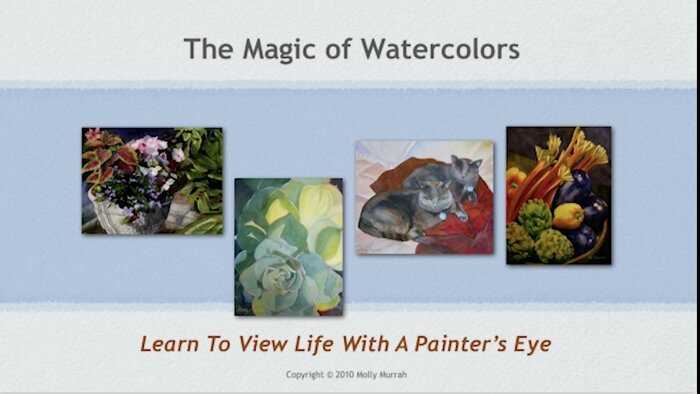 Platform: Creative Live | Teacher: Molly Murrah | Length: 24 videos, totalling 9 hours and 51 minutes
Award-winning artist Molly Murrah brings over 20 years of watercolor experience to this in-depth series of classes. Designed to be completed over five weeks, the detailed videos cover everything from color theory to brushwork techniques.
'Watercolor Magic' is a little different to your average online course – Molly is actually teaching in front of a live audience, who often pipe up with questions – depending on your learning style, this could be helpful or annoying!
You will learn how to:
Appreciate color theory, from the color wheel, mixing techniques to using light and shadow in your paintings.
Choose the the best materials to achieve the effects you're looking for.
Utilize composition and perspective to give your paintings depth and interest.
Use what Molly calls 'the fun stuff' – creating textures, wax resist, and other techniques to take your painting even further.
Pros:
Downloadable PDF exercise sheets, so you can work on your painting skills between lessons and plenty of recommendations for further reading and other resources
Loads of extremely positive reviews, which indicates that Molly has plenty of satisfied customers
As this class is designed to be completed over five weeks, you're likely to see a real improvement in your painting skills over a longer time frame
Molly's teaching is friendly and informal, and includes a mixture of lectures, demonstrations and exercises to keep you engaged. As she makes clear, painting should be fun!
If you subscribe to Creative Live (prices start at under $13 a month) then you will be able to access thousands of other courses
Cons:
It looks as though this course was filmed in 2010, and whilst the content is timeless, the graphics and audio aren't amazing
Quite a slow paced, chatty style of teaching – if you want a quick, easily digestible class, then this might not be the right one for you.
Who it's for: Molly recommends you take her 'Watercolor 101' class (also on Creative Live) if you're a complete beginner. However the course would still suit someone with a little experience, as Molly covers the fundamentals of color, composition and materials.
Overall: A great choice if you've plenty of time, and want to commit to completing the course over the 5 weeks. It recreates the 'classroom environment' and feeling of learning with a group of people that is rare in other online courses. Plus, at $49, it's cheaper than the majority of in-person classes, which is a huge bonus!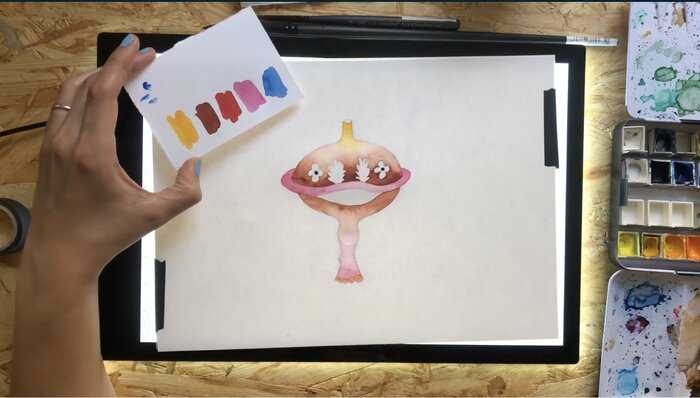 Platform: Skillshare | Teacher: Hélène Baume | Length: 15 videos, totalling 1 hour and 38 minutes
This is an extremely popular class, and with good reason. Illustrator Hélène Baume teaches us how to create vivid, charming illustrations inspired by everyday objects. This is a step away from color theory and brush techniques, and focuses more on visual storytelling and developing your imagination.
You will learn how to:
Observe what's around you and develop your imagination, using the Japanese principle of Yokai to transform inanimate objects into fun characters
Create initial sketches to set you up for successful illustrations
Use a light box to draw and paint with precision
Play with color to make fun, unique choices and bring your characters to life
Use watercolor techniques such as gradients, juxtaposition and layering, and how to implement them in your paintings
Pros:
Hélène encourages a relaxed, playful attitude to painting, by learning along the way and not panicking when things go wrong
Although this class is focused on creating characters, Hélène does give a good amount of time (three videos out of 20) to exploring watercolor techniques, so if you're new to the medium you can get up to speed
This course is so much fun, and will encourage you to see watercolor painting (and objects in your home!) in a whole new way
Cons:
Not your traditional watercolor class – if you're looking to learn the basics, then a more in-depth course about techniques and material might be better for you.
These little characters are not to everyone's taste, and this is a very focused project. So if you want to practice portraits or still life, I recommend checking out a different class.
Who it is for: People who have a little bit of experience with watercolor, who want to create some fun illustrations while learning new techniques
Overall: This is a charming and unique course, and you will have some beautiful painted characters and a deeper understanding of gradient, layering and juxtaposition by the end of it.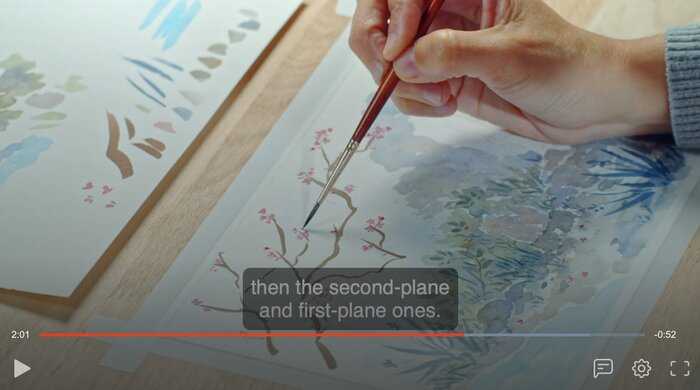 Platform: Domestika | Teacher: Flo Kaneshiro | Length: 22 lessons, totalling 3 hours and 15 minutes
Looking for something a little different? Flo Kaneshiro is an illustrator and teacher, specializing in Sumi-e, a centuries old traditional style of painting used in China and Japan. Flo teaches you how to combine watercolor paints with this charming technique, to create your own vibrant illustrations.
You will learn how to:
Get acquainted with this ancient art form, and how it can be updated with new materials and subject matter
Choose the tools and materials will be best suited for this style
Use basics such as brushstrokes, color gradients, stains, and special Japanese Sumi-e techniques
Do thematic research and gather references
Make preliminary sketches
Prepare your materials, and paint in layers
Digitize your work and edit it in Photoshop
Pros:
One of Domestic's highest rated courses, and from the illustrations shared by fellow students, its clear that Flo is a great teacher
Great production quality which makes this a very enjoyable learning experience
Unique not only in that it employs traditional Japanese styles, but that it goes into detail about digitizing your work.
You will leave with a new piece of work as well as practical information and inspiration.
Cons:
The audio is in Spanish with English subtitles, and in my opinion this doesn't detract from the learning experience or the quality of teaching.
As this is a specialized course, Flo doesn't go into too much detail about the foundations of watercolor, such as color theory or advanced techniques, so if you're looking for a deep dive into regular watercolors then this isn't the course for you.
Who it is for: Anyone who's a fan of this style of painting, or wants to try something new and get a glimpse into the process of illustration vs straight-up painting.
Overall: This is a unique, inspiring class, taught by a professional illustrator – you're guaranteed to gain a new perspective!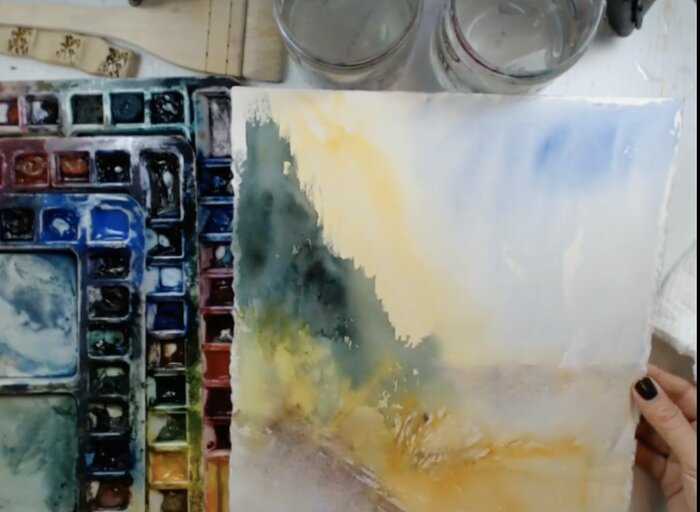 Platform: Angela Fehr | Teacher: Angela Fehr | Length: 8 videos, totalling 2 hours and 40 minutes
Angela Fehr is an experienced Canadian watercolor artist and teacher. She's designed this free course to help you receive direction and encouragement on your watercolor journey. Learning a new hobby alone can be lonely and discouraging. But if you sign up with Angela you'll receive an email every few days with a link to a member's only video, plus a pep talk to keep your spirits high! There are four lessons, each with links to materials.
What you will learn:
The basic watercolor techniques needed to get you started on your journey, such as wet on wet and wet on dry
How to make decisions about when to use each technique
Ways to use photo references to develop a successful composition
Different styles such as landscape painting and floral painting
Pros:
This course has a really interesting structure with email-notifications designed to keep you motivated, whilst allowing you to learn at your own pace
It's free! If you like Angela's teaching style then there are plenty more lessons you can purchase on her website to further your painting knowledge
Angela has put together a very helpful set of materials you can purchase via Amazon, which includes everything you will need
Cons:
Whilst the site interface is good, some of the videos are quite low quality, especially when its just Angela talking into the camera – however, this doesn't impact her sound advice!
At times, this course could have gone into more detail, and set more practical exercises – however, considering it's free, it's still a great introduction.
Who it is for: Anyone who wants to take up watercolor painting but lacks the confidence or motivation – Angela's got you covered!
Overall: With email reminders, pep talks and practical advice, this is a great option to jumpstart you into painting.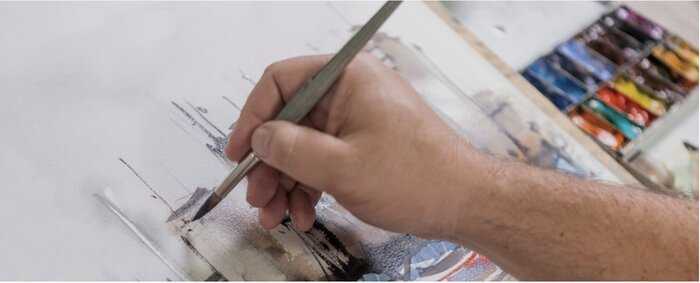 Platform: Domestika | Teacher: Daniel "Pito" Campos | Length: 16 videos, totalling 2 hours and 55 mintues
Daniel "Pito" Campos is an illustrator, cartoonist and visual artist. Studying architecture, he developed a love of buildings and urban spaces, and is devoted to capturing urban scenes in watercolor. Pito will teach you how to 'decode' a real landscape/cityscape, and turn it into a watercolor, with a focus on capturing the elements. This is not your traditional watercolor still lives!
You will learn how to:
Find your 'trigger' – what it is that strikes you and makes you want to paint
Appreciate all the materials and how to prepare them to get the best out of your painting.
Create layers of washes, and add in details like people, cars and shadows
Transform the scene depending on the weather
Pros:
Pito is an extremely talented artist creating unique pieces – this is a really interesting alternative to traditional watercolor landscapes
The focus is less on realism and more on capturing a mood, so you have more freedom to experiment more than in a more traditional course
It's very interesting to hear about his inspirations and what makes him tick as an artist, and this can give you some pointers about developing your own artistic practice.
There is a really interesting section at the end about disassembly, care and conservation of your finished work, which is rare.
Cons:
All lessons are in Spanish, albeit with very accurate and easily understandable English subtitles.
If you're looking for a more traditional approach to painting, or to get a handle on the basics, then another, more thorough and less specialized class might be better for you.
Who it is for: Someone who is inspired by cityscapes and wants to learn how to capture them in an expressive, abstract way.
Overall: This is an interesting course with lots of unique points, and at the end of it you will have produced your very own cityscape.
What are the advantages of taking an online watercolor course?
Painting is good for you! Scientific studies have shown that painting has a positive impact on mental health. Not only is watercolor painting a fun hobby, it's also a way to invest in your mental wellbeing.
It's a lifelong skill. When you invest in an online watercolor class, you're investing in potentially decades of skills, artistic creation and new experiences. It's a hobby that will bring endless enjoyment.
Learn from experts. If you're new to painting, it's hard to know where to start. Luckily, seasoned professionals are on hand to provide reassurance and guide you through the process.
Finally, you can create beautiful art!
Buyers guide: what to look out for
What is your current skill level? If you're already pretty familiar with watercolor painting, and you're looking to learn new techniques, then diving into an intensive fundamentals course might be a waste of money, not to mention frustrating if the instructor keeps covering content you're familiar with
Similarly, if you're totally new to watercolors, whilst it might be tempting to jump in at the deep end, your money is probably better spent on a class mastering the fundamentals.
What is your learning style? Some people engage best with a community of learners, some with practical exercises, some with short bursts of content, and some with longer form lectures. We've highlighted the format of each course so you can pick something that matches your learning style.
Where will you be learning from? Some of our picks are entirely online, whilst others have downloadable content that you can access even without a wifi connection.
How much does it cost?
The prices of these online watercolor courses range from totally free (Angela Fehr's Watercolor Jumpstart) to standalone classes on Udemy for around $60.
Some are included in a Skillshare membership which is $32 a month, so you could take multiple courses to get as much value from the subscription as possible.
This is still much cheaper than your average in-person watercolor classes, and you're getting expert guidance from professional artists.
How long does it take to learn watercolor painting?
The courses in this review range from just a few hours to some designed to be taken over several weeks. Even when it comes to the shorter courses, you should factor in time for practicing techniques and completing exercises set by the instructors.
You can view most of these classes at your own pace and even go back and rewatch if you need to.
Conclusion
There are a wealth of online watercolor courses. Hopefully, this article has helped you to understand your options and pick one that's right for you.
The technical classes on Udemy offer a great deep dive into the basics of this art form, setting you up with all the skills you need to make this medium your own.
We also have a few really great longer term options like Molly Murrah'sWatercolor Magic, (designed to be taken over five weeks), and Angela Fehr's four week Watercolor Jumpstart course.
Shorter classes on Skillshare and Domestika are also great options, because if you get a monthly membership you can access plenty of different classes to suit your needs.
Related articles: Udemy, Skillshare, CreativeLive and Domestika reviews. Best: calligraphy courses, soap making classes, embroidery classes, Procreate courses and drawing classes.
Frequently asked questions
How much does an online watercolor course cost?
The courses in this article vary from totally free to around $60.
How long do online watercolor courses take?
Courses can take anywhere from a few hours to several weeks – it's up to you to pace your learning, and it's wise to factor in time to practice your painting skills in between lessons.

Hannah is currently studying a Masters in Modern Literature and Culture at King's College London.  In her spare time she enjoys hiking, writing and cooking.