The art of calligraphy is fascinating and intricate. At first, it can seem hard to master. Fortunately for you, I've put a list of the best calligraphy courses together to help you become a real pro. This is your chance to become a master at birthday cards and even ancient traditional practices.
Selecting the perfect course can be challenging – the right one should not only cover the basics, but also teach you how to grow as an expert in various calligraphy techniques.
After searching online for the past two weeks, I've unearthed a treasure trove of calligraphy courses that are sure to pique your interest. From the elegant strokes of Japanese Shodo to the bold flourishes of Gothic and the intricate details of Copperplate, these courses cover it all.
But that's not all – I've also taken into account factors like tools (think Procreate or pen brushes) and price to create a curated list of the best calligraphy courses available online.
So, without any further delay, let's delve into the magical world of calligraphy.
Top 10 best online calligraphy courses
My top choice is Bryn Chernoff's Introduction to Modern Day Calligraphy course on Skillshare. It will take you from a beginner to a real master of calligraphic writing in no time. Providing not only comprehensible and engaging instructions, but also practice exercises to develop your skill. With Bryn's warm and welcoming teaching style, you'll definitely be 100% satisfied with this class.
My second pick is Vivian Uang's course, Brush Pen Modern Calligraphy on Udemy. This masterclass is an amazing opportunity for you to dive into the world of modern pen calligraphy – specifically using brush pens, that are often popular amongst masters of the craft. It will help you not only grasp the basics of calligraphy, but also improve your overall handwriting.
Interested in learning a more specific type of calligraphy? Then I'd recommend looking at courses such as Simple Gothic Hand Calligraphy, Intro to Copperplate Calligraphy, Lettering for Instagram with Procreate, or the Pointed Pen Basics course. 
For those interested in learning calligraphy as part of a culture and language – I recommend you look at the Beauty of Symmetry in Chinese Calligraphy class, or the Arabic Calligraphy course. 
Best free calligraphy courses
If you're looking for the best free calligraphy courses, here is a list:
Both of these courses aren't completely free but they are part of the Skillshare one month free trial for its subscription. Plenty of time for you to complete a course and test out the platform for potential future subscription
Best online calligraphy courses reviews

Platform: Skillshare | Teacher: Bryn Chernoff | Length: 1 hour and 47 minutes
In this course, Bryn Chernoff guides you through the fundamentals of modern calligraphy. She's been teaching calligraphy for over a decade and has trained thousands of students worldwide. Earning rave reviews for her engaging teaching style and her ability to break down complex concepts into easy-to-follow steps. This, combined with practical exercises and demonstrations, makes this course an excellent starting point for anyone interested in learning this beautiful art form.
What you'll learn:
How to create beautiful letters and words using modern calligraphy techniques, including brush pens and pointed pens
The fundamental strokes and shapes that form the basis of all calligraphy letterforms
Tips and tricks for mastering the art of lettering, such as how to hold and angle your pen, how to achieve consistent spacing, and how to troubleshoot common mistakes
Techniques for adding flourishes, embellishments, and decorative elements to your calligraphy
How to put your newfound skills into practice by creating your own calligraphy projects
Pros:
Get chance to learn from a highly skilled calligrapher with over a decade of experience
This course covers everything from the basics of lettering to more advanced techniques, suitable for both beginners and those with prior experience
Includes a variety of practical exercises and demonstrations, allowing you to use your new skills in real-life projects
Bryn's teaching style is engaging, upbeat, and easy to follow, making the learning experience both enjoyable and effective
Get a lifetime access to the course materials, so you can revisit the lessons and exercises as often as you like
Cons:
Requires a certain level of manual dexterity and hand-eye coordination
Who it is for: Ideal for anyone who wants to learn modern calligraphy, from complete beginners to those with some prior experience.
Overall: Provides a beginner-friendly and comprehensive approach to modern calligraphy. Taught by an experienced calligrapher, with flexible learning options and lifetime access to materials. The practical exercises offered enable students to refine their skills and create their own unique style, making this course a valuable asset for anyone interested in learning calligraphy.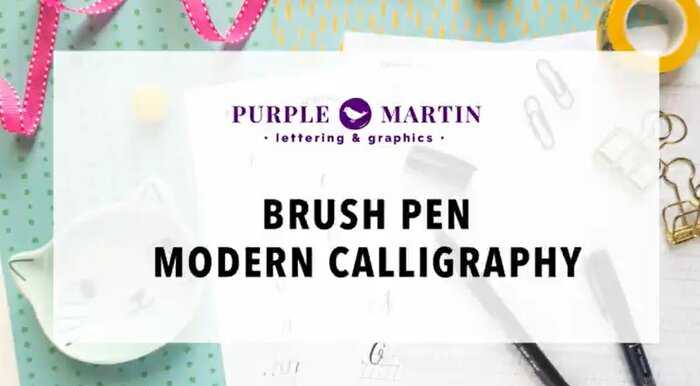 Platform: Udemy | Teacher: Vivian Uang | Length: 1 hour and 25 minutes
In this brush pen calligraphy course, you'll receive expert instruction and guidance from Vivian Uang, a highly skilled calligrapher with over 5 years of experience teaching students of all skill levels. Vivian's trained with some of the most renowned calligraphers in the industry and has been featured in major publications such as Martha Stewart Weddings and The Knot. She's also collaborated with top brands including Google, Sephora, and Chanel.
Here, Vivian will teach you the fundamentals of brush pen calligraphy, including how to hold and use the pen, create basic letterforms, and develop your own personal style. 
You'll learn how to:
Hold and use the brush pen in the perfect manner for calligraphy
Create basic letterforms and combine them into words
Find your own unique style of modern calligraphy
Develop a consistently stunning level of handwriting
Balance thickness and thinness of lines for the best desired effect
Pros:
Guidance from an experienced and skillfull teacher
Engaging and interactive style of teaching with video tutorials, live demonstrations, and communication with the tutor
Get access to a supportive community of fellow calligraphy enthusiasts
A self-paced and flexible learning experience, allowing you to learn at your own pace and revisit lessons whenever you need to
Practical exercises that will help you with remembering the material
Cons:
Focuses solely on brush pen calligraphy
Who it is for: This course is perfect for anyone who wants to learn modern calligraphy using a brush pen, from beginners to those with some prior experience.
Overall:  If you're interested in learning brush pen calligraphy, Vivian Uang's course is an excellent choice. With engaging instruction, expert guidance, practical exercises, and a supportive community, you'll have everything you need to master this beautiful art form and create stunning calligraphy pieces.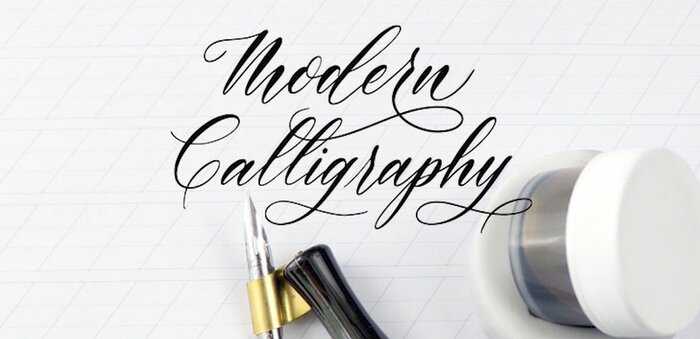 Platform: Udemy | Teacher: Audrey Ra | Length: 3 hours and 43 minutes
Audrey Ra is a highly qualified calligrapher with a wealth of experience in the art of modern calligraphy. Her "Modern Calligraphy: Pointed Pen Basics" course on Udemy is a comprehensive introduction to the basics of pointed pen calligraphy, offering expert instruction and personalized feedback to students. With her engaging teaching style and years of experience in the field, Audrey is a trusted and credible source for learning the art of modern calligraphy.
What you'll learn:
How to use and control a pointed pen perfectly
Create beautiful letters and words using calligraphy techniques
Mix and use different inks to create unique effects
Discover a range of calligraphy styles, from traditional to modern
A deeper understanding of calligraphy fundamentals, such as spacing, rhythm, and contrast
Pros:
Get expert guidance from a professional calligrapher and personalized feedback on your work
Learn all the essentials of pointed pen calligraphy, from basic strokes to letter formation and word spacing, and gain a solid foundation to build on
Clear and concise explanations of each technique, accompanied by helpful demonstrations
Personalized feedback from the tutor and acces to a community of students
Cons:
The course may not be suitable for those who prefer a more traditional or formal approach to calligraphy
Some students may find the course's pace too fast or too slow for their individual needs, as the material is presented in a fixed sequence and timeframe
Who it is for: Ideal for anyone who wants to learn modern pointed pen calligraphy from an experienced instructor, regardless of their level of skill or experience.
Overall: An excellent choice for anyone looking to learn modern pointed pen calligraphy from a skilled and experienced instructor. You will learn the essential techniques and principles of this art form, including basic strokes, letter formation, and word spacing. With Audrey's engaging and personable teaching style, you can easily follow along and apply what they learn. The course also includes personalized feedback and affordable online access.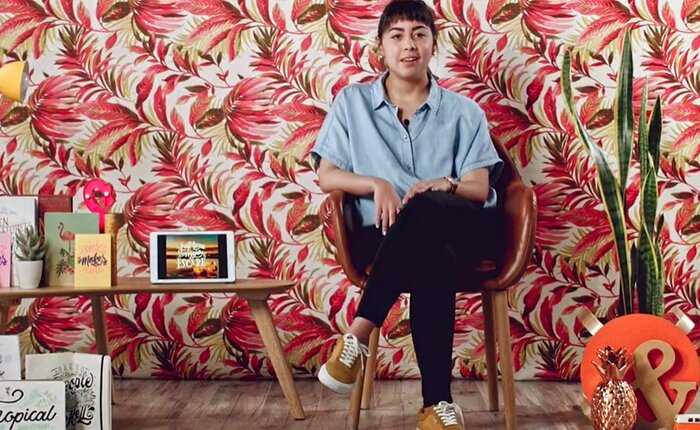 Platform: Domestika | Teacher: Nubia Navarro | Length: 4 hours and 50 minutes
Nubia is an experienced calligrapher and lettering artist, known for her bold and colorful designs that blend traditional and modern styles. In this course, she shares her expert tips and techniques for creating beautiful and unique Instagram posts that showcase your skills and personality.
What you'll learn:
How to create engaging and unique lettering designs using Procreate on your iPad
Techniques for combining different lettering styles and adding flourishes and decorative elements to your designs
Tips for selecting the right color palettes and backgrounds to make your lettering stand out on Instagram
How to use Instagram to showcase your lettering skills, attract followers, and engage with your audience
Tricks for optimizing your workflow and creating polished and professional-looking designs quickly and easily
Pros:
An opportunity to learn from an experienced and talented lettering artist who shares her unique style and expert techniques in an engaging and easy-to-follow manner
Includes downloadable resources, including Procreate brushes and practice sheets, to help you get started quickly and easily
Multiple projects and exercises that allow you to practice and apply what you've learned in a fun and creative way
Structured in a clear and logical way, starting with the basics and gradually building up to more complex designs and concepts
Cons:
Only focuses on calligraphy in the Procreate app on the iPad
Who it is for: Perfect for anyone who owns the Procreate app and wants to learn calligraphy.
Overall: I'd recommend this course if you're looking to upgrade your Instagram page, because it focuses only on digital calligraphy. With a talented and experienced instructor, engaging projects, and helpful resources, you'll be able to create beautiful and unique designs in no time. Whether you're a beginner or intermediate-level artist, this course offers valuable insights and techniques to enhance your creative work.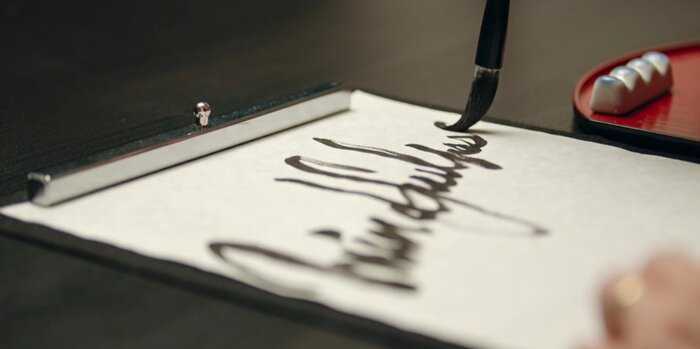 Platform: Domestika | Teacher: Rie Takeda | Length: 2 hours and 13 minutes
In this course, Rie Takeda offers her expertise as a calligraphy artist and teacher to guide students through the basics of this ancient art form. With a background in traditional Japanese calligraphy and a passion for sharing her knowledge, Rie is the perfect instructor to help students master the techniques and skills required for shodo. Her extensive experience and dedication to the art make her a highly credible and effective teacher for this course.
What you'll learn:
How to use the brush and ink to create beautiful, traditional Japanese calligraphy characters
The basic strokes and techniques used in Shodo, including different brush angles and pressures
The history and cultural significance of Shodo in Japanese art and society
How to create your own unique calligraphy pieces, from simple words and phrases to more complex designs
The meditative and mindful nature of Shodo, and how it can be used as a form of relaxation and self-expression
Pros:
An opportunity to learn the basics of Japanese calligraphy and gain an appreciation for its cultural significance
You'll receive personal feedback from the teacher, allowing you to improve and refine your technique
Includes practical exercises and demonstrations, making it easy to follow along and practice at home
Learn about the materials used in Japanese calligraphy, allowing you to create beautiful and authentic pieces
A best-selling course, with 99% of past students leaving high ratings
Cons:
Focuses only on traditional Japanese calligraphy
Some students might find it hard to keep up with the quick pace of the course
Who it is for: Would be perfect for anyone interested in learning the basics of Japanese calligraphy and gaining an understanding of the cultural significance behind it.
Overall: Provides an immersive and culturally rich experience, allowing students to explore the beauty and history of Japanese calligraphy. While the course may be challenging for beginners, it offers a rewarding and enlightening learning journey for those interested in Japanese calligraphy and culture.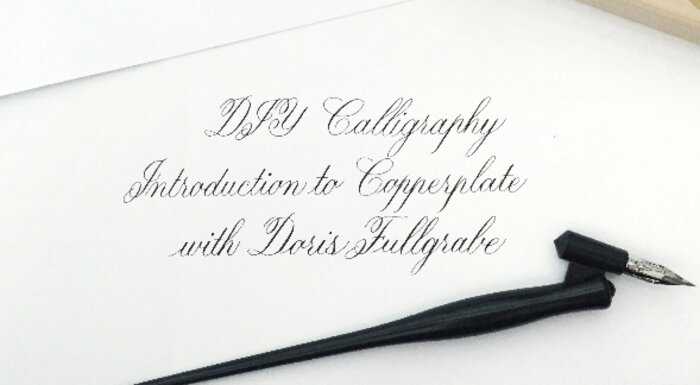 Platform: Skillshare | Teacher: Doris Fullgrabe | Length: 1 hour and 32 minutes
Doris Fullgrabe has been practicing and teaching calligraphy for over a decade. With her guidance, you'll gain a strong foundation in the technique and style of Copperplate calligraphy, and develop the skills to create beautiful, elegant lettering. Doris' expertise and passion for the art form shines through in every lesson, making this an ideal course for anyone looking to master this traditional script.
What you'll learn:
The basic principles and techniques of Copperplate calligraphy, including the right way to hold and use a pointed pen
How to create thin and thick strokes, as well as how to join and space letters correctly
Lowercase and uppercase letters, numbers, and symbols in Copperplate style
How to make your own guidelines and practice sheets to help you perfect your skills
How to add flourishes and embellishments to your Copperplate calligraphy to make it more decorative and visually appealing
Pros:
An excellent opportunity to develop your handwriting skills and become a pro at Copperplate calligraphy, a beautiful and dynamic style of writing
Download, print, and practice with the available worksheets
Gain access to a supportive community of fellow students
Covers not only the basics of Copperplate calligraphy but also advanced techniques such as flourishes and shading
Work and learn at your own pace and revisit materials whenever you need
Cons:
This course may not be suitable for those who prefer a faster pace, as it focuses on building a strong foundation in Copperplate calligraphy
Who it is for: This course is suitable for anyone with a desire to learn Copperplate calligraphy, but it is mostly targeted at beginners.
Overall: Provides an excellent foundation for learning Copperplate calligraphy and ample practice to hone your skills. Doris is a knowledgeable and engaging instructor, who gives clear explanations and demonstrations throughout the lessons. The course is perfect for beginners looking to learn a new skill or intermediate calligraphers wanting to improve their Copperplate technique. All in all, the course offers an enjoyable and informative learning experience with practical applications for personal or professional use.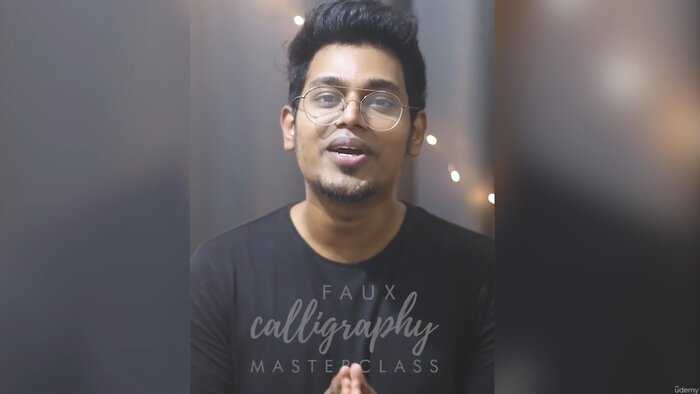 Platform: Udemy | Teacher: Niru Calligraphy | Length: 2 hours and 14 minutes
This course on the Udemy platform is taught by Niru, a calligraphy artist with a strong graphic design background. He has been practicing calligraphy for 5+ years now and has taught 2000+ students worldwide. His instructions are cler and easy to understand, which makes this course an amazing opportunity to learn calligraphy casually – with any pen or paper.
What you'll learn:
The basics of faux calligraphy, a technique to create calligraphic lettering without using any special tools
How to apply this technique to any pen or paper, making calligraphy more accessible
Techniques for adding style and flair to your faux calligraphy, making it look more like traditional calligraphy
Tips for troubleshooting common mistakes and issues that may arise when practicing faux calligraphy
How to use your newfound skills to create beautiful and personalized hand-lettered designs
Pros:
Niru provides clear and concise explanations, making the content easy to understand for beginners
The course covers a wide range of topics, including basic strokes, lowercase and uppercase letters, and even digitizing your work
You'll learn how to create beautiful calligraphy pieces using any pen or paper – no extra materials needed
The practice sheets provided in the course are helpful for perfecting your skills and improving your lettering
The instructor provides personalized feedback and support to students who have questions or need additional guidance
Cons:
Focuses only on faux calligraphy, so won't be suitable for those who want to learn a more traditional approach to calligraphy
Who it is for: Anyone who wants to learn simple and easy calligraphy without any extra materials.
Overall: This comprehensive and accessible course offers a great introduction to the art of faux calligraphy, with clear explanations and step-by-step demonstrations that make it easy to follow along. Despite a few minor flaws, such as a lack of more advanced techniques and limited scope, the course provides excellent value for beginners and those looking to improve their penmanship skills.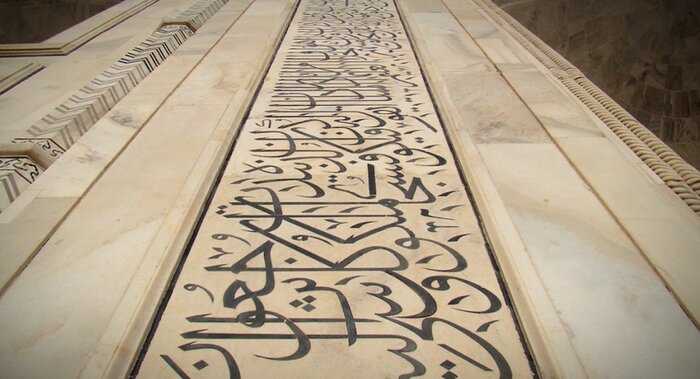 Platform: Udemy | Teacher: Omar Uddin | Length: 5 hours and 50 minutes
Omar Uddin, a talented graphic designer and a traditional Arabic calligrapher with a diploma, offers this exciting course for those interested in mastering the art of Arabic calligraphy. With his extensive experience in design and typography, Omar provides students with a comprehensive learning experience, covering the fundamental principles of Arabic calligraphy from scratch. This course offers a unique opportunity for anyone to learn the beautiful and intricate art form of Arabic calligraphy from an expert in the field.
What you'll learn:
The intricate fundamentals of Arabic calligraphy, including the strokes and shapes of each letter
The traditional materials used for Arabic calligraphy – discover what is a reed pen and ink and how to apply those materials masterfully
Various styles of Arabic calligraphy, such as Naskh, Thuluth, and Diwani, the differences and similarities between them
How to apply Arabic calligraphy to different surfaces, including paper, wood, and glass
Techniques for creating beautiful compositions using Arabic calligraphy, including layout and design principles
Pros:
Learn not only the beautiful and detailed Arabic calligraphy, but also the historical and cultural importance of this art
Get insight from an experienced graphic designer and calligrapher who provides clear and concise instruction throughout the course
This course keeps your busy life schedule in mind and allows you the flexibility to attend the lessons whenever you'd like
Communication with the teacher – if you're struggling just ask a question and Omar will be more than happy to answer
This course has a 4.9 overall rating from 400+ student reviews
Cons:
Focuses only on Arabic traditional calligraphy
Requires additional materials that might be difficult to find in a regular art supply store
Who it is for: Arabic calligraphy enthusiasts who are looking to learn the art in the English language.
Overall: This course offers an excellent opportunity for beginners to learn Arabic calligraphy from scratch with a knowledgeable and experienced instructor. The course provides a well-structured and comprehensive curriculum, including theory and practical exercises that enable learners to develop their skills effectively. Overall, this course is an excellent choice for those who want to learn the art of Arabic calligraphy and gain a deeper understanding of its rich cultural heritage.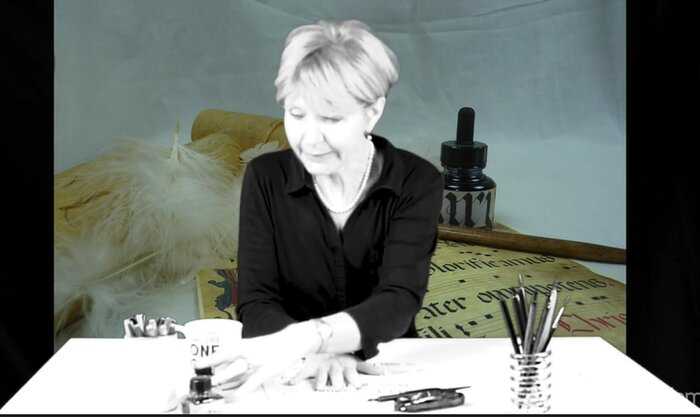 Platform: Udemy | Teacher: Mary-Jane Roussel | Length: 47 minutes
Mary-Jane Roussel is an experienced calligraphy teacher and in this course, she shares her knowledge on the Simple Gothic Hand Calligraphy style with students, guiding them through the process of creating beautiful and elegant letterforms. With her expertise in calligraphy and years of teaching experience, Mary-Jane is a credible and skilled instructor for this course. This short and easy class will provide you with amazing insight into the graceful world of Gothic calligraphy.
What you'll learn:
The basic strokes and letterforms that make up the Simple Gothic Hand alphabet
How to use a calligraphy pen and ink to create beautiful, consistent lettering
Techniques for spacing and connecting letters to create a cohesive and aesthetically pleasing piece of writing
Tips for fixing common issues that arise when learning calligraphy, such as ink splatters or uneven letter heights
Strategies for practicing and developing your own unique calligraphy style
Pros:
An excellent opportunity to discover Gothic calligraphy and learn to integrate it into your handwriting
Provides helpful in-depth exercises to develop your skills further
Gives a solid foundation to calligraphy in an engaging and supportive way
Mary-Jane provides helpful feedback on your work, giving you personalized tips and guidance to improve your calligraphy skills
Covers the history and evolution of Gothic Hand lettering as well, providing a deeper understanding and appreciation of the art form
Cons:
The course material may be too basic for those who are already familiar with calligraphy or have taken similar courses
The course does not cover a wide range of calligraphy styles, focusing solely on the Gothic style
Who it is for: I'd recommend this course for anyone who is specifically interested in Gothic style of calligraphy, but it is most suitable for beginner-level students since the material is quite simple.
Overall: A great choice for anyone interested in learning Gothic calligraphy, with its straightforward and easy-to-follow lessons. It provides students with a strong foundation in this classic lettering style, and its inclusion of helpful tips and techniques that can help even beginners master the craft. I believe that this course will be a good opportunity to start your journey into the intricate world of calligraphy.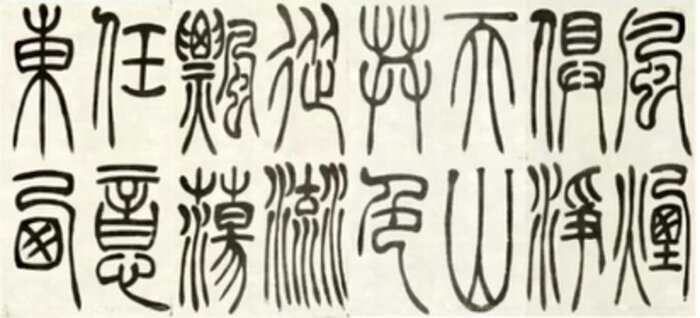 Platform: Udemy | Teacher: Becky Huang | Length: 5 hours and 19 minutes
Becky Huang is a well-respected calligraphy teacher who has been practicing and teaching Chinese calligraphy for many years. With a Master's degree in art education, she has developed a teaching style that is easy to follow and engaging for students of all levels. Her expertise and attention to detail make her an excellent instructor for those who want to learn the beauty of symmetry in Chinese calligraphy.
You'll learn how to:
Create beautiful and balanced Chinese characters using symmetry principles
Use basic brush strokes to create different patterns and shapes in your calligraphy
Write in different styles of Chinese calligraphy, including the Regular Script and Running Script
Appreciate and understand the cultural and historical significance of Chinese calligraphy
Develop your own personal style and create unique calligraphy pieces that express your personality and creativity
Pros:
Provides a comprehensive introduction to the history and techniques of Chinese calligraphy
Becky Huang, the instructor, is an experienced teacher and native Chinese speaker, making the course authentic and easy to understand
Includes detailed instructions on how to use calligraphy tools and materials, as well as tips for achieving symmetry in your writing
Covers a variety of calligraphy styles, including standard script, seal script, and clerical script
Offers a unique perspective on the cultural significance of calligraphy in Chinese art and literature
Includes practice exercises and projects to help you develop your skills and create your own calligraphy pieces
Cons:
The course focuses on a specific style of Chinese calligraphy, so students looking to learn other styles may not find this course helpful
Who it is for: This course would be perfect for anyone interested in the art of Chinese calligraphy, with a strong wish to learn it.
Overall: An exciting and in-depth journey into the intricate world of this ancient practice, so it might seem a bit difficult to grasp for those only interested in modern day calligraphy. However, with Becky's instructions and practice exercises this will be an interesting and thrilling learning journey if you decide to proceed with this course. 
What are the advantages of taking an online calligraphy course?
Taking an online calligraphy course will benefit you in the future because it will not only teach you the art of calligraphy but also improve your general handwriting and attitude about it. Make mundane activities like taking notes into something beautiful and almost magical with confident and elegant strokes of your pen.
Develop a useful skill and save your money – taking a calligraphy class will make you say 'goodbye' to store-bought cards and invitations. Create your own unique masterpieces and share them with family and friends.
You have complete control over your learning experience; you can alter the course's speed, the amount of information you consume in each session, the timing, the location, and more – giving you complete autonomy.
Buyer's guide: what to look out for
Here are some things you might want to consider when picking your perfect online calligraphy course:
Think about your end goal for the course – do you want to develop your handwriting to produce better cards for holiday season or would you want to learn a completely new discipline, maybe even in another language? Depending on that pick a course that will give you the best desired end result.
Consider the materials necessary for the course, think about what you own and what you might need to get. Art supplies can be quite pricey, so definitely look at your local art supply store for materials and check their prices before selecting a course. Some might require specific additional materials, some don't.
Another crucial factor is the main focus of the course – do you want to focus on one specific style, learn about general modern calligraphy, digital lettering, or an ancient calligraphy technique that is tightly connected with history? Consider all these options and pick the one that you feel suits you best.
How much does it cost?
Prices of courses in this review vary from $10 to $234, with Domestika courses being the cheapest ones and the Arabic calligraphy course on Udemy the most expensive one. 
Often prices of individual courses depend on their length and the difficulty of the material that is given. The Arabic calligraphy course takes you from an absolute beginner to a professional calligraphy artist in one of the most difficult languages in the world, which explains its price. Other individual courses from Udemy and Domestika are significantly cheaper and vary from $10 to $22, but they are also less complicated in their material. 
Other courses in this selection are part of the Skillshare platform subscription, which is on average $14$ a month (billed annually). However, Skillshare offers you a free month on the trial period basis, which makes it a great opportunity to not only discover Coppperplate or Modern calligraphy, but also find more exciting and interesting courses on the platform.
Skillshare is an outstanding source of expert-led courses and masterclasses in a wide variety of disciplines and areas of interest all in one place. So, if in the long run you decide to purchase the subscription after the trial period, I'm certain you won't regret it. 
How long does it take to learn calligraphy?
The courses mentioned in this selection vary from only an hour to programs meant to be taken over the course of several weeks.
However, you should also keep in mind the time it takes to practice the material from the class. A useful tip is to take the duration of the course itself and multiply it by 5 to get the estimated full time with practice hours included. Remember, any craft and skill takes quite a while to master perfectly, so be mindful about how much time you can dedicate.
Also, all of the courses in this review offer materials and video lessons that can be revisited whenever you like at your own pace. And they provide printable resources and helpful exercises for further practicing on your own.
Conclusion
If you're looking to learn calligraphy online, luckily, there are plenty of options.
The Skillshare platform might be your best choice – not only does it offer an opportunity to learn Modern and Coppeprlate calligraphy, but it also offers a wide variety of other courses which you might find interesting. It gives you a chance to explore different art disciplines and mediums and embark on a learning journey guided by world-leading experts. 
If you're more interested in individual purchase courses, then explore courses offered on Udemy and Domestika – from Arabic calligraphy to Gothic style calligraphy. 
Hopefully, you found this article helpful in picking the best calligraphy course for you!
Related reviews: Best drawing courses, best online embroidery courses, best online watercolour courses
Calligraphy Course Frequently Asked Questions
How much does the best online calligraphy course cost?
Prices of courses in this review vary from $10 to $234. Skillshare is a subscription platform costing $14 per month (billed annually). 
How long does the best online calligraphy course take?
Courses in this selection range from a couple hours to programs meant for several weeks. Don't forget to take into account the practice time.

Maria is a second year English BA student at King's College London with a real passion for creative writing, reading, and anything connected to text in general.