There's no one as synonymous with a sport as Tony Hawk is to skateboarding.
And with good reason. He revolutionized the sport, was the first person to successfully land a 900, and has created over 100 of skateboarding's most famous tricks.
Along the way he's also introduced countless people to skating and started a billion dollar game franchise. I practically grew up playing Tony Hawk's Pro Skater 2 and Ollieing down the street.
With the Tony Hawk MasterClass, you have the opportunity to learn skateboarding from the man himself.
However, you may be wondering, what will you actually learn in this class, is the content unique, and more importantly: is it worth the price?
In this balanced Tony Hawk MasterClass review I aim to answer those questions so you can decide for yourself if this is something you want to take.
But first, the highlights:
.
Quick summary
You will learn:
The very basics all the way through to some of the gnarliest skate tricks out there (tricks listed below)
The mental cues, tips, and tricks Tony Hawk himself uses
How to master the streets, parks, and vert ramps
From Tony's son, Riley Hawk, as well as world renowned skater Lizzia Armanto
About Hawk's career and how he defined the sport
The story behind the Pro Skater game series
Pros
Learn from Tony Hawk, Riley Hawk and Lizzie Armanto
Great selection and progression of tricks
Great entertainment and cinematography
Cons
Light on some trick details
Lacks safety information
Hard to follow at parts
Length of course: 1 hour and 45 minutes.
Best for: People who are serious about improving their skateboarding and fans of Tony Hawk. There's content for beginners to advanced. Street, park, and vert skating are all covered.
Overall: Great selection of tricks taught in an easy to understand way with logical progression in difficulty. Fun and entertaining to watch. Great if you're a Tony Hawk Fan (view details).
Here's what's in store in this Ton Hawk MasterClass review:
About Tony Hawk
About MasterClass
A sneak peak of what's included
Pros and cons
Who it's for
How much it costs
Is there anything better
What other people thought of the course
How unique the content is
What you'll need
The bottom line: is it actually worth the money?
So let's get started:
About Tony Hawk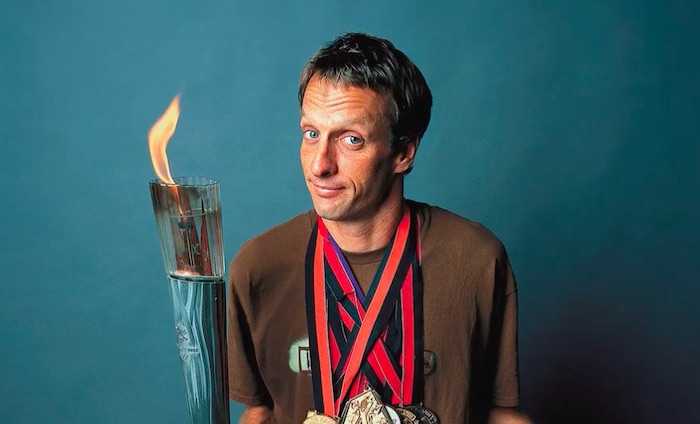 Anthony Frank Hawk, aka Tony Hawk, aka Birdman.
You know who he is so I'll be brief and point out some highlights/things you might not know:
Tony Hawk turned pro at just age 14
He has won over 70 skateboarding competitions, including 10 X Games titles
Hawk was the first person to land the 900. He did it live and succeeded on his 12th attempt
The Tony Hawk foundation has helped fund over 900 skate parks
Above all, he's an incredibly hard working, humble guy with a massive passion for skateboarding.
And if you've somehow managed to go without seeing the trailer for his MasterClass (it follows me everywhere I go), I highly recommend you watch it:
About Masterclass
MasterClass is a platform that allows a curated list of world class experts to teach you how they became successful.
You'll find over 85 different classes all taught by major names in their respective fields.
You can learn music from Hans Zimmer, cooking from Gordon Ramsay, science from Neil deGrasse Tyson, and many more.
Just how MasterClass is able to attract and persuade all these celebrities to teach you what they know is beyond me.
That being said, having taken many of the classes offered I can safely say that they aren't all good – though most are.
And so in this Tony Hawk MasterClass review I'll be helping you decide if this is the right course for you.
An inside look into Tony Hawk's MasterClass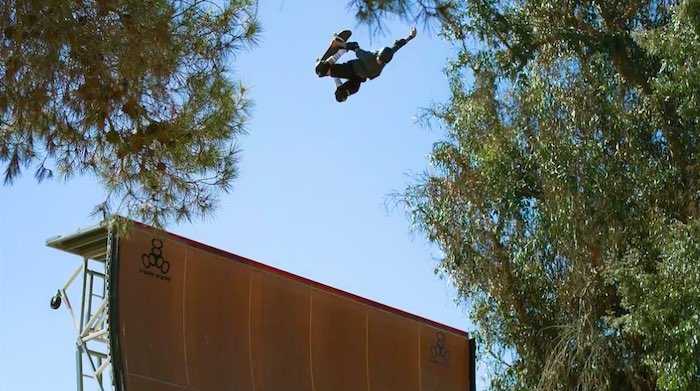 Essentially Tony Hawk is:
Teaching the very basics through to intermediate, advanced, and some of his very own signature tricks
Covering 3 different modes of skating: 1) Street, 2) Park, 3) Vert
Joined by Lizzie Armanto, a world famous pro park skater, and Riley Hawk, his son and a highly accomplished street skater
The class itself is 1 hour and 45 minutes long and consists of 16 videos. Alongside the video lessons you also get a 60 page detailed workbook which follows the course.
Hawk's MasterClass itself is broken down into 4 key sections:
Meet your instructor
Stepping on a skateboard
Learning 38 tricks
Inside Tony's tips and tricks
To give you a better idea of whether this course is for you I'll cover the highlights of each lesson, starting first with:
Section 1/4: Introduction
"In this MasterClass I'm breaking down foundational skate tricks and some of my own signature tricks for the very first time"
Tony Hawk's MasterClass kicks off with some wild footage of him skating throughout his life.
He goes on to explain that, "all the stuff you see in video games — we're going to show you in real life".
Section 2/4: Stepping on a Skateboard
Skills and Techniques
This lesson is gold for those who don't know how to skate already.
And, honestly, can be skipped for those that do.
You'll learn the fundamental elements of skateboarding, including:
How to tell if you're goofy footed or not (as it happens, Tony is)
The gear Tony Hawk recommends you get
How to generate speed
Different ways of stopping, pros and cons and how to perform each type
How to turn and avoid wheel bite
How to move without actually getting off the board through tic tacing
The Ollie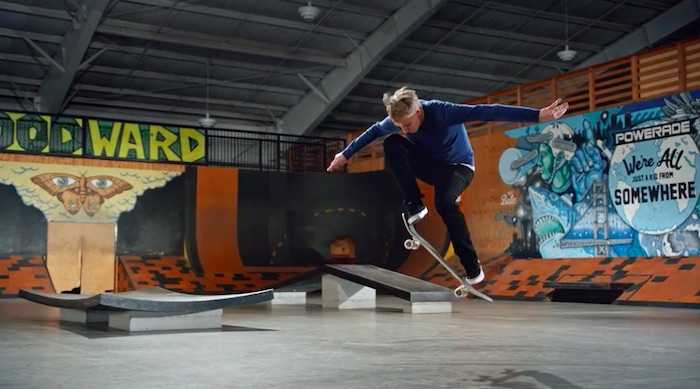 "The Ollie is the foundation to almost any trick on the street — and most tricks on ramps"
Almost every skate trick stems from the Ollie. And Tony Hawk teaches you exactly how to do it, how to perfect your timing, and the number 1 mistake beginners make.
Throughout the course you'll learn to Ollie on flat ground (pictured above).
How to Ollie over an object (imagine jumping over a park bench):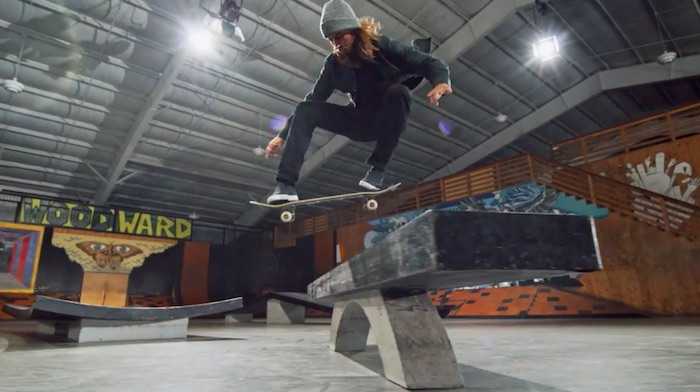 Ollieing on a ramp: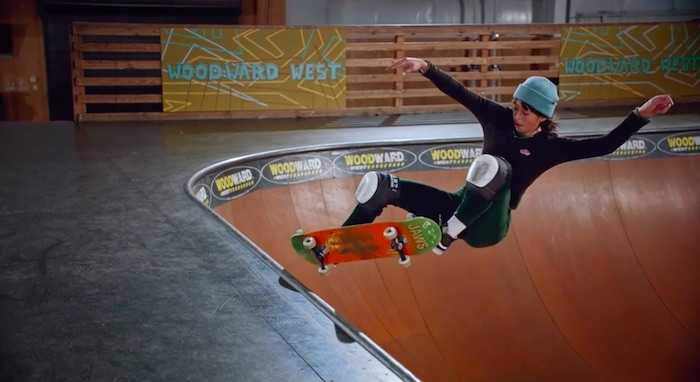 And ollieing on a vert: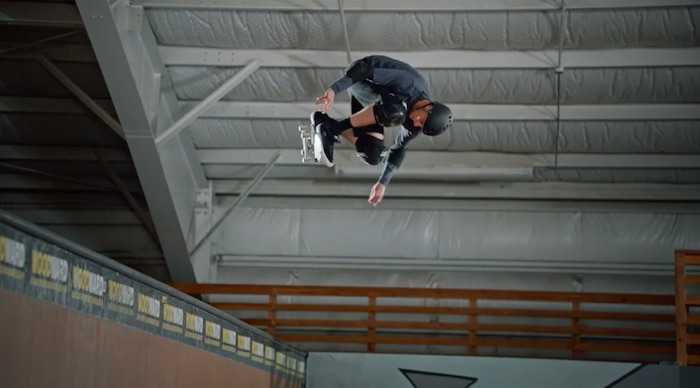 Damn.
As a side note — I definitely would have benefited had I watched this video as a kid when I was first learning how to Ollie. I hurt myself a bunch. To that end — it is a shame that TH doesn't explain how to fall to minimise damage…
From here we move on to:
Underdog to Icon, Trials & Tribulations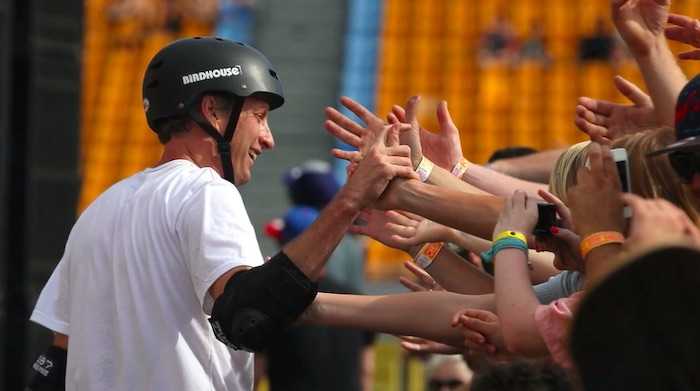 This is like a mini documentary on Tony Hawk's early life.
It's at this point you start to realise how one person essentially defined the sport.
You'll hear about how:
Hawk was a self described dweeb and nerd
Hawk first got intro'd to skating/what he loved about it
Skateboarding at the time was uncool and unpopular — tricks were rare and people didn't get air
Legendary Thrasher magazine once described Hawk as, "the king of no style"
And most importantly, how Tony slowly turned the tables and redefined the sport based on his unique style
PLUS you'll also hear about TH's first gnarly accident. It resulted in him regaining consciousness at the bottom of a swimming pool, concussed and teeth knocked out, at the age of 10!
Following that, the next lesson is Trials and Tribulations. This is a continuation from the previous lesson and highlights some of the lows Hawk has experienced throughout his journey.
Section 3/4: Learning 38 Tricks
Street Basics
"There's a lot to learn and we're going to teach you the best techniques"
This segment covers two fundamental skating tricks:
The backside pop shove it: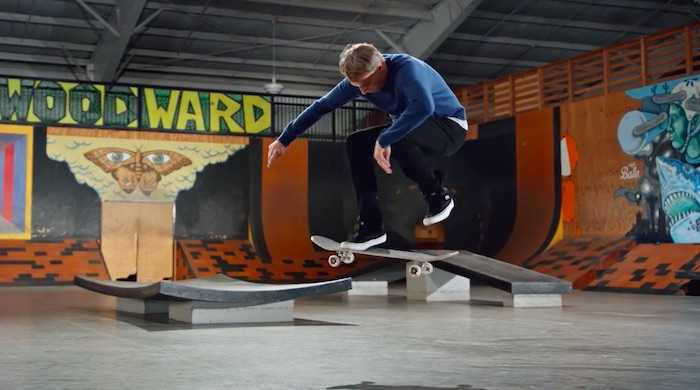 And the front side 180 ollie: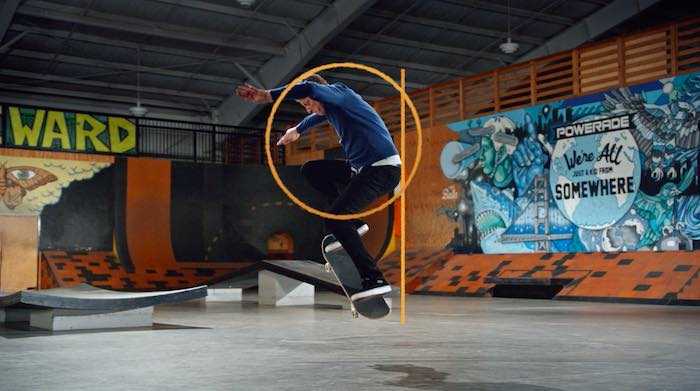 As you can see from the above image there are plenty of visual cues to help you master these techniques.
Street Intermediate & Advanced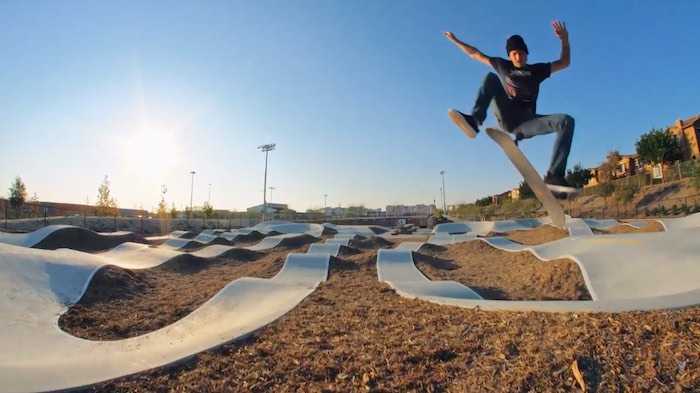 "Learning these tricks will open up a word of possibilities"
This segment is packed full of 11 tricks that'll enable you to turn the streets into your playground.
Among those tricks, you'll learn how to master kickflips and grinding. Through a series of progressions you'll end up being able to jump down a flight of stairs or grind down the rail.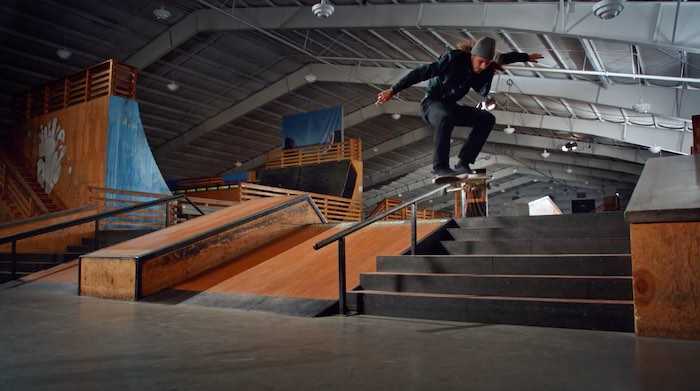 Honestly there's a great selection of tricks taught here that'll give you freedom over the urban world. They are taught in a logical way and each trick builds on elements from the one before. The structure and progression is really strong.
I still haven't managed to jump down a flight of stairs yet — however I feel like I'm getting close!
Park Basics
In the basics section you'll learn best practices of skating in a park — including the rules of the ramps and interacting with other skateboarders. You'll also gain insight into 'dropping in' and 'carving' out of ramps.
If you haven't been to a park yet this will give you the confidence/inspiration to go.
Park Intermediate & Advanced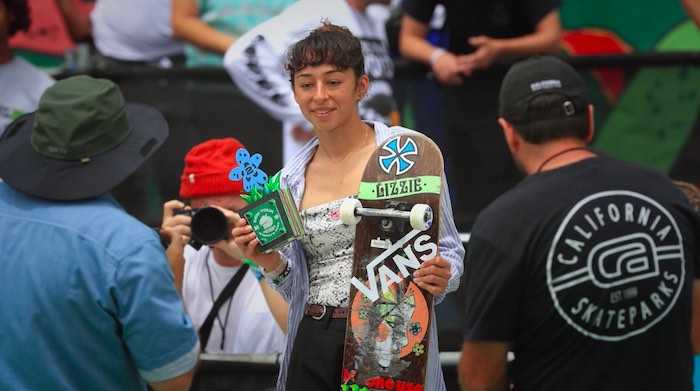 This section comprises 8 infamous park tricks that you'll definitely want to add to your repertoire.
Alongside this, you'll learn critical tips to avoid hanging up on the coping as well as avoiding slamming out on the straight.
As tricks are introduced, you'll learn what they are, how to perform them, mistakes to avoid, and tips on perfecting them.
Vert Basics & Intermedia
"You're flying anywhere from 6 to 10 feet above the lip"
10 tricks are taught here:
Pumping
Fakie
Kickturn
Knee sliding
Backside air
Backside ollie
Frontside rock n roll
Lipslide
Frontside tailslide
Madonna
You'll learn how to pick up speed (pumping) and how to bail safely (knee sliding).
To a rock'n'roll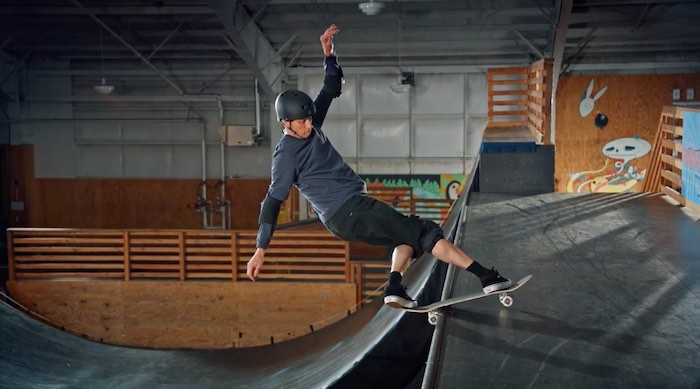 Through to the Madonna: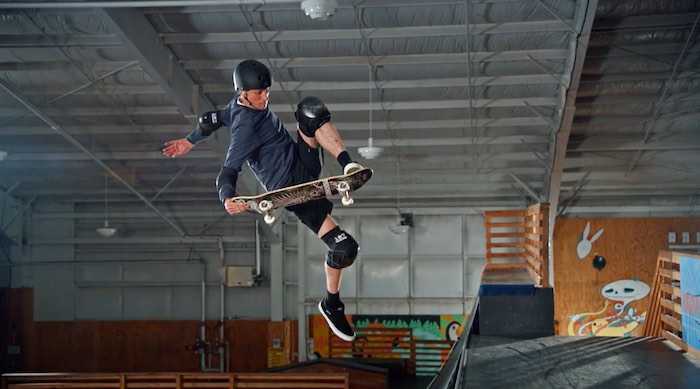 You'll also get to hear a great little anecdote on the name of that trick!
The reality is I've never tried or even thought about this type of skating. That being said, watching the Tony Hawk MasterClass did inspire me to at least consider it.
Vert Advanced
These are some of the hardest tricks out there and it's crazy to have Tony Hawk teach them.
There's 5 tricks in total — the Vert and McTwist being the ones I think are the best.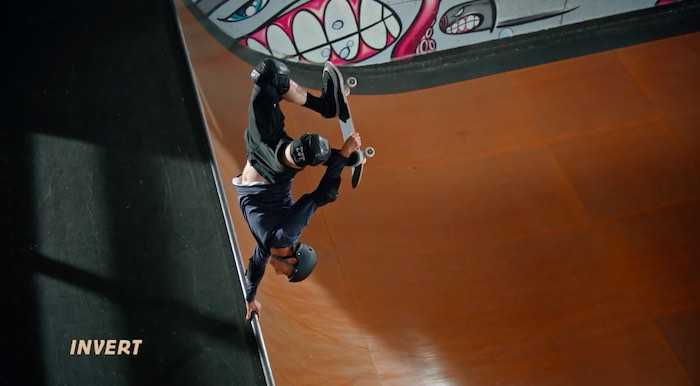 Again — wayyy out of my league. But still cool to see.
Section 4/4: Inside Tony's Tips and Tricks
Playback: the 900 & Kickflip McTwist
"I'm either going to make this trick or they're going to take me away in an ambulance"
This was the moment Tony's name became synonymous with skating.
When Hawk hit the 900 at the X Games 1999, it was the first skateboarding clip to make it on to ESPN.
This trick catapulted skateboarding — and Tony Hawk with it — into the mainstream.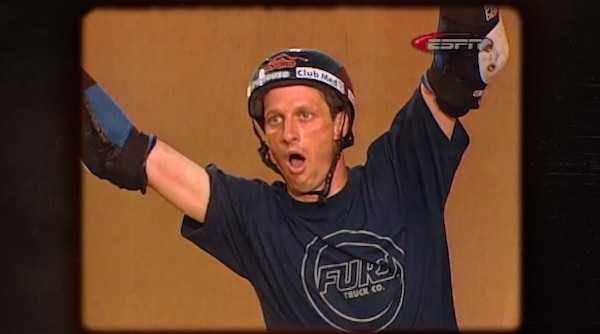 Tony Hawk's expression of disbelief after nailing the trick after many failed attempts.
Following that we're guided through the origin of the Kickflip McTwist.
This segment is highly entertaining and it's awesome to get the insider view on it.
How to Win
"You're only as good or as popular as your last trick"
Again this a really cool documentary-esque segment on Hawk's career. You'll hear about his retirement from competition and how as a result his skating improved significantly.
For me this section was pure entertainment — but for those who want to make skateboarding more of a career — whether through competition or skate videos — then you'll likely find it valuable.
Hawk even shares a few of competition tricks he believes enabled him to stand out from the competition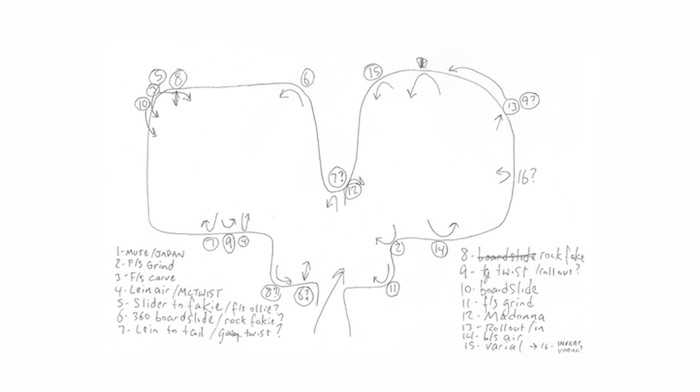 An Insider Look: Tony Hawk's Pro Skater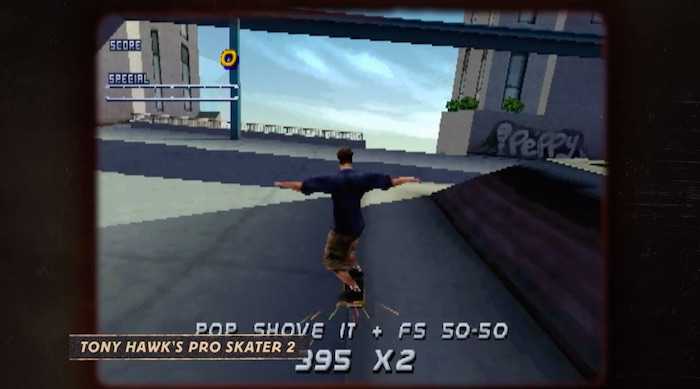 This is definitely the moment I was waiting for.
Nostalgia level 1000.
This section covers everything you'd want and more. How the video game came about. Hawk's involvement. The structure of the deal. And how through serendipity Hawk managed to avoid the worst financial decision of his life.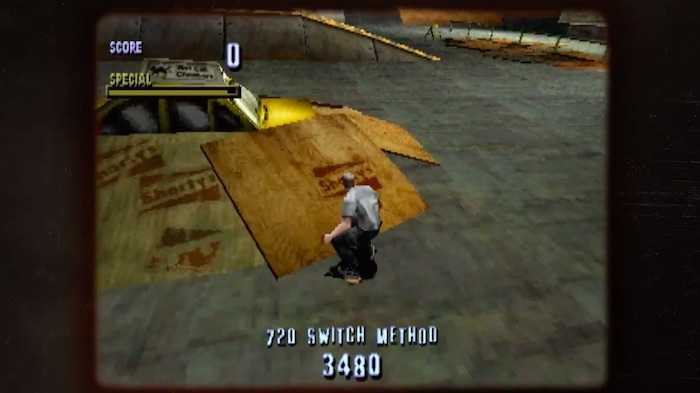 Essentially it's about how a beloved game was made and how a franchise was born.
The Future of Skateboarding
"Now we're seeing things that I thought were truly impossible… And I don't see it slowing down… This new generation of skaters has much more opportunities"
The course comes to a close with some inspirational words from Hawk and his perspective on skateboarding.
It's an optimistic look at the future and how skating can teach you critical life skills.
What I liked about Tony Hawk's MasterClass
Learn From Tony Hawk, Riley Hawk and Lizzie Armanto
Tony Hawk is a living legend and skateboarding rockstar. He's the reason so many people skate.
He's a phenomenal teacher and all round great guy. Similarly, Riley and Lizzie are so down to earth and are highly accomplished in their respective fields.
This is your chance to get their perspective on skateboarding.
And really, how many opportunities you've had in your life to learn from someone like Hawk? I know for me the answer is close to 0. I learned how to Ollie from my next door neighbour as a kid!
Great Selection and Progression Of Tricks
Ultimately what you want in a skateboarding course is one that'll teach you a series of rad tricks that you can easily master.
I really believe that there's a good selection of tricks — especially on the street side. You're learning famous and impressive tricks in a logical sequence.
You start with foundational skills like Ollies and Kickflips and by the end you're doing tricks most people can't even dream of.
Hawk's and co tell you what you need to hear in order to perform all these tricks.
Overall 38 tricks are covered.
Great Entertainment and Cinematography
Even those who didn't like the course that much agreed that it was fun and beautiful to watch.
Hearing Hawk narrate key moments from his life/skateboarding as a sport is so enjoyable and MasterClass have done a great job with the filming/editing.
Whatsmore, adding all the documentary-esque lessons really helped breakup the content and kept it an easy watch.
What I think could improve
Light On Some Trick Details
Most of the tricks are introduced very well. You'll learn the mechanics of the trick, how to perform it, common mistakes, and what to watch out for.
The problem is that not all tricks are introduced quite as thoroughly as the rest. There's a bit of a consistency issue.
They've really trimmed the fat out in this MasterClass and where you might find a 5-10 minute YouTube video on a trick it'll be boiled down to the bare essentials and be covered in c 2-3 minutes in the class.
I also think the class would benefit from some guidance on how the tricks should be practiced. Both on the micro (with elements of the trick practiced in isolation) as well as macro (do this trick X number of times before attempting the next one).
At the end of the day — this isn't school and skateboarding isnt an academic subject. Best not to expect it'd be taught so rigorously. It's about having a good time.
Lacks Safety Information
My early memories of skateboarding were of me being in pain. A lot. Maybe that's more of a reflection on me than anything else.
Needless to say — besides Hawk mentioning the protective gear you should wear at the start, the first time you're taught how to fall safely is in the latter stage of the course when you're learning vert skating.
Technically at this point you've already learned how to jump over a bench or fly down a set of stairs.
Quite crazy there's not more tips on how to come out of it all safely.
Hard To Follow At Parts
In one lesson 11 tricks are demo'd (Street intermediate & advanced). IMO this should have been broken down into separate videos.
MasterClass have helpfully left timestamps on the video so that you can select the section that's relevant:

Nevertheless, I found it difficult to keep up and kept on having to pause and rewind etc.
Probably a small point and I'm just nit picking!
Who is this course for?
The best part about this MasterClass is there's something for everyone.
It really does cover the absolute basics all the way to incredibly complex tricks.
Naturally, a beginner will get the most value as the entire course will be relevant for them.
That said, even if you've been skating for a number of years I'm confident that some of the tricks — especially in the vert section — you'll likely not know.
In my opinion, the Tony Hawk MasterClass is for someone who:
Is serious about getting better at skateboarding
Wants to skip bad advice and learn directly from some of the greatest skateboarders of all time
Wants to master street, park, and/or vert skating
Is keen to learn 38 tricks
Big fans of Tony Hawk
How much does the course cost?
MasterClass has been known to update their pricing and so for the latest purchasing information please check here.
A MasterClass subscription package costs $180 per year. AKA $15 a month. Currently there's no way to buy courses individually.
With the subscription, you have access to all the 80+ courses on MasterClass. Therefore you get the most value if you take multiple classes.
For example, if you're able to find at least 4-6 classes you like, it means you're effectively paying $30-$45 per course. ($180 / 6 classes = $30).
Bearing in mind that these classes are taught by world experts IMO the value is unbeatable. It's sort of a way to hack learning.
Whatsmore, MasterClass also offers a 30 day refund if you're unhappy with your purchase.
Alternatives to Tony Hawk's MasterClass
You've essentially got 2 options here:
1. YouTube: there are literally a ton of skate videos on YouTube available completely for free. The main pro of these, as you've guessed it, are that they cost $0.
However, the cons are that:
The instructors are not as qualified as Tony Hawk. The tips you'll get are therefore less likely to be beneficial. You might pick up bad habits that you'll later need to correct or get injured unnecessarily.
More time/effort sorting and finding what you need. With the MasterClass you are getting a carefully packaged selection of tips, tricks, and unique insights from Tony Hawk.
If you are wanting to go down this route, then Skate Hacks YouTube channel is a good option. It's not Tony Hawk and it's not MasterClass production values, but it's informative:
2. Udemy: I haven't taken any of these classes myself, and so I really can't comment on how good they are. However looking through the options I was surprised at: 1) the expense, 2) how unqualified some of the teachers are.
In sum I'd suggest taking the plunge and going for a world renowned teacher and get the MasterClass, or try and make do with what you can find on YouTube.
Tony Hawk MasterClass: what others have said
The aim of this Tony Hawk MasterClass review is to create the best and most comprehensive review on the internet. To that end it's worth highlighting other people's experiences with the class.
I googled "Tony Hawk MasterClass Reddit" to get a general sense.
The three main criticisms were that:
Some people felt the trick tips were surface level and lacked depth
Some thought the best way to learn to skateboard is just to go out and skate
The vert classes were out of reach
I do agree that some tips lacked depth (as mentioned above).
But honestly thought that the second point was obvious — you aren't going to turn into Hawk by watching a 2 hour class. You have to go out and put what you learnt into practice. And to maximise results its best to, well, learn from the best…
I agree with point 3 but overall I enjoyed those lessons from a purely entertainment/inspiration aspect. Plus by that point I felt I'd gotten a lot of value out of the previous sections.
Those that enjoyed the class were hyped it was taught by Tony Hawk and found the selection of tricks super strong. People also felt it really delivered on the nostalgia value.
There were a couple things that everyone did seem to agree on — even those who overall didn't enjoy it that much. Namely that:
The cinematography was excellent
Found it entertaining
This was a great/well balanced video review I found of the course:
I think the extent that you'll enjoy this course depends on how much of a fan you are of Hawk and how much you respect him.
For me, he's a living legend with a ton to say and it's invaluable to get his perspective.
Is the course content unique?
In all honesty: probably not.
Sure — if you spent enough time trawling through the internet you could probably assemble 80% or so of the content that's in this MasterClass.
Tony Hawk's journey is well documented and there's no completely new, never seen before trick taught in the class.
That being said — what is unique is having all of the content presented and neatly packaged in this way.
You're getting famous tricks taught by Tony Hawk with the exact mental cues/techniques he himself uses.
Plus I bet that Tony Hawk has never gone as detailed about his journey then what he shares in this class.
I've certainly never come across something nearly as comprehensive as this.
What you will need
While you don't need anything to actually take the class — if you are going to put into practice what you'll learn then you'll need a:
Skateboard (duh)
Helmet
Knee pads
Elbow pads
Skate shoes
There's a comprehensive buyers guide that comes with the MasterClass so you can always purchase the class and then buy according to your needs.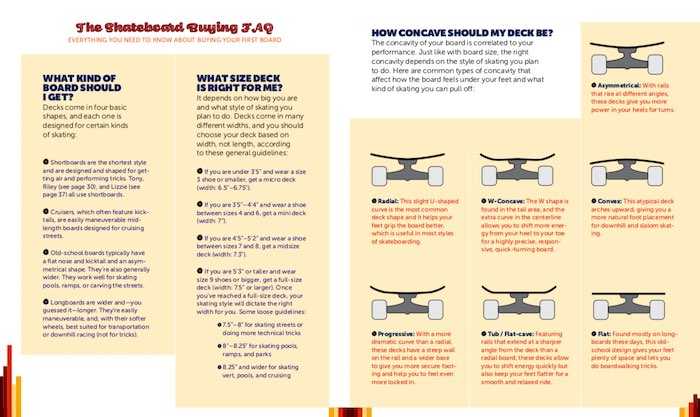 Tony Hawk MasterClass: Is it worth it?
In a word: yes.
This is a comprehensive course that will teach you a whole host of impressive tricks from a living legend.
There's something for everyone here, no matter what your experience level is or what type of skating you enjoy.
Naturally beginners will get the most value out of this course as they could learn from every section (eventually). That being said there is definitely plenty in the intermediate and advanced sections for more experienced skaters. And potential tricks that only pros/competition winners could do.
The main criticism of the course is that the tricks should have been more consistently introduced with clear practice schedules. For me, this wasn't really an issue and is more to do with expectations. This isn't school and skateboarding isn't academic.
I found that the tricks were largely taught very well, there was a good variety, and I liked the progression between tricks.
The course itself is really well produced and the mini documentary-esque lessons are entertaining and add a lot of value to the overall experience.
What's more, with a MasterClass all-access pass you have the option of taking 85+ other courses all included within the price. There are people as famous and as celebrated as Hawk in teaching music, cooking, poker etc.  And of course other sporting greats such as Steph Curry, Simone Biles, Serena Williams and Alex Honnold & Tommy Caldwell.
On this front I really don't think there's another platform out there that can provide as much value.
Frequently asked questions
How much does the Tony Hawk MasterClass cost?
A MasterClass all-access-pass costs $180 a year ($15 a month). This gives you access to Tony Hawk's class, alongside 80+ other courses.
How long is Tony Hawk's MasterClass?
Tony Hawk's MasterClass is 1 hour and 45 minutes long and consists of 16 videos divided into 4 sections.
Can you get Tony Hawk's MasterClass for free?
Unfortunately you cannot get the Tony Hawk MasterClass for free. But MasterClass has a range of purchasing options and offers refunds if you're not happy.
Can I get a refund if I don't like Tony Hawk's MasterClass?
Yes, MasterClass operates a 30 day refund policy if you purchase directly through them. If you purchase through other providers, their returns policy may apply.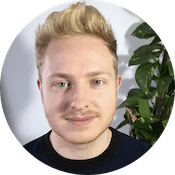 Finn is the CEO of Learnopoly and has 6 years experience in financial services, first at a tier 1 bank then at a financial technology startup, working in strategic partnerships and business development. Finn has built several internet businesses and has a deep passion for learning.