Simone Biles is the most decorated American gymnast of all time. At just 24 years old, she holds 4 Olympic Gold medals and is a revered name across the world. You'll find gymnasts everywhere marvelling at "The Biles" signature moves on vault, balance beam and floor.
Of course, a MasterClass by Simone Biles is a golden opportunity, but going into the class, I had some reservations. Gymnastics isn't one of those things that you can just pick up at home. You need specialist equipment and highly qualified coaches to train safely and effectively.
So would the Simone Biles MasterClass be a helpful tool or not? Or could it even be downright dangerous?
In this Simone Biles MasterClass review, I'll go into every little detail so that you can decide whether this MasterClass is right for you. I've watched every single class through and considered the opinions of actual gymnastics coaches to bring the most balanced and informed overview possible.

It's going to be super in depth, but if you're short on time, here's the lowdown:
.
Quick summary
You will learn:
Gymnastics fundamentals and advanced skills for each gymnastics discipline: uneven bars, floor, balance beam and vault
Which fundamental drills that Biles comes back to again and again
Core objectives within each drill and practical advice such as how many reps to complete in each practice
How skills translate into competition, and where to watch out for deductions
How to prepare to build confidence
Simone's own journey to becoming one of the best gymnasts of all time
Pros
Get to see Simone Biles in action and learn her top tips for levelling up your gymnastics
Biles is a great teacher: confident, clear and concise
Incredible on-screen graphics and animations work alongside Biles' instruction to help you understand critical components
A great combination of accessible skills and drills, and inspirational elite skill demonstrations
Excellent workbook with additional information and suggestions for getting the most out of your gymnastics journey
Cons
Not for everyone — gymnastics is a niche subject so not as accessible as some other MasterClasses
At least 4 classes focus on higher and elite level skills which will be out of reach for most students
Some information is very USA Gymnastics focused and less helpful for international students
Length of course: 17 videos totalling 2 hours and 11 minutes of content (average lesson length ~8 mins)
Best for: young gymnasts (with their parents!) and gymnastics coaches, Olympic hopefuls, anyone with an interest in the mindset of such a successful athlete, and of course, Simone Biles fans!
Overall: a really inspirational MasterClass with lots of practical tips and advice. Even if you're not a gymnast, there's a lot to learn from such a talented and driven young woman. I absolutely loved the class and found myself rewinding to rewatch skills with awe!
Now you've had the brief version, let's get stuck into the detailed review. Here, I will be covering:
About Simone Biles
About MasterClass
An inside look into Simone Biles' MasterClass
What I liked about Simone Biles MasterClass
What could be improved
Who this course is for
How much Simone Biles' MasterClass costs
Alternatives to Simone Biles' MasterClass
How long it took to complete
Whether the content really is unique
What you will need
And ultimately, is Simone Biles Masterclass really worth it?
About Simone Biles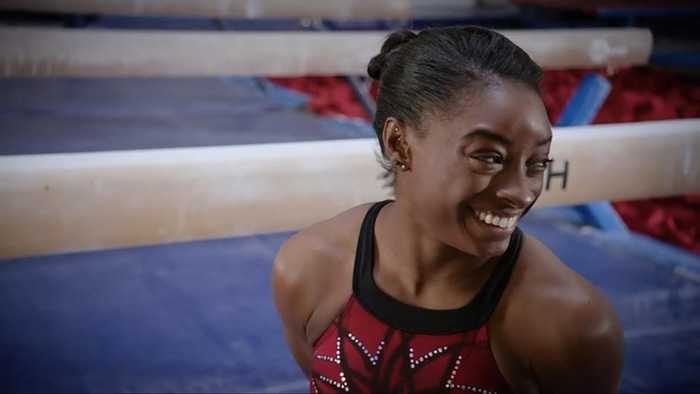 Simone Biles is a sports superstar and not only is she the most decorated US gymnast of all time, she's widely considered the best gymnast of all time.

Her story wasn't always so glamorous though. As a young child, Biles was in and out of foster care before being officially adopted at the age of 6. In later years, she opened up about being a victim of Larry Nassar in the USA Gymnastics sex abuse scandal.

To say that she hasn't had it easy is a massive understatement.
Biles has completely laughed in the face of adversity, channeled unbelievable strength, discipline and resilience, to win her 30 Olympic and World Championship medals.

If anyone knows how to build a successful gymnastics career up from nothing, it's her.
If you haven't seen the MasterClass trailer yet, it's well worth checking out.
About Masterclass
MasterClass is an online learning platform with one very simple mission:
To enable everyday people to learn from world-class experts.
The platform boasts over 100 celebrity instructors who are at the top of their game, including Gordon Ramsay, Serena Williams, Helen Mirren, Annie Leibovitz, Wayne Gretzky, Lewis Hamilton and countless others.

I've taken tonnes of MasterClass courses to date and in general, I absolutely love them. That said, some courses are better than others and the learning style isn't for everyone so it's important to do your research when deciding if it's right for you.
An inside look into Simone Biles' MasterClass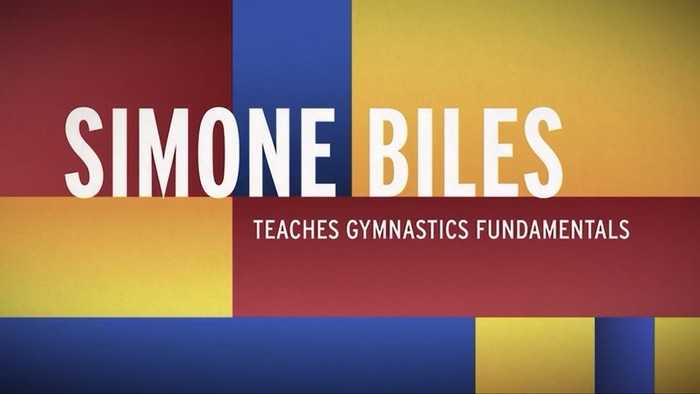 Simone Biles' MasterClass is made up of:
17 video lessons totalling 2 hours and 11 minutes of content (average lesson length just under 8 minutes)
56 page workbook full of detailed lesson breakdowns, drills and additional information
Community forum where you can interact with other students taking the course. There have also been opportunities to interact with Simone herself through MasterClass Live sessions
Overall, the lessons are split into two categories: practical technique and helpful advice.
In the practical lessons, Biles takes you through basic and advanced skills, and often talks you through a case study, critiquing her own competition performances.
These practical lessons are interspersed with lessons on topics such as overcoming fear, performing under pressure and nurturing discipline.
In this lesson by lesson breakdown, I'll be grouping classes together in topics so that you can easily get a sense of the broad themes.
Uneven bars: Lessons 3-5: Uneven Bar Basics, Advanced Basics and Case Study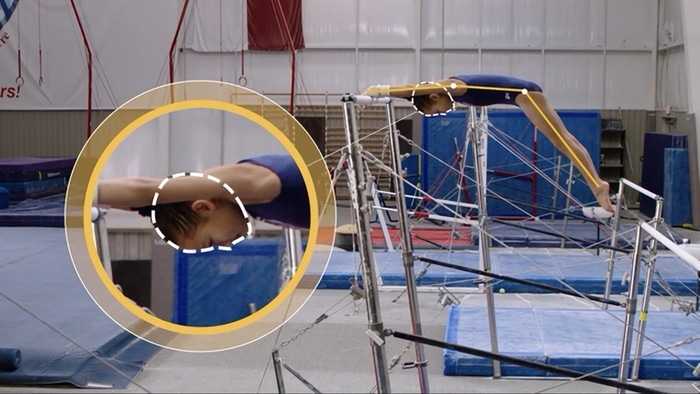 In Lessons 3-5, Simone Biles takes you through Uneven Bars 101 — from basic through to advanced skills. You'll get an inside look at her drills and top tips for executing each skill, and she also walks you through some case studies of her own competition routines.
The basic skills are demonstrated by an 8-year-old gymnast from Biles' gym, with Simone explaining and coaching via voiceover.
You'll get to see Simone in action for the advanced skills, and of course during the real-life case studies.
Throughout these classes, you will learn:
12 drills and skills to up your uneven bar game
Which fundamental drills that Biles comes back to again and again
Core objectives within each drill and practical advice such as how many reps to complete in each practice
How skills translate into competition, and where to watch out for deductions
How to prepare to build confidence
Strengths and flaws within Simone Biles' own routines from her first international assignment in the 2013 American Cup through to the 2018 US Classic
In each of the lessons, the video footage is edited to help you really understand the subtle movements and placings required.
You have animated on-screen graphics, zoomed-in sections, parts that are slowed down, and paused footage to allow you to process each skill properly.
Floor: Lessons 7 & 8: Floor Basics and Advanced Basics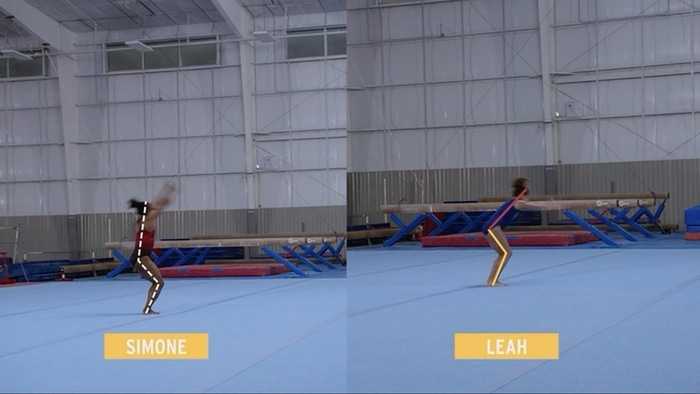 In Lessons 7 and 8, Biles takes you through essential floor skills and drills: from basics to advanced.

As with the class on uneven bars, the basics are demonstrated by a younger gymnast. This time, 9-year-old Leah performs the skills (and she almost steals the show!).
Simone demonstrates the advanced skills herself, breaking it down on a voiceover as with previous lessons.
In these lessons you'll learn tips and tricks to nail:
Cartwheel
Roundoff
3 bounce to bounder
3 bounce to front tuck
Front and back handspring progressions
Snap down drills
Layouts
Double double
Combination pass
And you'll also get to learn Simone's signature move — the Biles.
As well as breaking down how to do the movement, you'll also get to hear the story of its inception.
As ever, the graphics and replays of each movement are incredible quality and really help take this class to the next level.
Balance Beam: Lessons 10 & 11: Balance Beam Basics and Advanced Basics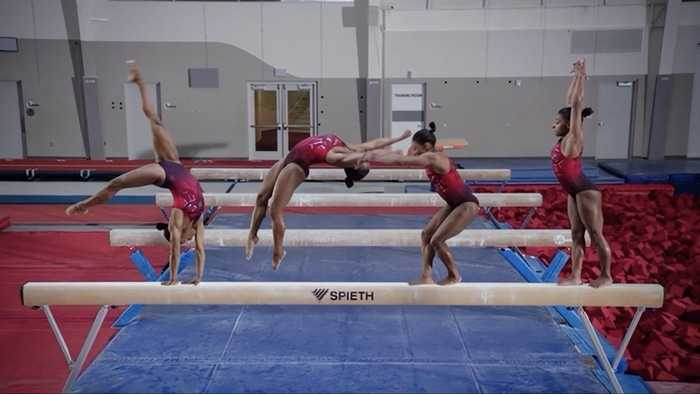 In Lessons 10 and 11, you get to learn Biles' top tips for the balance beam.
Again, the basics are demonstrated by a young gymnast — Paislee this time — while the more advanced skills are demonstrated by Simone herself.
As with all previous technical videos, Biles gives you the lowdown of the skill, highlighting key mental cues and objectectives within each skill.
Here, you will learn about:
Walking drills
Kicking drills
Jumps
Handstand
Cartwheel
Walkovers
Back handspring
2 back handsprings
Back handspring 2 feet
Front handspring
Front aerial
Back handspring layout layout
Split jumps and leaps
Double double dismount
Lots of these skills are ones that Biles uses in her own balance beam routines, so it's really amazing to get such detailed insight into each of them.
Vault: Lessons 13 – 15: Vault Basics, Advanced Basics and Case Study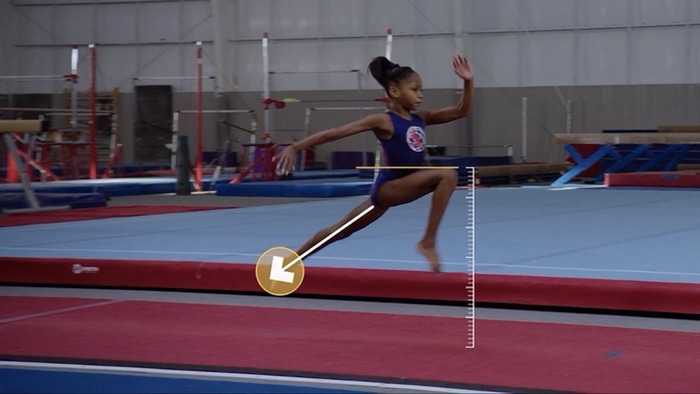 Lessons 13 and 14 are the last technical skills and drills classes of the course — this time on vault. You'll also get to see case studies from some of Biles' most important vault performances.
About vault, Simone says:
"One of my most favorite parts about vault is the height I get off the table because sometimes it makes me feel like I'm flying."
But, she also stresses that it can be dangerous and so it's imperative to spend time with the basics.
Here, she offers some great basic drills to strengthen your vault game, with 8 year old Jurzie Blue demonstrating them. You'll learn:
Feet to seat
High knees
Deer runs
Sprint
Front handspring flatback
Yurchenko timer
Landing drill
In the advanced section, Simone shares her tips for executing Yurchenko layout, full and 2.5, as well as the Cheng.
Lastly, you'll get to see Biles in action on the vault in lesson 15. Here, she breaks down each performance: from how she was feeling to what went wrong, and how she practiced for each event.
Advice For Gymnasts: Lessons 1, 2, 6, 9, 12, 16, 17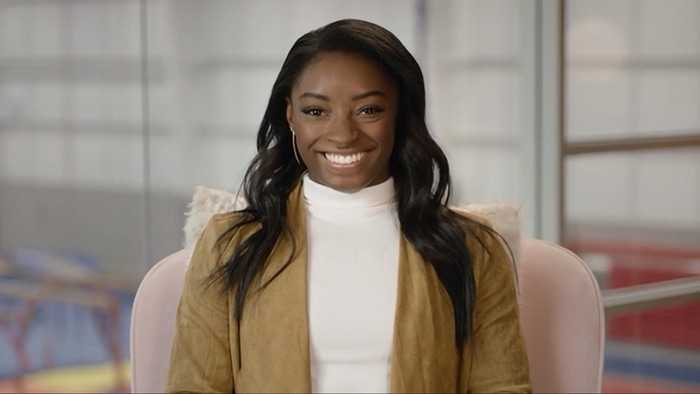 Interspersed throughout the technical lessons are words of wisdom from Simone. For me, this class struck the balance perfectly between practical skills and advice and I really enjoyed hearing Biles' unique insights into key aspects of being a gymnast.
Throughout these classes, she covers:
How to approach learning new skills
Tips for overcoming fear
Everything you need to know about competing on meet day
Working with coaches
Tips for setting goals
Navigating the journey of maturing as a gymnast
In each lesson, you'll hear Simone's own philosophy and coping mechanisms and how you can adopt them into your life, whether you're a gymnast or not!
What I liked about Simone Biles' MasterClass
Clear and concise teaching
Simone didn't get to the top of her game by accident, and this really shows in her teaching style.
Like any true expert, she knows exactly which tweak will render results and showers you with everything from mental cues to practical training tips.

The time spent on each individual drill is actually very short — usually around 2 minutes — but she packs the time full of high-impact words that are concise enough to actually focus on while you complete the skill.
Amazing on-screen graphics and production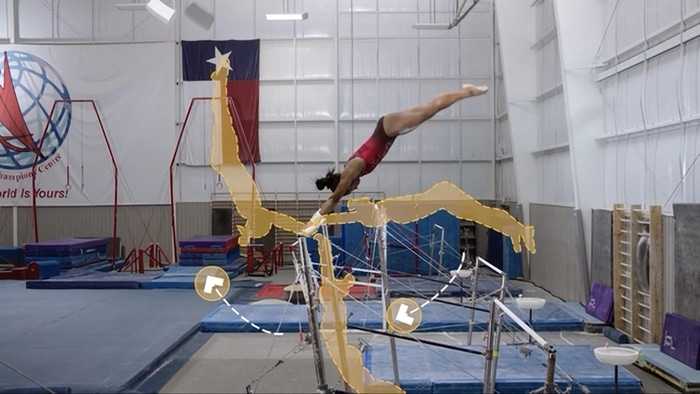 The MasterClass production team needs a huge round of applause for this MasterClass. Biles' teaching is, of course, on point, but it's also greatly supported by the way the class is produced.
For every skill, you'll first see a real-speed version.
Following that, there are pauses, zoom-ins, circles, trajectory lines, and all sorts of other helpful animations to help visually demonstrate what Biles is instructing.
You can get a little glimpse of this in the trailer but it goes into so much more detail during the actual classes.
Biles is incredibly inspirational
Of course, all of the MasterClass instructors are inspirational in one way or another, but for a sport like gymnastics, it's critical to have an inspirational teacher.
The athletes who will get the most from this MasterClass will be very young — likely under the age of 10.
That this class isn't taught by a 60 year old gymnastics coach, but rather a small, bouncy woman in her twenties, is so motivational for a young gymnast.
And if you don't fit into that demographic, her approach to dedication and hard work is pretty inspirational for just about anyone!
Quality workbook
The workbook is 56 pages and breaks down each skill and drill that is covered in the video lessons.
You can see step-by-step instructions for completing the drills, and also check your form against the photographs of each being demonstrated.
As with the video lessons, the practical instructions are interspersed with advice for gymnasts. The advice here goes above and beyond what Biles addresses in the videos and gives extra tasks and suggestions for going the extra mile.
Several gymnasts and coaches have commented that the workbook is a resource that could be used by any gymnast for years, so well worth downloading it to your computer so that you can keep it forever!
What I think could be improved
Not for everyone
There are 3 categories of people that I think wouldn't benefit from this course.
Absolute beginner gymnasts
If you're looking for an online gymnastics course so that you don't have to sign up to a gym, this is not for you.
Right at the beginning of the course is a disclaimer which says these skills should not be practised without supervision and really, to get the most out of this course, you have to already be into gymnastics.
Male gymnasts
The course also only focuses on women's gymnastics disciplines — uneven bars, balance beam, floor and vault — so it's definitely less suited to any aspiring male gymnasts.
Some very inaccessible skills
While the basic skills that Simone shares are very widely accessible, the advanced skills push towards elite level gymnastics. Some of Simone's signature moves have only been successfully executed by a handful of gymnasts in the world.
4 classes include these advanced skills and would be inaccessible to most people taking the course.
(That said, they are AMAZING to watch! I found myself rewinding and watching again and again. And again!)
Some parts of the workbook very US focused
The workbook mostly covers each of the drills in detail with written instruction and photos to help guide you on your way.

Other parts have additional information, and one or two of these sections are very US focused. For example, there is a section explaining which programs to participate in to help you get to the Olympics.

This is amazing if you are an American gymnast, but less so for any international students.
Who is this course for?
Biles is an incredibly inspirational person and even non-gymnasts could get a lot from this course.
That said, to get the most of the Simone Biles MasterClass, you'll likely be a little more niche.
This class is perfect for gymnastics coaches and also for parents to watch with their budding gymnasts. In fact, the majority of students in the community forum fit into this demographic.
It's undoubtedly an amazing resource for a young gymnast, being able to watch Simone throughout her journey and understand the technique and commitment that she's applied throughout her gymnastics career.
That said, the skills and drills are not suitable for trying out without adult supervision so it's best that children watch alongside a parent or guardian.
The basic skills are suitable for most beginner gymnasts but the advanced skills really fall into the higher and elite level. This means that, depending on your skill level, some classes will be more relevant than others, but all are fascinating to watch.
How much does the course cost?
MasterClass pricing may have changed since this review was written, so for the latest purchasing information please check here.
At the time of writing, a MasterClass subscription costs $180 per year which is around $15 per month.
With the subscription, you have access to all the 100+ courses on MasterClass from the likes of Gordon Ramsay, Serena Williams and Natalie Portman.
The great thing about this plan is that the more classes you take, the less the effective cost per class is.
For example, if you're able to find at least 4-6 classes you like, it means you're effectively paying $30-$45 per course. ($180 / 6 classes = $30).
Bearing in mind that these classes are taught by world experts the value is unbeatable. It's sort of a way to hack learning.
What's more, MasterClass also offers a 30 day refund if you're unhappy with your purchase.
If you want to buy the course individually, there is a way to do this — however it's a little convoluted. You can buy a single MasterClass as a gift, and essentially gift the course to yourself. The price here is $90.
However, arguably the best value is with the All-Access Pass.
Alternatives to Simone Biles' MasterClass
Gymnastics has the potential to be incredibly dangerous, and so it is always best to start your gymnastics journey in a gym and with a coach.

You can find your local USA Gymnastics Member Club here.
That said, if you're looking for resources to help supplement your learning, there are a few alternatives to Simone Biles' MasterClass.
Online
There are several gymnastics courses available on Udemy, including one by Mary Lee Tracy of Cincinnati Gymnastics Academy.
And some gyms are also offering virtual online classes via Zoom.
Literature
Of course, if you're interested in Biles' MasterClass more the inspiration and less for the drills, you can always check out her autobiography: Courage To Soar.
The Skills:
The Skills is a brand new online learning platform that provides online courses taught by sporting greats and qualified exercise coaches.
Unlike MasterClass, The Skills specializes in sport-based courses, and currently offers instructional courses in sports like soccer, football, swimming, etc. as well as more general wellness courses covering topics like mobility, confidence and motivation.
Currently, The Skills boasts names like Michael Phelps, Megan Rapinoe, Larry Fitzgerald and Shaun White, with more being added all the time so gymnastics might soon feature on that site.
If dance is more your thing, check out our best online dance review.
And on the off chance that you might be considering learning a martial art online, check out our article: Can you really learn Martial Arts online first!
Simone Biles MasterClass: what others have said
In general, it seems like fewer people have taken Simone's class than ones with more universal appeal like Gordon Ramsay's.
And that's understandable as gymnastics is such a specialist niche!
That said, I did a deep dive on the internet to unturf the good, the bad and the ugly so I can share with you what gymnasts and coaches across the globe had to say.
Some had mixed feelings on how helpful it actually was:
"IMO it didn't really teach anything. It was kinda like, here's a couple basics and techniques to look for. But now here is how Simone does an Amanar vault....

If anything the best part was watching her mess up and talking about fear, focus, etc

But from a coaching standpoint, it was useless."
"To be honest it sounded potentially useless (at least for me) to take a master class from Simone, but she's amazing and I love her, so I couldn't resist. I've been doing gymnastics for over 30 years, so I expected Simone's class to be a combination of things I already know and things that are so ridiculously advanced that it won't help me. But to my surprise, some of her tips have already helped! I watched her lessons on bars right before going to the gym last week. I've been struggling with cast handstands my whole life, but I tried to focus on her advice… and lo and behold, I just popped into a perfect handstand."
Overall, even those who felt like the technique sections were helpful to them found the advice sections really eye-opening and worthwhile.
How long it took to complete the course
The course comes in at a little over 2 hours and I watched it over a week or so. That said, I really think it's a course that you stick with for months, if not years.
There's no way you're going to watch the videos through once and then perfect all of your skills immediately. Gymnastics just doesn't work like that!
If you're really looking to level up your gymnastics, go through the workbook, create a journal as Simone suggests, video your practices and compare them to the world-class form that Biles demonstrates.
So, you can watch the videos in 2 hours, but to implement the course will likely be a long journey!
Is the course content unique?
As with many classes, the answer is both yes and no.
A lot of the basic drills and skills are not groundbreaking. Many of them, you'll be able to learn at your local gym with any gymnastics coach.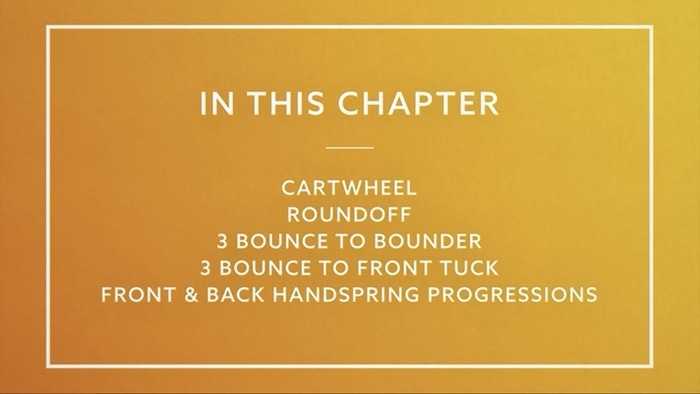 That said, the level of production is amazing and really helps to amplify the level of understanding. It's one thing to hear a coach say "hips parallel" and another thing to hear Simone talk you through the process with animations highlighting the correct movement.
This MasterClass is Biles' first and only course that is widely available and so by default it is unique.
Although you can hear her address some similar topics in interviews, it's an amazing resource to have Simone intentionally speak on what she considers to be the most significant challenges in gymnastics, and to be able to revisit them time and time again.
What you will need
If you just want to watch the class, all you're going to need is a device and that's it.
However, if you want to implement the skills learned throughout the MasterClass, you will need access to a gym and also a coach who can supervise. Even the more simple skills can be dangerous if attempted incorrectly.
Is Simone Biles' MasterClass worth it?
So, is the Simone Biles MasterClass really worth it?
I loved taking this class and it is an amazing resource for the right person!
If you're a parent of a young gymnast and want to gain a better understanding of correct form and training, this class is easily worth the money that you pay for it.
Likewise, teenage gymnasts pushing into the elite level will likely find it incredibly inspirational, and even seasoned coaches may learn new ways of teaching drills and skills.
For anyone who isn't a gymnast but already has a MasterClass subscription, it's well worth a watch, even if there's a 0% chance you'll ever touch a balance beam in your life!
And don't forget, with an All-Access Pass, you can learn from not only Simone, but also sporting greats such as Serena Williams, Steph Curry and Alex Honnold & Tommy Caldwell!
And, if you decide to buy and really decide that MasterClass isn't for you, you're covered by the 30-day money-back guarantee.
So, what are you waiting for? Check out Simone Biles' MasterClass here!
Frequently asked questions
How much does Simone Biles' MasterClass cost?
A MasterClass all-access-pass costs $180 a year ($15 a month). This gives you access to Simone Biles' MasterClass, alongside 100+ other courses.
How long is Simone Biles' MasterClass?
Simone Biles' MasterClass is 2 hours and 11 minutes long and consists of 17 videos covering practical skills and advice for gymnasts.
Can you get Simone Biles' MasterClass for free?
Unfortunately you cannot get the Simone Biles MasterClass for free. But MasterClass has a range of purchasing options and offers refunds if you're not happy.
Can I get a refund if I don't like the Simone Biles MasterClass?
Yes, MasterClass operates a 30 day refund policy if you purchase directly through them. If you purchase through other providers, their returns policy may apply.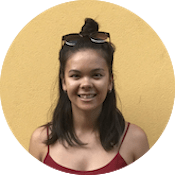 Glenda is an award winning full time professional harpist. Alongside harp she also plays the piano and violin. Besides music, her passions are cooking, writing and learning.