Imagine how cool it would be to be able to play the 'ukulele in just a few hours.
Well, the Jake Shimabukuro MasterClass promises that if you've "A couple of fingers to spare and you know how to count, you will learn this instrument".
But since you're here, you might be wondering:
How good is this MasterClass?
What will I actually learn?
Is it really worth the money?
So in this balanced Jake Shimabukuro MasterClass review I'll help you answer all those questions and more.
First, here's the headlines:
.
Quick summary
Learn how to:
Master the basics quickly
Get the best sound from your 'ukulele

Get to grips with chord groupings

Understand how Jake arranged Hallelujah and Bohemian Rhapsody
Arrange covers and compose original songs yourself
Use advanced techniques such as the vibrato and tremolo
Have fun with the 'uke
Pros
Effective and highly motivating basics section
Delivers a sense of achievement
Engaging and motivating teaching
Super helpful activities and resources
Outstanding production values
Cons
Big jump between the basics and the advanced sections
Some inconsistency in teaching methods
No chord chart provided
Course length: 20 lessons divided into 6 sections, totalling just under 3 hours.
Best for: Beginners who want to get going fast – BUT are willing to put in the work to progress to the more advanced techniques. Experienced players who want to elevate their playing with tips and insights developed over nearly four decades by the acknowledged king of the 'uke. You don't need to know how to read music to take this course.
Overall: A compelling, comprehensive and challenging course. Shimaukuro takes you on a musical journey that covers everything from how to hold the 'uke to composing a song on it. A generous outpouring of enthusiasm and passion in which Jake shares his processes, tricks and inspirations (view details).
Now for my more detailed Jake Shimabukuro MasterClass review, here's what I'll be covering:
A look inside the Jake Shimabukuro MasterClass
Pros and cons of the course
Is the content unique?
Is there anything better?
Verdict: Is the Jake Shimabukuro MasterClass worth it?
First the basics:
About Jake Shimabukuro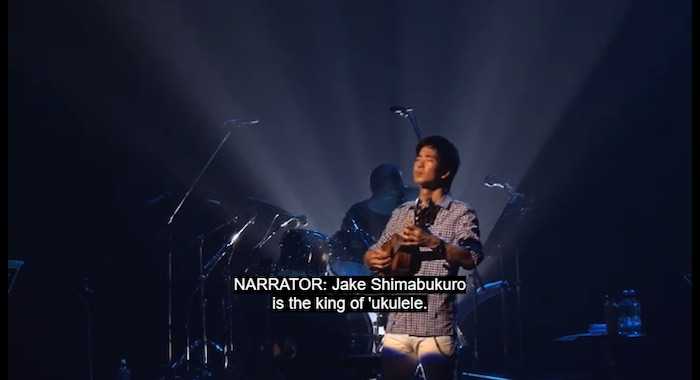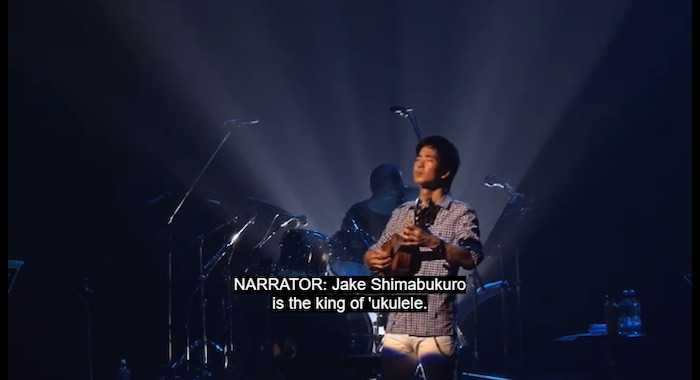 Shimabukuro is a 'ukulele virtuoso who's been christened the King of the 'Ukulele (LA Times).
He was catapulted to fame in 2006 and since then he's been on a mission to prove that the 'ukulele – often known as the underdog of instruments – truly has no limits.
He's collaborated withYo-Yo Ma, Cyndi Lauper, Ziggy Marley and Jimmy Buffett, performed all over the world, released countless albums and received over 31 music awards for his playing.
And if you haven't seen the trailer for the actually MasterClass itself yet, I highly recommend you check it out:
About MasterClass
MasterClass is an online educational platform, built around the idea that everyone should have access to genius.
The instructors are all A-list celebrities who have earned global recognition for excellence in their fields of expertise.
It brings celebrities into your home in a captivating way through state of the art videos, workbooks, engaging assignments and a lively community of fellow students.
There are over 85 classes to choose from in everything from cooking with Gordon Ramsay to fashion with Tan France to dog training with Brandon McMillan.
Inside the Jake Shimabukuro MasterClass
The Jake Shimabukuro MasterClass consists of 20 lessons which vary between about 4 and 20 minutes in length. In total, it runs for just under 3 hours.
It includes access to a lively community of fellow students, an accompanying 29 page guide and links to supporting resources.

The MasterClass itself is divided into six sections:
Meet your instructor
Getting to know (and Play) Your 'Uke
Playing Advanced Chords
Creating Distinct Sounds
Show Time
Composing and Re-Imagining Songs
To give you an idea about what's included I've summarised the content below.
Section 1/6: Meet Your Instructor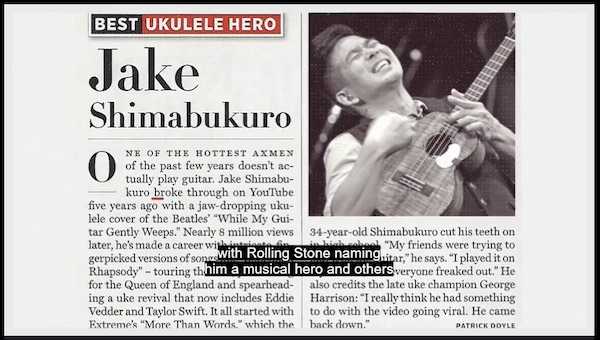 The class opens with a stunning montage of Jake's most iconic performances and collaborations.
Then Jake bids you 'aloha' and shares what you'll learn from his MasterClass:
Above all, how to have fun learning the 'ukulele
How to navigate the instrument
Master a range of chords and techniques
Incorporate melody, harmony, dynamics and rhythm into your playing
Appreciate the flexibility of the 'uke is and adapt tunes and songs for it
Section 2/6: Getting to Know (and Play) Your Uke
OO-koo-LEY-ley Basics and Holding your Ukulele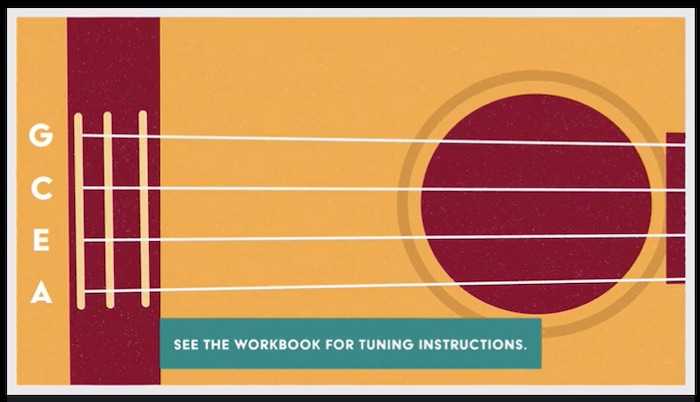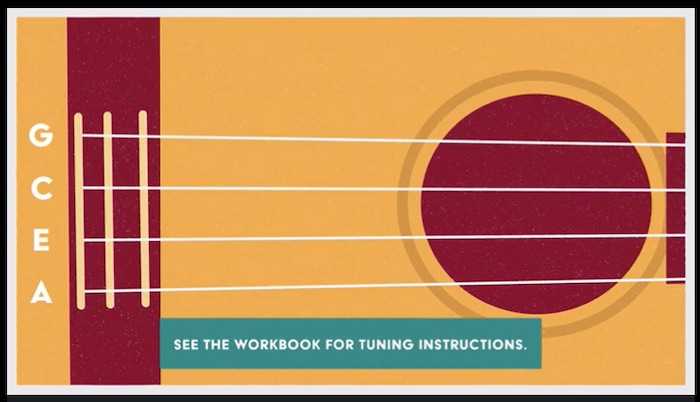 "You're investing in something that's going to bring you so much joy."
Jake explains the origin of the term 'Ukulele' and the evolution of the instrument.
Then moves on to the basics:
How to pronounce 'ukulele – chances are you're doing it wrong (I certainly was)
Understanding different 'ukulele types
Choosing the best 'uke for you
Tuning your instrument
Finding the most comfortable way to hold your 'ukulele
There are helpful graphics to assist. And it's great that you get onscreen references to the workbook for supporting information.
So, we're off to an engaging, practical start. But how does the rest of the course continue?
Navigating the Fretboard
Jake uses a super helpful analogy to help you understand the fretboard. It forms the basis of how he's going to communicate where you place your fingers.
I love analogies. And this one works ridiculously well. It involves the counting Jake refers to in his introduction, and it's easy to follow.
He moves on to demonstrate:
How to fret notes to get the best sound
How to make every note count
And he'll have you playing a simple tune in four keys by the end of lesson 2
Strumming Techniques
Building nicely on how to make each note count, Jake explains how to strum to get the best sound.
You'll learn how to:
Position your strum
Strum with the thumb and index finger
Use techniques to create different sounds and colours
And if you're not a beginner, you'll still gain from hearing how Jake thinks about these techniques.
Demystifying Chords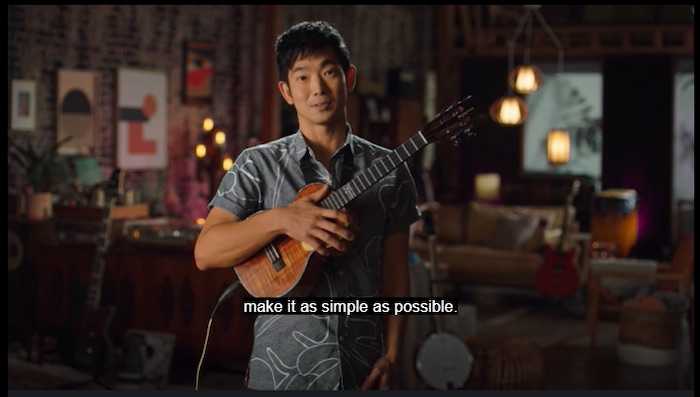 With a promise to keep things as simple as possible, Jake explains chord groupings.
This session covers playing:
One finger
Two finger
Three finger
And stairs chords
There were some great things about this section:
An approach which helps you get comfortable and produce results quickly
References to 'voicing' and the benefits of reentrant tuning for more experienced musicians (broadening the audience)
And lots of helpful screen graphics
There's a fun progression to play along to at the end (Pipeline by the Chantays).
I'm not gonna lie. I needed a LOT of practice and replays at half speed to get it right.
But, apart from the pain in your fingertips, it's huge fun. I felt a massive sense of achievement and it was a motivating way to end the second section.
That said, you learn chord shapes. And how to transpose them up and down the fretboard.
You don't learn chord names – (Jake only occasionally names the chord being played). And the workbook doesn't name them either: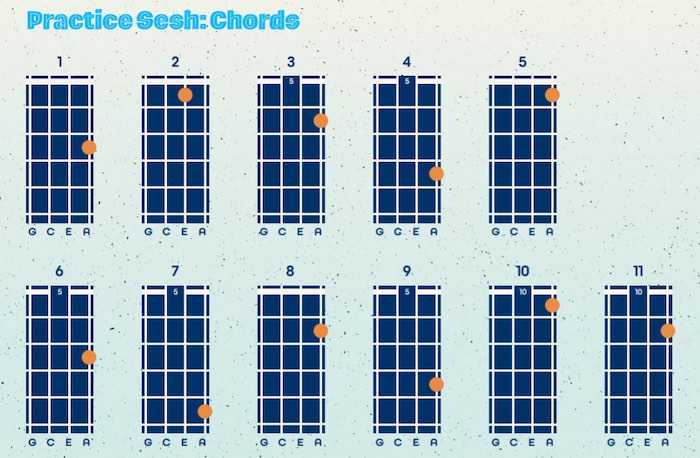 So whilst I was impressed by my progress, I was left wondering how far this approach could take me.
Let's see.
Section 3/6: Playing Advanced Chords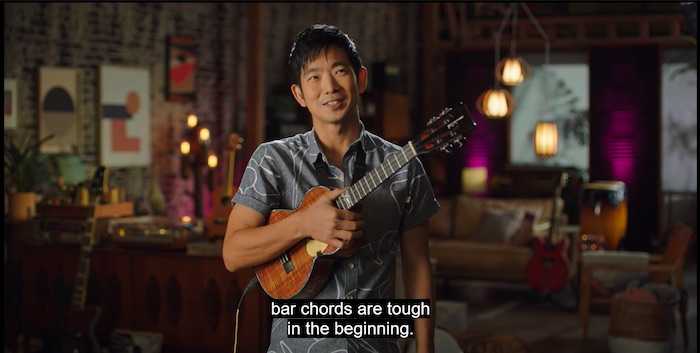 "Changing the order of those pitches can almost make it feel like it's a completely different chord."
Playing Advanced Chords and the Melodic and Rhythmic Dimension
So it's clear, right off. There's quite a jump between the last section and this one.
I recommend you practice what you've already learned and complete the relevant workbook assignments before trying these advanced techniques.
But then a good MasterClass should provide challenge and stretch. And if a skill's worth learning it's worth practicing.
Plus, if you already mastered the basics before taking this MasterClass, this section will elevate your skills to the next level.
You'll learn:
Tips for playing clear barre chords
Fretting, and playing scales, with barre chords
Ways to strengthen weaker fingers
How to tackle, progress and voice the 'dreaded' E-major chord
How Jake matches chords to melodic notes and creates a groove using rhythm
The dynamic range of the 'ukulele and how to play with it to create mood
There's quite a bit of taken for granted theory in this section. And it's a lot to get your head round if you're a beginner.
So I recommend you check out the workbook when prompted. Or maybe even read ahead before you start this section.
There are also links within the workbook to short articles on MasterClass to support understanding: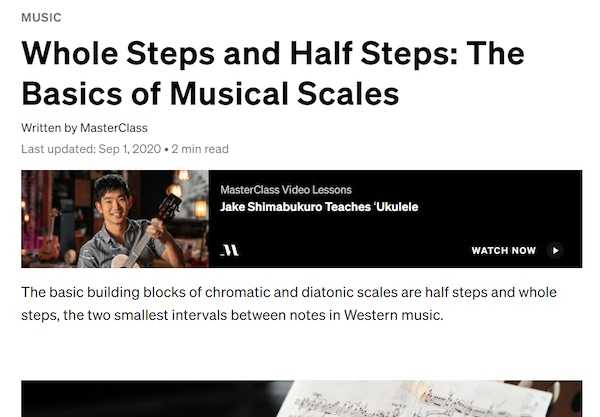 Finding Your Sound
In the final lesson of this section, Jake shares tips for developing your own personal sound.
They're things he wishes he'd been told when he first started playing:
You need a great DI box and good strings
As strings mature their tone changes
Even cables can make a difference to the sound you make
Pedals can enhance your playing – especially the looper
This provides a great link to the next section which is about adding expression, flavor and personality to your sound.
Section 4/6: Creating Distinct Sounds
"You can get a lot of emotion out of a single note."
Mastering Vibrato and the Magic of the Tremolo
Jake's expressive use of these two techniques are just two of his trademarks.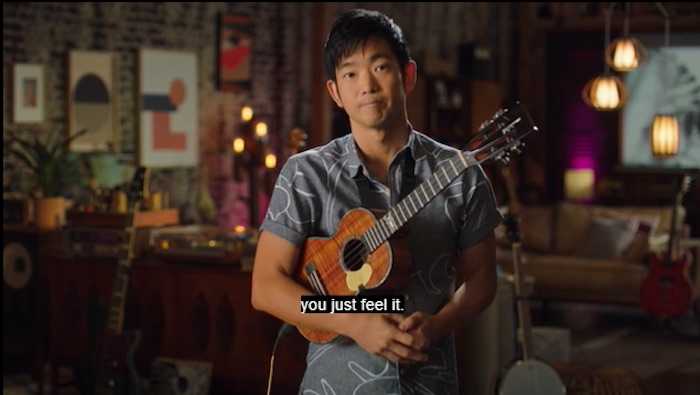 He takes you through a number of ways for sweetening or spicing up notes using the vibrato. And explains how he knows -or 'feels'- when he's going to use it.
Jake then moves on to tremolo picking to achieve a sustained sound. He explains how the tremolo technique overcomes a shortcoming of the 'ukulele – fast decaying notes.
It helps the 'uke to compete with other instruments in an ensemble by helping its sound 'float' and linger above other instruments.
He demonstrates how to use your thumb and fingers in different ways to add color and texture to your playing. And encourages you to be experimental in your use of the tremolo to add personality to your sound.
This lesson ends with a tutorial on using the three finger roll pattern, followed by a demonstration of how to incorporate it with the tremolo to create an arpeggiated harmonic movement!
Breaking Down the Classics: Hallelujah
In this lesson Jake breaks down his technique for learning a new song. This is super helpful if you have a favourite tune you want to be able to play yourself.
But: the starting point is finding the key you want to sing the song in, then finding the chords that go with it.
That's easy if you're a musician, but there's no explanation of how you do this.
Jake suggests getting a chord chart.
It would have been great if one had been included in the workbook. Instead, the workbook contains chord shapes – without naming them.
For me, it's a drawback that you have to obtain an additional resource to get the most out of this section.
The Beauty of Harmonics
This section closes with Jake teaching you how to achieve a thin ethereal chime through light touch and finger positioning.
Section 5/6: Show Time
The songs performed here have been carefully selected to showcase the techniques you've learned in this MasterClass.
While My Guitar Gently Weeps – Offered as a lesson in the use of tremolo
Hallelujah – To demonstrate chord voicings
Dragon – A showcase in harmonics, pedal looping and trick strumming
Bohemian Rhapsody – A jigsaw of techniques including chiming harmonics, vigorous strumming and chord voicing
Section 6/6: Composing and Re-Imagining Songs
Arranging Bohemian Rhapsody and Creating an Original Song
Following on from the stunning performance of Bohemian Rhapsody, Jake walks you through his arrangement of the song.
He demonstrates – and explains the value of:
Finding the right key for the song
Being selective in what you take from the song – you only have four strings!
Also being selective about what you leave out – the listener has to fill in the gaps
Taking inspiration from the original performance
Using a range of the advanced techniques covered to capture the mood of the song
He follows this by creating an original song just for you.
He reveals his process from start to finish. And explains all the stages of his composition journey.
Okage Sama De
"Which means I am what I am because of you."
In this farewell section, Jake expresses his gratitude to all those who have helped him on his own 'ukulele journey.
He encourages you to share what you learn and bids you 'Mahalo' and hopes you: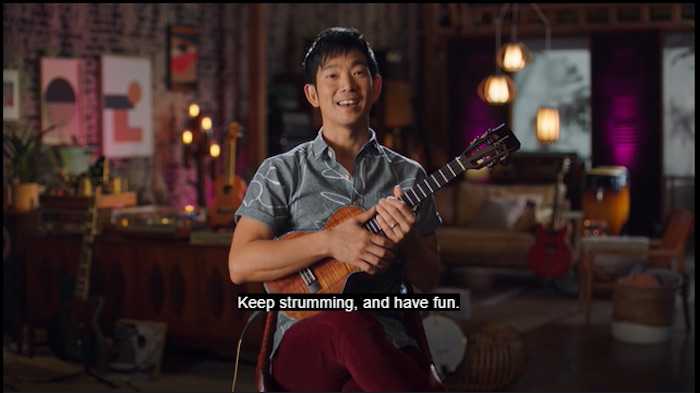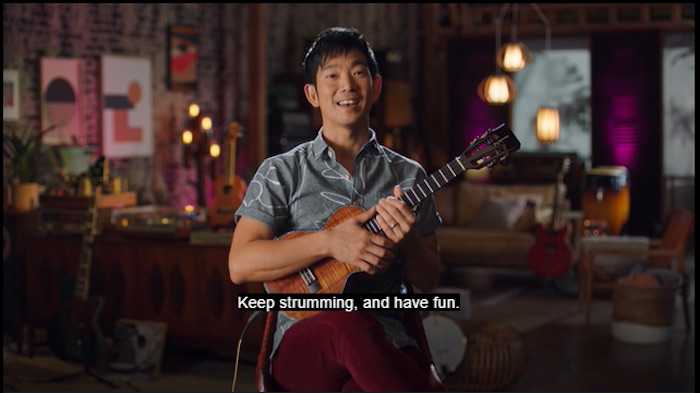 What I Liked About Jake Shimabukuro's MasterClass
Effective and motivating Basics Section
The 'ukulele basics section (the longest in the MasterClass) is carefully thought out.
It's easy to follow, but also provides stretch and challenge.
You build skills incrementally and, with practice, can make progress quickly.
Plus, if you can already play, I suspect that there is still much to be gained from understanding how Jake thinks about these basics.
Delivers a Sense of Achievement
Following on from above – the session at the end of 'ukulele basics, where you play along with Jake, delivers a real buzz.
And it motivates you to want to tackle the more advanced techniques.
Engaging and motivating teaching
There are many things that make a great teacher.
Absolute enthusiasm for your subject is one. And Jake's passion is tangible and infectious.
Jake's MasterClass is fairly fast paced and if your commitment matches his enthusiasm you will play this instrument.
Helpful activities and resources
I recommend engaging with the activities and assignments in the Workbook.
It's also a good idea to follow links in the Workbook to additional resources when you come across them:

The steps between sections can be quite large and the assignments and additional resources can help to bridge these.
High production values
As usual with all MasterClasses, the production values are outstanding.
All the elements are here in terms of sound, lighting and stagecraft to make this class a compelling experience.
What I Thought Could Be Improved
Too much of a jump between the Basics and Advanced sections
It's helpful to know in advance that there is a large gap to bridge between these two sections. In my view.
After making such rapid progress in the basics section, I felt a bit lost.
The workbook and additional resources help with this. But they're not nearly so much fun as the class itself.
I feel a lesson or two on basic 'ukulele theory (scales and chords) could help make the jump from basic to advanced more helpful.
But maybe that's just me. I like to know why things work.
Some inconsistency in teaching method
The class kicks off with an easy way to start playing chords using chord shapings.
But in the advanced section, you are often asked to play chords by name – with no chord positioning provided.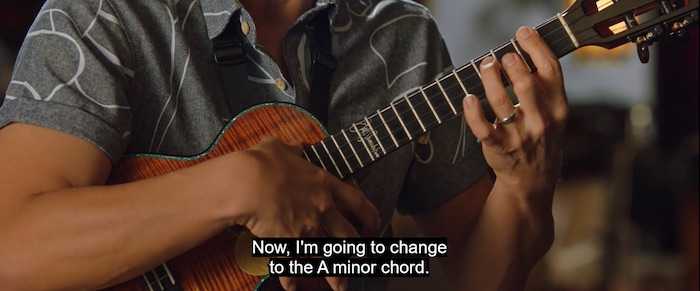 No Chord Chart with the WorkBook
I think the inclusion of a basic chord chart could have made all the difference in flattening the learning curve for me.
In my view, this was quite a big oversight and I'm not the only person to comment on it:
"It would be nice to know exactly which chord we're playing, not just the finger position on the frets. It would also be nice to have a complete chord diagram.
– From the MasterClass community
Who is the Jake Shimabukuro MasterClass for?
In my opinion, this MasterClass is for anyone who is:
A beginner who wants to get going fast and is prepared to put in the work to progress to advanced techniques
A More experienced player who wants to seriously elevate their playing through an insight into the mind and journey of a internationally acclaimed virtuoso
Able to play an instrument and wants to pick up a second one quickly
Looking for a well rounded course that covers the full range of technique in a compelling and motivating way
And, of course, anyone who's a Jake Shimabukuro fan.
How much does the Jake Shimabukuro MasterClass cost?
MasterClass has been known to update their pricing and so for the latest purchasing information please check here.
Currently, a MasterClass subscription package costs $180 per year – $15 a month.
That said, the subscription does offer amazing value for money:
For example, if you're able to find at least 4-6 classes you like, it means you're effectively paying $30-$45 per course. ($180 / 6 classes = $30).
And there are 85+ classes to choose from.
Bearing in mind that these classes are taught by world experts IMHO the value is unbeatable.
Classes that would complement Jake's might be Sheila E. on drumming and percussion (Jake's big on percussive techniques on the 'uke). Or perhaps Carlos Santana on the Art and Soul of Guitar (Jake's a big fan of his). Hans Zimmer also has a class on music composition.
Or you could go for something completely different and learn to write thrillers with Dan Brown, and then cook with Gordon Ramsay, or garden with Ron Finley.
Is there anything better than the Jake Shimabukuro MasterClass
There's tons of content both YouTube or Udemy to help you learn the 'ukulele.
The cheaper courses on Udemy (and YouTube) tend to be specific to a certain skill and not taught by players of Jake's calibre.
The fact is, this MasterClass is a complete course, professionally curated in one place.
As a beginner, you're more likely to learn good technique right from the start with a player of Jake's pre-eminence.
And for a more experienced 'uke player, you are not likely to find anyone more able to give your playing a significant boost than Jake Shimabukuro, the renowned king of the instrument.
MasterClass also features several other masters in the music category, including:
deadmau5
Usher
Carlos Santana
Sheila E
Alicia Keys
The Jake Shimabukuro: What Others Have Said
I took a look at the comments on Reddit, the comments beneath the YouTube trailer for the class and within the Jake Shimabukuro MasterClass community.
This helped me gauge the reactions of others who had taken this course.
So on Reddit, the reviews were positive, and this was an insightful one:
"I think he's got some great tips about the basics of playing - including posture, strumming, getting used to playing with different chord shapes, and understanding rhythm/melody. He briefly covers playing harmonics, vibrato, tremolo, and also intros broader musical topics like arranging and composing.

I've never taken uke lessons before, and it was helpful for me to get some advice/confirmation/correction on techniques I've picked up over time from various sources. I definitely learned some techniques to practice as well! 

My greatest takeaway was watching Jake play and hearing his philosophy/mindset when it comes to music and ukulele. Despite being such a legend, he's super approachable and really welcomes everyone to learn uke. He has so much reverence for each note (treating every sound as something valuable and beautiful) and definitely inspired me to take uke playing more seriously! Hope this is helpful."
- Comment from Reddit
It's worth noting that this reviewer is obviously an experienced self-taught player. Nevertheless the comments show that the whole course represented value for money. Since s/he gained useful tips from both the basic and advanced parts of the course.
And this is supported by this from the MasterClass community:
"I thought I was in love with my ukulele, but since this masterclass, I know there's so much more to it. I'm really happy and fascinated by Jake's methods and tips. I love it!!!"
- Comment from the community
I´ve been playing the ukulele for three years now, but still so much to learn and practice.
I did pick up on a couple of negatives from the MasterClass community:
"I signed up for this class expecting lessons from a teacher. He's obviously an incredible player but not a teacher at all. He's just too talented and gifted to understand that certain things just need to be broken down and taught, they can't just be demonstrated."
- Comment from the community
"It's more of a showcase of his talents. And there's nothing wrong with that. When I watch golf on TV, it makes me want to go to the range and be a better golfer. Watching Jake inspires me. I just wish it taught me more."
- Comment from the community
While the first comment is a bit harsh, I agree with the sentiment. It does sometimes feel that Jake gets carried away by the playing and forgets that not everyone will be able to follow what he's doing.
That said, these moments are inspirational and do provide the motivation to keep coming back to the class after you've put in some practice:
"He puts so much JOY in every single note. The ukulele has such a "happy" tone to it, and you can tell he loves every bit of it. If I only ever play a small fraction as well as he does, I will be thrilled. 

This is the MasterClass I keep returning to."
- Comment from the community
So on balance, the message is that people are positive about the class and the value is that Jake Shimabukaru is teaching it.
And because there's so much in it, it is a class which represents long term value.
Is the Content Unique?
No, not all of the ideas in this class are unique.
Jake has a short introductory course on YouTube – but it dates from 2011 and is only 24 minutes long.
But I can find nothing elsewhere that gets close to the range and level of detail provided by Jake in this MasterClass.
What You Will Need
Well, a 'ukulele, obviously.
I went for a soprano starter kit that came with a tuner, case, strap and quick start guide. It was pretty cheap but held its tune throughout all the sessions even though I gave it a good bashing.
And the starter guide had a chord chart inside, which was something missing from the workbook and is definitely needed!
You'll also need short nails on your left hand. And I recommend some second skin as my fingertips did get quite sore! It helps to provide a very thin protective membrane on your finger tips so you can keep playing as long as possible.
Verdict: Is the Jake Shimabukuro MasterClass Worth It?
In my view: yes.
This is a comprehensive, high quality course from someone the LA Times christened the king of the 'ukulele. And Jake hasn't produced anything as detailed as this before.
That being said:
It does depend on you, your experience, and what you're hoping to get out of it.
If you're a beginner, the basics section builds skills logically and helps you make rapid progress and achieve real results.
It also leaves you motivated to continue – but you will need to practice and complete the assignments before tackling the advanced techniques. Or at least, that was my experience.
If you've already got some experience or can play another instrument, you'll get maximum benefit straight away – even from the basics section which very much puts a Shimabukuro take on even the most rudimentary techniques.
For the amount you can learn as well as the fun factor, it does justify the price tag.
Frequently Asked Questions
How much does the Jake Shimabukuro MasterClass cost?
You can take this class with an all access pass for $180. This will give you access to all 85+ classes for 12 months.
Can I get the Jake Shimabukuro MasterClass for free?
Unfortunately, you cannot get the Jake Shimabukuro MasterClass for free. But MasterClass offers a range of purchasing options and refunds if you're not happy.
Can I get a refund if I don't like the Jake Shimabukuro MasterClass?
Yes, MasterClass offers a 30 day full refund policy. If you buy from another supplier however, you may need to check out their returns policy.
How long is the Jake Shimabukuro MasterClass?
It consists of 20 lessons totalling 2 hours and 50 minutes. However, depending on your experience, it is likely to take a lot longer to complete. And there's so much in it, you are also likely to return to it when you're ready to improve, or add to, your repertoire of skills.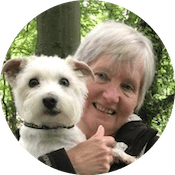 Liz Hurley has 30+ years of high school teaching experience and is one of our senior writers here at Learnopoly.