Anyone who's a fan of dance music is almost certain to know about Armin van Buuren.
This Dutch producer and DJ has been on top of the EDM scene for almost twenty years. Having played a huge role in creating a revived interest in Trance music, he's gone on to perform at major festivals all across the globe.
But does this stellar career mean Armin van Buuren is a good teacher?
As a drummer, programmed music should be my kryptonite. But I've always had a really deep interest in the work that superstars like Armin put in behind the scenes in order to get people on the dance floor.
So I went ahead and took this Armin van Buuren teaches Dance Music MasterClass.
Having watched all 33 video lessons, I'm excited to share with you the pros and cons to help you decide whether or not this is the right course for you.
I'll be covering a lot in this balanced Armin van Buuren MasterClass review. If you don't have time to get through it all, here are the highlights:
.
Quick summary
You will learn:
Armin's process for constructing a track
To create and build sounds with pads and leads
Technical tips on using Logic Pro
To construct a groove and arrange a big drop
What to look out for when critiquing your track
How to work with a vocalist
About building a DJ setlist and mashups
Armin's approach to the decks
Advice on how to start your career as a DJ
Pros
Very instructional with lots of direct and explicit tips
Incredible insight about the dance music game from a leading music producer and his collaborators
Exclusive fly-on-the-wall content of how Armin creates a track
Engaging, passionate and clear teaching
Diverse Teaching methods make the classes dynamic
Performances illuminate everything said
Applies to range of learners, enthusiasts to experienced DJs
Cons
Can be overwhelming in terms of the amount of content per lesson
The 'In The Studio' sections could do with more explanation
Quite long (this might be a plus for you)
Total beginners will struggle
Length of course: 33 video lessons totalling 6 hours and 50 minutes
Best for: those with a little experience and a lot of love for dance music. Although total novices might struggle with some of the technical aspects, musicians of any background can take a lot away from Armin's philosophy on why and how his tracks get us dancing. Ideal for aspiring music producers, club DJs and EDM fans.
Overall: This MasterClass was a really impressive watch, and was a fantastic opportunity to learn so much about a topic I've always been interested in. What struck me was the blend of explanation and seeing the musical ideas explained in action, which was such an inventive way of illuminating and explaining complicated ideas. Armin seems like a really nice guy and his experience and insight just oozed into every lesson. Whilst it's quite long, and can be overwhelming at times, where else can you learn so much about a craft from one of its masters?
In this review I'll be covering:
About Armin van Buuren and MasterClass
Inside Armin van Buuren's MasterClass
What I liked about this class
What I think could be improved
Who I think this course is for
The cost and any potential alternatives
How long the course takes
What you might need
Is the course content unique and most importantly…
Is Armin van Buuren's MasterClass worth it?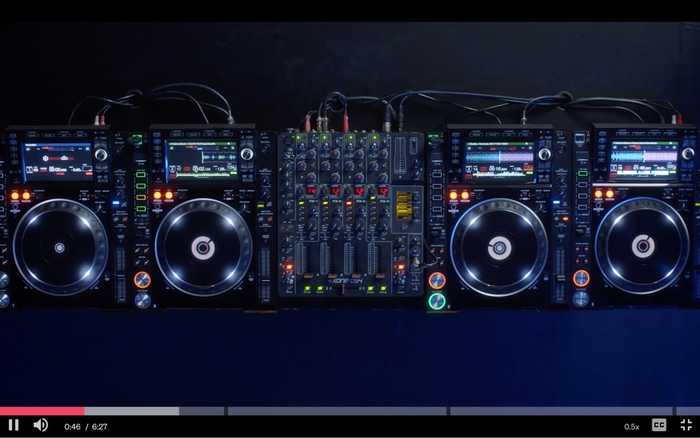 About Armin van Buuren
Hailing from Leiden, in Holland, Armin van Buuren is dominating the dance music scene and has done for some time.
For 20 years, he has hosted his radio show, A State of Trance, which is broadcast to nearly 40 million listeners across the world.
Beyond this, Armin is also a wildly successful DJ, having been ranked No. 1 DJ by DJMag a record-breaking 5 times.
His track This Is What It Feels Like was nominated for a Grammy in 2014, and he has the record for the most entries to the Billboard Dance/Electronic Albums chart, with 21.
Does this sound like the kind of person who might have a few tips on dance music? Why not check out the trailer for this class to find out more.
About MasterClass
Launched in 2014, MasterClass is now recognised as a major player among the e-learning giants.
It aims to produce high quality, well-produced lessons from world-renowned instructors. Their courses range from cooking with Gordon Ramsey to acting with Natalie Portman, to performing with Herbie Hancock.
Their music classes also include the likes of Deadmau5e and Hans Zimmer.
MasterClass clearly offers a unique way of teaching. But the celebrity led content might not be for everyone.
Keep reading if you want to decide whether this is the right course for you
Inside Armin van Buuren's MasterClass
This MasterClass consists of 33 video lessons, totalling around 7 hours of content. You also get access to an accompanying 43-page workbook with many more of Armin's tips. It ranks #2 in our top ten online DJ courses review.
Here I'm going to give you a breakdown of each lesson, highlighting what it contains, how it's taught, and a few of my thoughts on how each one went.
The first and last lessons, as with most MasterClass courses, are reserved for introductions and closing. So, I'll bypass those here and jump straight into the main teaching sections.
Lesson 2: Finding Melodic Inspiration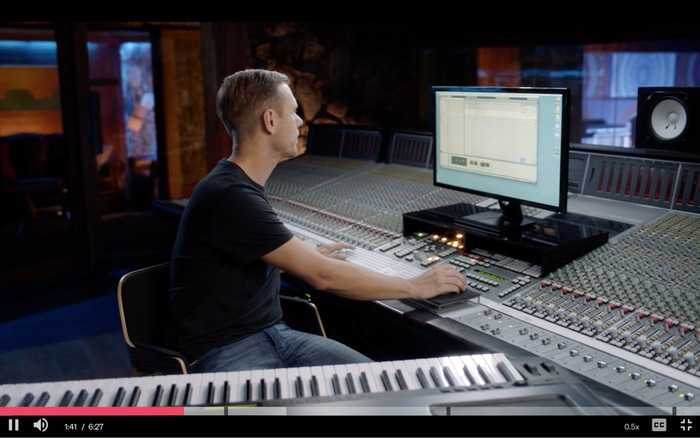 There's no waiting around in this course!
Armin has a lot to cover, so he cuts to the chase by giving his students some key insights into melody and how he finds his melodic inspiration.
What I would say is that the audience for this class becomes very clear very soon. For example Armin talks about chord progressions as if they are elementary, but complete beginners might not even know what a chord is!
This lesson goes over:
How to sing your way to a catchy hook
Using friends to test your ideas
Finding inspiration from chord changes
Armin's tips for overcoming writer's block
He throws you into the deep end and that's great. From this lesson, we get a taste of what's to come.
Not only do we see that this is going to be a very technical MasterClass; we also learn that Armin seems warm and engaging and is clearly passionate about music. His positive attitude really enhanced this first lesson, and I felt totally at ease.
Musicians will also enjoy the use of a piano this early on in the masterclass.
This is definitely something to consider.
Lesson 3: Building a Home Studio
Building a studio isn't necessarily the first thing you would expect to learn about in this course. Casual learners might not even ever dream of owning one.
But Armin makes it very clear how important space is for creating a sound you want. It's simple but essential advice like this that proves his experience.
This lesson teaches you:
How to create a good "vibe" in the studio
About the software Armin uses (Logic Pro)
How to run a Sine Wave test
How to avoid waveforms bouncing against the walls and cancelling each other
About the need for a good master keyboard.
It felt like Armin was keen for his students to settle in the class. There was a lot of focus on doing what is right for you, and he made it very clear that all his advice is just suggestions that have worked for him.
It was so refreshing to see some attention paid to something as vague as a vibe. Music, like anything creative, is about self-expression at its core. And how we express ourselves can depend on the space we are in.
So, this felt like an important lesson and a really good foundation from which the class took a turn into the technical details of putting a dance track together.
Lesson 4: Logic Pro
Leading on from creating a home studio, this lesson sees Armin take us through his main software: Logic Pro.
As with the previous lessons, this felt like necessary preparation in a build-up to Armin unleashing his real knowledge.
Although some of the tips here might seem straightforward for veteran producers, there was a lot of direct instructional info that I'm sure will be of use to those who are starting.
These tips include:
The importance of organising and colour coding
Why and how to back up your work
Using dynamic processing
An analogy that I loved from this was about backing up work. Someone once asked Armin, if he was ever in a situation where he lost all his work, how much would he pay to get it back?
The answer was a lot of money. A lot more money than investing in a good backup and hard drive. This was a sensible justification, and there are other examples of helpful anecdotes like this across the course.
There's a sense of urgency in Armin's voice when discussing producers losing work. It becomes very apparent that frustration might well have been something he's experienced. I think this speaks to how his experiences inform the teaching of this class.
Lesson 5: In The Studio: Melody
This is the first in a series of 'In The Studio' sections, where Armin, with his creative partner Benno de Goej, build a new trance track from scratch.
I'm going to properly articulate my thoughts on these types of classes in the Pro and Con section of this review, so read on if you're interested in what I have to say.
But, as a headline: I'm torn on how effective these were. On the one hand, there wasn't much teaching or explaining, so it was a little hard to follow at times.
With that said, a fly-on-the-wall series like this is a super rare opportunity, and there is so much to be gained from watching these too at work.
This first 'In The Studio' lesson is all about melody, and it's probably the most insightful of the lot.
Here, we get to see Armin take a classical piece by Satie, and use it as a springboard for totally new and fresh ideas.
This is a real joy to watch.
Lesson 6: Pads
The next couple of lessons are about pads, and how Armin uses them. First, we get this introductory lesson, before seeing him in action with another 'In The Studio' section.
This is a nice contrast and a real plus of having these different formats for teaching.
This lesson takes you through:
How to layer with leads
Keeping your mix clean
Why pads are so crucial
How to get creative with plugins
A pad is quite hard to define but normally refers to the ambient synthesiser in a dance or electronic music track. This was an example of technical jargon not quite being defined.
At this stage, you might be coming to realise that there is a lot of technical jargon. DAW's, pads, EQ, LFO tools are all things beginners may not be familiar with.
For some this will be great; why waste time telling us what we know? For those less familiar with this kind of language and equipment, the following lessons might be a bit tricky.
It all depends on your expectations.
Lesson 7: In The Studio: Pads and Leads
Here is another In The Studio section, another taste of live collaboration between Armin and Benno.
We get to see in real-time how to create a lead and build a pad sound.
There are also some technical elements to learn here, like creating a wide pad and adding a transient compressor to your lead.
You also get to see how gruelling the process is, and how dedicated Armin and Benno are.
Each little layer of sound is tinkered with until they are happy with it.
Lesson 8: More Pads
This was a shorter continuation of the pads theme, with even more explicit instructions on how to get the best sound.
This lesson goes into:
How to scrap an idea and find a new one
The best key for dance music
How to use Logic's Capture Recording function
Why pluxos are great for trance music
Lesson 9 & 10: Creating A Groove Pts. 1 & 2
I've grouped the next round of lessons as they focus on very similar content.
Groove is essential for dance music.
If you ever listen to a piece of music that gets your foot tapping, chances are that's the groove doing its job.
Considering you're learning from a dancefloor legend, these lessons are not ones to miss.
You'll learn how to:
How to work with drum samples
Adding percussion layers using Ableton
Using a low kick to make people dance
How to use an LFO tool to shorten the kick
Comparative to earlier sections, I enjoyed the direct explanation to the audience in this lesson. Armin goes into depth about why he makes certain decisions and how little changes can make a track so much groovier.
The balance was struck well between explanation, instruction and actual practical music-making. It equalled out to create one of the best sections of the course.
There's an important note on experimentation as well. Armin disproves snobby critics that accuse EDM of being formulaic with some examples of innovation in this lesson.
One example is tuning drums to create a bassline with a completely different sound and texture.
How much more inventive can you get?
Lesson 11 & 12: In The Studio: Adding Groove & The Big Pay Off
As they did before, Armin and Benno take what's been taught in a previous lesson and apply it to the track they're creating.
Adding groove to this track entails:
Adding a bassline
Constructing a riff
Using a solid bass sound from a range of samples
These aspects of groove were really interesting, especially as we can watch Armin's tips play out in real-time.
But, what I learned most from this lesson was about the process of making a song, rather than any specific component.
I hadn't even realised Armin had a creative partner, but the two of them are collaborating continuously, initially working on two separate logic programmes and then constantly building on each other's ideas and suggestions.
Armin states that, although there's no golden rule for time, everyday the two of them will come up with something new.
It's easy to assume composing is a very isolating process, but the conversation here was constant.
It's a fascinating watch, almost like a nature documentary. It's as if you're sitting quietly in the studio watching the masters at work.
Lesson 13 & 14: Mixing and Mastering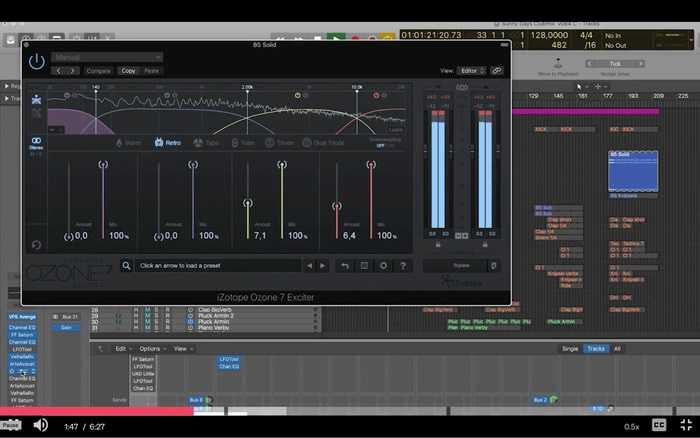 These days, every song goes through some kind of mixing and mastering. It's an art form in and of itself.
This means the info here applies to any genre. But, as dance music is primarily electronic, getting the right sound is even more essential.
Here, we learn:
Why you shouldn't mix a track the day you created it
Honing the right sound for the bass and kick
The balance between loudness and distortion
Keeping your reverb clean
Using a frequency analyser
This lesson is taught with a bit of reference to a DJ set, foreshadowing what's to come. You need to make sure your set is the same volume as the DJ before you; you can't kill the buzz!
Here, Armin takes you through his soundboard, and there's a little more detail given on the mechanics and tools he's using to master the track, such as dynamic processing and using a frequency analyser.
There's a lot of really valuable nuggets of info for those who are eager to hone their skills within the dance music scene.
Lesson 15: In The Studio: Cleaning It Up
This is another 'In The Studio session' which sees Armin and Benno cleaning up the track they've produced so far, concerning the mixing and mastering lesson that came before.
This section teaches you all about roughing the mix and dialling in sound.
You're also taught how to introduce more transience to your track by ear and how to use logic to edit note lengths.
A notable aspect of this lesson is that it is primarily Benno who does the talking, and who takes you through the aspects of mixing.
Some might argue that having a lesson taught by Benno isn't what you signed up for, but I found it refreshing to have a different perspective from a different teacher.
Lesson 16: Mix & Arrangement Case Study: Be In The Moment
In yet another departure from the traditional teaching format, Armin selects a track from his discography, and takes you through the song, analysing the mixing and arrangement along the way.
I liked the new dynamic of Armin actually playing and then describing the track. It did a lot to help realise some of the tips that weren't so clear beforehand.
Pausing every once in a while to explain exactly what's going on was very helpful, and I feel that a similar technique would have improved the In The Studio sections.
It's also very clear from this lesson that Armin has a real passion for his music, as well as music production generally.
He talks about each component of the track with a deep sense of excitement and glee.
This makes the lesson all the more engaging
Lesson 17: Arranging
Always keep the beat.
That's the main takeaway from Armin van Buuren's 17th MasterClass lesson.
A good beat is what gets people up and on the dance floor, and you always need to feel it in a track. Is it dance music if people aren't dancing?
In a return to the traditional format, Armin gives you the lowdown on arranging a dance track.
This lesson goes through:
Having a strong intro
Teasing in a melody
Building tension
Automating the drop
Creating new and refreshing elements
Again, this lesson uses the effective teaching combination of Armin playing music and working at his computer, then pausing to explain exactly what's happening.
This lesson is also really useful for learning about song structure of any genre, and the information here certainly isn't limited to dance music alone.
There's quite a lot of philosophy here about why we dance to certain things, and what constitutes the type of song that will get people on their feet. This very is insightful, and yet is by no means at the expense of the more instructional parts of this class.
Armin also strikes a really good balance between sticking to a structure and being inventive.
Of course, you don't want your songs to sound like everyone else.
But remember, you want to make it easy for a DJ to play your track in their set. That becomes very difficult if it has a weird or sloppy arrangement.
Lesson 18: In The Studio: Arranging & Percussion
In this penultimate In The Studio session, Armin's lesson on arranging is put into practice.
Here, Armin and Benno go into:
Adding percussion and texture
Arranging an intro and breakdown
Like most of this part of the course, there isn't a lot of direct teaching.
However, we do see some of Armin's theories play out in real-time during this collaboration.
If you have ever been to a club or heard a dance track, you'll probably know that sometimes the melody will be teased, and a lot of the sounds create this kind of tension before the main drop.
This lesson allows you the opportunity to see two leading maestros orchestrate that feeling to perfection.
I honestly can't imagine you'll find something like that anywhere else!?
Lesson 19: In The Studio: Building The Drop & Reviewing The Track
This is the final In The Studio lesson, and at last we get to enjoy the fruits of Armin and Benno's labour as they take us through:
A/Bing leads
How to add the finishing touches to a drop
Finding the right volume
Critiquing your work
This lesson felt like there was a lot more explanation directly to the audience, which I felt was lacking in other examples of these In The Studio videos. The dual experience of watching experts at work AND having direct, intimate insight into what they were actually doing was a seriously great aspect of this lesson.
There's a lot of direct tips for aspiring producers here. For example, never use volume faders to mix your track, and make sure the volume is consistent between the build-up and the drop.
But my favourite part of the lesson was the review of the track.
It was a rare treat to see these legends be so honest about their work. There were so many things that they picked up on that I had barely noticed
I think that's a real testament to how long they've been doing this.
Lesson 20: Working With Vocals And Lyrics
This lesson is a bit of a precursor to the 3 vocal lessons that come after, where we get to see Armin work with a vocalist in real-time.
Here, we learn:
That we shouldn't be afraid of using lyrics
How to create a preach
Creating and manipulating vocal samples
Armin is not a native speaker (his English is outstanding though), so there was something quite inspiring about the work he put into writing in a different language.
There is also an important note here on sampling.
Armin breaks the myth that you can just sample anything. There'll often be a lot to sort out in terms of disclaimers and licensing.
Instead, he suggests using existing samples to inspire a creation that's your own.
This is the idea of building on the world of music to create something fresh and unique is one of the positive running themes that keeps cropping up throughout the classes
Lesson 21 & 22: Vocal Tracking & Vocal Comping
These two lessons are a live demonstration of Armin working with a vocalist who has come into his studio to lay down some tracks.
We get to see:
How to motivate and engage with a vocalist
Why you must always record the first take
The great autotune debate
How to create one audio file from multiple takes
Armin prioritises making the singer comfortable, and his accommodation to the singers' preferences is just nice to watch.
There's also an important lesson there.
Because Armin is communicating with the singer so effectively, the collaboration between them is a lot more organic, demonstrating how important creating a good environment is for music-making.
This lesson also allows you the opportunity to learn about the production of brilliant songs.
It's great, so long as you're not too distracted by how smooth the vocals are!
Lesson 23: Vocal Editing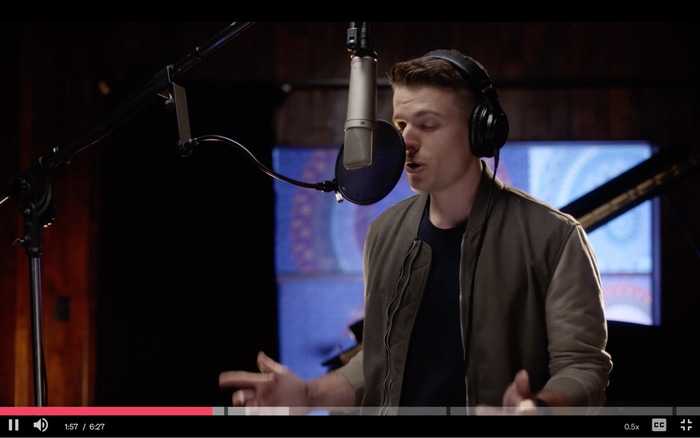 This is the final section of recording vocals, where Armin walks you through the editing process.
Here, we learn all about:
Editing vocal tracks
Effects and mixing
Removing clicks
Adding reverb
Why you should record vocals all in one day
Lesson 24: Singles, Edits & Club Mixes
This is probably one of the more important lessons of the whole course.
This is because it's about the cross-section between producing a track and live djing, both of which are essential to dance music, and Armin's work.
It's not one to miss if Armin is your idol.
This lesson walks you through:
Turning a pop vocal into a club mix
Adding layers to acapella
Creating extended mixes and radio edits
As I said, I feel one of Armin's real strengths explaining why certain music gets us moving, and there is a big focus on this here.
He explains the theoretical differences between a pop single and a club mix well.
It's hard to imagine that you would get detailed information like that anywhere else
Lesson 25: Approaching Your DJ Set
I mentioned before that I had a bit of experience working in a studio, but being behind the decks is completely alien territory for me.
As a result, this was the part of the course I was excited about.
I've been watching DJs play all my life. There's so much I was curious about and wanted to learn.
Armin's first lesson behind the decks doesn't disappoint as here I learnt how to:
Experiment with the decks
Create an arc with my setlist
Know what's popular
Read the crowd
Treat each gig as a learning opportunity
Lesson 26: Building A Set And Mashups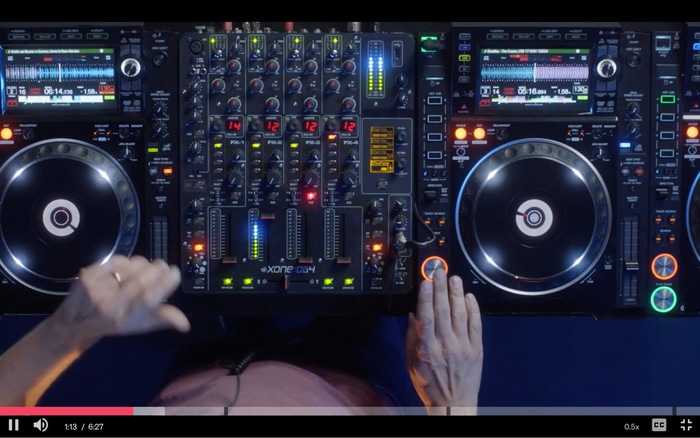 Lesson 25 went into detail about what a DJ actually does. For someone like me, who is a total novice, this was beneficial.
But I'm sure many will already have this knowledge and are taking this course for direct tips and tricks from Armin.
If that's you, although you may roll your eyes a little at lesson 25, Lesson 26-29 are perfect for you.
This lesson takes you through Armin's knowledge about building a set, which he does regarding preparation for Tomorrowland.
This is where you learn:
How to edit tracks for the stage
How make mashups
Organising your folders
Using Ableton to edit
Using Mixed In Key to analyse bpm/key signatures
Combining elements from different tracks
DJs have occasionally been dismissed by certain people as not being real musicians, but the references here to key signatures and chords truly demonstrates how musical the process is.
It also looks to be a fairly painstaking task, and this is certainly one of the longer classes within the course.
Lesson 27: Approaching The Decks
In this lesson, we get a very practical breakdown of how to approach a set of DJ decks.
This is one of the more accessible classes, and I feel like even total novices can grasp what's being explained here.
In this lesson, you'll learn:
All about the set-up
How to organise your 'record box'
Why Armin uses 4 decks
How to organise tracks by bpm/key signature
Hot cues
It would be very easy for Armin to sit back and tell us everything.
Instead, we get a practical walkthrough of the entire setup and how it works, which is just what the doctor ordered.
There's also a lot of helpful visual cues in this part of the course that guides you through each part of the set-up, as it can look very intimidating at first.
Lesson 28: Armin's Techniques
Continuing with the theme of live DJing, here is where Armin gets very specific and detailed with his advice.
This lesson is probably better suited to those who have experience with a DJ setup.
However, it shouldn't be too hard to follow if you've seen the preceding lesson.
Armin's approaches include:
Using the fader and reverb to overlap tracks
Doubling channels
Generally sticking to 132 bpm
Changing tempos wisely and gradually
Lesson 29: Performance Tips
Anyone familiar with Armin's work knows he is just as much a performer as he is a producer.
Watch any one of his Tomorrowland sets to see what I mean.
So getting any advice from someone so well versed in the art of getting the crowd moving is a real treat.
Armin's performance tips include:
Not overusing microphone
Vary between known and unknown tracks
Mind your DJ manners
The crowd in front are the ones who matter
Don't go over your time
As with a lot of these lessons, the tips here are applicable for all performers.
It also just goes to show how much knowledge Armin has to share. This section is completely different to what we've seen in the studio.
This just proves that his experience spreads across all aspects of modern dance music making him; an ideal teacher for this class.
Lesson 30: Hosting A Radio Show
Armin has hosted A State of Trance, one of the world's leading dance shows, since 2001.
The weekly broadcast goes out to over 40 million across the world and is just as popular as when it first started.
So, who better to give some advice on starting a radio show>
This advice includes:
Connecting with fans
Using blogs to find what's new
Don't announce every track
Write down what you're going to say first
At this stage in the course, it feels like we're moving out of the technical aspects of dance music, and into items more broadly related to Armin's career and advice.
Lesson 31: Armin's Early Influences
Once again, this is a very personal lesson from Armin.
Not only do we get some insight into his influences, but he also walks us through the moments that have led him here today.
There are lots of big names here:
Ben Liebrand
Jean Michel Jarre
Michel de Hey
Paul Oakenfold
John Digweed
Another brilliant part of this lesson is the variance of Armin's influences, not only within the dance scene but music generally.
He takes great care to acknowledge the importance of Bach, Beethoven and Mozart and how stripping apart their chords and melodies always inspire him to make a new track.
My one problem with the lesson is that it would probably be better placed at the start of the masterclass.
It feels like we are only just now getting to know the story and personality of our instructor, and I believe this lesson would've made a very strong introduction.
Lesson 32: Starting And Growing Your Career
Here's where you learn how to start your career in dance music:
How to use social media
What boundaries to draw on your private life
Creating and sending demos
Never stop having fun!
There's no tried and tested way to becoming a global superstar, otherwise, we would all be doing it.
The best Armin can do in this class is to share his own experiences and lessons he's learnt, and he does that very successfully.
This was a positive and inspiring end to the course. Armin tells us how it took him eight years to get his first track and had a career blackout immediately after.
Yet he persisted because he loved what he did. And now he can share his wisdom in his MasterClass.
His mantra of 'keep having fun' is something I think we can all learn from.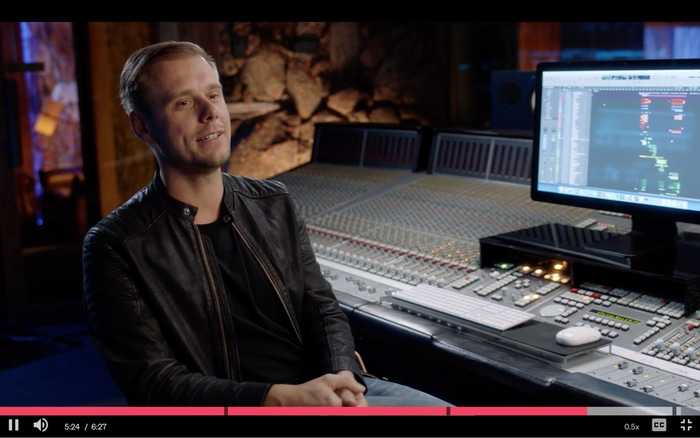 What I Liked About Armin van Buuren's Class
The above should give you a hint that I'm pretty enthusiastic about this course.
This is true; I learnt a lot and had a great time doing it.
With that said, no course is without its flaws…
Insight From A Leading Professional
I've heard quite a few people express skepticism about the idea of MasterClass. People have warned that being a leader in a certain field does not necessarily make you great at teaching.
Fair point, but you are in very safe hands with Armin van Buuren.
Every tip, trick and bit of advice comes directly from his years of experience at the top of his game, and that's made clear when he draws on examples from his own life: a career full of major hits and performances around the world.
It's a really rare opportunity to hear so much knowledge from a single course, especially when its teacher has had such a stunning career.
You can tell from the way he talks that Armin knows every detail of his soundboard, studio and DJ setup. On top of that, he's able and eager to explain to you clearly and easily. I can't tell which is a bigger feat.
I literally couldn't believe that he was able to know so much information about what goes into creating and fine-tuning a dance track.
Then again, he is one of the biggest DJs in the world.
Very Instructional
It's quite easy for classes led by big names to just be them talking about their lives and careers.
This can be very informative, and we get a bit of this later on in the course.
But the majority of this Masterclass consists of direct tips and tricks on improving your sound. If you're an aspiring DJ, this is perfect.
Armin goes into very specific detail about the software he uses, his process for putting music together and offers lots of tricks you can use to achieve similar results. For example, producers taking this course will gain a lot from Armin's description of how he uses LFO tools.
This course was at its best with Armin either playing or creating a track and then walking you through exactly what he just did. Although this style of instructional teaching was lacking in some sections of the course, there's still a lot to learn across the board.
A Mixture Of Teaching Styles
As I said, it would've been so easy for Armin just to sit down and just talk about his career. I would've been quite satisfied if that were the case.
What I got was so much more.
The way this masterclass is taught varies from lesson to lesson, with an eclectic mix of Armin talking to the camera, walking us through his software, collaborating with Benno and the vocalist and getting behind the decks.
This constant change in style is very effective at keeping the lessons refreshing and the audience engaged, which is necessary considering the length of the course. But there's also a wider purpose.
Each change in setting always enhances the point Armin is trying to make. For example, he'll advise on mixing a track, and then we get to see this play out in real-time with him and Benno in the studio. Another example is he'll describe the purpose of a certain tool on his decks, and then we get to see him briefly perform using that tool.
I'm so glad Armin and the creators of this class weren't afraid to put the effort into varying up how each lesson was taught. The change in style helped me to understand exactly the points made in each lesson.
It certainly paid off.
Armin's Combination Of Passion & Knowledge
I'd like to focus here very specifically on one part of Armin's personality that made this course stand out.
This is primarily his passion for the craft. It took Armin a long time to make his breakthrough, so he had to love what he was doing to keep going. This passion clearly hasn't faded as it shines through in his lessons.
When working on a track, Armin's enthusiasm is infectious. There wasn't a point where his foot wasn't tapping and his hands were often in the air. It was a joy to watch him get so excited about new ideas, and a privilege to be able to watch that process in real-time.
This passion is matched only by his knowledge of dance music. I've talked about how obvious his experience is, but Armin also has a clear grasp on music as an art form, and why certain elements of a track make us want to dance.
I find it hard to believe any other course will have this kind of combination.
What I Think Could Be Improved
Too Much?
This is a very long course, certainly one of the longer ones on the platform.
I wouldn't say the length is a con in itself at all. You can get through the course at whatever pace you want, and most people would much rather have more content over less.
However, I would say my biggest problem with this course is it tries to do too many things at one time.
Genres of music are already very elusive and vague categories. This course is titled 'Armin van Buuren Teaches Dance Music' which makes it very difficult to know what to expect. So many different things were packed into this course, it did feel, at times, a little overwhelming.
I feel this MasterClass would've been improved if they had focused on a specific section, with even greater detail. For example, 'Armin van Buuren Teaches DJing' or 'Armin van Buuren Teaches Music Production' might've been MasterClasses that would cut to the chase a little better.
Naturally, this is all subjective. For some, the spectrum this course covers will be ideal. Others still might decide Armin's insight is worth it, even if they skip a few classes that don't relate to what they want to learn.
This is something to bear in mind when deciding whether this course is for you.
'In The Studio' Section Could've Done With More Explanation
We all learn differently. For some, learning needs to be verbal and direct, others prefer it to be visual, practical and on the job. The latter group will gain a lot from this aspect of the course.
It's so rare and so cool to be invited to watch Armin put a dance track together, to the point where I'm not entirely convinced it's a con.
I'm also not saying there isn't a lot to learn from this part of the course, because there is. I just feel there were points where these classes would have benefited with a little more explanation and detail from Armin and Benno.
This is a MasterClass at the end of the day. You're signing up to be taught, and Armin uses so many tools and so much software, there were quite a few points where I found myself wondering 'what does that do?' or 'why has he done that?'
It's a minor flaw, but considering how good Armin was at explaining other parts of the course, I just feel these sections could've improved slightly.
Not For Beginners
This isn't a flaw so much as it is a warning.
Armin plunges you into the deep end with technical jargon about music production, mixing and mastering. I do feel that total novices would find this hard to follow. It would be wise for those who are interested yet know absolutely nothing about trance music to try to familiarise themselves with some of the basics before jumping in.
With that said, you do not need to be a professional DJ for this course to be worth the investment. I have used only the most basic software, and have never stood behind a set of DJ decks, and I still had so much fun and learnt a lot.
Who Is This Course For?
Although I struggled with how much this course was trying to tackle, this does mean that the list of people this course could appeal to is super wide and varied.
This includes:
Aspiring club DJs eager to learn from one of the biggest names on the scene
Up and coming EDM producers who want to learn how to grow and connect with their audience
Music producers and audio engineers looking for insight into Armin's equipment and studio setup
Fans of Armin who want access to the rare treat of him putting a song together
DJs and producers with a little experience, looking for Armin's advice on developing, arranging and mixing a dance track
Musicians from any style who want to learn more about one of the biggest genres in the world
As you can see, it's a pretty big spectrum.
The one group of people who might not be suited to this course is complete beginners. There's very little hold back on using technical language from the get-go, and throughout I did feel an expectation that I was supposed to know what certain things were.
Complete beginners will struggle if they can't tell you what a chord, a melody or a DAW is.
With that said, if you're still interested in the course, familiarizing yourself with the basics shouldn't be too strenuous.
With that out of the way, I'm sure you'll get as much from this course as anyone named above.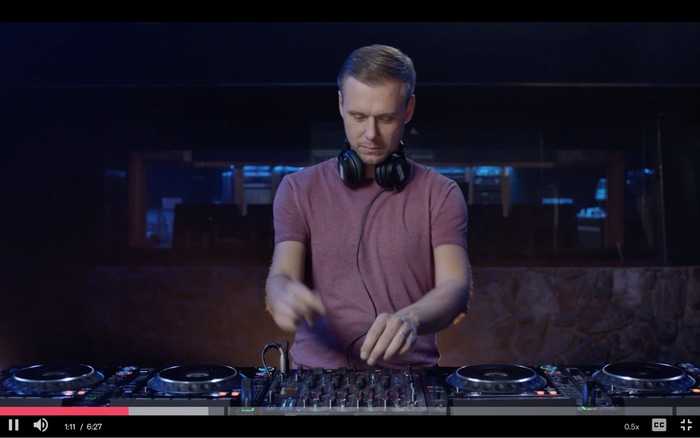 How Much Does Armin van Buuren's MasterClass Cost?
At the time of writing MasterClass had three subscription offers. The cost of these (per month) is:
Individual (1 user) $15
Duo (2 users) $20
Family (6 users) $23
All are billed annually, which at first glance may seem pricey.
However, you can considerably reduce your costs by joining with friends or family. And of course by taking as many courses as possible.
With over 150 courses on the platform you're likely to find quite a few to interest you. Even if you buy an individual membership and find only 10% of the courses of interest this still works out to only $12 a course:
$180 (annual individual membership fee) / 15 courses = $12.
And if you join with friends or family then the cost of each course is drastically reduced. Check out our MasterClass review or MasterClass cost articles to see how.
Bearing in mind that these classes are taught by global leaders in their fields the value is unbeatable. You can pay over $100 for an online course taught by someone you've never even heard of, never mind someone of van Burren's calibre.
What's more, MasterClass also offers a 30 day refund if you're unhappy with your purchase.
You can also purchase MasterClass as a gift.
Alternatives To Armin van Buuren's MasterClass
You don't need to look very far beyond MasterClass to find alternatives to Armin van Buuren's course.
Perhaps the most obvious alternative is Deadmau5 Teaches Electronic Music Production. This is another MasterClass led by one of the leaders of the EDM scene.
As you can probably tell from the difference in title, this MasterClass is more production-based, compared to Armin dividing his lesson between the studio and the decks. EDM fans will also know that the two producers have very distinct and different styles that I'm sure changes the content of their lesson.
Nevertheless, this is probably the closest alternative to Armin van Buuren's MasterClass.
Other musical MasterClasses include:
If MasterClass isn't the site for you, don't worry. There's still plenty to choose from.
DJs and producers are so central to modern music, the opportunities to learn about these two crafts are endless.
Platforms like Udemy and Skillshare offer classes on dance music in abundance.
If DJing is the craft you want to develop, why not try Udemy's How To Become A DJ – Learn How To Start DJing Online Today.
This 11 video class is one of the most popular production courses anywhere on the site. If the celebrity factor is what you're missing, why not try Learn How To DJ From The Wu-Tang Clan. Also on Udemy.
For more suggestions check out our best online music production courses review.
And if you're interested in learning a specific instrument, like piano, you could read our Pianote, Skoove, Playground Sessions and Flowkey reviews. And if you're looking to develop more than just your playing skills, you can also develop your writing, production and hustle skills on Soundfly.
Armin van Buuren's Masterclass: What Others Have Said
The best way to learn is almost always entirely down to the individual. The style of teaching that works for me might be incompatible with how you learn and understand things.
That's why it's so important to consider a broad spectrum of opinions before reaching a definitive conclusion of how good this course is.
To keep this review fair and balanced, I've scoured the internet looking for opinions on Armin Van Buuren's masterclass for you to get a better idea of how people feel about this course.
The best place to start was, I felt, Reddit; a community known for its kindness and open-mindedness!
The consensus was very positive. People praised the combination of the course's instructional content with Armin's enthusiastic teaching style.
One commenter said:
"This is a good motivational course. Great tips on building off chord foundations, some helpful VST tools, building a drop and layering ideas" - Reddit commenter 
I agree with the sentiment entirely. This comment taps into how instructional this course is, and shows how specific the advice and lessons Armin gives truly are.
I also agree with the motivational aspect. From Armin's enthusiasm about the tracks he's creating to his encouragement to get out there and try it for yourself, to just how cool his decks and studio look, it's hard not to leave this MasterClass and not want to plan your own Tomorrowland set.
Another commenter also enjoyed the course, if a little less enthusiastically:
"The AvB (Armin van Buuren) MasterClass is about music production. If you want to become a producer, go for it. If you want to become a DJ, focus on that." - Reddit commenter 
I see where this person is coming from, but I'm not sure I agree.
I think this comment taps into my criticism that this class felt a little overstretched. If you want to become a DJ, there are certainly ways of doing that without going through the music production aspects of the course that might not interest you.
But this MasterClass isn't about music production, it's about dance music. As a complete novice, I still learnt a lot from the DJ sections. If I aimed to become a world-class DJ, I'd be a lot closer to that goal than I would be if I hadn't taken the masterclass.
Is The Course Content Unique?
Is it possible for it to be?
Learning, by its very nature, is about passing on knowledge, experiences and information that already exists.
The point of online learning is to use new technology to do this in a fresh, clear and inventive way.
There are certainly other ways to learn about all the facets of dance music taught here. Whether that's DJing, music production, mixing, arranging and hosting a radio show. Armin doesn't have a monopoly on using cross-faders or arranging a drop.
He is however a legend within this craft, and as a result, the uniqueness of this course lies with the knowledge he has acquired as being one of the leaders of the generations dance music scene.
So, is there anywhere else you can receive Armin's knowledge?
Well, yes and no.
There are many examples of Armin doing talks, events and videos about his equipment, process and advice. You don't need to look very far to find them. To be honest, you can't expect someone as knowledgeable and passionate as Armin not to share said passion at every opportunity.
Even if you can find other tutorials and insights from Armin, this is the only class I know of that offers structured, high quality and well-produced video lessons all in one place, with the sole purpose of educating you.
In that sense, the course content is very unique.
Is Armin van Buuren's Masterclass Worth It?
It's now time to ask, is Armin van Buuren's MasterClass worth it?
I should note first that learning will always be down to individual experience. So many factors, such as your expectations, your preferred method of learning and the kind of knowledge you've acquired already will massively affect what you get from this course.
With that said, I think that for lovers of dance music, this course is definitely worth a look.
My biggest and in some ways only real problem with the course was that it tried to be too many things at once, to the point where it overstretched itself. I feel it would've worked better if they went into greater detail with one part of the course, like DJing or music production.
If you're only interested in one of these disciplines, this isn't the course for you.
But, if you have a passion for all of dance music, or if you're willing to overlook this flaw to gain Armin's valuable insights, then definitely check it out.
It's exhilarating enough to be taught by a legend like Armin van Buuren, but him appearing to be just as enthusiastic about leading the class makes it so much better.
Not only is the content very informative, with lots of direct tips you can take back to the studio, but the variance in teaching style was super enlightening; other MasterClasses take note!
And don't forget, MasterClass has so much more on offer for music lovers to get stuck into. All with a refund policy if you find it's not for you.
Frequently Asked Questions
How much does the Armin van Buuren MasterClass cost?
A MasterClass all-access-pass costs $180 a year ($15 a month). This gives you access to 150+ courses, including Armin Van Buuren's Masterclass
How long is Armin van Buuren's MasterClass? 
Armin Van Buuren's MasterClass is 3 hours and 10 minutes long and consists of 21 videos.
Can you get Armin van Buuren's MasterClass for free?
No, Armin Van Buuren's MasterClass cannot be obtained for free. However, you can sample the class for free and there are multiple offers and refunds if you're not happy.
Can I get a refund if I don't like the Armin van Buuren MasterClass?
Yes, MasterClass operates a 30-day refund policy if you purchase directly through them. If you purchase through other providers, their returns policy may apply.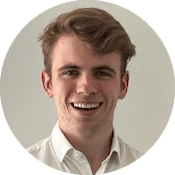 Charlie is a student reading politics at King's College London. He is also a passionate musician with over 14 years of experience. In his free time, he also enjoys cinema, long-distance running and learning new things.