Music production has always been an important part of the song-creation process. But producers are increasingly coming to the forefront as people realise the crucial role they play.
So more and more people are interested in learning about what it actually means to produce music. And with the technology we have today, this has never been easier.
But what are the best music production courses?
In this round up of best music production courses I'll be answering this question.
To put the list together, we've considered a range of factors, including the technical aspects of musical production (mixing, recording, software etc.), more general musical factors, price, length, the teacher's qualifications and much more.
So, let's begin.
What is the best online music production course?
These are our top music production course recommendations:
Our top choice is Music Production in Logic Pro X because it focuses on the most popular music production software, is so comprehensive and can be taken by anyone whether they are new or experienced Logic users. It's also offered by Udemy, which offers a wide range of lessons in different disciplines.
Platforms like MasterClass and SkillShare are interesting options because they use a subscription style meaning you can learn a variety of disciplines and skills beyond music production.
MasterClass is particularly unique as its courses are led by world-class celebrities and virtuosos. Where else can you be taught how to make beats like Timbaland or how to DJ like Armin van Buuren?
Alternatively, you might want to learn from a site that is entirely devoted to music. Point Blank's an interesting option because it is an online version of a music school that has locations across the world and does in-person teaching.
Soundfly is also a popular choice because all the content on there is focused on making you a more well-rounded musician.
Best music production course reviews

Platform: Udemy | Teachers: Digital Music Masters | Course length: 50.5 hours of on-demand video lessons
Our top choice is a course that focuses entirely on Logic Pro X, one of the most popular music production tools out there. It took our top spot not only because of the comprehensive insight it gives into this software, but also because it is aimed at a massive range of people.
You can be someone with little to no production experience who has a pretty good grasp on Logic, but with 50 hours of content and additional resources, you're bound to get something out of this course.
On top of that, the teaching is concise and led by super-experienced instructors. It is also offered by Udemy, so you purchase all the classes and resources in one go, and normally they will be on sale.
If you're looking to become a music producer, you can't go wrong with this one.
You will learn about:
Setting up and getting started with Logic Pro X
Making music with Apple loops
Live loops
MIDI and software instruments
Recording audio
Step sequencers
Automation
Mixing essentials; levels, panning and EO
Advanced mastering techniques
Compression and EQ
ESM waves and tones
Creating a song
Industry insights
Pros:
Very comprehensive
Appeals to a wide spread of abilities
Strong foundations and expert tips on the software
Engages with general concepts surrounding music and music production
Led by several expert instructors
Hours of content
Additional resources to help you develop
Cons:
Goes through very specific detail, so can be hard to focus on
Might be a little much for total beginners
Best for: Anyone with an interest in music production or music. You don't need to know anything about Logic. Or you can have some experience with it and want to learn more. Because of the length, you should be really fascinated by this course.
Overall: This option tops our list for several key reasons. Firstly, it is remarkably comprehensive, focusing on both the specific details of the software as well as general ideas about music and music production. It has something to offer both beginners and more experienced learners and the instructors are experienced and explain everything clearly.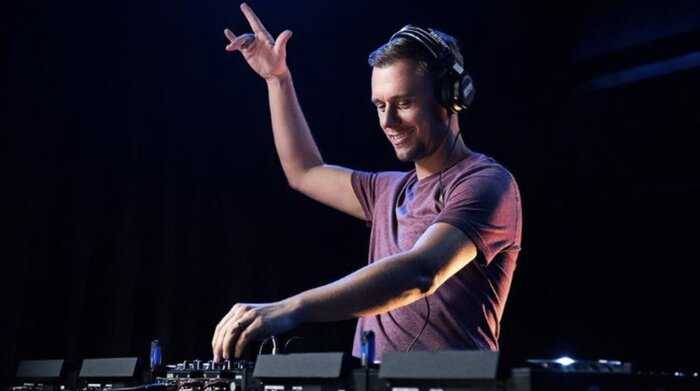 Platform: MasterClass | Teachers: Armin van Buuren | Course length: 33 video lessons totalling 6 hours and 50 minutes
Our second course is a little broader and is the first offering from MasterClass, which focuses on providing classes led by celebrity instructors who are world-class in their field.
Armin van Buuren is no exception. He is one of the most popular DJs and producers out there. This course focuses specifically on producing for his predominant genre: dance music.
If dance music production is what you're interested in, this is the choice for you.
What you will learn:
Armin's process for constructing a track; from chords to kicks, to mixing
How to create and build sounds with pads and leads
Armin's top tips for using Logic Pro
How to construct a groove and arrange a big drop
What to look out for when critiquing your track
How to work with a vocalist
All about building a DJ setlist and mashups
Armin's approach to the decks
Advice on how to start your career
Pros:
Lots of tips from a top professional
Incredible insight about the dance music game from a leading player
Exclusive fly-on-the-wall content of how Armin creates a track
Engaging and clear teaching
Good mix of teaching methods with lots of practical performance
Performances demonstrate points made
Cons:
Can be overwhelming in the content
The 'in the studio' sections could've had more explanation
Quite long (this might be a plus for you)
Best for: people with a little experience and a lot of love for dance music. Although total novices might struggle with some of the technical aspects, producers of any background can take a lot away from Armin's philosophy on why and how his tracks get us dancing. Ideal for aspiring dance music producers and EDM fans.
Overall: I enjoyed taking this course, and I learned so much I hadn't even considered before. There was a great blend of explanation and practical demonstration. Armin's experience and insight just oozed into every lesson. An ideal course if you're looking for something more anecdotal and with high production value, that will give you an insight into what it's like to be a music producer at the top of the game.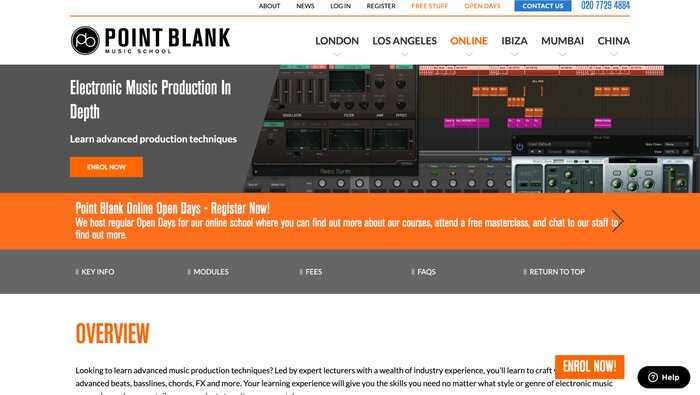 Platform: Point Blank | Teachers: Various | Course length: 2 modules, average of 6 months to complete
Our third option is the first website entirely devoted to music production. Point Blank also has the unique distinction of being an actual in-person music school with locations across the world.
This means that the lessons are more expensive. But, in return, you get quality lessons from leading professionals. And so much content it's recommended that you set aside six months to complete it.
By the end of this course, you'll have a deep understanding of electronic music production, as the title suggests.
What you will learn about:
Fundamentals of music production in either Ableton or Logic
MIDI and making beats
Audio warping, recording and editing
Audio effects and controllers
Track arrangement and automation
Mixing and exporting
Instruments and sound library
Key musical concepts
Remixing
Writing and arranging with vocals
Sampling
Working with parts and stems
Pros:
Very comprehensive with hours of content
Provides the choice of Ableton or Logic
Specific, detailed technical lessons and exercises
Covers musical concepts more broadly
Industry expert instructors
Focus on creative production and remixing
Cons:
Expensive
Requires significant commitment to complete
Best for: Beginners in music production, or those with a little more experience. However, because of the cost and time commitments, you should have a strong sense that this is something you want to invest time and money into.
Overall: This is the course for you if you are keen to embed yourself in electronic music production. Point Blank is a music school with in-person locations and teachings, so the commitment and level of detail replicate traditional education. Another pro is the option to choose between Ableton and Logic, as well as the focus on using production creatively.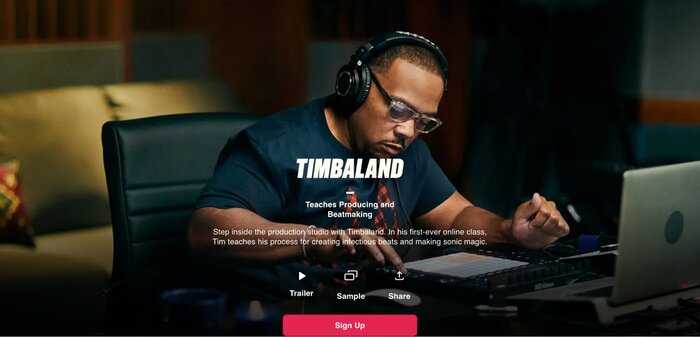 Platform: MasterClass | Teachers: Timbaland | Course length: 15 video lessons, totalling 3 hours and 2 minutes
Our second MasterClass option features another huge name in production, this time from the pop world.
Timbaland is the producer responsible for some of the biggest hits of the 2000s, and as a result, has been largely important for shaping the music we listen to today.
This MasterClass is the place to go for pop producers who are interested in Timbaland's secrets and anyone who wants to understand what producing a top hit actually takes on the production side.
What you will learn about:
Making a beatbox beat
Building beats
Timbaland's process
Building on a chord progression
Tweaking and layering
Manipulating vocal samples
Creating a breakdown
Adding a topline
Song origin stories
Timbaland's influences
How to persevere as a producer
Pros:
Taught by one of the most important producers in pop
Takes you through the specifics of song structure
Gives insight into the origins of Timbaland's music
Anecdotes provide an image of the world of music production
Focus on broader musical concepts
Cons:
Could be longer
Could have more technical detail
Best for: Anyone interested in the broader picture of what music production is all about. Particularly those interested in Timbaland and pop music generally.
Overall: This course is a great place to go if you want to understand the role a producer has in actually building a song. Although there aren't as many technical details, you get insight into how a producer can make beats and create songs that dominate the radio. And when the teacher is Timbaland, these lessons are certainly worth listening to.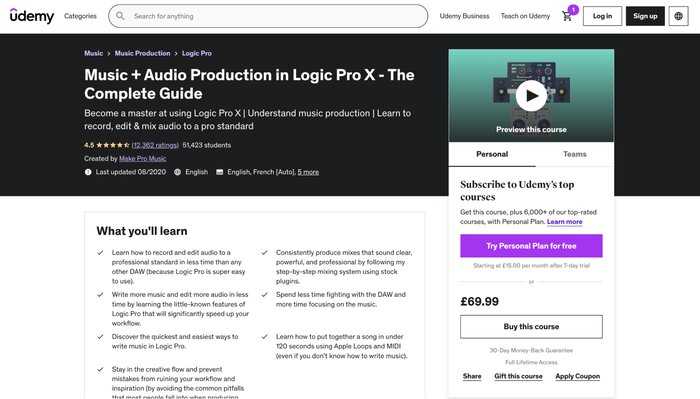 Platform: Udemy | Teachers: Make Pro Music | Course length: 40 hours of on-demand video
This is our second Udemy feature and is also focused on Logic Pro X. However, despite it being so similar, we've included this option for a couple of reasons.
Firstly, having spent a lot of time researching, we genuinely think this is one the best courses that teaches Logic. It has 51,000+ students and a really high rating considering over 12,000 of those students have reviewed it.
We've also included this course because it's geared a little bit more toward people with no experience with either Logic or production generally. It also advertises itself to musicians and voice-over actors, so it is really about introducing you to production skills.
What you will learn about:
Audio production for beginners
Recording and editing basics
Using virtual instruments and synths
MIDI editing and processing
Editing pitch and time
Mixing
Signal flow
Notation
Working with video
Pros:
Excellent for beginners
Lots of technical content
Gradually increases in difficulty so you see yourself progress
Created by a well-established course provider
Provides a strong understanding of logics capabilities
Appeals to production beyond music, including voice acting and sound design 
Cons:
Can be a lot of information
Best for: Beginners who are new to Logic Pro X but want to use it as their primary tool for production.
Overall: This is a great introduction to what a music producer can do with Logic Pro X. The course is structured in a way that will see you incrementally but rapidly expand your knowledge as you become more and more familiar with Logic's essential tools.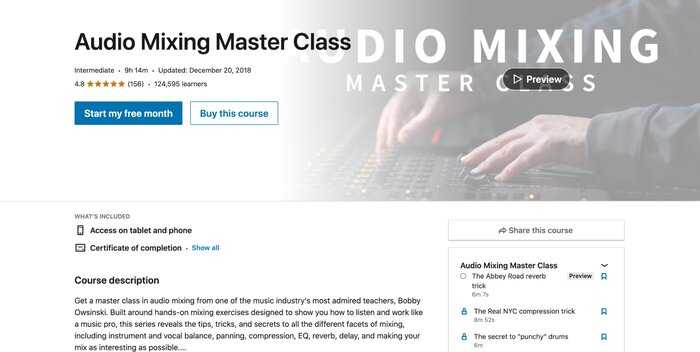 Platform: LinkedIn Learning | Teachers: Bobby Owinski | Course length: 9 hours and 14 minutes
LinkedIn Learning might not seem like the obvious place to go for a music production course, but this is one of the best mixing classes out there.
This option is also one of the more advanced ones on our list. If you're already experienced with production it can be hard to find online courses that cater to your interests.
The largest market share is beginners, so platforms will tend to direct their content towards this group.
So if you are more experienced but want to expand your knowledge it's better to look for specific classes that will fill the smaller gaps in your knowledge. This masterclass does just that.
What you will learn about:
NYC compression trick
The secret to punchy drums
SSL Buss compressor setting
Making your mixes hot and loud
Van Halen's guitar trick
Giving the bass low-end definition
Panning background vocals
Exploding snare trick
Tightening up releases
EQing the mix buss
The magic of mono reverb
Spectral widening
Pros:
No time wasted; dives straight into the teaching
Loads of audio mixing tips and tricks
Specific focus on mixing means you can really go into the fine detail
Shorter video lessons devoted to particular mixing tips and insights
One of the very few courses beginners can learn from
Practical examples
Straightforward and clearly explained content
Cons:
No structure, just a collection of tips rather than a comprehensive mixing course
Hard to tell if you're at the right level of skill to gain from the course
Best for: Probably more advanced producers, specifically those who are looking for new mixing skills and ideas. Those with some limited experienced might also gain something.
Overall: This is the course to check out if you want new ideas about how to handle audio mixing. There are 9 hours of content here, but it's divided into much smaller video segments each focused on a different kind of mixing tip or suggestion. This means that you can just skip through the lessons until you find something you want to learn. The lessons are straightforward, concisely explained and are bound to improve your audio mixing skills.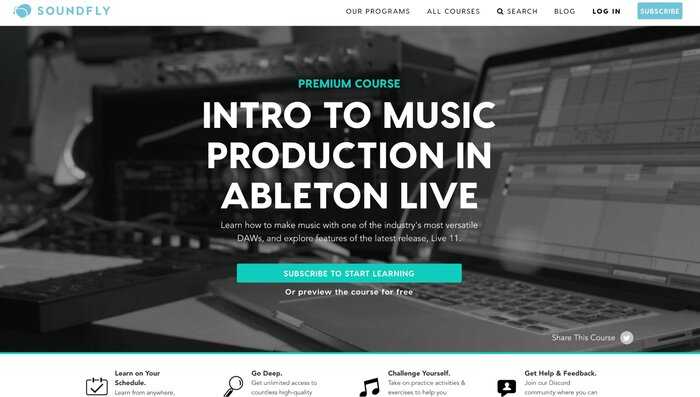 Platform: Soundfly| Teachers: Claire Marie Lim | Course length: 9 sections with a range of textual lessons, video lessons and tasks; completion can vary as a result
Our seventh option is provided by Soundfly, a site devoted to education for musicians. This course focuses specifically on the software Ableton Live. In 9 sections you will go from the basics of the software to putting together your own work through various tasks and challenges.
If you're attracted to Ableton Live this might well be the place to learn more about it.
What you will learn about:
Using arrangement and session view
Quantising and MIDI editing basics
How and when to use Ableton's packs, presets and loops
Using Live Collections to categorize your favorite presets and sounds
Adding a human touch to your programming with quantisation and note chance
Tips for setting up audio recording, including monitoring and avoiding major feedback
Getting the best take you can use comping and punching in and out
Using crossfades to make combined clips less jumpy
Playing with the grid and switching and joining clips
Repitching audio with the detune slider
Adding and using a range of effects
When to add automation
Turning your track into a live set, and setting up to perform in arrangement and session view
Getting a performance aesthetic with a MIDI keyboard or Ableton Push
Key mapping; using the QWERTY keyboard to trigger live effects
Pros:
Gives you all the foundations you need
Challenges help to develop your intuition about using Ableton
Tips that can be applied to any production software
Teaches with a reference to general musical themes, like song structure and style
Instructor navigates the software expertly and breaks everything down in great detail
Goes into unique detail about using Ableton to perform
Bonus lessons from other established Soundfly producers
Teaches how to use software to add a human touch to your production
Cons:
Might need some production background to fully appreciate the lessons
Very text-heavy, which isn't ideal for practical topics
Nothing about adding live drums
Best for: People who want to learn how to use Ableton Live specifically. Probably better for those with some basic understanding of production technology. Also good for people who learn faster through reading rather than video.
Overall: Everything in this course will give you a really strong foundation in Ableton Live. Software like this will have so many aspects to dig into, but all the essentials are prioritized. All the technical elements you need to know are broken down here, and everything is taught concerning developing generally as a producer and musician.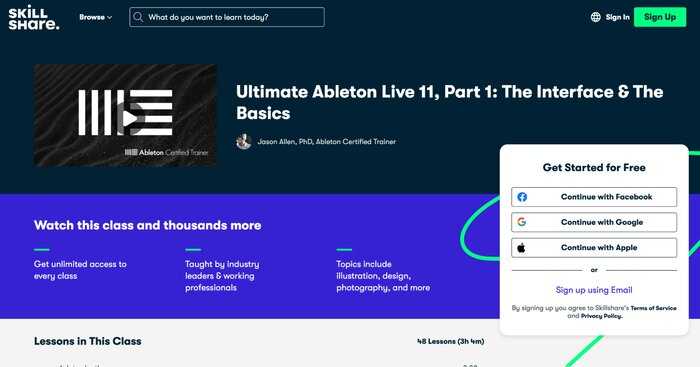 Platform: SkillShare | Teachers: Jason Allen PhD | Course length: 48 minutes
This is another Ableton Live course, this time offered by SkillShare, which is a site that offers classes in multiple disciplines besides music.
We've selected this option because we wanted to show a side-by-side comparison of classes that teach similar content, in order to demonstrate the range of options out there.
This class also focuses on Ableton Live, but it is much shorter, it is purely video form and it is more designed for showing what Ableton Live is all about rather than acquainting you with all the intricacies.
Whichever one is better will depend on what you're looking for. We just wanted to show you the wide range of choices.
What you will learn:
How to navigate two views of Ableton Live: arrangement and session view
Learning how to learn Ableton Live
Using clip shot grid
Live's signal flow
Recording audio and MIDI
Recording to the arrangement
Editing audio and MIDI
Automation
Groove pool
Full track deconstructions
Pros:
Well-rounded introduction to what Ableton Live can actually do
Includes a hands-on class project to embed your learning
Technical details of the key aspects of Ableton Live
Led by a highly qualified instructor
Patient teaching with a beginner focus
Lots of examples to illuminate your learning
Cons:
Could go into more detail (part of a bigger programme of courses)
Can be hard to keep up with terminology if you're a complete beginner
Best for: Anyone new to production who is interested in using Ableton Live. This course will give you a strong foundation in its capabilities and what it is for.
Overall: A wonderful introduction to what Ableton Live actually does. You're taught by an instructor who has a wealth of knowledge and a strong understanding of how to teach beginners. Lots of hands-on examples and the chance to complete a project to embed your knowledge. By the end, you'll have a clear understanding of whether Ableton Live is right for you, and from there you can either take another pick from this list or another class offered by Jason on SkillShare.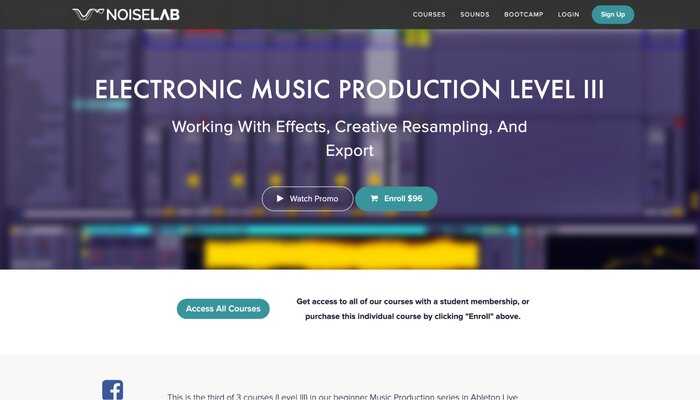 Platform: Noiselab | Teachers: Thavius Beck | Course length: 5 sections, each containing around 5 video lessons that range from 4 minutes to 17 minutes
Our penultimate place on the list introduces another site entirely dedicated to music and music production.
Noiselab is focused specifically on providing lessons and resources for music technology, including Ableton tutorials, loops, sound libraries and more.
Here, we've opted for another more advanced option to make sure this list includes a wide range of different options.
There's an assumption that if you're completing this course, you've also done Electronic Music Production I and II, or you have some prior experience with music production.
What you will learn about:
Mixing techniques
Unity gain
Volume balancing
Subtractive EQing
Insert effects
Overdrive and compression
Sends and returns
Automating sends
Delay and reverb as send effects
Grouping tracks and effects
Resampling audio
Recording to arrangement view
Master effects
Pros:
Well-structured content, with sections and subsections focusing on particular production elements
Builds on prior knowledge from other Noiselab courses or elsewhere
Very technical
Teaches foundational elements of mixing that are considered essential in the industry
Lots of practical tips
Cons:
Applies only to Ableton Live
Best for: Anyone who has completed Levels I and II. Also good for producers with a little more experience who want to focus on the more technical features of Ableton Live.
Overall: This is a very technical course, with clearly explained teaching and lots of examples. By the end, you will have a clear understanding of Ableton Live's features and will be ready to start producing great music with the software.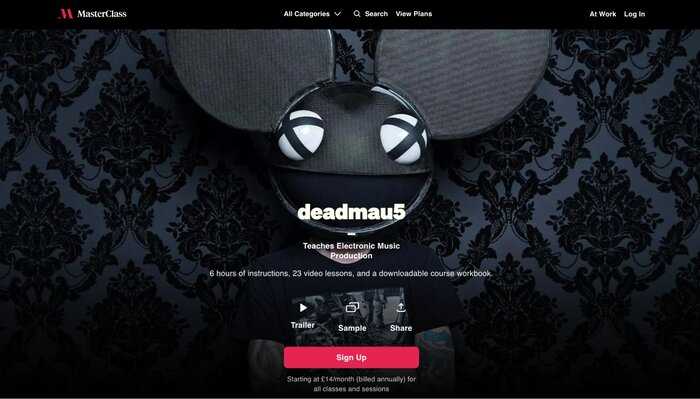 Platform: MasterClass | Teachers: deadmau5 | Course length: 23 video lessons, totalling 5 hours and 24 minutes
Our final pick is another from MasterClass. And in keeping with the site's USP, it's led by deadmau5, one of the biggest names in music production right now.
This is lower on our list than other MasterClass options because it has less content than the Armin van Buuren course and is more specific genre-wise than Timbaland's masterclass, so the appeal is a little narrower.
Nevertheless, these lessons still contain key insights into the life of a producer from someone who is a decade-defining star of music production. For that, it's worth a spot on our list.
What you will learn about:
The theory and practice behind deadmau5's process of making a track
How to develop a melody, and then transform this into an arrangement
deadmau5's guide to modular and digital synths
Structuring beats and songs in EDM
How deadmau5 mixes and masters his tracks
What it's like to work in the music industry, and how to break into that world
All the intricacies of a deadmau5 live show
Pros:
Great coverage of electronic music production
deadmau5 knows his stuff and is a treasure trove of insight
A rare, honest take on working in the music industry
A mix of technical examples and broader advice
Excellently shot, with a wonderful production value
Each lesson and the class as a whole is well structured
Cons:
The course content isn't as unique
Light on clear explanation at points
The performance advice might've been illuminated with actual performance examples
Best for: People with established but still quite intermediate knowledge of how electronic music production works. A lot of the tips here feel like they are aimed at those who are just starting. deadmau5 fanatics will also gain a lot from the hours of well-executed content.
Overall: Although the content isn't as unique, the production quality of the lessons and certain nuggets of information makes this course worth the price, especially for beginners. Ultimately, what you gain from this will depend on what you expect from a deadmau5 MasterClass.
What are the advantages of taking an online music production course?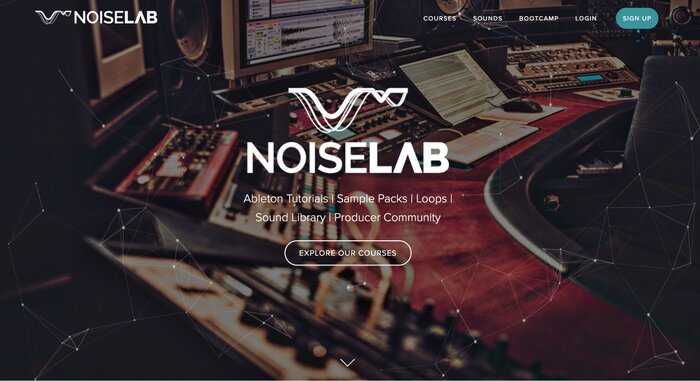 From the very beginning of recorded music, there have been music producers.
Some have been recognised within the industry for their work, including George Martin with The Beatles and Quincy Jones with Michael Jackson. But it's only in the age of hip hop and EDM (where producers release music under their own names) that they have achieved celebrity status.
This has created a new appetite among rookies to learn how to produce music. However, for a long time access to a studio was very difficult. But with the dawn of the internet, you can now become an excellent producer in your own time and from your own home.
Although some in the community are skeptical about online learning, there are many proven benefits.
These include:
Access to top instructors from all around the world
You can learn when you like and fit everything around your schedule
You can combine different platforms with in-person teaching to achieve your personal goals
There's access to endless additional materials
The skill will stay with you for life
If you're new to production, you'll learn something about general musicianship
Learning a new skill is great for engaging the brain
If you're a musician, you'll have the means of sounding much better
Buyers guide: what to look out for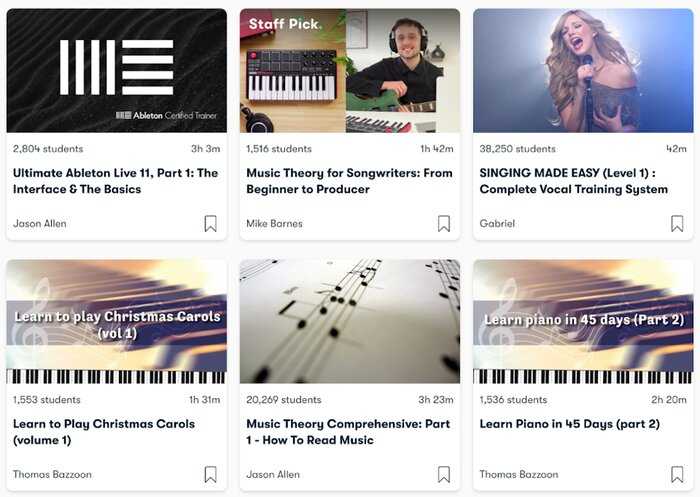 With so many choices, it can be hard to know what to look out for when selecting the best music production course for you.
So here's a helpful buyers guide to look out for:
Positive reviews and feedback from both users and sites like Learnopoly
The credentials of the instructor
How long the course is and what each lesson will teach you
Any additional materials provided
What kind of style does the course focus on
How many people are enrolled
Is there any free trial or refund available?
How much does it cost?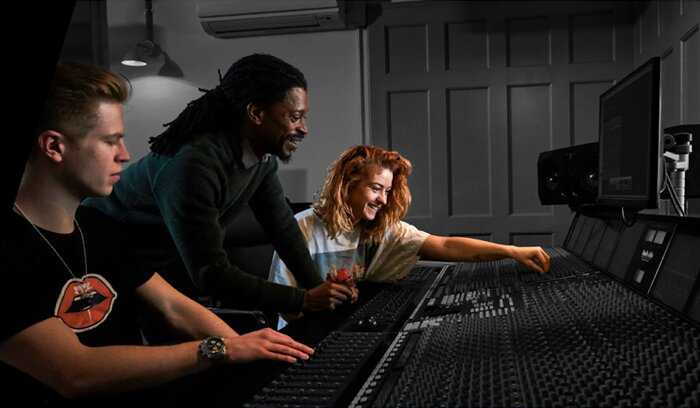 The costs of these courses vary massively and depend on a variety of factors.
Courses here can range from $17.99 to over $1,000.
But these costs should not be taken at face value.
For example, some classes are purchased individually. So you pay only once and get access to the material at the same time. Others operate a subscription service, where gaining access to the content will require you to pay in monthly or yearly instalments.
Often these subscription services will offer more than just one series of lessons. For example, a SkillShare subscription grants you access to every course on its platform, from a range of disciplines.
You might also want to consider if the site offers free trials, previews or refunds. For example, LinkedIn Learning offers previews of certain lessons from its course and MasterClass offers also allows you to sample their classes and offer a 30 day money back guarantee.
How long does it take to learn how to produce?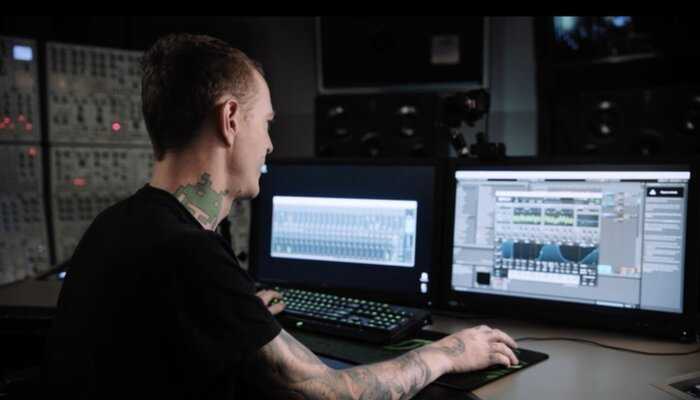 This varies as much as, if not more than, the costs.
The first thing to consider is the actual length of the course. Here, they range from taking 48 minutes, to 50 hours, to 6 months to complete.
However, there are several caveats to consider.
Firstly, a lot of classes will have additional materials, like guides and ebooks. Although these might not be essential, they will definitely complement your learning, but engaging with them will take time.
Similarly, some courses are structured very differently. I have heard MasterClass be called the 'Netflix of e-learning' because all the lessons are structured as videos, whereas Soundfly includes a lot of text as a way of teaching. We all have different preferences, some will be quicker with reading and some will prefer watching videos.
Additionally, the beauty of online learning means that you have the autonomy to complete the course whenever you want to.
Because the time commitments aren't the same as a traditional school, you can complete these classes in bite sized chunks every day or watch them all in one sitting.
The choice is yours.
Finally, you'll want to consider personal practice. This is essential when it comes to improving any skill.
Although practicing production might seem harder than practicing an instrument, your instructor is likely to set challenges to complete in your own time. Alternatively, just experimenting with the software and incorporating what you've just learnt is good practice.
Practicing itself might add to the time it takes to learn, but it also means your progression will be faster.
Conclusion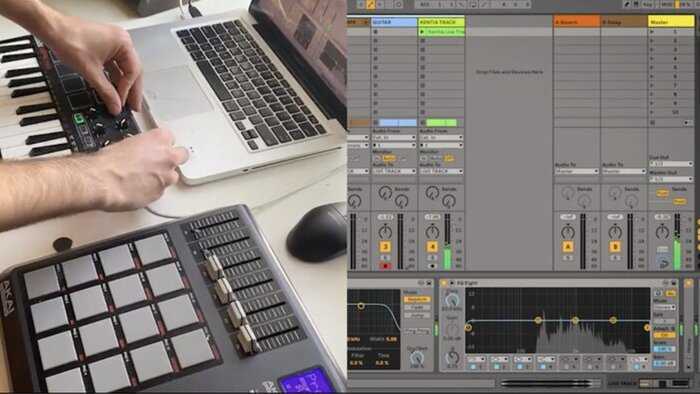 That was our list of the top ten online music production courses.
Our top pick is Music Production in Logic Pro X – The Complete Course by Udemy.
This is because it is an extremely comprehensive dive into a key music production software that can be used by people just getting started with production and more experienced producers.
It covers everything you need to know technically as well as more conceptual ideas about what it means to be a producer.
If you prefer a subscription service style of payment, MasterClass is an interesting option because of its high-production value and celebrity instructors. Our top pick from this site is Armin van Buuren's Masterclass, because you get a real sense of what it's like to work in the studio at that level. And with a MasterClass pass you will have access to Timbaland and Deadmau5's courses too.
Finally, you might want to consider a music production-centered site. Point Blank is the place to go for a professional standard of teaching if you're really devoted to learning how to produce. Whereas Soundfly is a great site for those interested in music more generally.
Either way, each course here offers something unique, and it's up to you to decide which one is best for you.
Hopefully, we've given you a better insight into what's out there and where the best place is to start your music production journey.
Related articles: Best online DJ courses
Best Online Music Production Courses FAQs
How much does a music production course cost?
Courses here can range from $17.99 to over $1,000.
How long do music production courses take?
Courses on this list range from taking 48 minutes, to 50 hours, to 6 months to complete.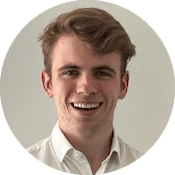 Charlie is a student reading politics at King's College London. He is also a passionate musician with over 14 years of experience. In his free time, he also enjoys cinema, long-distance running and learning new things.