When you think of a musician what comes to mind?
If it's someone on stage with an instrument, you're not wrong. But there's much more to it than that.
Being a musician, especially today, requires you to know all the ins and outs of performance, production, management and creativity.
If you're just trying to get started, where can you learn all that?
This is a question Soundfly tries to answer by taking the often unsung heroes of the music industry, including production, hustle and creativity, and teaching them in a new, unique and inventive way.
With all that expectation to live up to, is it worth the hype?
I've taken the Soundfly classes and thrown myself into what they have to offer. Now, I'm in a position where I can share my honest opinion on the content, costs, alternatives and much more.
Hopefully, you can decide whether or not it's worth it for you.
So, let's dive in with a quick overview:
.
Quick summary
Pros
Incredibly unique in its content, delivery and ethos
Prioritizes user interaction, with the option to be guided by a mentor
Aims to develop your overall musicianship, and covers various facets of the discipline
Comprehensive courses with great depth and detail
Unites technical, step-by-step teaching with abstract concepts
A vibrant Slack community for members to engage with each other
Cons
Quite a lot of text that could be shorter or better placed in a workbook
Could have one or two more courses devoted to performing and specific instruments
Best for: Anyone interested in growing generally as a musician, but particularly instrumentalists with some experience looking to expand their knowledge of music's more technical elements.
Cost: Check latest prices here and use promo code LEARNOPOLY2023 to get 15% off
Overall: It seems like every music platform is only trying to get you to play Happy Birthday as fast as possible, so it is immensely refreshing to have a place like Soundfly where you can properly develop your overall understanding of music. Soundly covers everything from arranging, producing, songwriting, mixing, performing, creating and much more, all with incredibly in-depth courses and instructors who know what they're talking about. Subscribe for unlimited access and take 15% off your monthly or annual subscription on us, with promo code: LEARNOPOLY2022.
Here's a taste of what's to come:
All about Soundfly
My review of Soundfly's courses
What I liked about this platform and think could be improved
Who I think this platform is for
The cost and any potential alternatives and most importantly…
Is Soundfly worth it?
Let's go…
What is Soundfly?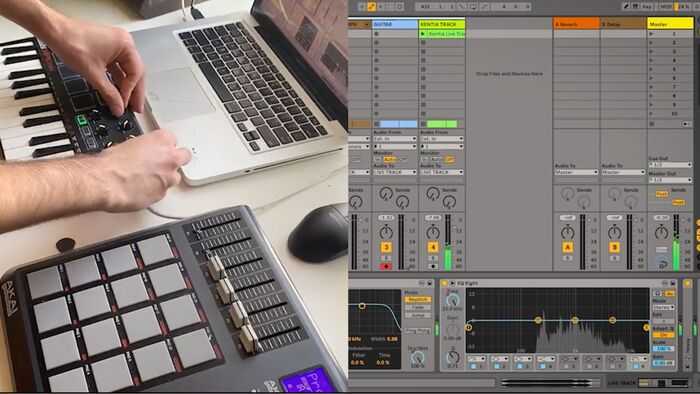 Soundfly is an online musical learning platform which aims to help you develop and succeed as a musician.
The site offers you the chance to read blogs about developing ideas in music, explore and learn from a range of comprehensive courses and, perhaps most interestingly, try all of this with the help of a 1-on-1 mentor.
There's a range of courses within the sections: play, writer, produce, hustle and discover. Each category develops a different aspect of your musicianship.
And each course includes challenges and projects for you to try at home. You can share them, as well as any other projects, questions, difficulties or successes on their slack community.
How does Soundfly work?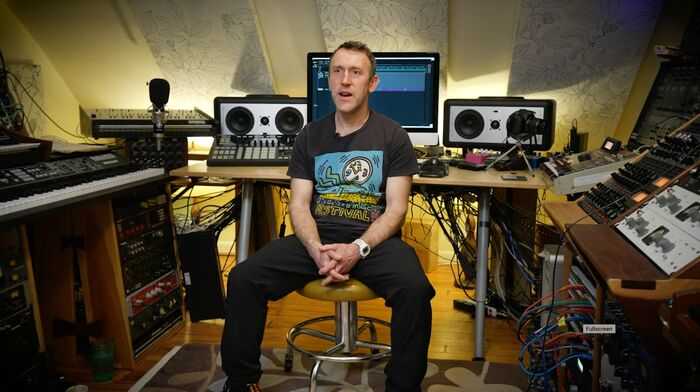 There are a couple of free courses you can take on Soundfly, but to access all their content you need a premium subscription. This can be monthly ($39 per month) or annually ($234 for the year).
There is a 15% reduction if you use promo code LEARNOPOLY2022.
Once you've made the purchase, you have access to all Soundfly has to offer. This includes courses divided into 5 key themes:
Play
Write
Produce
Hustle
Discover
Each theme is devoted to a different aspect of developing your musicality, and contains at least 4 courses taught by a leading instructor.
On every course I took, there was explicit guidance on what to expect, how to use it, what tools I needed etc.
Each one contained a mixture of video tutorials with accompanying text to clarify what's being taught. Courses are also highly interactive, and there are lots of prompts and encouragements for you to get involved. These include Try It Out sections and Milestone challenges, where you get to flex what you've just learnt.
They are also flexible, and Soundfly recommends you take classes at your own pace and prioritize them to your tastes.
But the interaction doesn't end there. You also have the chance to engage with one of Soundfly's mentors through the Custom Membership program. This means you will be able to get a personal membership plan, video calls and feedback, and guided activities on Soundfly courses to help you on your journey.
In addition to this, Soundfly also operates a blog and an interactive community on Slack where you can engage with other musicians.
What is a lesson like?
Given the breadth of the coverage, no one lesson is the same on Soundfly. But there are some frequent patterns among their classes.
Most lessons are in video format, usually accompanied by text to illuminate the concepts being described.
In each lesson, the instructor will typically explain a concept in detail, and then practically demonstrate it, normally with some software or an instrument that they are trying to teach.
After each lesson or group of lessons, there is normally a task or challenge that you're asked to do.
Don't worry.
They're not compulsory or graded, and you can do them at your speed. Instead, it's just a chance to show off what you've learnt from the course you're taking.
My review of 3 classes
I decided to take a range of courses from Soundfly. This is so I can share with you all the different elements Soundfly can offer.
Some of these courses are taught by outright leaders in their field, so be ready to see some celebrity names pop up.
These courses cover a range of different topics.
Performing, production, arranging, creativity. It's all here.  You can also check out some Soundfly courses in our article best online music production courses.
Kimbra: Vocal Creativity, Production And Arranging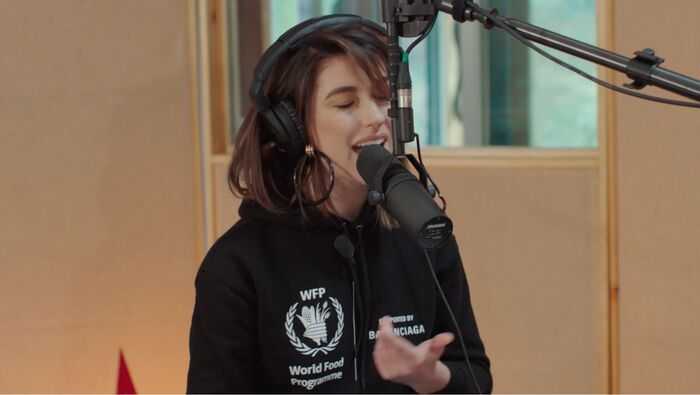 Somebody that I used to know. You remember that one, right?
If you can believe it, that song is ten years old now, and this past decade has seen its female vocalist, Kimbra, become one of the most interesting, unique and vibrant artists New Zealand has produced.
In this course, you'll get an insight into the various elements that go into her music, with lessons on vocals, production, arranging, songwriting and much more.
You will learn:
Kimbra's background, influences and career advice
How to develop a musical vocabulary and incorporate influences from outside your comfort zone
Kimbra's creative process, and what she does when she gets stuck
Why your environment is so important for your creativity
Engaging your whole body to generate new use with your voice
Using the vocals as an instrument
Shaping your sound by moving air around your vocal tract
Kimbra's advice for lyric writing
Using rhythmic phrasing to create melodies
Demonstrations with some of Kimbra's best songs
How and why to introduce different characters to your music with vocals and arranging
Kimbra's gear and equipment
Using mixing as a production tool
Using vocal reverb and distortion to create momentary musical effects
Pros:
Kimbra is a truly wonderful and engaging instructor who you can learn a lot from
Unites all the elements of production, creativity and arranging to show them as part of one musical process
Gives you actual practical advice and tips for abstract concepts like creativity
Incredibly comprehensive
Draws on a lot of references including Kimbra's music and other influences
Uses technical concepts in an accessible way
Specific techniques for developing your vocal and production skills
The opportunity to see Kimbra put together a song
Cons:
Some of the text included can be a little redundant and overlong
Length of Course: 9 sections each with up to 12 video sections that range from 5-30 minutes. Also includes Try It Out sections, challenges and textual lessons you can complete in your own time.
Best for: Anyone with a remote interest in production, arranging or Kimbra's music. I'd say this course is ideal for solo artists and vocalists looking to develop their skills and how to best use their voices in production.
Overall: I admit I didn't know too much about Kimbra before taking this class, and man, am I kicking myself now. This course was a wonderfully comprehensive introduction to a brilliant artist's perspective on music and her process. It was able to unite abstract concepts like creativity and songwriting, with actual practical advice for developing yourself as a musician. It also showed how interrelated production, performance and arrangement truly are, and drew on a range of Kimbra's music and experience to teach some great production tips and tricks. If you're a producer looking to develop creatively, or a creative trying to hone your production skills, check this one out.
RJD2: From Samples To Songs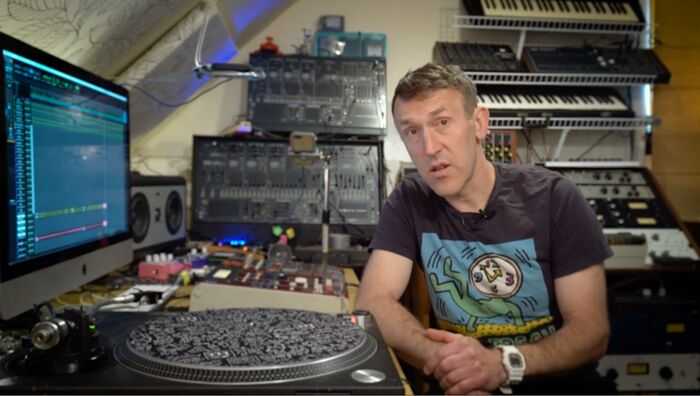 Samples are everywhere these days.
It's a new technique that has been adopted across the musical section and has come to define 20th-century musical production. As with any revolution in music, there are always critics asking "whatever happened to original instruments?"
Anyone with that mindset has to take this course.
RJD2 is one of the biggest names in hip-hop production. He teaches you just how much effort, skill and creative intuition is required to transform a simple snippet of music into a whole song.
You will learn:
What sampling is, its history and how it has shaped modern music
RJD2's criteria for selecting samples
How RJD2 develops creative ideas from a simple piece of music
Sampling with a loop-based method
Sampling with a chop-based method
The history of the MPC and how to use it
The elements of musical theory and structure behind sampling
Using MPC tools, like the note-off function and choke groups
Sampling in a DAW
The step-by-step of chopping a drum break
Sourcing a bass sound from the kick-drum
Breakdowns of RJD2's hits
Pros:
Taught by a legend who knows his stuff
Goes into the history of sampling, and its cultural significance
Give's sampling the dignity it deserves as a form of music creation
Practical tips for developing your own sound, and what to do if you get stuck
A step-by-step breakdown of RJD2's process, using his top songs
Employs elements of musical theory and structure to illuminate concepts
Shows how there is creativity in limitation
Visual breakdowns of RJD2's tools, like the MPC
Cons:
Could be more resources for places to find samples, as this is a big part of the process
Beginners may struggle with some of the concepts, depending on their background
Length of Course: As with the Kimbra course, this depends on how much you want to engage with the suggestions and challenges. There are 9 sections, each with a range of video lessons, lot's of textual resources, and a final challenge.
Best for: Anyone interested in sampling, but particularly those with a love of classic hip-hop and rap. Beginners might get a lot from this course, but the process and description are quite technical.
Overall: This course really opened my eyes. I had no idea how long the process of sampling was, and how much technical experience and skill it takes to get the perfect sound. RJD2 clearly knows exactly what he's doing, so it's such a delight to see him explain his process. This course did exactly what it said on the tin. It started with finding and recording a sample, and then gave you an insight into RJD2'S process, both with direct technical advice and tips for developing creativity and structure. Before I knew it, he had reconstructed some of his most classic songs right in front of me, and I had a newfound respect for the art of sampling.
Introduction To Ableton Live (11)
I've always been fascinated by the art of production. When I was a kid playing music, all the software, symbols, mixing desks, buttons were some kind of big mystery.
Here, I got to pull back the curtain a little, and learn about the art of production through one of the most recognisable tools:
Ableton Live.
You will learn:
Using arrangement and session view
The basics of quantising and MIDI editing
How and when to use Ableton's packs, presets and loops
Using Live Collections to categorise your favorite presets and sounds
Adding a human touch to your programming with quantisation and note chance
Tips for setting up audio recording, including monitoring and avoiding major feedback
Setting a note to a toneless sound in the spectral resonator
Getting the best take you can use comping and punching in and out
Using crossfades to make two combined clips less jumpy
Playing with the grid and switching and joining clips
Repitching audio with the detune slider
Adding effects through serial
How to use time-based effects like chorus, flange, delay and reverb
How to use amplitude effects like distortion and EQ
When to add automation
Turning your track into a live set, and setting up to perform in arrangement and session view
Getting a performance aesthetic with a MIDI keyboard or Ableton Push
Key mapping; using the QWERTY keyboard to trigger live effects
Pros:
Gives you all the foundations you need
Challenges help develop your intuition about using Ableton
Tips that can be applied to any production software
Teaches with a reference to general musical themes, like song structure and style
Instructor can navigate the software expertly and breaks everything down in great detail
Goes into unique detail about using Ableton to actually perform
Bonus lessons from other established Soundfly producers
Teaches how to use software to add a human touch to your production
Cons:
Might need some production background to fully appreciate the lessons
Very text-heavy, which isn't ideal for practical topics
Nothing on adding live drums
Length of Course: 9 sections, each with a range of video lessons, text lessons and challenges that vary in length depending on how much time you want to spend going through them
Best for: People who want to learn how to use Ableton Live. Probably better for those with some basic understanding of production technology.
Overall: As a drummer, it was a little hard to learn about drum programming. But everything else in this course gave me a really strong foundation in Ableton Live. Software like this has so many aspects to dig into, but I felt like all the essentials were prioritized. All the technical elements you need to know are broken down here, and everything is taught concerning developing generally as a producer and musician. I wasn't a fan of how text-heavy some of the lessons were, but I cannot fault the content.
What I liked about Soundfly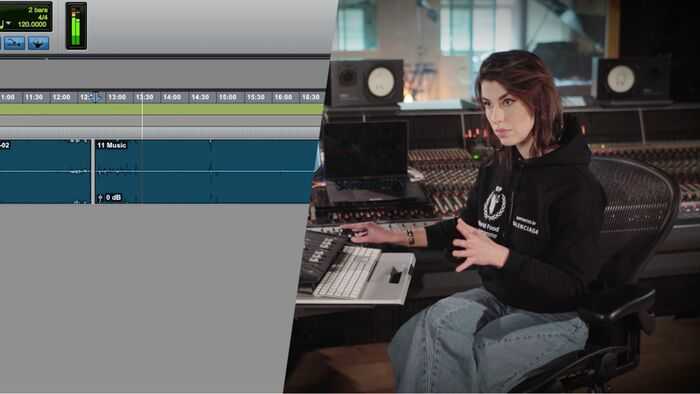 Unique In Content And Delivery
Probably the most striking difference between Soundfly and other sites is how unique it is.
I don't know about you, but I am constantly getting ads on YouTube for sites promising to teach me piano in 3 days or whatever.
And they are all the same.
Always focused on one specific instrument, you complete all the content yourself and the aim is always to get you to learn a big bank of songs that you can show off to your friends.
Don't get me wrong, it's an effective way of teaching, especially if you're a beginner whose aim is just to get to grips with the bare bones of an instrument. But as someone who spends a lot of time on these sites, using Soundfly has been an incredibly refreshing experience.
A big part of that is to do with the content.
Lot's of websites promise to teach you how to produce, how to play, how to create etc. But here, the teaching truly felt multi-dimensional. Each one of these core topics is designed for you to develop yourself generally as a musician. This is very difficult to teach, and as a result, most people don't.
But Soundfly goes deeper than that.
It's also far more committed to creating an interactive learning environment than any other platform I've used, and also attempts to create some kind of unity between its five main course divisions.
We'll go into the specific benefits of both of these things later, but this is one of the few places where you can prioritize interaction as part of your learning.
Other sites seem to want to teach you music, whereas Soundfly wants you to become a musician. It's a subtle difference, but it makes the aims and execution of these courses stand out to me.
Interactive
I said I'd talk about the pros of this a little more, and here we are.
This is one of the most interactive platforms I've ever used and for a variety of reasons.
First of all, you have the option of actually engaging with an instructor through the Custom Membership programme. For 4 or 6 weeks, you have the chance to receive guided learning, feedback and more with one of Soundfly's many talented mentors.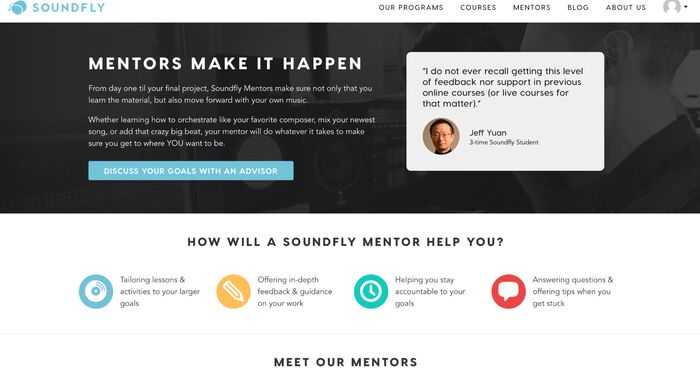 I didn't even review this aspect of the platform, but being able to browse the mentor's pages, and to read about their history and skills made my entire experience on the site a lot more personable.
This is especially true as many of the mentors actually lead the courses themselves.
You're also offered the chance to engage with the specific courses. The lessons I took usually ended with a little task or a challenge for me to try out.
There wasn't any pressure and it was never too difficult, but it did feel like a great way to test, apply and re-embed whatever I had just learnt.
This is such an important aspect of education.
We have exams and tests for a reason, but today they have become so rigid and not reflective of actual learning. For what it's worth I am particularly suspicious of the benefits of music examination as it makes it all about the grade.
By encouraging you to engage with the content through little Try It At Home challenges, Soundfly ensures you're being an active learner. But it also bypasses the risk of making it all about the result, instead of the actual learning.
There's also the opportunity to engage with the Slack community and share your ideas, accomplishments and challenges.
It's clear, this site prioritizes interaction. On every course, I took there was explicit guidance on what to expect, how to use it, what tools I needed etc. It felt, kind of strangely, that I was getting some very personal attention, even though anyone could take this course.
Kimbra encourages you to engage with her music through Spotify, and there are even references to other courses on Soundfly that can help whenever there's a more technical idea explored.
Learning is an inherently interactive process, and sometimes I'm scared transitioning education to the internet might diminish that.
With sites like Soundfly, I have no reason to worry.
Comprehensive And Well Structured Courses
So I'm obviously a fan of Soundfly's overall vibe, but what about the specifics?
Everything was so comprehensive.
Rather than focus on big, overall lessons, each class went into the specifics of what it was teaching, with step-by-step instructions, lots of examples and the breakdown of quite abstract concepts.
That isn't to say this was like school or anything. The lessons were still super fun and there was a general ethos of creativity and enthusiasm I discuss below. But I was also impressed by how much detail there was in each course.
This very technical form of teaching might be expected from a course aiming to break down a DAW like Ableton Live because there are a lot of specifics that need to be directly explained.
Even then, musical software has so many different facets, it's hard to know where to start, so the content also did a good job of introducing and prioritising the essentials.
But I was really impressed by the teaching of Kimbra and RJD2 in particular.
Celebrity instructors often do little more than share their own experiences. This certainly has value, and it was a method employed by both courses. But RJD2 and Kimbra also went into very specific detail about their actual process, giving practical tips and steps for you to try.
This is rare from a celebrity instructor and was particularly impressive when they gave genuine tips and steps to take in overcoming difficulties with more abstract concepts, like creativity.
It's even to the point where the amount of content in each course might even seem a bit daunting. I think this is only really true for beginners, and Soundfly spells out for you how much they recommend you take each course at your own pace.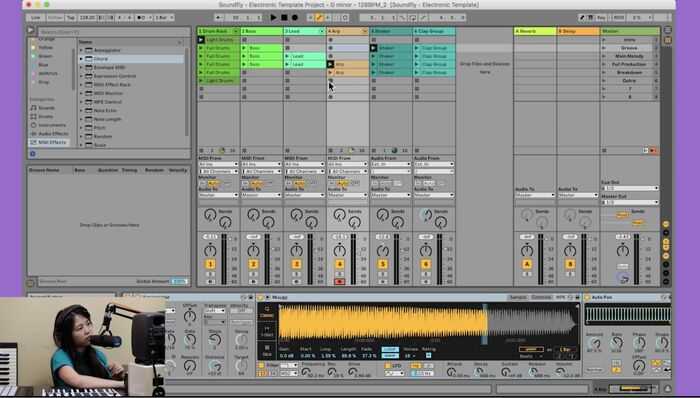 Develops General Musicianship
When it comes to education, we are obsessed with categories.
That's how schools work, and it's how most musical sites work. You spend time learning one thing and move on to something seemingly completely different.
Music isn't like that.
Sure, you can specialise in certain aspects of it, but there are general concepts that apply to all aspects of the discipline whether it's theory, production, performance, creativity, it's all connected.
I feel like Soundfly gets this, and it's one of my favorite things about the site.
Sure, their courses are divided into different categories. But this isn't arbitrary. Each one is devoted to developing a specific aspect of the site's overall goal, which is to make you a better and more confident musician.
This is practically true. Within the courses themselves, there will often be recommendations to check out a different Soundfly course that's related to what you're studying, especially if it's to help you with a difficult concept. So there was always unity between the classes.
The site is also user-friendly, and I feel like the layout and aesthetic contributes to the consistent theme of developing your overall musicianship.
Even though the courses I took taught completely different things, there felt like there was an ethos that bound them together. The instructors I had were completely different topics, in very unique and specific ways, but there felt like there was a general ethos about musicianship and creativity that seeped into every course.
I can't quite put my finger on it, but it felt there was this overall spirit and vibe that made Soundfly feel like a place where I could generally develop and grow as a musician.
Sure, there was practical teaching and advice, but it wasn't a case of "this is a c chord, play this now." There was something deeper here about working on your creativity and using music to express yourself that pervaded every course I took.
And I thought that was cool.
What I thought could be improved
Could Expand Courses On Offer
As with most sites, Soundfly is constantly expanding its output and dropping new courses. So my arguments here might very well become out of date.
But one thing I did notice was that there weren't too many courses to choose from. This is only true for the write, play and discover sections.
It's difficult to fault Soundfly for this.
As I said, other musical platforms do focus on a specific instrument, So it's easy to see why under-appreciated but important aspects of being a musician, like producing, are given priority.
Also, the content of each course is incredibly comprehensive, so it's not like you're going to run out of classes to take.
But, as a drummer, I would've loved to have seen more lessons on my instrument within Soundfly's framework, and within the context of the kind of informative and interactive lessons they teach.
I think the site could benefit from adding a couple more courses devoted to composing and, especially, instruments.
I also think there could even be more of an emphasis on beginner musicians. Don't get me wrong, it seems like every site is focused on beginners. So it is super cool to learn with a platform that isn't afraid to dive headfirst into technical concepts and language. And Soundfly certainly has courses geared specifically to new learners.
But, as I said, I like the framework this site has set up, and I think it could be very useful for people who are just getting started with music. As it stands, there aren't as too many courses devoted to this group.
This isn't so much a critique of what Soundfly actually offers.
What they have is great, I'm just interested to see where they take it.
Go Easy On The Text
This is an absolute nitpick and a totally personal preference.
I apologise profusely, but as a reviewer, nitpicking and being entitled about my preferences is my passion.
In all seriousness, this critique really shouldn't affect your experience with Soundfly. I just felt that, at points, the courses I was taking had a bit too much text.
I can understand why.
The use of text is a key component of one of the site's key strengths, which is the interaction and guidance you receive in each course. But sometimes the text was purely a repetition of what is said in the video.
Don't get me wrong, it could add to the ideas explained at times, but I do think this could've been better placed in a workbook or something of that sort.
On top of that, I think a lot of the text could be more succinct, and just generally shorter. I don't know about you, but for me, learning about music is a very visual, auditory and interactive process.
This plays to the video lessons strengths, but I didn't feel like I got as much from reading a wall of text as well.
Again, it's a serious nitpick, and it might be important to add that I'm very lazy, especially when it comes to reading.
But I do think this is something to consider, especially if you're a beginner or someone who prefers learning visually.
Who Soundfly is for
Soundfly's broad focus on developing musicianship is a big part of its appeal, but there are a few niche groups who I think would specifically get a lot out of this site.
These include:
Anyone interested looking to get into learning about production
People who want the closest online equivalent to an in-person mentor
Instrumentalists looking to develop general musicianship
Musicians looking for greater insight into the technical, industry and production aspects of music
Learners who value interaction, and learn will with challenges
Learners who like video lessons elaborated with text and visuals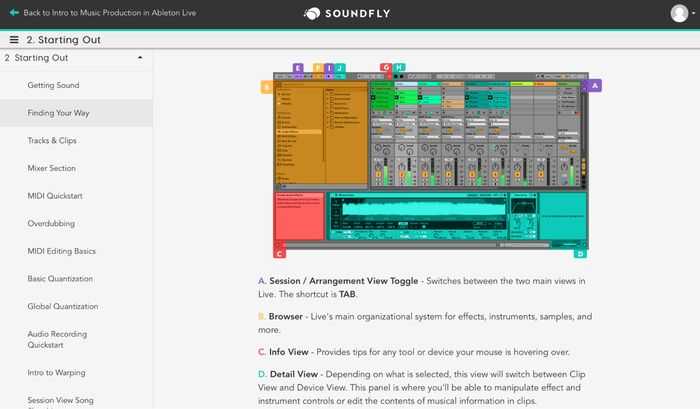 How much does Soundfly cost?
By signing up to Soundfly, you get access to all of their premium content.
There are two main ways of doing this.
You can either go for the monthly subscription, which will cost you $39 per month.
Alternatively, you have the option to pay for your Soundfly subscription annually. This will cost you, overall for the year, $234.
It's worth keeping in mind that the second option works out a lot cheaper, and you would end up paying the equivalent of $19 per month for the same content.
For Custom membership, where you are guided by a mentor, the cost for 4 weeks is $499, and for six weeks it's $649. If you're a subscriber, this is reduced to $375 for 4 weeks and $487 for 6.
Refund
There is a 100% money back guarantee if you don't like what you get in the first week.
Free trial
Whilst there isn't a free trial as such, Soundfly does offer a range of free courses.
Although most of the content is delivered as part of the premium access, there are at least one or two courses for each discipline that you can try out, free of charge.
Alternatives
This platform's major strengths is how unique it is. In terms of the content it covers, and how it's all laid out, there's only one place where you can find it like this.
But, with that being said, there are alternatives to taking lessons on Soundfly.
If you like the idea of having a celebrity mentor appeals to you, MasterClass might be the place to visit.
This is a site where top-tier masters of their craft come together to give video classes on their discipline. There is a wide range of topics, music included, and the site has been able to attract some of the most widely recognised and influential musicians in the world.
Alicia Keys has a vocal course, where she will walk you through her top tips for performing. If performance is what you're interested in, you can also check out MasterClasses by Metallica, Yo-Yo Ma and Herbie Hancock.
But some of you will be more into the technical side of things. In that case, why not try the MasterClasses led by deadmau5 and Armin van Buuren for a crash course on music production, or Danny Elfman's course on film composition.
Some people are sceptical about the flash of having a celebrity instructor. If that's you there are still plenty of options.
Sites like Udemy and SkillShare have recently come to prominence, offering teaching and insight on a range of skills.
If producing is what you're interested in, but you don't know where to start, you could check out Udemy's introductory course: Music Production For Beginners
Whereas if you're looking for something more in-depth, check out the more advanced courses on Skillshare.
What others have said
To keep this review as balanced and as fair as possible, I've spent time scouring the internet to see what others have said about this site and compared it to my own opinion.
As the interactive nature of this site is one of its biggest strengths, the Slack community is the obvious place to check out what kind of things people are saying about the site.
I've sung the praises of the interactive nature of the site. I also think the Slack community is great. Soundfly staff are constantly engaged in all the channels with tips, ideas and recommendations.
This in turn makes it the ideal place for students to share their struggles and successes. It nicely sums up the positives of how interactive this site aims to be, and also offers a nice snapshot of how users feel.
And overall, the vibe is very positive, as this comment illustrates.
"I am stoked that I found this. It seems exactly like what I've been needing and looking for to help me bring me to where I want to be with my music career." - Slack community member 
This comment pretty much sums up the overall feel of the Slack comments.
However, it's only fair to also explore what people are saying outside the site itself.
Strangely, the typical forums I frequent to get a sense of how muso's feel about a particular site don't seem to have much to say.
That is except for YouTube. Soundfly is constantly promoting their courses, and sharing general musical content here, so the comments are also a good place to see how people are feeling.
And, again, it's all positive, as this comment on the RJD2 course demonstrates.
"The approach, direction, and the care to have that attention to detail is magnificent. Thank you for sharing." - YouTube Commenter 
So yeah, pretty good reception.
Is Soundfly worth it?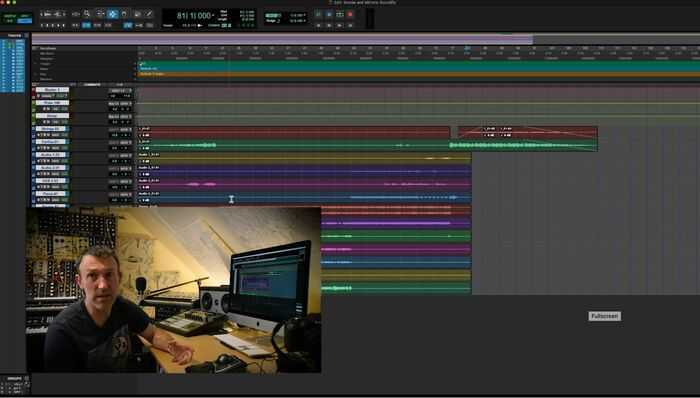 And finally, the ultimate question.
Is Soundfly worth it?
The answer will depend on where you're at with music, and what you want to develop. But I'd say, in most cases, Soundfly is worth checking out.
If you're an absolute beginner or looking to develop in a specific instrument or both, then other courses can probably offer you a little more in terms of content.
But being a musician is so much more than just reproducing notes on an instrument. Soundfly knows this, and it's a stronger place to learn as a result.
Using this site, you will be able to develop as a composer, producer, arranger, songwriter, critic and all-around creative individual.
Each course goes into incredible detail about whatever topic it teaches, with instructors who break down technical elements of music while also helping you to improve your overall creativity and musical intuition.
This is also an incredibly interactive place to learn, more so than any other place I've tried.
You can feel like a real community member, whether it's through trying out challenges on your own, sharing them and generally engaging with the Slack community, or choosing to have your mentor.
If that all sounds great, Soundfly might very well be the place for you.
Subscribe for unlimited access and take 15% off your monthly or annual subscription on us, with promo code: LEARNOPOLY2022
Frequently asked questions
How much does Soundfly cost?
A monthly plan with Soundfly will cost you $39 per month. Annual membership is $234. Custom membership is $499 (4 weeks) and $649 (6 weeks), and $375 (4 weeks) and $487 (6 weeks) for subscribers. 
Does Soundfly have a refund policy?
You can email the Soundfly team with any queries about your purchase. There is a 100% money back guarantee if you don't like what you get in the first week. 
How many courses are there on Soundfly?
A whole lot! Within the five disciplines of write, produce, play, hustle and discover, there are at least 4 courses in each, with normally many more. 
Does Soundfly have a free trial?
Soundfly operates free courses in each of its teaching categories.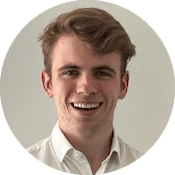 Charlie is a student reading politics at King's College London. He is also a passionate musician with over 14 years of experience. In his free time, he also enjoys cinema, long-distance running and learning new things.