Metallica is one of the most iconic bands in the world. They have redefined the metal genre and massively contributed to its defining sound.
They sell out stadiums, sell records across the globe and have created an image that has cemented them as one of the world's most recognizable rock groups.
But does all that history and success necessarily make for a worthwhile learning experience?
If you're interested in the answer to that question, you've come to the right place.
I've taken the class and in this Metallica MasterClass review I'll be sharing my thoughts on the cost, the content, alternatives and ultimately…
Whether or not the Metallica MasterClass is worth it?
But if you're short on time, here are a few of the highlights:
.
Quick summary
You will learn:
All about how Metallica put together some of their greatest hits
How to navigate egos and give criticism within your group
James Hetfield's process for lyric writing
How Kirk Hammet builds solos from the blues
Metallica's performance techniques demonstrated also through a live performance
Rob Trujillo's bass sound and how you can get it
What the fans mean to Metallica
How to secure your future financially
Breakdowns of classics like 'Enter Sandman' and 'One'
How Metallica build their albums
Pros
You hear from every member of the band, each of whom is a legend in their own right
Learn a lot from their actual interactions and chemistry
Explores a rare subject matter in music education
A rockin' live performance to round it all off
Explores some of Metallica's greatest songs, and you get to hear them live
Cons
With all the Metallica content out there, what you learn isn't massively unique
A little unstructured, and could do with being a bit more technical
Content is very specific to Metallica, and could be more general
Length of course: 15 video lessons totaling 2 hours and 45 minutes
Best for: People who haven't been in a band before, but are interested in getting started and want to hear about the experiences of one of the greats. This MasterClass is ideal if you're looking to start a metal or rock group.
Overall: This course was an entertaining watch. I truly learned from and loved hearing about the experiences and ideas of every Metallica member, and seeing all of that come together in the end as a performance made it all the more inspiring. However, with so much Metallica content out there, not a lot of new ground covered here. But it is presented in a clear, informative and entertaining way some fans might value.
In this review I'll be covering:
About Metallica and MasterClass
Inside Metallica's MasterClass
What I liked about this class
What I think could be improved
Who I think this course is for
The cost and any potential alternatives and most importantly…
Is the Metallica MasterClass worth it?
About Metallica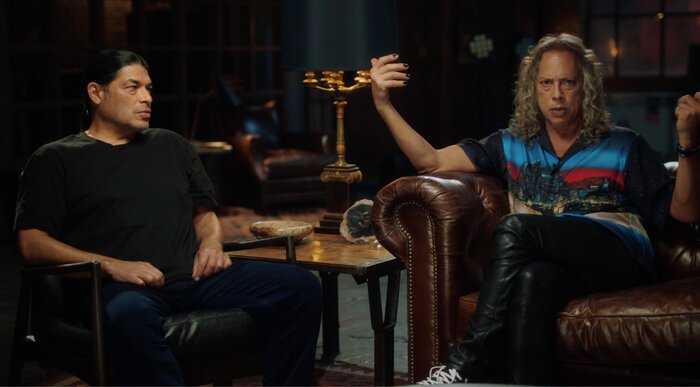 Believe it or not, Metallica was founded almost 40 years ago in 1981 by Danish-born drummer Lars Ulrich. Initial recruits for the band included singer and guitarist James Hetfield and lead guitarist Dave Mustaine. They were later joined by bass virtuoso Cliff Burton, creating the group's first iconic line-up.
After two initial albums, cementing them in the genre of Thrash Metal, the group fired Mustaine, who went on to form rival group Megadeth. He was replaced by Kirk Hammet, who has since remained the group's lead guitarist.
Metallica found commercial success with the album Master of Puppets, a classic cornerstone of the metal genre. This chapter in their history was tragically overshadowed by Burton's death in a bus accident.
The band continued to record music after Burton's death, releasing …And Justice For All in 1988 and the more mainstream-orientated Metallica in 1991. The latter contained some of their biggest ever hits including Enter Sandman and Nothing Else Matters.
The 2000s were a more difficult period for the group, including some releases that didn't fare as well among audiences and critics, and a well-documented battle with the Napster streaming service.
However, they continued to sell out stadiums across the world, with spellbinding live performances attended by their loyal, devoted and ever-expanding fan base.
They are one of the most commercially successful bands of all time, selling over 125 million records worldwide. Their last six studio albums debuted at number one on the Billboard 200.
They are also revered for their contributions to the genre and are probably the most instantly recognizable and legendary metal groups ever.
Check out the trailer below to learn more about your potential teachers:
About Masterclass
After launching in 2014, MasterClass is now known as one of the most easily recognizable learning platforms on the internet.
The site aims to produce high quality, well-produced lessons from world-renowned instructors, with courses ranging from cooking with Gordon Ramsey to acting with Natalie Portman, to performing with Herbie Hancock.
Despite this unique selling point, MasterClass isn't for everyone, and no course or instructor is the same.
So, is the Metallica MasterClass right for you? Read on to find out.
If you want more details on MasterClass and some of its most popular classes, check out our Masterclass review and best MasterClass article.
Inside Metallica's MasterClass
What do you actually learn in Metallica's MasterClass?
That's what we're going to find out in this section of the review.
Metallica's MasterClass contains 15 video lessons; the first 14 are dedicated to exploring different concepts related to being in a band, with the final class being a 33-minute performance of some of Metallica's biggest hits.
In addition to this, taking the class means you receive:
A 39-page accompanying workbook to help guide you through the lessons
The opportunity to speak and connect with others taking the course
Here, I'm going to break down each lesson of the course. The aim of this is to let you see inside the MasterClass, and help you to decide whether or not it's something you might be interested in.
Before we begin, I should say that most MasterClasses open with an introductory lesson and close with a summary one. As these lessons are limited in actual teaching, I've decided to exclude them from this list.
Lesson 2: From Riff To Song
After getting a feel for the band, and what you're going to learn in the first class, the second lesson dives right into the content by focusing on how Metallica builds on a riff to develop a song.
This is something a lot of songwriters struggle with. A killer riff can be an excellent, and in some ways the most important, foundation of any group's track, but it won't make the song by itself.
How do you get those other elements to come together?
For Metallica, this includes:
Using the riff to set the tempo and key
Using the riff to develop and understand the song's overall feel
Anticipate the power of the riff by creating a strong intro that compliments it
Play as much as possible with different musicians; this will bring new ideas to fruition
For most musicians, it's reasonably straightforward advice. But it was nice to have it clearly spelled out by musicians who are simply masters of what they do.
This second lesson also gives you a feel for what the course is like as a whole. Each Metallica member contributes their own ideas and views, and they all draw directly on the experiences the band has shared to inform what they're teaching you.
Lesson 3: Deconstructing "Enter Sandman"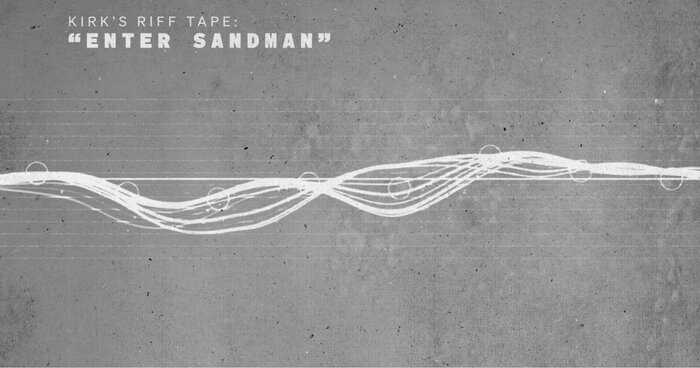 Here, the course changes pace almost immediately.
We go from very broad examples of creating songs from riffs, to more a specific deconstruction of one of Metallica's best-known hits, which itself has one of the most recognizable riffs of all time.
We get a bit of background as to how the song was put together, as well as the inner workings behind the magic of it.
Kirk Hammet, Metallica's guitarist, actually teaches you how to play it. You could learn this anyway, and many will probably already know it, but it is very, very cool to be taught by the originator.
We then get a bit of detail about how the song was made. Initially, it was going to be an alternating two-part riff until drummer Lars Ulrich suggested the first part should repeat 3 times followed by the second part.
This created the 'tail-end' style riff we know and love today. We also get to learn about how the intro was put together in anticipation of, or tease of, the heavier parts of the song.
Although this might be common knowledge to Metallica fans, as an outsider who still loves this song, this was super cool to learn about.
Another important tip bassist Rob Trujillo mentions is how you should be open to your live performances changing the song. This is a more practical takeaway from what was quite an anecdotal lesson.
Lesson 4: Navigating Egos And Giving Criticism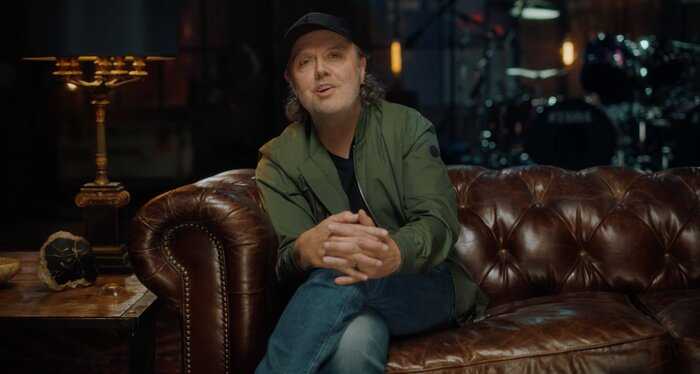 Metallica has had their fair share of clashes with each other.
Although they have relative membership consistency compared to a lot of over rock groups in terms of membership and longevity, the fact that the original lineup isn't teaching you kind of tells you that not everything can be solved.
But, this version of Metallica has been touring, recording and co-existing with each other for 18 years, so they must be doing something right.
I was excited for this lesson. It's not something you often get to explore in music classes, but clashing personalities and receiving and giving criticism are essential parts of any dynamic, especially a band.
I think a lot of that has to do with how music is a very expressive, individual pursuit. Ultimately it's about your relationship with your instrument, and your intentions and emotions mean a lot to how you play it.
And yet music is also deeply collaborative. So finding the balance between expressing yourself and making way for others is no mean feat.
Metallica has a bit of advice for dealing with this.
For one thing, they acknowledge there were bust-ups when they, and the metal scene, were younger and more aggressive. Although not taught directly, you get the impression acknowledging this is a big part of what makes them work right now.
Back when the group looked like it was falling apart, they invested in a performance coach, and this is documented in the film Some Kind Of Monster.
Lead singer James Hetfield has a nice analogy when he says it took him a long time to realize that if lit a candle and joined it with someone else's, his candle still burns.
Part of what makes them work now is recognizing that they have a common goal. Talking it out and understanding each other is important for that.
Particular recognition is given to the choice of words, which are so important when it comes to feedback.
There is no right and wrong in music. So even if you hate someone's idea, being overtly negative with them means you won't get the best out of them.
Lessons 5: Writing Lyrics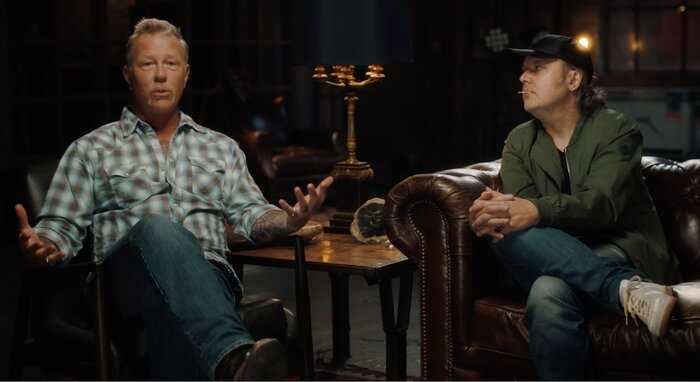 Led by James Hetfield, the group's chief lyricist, this lesson is all about the words in Metallica's music.
You might be surprised, given how poetic his writing can be, that Hetfield did not study, and wasn't even interested in, literature.
Yet his lyrics explore some deep, meaningful and very dark themes, such as the idea of being controlled, referencing addiction, in Master Of Puppets.
Hetfield says he is right from the heart, which is a bit of a cliche, but it is a clear message that to get the best content you need to write from your own life.
But you also need to keep it vague, so that everyone can apply it to their own life, and connect with what you're saying.
One is famously based on Johnny Got His Gun, where the protagonist is a soldier who loses his arms, legs and face, yet has a sound mind and is a prisoner in his body. That's a very specific circumstance, but it taps into an anxiety many of us share, meaning we feel the song even more.
A more technical takeaway is to not worry about one-liners and ad-libs. If something comes to Hetfield he writes it down and fills it in later. It's a unique way of songwriting I was intrigued by, and I would've liked a few more practical tips in that vein.
Lesson 6: Song Deconstruction: "Master Of Puppets"
Another song deconstruction, this time we learn about the heavier Master Of Puppets.
It's a number one fan favorite, which Metallica prescribes to its down picking, dual soloing and heavy tom breakdown, all hallmarks of a classic Metallica hit.
Hetfield talks about the gear he uses in the song, and more generally in live shows. Ultimately it all comes down to two sounds, clean and heavy. For Hammet, these are more than just technical attributes. They are also attitudes. You can play the guitar with a heavy tone, but you can also play Heavy.
Metallica also breaks down their influences on the song, including classic British hard rockers Led Zeppelin, Judas Priest and Iron Maiden.
Hammet himself talks about guitar influences.
No surprises here; there are all British and American blues icons: Jeff Beck, Jimi Hendrix, Richie Blackmore, Toni Iommi and more.
This leads nicely into the next lesson.
Lesson 7 & Lesson 10: Building A Rock Solo From The Blues & The Bass Sound
I've grouped these lessons together because they cover similar, specific aspects.
The guitar and the bass.
Hammet's lesson is all about soloing, where you'll learn:
To balance between composing and improvising
How to make a statement with your solo
Using the Box Pattern (Blues Minor) scale to build solos
Recording and being inspired by your ad-libs; your first takes are the freshest
Trujillo's lesson is all about that bass, a key component of Metallica's sound.
Here, he goes through:
Passive vs. active playing and how it changes the song
How to choose the right sound
Using the pedal-board
How to do what's right for the song
Why and when do you just need to supplement the guitar part
I know and appreciate this course is aiming to teach more abstract concepts. It's hard to give practical lessons on 'being a band.' But I must admit it was nice to have two lessons go into the technicality of Metallica's sound, even if they were a little short.
Lesson 8: Exploring Dynamics In The Song "One"
If it's your first time hearing this song and weren't a metal fan, you'd be forgiven for being lulled into a false sense of security. It starts with a very gentle, yet eerie four-note riff. And that's what makes the build-up and pay off work so well.
Dynamics are essential for metal, and any style of music. You sometimes need a stark contrast to appreciate the heaviness and the force of the music.
As I've said, this is a very deep, and in some ways painful song. The mixture of emotions in the lyrics is reflected in the use of dynamics.
This is of course illuminated by Hetfield's visual lyrics which we've already covered.
One cool thing is that Ulrich's machine-gun style drumming wasn't intentional, despite the song's source of inspiration. Hetfield describes this as things just happening for a reason, which feels like a bit of a cop-out, but I'll forgive him for writing this masterpiece.
Lesson 9: Performance Techniques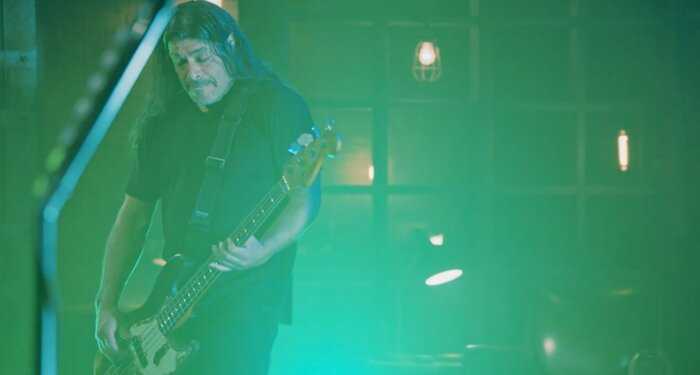 James Hetfield was shy as a kid. You wouldn't believe that looking at him now.
This lesson is all about Metallica's live performances, and what makes them work.
It's one of the more collaborative lessons. They all contribute equally to the live sound and energy, so they all have something to teach.
Hetfield's job as front-man is to draw in the crowd. This is a daunting task, so rather than constantly putting on a front (it's easy to forget this is their day-to-day job) he suggests just being yourself.
If he's tired and grumpy, he admits it. He uses it. He'll say something like "I'm so tired and fed up, hopefully, you can all liven me up" and puts that aggression out there so the crowd can re-energize him.
Lars Ulrich agrees, saying it's essential to put yourself into the crowd. Anyone who's seen Metallica live knows he spends only half the show on his drum stool.
Comparatively, for Hammet, rather than going out of the crowd, he draws himself into the crowd. This was a nice point because it showed how different attitudes can exist onstage, and even gel together well.
Rob Trujillo's contribution is to suggest that you internalize the music, as this creates a new energy in the performance.
Some of these guys have been playing together for 40 years, and in this incarnation, they've been touring for almost 20. There's an unspoken language that's developed that can't be taught, but from hearing their experiences and perspectives, we definitely gain something.
Lesson 11: The Fifth Member Of The Band
No, Dave Mustaine and Jason Newsted don't make guest appearances.
The fifth member of the band is instead, well, you. That is if you are a Metallica fan.
The fans are the energy of live performance for Metallica. The reason they developed a 360° "snake-pit" stage was to get closer to them.
There's a strong bond there Metallica wants to keep alive. And they do that by constantly surprising the fans with pyrotechnics, explosives and technical wizardry. But ultimately it's all about the music, and fans have stayed so loyal in some ways because Metallica has stayed so true to themselves.
I liked the message of this lesson. Especially in our celebrity orientated culture, we often forget there's nothing innate about an artist's status. That is constituted by the people that support them. Metallica being Metallica is entirely conditional on their fans existing, and they are just as much part of the group's progress and trajectory, even if none of them is directly involved.
I felt this was expressed nicely and articulately here, but I would say that it does assume you do have fans. If you are taking this class, you probably are aiming to learn how to be a band, and that probably also means you don't have a hoard of fans already screaming your name.
Maybe a lesson on how to get fans would be more valuable.
Lesson 12: Building An Album
We've covered some of their hits, but Metallica's albums are just as recognizeded for their iconic albums.
An album is more than a collection of songs for Metallica. It's a musical expression of a specific time and place. As a result, Metallica will have posters and imagery in their studio to influence their output.
They have no rules for their editing process. For example, the song "Hardwired" was painstakingly put together and filled in from various open musical ideas. Lars Ulrich says to be patient with this process, and being Metallica's founder is nice to have him lead this technical element of the course.
I also liked the idea of having a demo and refining it. The key takeaway here is that the process is very gradual and that it's always important to get some distance from the project before you come back with the right sound.
Lesson 13: Securing Your Band's Future
This is a component of music not always taught, but it is a big part of what created Metallica's success.
Again Lars leads this lesson, as in the early days he was the one who took care of the business side of things.
He teaches you to:
Get your music out there as much as possible
Try and establish independence and ownership
Be upfront about your motives and support yourself
Take care of outside processes at the beginning, but keep the business side at bay
Sustain your tour with merchandising
Although I appreciated the honesty here about a not-too-often acknowledged underbelly of music today, I also think a lot of this is only applicable following a certain degree of success, which I imagine won't be the experience of many taking this course.
Lesson 14: Taking Charge Of Your Creative Destiny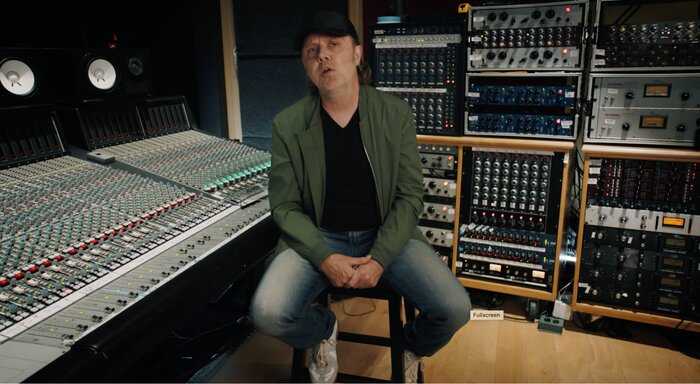 This is the last real lesson in the course, and rather than introduce any major new concepts, it just reiterates the ethos the group has tried to explore here.
One such concept is trust. Metallica has chosen to keep their music collaborative and stay in a group, and dependency now forms part of their musical identity.
Another is risk. For example, when Michael Cayman approached the group about a symphonic album, there weren't certain and ideal sesame counterintuitive. But they leaned in, thought about how they could make it their own, and it turned out great.
Finally, be creative. You'd hardly know it but Kirk Hammet's solos are often inspired by a combination of bossa nova, British blues and classical music. You need to have a passion for your music, and it doesn't matter if people don't like it.
Do it for yourself.
Lesson 15: A Live Performance With Metallica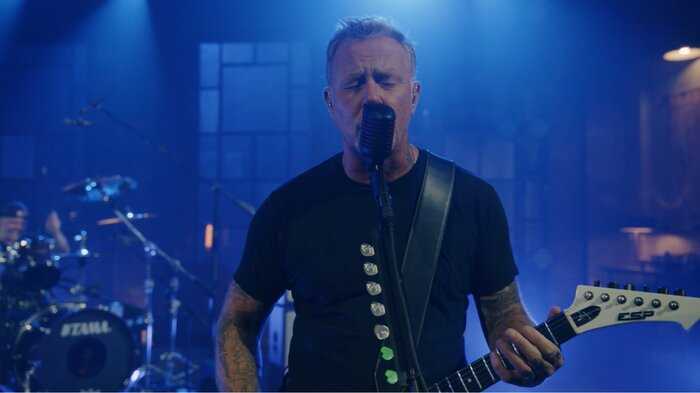 We end the course with a live gig from the band, where all the ideas explored above are put to the non-verbal test.
Not much to say here.
You'll hear all the fan favorites, One, Master of Puppets, Enter Sandman, For Whom The Bell Tolls, as well as some newer tracks like Hardwired.
Metallica attacks each track with the energy and passion that they would have in a live stadium, and on top of that, the cinematography is excellent with great angles and shots of the group's performance.
It's a fantastic way to end the course.
What I Liked About The Course
Collaboratively Taught
By far the thing I liked most about this course was how it was taught.
When we are thinking about education, whether we know it or not, what we are always looking out for is content and communication. What is someone teaching you and how are they teaching it?
And how Metallica taught this course was pretty cool.
When I saw this MasterClass drop I did wonder how they were going to approach having a class led by four masters. I worried that some of the messages would be diluted or maybe one or two of the members would dominate.
But here you get to hear everyone's perspective. Unless a lesson specifically focuses on one member's instrument, you tend to hear from everyone. Everybody had a contribution to make and you could tell they respected each other.
This is ideal because that's what being in a band is all about. Everyone comes with their own skills and perspective and the aim is to synthesize that into something greater than the sum of its parts: a collaborative whole, or a fifth entity as this MasterClass puts it.
In fact, what makes it properly work is that not only does every member contribute, but it feels like they all want to. There's a real passion and dedication that comes very nicely in every lesson of this course and that is something shared by all of the musicians.
I should add that that energy is matched in, and in some ways climaxes with, the final live performance.
And did I mention? You're literally being taught by Metallica. Come on!
Braves A Difficult Subject Matter
So I liked how they went about teaching, but is there any substance to what they actually say?
Most people, especially if you're a musician, will have an idea about what it means to takehave music lessons. You're taught things step-by-step, given feedback to practice and work on etc.
But when it comes to teaching something like being in a band, that's a little trickier because there are no rules or formulas quite like there are in regular music.
So I very much appreciated the subject matter this course attempted to tackle. Music is often collaborative, but it's also very personal and expressive, and finding the balance between these two things is very difficult, especially if no one quite knows how to go about teaching it.
Although I think that there could've been improvements to the content made, I liked the overall priorities and themes they had.
Some focus on navigating egos, receiving criticism, performing together, knowing your motives and securing your bands future –– these are things every musician needs to be aware of but you don't get to truly explore them unless you pursue music to a certain level.
And I know there's scepticism about how much you can learn from a major selling group like this when their experience has been so unique.
But that's kind of the point.
They aren't trying to be anyone but themselves, just like all bands should be. If that has applied to their career, it should apply to the MasterClass as well. Our aim as learners should be to take something away from the experiences they are sharing and apply it to our worlds.
Learn About Metallica
This is a smaller pro and one that I think leads nicely into a couple of the drawbacks I experienced with this course.
Another thing I really liked was being able to take a career dive with Metallica.
I'm no metalhead myself, so being able to learn more about the group and their history was very cool. You don't need to even know them that well or at all to gain something from this part of the course.
There is so much history and so much shared experience that hearing about it is like hearing legends tell their battle stories. The song deconstructions were particularly good for this, as they showed how their hits were put together.
I also liked learning about how they navigated adversity as a group. Even in a non-musical context, being able to work together that long in something that often brings out conflicting egos, especially with outside pressure from the music industry, tells you a lot.
Now, if you are a Metallica fan and you're still reading after my disgraceful admission above––firstly, thank you for being so kind, and secondly, I'm so sorry but there's more bad news.
Most of this knowledge probably won't be all that new to you. Don't expect to find some deep secret that you missed from all your years studying Metallica, because it isn't here. This leads us to some of the problems with the course.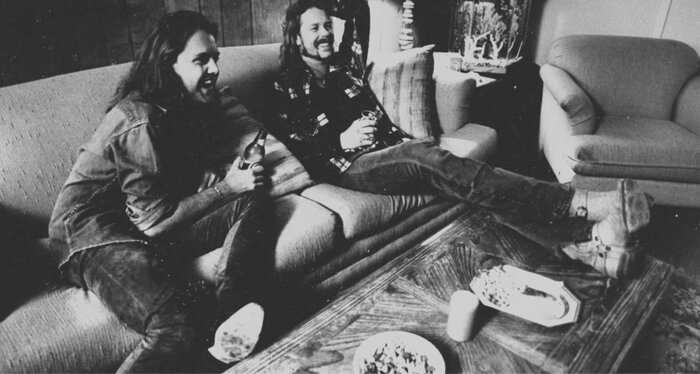 What I Think Could Be Improved
Content Isn't Massively Unique
I know, I know, I literally just said teaching being in a band was a unique subject matter.
And it's true…
You can keep this one on your pro's list, I promise. The problem is that the content itself isn't something exclusive to this course.
This is hardly Metallica's fault. After 40 years of dominating a particular music genre, people want to know your secret, especially if you have a hardcore fan base. That means all the information you could ever want to know about Metallica is out there, whether it's in books, documentaries, interviews or online.
If you've consumed enough Metallica content, you're probably familiar with most of this stuff already. You'll know all the stories about how the band started, how their hits were put together, and their process behind performing and putting together an album
If somebody is familiar with all that, it's hard to see what this course can offer them.
Even if you know nothing about Metallica, you can probably find all of this information without having to pay the same price.
So, why even bother with this course?
Well, I would say that the actual content is only part of the picture, and context can change a lot.
Learning is passing down the same information, and we've been doing that for centuries, but teachers in schools don't use ancient resources, they use up to date ones.
The same is true for this course. Even if the information is the same, how this class is put together, the production value, the order, even having the aim be to teach rather than just to document Metallica all changes the context of what you learn, and presents a new value to the same content.
Ultimately, whether or not it's worth it will depend on what you think is more important.
A Little Unstructured
This is much more of a nitpick, as it didn't massively impact my experience taking the course.
For me, learning should be structured and organized. You should start with the core ideas, develop them, gradually introduce them, then recap and summarize what you've learned.
Aside from ending with the live performance, which could be seen as the coolest recap of all time, this course didn't feel like it had any structure.
Song deconstructions were placed next to lessons focused on one member of the band and it felt like there was no rhyme or reason to the order the classes were placed in. This is a shame because I think organizationcan add a lot to the course in itself.
Also, there were times where I wish topics were explored in a little more depth or were a bit more technical. For example, I loved Rob Trujillo's lesson on the bass sound, but it was one of the shortest classes on the course.
Ultimately, these points weren't massively consequential to my enjoyment of the class. They were just a few things I picked up.
Who Is This Course For?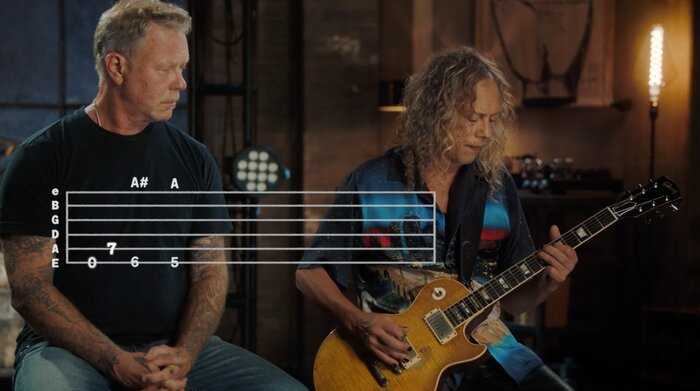 There are a few specific groups who I think this course could work for:
Metal fans looking to start a group
Solo musicians looking to learn more about being a band
Non-musicians interested in learning an instrument but also want to explore other sides of music
Metallica fans eager to consumer all their content
Non-metal fans interested in the genre, and this band in particular
How Much Does The Course Cost?
At the time of writing MasterClass had three subscription offers. The cost of these (per month) is:
Individual (1 user) $15
Duo (2 users) $20
Family (6 users) $23
All are billed annually, which at first glance may seem pricey.
However, you can considerably reduce your costs by taking as many courses as possible.
With over 150 courses on the platform you're likely to find quite a few to interest you. Even if you buy an individual membership and find only 10% of the courses of interest this still works out to only $12 a course:
$180 (annual individual membership fee) / 15 courses = $12.
And if you join with friends or family then the cost of each course is drastically reduced. Check out our MasterClass review or MasterClass cost articles to see how.
Bearing in mind that these classes are taught by global leaders in their fields the value is unbeatable. You can pay over $100 for an online course taught by someone you've never even heard of, never mind the caliber of teachers on MasterClass.
What's more, MasterClass also offers a 30 day refund if you're unhappy with your purchase.
You can also purchase MasterClass as a gift.
Alternatives To Metallica's MasterClass
MasterClass itself offers many alternatives to Metallica's course. With music being such a go-to discipline for many to learn online, it seems obvious they'd capitalize on this with some of the biggest names in the industry.
There aren't any other courses that go into detail about what it's like being in a band. This is as true across the rest of the internet as it is for MasterClass. This is the only MasterClass where a whole band is teaching you, and one of the very few MasterClasses that teaches anything collaboratively.
However, if you're interested in learning about rock from the greats, there's still plenty of choices.
Probably the next closest choice is Tom Morello's MasterClass, which teaches you all his wizardry on electric guitar.
If you're interested in learning about music more generally, Yo-Yo Ma dropped a course on the site that goes into deep and abstract concepts behind music.
His MasterClass isn't the only one aimed at classical music fans. Itzhak Perlman teaches a class on violin with a much greater focus on the actual instrument and technique.
Other musical MasterClasses include:
With online learning becoming a lot more popular these days, MasterClass has a lot of competition.
As I said, not many courses teach what actually being in a band is like, which does make this MasterClass unique in one sense.
However, Udemy does offer a course on how to start a rock band, aptly titled How To Start A Rock Band, with 40 minutes of video lessons exploring just that.
Alternatively, you could explore the output of Metallica from their 40 years of being together. You can do this by reading one of their books, watching one of their documentaries or simply typing Metallica into YouTube and binging whatever comes up.
What Others Have Said About Metallica's MasterClass
Metallica's fans are die-hard.
This is common knowledge. It's one of the main themes of the MasterClass and even a direct topic in one of the lessons.
This means when this MasterClass was announced, there was massive enthusiasm amongst this community. But there was also massive skepticism.
Metallica fans have such a deep love of their iconic works, and that means even the group is held accountable against that image. So any deviation from that form is highly criticized.
As a result, there is in equal parts support and critique of this class. But because it's so recent, despite scouring the internet, I couldn't find many comments on the content of the class itself.
This is except for one comment on Reddit:
"Just finished watching the whole thing. And just as I expected, there was very little value to this. If you are new to Metallica, you could get something out of it, but even in that case it's definitely not worth paying the 200€ whatever it costs. Nothing new or interesting about creating stuff, just the same things that they've been saying for the past 20 years or more. For me the only interesting part was then talking about the business side & merch, but even that was really really shallow without any details. The live gig is good... but with just the hits that everyone has heard millions times.." - Reddit Commenter 
As you can see, it's pretty damning. And this is from a Metallica forum, so we can assume this person is a fan!
I can see where this comment is coming from. But if we experienced the same course, I have a more positive perspective.
For one thing, MasterClass itself costs $180 a year. With that money, you are paying for every course on the site. And even if most of the classes are more about inspiring and motivating, for some people there is value in this type of teaching, especially if it's coming from someone massively experienced and established in their discipline.
However, I would agree that the content isn't that unique. These ideas have been explored before, and if you are a Metallica fan you'll know them well. Maybe if you're new to the group this won't be a problem, but fans shouldn't expect any major revelations.
With that said, the way the course is shot, edited and generally put together, as well as its aim of teaching rather than documenting the group does give this MasterClass something new to offer both fans and non-fans, at least in my opinion.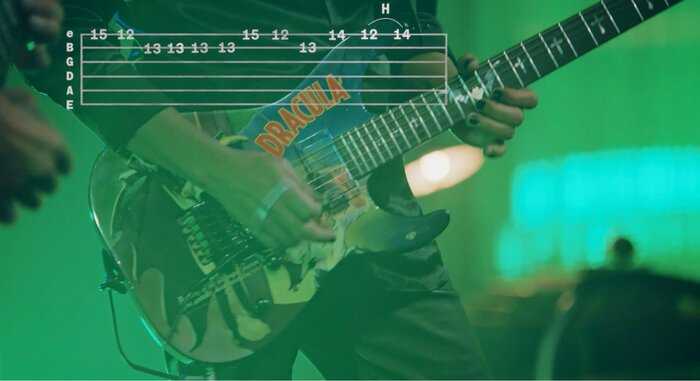 Is Metallica's Masterclass Worth It?
We finally come to the all-important question…
Is Metallica's MasterClass worth it?
I think it depends on what you're looking for.
If you're the type of person who really values unique content as one of the most important parts of the courses you take, I think there are better options out there.
This information does exist in other forms and at a much lower price. You would have to curate the information yourself, but there are loads out there. This is simply because Metallica is one of the most well-documented bands around.
But if you're the type of person who does value how lessons are communicated just as much as the content itself, you're likely to enjoy/find inspiration/take pleasure in this course.
Even if you can find all this information for yourself, it's incredibly rare to have it all in one place, with all four members speaking directly to you about what you can learn from their experience. Even if the structure is a little sloppy, Metallica's passion and energy do make this a very enjoyable watch, especially when it comes to the live performance.
And don't forget, MasterClass covers you with a 30-day refund policy if you purchase directly through them.
So which way will you decide?
Will Metallica's MasterClass be the one for you?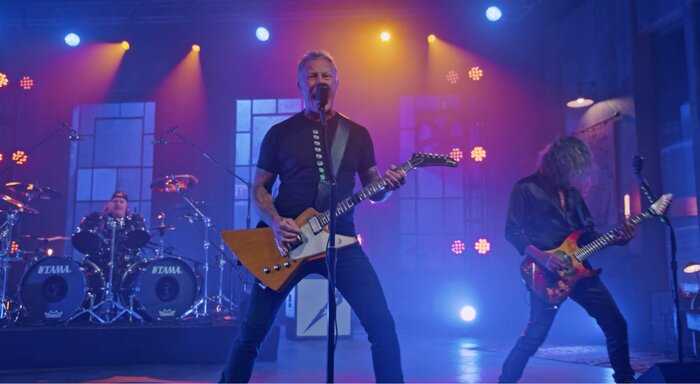 Frequently Asked Questions
How much does the Metallica MasterClass cost?
A MasterClass all-access-pass costs $180 a year ($15 a month). This gives you access to 150+ courses, including the Metallica Masterclass
How long is Metallica's MasterClass? 
1 hour and 55 minutes long, consisting of 12 video lessons.
Can you get Metallica's MasterClass for free?
No, Metallica's Masterclass is not free. However, there are multiple offers and refunds if you're not happy.
Can I get a refund if I don't like the Metallica MasterClass?
Yes, MasterClass operates a 30-day refund policy if you purchase directly through them. If you purchase through other providers, their returns policy may apply. To ensure your refund policy is valid, visit MasterClass here.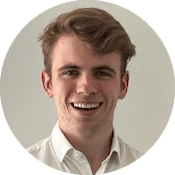 Charlie is a student reading politics at King's College London. He is also a passionate musician with over 14 years of experience. In his free time, he also enjoys cinema, long-distance running and learning new things.