If you know your movies, you're probably familiar with the legend that is Danny Elfman.
From Batman to Good Will Hunting and The Nightmare Before Christmas; this enigmatic composer has been responsible for scoring some of the greatest films of all time.
But, does being a legendary composer necessarily make someone a good teacher?
If you find yourself asking this question then you've come to the right place. As someone with a deep and long-standing passion for music and film, I was really excited to take this class.
And now, having experienced all 3 hours of Danny Elfman's Masterclass, I'm here to help you decide whether this is the right course for you.
I'll be covering a lot in this Danny Elfman MasterClass review, but here's the highlights if you're short on time:
.
Quick summary
You will learn:
The technical side of setting a score to a film, such as creating a template and holding a spotting session
Danny's method for combining inspiration with originality
Insights behind some of Danny Elfman's most legendary scores
Tips for finding a tune or a melody
How to work with directors and studios on a tight schedule
Danny's journey to where he is today, and his advice for budding composers
Composing leitmotifs; pieces of music for specific settings or characters
How to choose the right instruments for your score
Pros
Danny has a really warm and engaging style of teaching
Lots of anecdotes that enlighten rather than distract from the lessons
Technical terms and examples are used in a manner that's easy to understand
Danny's passion shines throughout; it's almost impossible to take this class and not leave wanting to be a composer
Beautiful production quality on videos
Deals with both the joyous and difficult aspects of working in the arts
Cons
Sometimes the lessons are quite abstract, which can be difficult to follow
Could do with more real-time examples of performing or composing
Limited on 'how-to' advice
Length of course: 21 video lessons totalling 3 hours and 10 minutes
Best for: people with some prior musical knowledge who are interested in gaining insights on how composing for cinema actually works. Danny's stories and examples also mean anyone with an interest in movies and filmmaking, or is a fan of Danny Elfman, will get a lot out of this MasterClass.
Overall: if you have a real love of film, and especially film scores, then you are highly likely to enjoy this MasterClass. I left it with a much stronger understanding of how a composer like Danny Elfman puts his scores together than I had before.
In this review I'll be covering:
About Danny Elfman and Masterclass
Inside Danny Elfman's MasterClass
What I liked about the course
What I think could be improved
Who I think this course is for
The cost and any potential alternatives
Uniqueness of course content and most importantly…
Is Danny Elfman's MasterClass worth it?
About Danny Elfman
The film composition business is so competitive that very few manage to make a name for themselves. Danny Elfman IS one of the few.
After starting his career with the 1980's rock group Oingo Boingo, Danny Elfman began a decades-long collaboration with director Tim Burton.
This partnership has led to some of the most iconic and inventive film scores of all time. The themes for Batman, Edward Scissorhands and Charlie and the Chocolate Factory are all the result of this brilliantly creative composer.
He is also responsible for the score of Spider-man, the songs in The Nightmare Before Christmas and the theme of The Simpsons (which is so catchy, I've literally just started humming it as I type!).
Is it any wonder then that Danny bagged himself four Oscar nominations, two Emmy awards and a Grammy?
Even the trailer for the MasterClass shows you what a vibrant figure Danny Elfman truly is.
About MasterClasses
After launching in 2014, MasterClass has recently come to be known as one of the most recognisable learning platforms on the internet.
The site promises high quality, well-produced lessons from world-renowned instructors, with courses ranging from cooking with Gordon Ramsay to acting with Natalie Portman, to performing with Herbie Hancock.
Despite its uniqueness, MasterClass isn't for everyone, and no course or instructor is the same.
Read on to find out whether or not Danny Elfman's MasterClass is the right one for you.
An Inside Look Into Danny Elfman's Masterclass
This MasterClasses consists of 21 video lessons that total a watch time of 3 hours and 10 minutes.
Alongside this video content, those that sign up receive:
Access to an online discussion with fellow members of the course
An accompanying 72-page workbook with many more of Danny's tips
This article gives you a lesson by lesson breakdown of what you'll learn in this course.
This class is taught through Danny Elfman effectively setting down a series of his own ideas and experiences with each video broken into smaller sections.
The first lesson is an introduction to both Danny and the course, so I'll pick things up at lesson two, where the teaching really begins. The final lesson is also just a closing lesson that summarises the course, so I won't cover that here either.
Lesson 2: Beginnings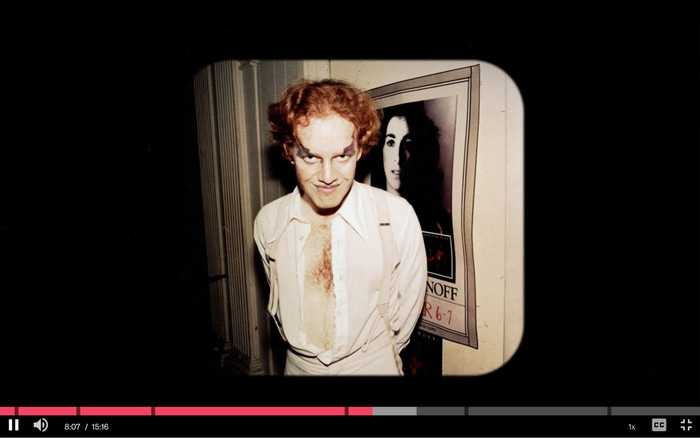 Danny Elfman kicks off this course by diving straight into his journey as a composer. It's certainly not as orthodox as you might expect.
Unlike many film composers, Danny Elfman was not classically trained and did not attend music school. Instead, he spent most of his teenage years travelling through Africa, which opened his ears to new textures and sounds that still influence his music today.
Upon returning home, he became the musical leader of several eccentric musical groups (get ready for some wacky 80's imagery), of which his ska band, Oingo Boingo was the most successful. After making something of a name for himself, Danny worked on his first film score with Tim Burton: Pee Wee's Big Adventure.
The rest, as they say, is history.
Although a quick internet search will instantly lead you to most of the information in this lesson, it's still a unique experience to not only hear these stories from the man himself but also how they have influenced his current career.
Lesson 3: Starting Your Score: The Spotting Session
This is where the course takes its first deep dive into the world of film composition.
Every project is unique, but there are certain techniques and conventions you need to become familiar with if you aim to compose for big-budget movies.
This lesson teaches you:
How to conduct a spotting session, where a composer gets to sit with the director and view the film for the first time.
The importance of cues in film music and how to use them; Danny describes how he and the director will sit and make notes on where each cue of music should enter and how long for
'Temp' music (temporary music for the film) and how to avoid being bound to it
How to adapt your score depending on your budget
The most important takeaway I got from this is that communication is essential. The director is the person responsible for the film's tone, so it's very important to understand their ideas and feelings about what the music should be.
This is where Danny's anecdotes prove their worth, as he highlights the variety of directors and spotting sessions he has worked with.
Lesson 4: Storytelling Through Music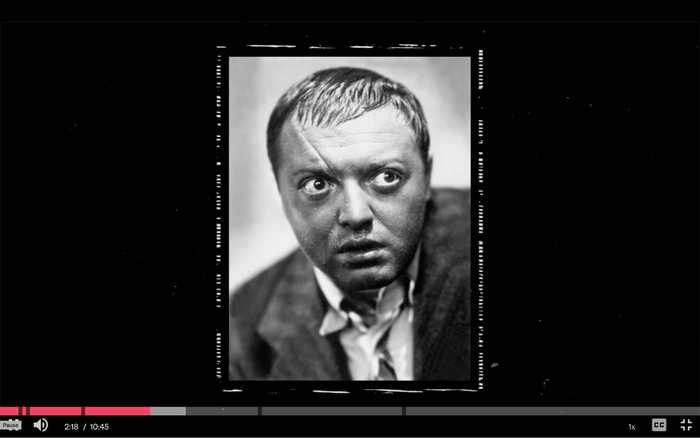 This was probably my favourite lesson and demonstrated the passion Danny has for both music and film.
Here we dive into Danny's childhood, as he takes us through the films and the film scores that have inspired him today. This includes:
The work of composers Max Steiner and Franz Waxman
The Beast With Five Fingers starring Peter Lorre
The collaboration between Bernard Hermann and Alfred Hitchcock
Embarrassingly, I consider myself something of a film buff, so I was ashamed not to recognise half of the movies and composers Danny mentioned. But this class did provide a treasure trove of music and cinema for lovers of film music to dive into.
As you can see, this lesson is less heavy on the technical aspects. However, Danny asks some poignant questions about what films, and storytelling more broadly, is for. He also demonstrates how music can enhance these mediums.
Lesson 5: Themes and Melodies
This lesson wonderfully delved into the most musical aspects of Danny's work. It provides a welcome break for any musicians who are beginning to roll their eyes at all the film talk.
Here, Danny takes us through:
Composing leitmotifs; pieces of music for specific settings or characters
How tunes can come from anywhere, even a car horn!
That it's ok if a tune escapes you or you forget it
Simple and short can be very effective for a tune
There are no rules for creating a good theme
This last tip is really important. Danny describes his frustration at not finding a theme for Edward Scissorhands and felt like a failure as a result.
It wasn't until later, when he saw the movie, that he realised several motifs portrayed Edward as a character, even if none of them fitted into the box of 'theme.'
It's very difficult to teach how to write themes and melodies, especially when they appear to come naturally, as they seem to with Danny Elfman. However, I felt at this point we could've seen a practical side of the lesson. Maybe Danny could play some of the themes himself, or shown us some transcripts of his compositions.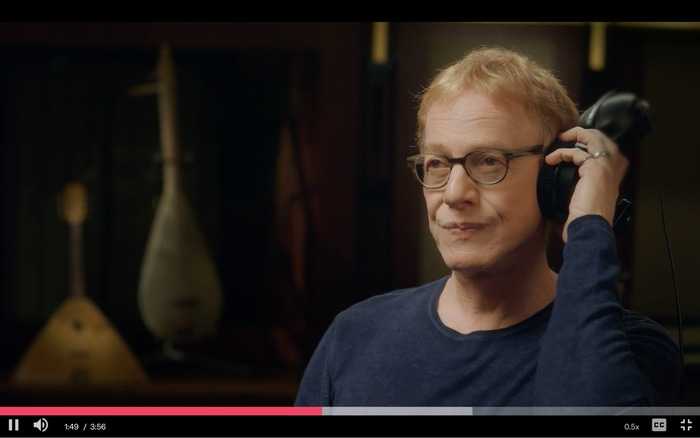 Lesson 6 & Lesson 16: Real-Time Listening: A Simple Plan/Real-Time Listening: The Unknown Known
I've grouped these lessons together because they both follow a very similar format.
In both examples, Danny listens to extracts from two films from his career: A Simple Plan and The Unknown Known.
These are comparatively short lessons, and there's not a lot of the 'teaching' per se. Despite this, there is a lot to be gained from Danny Elfman listening to his own work and describing in detail his thought process behind every instrument and dynamic.
It's a real joy to watch as well.
Lesson 7: Instrumentation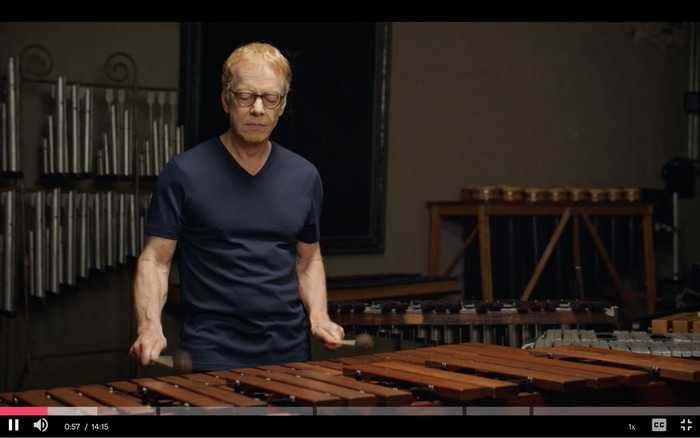 This class sees Danny finally up and playing music. As a percussionist myself, it was cool to watch him play the marimba, and I feel this whole class could've done with a few more live performances.
This class is all about instruments, and teaches you:
How to choose the right instruments for your score
Danny's use of a prepared piano
How to create excitement using ostinatos (repeated notes)
Where to use samples in your score
The major differences between digital and live scores
About Danny's sample libraries and how he uses them
Danny's most used samples are short strings and staccato, and he advises against sampling longer sounds in this lesson.
This is where the workbook comes in handy, as it gives a comprehensive list of Danny's sample library.
It's fascinating to hear Danny talk about his techniques for instrumentation, and I would say this is one of the lessons where I learnt quite a lot of practical composing advice.
Lesson 8: Tim Burton's The Nightmare Before Christmas
This is another shorter lesson, with a focus on a specific film.
This section tells us a lot about the legendary relationship between Danny Elfman and Tim Burton. It's very anecdotal, rather than the practical lesson from before, but the overriding message of communication still hits home.
And, as I've mentioned before, Danny is at his most engaging and exciting when he is talking about movies and their music, and his story of how he came up with the majority of the music is fascinating to listen to.
Lesson 9: Workflow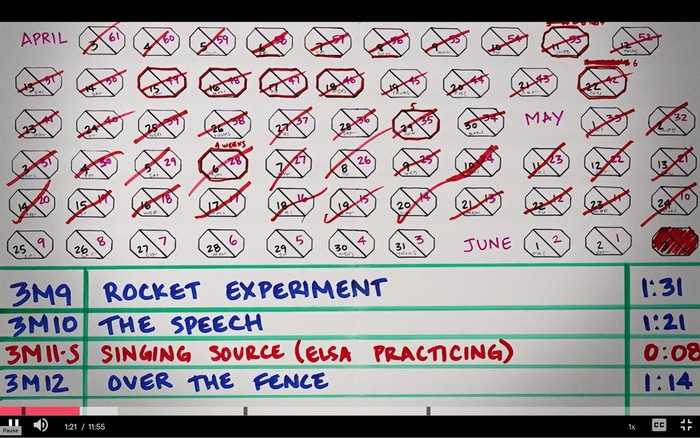 "Finish on time."
This is the first commandment from Danny Elfman's lesson on workflow.
This lesson goes into:
How Danny works using a board, telling him his days from the spotting session
Danny's restriction to two minutes of composition a day
Using the board to know how many minutes of music cues he has left to write
Danny's software: Digital Performer
How Danny works with his small team: an editor and an orchestrator
The workbook again comes in handy here, as it contains lots of tips on and further information about Digital Performer, and how Danny uses it.
What I liked about this lesson was how it highlighted the collaborative aspect of composing.
We often think of composers as being hollowed up in small, solitary rooms, scribbling away on transcript paper. But Danny demonstrates his reliance on the music editor and the orchestrator.
Danny suggests that his primary focus is on writing the music as soon as possible, so he can get onto the next cue. This is why having a good team is so important.
Danny emphasises that his relationship with these two people are essential for his work. This is something I hadn't considered before.
I also loved how this lesson has a real crossover appeal, and how Danny's tips for keeping on schedule can be applied to pretty much anything.
Lesson 10: Creating Your Template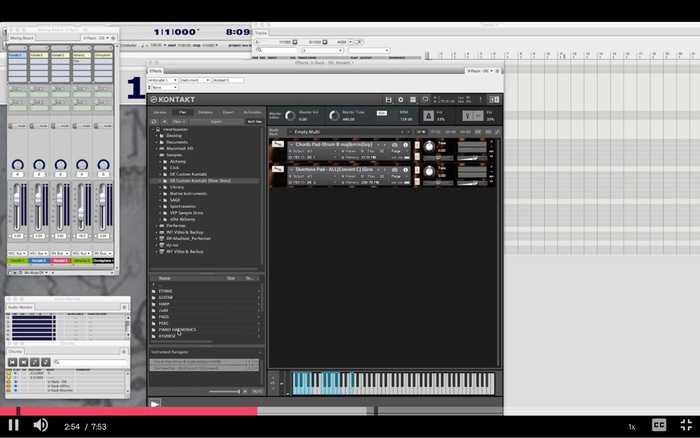 A template is all about laying out the sounds and tones you are going to use in your score.
Before writing anything down, Danny tries to explore all the possible sounds he thinks he might use for a project. In doing so, he can draw on a sound palette for the rest of the project.
Danny puts a lot of work into creating the tone of what he thinks the film is going to be. This prevents him from wasting time searching for sounds.He tells us that he is not restricted to this soundscape, but it is instead a springboard into the rest of the score.
Much of Danny's templates are based on harmonics, and he tends to use sustain pedals and axe effects with his guitars to develop these sounds.
This was another technical lesson that introduced me to an aspect of composing I hadn't heard of or even considered before. Anyone who's familiar with Danny Elfman's scores knows they often have a very distinctive sound that matches the tone of the film.
This lesson on templates is a lovely little insight into how the magic works.
Lesson 11: Insecurity and Instincts
The lesson on insecurity and instincts is certainly one of the more broad and abstract lessons on the course.
In the lesson you will learn:
How to deal with insecurities
That it's ok not to feel confident
About instincts and how important they are for composing
Picking and choosing the best work for your career
How to keep your ego in check
How you respond to this lesson will certainly depend on your expectations. Although it teaches you nothing about the practicalities of film composing, I found it very refreshing to have a renowned composer talk about his vulnerabilities.
Lesson 12: Writing Feature Scores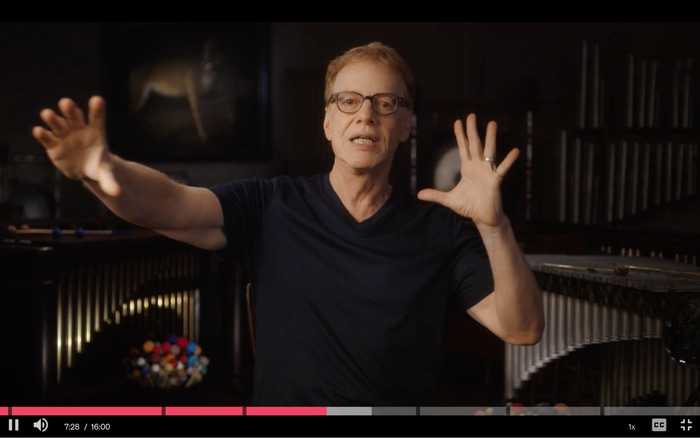 This is a very useful case study in writing a feature score, which is probably what most students of this course are here to learn. It begins with a hilarious Batman anecdote that I won't dare spoil.
There were lots of tips in this lesson, including:
Capturing the tone of the film, by getting rid of your preconceptions about characters and settings
How to adapt the tone according to changes in the film
Identifying key moments, such as the climax, that will guide the rest of the score
The difference in scoring between live-action and animation
How to work with a rough cut
This lesson was a gold mine of advice for writing a feature score.
Here, Danny talks about how he finds key moments in the film to shape his score, and how actors' performances will often change the tone of what he writes.
I also enjoyed the discussion about the differences between animation and live-action. It was interesting to learn that adult-orientated dramas will have a more subtle score than cartoonish films, where it's the music's job to tell you who the bad guy is.
Lesson 13: Changing Your Approach: Milk
This is another shorter case study, taken from the film Milk.
Danny discusses how it's not only acceptable but important, to change your approach if the original idea for a score isn't working.
The original idea was to use opera, as the real-life main character had been a big fan of the genre. But Danny decided the tone of the film was much dreamier and more spacious.
This shows how the composer needs to adjust to changes in the film.
Lesson 14: Chasing A Movie Edit
This is another very technical lesson, with a big focus on the filmmaking process.
In this lesson, you will learn:
How to match the rhythm of an editor
Changing ideas based on the edit
How to synchronize the music to the picture
As with the rest of the course, Danny never gets too technical about the inner workings of film editing. The main focus of this lesson is how a composer has to alter their work to fit the sequence of scenes in the film.
Lesson 15: The Devil's In The Detail
This is a very brief overview of Danny's love for details in musical scores, and how they are often lost.
He uses the example of Lawrence of Arabia (a childhood favourite of mine) of how the balance between music and silence creates a cinematic masterpiece. He focuses on one specific battle scene where the score takes over the sound effects.
This is another example of Danny's cinema passion shining through his teaching.
He finishes with the rather biting accusation that scores of today could use 40% less music and should try to let the sound effects establish a tone. This allows the music to bring emotion when it finally enters.
It's really insightful stuff!
Lesson 17: On Failure
This is an inspiring one.
As with the insecurities lesson, it is so refreshing to hear a legend like Danny Elfman talk about failure.
Danny talks about his own rejection, his fights with Tim Burton, making the wrong decisions, selecting the wrong projects and empathises with how hard it can be. He talks about different kinds of rejection, from not being selected to write a score to actually composing for a whole film and then being rejected.
The antidote? Put it into perspective and find an outlet. For Danny, this was boxing.
Though it's a little odd to imagine someone so warm and inviting with a pair of boxing gloves on, this lesson is sure to hit home with anyone who has dealt with failure in their creative pursuits. It's definitely something we can all relate to.
Lesson 18: Working With Directors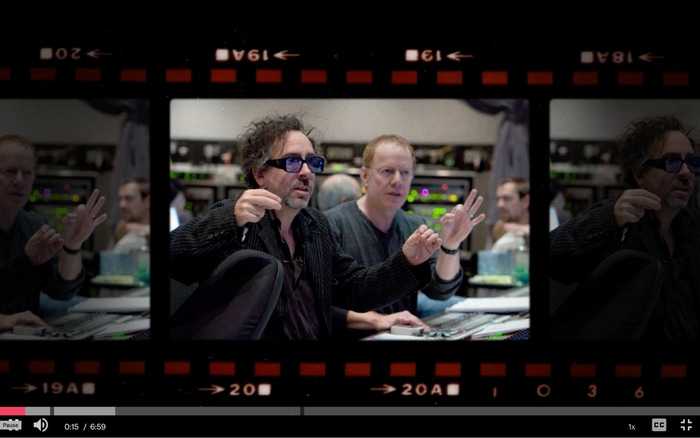 Back to the technical side of things now.
This lesson teaches you:
To understand how the relationship with the director works
How to work with directors who don't understand music
All about the first playback
How to receive criticism
An analogy that really stuck with me was the opticians office. The director is choosing what glasses they want (the music), and it's the role of the composer to test the director's eyes and see what will be the best fit, as the director can't describe this themselves.
Lesson 19: Crossing The Line
In this part of the course, Danny goes into detail about the fine line between plagiarism and homage.
Here, he teaches you:
That context is everything in telling the difference between inspiration and plagiarism
There's nothing wrong with being inspired, so long as you make it your own
The "certain amount of notes you are allowed to copy" rule is a myth
It's impossible to be 100% original
How to let your identity shine in your composing
Danny acknowledges that composers will often borrow and pay homage to others' work. If the context is completely different, he doesn't mind hearing elements of his work in other films. But if you copy a Danny Elfman score verbatim, without credit, be prepared for a date in court!
Lesson 20: Advice To New Composers
In this penultimate lesson, Danny gives some advice to composers starting in the industry, and those who have an interest.
His top tips are to:
Play to your strengths, and find your voice
Formal education helps but isn't necessary
You can learn from anything, as Danny shows from his secret gamelan lessons in California
There is an element of the lessons coming full circle, as Danny refers back to his opening lesson with his musical education.
What I loved about this lesson is the balance Danny struck between being realistic and inspiring. He was honest about how hard it can be, that some people can fail, that it can be a miserable and solitary career path at times.
But, even considering all this, I still left the lesson thinking "oh wow, I really want to be a film composer." This may have been a fleeting feeling, spurred on by Danny's enigmatic persona and talent for communicating. Yet, it's still a feeling I've never had before, which I think is a real testament to the course.
What I Liked About The Course
From reading this, you'll probably have guessed that I enjoyed this course.
Whilst it's true, and I had a lot of fun taking it, there is always room for improvement…
Danny's Style Of Teaching
No one thing makes a course great. Some get that status from really good content, others from having a really good instructor. This course certainly falls into the latter category.
One of the anxieties I had before using MasterClasses was that the celebrity instructors, although an exciting prospect, might distract from the actual learning. Also, just because somebody is a great composer, doesn't mean they are great at teaching composition.
Just one lesson with Danny blew my fears out of the water. From the very beginning right to the very end, Danny comes across as engaging, intelligent and insightful. It's clear that he has a real passion for music, for film, and, of course, for film music.
And, above all, it's clear he wants to share that passion with you.
I had heard of Danny Elfman before taking the class, which may have boosted my excitement. But I strongly believe even those that haven't heard of him will recognise, enjoy and learn from his love for the craft, which shines throughout all 21 lessons.
Great Anecdotes
It's easy to feel sceptical about the use of anecdotes in a masterclass. Some people may find them distracting, and not relevant to the lesson.
However, I can assure you each one of Danny Elfman's stories is relevant to the topic of the lesson, on top of just being interesting, and often quite funny.
Whether it's his travels through Africa, his work with Tim Burton or the inside stories behind how he came up with some of the most recognisable tunes of all time, Danny has a tale for every situation.
But each of the above examples has a deeper meaning that relates to the overall theme of each lesson.
For example, learning about how Danny works with Tim Burton, and the kind of relationship they have is not only a rare and valuable insight but teaches you so much about the relationship between director and composer.
Danny's Passion
This ties, quite significantly, into what I was saying about Danny's style of teaching.
It's very, very rare to find anyone who talks about anything with as much joy, love and excitement as Danny Elfman talks about film composing.
Honestly, I would eagerly sign up for extra videos that aren't even lessons. Just Danny talking about his favourite films and film scores.
His passion not only makes the classes incredibly captivating, it's also relevant. Although all the discussion about instrumentation was useful in learning about film composition, it's clear that having a deep passion for the medium is equally as important for any composer.
Having passion is almost impossible to teach. But Danny's enthusiasm in the class is probably the closest thing to it.
I also loved all the examples of older films and composers Danny used. This course is as much for film lovers as it is for aspiring composers.
Addresses The Highs And Lows
Just as Danny strikes the right balance between the technical and the accessible, he also explores the joys and the difficulties of becoming a composer.
It would be easy for someone like Danny Elfman not to address failure at all. But he does so in a very mature and direct way.
Failure, insecurity and rejection will be part of a film composer's life, no matter how successful. It's important to learn about the technicalities, but dealing with failure is equally important.
Yet, even with this more realistic outlook, Danny's passion never fades. He somehow manages to make a discussion on failure inspiring.
Yes, it can be hard, yes you may not succeed at first. But if you love films, and if your passionate about enhancing these stories with music, Danny Elfman says:
Keep going!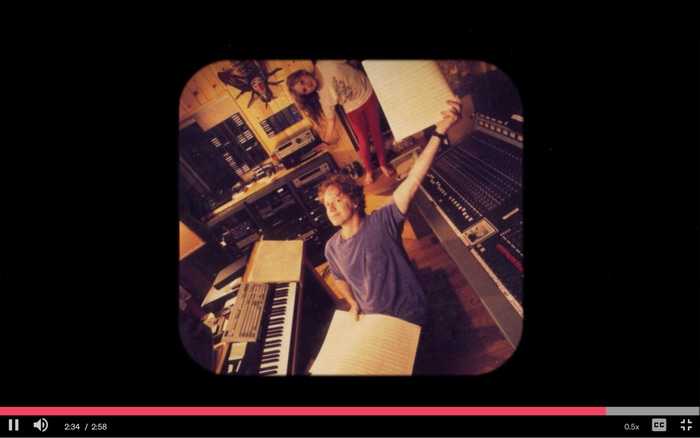 What I Think Could Be Improved
Can Be Quite Abstract
From his work, to the aesthetic of the classes themselves, it's clear Danny Elfman is an incredibly artistic, creative individual.
As you can see from the section above, this makes for a wonderfully engaging class.
But, there are times when he gets a little too abstract, and this can be hard to follow.
Lessons on tone and instincts were fun to watch, but I felt they could've been made more accessible through direct and clear definition. Instead, they're a little wishy-washy and I had some difficulty understanding exactly what he was trying to teach.
Instincts and intuitions are important, but if you want to learn how to be a film composer you may find yourself itching to move on to the technical parts of the course.
Could Do With More Examples
A lot of this MasterClasses is Danny Elfman sitting and talking at you. Although this would be more of a problem if he weren't so enigmatic, it would be nice to see him up and performing just a few more times.
His lesson of instrumentation, which began with a marimba, really breathed new life into the course a quarter of the way through, and I would've loved to see more examples of the master at work.
Maybe we could've seen him workshop a melody or theme in real-time?
I was also expecting to see a lot more examples of extracts and sheet music from Danny Elfman's scores. Both the lessons and workbooks are quite limited in this respect.
Just a few more examples could've brought home some of the more abstract advice.
Not Much "How To" Advice
If you're expecting to learn how to actually become a composer, this may not be the ideal course for you.
Don't get me wrong, there are a lot of very insightful tips and tricks.
But even though I felt inspired to become a composer when I left the class, I would of course have found it difficult to know where to start.
A lot of Danny's lessons and stories are very personal. I suppose the takeaway is that no one experience will be the same, but I felt the classes could've done more on how to break into the industry.
A lot of this is about expectations, and how much you feel you want to learn. If you have a basic knowledge of music and are looking to hear a few tips from a world-class composer, you are very likely to enjoy this course. Even composers who have written for film before might gain something from Danny's experiences.
But if you're looking for a step by step guide on becoming the world's greatest film composer, this may not be the best place to start.
Who Is This Course For?
I believe the people who are best suited for this course are all part of quite a broad spectrum.
This includes:
Musicians of any skill level, with even the slightest interest in composing for films
Those who compose their own work already and would like to learn more about the technicalities of filmmaking
Anyone who loves movies, movie-making, film scores and particularly fans of Tim Burton
If you know absolutely nothing about music or film, you might want to familiarise yourself with some lessons on composition and musical theory beforehand, just to appreciate the MasterClass even more.
To be honest, the quality of the videos means that anyone can enjoy this class, even if they don't take too much from the lessons.
How Much Does Danny Elfman's MasterClass Cost?
At the time of writing, a MasterClass subscription costs $180 per year, or $15 a month.
This gives you access to all the 100+ courses on MasterClass.
This means that if you take more classes, you get more for what you pay.
Finding 4-6 classes you like means you're effectively paying $30-$45 per course. Don't forget that these classes are being taught by experts in their field.
Whatsmore, MasterClass also offers a 30-day refund if you're unhappy with your purchase.
If you want to buy the course individually, there is a way to do this, but this is a little complicated. You can buy a single MasterClass as a gift, and essentially gift the course to yourself. The price here is $90.
Alternatives To Danny Elfman's MasterClasses
There are several other alternatives to the Danny Elfman course on MasterClass itself.
Perhaps the closest is Hans Zimmer Teaches Film Scoring. Despite the similar content and title, this course offers an entirely different perspective on composing for cinema, with a greater focus on using synthesisers.
If you are looking for alternatives in the world of film and music more broadly, why not check out:
You're spoiled for choice.
One of the best specialist platforms for film makers is the MZed platform – for info read our MZed Review. And if you're looking to develop more than just your writing skills, you can also develop your production, playing and hustle skills on Soundfly.
Other sites have a wealth of classes on film composing. Platforms like Udemy and Skillshare have a reputation for delivering a range of high-quality lessons to their customers.
One of the most highly rated classes on Udemy is What No One Taught Me As A Film, TV And Game Composer taught by Steve Merlin.
If you're looking to get a stronger grounding in the basics of music theory before diving into the world of film composing you might want to consider searching some classes on YouTube.
These will not go into as much depth as the other types of tutorial covered today, but you can get a stronger foundation in musical knowledge that will allow you to appreciate classes like Danny Elfman's so much more.
You could also check out Music Theory For Beginners on Skillshare.
Just a reminder. There are over 100+ choices on MasterClass. Not just the ones above!
Danny Elfman's Masterclass: What Others Have Said
Teaching and learning are both very subjective. What works well for one person could be the worst way possible to teach someone else.
To keep this review balanced, I've checked out what other people have said about the same class.
Students will all approach this class from a range of different backgrounds. Some, like me, will have been playing music since they were children. Others will be total beginners. So in the interest of keeping this review fair/unbiased, I thought I'd check out what other people thought about the class.
I had a quick google, and, to be honest, there wasn't much out there. Perhaps this is because it is a fairly new course.
One YouTube commenter suggested the class was:
"...more like someone going to school for something and the professor bringing a guest speaker in. The guest speaker isn't there to teach you what you're already supposed to be learning, but to give insight you might otherwise not get, and to inspire you to continue learning." - YouTube commenter
I think this is a very fair assessment. Like with most classes, what you get from Danny Elfman's MasterClass will often depend on expectations.
Like I said, it's not surprising that if you are looking for a step-by-step guide on becoming a leading film composer, this class isn't for you.
But if you're interested in hearing tips, stories, and some clear advice from someone who is a leading composer already, then Danny Elfman is your man.
Another commenter said:
"I was already impressed with Danny declaring from the get-go: 'don't be afraid to make mistakes.' It's so true. How else can you try something new and experiment?" - YouTube commenter
This comment taps into an aspect of the course I was a massive fan of. Danny's down to earth and human nature approach to the nature of teaching. There's a consensus that this class can be very enjoyable and insightful, especially if you know what you're going into beforehand.
I should note that this particular reviewer is a massive Danny Elfman fan:
"I'm still a huge Oingo Boingo fan and also love all the Elfman soundtracks I can get my hands on." - YouTube commenter
Some may say this creates bias. But I think it just shows that massive fans will get just as much from this as the casual movie-goer.
Is The Course Content Unique?
To an extent…
Danny himself delivers an entire lesson on being original. Originality isn't about doing something completely new for the very first time. It's about combining what you know from different sources to make it your own. The same can be said about these classes.
If you want to learn about all the technicalities of film composing, by no means is this the only course that can teach you that. There are multiple resources, both physical and online, that can teach you all about spotting sessions.
The difference is that you're not being taught by a renowned artist like Danny Elfman.
When I was looking at online commentary on the course, some questioned the difference between Danny Elfman and Hans Zimmer, as both MasterClasses are essentially teaching the same topic. Surely this course can't be that unique?
The way I look at this is this. Danny Elfman and Hans Zimmer have both used a combination of big orchestras and synthesizers to score high budget films. But you can always tell the difference between a Hans Zimmer and a Danny Elfman film score.
The same can be said for their MasterClasses. Some similar ground might be covered, but both are unique in their approaches to teaching and composing.
You might also be wondering whether there are any other classes that Danny Elfman has done.
Well, yes and no…
A quick YouTube search will give you a range of videos of Danny breaking down his equipment and technique. But this MasterClasses is, unsurprisingly, far more in-depth and has a far better production quality. Watching each lesson is like a mini, well-directed short film about a musical genius.
In this sense, Danny Elfman's MasterClasses is one of a kind.
Is Danny Elfman's MasterClasses Worth It?
So, finally, the answer to the question you've all been waiting for.
I should preface this by saying that all learning is subjective, especially when it comes to teaching and understanding the arts. However, I believe that if you have a real interest in film composition, this course could be exactly what you're looking for.
You won't learn how to be a success overnight. There's no secret formula for that. And I would say that for people who want to get into the technical nitty-gritty of how to break into the industry, there are likely to be more useful resources out there.
But if you want to spend a couple of hours learning about the methods and stories of one of Hollywood's greatest maestros, this is the course for you.
I personally really enjoyed each class. The subject matter was fresh and engaging, almost as engaging as the wonderful teacher, whose conversational tone gave each class some magic. Hearing directly from Danny Elfman, and being able to witness his passion and enthusiasm for myself was quite special.
I also feel like I learned a lot more than I did before about how film scores work, which should be the objective of any online course, celebrity instructor or not.
And don't forget:
With a MasterClass all-access pass, you not only get to experience this course but similar lessons with other greats like Hans Zimmer, Herbie Hancock and St Vincent.
Frequently Asked Questions
How much does the Danny Elfman MasterClasses cost?
A MasterClasses all-access-pass costs $180 a year ($15 a month). This gives you access to 100+ courses, including Danny Elfman's MasterClass
How long is Danny Elfman's MasterClass? 
Danny Elfman's MasterClasses is 3 hours and 10 minutes long and consists of 21 videos.
Can you get Danny Elfman's MasterClasses for free?
Sadly, no, However, there are multiple offers and refunds if you're not happy.
Can I get a refund if I don't like the Danny Elfman MasterClass?
Yes, MasterClasses operates a 30-day refund policy if you purchase directly through them. If you purchase through other providers, their returns policy may apply.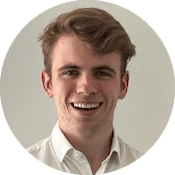 Charlie is a student reading politics at King's College London. He is also a passionate musician with over 14 years of experience. In his free time, he also enjoys cinema, long-distance running and learning new things.