Herbie Hancock is well recognized as a living legend of jazz. His 1973 album, Head Hunters, was the first ever jazz album to sell over a million copies. And it's legacy continues today in funk, soul, hip hop and more.
I've been studying music my entire life and I'm a massive Herbie Hancock fan. So I couldn't wait to take this class.
But exactly how good is the Herbie Hancock MasterClass and is it right for you?
In this Herbie Hancock MasterClass review I'll be answering these questions and more.
Here are the highlights:
.
Quick summary
You will learn about:
What improvisation is and how to get started
How to develop your use of chords and rhythm
Writing music with freedom
Herbie's secrets to musical fulfilment
Being a professional musician in the real world
Pros
Learn from a musical genius
In-depth classes work well with the Workbook
Both practical and theoretical advice for musicians of all standards
Cons
Not very structured
Some lessons are hard to follow, and feel slightly random.
Length of course: 4 hours and 23 minutes long, comprised of 25 videos divided into 4 key sections
Best for: Anyone with a basic understanding of music who wants to learn more about jazz. To get the most out of it you will need to be able to read music.
Overall: Herbie Hancock's MasterClass is a great way to expand your own musical ideas and to 'find your voice'. Both beginners and experts will find a lot to learn.
Now for the more detailed review. I'll be covering:
What Herbie's lessons include
The good, the bad and the ugly
Who this course will benefit most
Pricing and alternatives
Is Herbie Hancock's MasterClass worth it?
But first, let's find out who Herbie Hancock really is…
About Herbie Hancock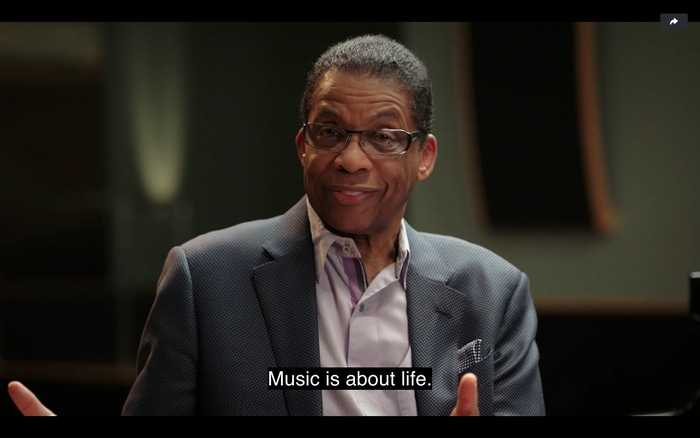 Herbie Hancock has been a powerful force in the jazz world for decades.
He's renowned for fusing genres together in the pursuit of new and exciting music. The result? 14 Grammys and some of the most recognisable and funky jazz tunes around.
Herbie's career was catapulted when he became part of the Miles Davis Quintet in 1963. And since then he's been an innovative keyboard player, working with names like Quincy Jones, Stevie Wonder, Joni Mitchell and Snoop Dogg.
But, he has also been a well recognised composer and arranger, creating jazz tunes, film soundtracks, disco music, and everything in between.
He definitely deserves his star on the Hollywood Walk of Fame!
Also, his love of education really shows in Herbie Hancock's MasterClass. If you haven't seen it, here's the trailer:
About MasterClass
MasterClass is a goldmine of knowledge, experience and entertainment.
It allows you to learn from some of the biggest names in sport, business, music, science, cooking and more. All of this from the comfort of your own home.
Some of the names included are:
Courses involve a series of videos and an accompanying workbook, to help you develop the skills you've learnt in the video in your own time.
For more information about MasterClass, what it is, how it works and some of the best classes on the platform, check out our best MasterClass article and MasterClass review.
An inside look into Herbie Hancock's MasterClass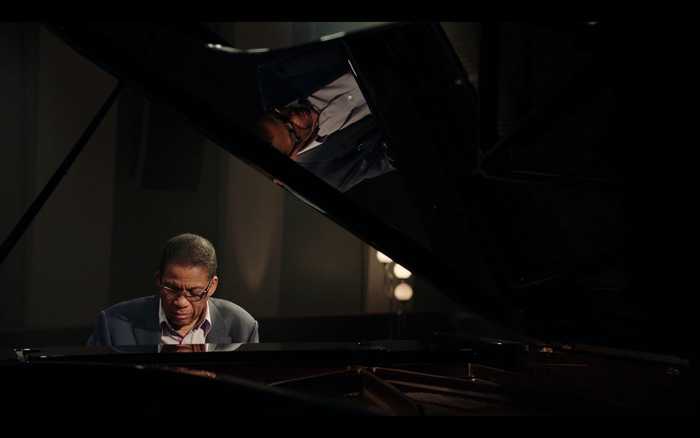 Herbie Hancock's MasterClass is a lengthy but detailed course. It consists of:
25 lessons which are mostly between 5-15 minutes long. This adds up to a golden 4 hours and 23 minutes of Herbie Hancock's unique interviews and teaching
An enormous 164 page workbook, packed full of transcriptions of Herbie's playing, summaries of the lessons, and assignments for you to do in between lessons
164 pages may seem intimidating, but if you go through it carefully alongside the video lessons, it will help you get to grips with the content much more thoroughly.
The nature of 'teaching jazz' (being a huge area that can be taught in many different ways) makes this course a difficult one to structure.
That said, I think that Herbie Hancock MasterClass can really be split up into 4 different sections:
Herbie's Advice
Fundamentals of Jazz
Practical Tips to Help You Develop
Herbie in Performance
Overall, the whole course is designed to help you find your own voice. This means there's a lot of overlap across the 4 sections. But just bear with me, and I'll show you how each lesson can help you explore jazz at your own pace.
Section 1/4: Herbie's Advice
Dotted across Herbie Hancock's MasterClass, there are a number of focussed interviews with Herbie, in which he chats about his personal philosophies and professional experiences. This is the unique material that no other course has to offer.
They can sometimes feel a bit unstructured, but at the same time, just hearing the great man's ramblings is an experience in itself. And if you take time to process what he's saying, it's worth it.
A Human Approach to Music
"Jazz is the greatest of all human expressions"
In this introductory lesson, you get to hear:
Herbie unravelling the meaning of jazz
Why Hancock thinks that jazz is an important pursuit in this day and age
Get a taste of Herbie Hancock's unbridled passion for jazz
I really enjoyed this lesson, because Herbie's passion for jazz got me excited about what I was going to learn throughout the rest of the course.
I felt this lesson levelled the playing field, and will help you feel confident in whatever knowledge and experiences you have. After all…
"Music isn't about music. Music is about life"
Composing
"You have an open slate"
Herbie's life has not only revolved around playing, but also composing. His tunes have become some of the most well recognised in the jazz world.
In this lesson Herbie encourages you to pick up your instrument and 'just start' writing music.
I found this lesson really encouraging, particularly as a drummer. I find it easy to come up with a groove or an idea, but rarely do anything with it. But this lesson gave me the confidence to develop my ideas.
"Don't be afraid of being the pioneer, there's a lot more to you than you realise"
Working as a Composer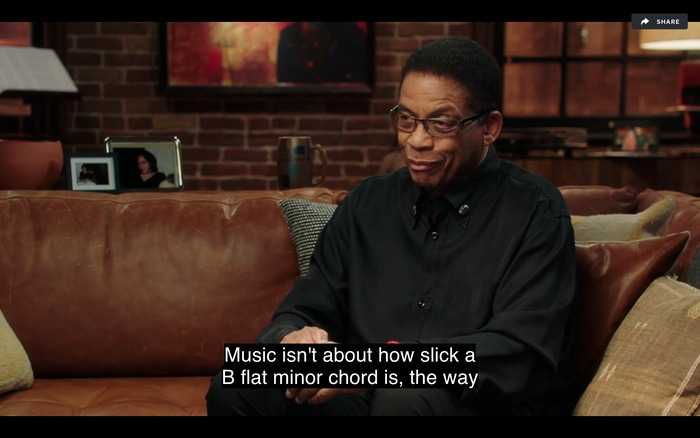 In this lesson, you will learn:
A solid chunk of real-world advice, from a guy that started from the bottom and worked his way up
About Herbie's key moments in his career, like writing his tune "Maiden Voyage"
How to work successfully as a composer
Practical tips about navigating copyright and owning your music
A Musical Life
"It's so important, of the utmost importance, to be open enough to recognize your true self, and work toward revealing your true self to you."
More unique stories and encouragement that will give you the confidence to explore and find your own unique style.
No musician is the same. We each have our own experiences and tastes.
So Herbie walks us through:
Why musical hierarchies are dangerous
How to be inclusive and continually engaging with the world around you
How to discover why finding your voice is so important, and why expressing yourself in music is relevant today.
"Your true self has infinite potential to expand and grow"
Section 2/4: Fundamentals of Jazz
Spread throughout the course are a number of lessons that cover some fundamentals of what makes jazz jazzy. Herbie discusses and begins to show how you can explore these for yourself on the piano.
Improvisation
This lesson comes early on in the course and sets a good foundation for how the rest of the course will go. The real essence of the Herbie Hancock MasterClass is how Herbie demystifies seemingly complex and scary 'jazz' things.
Herbie deconstructs the idea that you can play wrong notes, and encourages you to explore what sounds good to your ears and your taste.
"You're born with ears, you're born with a heart. Just use them"
Unfortunately, I do feel this lesson lacks a bit of theoretical teaching to go alongside the more conceptual side of it. But this can easily be learnt from other online courses (see further down in this article).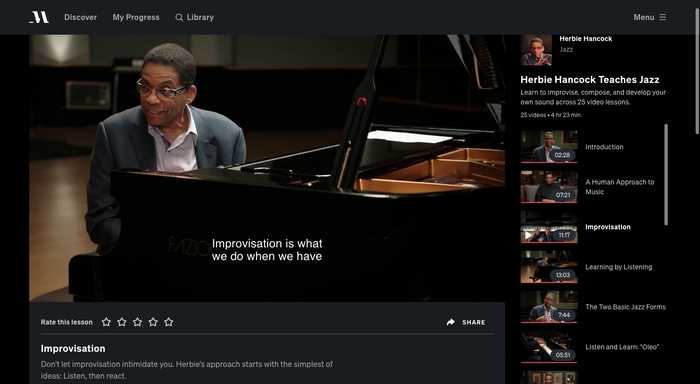 The Two Basic Jazz Forms
At this stage in course, using your workbook, you can really begin to start putting your own ideas into practise.
This jam-packed class has:
Listening recommendations
Sheet music for two of the most common jazz structures (in the workbook)
Herbie playing through examples
I found the workbook particularly helpful, because I could try out my own improvising ideas over some chords; all in my own time. Limiting the chords to the structure means you have to work within some boundaries, which forced me to think about the notes I was playing and not just go for random ones.
Improvising Alone
"…you're actually free to go in any direction that you want to go in"
This lesson added an interesting new twist to what I was learning. In his very relaxed and encouraging way, Herbie takes you through the endless possibilities of improvising on your own.
I did find this lesson quite difficult to follow, because Herbie doesn't explain what he is doing very well. The main premise of the lesson is you can do what you want. That's alright for him to say, but I came away thinking, 'yes, okay… but how?'
Recomposing, Rearranging, Reinventing
"Don't be afraid to change your mind about things"
This class crosses slightly over into the Interview style of Section 1.
Here, you'll hear:
Herbie talking and playing through his unique arrangements (and sometimes rearrangements!) of tunes
Why reinventing old ideas and music can be an invaluable tool
How music really can tell a story… and not just one story!
Rhythmic Musicianship
"The reason that you have such a hard time playing fast, is because you've never heard yourself play fast"
Although this lesson doesn't have many practical tips on how to use rhythm, this is where things begin to get funky!
In this lesson you will learn how to:
Play 'in the pocket'
Be more comfortable playing fast
Embrace complex rhythms in your own music.
As a drummer I felt pretty at home here. But I spent a long time on those listening recommendations…
Section 3/4: Practical Tips to Help You Find Your Voice
Helpfully, Herbie Hancock's MasterClass includes some practical tutorials to help you work on your technical abilities.
These more basic lessons will help you to develop your musical awareness and pianistic skills. With time and practice, this gives you total freedom when it comes to expressing your music.
Learning by Listening
Although this bit of advice isn't unique to Herbie Hancock, it's still a vital lesson. And accompanied by Herbie's entertaining stories of how he developed his awareness of jazz, this lesson is especially interesting.
In this lesson, you will learn:
How to listen to music
The fundamental step of identifying what is unique about the genre of jazz
How listening can help you to build your own musical vocabulary and give you confidence to be even more radical in how you express yourself musically!
Piano Basics and Piano Exercises
These two lessons are aimed more at beginners, but there is a lot of value for experts too in learning how Herbie practises and how he started off on the piano.
Developing your physical awareness of how you play the piano will open more musical opportunities to you on the piano:
"It becomes easier and easier to move through different kinds of sonic explorations"
In short, not a unique lesson, but it still has some great tips and tricks to help you improve your technique.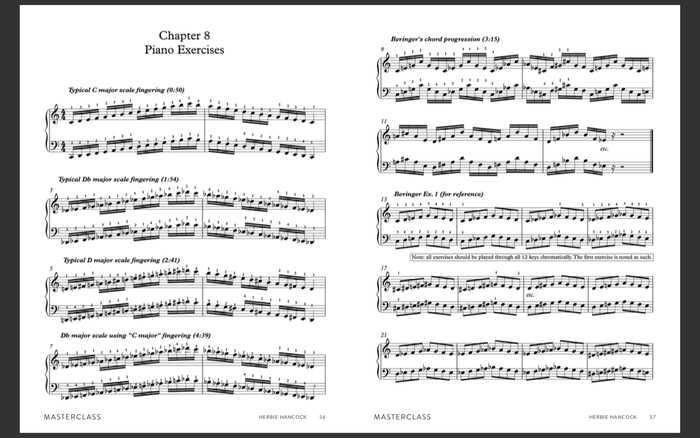 Advanced Ideas:
These lessons I would only recommend for those who have a confident understanding of how harmony and chord structures work. The terms used, like reharmonisation, could be slightly overwhelming for a beginner.
But as with the whole course, there is value in these lessons for any abilities if you are willing to put in the time to research on your own outside of the lessons.
Expanded Improv Techniques
"No matter what the landscape, you can create new avenues of exploration and joy for yourself and creativity, that make the experience exciting for you and exciting for the people that are listening to you"
I've always struggled to develop an idea into something meaningful and I know I'm not alone in this!
This lesson was an absolute goldmine of tips, exploring:
How to expand small ideas into a musical story
A breakdown of practical 'how-to' process that Herbie uses when writing or improvising.
"Many of these devices that go beyond just playing the notes, can be part of the development of your sound."
I found this lesson really made up for where I felt other lessons lacked in practical advice. Not only does Herbie offer great philosophical concepts (like he always does), but he backs them up with great worked through examples.
Jazz Harmony
Here I have bunched a few lessons together, which cover some more complex harmonic ideas. The terminology used here is slightly more advanced, and you may need to have an already existing knowledge of the processes Herbie is discussing, like reharmonization and bitonality.
I found these lessons incredibly informative. The content is not wholly unique, but the way Herbie demonstrates it and explains his ideas at the piano is really helpful and engaging. My playing has developed the most thanks to these lessons (but that might be because I'm a drummer not used to thinking about harmony).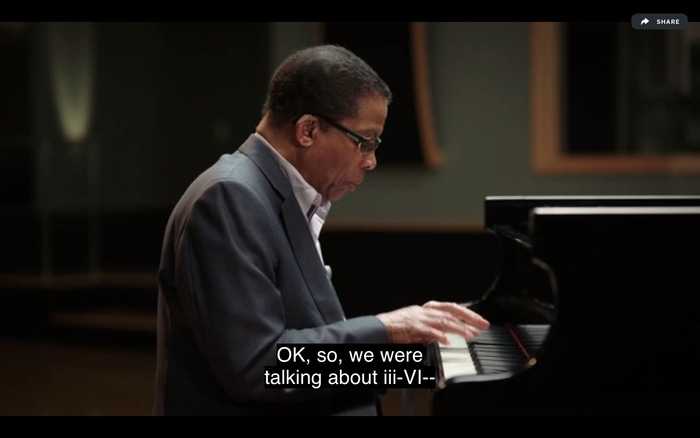 Chord Voicings
For this lesson I had to go and get my keyboard to work out what was going on for myself. But I found it really helpful. Herbie explains lots of different versions of the ii-V-I chord sequence used throughout jazz chord progressions. I've found my ideas have already become more varied just in the few days since I did the lesson.
Case Study: Reharmonizing "Round Midnight"
Using the example of Round Midnight, Herbie demonstrates how to reharmonize a tune.
In this lesson, Herbie uses and demonstrates more complex ideas including:
Inverted voicings
Internal melodies
Harmonised leading notes
Idiomatic and progressive chordal progressions
Ravel's Creative Harmonies
Demonstrating his ideas on the piano, Herbie discusses the innovative musical language of Ravel and how you can take inspiration from it for your own music.
"It's like changing the impossible to the possible"
Expanding Your Harmonic Horizons
In this lesson you will learn all about:
Herbie's harmonic tool box that he uses to create his own music
How to practise reharmonization
And why Miles Davis doesn't like the 'butter notes'!
Yet again, I found this lesson really helpful to give me more freedom in my playing. By expanding your use of harmony, you get rid of the shackles of only playing within a chord structure.
The key takeaway from all of these harmony lessons?
Explore for yourself the reharmonization ideas that Herbie demonstrates in this more practical section of the course. Only YOU can truly find your own musical voice.
Section 4/4: Herbie in Performance
Throughout the course are dotted a selection of performances, with transcriptions in the workbook to follow. These come directly after certain lessons to demonstrate the concepts and ideas that Herbie has just been explaining.
I loved this inclusion, because it not only breaks up the more content heavy chunks, but it helps to consolidate what you have just learnt and processed.
These Listen and Learn performances feature Herbie playing tunes alone and improvising around them, demonstrating techniques of harmony, rhythm, and melodic variations:
"Oleo"
"Maiden Voyage"
"Watermelon Man"
These Jam Sessions featured other musicians playing alongside Herbie. This provides a different insight into how to apply the lessons in a group setting. Another great tool for learning, and some seriously funky grooves to enjoy!
Improvising Together
Two Approaches to Watermelon Man
Rhythm in "Actual Proof"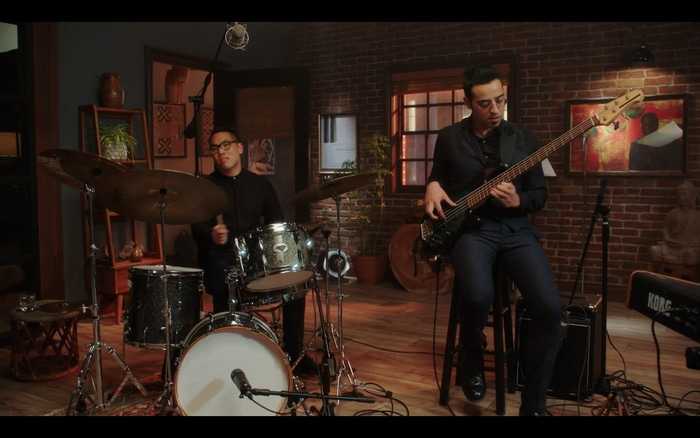 What I liked about Herbie Hancock's MasterClass
Herbie Hancock is a Legend!
Although some masters of their craft are not necessarily good teachers, Herbie Hancock is certainly both. His easy-going, friendly personality makes these classes a whole lot of fun. The content varies from basic to complex, but Herbie always makes it approachable which I really liked.
I am a musician and I often describe myself as a jazz drummer. So before starting I didn't know what to expect, because I am very familiar with the jazz style, but I was apprehensive about the theory.
But when Herbie talks through his experiences and chats about his low-key famous friends, the whole course seemed much more relatable and entertaining.
He is a great story teller, and I found his persona really encouraging throughout, which definitely came in handy when things got a bit complex for my drumming brain.
Find Your Own Sound, Be Yourself
One of the biggest encouragements that Herbie repeats throughout the course is to find your own sound. He thinks (and I agree) that everyone should be themselves in their music.
"I only want to see you be you, not be me"
As a drummer this was nice to hear. So often I feel a bit inadequate in a jazz band, just hitting things whilst everyone else plays all their cool 'jazzy licks'. But this little mantra throughout the course gave me a lot more confidence to explore jazz piano for myself.
Explore At Your Own Pace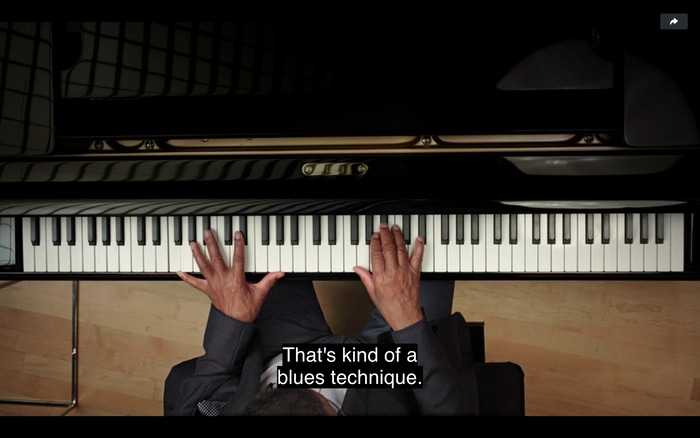 The course is structured in a way that allows you to take time after each episode to explore your own ideas.
I did the course over a number of weeks, so that I had time to practise the things Herbie mentioned in each lesson.
Also, Herbie often suggests exercises to practise, or a tune to go away and figure out for yourself. And the course is full of suggestions about who to listen to for inspiration.
Learn with Your Eyes and Ears (Workbook)
Herbie demonstrates a lot of his ideas as he talks about them. At first I found this difficult to follow, but then I realised how important the Workbook is for this course.
Fortunately, everything Herbie plays is notated in the Workbook. And you have space to write down your musical thoughts on music staves throughout the book.
This makes it easy to follow and explore concepts by both listening and reading the music. Unfortunately, if you can't read music, this will make the course much more difficult to engage with.
Herbie can sometimes go off on one, just enjoying himself. If you can understand what he's playing that's great, but I personally found it difficult to work out what he was doing without the notated help in the workbook. And even then it was sometimes hard…
This way of learning isn't for everyone, but there is still lots to learn from Herbie if you can't read music.
Story Time
Throughout the course Herbie took time to tell relevant stories about his experiences. I absolutely loved this part of it! It felt like getting an insider's secret knowledge about the giants of jazz!
Who knew Miles Davis didn't like his "butter notes". I certainly didn't, but Herbie turned this anecdote into a really useful skill that I've already found helpful to expand my playing.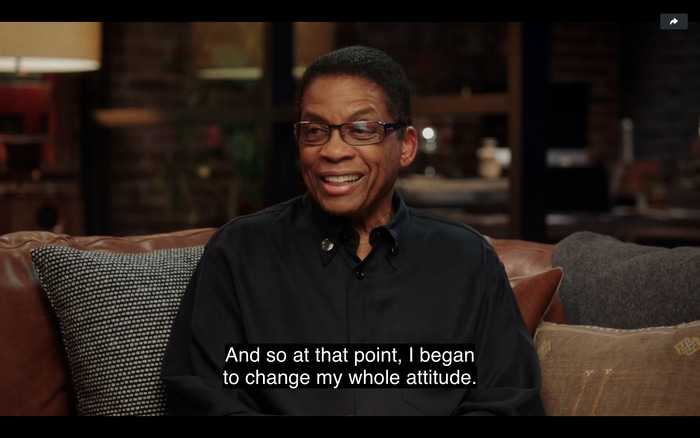 Although they are very interesting, I did find that Herbie sometimes told stories about musical concepts (like improvisation or chord progressions) before he had actually discussed what these things were. So this kind of insight into his brilliant but slightly scattered mind isn't always the most intuitive way to learn.
Beginners and Experts Welcome
Herbie Hancock's MasterClass has value for all musicians. If you've only just started learning piano or have been a professional jazz musician for years, the ideas and concepts Herbie talks about are useful for everyone.
From learning to love your mistakes to improvising in everyday life, this course is wonderfully broad.
But this has its obvious drawbacks. For those wanting a deeply technical lesson about jazz, there are only a few glimpses of Herbie's theoretical knowledge. And for the beginners, some of the terminology could quickly make things confusing.
Which leads me on to what I think could've been done to make this course better…
What I think could be improved
The Herbie Hancock MasterClass is 21st century musical gold. But it's certainly not without flaws.
This course is designed to give people an overall view of what jazz is, why it exists, who does it, and how you can do it. But it's impossible to cover ALL of jazz history, theory, and practise in a 4.5 hour course.
It's like trying to come up with a manual titled "All About Vehicles". There are way too many versions of them, too many people involved, it's lineage is endless, and they're pretty hard to make yourself without training. So to sum up: jazz = vehicles.
But on to the serious things now…
More Theory Please
The course begins with a lot of Herbie talking through ideas and concepts. This could be a great way to begin. But, he doesn't demonstrate these enough, and when he does I was left wondering how on earth he did it.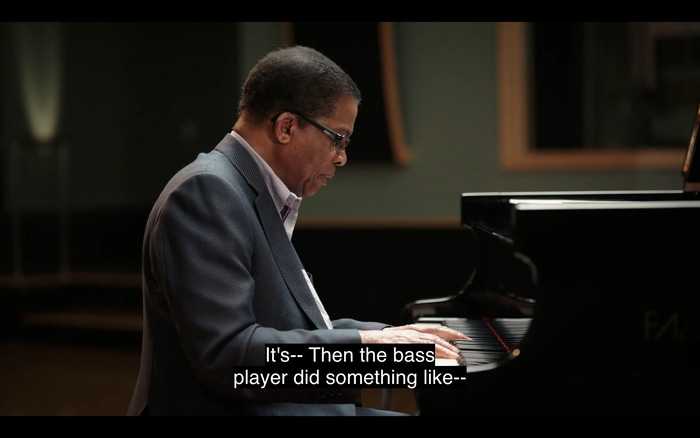 The transcriptions of his playing in the Workbook can only take you so far. If you don't know how to pick apart and analyse a load of very complex notes on a page (I certainly don't), then it's impossible to understand why or how he is doing things.
"…you're actually free to go in any direction that you want to go in"
This sounds great, but if I don't know what my options are then where do I go?

In my opinion, the first few lessons could start with a basic introduction of how music works and what makes jazz different theoretically to other genres.
I consider myself a jazz musician already so I had a headstart with this. But for those who don't know what rhythm changes means… you might find some lessons a little challenging.
Less Theory Please
Having said that the course could do with more explanations, some of Herbie's terminology is left without explanation. It's difficult to learn how to expand your use of reharmonisations or the II-V-I progression when you don't know they mean.

As a drummer, I found the lesson on Chord Voicings challenging. It was interesting to see how different chord voices could change the sound of the same notes (for example, C-E-G changed to E-C-G). But Herbie just played the chords and didn't explain why or how he chose the voicing he did.
I was expecting there to be some simple explanations of what Herbie was doing, but what I got was some very basic stuff (practise your scales kids) and some far too complex stuff.
What Point Did He Just Make Again?
Sometimes Herbie had a tendency to ramble on a bit, in playing and talking. I found this particularly the case in some of the jam sessions, which could have been used to demonstrate more theory and how the bass and drums worked in jazz. Instead Herbie just chatted about his compositions, which we had heard in previous lessons. Don't get me wrong though, these jam sessions were seriously cool!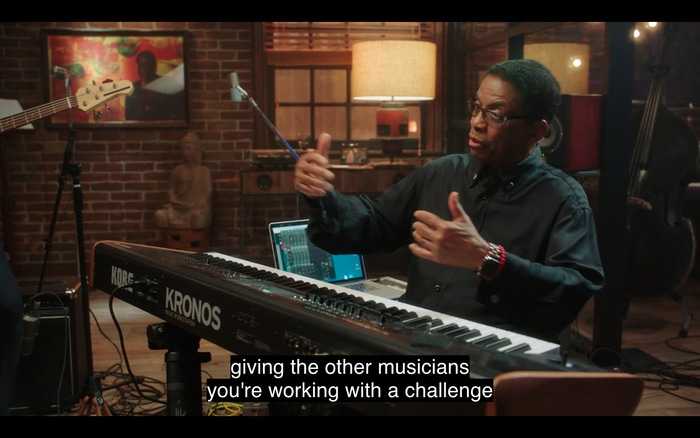 It Felt a Bit Unstructured
At times, the interview type sessions are difficult to follow. Although they contain loads of super useful advice, when you get three unrelated points side by side you've forgotten the first one by the time you're at the end.
Something I learned a bit too late into the course was to TAKE NOTES! Herbie's slightly random thought processes become a bit clearer when they are on paper and you have time to pick out the bits that mean more to you.
Who is this course for?
I think this course is a great tool for anybody who wants to learn what jazz is, what it means, why it exists, who plays it, how to get started with it, and how to become more you as a musician.
Having a basic understanding of music is pretty essential. If you aren't familiar with chords, melody, rhythm and structure then it may be quite difficult to make the most of this course.
However, once past that threshold, this course has content for every musician who wants to expand their horizons and find their musical identity. You don't have to be an expert in jazz to do this course.
This course will be most suited to anybody with a basic understanding of music who is:
Excited about jazz and wants to learn more
Wanting to expand their musical horizons
Keen to get all the goss from Herbie Hancock's long career
Looking for their own musical identity
A professional looking for a new approach
A hobbyist seeking a new online lesson format
A beginner hoping learn the ropes of jazz
How much does the course cost?
At the time of writing MasterClass had three subscription offers. The cost of these (per month) is:
Individual (1 user) $15
Duo (2 users) $20
Family (6 users) $23
All are billed annually, which at first glance may seem pricey.
However, you can considerably reduce your costs by joining with friends or family. And of course by taking as many courses as possible.
With over 150 courses on the platform you're likely to find quite a few to interest you. Even if you buy an individual membership and find only 10% of the courses of interest this still works out to only $12 a course:
$180 (annual individual membership fee) / 15 courses = $12.
And if you join with friends or family then the cost of each course is drastically reduced. Check out our MasterClass review or MasterClass cost articles to see how.
Bearing in mind that these classes are taught by global leaders in their fields the value is unbeatable. You can pay over $100 for an online course taught by someone you've never even heard of, never mind a grammy award winning musician!
What's more, MasterClass also offers a 30 day refund if you're unhappy with your purchase.
You can also purchase MasterClass as a gift.
Alternatives to Herbie Hancock's MasterClass
MasterClass itself has several instructors teaching music, including: Mariah Carey, Yo-Yo Ma , Hans Zimmer, Timbaland, deadmau5, Tom Morello, Christina Aguilera, Carlos Santana, Usher, Itzhak Perlman, Ringo Starr, Sheila E, Jake Shimabukuro, and St Vincent. With an all-access pass, you can pay $180 and access all of these classes.
As we've discussed before, there are a million ways to learn about jazz because jazz is a complex genre with a complex past, present and future. Herbie Hancock's MasterClass is just one of many ways to learn about jazz, although in my opinion it is up there with the best.
Before I look at more official versions, I will point out the obvious place to go for free lessons. YouTube is full of 'Beginner Jazz Piano' courses of varying quality. These can be great to go to before you commit to something more costly and, most likely, more complex. Bill Hilton's 'Jazz Piano For Beginners' course on YouTube covers some basic principles of jazz, but these courses aren't taught by anyone with the experience or expertise of jazz giants like Herbie Hancock.
Udemy offers loads of courses in how to play jazz, including 'Learn Jazz Piano Today' by Willie Myette and 'Jazz Piano Chords – Rich Sounding Jazz Chords for the Piano' by Martin Cohen. These courses offer a more fundamental look at the basics of jazz, and have set examples that they use to explain how chords work, what scales to play when improvising, and how to practise.
These kind of courses range from $15-$50 for the whole course. They are great for beginners, but they lack the philosophical insight that Herbie Hancock's course has throughout. The Workbook from MasterClass is also far more thorough (it's 165 pages long!).
One other alternative is getting private lessons with a local jazz piano teacher. This allows you to tailor your lessons to your needs, whether you are advanced or just getting started. However, this can cost up to $50 a lesson, and it's unlikely somebody like Herbie Hancock lives around the corner.
In comparison Herbie Hancock's MasterClass is excellent value for money, taught by a legend of the genre, and has features like jam sessions and interviews that other courses don't.
And if you want to learn piano 'in the round' we highly recommend the specialist sites Pianote, Skoove or Flowkey and the app Simply Piano. Read our Best Online Piano Lessons Review for more information.
Herbie Hancock's MasterClass: what others have said…
To make this a fair review, I have taken into account what others have said. Music is pretty subjective and everyone has their own tastes and experiences, so it's worth checking out what other people who aren't me think. As I've said before, I'm a jazz drummer so I have a decent amount of experience, but not everyone will be in that position.
I had a quick Google and checked out forums like reddit to see what the general consensus was. I found some interesting points. One reviewer mentioned the course felt like it was for both beginners and experts, which means it's heavier on the meaning and philosophy of jazz:
"I took it. Altho it does lend some insight into the craft, theory and technique of jazz, it ultimately tries to cater for an audience on both ends of the spectrum - that is beginner to advanced - by talking more so about the feel and intention of jazz.

I thoroughly enjoyed it, it just depends on what you're willing to get out of the course I suppose." - Comment from Reddit
Another user said the course was quite sparse on practical information, which I agree with:
"These classes don't usually have a whole lot of concrete practical information, they are more just super in-depth interviews" - Comment from Reddit
These opinions are totally valid, but I think they are more concerned with what you are looking for. As I've mentioned earlier, there are other classes out there that offer more practical teaching. But Herbie's class is about his presentation of jazz and what it means to him and how he can help you find your own voice.
The course does have some drawbacks. But there were plenty of favourable reviewers who said it totally changed their playing.
"I enjoyed every minute of the MasterClass. So much so that I already got it as a gift to two dear friends of mine – each one for 90$. I think that no matter where you are in your musical journeys, you will find some very meaningful takeaways to take to your own playing style.

It's truly a treasure – and it helped me discover the beautiful and rich world of jazz. I hope it will be so meaningful to you – in one way or another."
- Cooper from Guitar Song Masters
The general feeling from other reviews is that this course is all about learning from Herbie Hancock himself, not just learning about jazz. This unique opportunity to get detailed insight into his life and music is what makes this course worth it.
How long it took to complete the course
The total length of the course is 4 hours and 23 minutes. It took me 7 days to complete this MasterClass but personally, I would recommend only completing 2-4 sessions a week.
Spreading the course out over a number of weeks will allow you to really dig into the Workbook and Herbie's listening recommendations which underpin the whole MasterClass. It is vital to explore your own musical style in between sessions. Practising between lessons gives you this time to discover your own voice.
For totally beginners, the course will take 4-5 weeks at least if you really commit to learning all the terminology, listening to the music, reading the transcriptions, and completing the assignments in the Workbook.
For more advanced musicians, it may only take 1-2 weeks, as you may find you have already completed some assignments (like transcribing your favourite music) previously in your own studies.
Ultimately, it's up to you how much time you want to put into the course. There is plenty of material for you to explore outside of the lessons, which Herbie encourages throughout. After all, the point of the course is to find your own voice, not just listen to Herbie's.
Is the course content unique?
Yes and no. With most online courses, the content of the course is not unique. In this case, there are countless jazz piano teachers out there that will teach the fundamentals of jazz and how to start improvising.
So in one sense Herbie Hancock's MasterClass is like many others, it features lessons about chord voicings, reharmonisation, complex rhythms, basic jazz structures like the blues and rhythm changes, composing your own music, etc.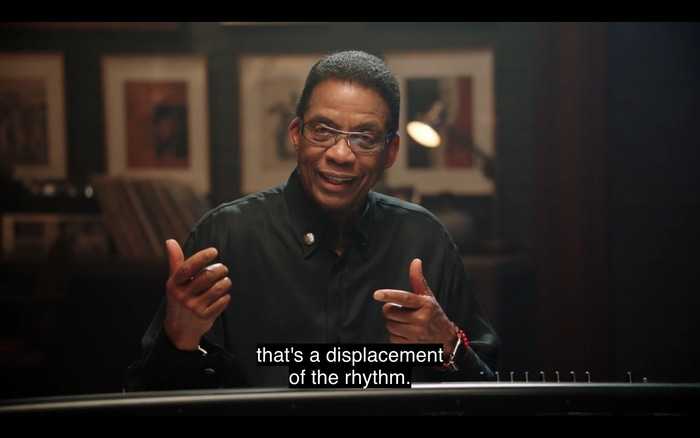 But not many other courses cover the philosophical or historical content that Herbie Hancock's MasterClass features. Herbie's own experiences and well tested views are the main attraction of this course. No other course contains the details of playing with Miles Davis or writing a chart topping hit like 'Watermelon Man' and creates a relatable lessons out of it.
There are many interviews of Herbie on YouTube including some Harvard Lectures, and some of the material in the course is repeated here. But the main attraction of Herbie Hancock's MasterClass is his personal presentation of structured and detailed lessons in one place. That is something not available elsewhere.
Is Herbie Hancock's MasterClass worth it?
The short answer is yes!
The length of the course (and consequential value for money), the personal and relatable presentation, the unique interviews and perceptions, and the well put-together Workbook all make this course a definite winner.
It would not be worth it if you can't read music and aren't familiar with musical terms. And some beginner musicians may find some lessons complex.
But there is still value for dedicated people who are willing to prepare themselves with externally learnt basic jazz theory (as discussed above). With this in mind, any aspiring musician wanting to explore their musical potential will find great value in Herbie's principals.
MasterClass may seem pricey. But with a 165 page Workbook, hours of listening recommendations, and several weeks worth of musical development, Herbie Hancock's MasterClass could be a game-changing moment in your music career. And considering with the All-Access pass you can take over 150+ other courses it's great value.
Since you can sample Herbie Hancock's MasterClass for free and enjoy a 30 day money back guarantee you have nothing to lose by trying it out.
(Yes I know Take 5 isn't by Herbie Hancock, but it's still jazz and I still couldn't resist!)
Frequently asked questions
How much does Herbie Hancock's MasterClass cost?
A MasterClass all-access-pass costs $180 a year ($15 a month). This gives you access to Herbie Hancock's MasterClass, alongside 150+ other courses.
How long is the Herbie Hancock MasterClass?
Herbie Hancock's MasterClass is 4 hours and 23 minutes long and consists of 25 videos.
Can I get a refund if I don't like the Herbie Hancock MasterClass?
Yes, MasterClass operates a 30 day refund policy if you purchase directly through them. If you purchase through other providers, their returns policy may apply.
Can you get Herbie Hancock's MasterClass for free?
Unfortunately you cannot get the Herbie Hancock MasterClass for free. But you can sample it for free and MasterClass has a range of purchasing options and offers refunds if you're not happy.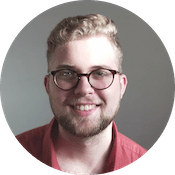 Matt is a recent Music Graduate of Oxford University. He now splits his time between freelance jazz drumming, enjoying the outdoors, and cycling. In between these, Matt loves to learn about how the world works.