St. Vincent (a.k.a Annie Clark) is a modern day icon. Often compared to David Bowie, she's super versatile, uber cool and a true rockstar.
The reaction to the news of her MasterClass was phenomenal. People really lost their minds!
But as with everything that's hyped up, it can be difficult to get a sense whether the course is actually a good fit for you.
So, in this St. Vincent MasterClass review, I'll take you through what the course includes, whether it's worth the money, who it's for, and whether there's something better out there.
But first, the highlights:
.
Quick summary
You will learn:
How Annie Clark became the iconic St. Vincent
What tools she uses to write her Grammy-award-winning songs — and how you can use them too
How to add substance to your lyrics with the aim of crafting an epiphany (like St. Vincent)
How you can create new worlds using effects, quirky instruments, alternative tunings and extended techniques
Practical tips for how you can get started on a budget
The ins and outs of Annie's hit song, "Savior", with an in-depth 4 video case study
How Annie created the Masseduction shows for her critically acclaimed world tour and Coachella
How to deal with the less glamorous sides of being an artist — dealing with fear, shame and self-doubt
Practical life lessons for every aspect of being a musician from writing a song all the way through to live shows on stage (spoiler: don't wear latex unless you're prepared to sweat!)
Pros
Amazing opportunity to learn from St. Vincent
Actionable tips that will actually help you to write more creatively
Annie is an incredible teacher — easy to follow and understand
Really entertaining watch
Cons
Very few assignments for further study
One of the shorter MasterClass courses
Slow to get started (first two lessons)
Length of Course: 14 videos totalling 2 hours and 18 minutes
Best for: someone who wants to write music that steps outside of the norm. Also great for music fans who want a sneak peek behind the process of music making. Not so great for someone wanting a comprehensive songwriting course.
Overall: an incredible opportunity to learn from a really talented and respected musician. This course is impressively accessible to both novices and professionals and is well balanced between informative, entertaining and approachable. One of the best online courses I have personally taken (view details)!
Here's what's in store in this St. Vincent MasterClass review:
About St. Vincent. a.k.a. Annie Clark
About MasterClass
A sneak peek of what's inside the MasterClass
My experience of taking St. Vincent's Masterclass: pros and cons
Who this course is suited to
How much the course costs
What other similar courses and resources are out there
Other people's feedback on the course
How unique the content is
And the golden question: whether it's worth it?
About St. Vincent a.k.a. Annie Clark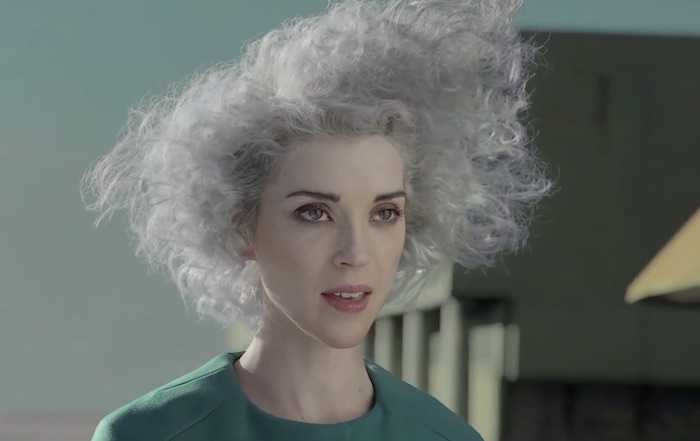 There are many faces to St. Vincent a.k.a. Annie Clark and her constant evolving has made her a powerhouse in the music industry.
She has:
Featured twice in the NPR's 2018 "200 Greatest songs by 21st Century Women" list
Won multiple Grammys for her albums St. Vincent and Masseduction
Had two of her songs — Rosalyn with Bon Iver, and The Antidote — featured on the Twilight Saga soundtracks
And if you haven't seen the trailer for her MasterClass, I highly recommend you watch it to get a flavor of what's to come:
About Masterclass
MasterClass is an incredible platform that allows everyday people to learn from world-renowned instructors.
There are over 80 courses available taught by household names like Hans Zimmer, Gordon Ramsay, Helen Mirren, and of course, St. Vincent.
Founded in 2015, it's become a go-to place for online learning and shows no signs of slowing down! You only need 30 seconds on a Reddit thread to learn that people love MasterClass.
That said, MasterClass courses follow a specific style and that might not be suitable for everyone.
With that in mind, let me take you through this St. Vincent MasterClass so that you can decide if it's right for you.
An inside look into St. Vincent's MasterClass: Creativity and Songwriting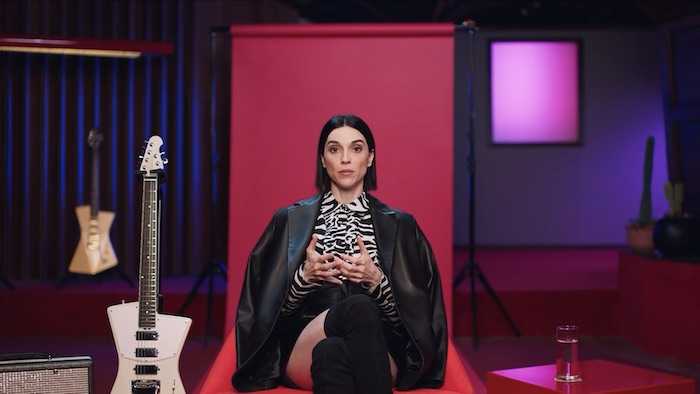 St. Vincent's MasterClass is 2 hours and 18 minutes long and consists of 16 videos. Alongside the videos, you will also get:
A 22 page accompanying workbook
Access to the St. Vincent MasterClass forum to discuss and share work with other classmates
The MasterClass is broken down into 5 key sections:
Meeting Your Instructor
The Art of Being a Songwriter
Roadmap to a Song — "Savior" Songwriting Demo
The Many Faces of St. Vincent
Notes on Guitar
I'll cover the highlights of each section to help you get a sense of whether this course is right for you.
Section 1/5: Meet Your Instructor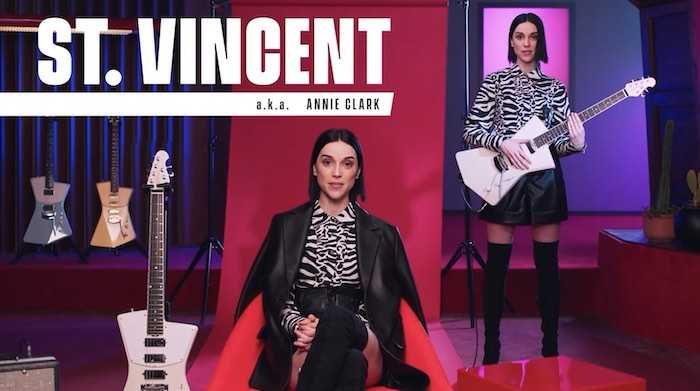 "The point of a song is to get at the ineffable and get at the struggle that is to be human."
We first meet St. Vincent a.k.a. Annie Clark through a montage of bad-ass clips — her rocking an electric guitar at Coachella, snippets of icons singing her praises, a shot of her accepting a Grammy award.
You immediately get the sense that this isn't a run-of-the-mill class.
Annie talks through her hopes for the class and how she'll guide you through her creative process.
She promises to give:
Performance tips
Songwriting tips
Studio tips
As well as an in depth, step-by-step guide through her hit song "Savior".
Section 2/5: The Art of Being a Songwriter
Nun Mode: Discipline in the Creative Process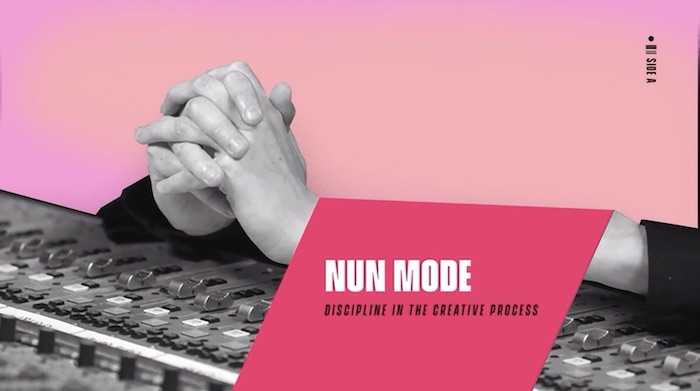 "That is half the battle of writing, is sitting with yourself in uncomfortable positions where you're hoping that something happens."
Here Annie shows you how joy and discipline can converge in your creative process.
She reveals how she has sometimes taken extreme measures to get into the zone of creativity but also stresses that sometimes creativity doesn't always look like you might think!
For example, we're all familiar with what St. Vincent calls "active engagement": working hard and being busy.
But she also embraces the "passive engagement" of creating. That might look like staring into space, taking a shower, or just noodling around on the guitar.
Every Song Needs an Epiphany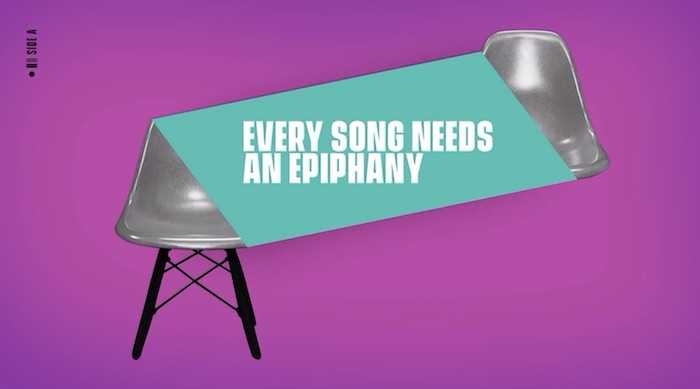 Annie then stresses the importance of listening to learn.
She references some iconic songs which have influenced her Grammy-winning songwriting and explains how you can critically listen to them to unpack what's going on.
You'll get some on screen listening exercises pop up — be sure to pause and note them down because they aren't listed in the workbook for further exploration.
You'll get:
Lyrics tips: how to add substance to your lyrics with the aim of crafting an epiphany
Musical tips: how to train your ear to hear what every instrument in a song is doing
Practical tips: why you should record everything even if you think it's rubbish!
And life tips: why it's important to learn and consume as much music as possible right now before you get your big break.
Although St. Vincent references some music theory here, she says that you really don't need to have musical theory knowledge if you can listen well. It's just a language that describes what you're thinking.
Basic Tools for Bedroom Composing
"You could write a whole album with this. You really could."
This class is super exciting.
It's packed full of tips showing what can be achieved from a modest home setup and that's incredibly freeing if you don't have the means to hire a studio.
St. Vincent takes us through how to set up your bedroom studio and what essentials she has in her studio. A full list of Annie's gear is helpfully listed in the workbook.
There are some really practical tips for those on a budget like:
How reverberant a room should be for optimal recording and how you can use everyday things like blankets to help get a better audio quality
Using the free GarageBand app as a precursor to transfer to Logic Pro down the line
How you can find quirky sounds in unexpected places like a pawn shop or through digital presets
How you can make a whole album at home
Throughout this class, Annie does use some technical terms like "phantom power" and "midi" but don't worry — they're explained with a handy onscreen glossary.
This is certainly a topic St. Vincent knows a thing or two about. Her first album, Marry Me, was written and recorded primarily in her childhood bedroom at her mom's house!
Fear, Shame and Humiliation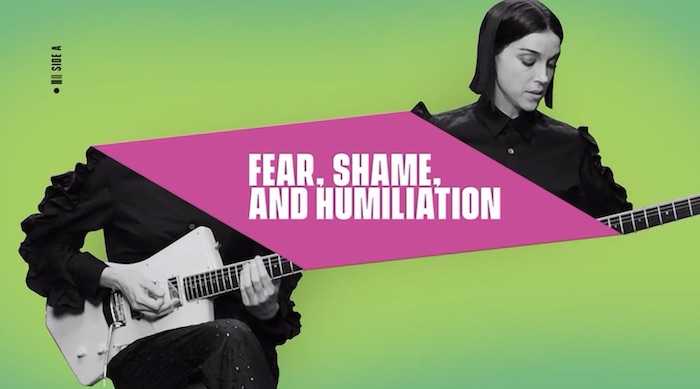 "Everybody feels weird sometimes, everybody feels like they don't fit in, everybody feels, you know, self-conscious and afraid, and all those things…"
Annie gets really candid about the emotional side of being a musician.
St Vincent touches on:
The direction your musical journey should always be headed in
Why you should never try to fill someone else's shoes
Personal tips on how and why she makes shame her friend
Annie makes this class real and vulnerable by sharing a time she experienced a public shameful moment and showing how she changed her perception so that it didn't become a crippling moment for her.
Section 3/5: Roadmap to a Song — "Savior" Songwriting Demo
Early Sketches
"I want to demystify the process of songwriting."
Annie shares some great tips to help with the songwriting process, including:
How to know if a lyric is good and knowing when to "kill your darlings"
Leaving enough ambiguity in a lyric to say what you mean while still leaving space for your listeners to make their own story
How to set up good lyrics using tension and release
Testing the song in a stripped back version to make sure that it still stands without all the extras
This is done through an indepth look at "Saviour", one of her most loved songs. It's got a haunting melody, unexpected twists and turns, and is relatable and heart-wrenching.
This class is all about early sketches and Annie explains that she picked "Savior" because much of it was written when she was a teenager.
If you've watched St. Vincent interviews, you'll know that Annie is pretty embarrassed about her old recordings. In fact, many have speculated that even in her MasterClass, she would never ever share any unpolished recordings.
I am here to tell you that the speculations are wrong.
Here we get to glimpse into the archives and hear a 17 year old Annie singing the formative moments of "Savior". Yes, she's embarrassed by it, but it's an incredibly rare moment to see how she's grown and developed an idea into a fully-formed song.
If there are parts about your singing that you don't like, the message here is that no effort is wasted and it can grow into something special.
"A good song you can dress up in any way shape or form and it's still a good song."
Finding the North Star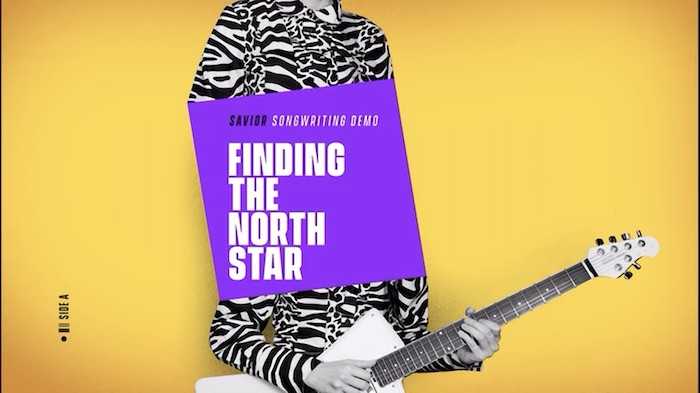 "Take something good and bludgeon it until it's great or set it aside and refine, refine, refine."
Annie opens up about various revisions of the song and we get the rare chance to hear old versions that got binned.
There's a take with the bass riff slow and "dirgy" instead of the slinky, sexy riff that you'll hear on the finished track.
And a moment where she sings a lyric about the Virgin Mary that she's thankful that she also ditched!
These are never-heard-before moments that are both exciting to hear if you're a St Vincent nerd, but also reassuring to hear that not everything idea Annie comes up with is Grammy-worthy!
St. Vincent also covers:
Why it's important to settle on a "north star" of your song. For "Savior", it was literally the idea of failing to be a savior
How to get out of the mindset of perfection and ask questions that will guide your writing
Exploring the mechanics of harmony and thinking of it as a journey. Take one chord progression and see where it leads you
Rewriting, Revising and Refining
"At the end of the day, one of my big rules is, like, I ask myself, does this serve the song?"
This class is super informative and a lot more analytical than others so far.
Here, she teaches through a combination of playing old versions from the song "Savior" and explains what needed changing and why.
You then get to hear the same section from her performance at Coachella to compare the difference between the two samples.
Throughout this demonstration you'll learn:
How to use perceived loudness to add interesting layers to your music without overpowering the vocals
The most important tool for adding intrigue into your writing
How to work alongside collaborators and feel ok to go down an unexpected rabbit hole
How Annie references the iconic Dr Dre in her hit song "Savior"
Final Mix
"I love being in the studio. It's my favorite. It's my absolute favorite place. Anything is possible. Anything is possible in the studio. It's so exciting!"
I really loved this final section on "Savior", finishing up in the studio. The class moves from Annie's home studio set up into a professional studio.
She puts all the tracks through the studio mixer, allowing her to mute and lower each part so that you can really hear what's going on.
For example, she plays a drum track then shows you what it sounds like with the snap delay and plate reverb it has in the track. And then you hear it back in the mix to understand how it works with the rest of the song.
The lesson was such an exciting peek behind the curtain to really understand all the different parts that went into "Savior".
Here, St. Vincent goes through:
Why it's beneficial to go to a studio even if you have a set up at home
The best way to communicate with engineers to turn your vision into reality
How to add what Annie calls "flavor crystals" to your music to make it pop
Why you should add chaos and texture to your music, even if you can't necessarily hear it in the full mix
The number one rule in adding effects to your vocals
Section 4/5: The Many Faces of St. Vincent
Seizing Opportunity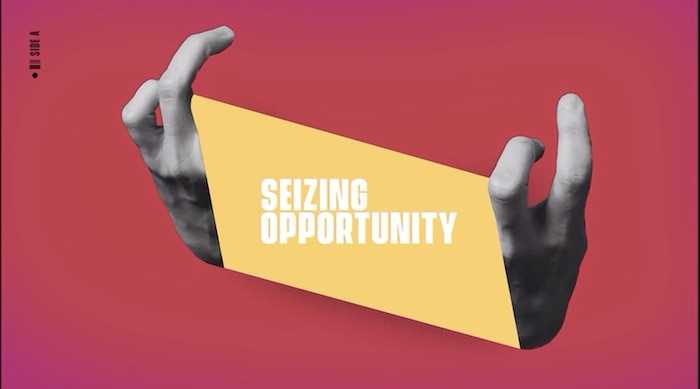 The next class is a journey through Annie's formative years as an example of seizing every opportunity that you can.
There's also a relatable moment when she reveals what her parents thought of her music obsession in her teenage years.
It runs in a very anecdotal style as she talks through:
Extreme things she did to get gigs in the early days
How she would learn about musicians and producers as a child
The importance of getting dirty — doing a tech job, learning how to roll cables correctly, learning technical language and which cables need to go where
What happened when she dropped out of Berklee and moved to New York to "make it"
Tuning In to the World Around You
We come back to an anecdotal class as Annie Clark encourages us to take inspiration from the world around us.
She talks through how she finds inspiration as a solo artist and also how she has been inspired by the iconic singer-songwriter, David Byrne.
In this class you'll get to:
Hear how David inspired St Vincent to become more free and creative
Learn how Annie embraced new ideas that were difficult for her after being challenged by "But what if you tried?"
Hear how choreography can help you to become even more true to yourself
Discover the sources that Annie draws from to write her hit songs
Out of the Studio, Onto the Stage
"Performance tips. I have so many. And I have so many because I've done so many things wrong, so many times."
The final class is brought together with a section about being on stage.
We get to see loads of clips from St. Vincent's various shows — her stripped back solo tour, her full rock band tour, and also her voice and piano tour — and hear the song "Savior" that we studied earlier on.
Annie shares her top practical tips for performing on stage:
The golden time to eat before a show to strike the balance between energy and lethargy
How not to lose your voice on tour
Keeping centred on the audience
How to minimise performance anxiety
Deciding what to wear: rehearsing in outfits to make sure they're comfortable enough and a heads up about latex!
How to approach mistakes: etiquette towards others and how to not let it affect you

Annie's core mantra that has kept her going through difficult performances
This is a must-watch for anyone who wants to gig and, hopefully one day, tour. She shares the mistakes she's made so that you don't have to.
St. Vincent finishes with a section on her tours of Masseduction.
She reveals her thought processes behind creating the award-winning show and how she emulated Mussolini's movements to challenge the perception of what power is.
Writing a Theme Song
We're back to case studies (horray!). The previous case study on "Savior" was incredibly informative and this one is, dare I say it, even better.
St. Vincent takes us through the theme from "The Nowhere Inn" and peels it apart layer by layer. Starting with the lyrics and moving through the songwriting process, the class ends with some fun studio tricks and effects.
(I've also taken Hans Zimmer's class where he briefly touches on effects, but this was 100 times more informative and comprehensive than Zimmer's class.)
This class is filmed back in the studio which, as last time, allows her to demonstrate so many more moments and fully explain while listening.
Annie's top tips for writing a movie theme include:
Why writing for a movie makes it easier to craft lyrics
How she thinks about the journey of a song and how it fits with the movie
What effects are available and how to use them
How lyrics and movie inform the type of sound she writes
Ingenious ways to use pitch-correction as an effect
How she uses subtle shifts in tempo to enhance a feeling
Throughout, she'll stop to talk through a musical line — sometimes guitar, sometimes vocal, bass or drums — revealing her process, playing samples, and digging deep into the core of the music.
I particularly loved the final section on effects. First starting off with the adjective, "woozy", she then explains which effects could be a good choice to achieve that sound.
I was half expecting St Vincent to stop after listing the effects, but she takes you through them one by one.
Each demonstration includes her talking through how they sound. She applies the relevant effect over her speech so that you really understand what the effect does, how it's achieved, and how it sounds.
Section 5/5: Notes on Guitar
Tone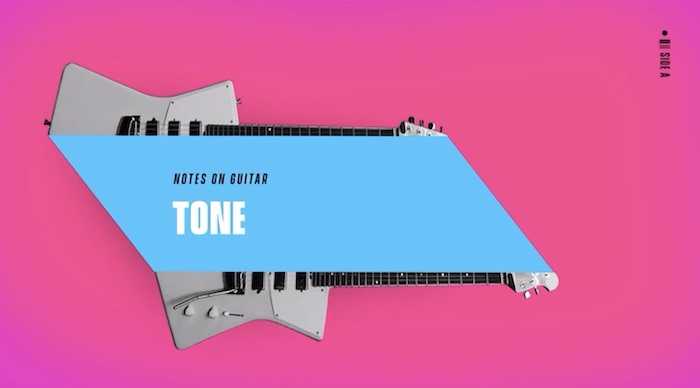 Throughout the course, St. Vincent has talked of her passion for guitar and how she worked hard to hone her craft.
I was super excited to see that this class focuses on guitar tone, revealing the secrets behind Annie's plethora of sounds. It's taught from her signature St. Vincent electric guitar which really brings the class to life!
Expect to learn about tone, effects pedals, technique and overall ethos about guitar.
Similar to the case study class on "The Nowhere Inn" Annie demonstrates a new range of effects, talking through what they do and how they sound, as well as playing them.
She covers:
How she takes the guitar beyond basic chords to being lyrical or percussive
Practical tips to rid tension from the body while playing
How she imagines sounds first in her head, and then translates them to the guitar
Which pedal board she uses and the characteristics of each effect
How she emulates the human voice and other instruments with her electric guitar
Creative ways to make non-pedal effects with prepared guitar: paper and paperclips are involved!
Tunings and Technique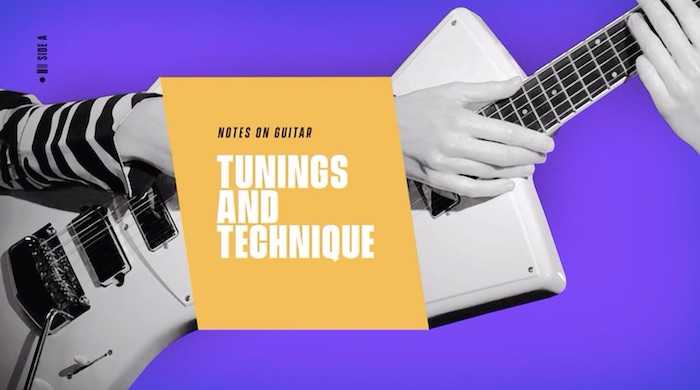 "The familiar becomes the unfamiliar."
Next is another jam-packed class full of guitar tips and tricks. The class focuses on tuning and we finally get to see Annie play all three of her guitars that have been lurking in camera throughout the course.
She'll walk you through:
Different tunings — standard, glam, Nashville, and St. Vincent tuning — showing you how they sound and where they might be used
How she uses different tunings to mix up the familiar and create something new
What tuning she uses on her hit song, Masseduction, and why
What unique sounds a baritone guitar can bring to the table
Her technique picked up from "the world's best fingerstyle jazz guitar player"
Harmonics and how to use them
My experience on St. Vincent's MasterClass
This wouldn't be a fair review without sharing some of the pros and cons of the class.
Let's get into some of the good stuff first!
What I liked
The chance to learn from Grammy-award-winning singer-songwriter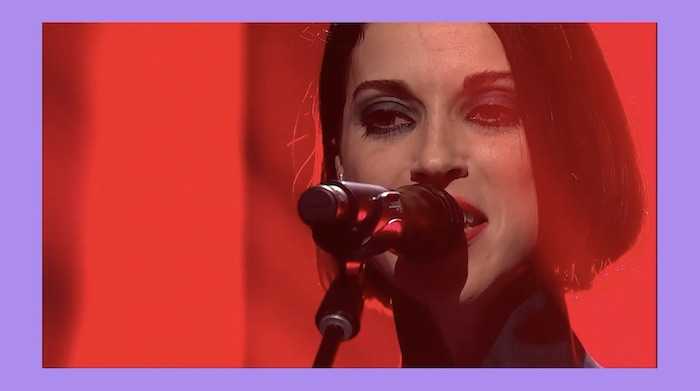 Annie Clark has spent decades honing her craft and it shows.
Of course, you can always take a songwriting class anywhere, but what sets this apart is Annie's unique experience as St. Vincent and her journey to the top.
Amazing demonstrations and explanations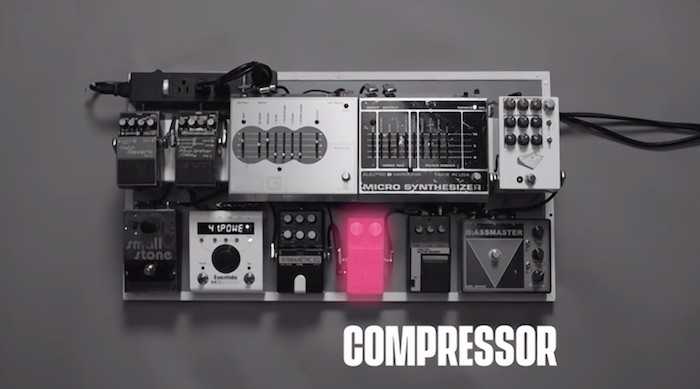 I've taken a few MasterClasses and would rate St. Vincent is one of the best teachers on the platform.
Annie has a way of explaining that really makes sense. That's incredibly difficult when talking about something so abstract as music and creativity, but she does it flawlessly.
I really valued the time she took to explain in depth. For example, when explaining an effect she:
First introduces it
Then explains how the effect works
What it makes it sound like
Who has notably used that effect
And then demonstrates it so you can hear the effect
These in-depth explanations really made me come away feeling confident and like I fully understood how they work and how they might be applied.
Encouraged to be more creative
St. Vincent is known for continuously reinventing herself (like David Bowie) and it makes sense that she's continuously pushing into new territories.
As a result, this MasterClass is packed full of things that I would never even consider.
From putting paper clips on your guitar, to breaking out of a rut by playing something familiar on a guitar that has unfamiliar tuning, there were so many moments where I literally said "oh my God, I never thought of that!"
Creative production and styling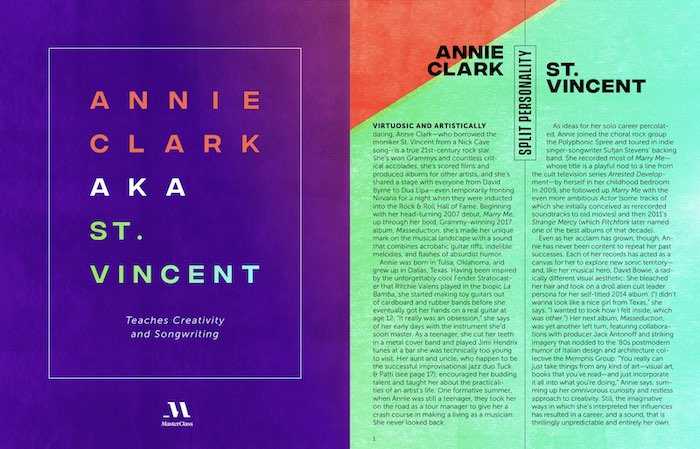 MasterClass courses are always beautifully produced, but I really feel that Annie had a lot of influence in how the class was styled.
The workbook is packed full of neon colors and each class is prefaced by a quirky animated title card.
It sounds like a small thing, but the visuals are so different and really get you excited to think outside the box.
On screen glossary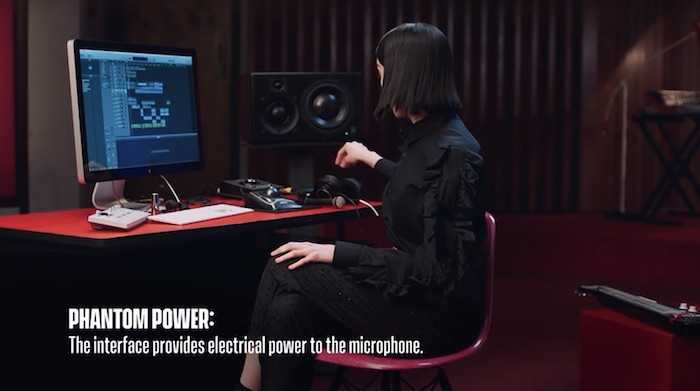 There is some technical language littered throughout the course. Most technical terms are explained by Annie as she goes, but any that aren't are helpfully explained with a pop-up on-screen glossary.
This makes it super easy to follow and means that you don't really need much prior knowledge to get a lot out of the course.
What I think could improve
More comprehensive workbook
All MasterClass courses are accompanied by a PDF workbook and the St Vincent course is no exception.
However, the St. Vincent workbook reads more like a magazine editorial rather than a workbook. There aren't any assignments and very little further reading is added. There is also no space for notes.
It looks very cool and is really representative of St. Vincent, but as a workbook, not so helpful.
The lack of assignments and additional materials means that this 2 hour course feels more like "infotainment" than an actual course to study with.
Take a look at an example of Hans Zimmer's workbook compared to St. Vincent's and you'll see what I mean!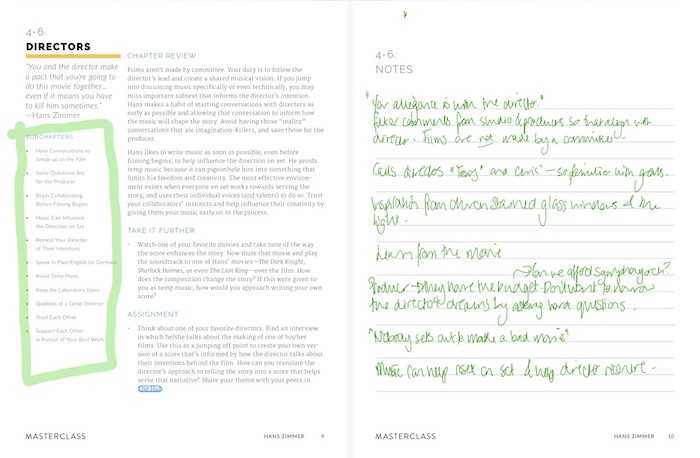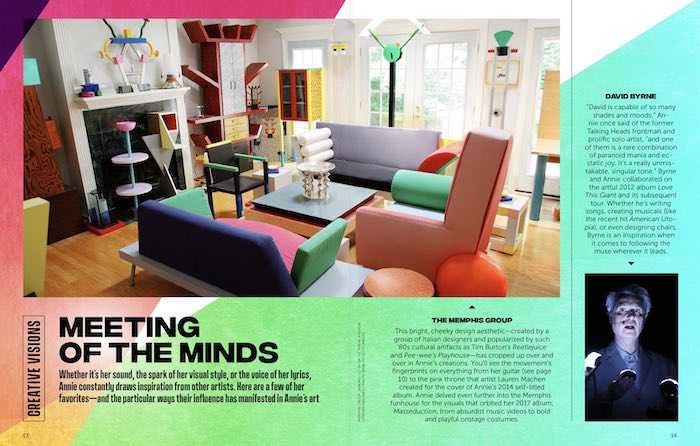 Even more demonstrations (especially at the start)
The start of the MasterClass consisted of a set of anecdotal style lessons with Annie sitting in frame, talking.
I'm glad that this type of lesson was included in the course, but I appreciated it more when they were breaking up the more hands-on classes.
St. Vincent is renowned for her rock-star guitar-playing, but by the third lesson, we still hadn't heard her play guitar at all.
There was also a specific moment where she was trying to explain a technique used by Nirvana where she just played air guitar. It felt unclear and a little bit silly considering she was sitting next to 3 guitars!
Had they utilised demonstrations right from the beginning, the start of the class could have been even more informative and gripping from the get go.
A little bit short
Overall, I really loved the class, but at around 2 hours long, it's one of the shorter MasterClasses and pretty steep if you're gifting it as a one off class for $90.
It would be great to see another case study or for St. Vincent to showcase even more obscure extended techniques.
Who is this course for?
Due to Annie Clark's masterful explanations, this MasterClass is incredibly accessible. I am a full-time professional musician, but my guitar playing extends as far as 3 chords (G, Em and D!)
Despite my limited guitar skills (and Annie only demonstrating on guitar) I followed the course with ease.
I also learned a lot of new things despite spending 6 years studying music at world-renowned music schools.
To find a course that suits both a novice and a professional is very rare, but I honestly think that because of St. Vincent's unique style, there is something for everyone in this course.
Overall, it's great for anyone who:
Is keen to learn from a Grammy-award-winning songwriter
Already writes music but wants to break through into unexplored territory
Is eager to add new sounds into their musical arsenal — be it through effects, different instruments, or playing their instrument in a completely different way
Is a woman struggling against preconceptions in the music industry
Wants an inside look into St. Vincent's super versatile career
Is a big St Vincent fan!!
Of course, this MasterClass is not for everyone.
As I mentioned previously, this course feels more like "infotainment" because of the lack of assignments and further reading.
If you're looking for a structured course with assignments and feedback then this is not the course for you.
How much does the course cost?
MasterClass often changes their pricing plans, so for the latest purchasing information please check here.
The most popular way to access MasterClass is through a subscription package that costs $180 per year (~$15 a month).
With the subscription, you have access to all the 80+ courses on MasterClass. You can get great value for money if you're interested in a few classes. (I would suggest taking a look at Hans Zimmer's class too for more insight into creativity.)
For example, if you're able to find at least 4-6 classes you like, it means you're effectively paying $30-$45 per course. ($180 / 6 classes = $30).
Bearing in mind that these classes are taught by world experts, the value is unbeatable. It's sort of a way to hack learning.
Whatsmore, MasterClass also offers a 30 day refund if you're unhappy with your purchase.
Can I buy the MasterClass as a stand alone course?
No… and yes. Currently, the only way to sign up to MasterClass is through an annual subscription.
If it's within your budget, this is hands down the best way to experience MasterClass.
However, if you're absolutely certain that you will only ever want to do the St. Vincent course and the St. Vincent course only, there is a hacky way to buy a stand alone course.
MasterClass has a gift option where you can purchase a single class. They don't make it immediately obvious, but if you visit MasterClass here and select a class, you'll see an option to gift as an individual class at the bottom of the page.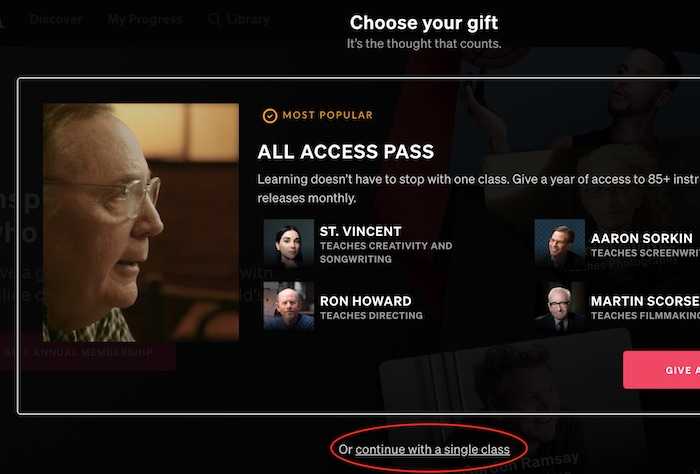 The next step is to gift the class to yourself and you're done!
The cost to buy the course alone is $90. Spread out over ~2.5 hours of content, it works out at around $39 per hour. Considering that you could easily spend more than that learning from your local music teacher, this course is great value!
That said, the way to get best value for money is to take multiple classes with an all-access annual pass.
Alternatives
If you are interested in composing and creativity, there are a tons of MasterClasses that might suit you:
Hans Zimmer Teaches Film Scoring: unlock musical creativity (I have taken this and would recommend it to anyone who wants to compose, whether for film or something else)
DeadMau5 Teaches Electronic Music Production: for creating music predominantly with technology
Carlos Santana Teaches the Art and Soul of Guitar: for more in depth instruction on guitar playing
Tom Morello Teaches Electric Guitar: for electric guitar tips
Jake Shimabukuro Teaches 'Ukulele: if guitar isn't your preferred instrument
Billy Collins Teaches Reading and Writing Poetry: for advice on crafting a story with words
The list goes on: Herbie Hancock, Christina Aguilera, Timbaland, Danny Elfman, Itzhak Perlman, Reba McEntire, Armin van Buuren, Usher, Sheila E and Metallica.
New MasterClasses are added every month so have a browse here.
If you're looking for something a little more structured with assignments, the Berklee School of Music Coursera courses could be a good option for you.
You can audit the course for free, or pay a fee to participate in class quizzes, assignments and receive a certificate on completion.
If you are looking to develop your general creativity alongside song writing skills you could check out CreativeLive. And if you're thinking of mastering a specific instrument, like piano, we recommend you check out our Pianote, Skoove or Flowkey Reviews.
St. Vincent MasterClass: what others have said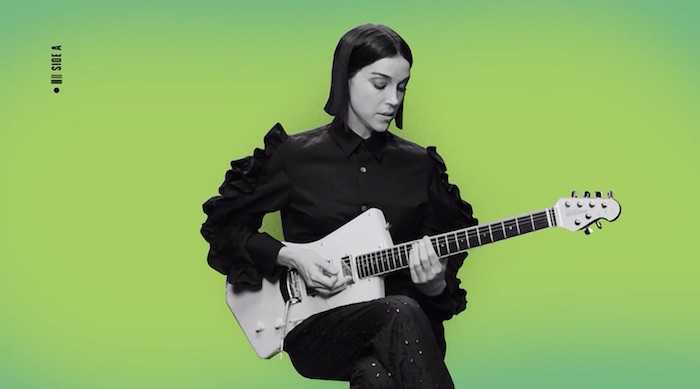 My aim is to write the most comprehensive St. Vincent MasterClass review out there and no review is complete without considering what others have to say.
At the time of writing, the course had only been out for a couple of weeks, however, some class participants and future participants had things to say:
"ive already watched 4/16 videos and it's really good so far. i could listen to her talk all day tbh"
"I'm not a musician but I watched this in one sitting (easily!) and Annie/St. Vincent had sooo many lovely nuggets of info as well as a great knowledge of music. I could've watched so many more hours of this masterclass <3"
"Just Wow, What a Woman.. Seriously one of the most innovative artists of the past two decades. a true original.  and her work with Jack Antonoff was the pinnacle of modern pop song writing and production!.  a genuine Genius right there!.  All hail Annie"
"When I tell you I screamed when I saw this, I SCREAMED."
To be completely honest, the comments are all very positive — I didn't just highlight the good ones!
At the time of writing, I hadn't found any negative comments at all.
In fact, this review is one of the most critical out there so it's definitely worth reviewing the cons I've mentioned (particularly with regards to assignments) to decide whether it's right for you.
How long it took to complete course
I spread the 16 videos out over the course of a week. That said, the entire course is about the length of a long movie so you could easily watch this in one sitting (and some people have).
To get the most out of the videos as a course, I would recommend taking your time and exploring new techniques and ideas that you encounter in this course.
You can also binge watch it in one sitting and then come back to key videos at your leisure.
Is the course content unique?
One of the problems with celebrity instructors is that they've given countless interviews and tutorials and often, the content isn't completely unique.
This isn't the case with St. Vincent's MasterClass.
Sure, there are some things — particularly the more anecdotal points — that have been mentioned in interviews, but I didn't find any other existing resources that go into as much depth as the case studies and hands-on lessons.
Not to mention:
People have been dying to hear her early work and it's always been ruled as "never going to happen".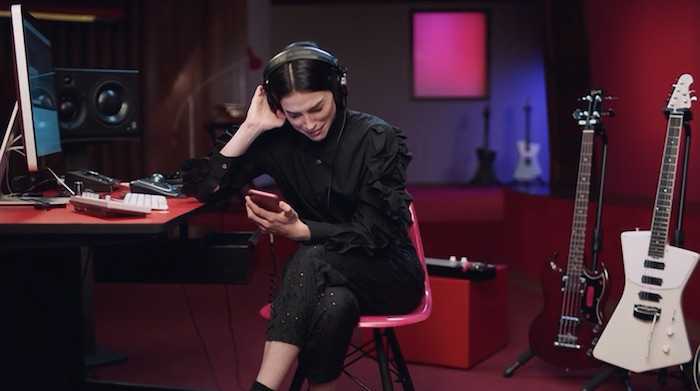 But here, we do get the chance to hear Annie's early work — quite extensively — and it's a completely unique opportunity to do so.
Is it worth it: St. Vincent MasterClass
In my opinion: absolutely YES!
Annie Clark is an incredible teacher who has the rare ability to put abstract art concepts into words that completely make sense.
There's a great balance of anecdotal classes and more in depth study that makes it both informative and fun to watch.
That being said, whether it's worth it depends on what you're looking for:
If you're looking to up your songwriting game, it's packed full of great insights and is perfect for you. (Especially if you buy the all-access pass!)
However, it's probably not a great course if you're looking for an assignment-based theoretical study programme. Berklee's course on Coursera may be more up your street (although it is quite technical!)
The bottom line?
St. Vincent is an icon — and for good reason. This MasterClass is a rare opportunity to glean pearls of wisdom and practical tips that she has used to pave her way to success.
Moreover, she is a natural teacher who really understands how to communicate directly about such an abstract thing as creativity.
Honestly, I think this is one of the best online courses I've taken. At $90 by itself, it's a steal. But paired with an all-access pass to learn from other instructors like Tom Morello and Hans Zimmer? The price is unbeatable!
Frequently asked questions
How much does the St. Vincent MasterClass cost?
A MasterClass all-access-pass costs $180 a year ($15 a month). This gives you access to St. Vincent's MasterClass, alongside 80+ other courses.
How long is St. Vincent's MasterClass?
St. Vincent's MasterClass is 2 hours and 18 minutes long and consists of 16 videos divided into 6 sections.
Can you get St. Vincent's MasterClass for free?
Unfortunately you cannot get the St. Vincent MasterClass for free. However, MasterClass has a range of purchasing options and offers refunds if you're not happy.
Can I get a refund if I don't like the St. Vincent MasterClass?
Yes, MasterClass operates a 30 day refund policy if you purchase directly through them. If you purchase through other providers, their returns policy may apply. To ensure your refund policy is valid, visit MasterClass here.
Can I buy St. Vincent's MasterClass by itself?
You can buy the course by itself by using the MasterClass "gift" option. The course costs $90 as a stand alone.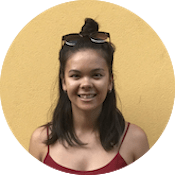 Glenda is an award winning full time professional harpist. Alongside harp she also plays the piano and violin. Besides music, her passions are cooking, writing and learning.