The Mindvalley Black Friday deal currently offers 40% off annual membership. Click here to find out more or use any of our links.
Wondering what Mindvalley is? How it works? And, above all, whether Mindvalley is worth it?
Then this detailed and balanced Mindvalley review is here for you.
I've taken a number of Mindvalley quests, completed Lifebook Online and visited every corner of the platform to help you answer these questions and more. 
So, I'll be sharing my extensive personal experience to help you decide if Mindvalley is the right place for you to embark on your self improvement journey. 
First though, if you're short on time here are the highlights:
.
Quick summary
Features
100+ self improvement quests covering every dimension of life including: mind, body, soul and career 
Time bound courses taken with a cohort of fellow students
5x higher completion rate over traditional online learning
Daily microlearning sessions
Includes the app so you can learn on the go
Daily live sessions with celebrities, famous CEOs and world class coaches
Opportunity to upgrade to Membership Pro half price
Weekly free Mindvalley Masterclasses
Pros
Teaching from passionate, respected and accomplished instructors
A unique and effective approach to online learning
Engaging bite sized lessons that build on and reinforce prior learning
Strong 'results that stick' focus
Genuinely community oriented platform
Cons
Fairly small catalogue compared to other learning platforms (in terms of number of courses though not learning time)
Only works if you do (like any eLearning)
Advice can seem repetitive at times (though this can be viewed as a pro)
Best for: Anyone prepared to lean in, dig deep, and put in the necessary effort to achieve a rich and fulfilled life – whatever your starting point.
Cost: Check latest price for Mindvalley
Overall: Mindvalley's unique, optimized approach to learning unlocks the tips and strategies of top performers and provides an effective route to self improvement. The daily microlearning sessions build techniques and mindset in a way that locks in progress. For me, Mindvalley went beyond my expectations. I've let go of beliefs that have been holding me back, reinvented myself and have a clear vision that keeps me moving forward. However, you do need to 'lean in' to the process, so it's less suited to people who are overly cynical or want results without effort. That said, the free Masterclasses and refund policy give you plenty of opportunity to decide whether Mindvalley is for you.
Now for the detail. In this Mindvalley review I will be covering:
What is Mindvalley and who are their instructors?
How much does Mindvalley cost?
Does Mindvalley have a free trial?
What is a Mindvalley lesson like?
Best Mindvalley courses and offerings
How I reviewed Mindvalley
What I liked and thought could be improved
Who Mindvalley is for and whether you can buy it as a gift
How to find the best courses on Mindvalley
Alternatives to Mindvalley
What others have said about Mindvalley
Is Mindvalley worth it?
FAQs
What is Mindvalley?

Mindvalley is an eLearning platform founded in 2003. Its mission is to deliver life-changing programs that empower people to become their best, most fulfilled selves.
What sets Mindvalley apart from other online learning platforms is its:
Focus on personal development and well being rather than traditional subjects
Quest based approach – programs start on a set date and are completed with a cohort of fellow learners
Genuine community feel – your learning journey is supported by your peers and the wider Mindvalley network
Daily microlearning – powerful 20 minute daily sessions that fit into any schedule and promote tangible, incremental growth *
Unique self assessment which allows you to honestly establish a baseline, track your progress and receive curated personalized learning suggestions
* You can opt to learn at your own pace and take Quests on your own schedule. But by combining the power of community with daily microlearning, Mindvalley claims its Quests transform you in ways that traditional online education can't.
Mindvalley categories
With more than 200 world class coaches and speakers, Mindvalley delivers programs across a range of categories such as:
Body
Mind
Soul
Relationships and parenting
Career
Entrepreneurship
It also hosts the famous Lifebook Online course and other partner programs.
Mindvalley claims to use scientifically proven systems that keep you engaged, moving forward and making positive changes that stick.
And it's a formula that seems to work. Mindvalley has over 12 million students and their courses boast a 5x completion rate over traditional online learning.
However, will Mindvalley's formula work for you?
Who are the Mindvalley instructors?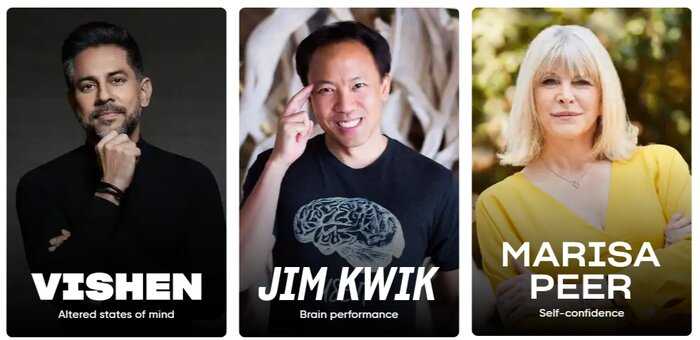 Mindvalley's teachers are best selling authors, top motivational speakers and virtuosos in their fields of endeavour. Whether it be creative problem solving, emotional intelligence, spiritual fitness or entrepreneurship.
They include:
Jim Kwik: An American brain coach regularly featured in Forbes, CNBC and Success Magazine, whose clients include Oprah Winfrey, Elon Musk and Sylvester Stallone
Vishen Lakhiani: Author of the NYT best seller, "The Code for the Extraordinary Mind", award winning Mindvalley founder and inventor of numerous personal growth technologies and platforms
Jeffrey Allen: Co-founder of Spirit Mind Living, Inc. and Oneness Company with two decades' experience of teaching spiritual fitness and energy healing to thousands of students across four continents
Emily Fletcher: founder of Ziva Meditation and author of the book, "Stress Less, Accomplish More"
Eric Edmeads: Award winning entrepreneur and author and creator of WildFit, and the Business Freedom Blueprint
To name just a few.
For a full list of key Mindvalley trainers click here.
How does Mindvalley work?

Mindvalley works on a subscription basis (annual or monthly).
When you join, you'll get access to:
An introspective self assessment that helps you establish a baseline and measure progress
60+ Mindvalley Quests
Mindvalley Live – daily live classes from celebrities, famous CEOs and world class coaches
The Mindvalley Community – a private social network of like minded individuals
500+ Meditations via the Mindvalley Omvana app
On the go learning with the Mindvalley app
The opportunity to join in with Mindvalley events and meetups
Mindvalley Quests cover every dimension of life including: mind, body, soul and career.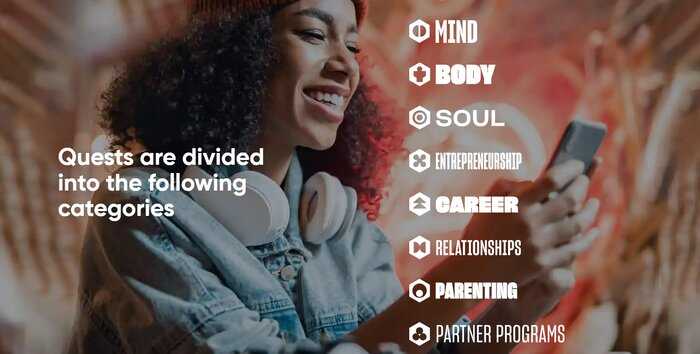 Mindvalley pricing, free trial, discounts and gifts
Mindvalley has two subscription types Mindvalley and Mindvalley Pro.
How much does a Mindvalley subscription cost?
Monthly – $99 per month (billed monthly)
Yearly – $41.60 per month (billed annually at $499)
The yearly membership represents a saving of 42% over the monthly cost and works out less than $1.50 per day. That's less than the cost of a cup of coffee.
And not much to pay for "transformational change that lasts a lifetime".
Individual self improvement courses can set you back hundreds of dollars. And one-to-one sessions with a life coach can cost over $200 an hour.
Looking at it that way, Mindvalley subscription represents great value.
Especially since it offers the opportunity for you to participate in daily live sessions hosted by world class trainers, Hollywood stars, renowned entrepreneurs and an array of intriguing personalities. This is quite a rarity in the world of pre-recorded online education.
And you can get a good feel for the platform and its instructors by enrolling in a free masterclass with a Mindvalley teacher. Some are available on an ongoing basis and others are hosted on a weekly basis. So there are always plenty to try.
How much does Mindvalley Pro subscription cost?
If you're looking for accelerated growth, or have a particularly ambitious goal, you can upgrade your Mindvalley membership to Membership Pro which provides two additional features:
Monthly private group coaching calls where Vishen (and guests) work directly with members in live sessions covering areas such as spiritual healing, NLP, hypnotherapy and other practices that create instant permanent shifts.
The opportunity to join breakout groups of fellow 'mastermind' learners to optimize your growth through tailored, private networking sessions.
The cost for this is:
$999 to begin a new 12 month membership
$499 to upgrade an existing membership for another 12 months
The upgrade fee covers you for an entire year, no matter how many months are left of your existing membership. So:
If you enjoy Mindvalley and are thinking of renewing, your best option is to upgrade to Membership Pro one month before your membership expires and get the extra benefits for 12 months for half the cost.
Does Mindvalley have a free trial?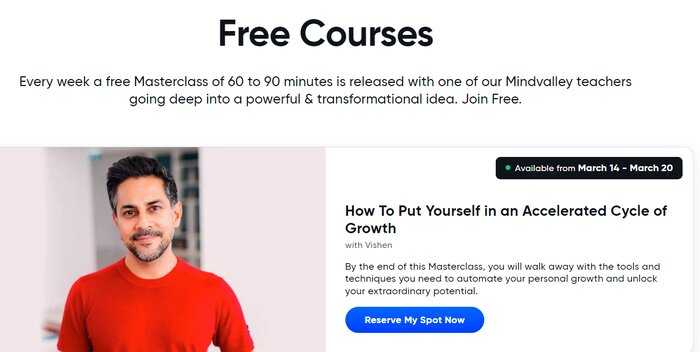 There are a number of ways to enjoy Mindvalley content for free:
A different Mindvalley Masterclass is made available every week, these are free and they give you a real feel for what the platform and its teachers are like
You can also take a free Mindvalley Masterclass from the library of classes that are always present on the platform
After purchasing membership you can enjoy Mindvalley risk free for 15 days. During that time you get a money back guarantee. If you decide it's not for you can cancel easily (see refunds, below for step by step instructions)
Does Mindvalley have discounts?
For the best and most up to date discounts check here.
Can I buy Mindvalley as a gift?
Mindvalley does not offer gift certificates or specifically refer to gift options on its website.
However, you can purchase Mindvalley as a gift by either:
Using the email address of the person who will be using Mindvalley when you are making your purchase
Or contacting Mindvalley support to transfer the account after you have made your purchase
What a lesson is like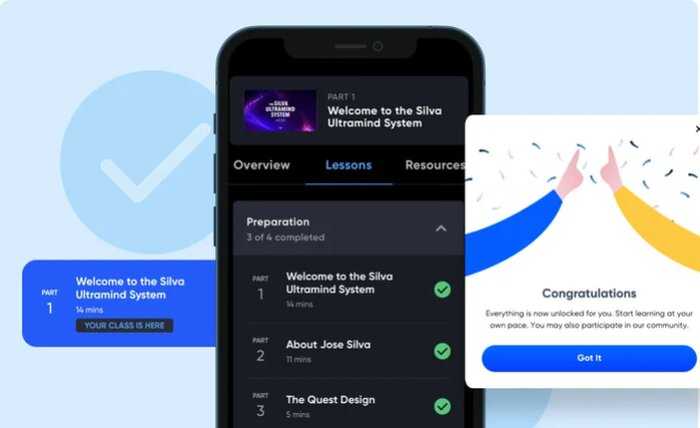 Given the number of Quests and the range of topics they cover it's hard to be precise about what to expect in every session.
That said, there are a few common threads. You can expect each lesson to:
Last 15-20 minutes
Take place on a daily basis (though you can choose to take a whole quest at your own pace)
Be led by renowned coaches, authors and speakers
Link to prior learning
Be a mix of storytelling, theory and practical tasks supported by supporting footage, stills, inspirational quotations, examples, etc.
Have an accessible format with subtitles
Provide opportunities to connect with others on your learning journey
Encourage you to rate the lesson so the Mindvalley system can analyse what works for you and present you with options that suit your preferences
Best Mindvalley classes

Five of the most popular Mindvalley Quests are:
Superbrain – Jim Kwik
Uncompromised Life – Marisa Peer
Be Extraordinary – Vishen
Energy Medicine – Donna Eden
The Longevity Blueprint – Ben Greenfield
Of course, the best Quest for you is going to depend on your own individual needs and goals.
So I've provided a best in category list below so you can get a flavor of what's available.
And don't forget, after doing the introspective self assessment Mindvalley will suggest Quests for you based on your individual aspirations, dreams and desires.
Best in Mind
Superbrain with Jim Kwik
"The Superbrain Quest with Jim Kwik is an accelerated learning curriculum designed to activate your brain's limitless potential… you'll experience life-changing elevations in your career and personal growth as you shatter every inner limitation that has ever dared hold you back." Mindvalley
2.7m enrollments
11k+ stories on Mindvalley
8.5 hours of training
Highly recommended for:
Engaging and motivational teaching from a teacher who has coached Hollywood stars and the world's leading companies and CEOs
Practical exercises throughout that help you think better, feel better and learn faster
Each lesson building on the last making it easy to see and measure progress
What makes it great?
"Since completing the 30 days I have been given many tools to help remember names, places, dates and events. I am so excited to teach these methods to my friends, family and grandchildren. I am also learning to play golf, speak French and to draw. Thanks, Jim for inspiring me to inspire others." Superbrain story
->Read our full Jim Kwik Superbrain Review
Also worth considering: Uncompromised Life with Marisa Peer
I have found some key strategies to moving forward with my life.. My self doubt has almost been completely erased while my self-esteem, my ability to forgive myself and know that I deserve a better life has been dramatically changed for the better. Thank you for all of your strategies, Marisa. Nothing can stop me now!! Uncompromised Life story
Best in Body
The Longevity Blueprint with Ben Greenfield
"Supercharge your lifespan and quality of life with Ben Greenfield's optimized longevity protocol that combines cutting-edge body performance science with the time-tested traditions of the world's longest living cultures." Mindvalley
260k+ enrollments
11k+ stories on Mindvalley
18 hours of training
Highly recommended for:
Inspiring teaching from one of only three people in the world to complete 9 of the hardest Spartan races in a single year
Providing simple, manageable and effective methods to turn back the clock, boost energy levels and get fitter
Building a mindset to make these changes last
What makes it great:
"I definitely could see the difference in how I look and how I feel .. I am 46 and I feel and look even better than 25 years ago‼ So happy Mindvalley came into my life, it definitely brought me back closer to MYSELF."  Longevity Blueprint Student
Also worth considering: The Mastery of Sleep with Dr. Michael Breus
If you are part of my Superbrain Quest or watched any of my videos then you know how much I value sleep. That's why I was excited to introduce Mindvalley to my personal sleep coach Dr. Michael Breus. Dr. Breus has helped me sleep better, he's an invaluable trusted resource and I know his Sleep Quest can take your mind, body and happiness to new levels. Jim Kwik 
Best in Career
Speak and Inspire by Lisa Nichols
"Your ability to communicate is arguably the single most important skill in your personal and professional life. Your voice is the doorway to your greatest needs and desires. The Speak & Inspire program gives you everything you need to become a masterful communicator and finally speak your truth powerfully, naturally, and effortlessly." Mindvalley
244k+ enrollments
9k stories on Mindvalley
6 hours of training
Highly recommended for:
Inspiring teaching from one of the world's top speaking coaches and author of six best selling books including the NYT best seller, No Matter What
Carefully designed tools, exercises and techniques that incrementally build your communication skills, whatever your starting point.
What makes it great:
"Speak and Inspire has impacted my life in ways I could never imagine… I'm now a transformational storytelling coach because learning how to share my story has changed my life. I found my inner power, true friendship and my dream and Speak & Inspire has led me to it." Speak and Inspire Story
Also worth considering: Super Reading with Jim Kwik
A thorough and in-depth course that helps you to understand how your brain works and how to improve your words per minute, retention, and more. I was really impressed by the exercises Kwik shows you and how effective they are. Learnopoly Review
-> Read our full Jim Kwik Speed Reading Review – Ranked #1 in Best Speed Reading
Best in Soul
Energy Medicine with Donna Eden
"The Fastest, Easiest Path To Awakening Your Body's Natural Healing Systems – Donna Eden's Energy Medicine program guides you through arguably the most complete, accessible, and transformational energy healing framework available today." Mindvalley
530k+ enrollments
12,000+ stories on Mindvalley
10 hours of training
Highly regarded for
Gentle teaching from a renowned healer with four decades' experience of promoting and teaching energy healing
An easy-to-follow, holistic approach
Providing over 50 practical tools to help waken your body's natural healing ability
What makes it great
"I'm so happy to be able to incorporate these energy medicine tools into my daily routine now. I love that I can boost my energy at any time with these tools. It's truly a gift to be able to heal your own pain and others. Thank you for this beautiful journey, Donna is such a ray of light and I loved every minute of it." Energy Medicine Story
Also worth considering: Life Visioning Mastery with Dr Michael Beckwith
After several months of breakdowns and depression, I signed up for this course. Immediately my whole perspective on life changed. I went into it with an open mind and I trusted the process. This class made my vision for life so clear to me.. And gave me daily skills to start my day off right and to raise my energy. Life Visioning story
Best in Entrepreneurship
The Quest for Personal Mastership with Srikumar Rao
"A rare opportunity to experience Srikumar Rao's unique approach to personal growth and resilience – which combines ancient wisdom with your own inherent intelligence. Whether you're a professional or entrepreneur reaching for greater achievement, or an individual searching for a breakthrough or a solution to adversity, or the strength to weather an important or stressful life transition – your entire approach to life will evolve." Mindvalley
146k+ enrollments
8k+stories
6 hours of training
Highly regarded for
Powerful teaching from a pioneer in the field of motivation and resilience and one of the world's most in demand MBA and TED speakers
Providing a coherent, demanding but effective framework for personal growth
Cultivating the resilience and resolve to make the learning last and help you overcome all obstacles
What makes it great
"The exercises are fantastic and doing them seriously, deeply and consciously allows you to change your mental attitude… The quest will accompany me for a long time yet because certain concepts are very profound and challenging to integrate into life, but very transformative." Quest for Personal Mastership story
Also worth considering: Business Freedom Blueprint with Eric Edmeades
Eric's understanding of business -- any business -- is amazing. Every session with Eric unleashes powerful improvements in my companies and projects. Working with him is a pleasure and hearing him speak is a privilege. Business Freedom Blueprint Story
Best in Relationships and Parenting
Conscious Parenting Mastery with Dr Shefali Tsabary
"Transcend the myths and misconceptions of traditional parenting models, and discover how to authentically honor both your child and yourself in this revolutionary program with Dr. Shefali Tsabary. Through a series of powerful tools and mental frameworks, you'll discover how to heal your own inner child – and then nurture your child with far greater compassion and empathy, at every stage of their growth." Mindvalley
112k+ enrollments
8k stories on Mindvalley
8 hours of training
Highly regarded for
Clear explanations and a myriad of practical takeaways from one of the foremost authorities in the field of conscious parenting
Extremely well structured and curated lessons which build on and support each other
One of the most lively, supportive and active quest communities
What makes it great
"This quest goes deep and I got so much out of the quest I cannot even put into words! Having done conscious personal development for over 10 years, this was the single most significant initiative I have done. So this isn't just about learning some parenting tricks - this is deep personal development work, which can transform life for yourself and your wider family!" Conscious Parenting Story
Also worth considering: Conscious Uncoupling with Katherine Woodward Thomas
Heartfelt praise and thanks to Katherine for this program. She offers a wealth of knowledge about the nature of partnerships and how our life patterns impact our relationships with others.  The step-by-step Conscious Uncoupling process provides an open, confidential and sacred space to nurture healing and growth. Conscious Uncoupling story
Mindvalley for business

As well as individual Mindvalley memberships, there is an option to buy Business Membership for teams of 20 and over.
Each member will have all the benefits of individual Mindvalley membership but as a business you can enjoy:
A closely supported pilot program
Ongoing support from a designated member of the Learning Success Team to help you curate a learning track for your team and keep your people engaged
Team based quests
The cost is $299 per member, billed annually. It's recommended you start by contacting the Mindvalley team for a personalized demonstration of how the program can benefit your business.
Mindvalley pros and cons
I joined Mindvalley in 2019 to take the famous Lifebook course (one of Mindvalley's partner programs). And members of the Learnopoly team have completed Jim Kwik's courses, so we know the platform well.
For this review I also delved into every corner of the Mindvalley platform checking out the stories (reviews), FAQs, course descriptions and curricula and teacher credentials. I also put their support team to the test.
Along with this I explored the views of other Mindvalley users on forums like Reddit, Trustpilot and Quora.
And I'm not only an avid e-learner but also a teacher with over 30 years experience in education. So I look beyond the gloss to probe for aspects which are truly educational. Such as whether courses are coherently structured, build incremental learning, are clearly explained with practical takeaways and lead to results that last.
What I liked about Mindvalley
Passionate, respected and accomplished instructors
The instructors on Mindvalley are champions in their fields of expertise. Whether it be creative problem solving, emotional intelligence, spiritual fitness or entrepreneurship.
Every quest provides detailed descriptions of the accomplishments of the teacher.
In every case you find Quest leaders with years of experience of both practising and teaching whatever technique or skill they want to share with you.
The Quest based approach is unique and effective
Cohort-based learning is a major new development in eLearning and Mindvalley is ahead of the curve with it.
Quests follow a time-bound, meticulously structured curriculum which you take with a cohort of fellow learners.
They teach powerful mental and practical techniques with step by step guidance from world-class instructors and support from an active community of peers. The daily bite size sessions keep you engaged and moving forward without feeling swamped.
It's a format that works:Mindvalley quests enjoy a 5x completion rate over other forms of online learning.
Engaging bite sized lessons that build on and reinforce prior learning
The structure of the Quests is for each lesson to expand on prior learning. As a result, your understanding is built up incrementally and you really notice the progress you are making.
This, coupled with the bite-sized video length and the practical and engaging teaching really helps to create an ideal learning environment.
Strong 'results that stick' focus
Mindvalley uses scientifically proven systems that empower you to make positive changes that stick.
Their systems are designed not to give temporary highs but lead to attitudinal and behavioural change that embeds the progress you make and keeps you moving forward.
Genuinely community based platform
Unlike many platforms that claim to have communities, Mindvalley truly does.
You can choose to take a Quest purely at your own pace but if you take it within the time frame alongside a cohort of peers you can connect and grow with them every day in a genuinely authentic way.
And the wider Mindvalley community is fully engaged and a genuine place to share success, seek advice and connect with like-minded people, high-impact entrepreneurs, visionary thinkers and other individuals committed to making life better.
What could be improved
Small catalogue compared to other online learning platforms
Compared to platforms like Skillshare or Udemy, Mindvalley's catalogue is small.
That said, more or less anyone can offer a course on those other platforms and whilst many are excellent there is a big inconsistency in quality.
That's not the case for Mindvalley, who have focused more on quality over quantity.
A Big Commitment of Time and Emotion
Many of the Mindvalley Quests are lengthy. And though the daily commitment is only 15-20 minutes, it may be that you need to commit to setting aside this much time each day for several weeks.
And many of the Quests require you to dig deep to make real progress so there also needs to be a commitment on your part to get the results you want.
Mindvalley have borne this in mind, however, and structured the Quests so that sessions are progressive without being overwhelming.
Advice can seem repetitive at times (may be a pro for some)
The breaking down of lessons into short daily chunks can lead to some repetition in order to make links between sessions.
However, in some ways this is a pro because, to make sure learning sticks, Mindvalley seeks to make connections between prior and new learning.
But depending on the kind of learner you are, it is worth bearing this in mind.
Who Mindvalley is for
Mindvalley is suitable for anyone who can tick one or more of the following boxes:
Has set goals in the past and either failed to achieve them, or had lapses
Wants to be a better version of themselves
Feels there is something missing from their life
Wants to make a change and needs motivation and guidance to get started
Is prepared to put in time and effort to achieve a fulfilled life
Is open to the possibility that they don't have to settle for second best and that they just might be the author of their own destiny
At the same time, it is probably not suited to anyone who:
Is not committed to putting in the thought and effort
Wants instant results
Is overly cynical
Is not open to the possibility that they can be the change they want to see (to quote Ghandi)
You get lots of inspiration and actionable advice from each teacher. And a coherent, interconnected structure to help you reorient your life. But at the end of the day you do need to be prepared to do some hard work.
If you're looking for someone to wave a magic wand and change your life for you, you need to look elsewhere.
Tips to finding great courses on Mindvalley
It's easy to get a clear overview of what's available on Mindvalley with or without membership. Just:

Select Categories followed by All Categories from the drop down menu on the home page.
Then either select 3 areas of growth to see Mindvalley's recommendations
Or scroll down the page to see Quests listed by category, with the most popular listed first
You can click on any Quest to see:
A detailed summary of what to expect
Teacher credentials
Testimonies from those who have taken the Quest
A course breakdown and day by day schedule
Is Mindvalley legit?

Often things seem too good to be true. However, whilst Mindvalley is not for everyone, it is definitely legit.
It was founded in 2003, has over 12 million enrollments and has been named by Forbes as one of the best online learning platforms of 2023.
Mindvalley refund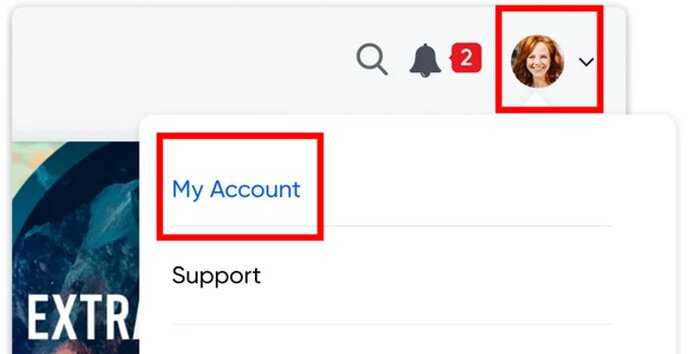 Mindvalley offers a 15 day money back guarantee. This is how it works:-
Whilst logged into your account click on your profile in the top right hand corner of the screen and select Billing followed by Payment History
If your purchase was made within the last 15 days you will see a Refund link next to the product.
Click on Refund and your request will be processed automatically and your bank should credit your account within 1 to 7 days (depending on your bank).
Mindvalley alternatives
You only need to do a Google search to realise that there are thousands of self-improvement courses available online.
Courses I have personally reviewed include two on MasterClass for developing self expression and authenticity. One with Robin Roberts and the other with RuPaul.
These were great classes – but they are not in the same league as those found on Mindvalley. That said, with a MasterClass Pass you'll have access to 150+ other classes across a range of subjects.
If you want to develop your problem solving and reasoning skills brilliant.org is a great platform, though it isn't as holistic as Mindvalley since it focuses purely on logic and critical thinking.
For something a little more academic you could check out the Harvard University Managing Happiness course on edX, or the Yale Science of Well Being Course on Coursera.
Lastly, there are over 3,000 courses on Udemy relating to self improvement, confidence and self esteem. Udemy is great if you want to purchase courses individually and not be committed to a subscription. And with frequent sales, you can often take courses for as little as $10. Bear in mind though, that anyone can upload a course to Udemy so the quality of tuition does vary.
Mindvalley reviews: What others have said
To make this review as fair and balanced as possible I have trawled forums such as Reddit, Quora and Trustpilot to find out what users of Mindvalley have to say about it.
Opinions are very largely positive but the platform is not without its critics.
Firstly, the negative.
Very few people criticise Mindvalley content – though I did find a few. This one sums up their general tone:
"None of it worked. Lots of pseudoscientific woo. £300 down the drain that could have gone towards speaking to a qualified therapist who is actually in touch with reality." 1* Trustpilot review
My own experience differs wildly from this! But I can see that if you're not willing to lean into the Mindvalley process, want pure hard science or instant results, Mindvalley is probably not for you.
The biggest beefs with Mindvalley centred around issues relating to support and auto renewal:
Auto renewals don't seem to be refundable, even in the 15 days and there's no email/phone number given.  1* Trustpilot review
Auto renew is a common bugbear with online subscriptions and it's worth bearing in mind that the onus is on you to cancel if you don't want to renew. Mindvalley sends out email reminders 15 days before renewal and in this case they provided a phone number for the reviewer to call to discuss her case.
Which brings me to customer support…
"Problem with Mindvalley is customer service. When you contact them you can only speak with a virtual assistant. It takes time to contact a real person." 4* Trustpilot review
I reached out to customer support on WhatsApp with two questions for this review, saying I wanted to chat to a human. It took ten minutes for a human to get back to me and answer one question. The second reply came by email two days later. So I can only assume Mindvalley have taken their critics' views on board!
Now the positive
The vast majority of reviews of Mindvalley confirmed that Mindvalley is worth it and really does deliver habit forming, positive change – IF you put in the effort:
"I liked every course I've taken on Mindvalley so far. With the microlearning approach, it is possible to learn a lot in only 10–20 minutes per day. The content is straight to the point and is packed with practical exercises. I feel that Mindvalley's method helps me learn things faster. But I think you need to dedicate some time and effort to achieve your goals. It won't work if you just listen to the information in the video and then do nothing with it." Comment on Quora
"What I find inspiring and motivational is the structure of the Quests and the way they are delivered has been really easy to navigate. It is pricey, but when you break it down into weeks and days, it is worth the investment in myself." 5* Trustpilot Review
"I managed not only to build new habits but to actually make them stick. I'm more productive than I used to be. I find myself more self-aware and relaxed. All these changes didn't happen overnight. It required work and commitment. But trust me, it is so worth it. Plus, Mindvalley's system makes it easier to create new habits and implement a new routine in your life." Comment from Reddit
Evaluating Mindvalley
Features: 100+ Time bound 'quests' that you take with a cohort of fellow students in daily bite-sized chunks. 5x higher completion rate over traditional online learning. 
Content quality: High quality daily video micro lessons lasting 15-20 minutes packed with wisdom and practical takeaways. Carefully curated to bring about progressive, habit forming change
Content breadth: 100+ Courses across 6 categorie: mind, body, soul, career, entrepreneurship and relationships
Teachers: All teachers are highly experienced and revered in their field of expertise, they include best selling authors and in demand public speakers and coaches
Supporting materials: Many quests come with bonus content such as access to other short courses from the teacher hosting your chosen Quest.
Payments & refunds: $99 per month for monthly membership, $41.60 (billed annually) for yearly membership with a 15 day money back guarantee
Support: Mindvalley support is available via their Help Centre in 8 languages
How to open a Mindvalley account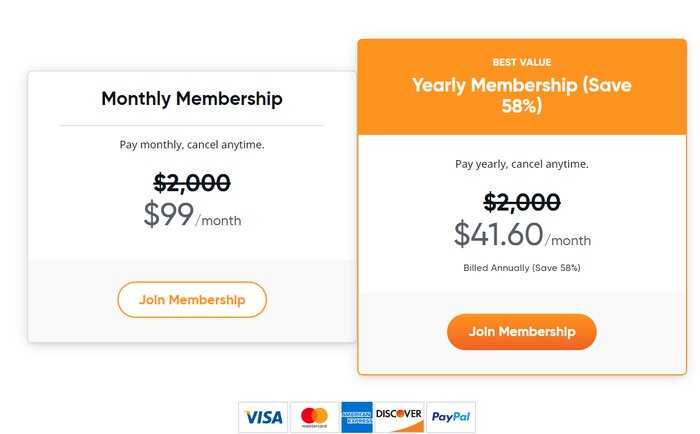 Opening a Mindvalley account is simple.
From the home screen click on Join Mindvalley now – there are opportunities to join elsewhere on the site but the process is the same
Then select Become a Member now
Scroll down and select the Monthly or Yearly membership option
Supply your details and preferred payment method, and that's it
Is Mindvalley worth it?
In my opinion it's a yes.
Mindvalley's quest framework provides a unique and impactful route to self improvement. The daily microlearning sessions incrementally build techniques and mindset in a way that builds and cements progress. And having the support of a genuine community keeps you motivated and moving forwards.
Plus the large variety of Quests provide the opportunity to optimise every area of your life, not just one.
That being said there are some people Mindvalley will not suit, in my view:
Those who are not prepared to put in some time and effort
Anyone wanting instant results
Those preferring a more academic/purely scientific approach
Anyone who is not willing to lean into the process
Membership may seem costly at $499 – but for a years worth of life changing training I think it is great value. A life coach could set you back $400 for just two hours of their time and most of Mindvalley's quests are several hours (or a great deal more) in length.
And with a variety of free Mindvalley Masterclasses, plus a 15 day money back guarantee on your purchase, you can sample the platform risk free. That's 15 days of microlearning, plenty of time to make a decision!
Related article: Best Mindvalley courses, best personal development courses, Mindvalley Certified Coaching Courses
Mindvalley Review -FAQs
How much does Mindvalley cost?
Mindvalley monthly membership is $99 per month. Yearly membership is $41.60 per month (billed annually) and Mindvalley pro is $999 per annum.
Does Mindvalley have a refund policy?
Mindvalley provides a 15 day money back guarantee after purchase. 
How many courses are there on Mindvalley?
Mindvalley offers over 100 transformative Quests (programs) in all areas of life including mind, body, soul, career, entrepreneurship and relationships.
Does Mindvalley have a free trial?
Mindvalley offers free weekly Mindvalley Masterclasses hosted by their teachers so you can get a taste for the platform. There is also a 15 day money back guarantee after purchase.
Does Mindvalley give certificates?
Mindvalley offers certificates of completion for many of their programs indicating that you have completed the program successfully.
What languages is Mindvalley available in?
Mindvalley Membership subscription is available in different languages as separate subscriptions and purchases. There are eight 8 languages available including English, Italian, Spanish, French and Chinese.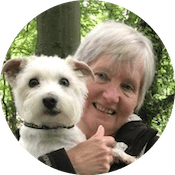 Liz Hurley has 30+ years of high school teaching experience and is one of our senior writers here at Learnopoly.