Looking for training in digital marketing from the best in the business on a specialist platform? CXL claims to offer just that.
Its 100+ online courses are delivered by the top 1% of digital marketers. They cover everything – from digital psychology and content strategy to advanced technical courses in core areas such as Google Analytics and machine learning.
Top companies such as Google, Ikea and Hilton use CXL to deliver crucial skills to their teams. Their range of tutors include Patrick Campbell, CEO at Profitwell, and Sean Ellis, founder of Growthhackers.
With digital marketing experience and in-depth experience of online learning, I spent two weeks putting CXL to the test. And in this CXL review, I'll cover everything you need to decide whether it's right for you. From what CXL is and how it works, to an insider look into the best courses.
.
Quick summary
Features
100+ courses on in-demand digital marketing skills, led by the top 1% of digital marketers
11 'Minidregrees', made up of relevant courses bundled together to give you a solid background in crucial skills
Extensive resource library which includes helpful guides and thousands of digital marketing playbooks
Access to a community of like-minded professional to grow your network
Pros
Top quality instructors, handpicked by CXL based on who professional digital marketers are keen to learn from
Up to date courses that focus on what's hot in digital marketing right now
Helpful course descriptions that ensure you're making the right choice with your time and money
Resources that go way beyond what you'd expect to help you level up your digital marketing game
Cons
More expensive than other types of online learning, but it does deliver the value
Lacks a clear rating system. Though since every tutor is handpicked from the very best, there's less call for this
Best for: Professional digital marketers at all stages of their career eager to learn new skills.
Overall: CXL provides crucial skills for digital marketers delivered by the top 1% in the field. With an ever-growing portfolio and a huge library of resources, this slick service is a must for anyone who wants to grow their skills and broaden their digital marketing horizons.
In this detailed review I'll be covering everything you need to know, including:
What is CXL and who are its instructors?
How much does CXL cost?
CXL free trial
What a lesson is like
Best CXL classes
CXL for business
How I reviewed CXL
What I liked about CXL and thought could be improved
Who CXL is for
Can I buy CXL as a gift?
Tips for finding great courses on CXL
Is CXL legit
CXL refund
CXL alternatives and reviews
Evaluating CXL
How to open a CXL account
Is CXL worth it?
Frequently asked questions.
What is CXL?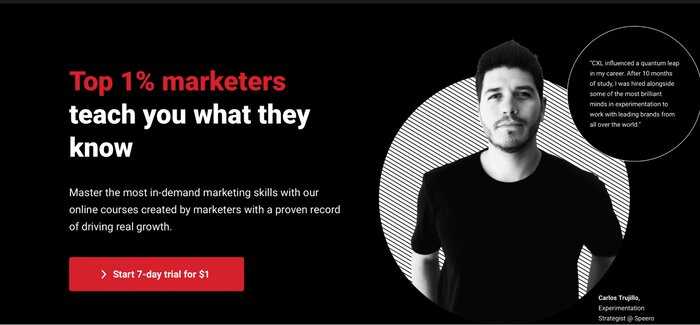 The premise of CXL is simple – learn digital marketing skills from the very best in the business. From eCommerce Strategy to Digital Psychology and Behavioral Design, CXL delivers training in essential digital marketing skills as well as highly specialized pathways.
With 100+ one off courses as well 'Minidegrees' (longer programs made up of multiple courses) CXL's focus is on quality output that will boost your career. Whether you're a seasoned digital marketer who wants to stay on the cutting edge, or someone in the early stages of your career looking to up your digital marketing game.
Who are CXL'S instructors?

CXL truly leans into the idea of learning from bona fide experts who know what they're talking about. They identify them by:
Regularly surveying the marketing community to find out who they want to learn from
Refining their list through a reference check and talking to their peers
Ensuring they have a proven track record by significantly contributing to the growth of more than two companies
For example, Patrick Campbell, who teaches a 'Pricing and Packing' course is the CEO of Profitwell. Whilst Susan Wenograd who teaches courses in Facebook Ads and Google Ads, is the VP of Performance Marketing at Marpue, Nextiva.
How does CXL work?

For a monthly fee, you'll gain access to all areas of CXL, including 100+ courses and 11 'Minidegrees'. All offer certification and a huge range of resources. These include over 2,500 marketing playbooks from experts and the wider CXL community, and a wide range of guides on tops such as conversion rate optimization and Ecommerce best practice.
CXL's focus is on digital marketing, and its courses are broken down into the following topics:
Marketing
Analytics
Optimization
Content Marketing
Advertising
Management
SEO
CXL's unique selling point is the expertise of their instructors. There are some impressive resumes on the site. So, whilst you're paying for access to courses and resources, a large part of CXL's draw is that you're learning from top performers in the business.
How much does CXL cost?
It's possible to buy individual courses, as well as all-access memberships with CXL.
Individual courses are generally $299 (not every course is available to purchase – some are only available through a membership_.
When it comes to memberships, there are several different pricing options, depending on how long you sign up for.
At the time of writing:
Monthly membership costs $295, with extra users billed at $264.43
Quarterly membership is $540.10 (working out to $180.04/month with additional users billed at $163.02)
Annual membership is $1530.47 (coming in at $127.54/month with additional users billed at £114.78)
This will gain you access not only to all 100+ courses, but also to a community of like-minded professionals. Considering the income bracket your new skills could help you jump into, this is a value for money investment in your career.
CXL free trial
While CXL doesn't offer a free trial, it does offer a $1 week-long all-access trial. With many courses running between 2 and 5 hours, it provides plenty of time to sample what's on offer, get a feel for the resources and community pages, and decide if CXL is the best platform for you.
What a lesson is like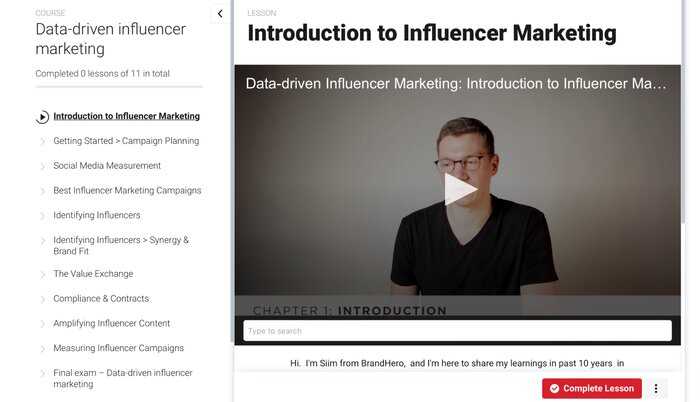 A typical course will be primarily made up of video content, led by an expert in the field of study. There are also downloadable resources, assignments, and a final exam that will grant you access to a certificate of completion.
Best CXL classes
With over 100 courses to choose from, how will you know which one is the best for you?
Of course, the best course for you will depend on your interests and current career goals. Here are the best courses in each of CXL's categories….
Marketing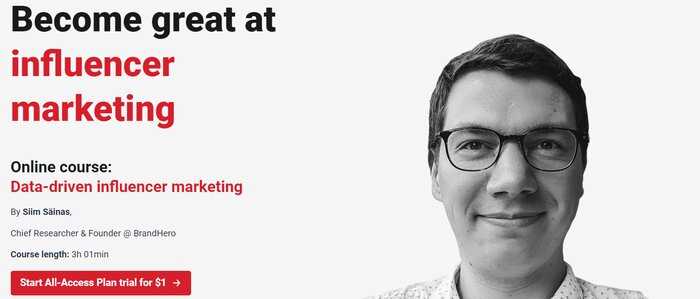 Data Driven Influencer Marketing This course will break down a data-driven approach to influencer marketing. It covers everything from how to plan your campaigns to choosing the right influencer and measuring your campaign results. It's great for anyone who works in social media marketing, or is already engaged with influencer marketing and wants to maximize their returns.
Introduction to Product Marketing Justin Topliff has a decade of experience in product marketing, marketing and operations, with a background in tech, venture capital and management consulting. His short course will equip you with the essential skills and knowledge to understand what product marketing is, how it contributes to overall go-to-market success of every B2B organization and how to measure product effectiveness and demonstrate value. This is a must for anyone who wants to work in a B2B organization with a new or existing product marketing function, or someone who wants to level up into a more senior role.
Analytics
Adobe Analytics for Beginners. Taught by Candriam's Social Media and Strategy Manager Fiona De Brabanter, you'll learn how to set up Adobe Analytics from scratch, understand conversion and traffic variables, create and manipulate reports, set targets and alerts, work with ecommerce reports and more. An ideal course for someone with a sound grasp on digital marketing who wants to optimize their website, mobile app and marketing strategy with this powerful tool.
Advanced Google Tag Manager If you've already sampled Google Tag Manager, you'll understand what a powerful tool it can be for digital marketers. This course delves deep into the amazing potential of Google Tag Manager, covering Javascript skills, task automation, customizing GTM event tracking, the dataLayer and plenty more. Simmo Oy is the Co-Founder of Simmer Oy, and his course has great feedback from happy customers attesting to how useful it is.
Optimization
Landing Page Optimization Learn how to analyze landing pages and make meaningful changes that have a lasting impact on conversion. Senior CRO consultant Michael Aagaard guides you through how to grow a toolbox of practical research methods and optimization tactics. Plus he boosts your understanding of conversion research and core psychology and neuroscience principles. Suitable for anyone who enjoys a structured and analytic approach to Landing Page Optimization who wants to super charge their capacity to increase performance.
Digital Psychology and Behavioural Design What motivates your clients to convert? Alterspark's Senior Behavioral Scientist, Brian Cugelman, provides an in-depth understanding of the psychological principles that drive online engagement. Mastering concepts such as digital psychology, behavior change models, core emotional drivers and cognitive processes that explain how people use technology, this course connects theory to practice. A valuable course for anyone who works in an organization where greater conversions will improve your bottom line.
Content Marketing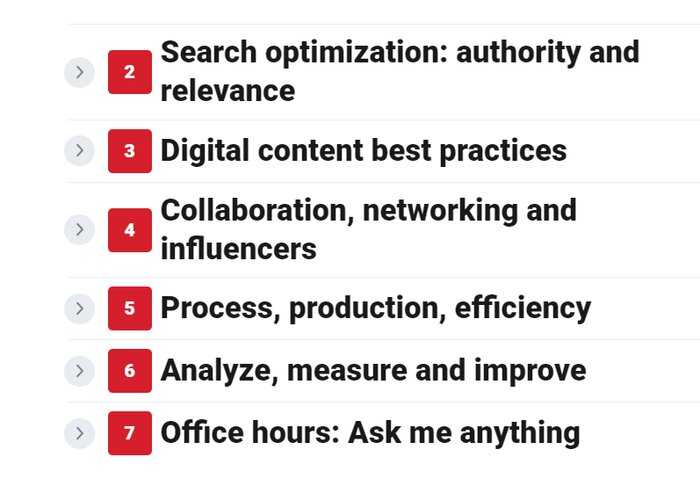 Content Strategy and SEO for lead generation Andy Crestodina is the Co-founder and Chief Marketing Officer at Orbit Media. His course will teach you the process behind driving B2B leads with content marketing. Covering skills such as researching keyphrases, finding and collaborating with influencers, repurposing content, and measuring and optimizing for better traffic and conversions. A great course for someone with basic Google Analytics skills and some experience in digital marketing, with fantastic reviews from previous students who praised Andy's teaching style and expertise.
Scaling Content Marketing This quick course emphasizes the power of SEO to build an audience and how to build an effective SEO-driven content strategy no matter your company size or budget. You will build a Keyword-Opposition to Benefit analysis, learn what makes content marketable, develop an end-to-end outreach strategy to get your content seen and ranked in search engines, and apply Content Layering. A great fit for sole content creators who are responsible for gaining traffic to a blog, markets who want to add SEO knowledge to their skillset, and beginner SEOs looking for create and content guidance.
Advertising
Advanced LinkedIn Ads AJ Wilcox is the host of the LinkedIn Ads podcast, and has managed 5 of the world's top ten LinkedIn Ads accounts – so he's a safe pair of hands! He'll empower you to master bidding and budgeting strategies, understand effective calls to action, target the right people in a repeatable, systematic way, understand the benchmarks for campaign performance, and master tracking and attribution strategies to understand what's working. Best suited to those who work in B2B with average deal sizes of $15k or more, in roles such as PPC specialist, social media manager, or SEO manager.
Facebook Ads Creative With guidance from eCommece Growth Executive Andrew Faris, you'll learn how to leverage content to generate high-performing Facebook Ads, how to use variations of 'offers' to maximize performance, think in terms of 'angles' to communicate the value of your product and how to build creatively for both quality AND quantity. A great choice for graphic designers, SEM specialists and growth managers.
Management
Marketing Management Kristen Craft is GM at Animalz, a company delivering high-quality content marketing to enterprise companies, startups and VC firms. In her course, Kristen walks you through how to set objectives and key results, build project plans, use a structured approach to resolve conflicts, as well as hiring and onboarding people effectively and how to land speaking gigs to grow your personal brand and advance your career. Aimed at more experienced marketers who have 1-2 years experience with how goals are set and campaigns are run, this course would benefit those just stepping into a managerial role.
Project Management for Marketers Managing projects doesn't have to be full of stress, miscommunication and shifting deadlines! Content marketer Alexa Hubley shows you that with the right tactics, you can crush your goals and deliver every time. Designed for marketers who want to get organized, optimize and improve their campaigns, you'll learn how to create a marketing project management process that'll help you ship more successful campaigns, recongize and avoid the common pitfalls of a poorly managed project, and build a framework for success and reflection. If you feel overwhelmed by project management and don't know where to start, then this is the course for you!
SEO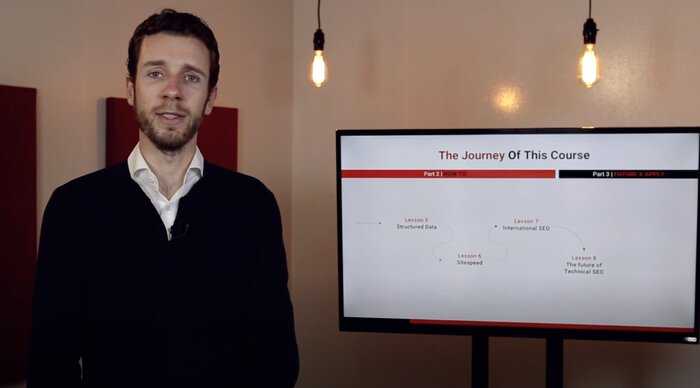 Technical SEO Keyword research and basic SEO are great tools. But to take your indexing to the next level, you'll need a firm grasp of technical SEO. From site structure and JavaScript to structured data, this course, led by Martjin Scheijbeler (VP Marketing at RVShare), covers all you need to know. You'll learn how to start a technical audit, optimize on-page content, understand good URL structure, how to use JavaScript frameworks, create XML sitemaps, and decide on the right domain strategy – and much more. If you handle SEO for a large, complex website, and want to optimize hits, but lack the technical knowledge to do so, then this is the perfect course for you.
SEO Link Building Described as the 'rare but indispensable link at the backbone of SEO performance', you can learn how to boost search rankings, increase traffic and grow brand awareness by tapping into this skill. Learning how to set campaign goals, plan effective content and outreach strategy, and use advanced tactics to improve your backlinks profile for more high-quality traffic. If you're a content marketer then this is the perfect course for you, as you'll build a complete, proven system for success with Irina Nica, Hubspot's Products Marketing Manager.
CXL for business

CLX is the optimum learning platform for businesses. It offers customizable membership plans depending on how many users will be interacting with the platform and has its own resources to help you convince your company to cover your learning costs.
As the platform prides itself on developing teams and growing skills with immediate results, it's the perfect place to invest in employees.
Digital marketing has never been more important. And with courses ranging from platform specific skills such as Advanced Google Analytics to broader training on project management, CXL runs the gamut of training to fit every team.
Companies like Amazon, Google and Ikea use XL to train their employees and great site reviews attest to the efficacy of the courses.
There is an initial flat rate for each account depending on what kind of membership you choose, but each offers a discount for further additional users. For example, at the time of writing a monthly membership is $295, with extras users billed at $264.43.
What I liked about CXL
How I reviewed CXL
I took advantage of the $1 7-day trial membership to explore the site and get a feel for as many different courses and resources as I could. I chose the best courses in each category based on positive user reviews and the qualifications of its instructor. However, one of the main strengths of CXL is that all instructors are brilliant!
Detailed Course Descriptions
This may not sound like a big deal, but an accurate course description is so important, especially on a premium site like CXL where the wrong course decision could cost you a lot of money.
I liked how each course clearly lays out what you will learn, who the course is best for, and, most importantly, who should NOT do the course. The last one is a really unusual addition as usually platforms are trying to sell you as many courses as possible, but this really helps users make the right decision for them and will ultimately raise customer satisfaction. Below is an example from the A/B Testing course: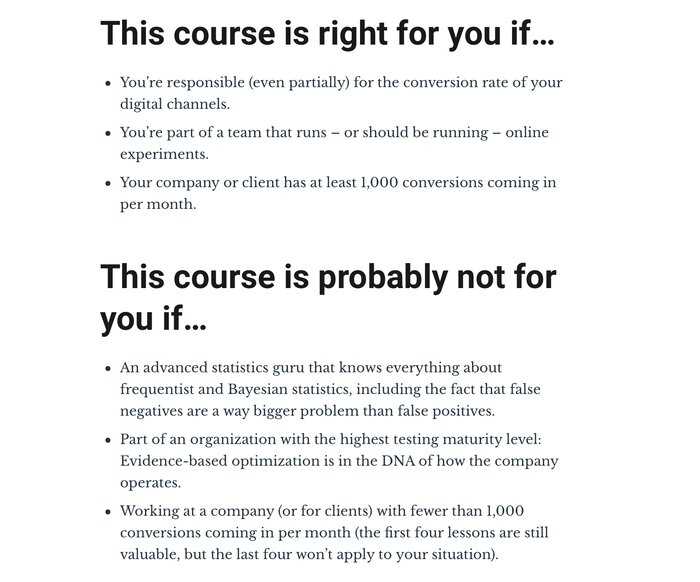 High Quality Instructors
As you'll know by now, CXL's unique selling point is the quality of its tutors. CXL have great transparency about how they source their tutors – rather than waiting for applicants. They actively seek out the best in the business by asking professional digital marketers who they respect and want to learn from, before doing their own research about the success rates of each tutor's work.
Fantastic Additional Resources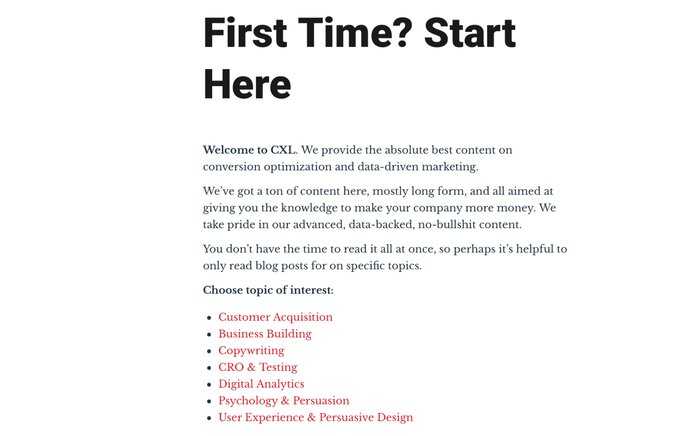 In addition to in-depth courses, as a CXL member you get access to a bunch of other fantastic resources to boost your marketing career. These include webinars, original research studies, conversion rate optimisation guides, ecommerce best practices and much much more. Additionally, you'll be part of a community of digital marketers passionate about learning and growing – and that's invaluable!
There are plenty of long-form articles packed with information on a range of topics, such as Email Marketing and Employee advocacy.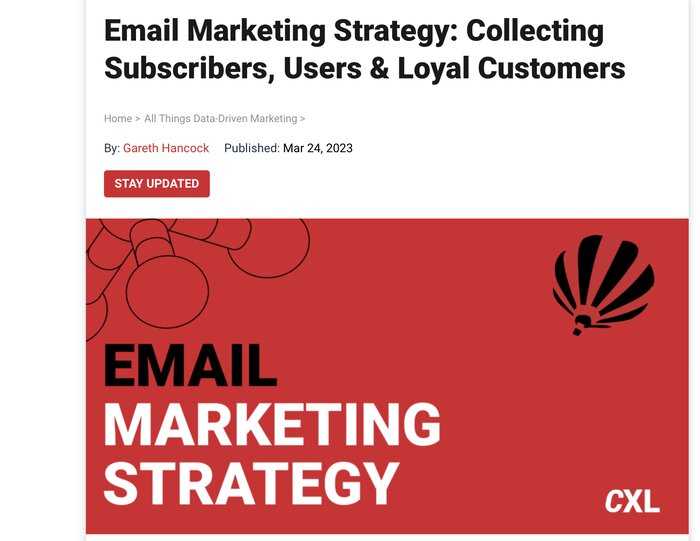 What could be improved
Ratings System for Courses
The courses don't display star ratings, or how many students have completed them. This makes it hard to determine overall user satisfaction, and to rate the best courses. However, as the courses are led by top notch performers in the business and are well curated with no two alike, this is perhaps less necessary than on other platforms that are more lax about who provides their content.
Rather Expensive
As individual courses are around $300 and monthly membership just under, this is a rather expensive platform.
That said, you're paying for unique insights into one of the most important sectors right now, learning from the very best and gaining access to a plethora of great resources. There are some handy pitch guides that you can use to convince your boss to cover your course costs, and the pricing structure makes it a much better deal if you commit to a monthly membership and do multiple courses.
Who CXL is for
Digital marketers who want to level up and see their careers supercharged, whether you're just starting out or you've been in the game for years and want to learn new technical skills.
Managers who are eager to investing in their teams with training from the best in the business
This platform really is for established professionals – with a steep price tag and super-focused and high quality courses, this is an investment in your career rather than a quick introduction or guide to people considering a career change
Tips to finding great courses on CXL
CXL allows you to search and filter courses based on key words, skill level and type of training (whether its a stand alone course or a series of courses combined to form a 'Minidegree')

Courses are displayed alphabetically, and indicate completion times. Every course provides a comprehensive description of learning outcomes, who the course best best suits and the qualifications of the instructor. There's generally a short introductory taster video where you can get a feel for the instructor's teaching style.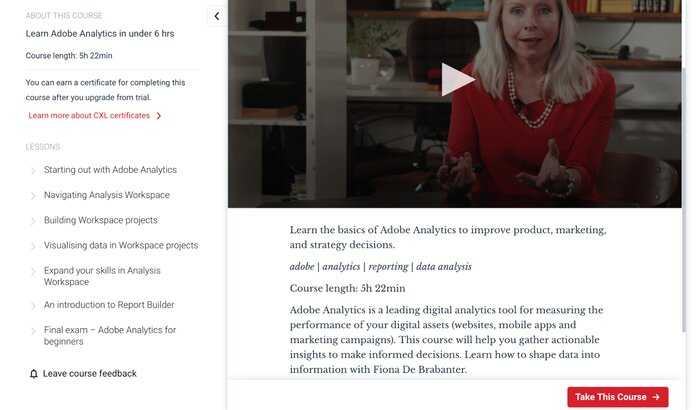 As mentioned previously, there's also a really great section on who the course is NOT for, reducing your chances of picking something that's not aligned with your skill level or goals.
Is CXL legit?
Access to teaching from the top 1% of digital marketers might sound too good to be true, but CXL is legit.
The platform has been operating since 2011,and its founder Peep Laja was voted the most influential conversion rate optimization expert in the world! There are plenty of satisfied customer reviews attesting to the high quality of the courses available on CXL. Plus, I've tried and tested CXL myself to get a feel for what it has to offer and the quality and consistency of their courses.
Does CXL offer a refund?
CXL has a 7-day, no questions asked refund policy, which means that if you're unsatisfied with the service for any reason within seven days of making a purchase, you'll get your money back.
CXL alternatives
Udemy
Udemy offers a variety of courses on a whole range of topics, including Conversion Rate Optimization, Digital Marketing and SEO. Courses are purchased individually and are generally much cheaper than the CXL courses or monthly subscription. However, anyone can offer a course on Udemy, and whilst some Udemy courses have great tutors, there isn't the same guaranteed expertise that CXL offer.
Skillshare
While digital marketing isn't Skillshare's focus, it does have some great courses covering a range of applicable skills. However, like Udemy, anyone can offer a course on Skillshare. So there isn't that same focus on tutor quality.
LinkedIn Learning
LinkedIn Learning is the next best option after CXL in terms of teaching quality and credibility. There's a huge choice of topics, tutors and programs on the site, which are updated regularly in line with current best practice.
Their subscription service is cheaper than CXL's, and grants you additional perks such as sending messages and connecting with other professionals.
CXL: What others have said
Whilst I had a great experience with CXL, I wanted to find out what others have said about the site.
In his LinkedIn review of CXL, Jitendra Vaswani said that the platform was 'a great resource', that the courses are 'well organized and simple to comprehend, and the teachers possess a wealth of information and years of professional experience'.
And on Reddit the general feeling was that CXL courses were 'worth the time and price',
Whilst CXL has overwhelmingly positive reviews on G2 (at the time of writing only 11 out of 84 reviews were less than 5 stars), the reviewers who didn't like the course complained that the CXL certificates weren't that highly valued by companies, and that some of the content was out of date
However, in general most people seem to think that the platform is worth their time and money.
Evaluating CXL
Features: Whilst you can buy individual courses, a membership provides access to over a hundred courses led by the top 1% of digital marketers on topics from CRO to SEO, as well as high-quality resources like marketing playbooks and a community of like-minded professionals.
Content quality: The content quality is top notch. Led by carefully selected experts, expect a mixture of videos, text, assignments and exams.
Content breadth: CXL's core focus is on digital marketing, so content includes software specific courses on Google Analytics as well as broader skills such as project management for marketing.
Teachers: CXL carefully selects its teachers based on who people in the industry want to learn from. They then vet them to make sure they've contributed to growth at at least two companies, so you can be sure you're learning from the best.
Supporting materials: The courses often come with downloadable resources, as well as a whole library of supporting content on best practice and digital marketing playbooks.
Payments & refunds: At the time of writing a monthly membership costs $295, with extras users billed at $264.43. You can get a full refund within 7 days of purchase.
Support: Whilst you don't have direct contact with tutors, there is a helpful chatbot, and a great FAQ section.
How to open a CXL account
Opening a CXL account is super easy and straightforward.
On the CXL landing page, select 'Pricing' from the menu on the top bar
Select the pricing plan that's best for you – monthly, quarterly or yearly
Enter your details, and you're good to go!
Is CXL worth it?
In my personal opinion, yes, CXL is worth it.
If you're a professional digital marketer, then this is the perfect learning platform for you to hone and enhance your skills.
With a great range of courses delivered by the top practitioners and focused on the most valuable skills in digital marketing right now, the price tag is worth it – especially if you can convince your company to cover your training.
However, if you are very little, or no, experiencein the industry, CXL may not be a great fit and you might be better to start at a more basic level with an introductory course from Udemy or LinkedIn Learning.
With a seven day trial for just $1, I would recommend trying out as much of the platform as possible before committing to a membership. And with a seven day, no questions asked, refund policy, if you decide CXL is not right for you there's a minimal risk of losing out!
Related articles: Emeritus review
CXL – Frequently asked questions
How much does CXL cost?
At the time of writing a monthly membership costs $295, although there are several different pricing plans available depending on number of users and duration of membership.
Does CXL have a refund policy?
Yes, CXL has a seven day no questions asked refund policy.
How many courses are there?
There are over a hundred courses and 11 'Minigrees' available on the site
Does CXL have a free trial?
CXL has a seven day $1 trial, which is almost as good as a free one!
Does CXL give certificates?
Yes
What languages is CXL available in?
CXL is currently only available in English.

Hannah is currently studying a Masters in Modern Literature and Culture at King's College London.  In her spare time she enjoys hiking, writing and cooking.