With 92 million learners and over 7,000 courses from top institutions such as Yale, Stanford and Google, Coursera has come to symbolize the best in eLearning.
And the great news is, that for a limited time only, you can get a substantial discount on a Coursera Plus annual subscription.
So, let me outline what's on offer so you can take advantage of this Coursera discount before it expires.
Here's what I'll be covering:
What is the Coursera discount offer and how does it work?
Does the Coursera Black Friday & Cyber Monday discount represent a good deal?
Coursera deal eligibility criteria
About Coursera and best Coursera Classes
Coursera pros
Final thoughts
Frequently Asked Questions
What is the Coursera Black Friday and Cyber Monday deal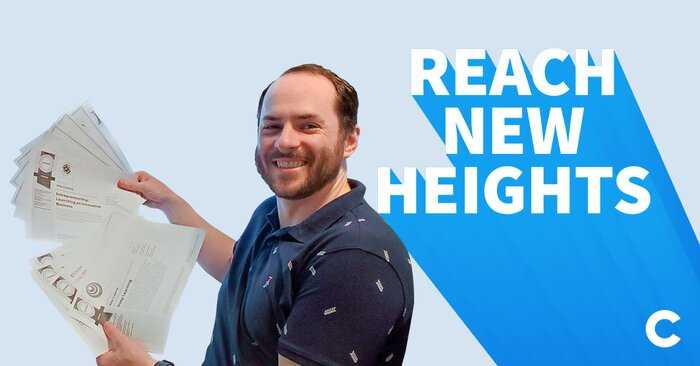 The Coursera Black Friday promo deal is:
$100 off of Coursera Plus Annual subscription between November 21-28, 2022
This represents a saving of 25%
How to get the Coursera Black Friday and Cyber Monday deal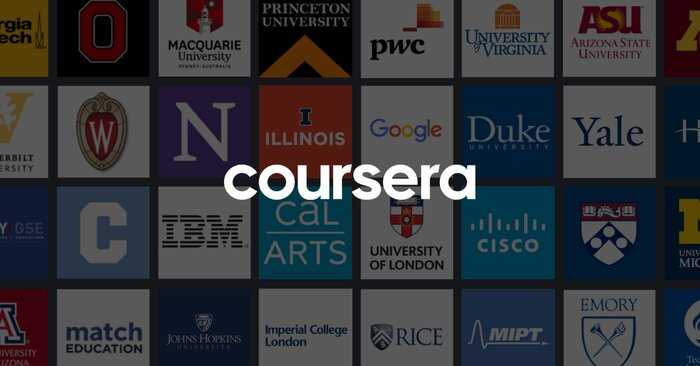 Opening an account in Coursera is simple.
First, and most important, head on over to Coursera using one of our links.
Then just Join. All you need is an email address and password, or you can use your existing Facebook or Google details.
Provide your payment details and you're good to go.
Coursera Black Friday and Cyber Monday deal eligibility
To be eligible for the Coursera Black Friday promo discount you must:
Sign up during the promo period – November 21-28
Be a new Coursera subscriber (though you can have purchased individual courses in the past)
What's included in the Coursera Black Friday and Cyber Monday deal

The Coursera Black Friday deal gives you everything you'd normally receive from a Coursera Plus annual subscription. That is, certified access to 90% of the Coursera catalog (excluding full degrees and MasterTracks)
This includes all:
| | | | |
| --- | --- | --- | --- |
| Option | Goal | Length | Includes |
| Courses | Gain knowledge | 4-12 hours | High quality video content, transcripts and additional supporting resources |
| Guided Projects | Learn a practical skill | 1-2 hours | A split screen workspace in which you complete a project with step-by-step video guidance. Certificate |
| Special-izations | Master a Skill | 1-3 months | A series of course units, hands-on projects, gradable assignments and a Specialization Certificate. |
| Professional Certificates | Get job ready for an in demand career | 4-7 months | A series of course units, hands on projects/assignments, a professional certificate that's recognised by a range of hiring consortiums and access to job search resources. |
You also get access to the Coursera community where you can start a conversation with other students, ask questions, showcase your work, etc.
Subjects covered by Coursera include:
Data Science
Computer Science
Information Technology
Physical Science and Engineering
Business
Social Sciences
Health
Personal Development
Math and Logic
Language Learning
Arts and Humanities
Is Coursera Black Friday and Cyber Monday deal a good deal?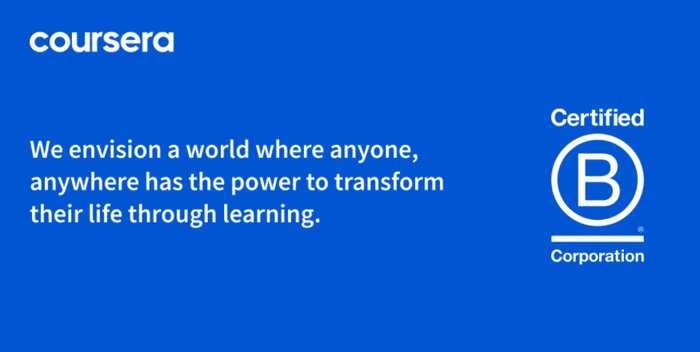 Coursera has not upped its subscription costs ahead of the deal and pricing has been stable for a long time.
This means the deal represents a genuine saving.
The Coursera promo discount means a subscription works out to just 80¢a day to be taught by the world's best and brightest – which is amazing value and a sound investment in you and your future.
Also, Coursera is 100% legit. Now in its tenth year of operating, it is one of the world's leading educational platforms.
It's a public company with shares listed on the NYSE as well as being a Certified B Corporation – meaning it is formally designated as a business meeting high standards of verified performance, accountability, and transparency on a range of factors.
About Coursera
Coursera is one of the largest learning platforms in the world.
It was started in 2012 by two Stanford professors with a mission to provide universal access to world-class learning.
Just seven years later Coursera achieved unicorn status (a valuation of $1bn+).
In 2020 alone, it attracted as many learners as its closest competitor did in its entire existence.
Today, Cousera has 92 million registered users and is partnered with 250+ leading universities and industry educators to offer over 7,000 courses and degree programs.
In addition, over 100 Fortune 500 companies, and more than 6,000 businesses, campuses and governments use Coursera to upscale or reskill their employees, students and citizens.
For more granular detail on Coursera check out our Coursera review, Coursera pricing and Coursera certificate.
Coursera advantages
7,000 courses in 11 Categories from Data Science to Personal Development
250 respected, prestigious partner institutions
Teaching from leading academics, nobel prize winners, top authors, c-suite executives and leaders in their respective fields
The chance to earn a certificate from the world's top organisations
Well structured and resourced courses and excellent teaching
Huge catalogue of courses
Learn offline
81% of learners give its courses a 5* rating
Example classes available on Coursera

What's best for you depends on your interests and goals. So I've rounded up a selection of the best Coursera courses based on the different learning paths available. These are:
Course: Machine Learning – Stanford University Learn what learning is, how machines do it without explicit programming, and how to apply machine learning techniques to new problems.
Guided Project: Google Ads for Beginners – Paid Media Create a Google Ads account, do effective keyword research, navigate the Google Ad dashboard and create an optimized campaign.
Specialization: Excel Skills for Business – MacQuarie University Discover how to use Excel to solve a range of business problems, design sophisticated spreadsheets, and use advanced Excel features and techniques confidently.
Professional Certificate: IBM Cyber Security Analyst – IBM Learn everything you need to get job ready for a role in the Cybersecurity industry. From basic Cybersecurity concepts and terms to incident response protocol and defence tactics.
Other discount promo offers
Final thoughts
Coursera offers the opportunity to learn from the most prestigious universities and institutions in the world.
There's a huge catalogue to choose from, courses are well structured, educationally sound and fully resourced. Teaching is delivered by recognized experts in their respective fields.
If you're serious about investing in the best thing you can ever invest in – yourself- then this deal gives you a time bound opportunity to do so at a greatly discounted cost.
Coursera's stable pricing means that it's a real deal and not a scam
It's a wise investment in yourself and your future
It's a rare offering that's simple to redeem
So what are you waiting for?
Coursera Black Friday and Cyber Monday deal FAQ
What is the Coursera Black Friday and Cyber Monday deal offer?
$100 off a Coursera Plus annual subscription
How much does the Coursera Black Friday and Cyber Monday deal cost?
A full annual subscription costs $299 with the deal, a saving of 25%
When does the Coursera Plus Black Friday and Cyber Monday deal end?
At midnight on November 28th
I used to have a Coursera Plus subscription, can I get the deal?
Sadly no, this deal is only open to new subscribers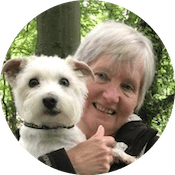 Liz Hurley has 30+ years of high school teaching experience and is one of our senior writers here at Learnopoly.