Behaviour hacker James Clear cut a swathe through the self-help industry and simplified success for millions in his NYT #1 best selling book Atomic Habits.
His MasterClass aims to give you access to his simple framework for building good habits and making consistent, sustainable progress towards any goal, big or small.
But how good a teacher is he? What's his class like? What will you get out of it and is it worth it?
I've completed the class in full and will be answering all these questions and more in this balanced James Clear MasterClass review. 
If you're interested in the highlights, this outline's for you:
.
Quick summary
You will learn:
How to make small and simple changes that reap big rewards
How a focus on habits means goals take care of themselves
Why willpower and determination don't matter as much as you think
How sticking to what's reasonable and sustainable on even your worst day can set you on the pathway to elite levels of success
To become aware of how automatic behaviours influence your life and evaluate whether your current habits serve you
Tips for making good habits obvious, attractive, easy and satisfying so they are consistently repeated and their benefits compound
How to reverse engineer Clear's system to eliminate habits that don't serve you
Pros
Teaching from a renowned expert in the field of behaviour change
Carefully structured to promote learning
Good mix of theory and practice
Motivating and uplifting
Cinematic quality and great use of supporting footage
Cons
A short class – though by his very nature Clear is not a procrastinator
Duplicates much of what's in his book – but in a more immediate and powerful way
Best for: Anyone who has struggled to maintain good resolutions and habits (and stop bad ones). Also those interested in finding a simple system that leads to big, and compounding, improvements in their lives.
Cost: Check the latest prices for MasterClass.
Overall: An inspiring and well structured course with a good mix of clearly explained theory and practical exercises. It provides a simple, manageable and logical way to build habits that stick, eliminate bad habits and set yourself up for consistent, incremental success.
In this James Clear MasterClass review, I will be covering:
About James Clear and MasterClass
Inside James Clear's MasterClass
What I liked and thought could be improved
Who the James Clear MasterClass is for and how much it costs
Alternatives to the class
Uniqueness of the course, and of course I'll be answering the question…
Is the James Clear Masterclass worth it?
So, without further ado, let's get started.
About James Clear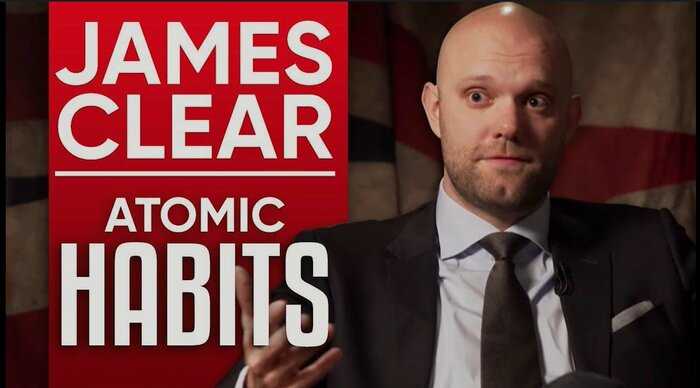 "We don't rise to the level of our goals, we fall to the level of our systems."
James Clear is the author of the #1 New York Times bestseller, Atomic Habits, which has sold more than 15 million copies globally.
Over 8 million people read his articles each year, his newsletter has two million plus subscribers and hundreds of thousands of people follow him on Instagram, X and Facebook.
Clear is also a motivational speaker who's worked with the likes of Capital One, General Electric, Honda, Intel, LinkedIn, McKinsey, Merrill Lynch and more.
His focus is on building good habits, breaking bad ones and improving performance using techniques backed by science. He's famed for taking complex topics and making them simple and actionable. Making him an ideal instructor for this MasterClass.
And if you haven't seen the trailer for the James Clear MasterClass, you can check it out here:
About MasterClass
MasterClass launched in 2015 with a simple idea: Everyone should have access to genius.
The online education platform provides 190+ inspirational MasterClasses taught by those who've garnered global recognition in their fields.
They're available in everything from cooking with Gordon Ramsay to filmmaking with Martin Scorsese, to negotiating with Chris Voss, and business strategy and leadership with Bob Iger.
Famed for its outstanding production values, MasterClass is also rigorous when it comes to quality of content and learning materials. This combination provides a unique and compelling learning experience.
MasterClass also offers a number of project and community based Sessions – for more detail read our MasterClass Sessions review.
Having taken more than twenty five MasterClasses myself, I can report that most are fantastic and insightful. However, some are definitely better than others. And it's important to do your research first to make sure the course you're thinking about is the right one for you.
If you want more details on MasterClass and some of its most popular classes, check out our MasterClass review and best MasterClass article.
Inside James Clear's MasterClass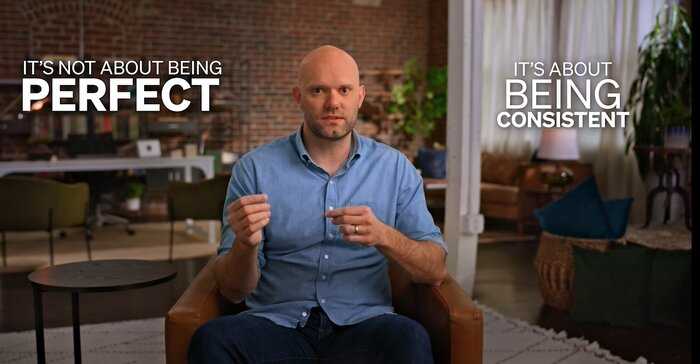 James Clear's MasterClass comes in at 1 hour and 29 minute's viewing time.
It consists of 10 video lessons which are between 7-10 minutes long. All of which come with a practical assignment to extend your learning.
I've summarized the lessons below to give you a clear idea of what to expect.
1/10 Getting 1% better every day
"Consistency is its own form of greatness"
Against a rich backdrop of visuals and stills, Clear uses the world of competitive cycling to show how an accumulation of tiny changes can garner massive rewards.
We learn how the British cycling team (which was going nowhere fast) aggregated dozens of miniscule changes with the aim of winning the Tour de France within 5 years.
And won it in 3 – repeating their success multiple times..
In this opening chapter you'll learn:
About the origin of James Clear's ideas
Why habits and consistency matter
That it's not results that need to change – but the habits that precede them
Why willpower doesn't matter as much as you think
How sticking to what's reasonable and sustainable on your worst day can set you on the pathway to elite levels of success
If you think you lack the grit, determination or willpower to build good habits, take heart. Clear doesn't dismiss these virtues, but emphasizes the many other small variables you can optimize so they don't matter as much.
As the lesson ends, Clear sets out what he hopes you will achieve from his MasterClass and that is to:
Develop a way of thinking about habits that is reasonable and sustainable
Watch and feel there much to take away and get better results from
Set systems – not goals
2/10 Goals vs Systems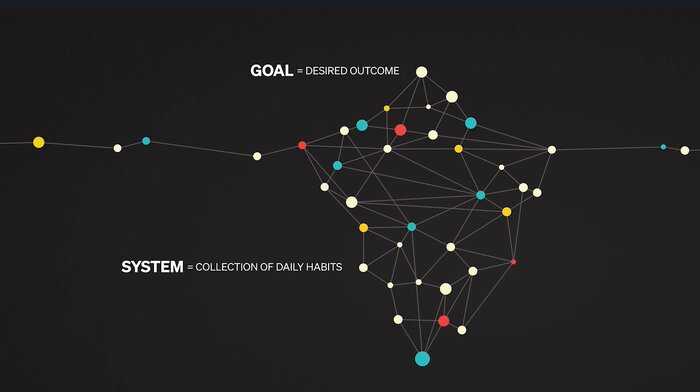 "If there's ever a gap between your goal and your system of daily habits – your daily habits will always win … you will almost always be carried inevitably toward the result your habits are driving you toward"
Here, Clear uses an iceberg analogy to help you see the difference between goals and systems. The point being, the goal is only the visible tip of the iceberg – it's what's below (the collection of daily habits) that support it and allow it to float. Without the mass, the iceberg would sink.
Using a range of different, really helpful, examples Clear illustrates how if you focus on the system:
the goal takes care of itself
It's far easier to get back on course if you slip up
He then shares the three steps you need to take to translate a goal into a sustainable system of small habits. And he sets you on the road shifting your mindset with a challenging assignment.
As the lesson ends, he reminds us that:
"Goals have an end point, systems last forever."
3&4/10: How habits shape our identity (and vice versa) & The habit loop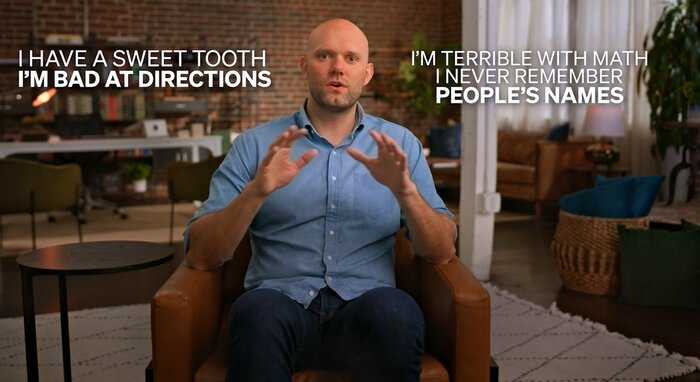 "Every action you take is a vote for the type of person you want to become."
Here, Clear invites us to think how the 'stories' we tell ourselves about our identity hold us back.
Then, again using lots of examples to illustrate his points, Clear helps you understand how you can turn this situation around by:
Moving away from thinking that you become a better person through results
Determining who you actually want to become
Creating habits that will support that identity
Then he explains how this leads to a virtuous circle whereby you are continually providing evidence of your new identity just by performing the small sustainable habits and habits linked to it. This, in turn, causes you to believe you are that kind of person and encourages you to stick with the new habits.
This idea of positive reinforcement – or the feedback loop is explored further in lesson 4 where Clear discusses the psychology behind habit formation and behaviour change.
5-8/10: The four laws of behaviour change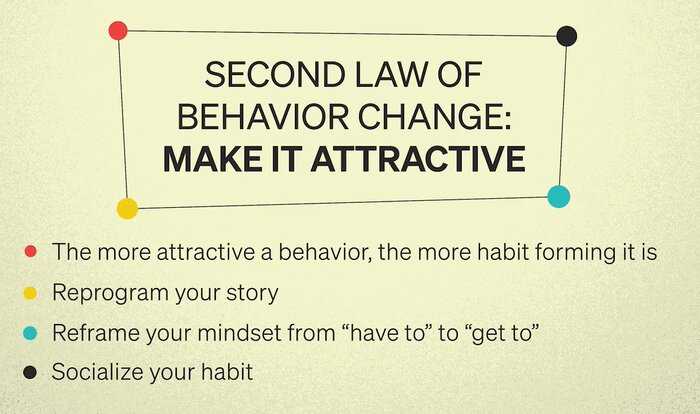 "A habit must be established before it can be improved"
Over the next four lessons, Clear covers what he terms the four laws of behaviour change.
You will learn:
To become aware of how automatic behaviours influence your life and evaluate whether your current habits serve you
What the Diderot effect is and how to leverage it using a simple framework called implementation intention
Tips for making good habits attractive so they are frequently repeated
The importance of repetition for building habits
Tips for making habits that drive results as easy as possible – so they can be firmly established before advancing them to the next level
The evolutionary reasons why humans crave immediate gratification
Techniques for immediately rewarding good habits to help you build momentum and become unstoppable
Each lesson ends with an assignment so you can take what you've learned and put it into action straightaway.
9&10/10: Unpacking the most common habits & 5pm to 9pm habits that affect your "9 to 5"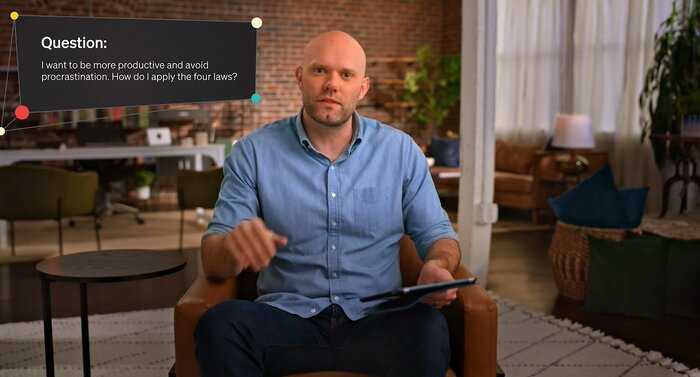 "Motivation comes after starting, not before"
The last two chapters have a highly practical focus on how to apply the four laws to common habits you may be trying to develop, such as saving money
Likewise, Clear illustrates how to reverse engineer the process in order to break bad habits such as smoking or eating junk food.
Finally you'll be provided with tools to help you navigate today's challenges such as remote working, blended environments and the distractions arising from modern technology. Clear also advises on how to optimize your environment and outside work habits for maximum productivity.
As he bids you farewell, he provides directly actionable guidance on how to get started on your journey – right away.
What I liked about James Clear's MasterClass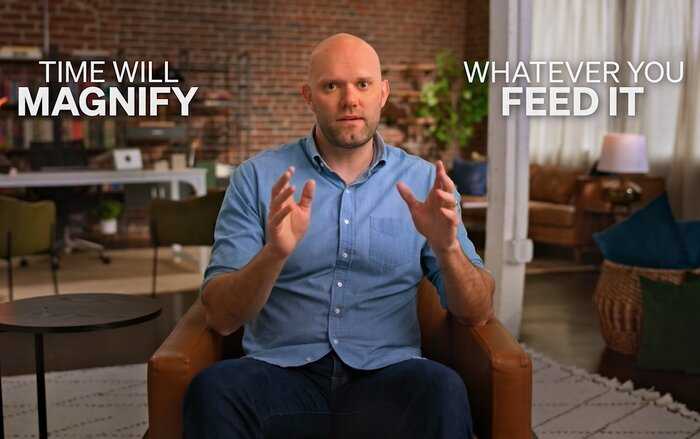 Teaching from a renowned and respected expert in the field
Clear has curated the wisdom and learning drawn from his lived experience in a way that makes it both accessible and practical.
As an author and keynote speaker he is renowned for breaking down complex ideas and presenting them in a clear and actionable way.
In the process he's provided lessons and tasks that you can apply in a manageable and sustainable way to your everyday life to progress towards any goal.
Structured to promote learning
The James Clear MasterClass hangs together well.
It was clear that thought had been given to the order in which things were presented.
Lessons flow and build logically on prior learning. Key takeaways are highlighted at the end of each lesson. And examples are carefully placed to illustrate how aspects of Clear's approach to building good habits and eliminating bad ones can be simply and manageably applied.
Good mix of theory and practice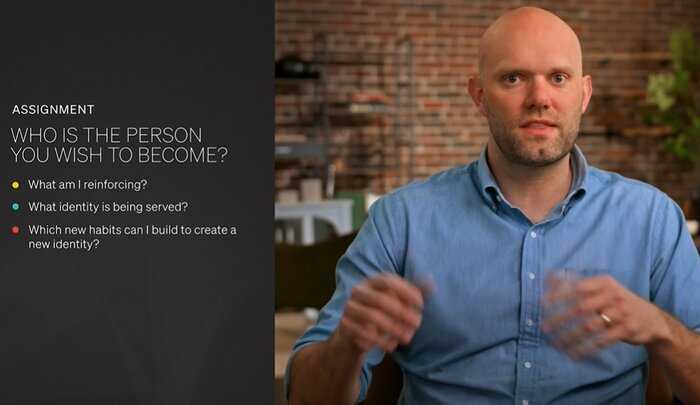 Clear backs his ideas up with the relevant science and breaks this down so it is understandable.
He also provides assignments that help you put into practice each stage of his process until you have a framework that you can to make consistent, ongoing progress towards any goal.
Uplifting and motivating
Clear's passion for his subject is palpable in his delivery of this MasterClass.
HIs optimism and determinism combine to make this MasterClass a compelling and enjoyable experience. And one which could provide the kickstart you need to, "build habits that stick, break habits that suck [and] outsmart yourself—one small-but-mighty step at a time."
Cinematic quality and great use of graphics and supporting footage
MasterClasses can occasionally feel like a talking heads lecture. Albeit one with incredibly high production values!
Clear's class makes extensive use of film footage and stills to break up the class.
These have been meticulously selected to cleverly illustrate key points and complement learning.
What could be improved
No course is perfect, there's always room for improvement or change, and this MasterClass is no exception.
So here are some possible cons to bear in mind if you are considering taking James Clear's MasterClass.
A short class
Most MasterClasses are between 3-4 hours long (see MasterClass statistics). In fact Clear's class now ranks as the shortest class on the platform.
That said, the essence of the class is to cut through the clutter and start forming good habits from the off. And so, by his very nature Clear is not a procrastinator.
Duplicates much of what's in his book
There is significant overlap between this class and what is in Clear's book, Atomic Habits. So if you've read the book, you are unlikely to learn much that you don't already know.
However, if you have not read the book, MasterClass has packaged this course so that it gives an overview of everything the book contains in 3 hours and more. It's intense, visual and engaging in a way that a 320 page book can't be.
No workbook
This is the first MasterClass I have taken that does not have a supporting workbook. These are usually great course companions that you can annotate as you progress and also contain supporting information and suggestions for further learning.
MasterClass does provide the facility to take notes as you go along, but these will have to be more comprehensive than they would be if you were annotating existing text.
Who is this course for?
In my view, the James Clear MasterClass is for anyone who:
Has struggled in the past to stop bad habits and maintain good ones
Is looking for an easy to implement framework for consistent improvement
Wants to live a life of more intention
Is an admirer of James Clear
Is intellectually curious
How much does the course cost?
At the time of writing MasterClass had three subscription offers. The cost of these (per month) is:
Individual (1 user) $10
Duo (2 users) $20
Family (6 users) $23
All are billed annually.
MasterClass fees offer incredibly good value given the calibre of the tutors and the quality of the courses.
And, you can considerably reduce your costs by taking as many courses as possible.
With around 200 courses on the platform you're likely to find quite a few to interest you. Even if you buy an individual membership and find only 10% of the courses of interest this still works out to only $6 a course:
$120 (annual individual membership fee) / 20 courses = $6.
And if you join with friends or family then the cost of each course is drastically reduced. Check out our MasterClass review or MasterClass cost articles to see how.
Bearing in mind that these classes are taught by global leaders in their fields the value is unbeatable. You can pay over $100 for an online course taught by someone you've never even heard of, never mind the caliber of the teachers on MasterClass.
What's more, MasterClass also offers a 30 day refund if you're unhappy with your purchase.
You can also purchase MasterClass as a gift.
Alternatives to James Clear's MasterClass
In terms of MasterClass itself there are a number of alternatives and/or classes that will sit well alongside the James Clear class. These include:
And with a MasterClass subscription you could take all of these classes and more. So with that in mind MasterClass is unbeatable in terms of scope and value.
However, if you're looking for something a little more academically focused, Coursera offers certified courses in developing better habits. One of which is Positive Thinking and Thriving. It's taught by leading academics from Arizona State University. Bear in mind though, its likely to be far more dry and formulaic than Clear's MasterClass.
if you prefer to buy courses singly, rather than subscribe to a platform, you could check out Udemy. Udemy offers a number of possible courses including Habit Hacking:the complete guide to changing habits and 10X Superbrain habits. These courses are of great value but, given that anyone can offer a course on Udemy, teaching quality varies hugely. They are also often on sale.
Finally, if you are open to trying a platform that focuses purely on self-improvement Mindvalley is definitely worth trying. Two courses I have personally taken and reviewed which provide workable frameworks for lasting change are Lifebook Online and Jim Kwick's Superbrain.
Is the course content unique?
Honestly, no.
There is overlap with Clear's book, Atomic Habits.
That being said, MasterClass has packaged this course so that it gives a complete overview of everything the book contains in under 2 hours.
It's intense, visual and engaging in a way that a 320 page book can't be. And it provides a learning experience that you just can't gain from the pages of a book.
Is James Clear's MasterClass worth it?
It depends.
If you've already read Atomic Habits, you're not going to learn much you don't already know.
That said, a MasterClass subscription is ridiculously good value. The class is packaged in a far more engaging way than the book and you'll have unlimited access to nearly 200 other classes on the platform. Many of which sit very well alongside it. All of which are taught by global icons in their fields.
However, if you've not read Atomic Habits, this class is absolutely worth it. If you're looking for a manageable and sustainable path to ongoing success it's a must watch.
Clear is inspiring as a teacher and the framework you will take away from the course is a genuine path to consistently achieving the things you want out of life.
Plus MasterClass also has a 30 day refund policy, which removes the risk of you losing out if you don't enjoy it.
So what are you waiting for?
Frequently asked questions
How much does James Clear's MasterClass cost?
An individual MasterClass subscription costs $120 a year ($10 a month). This gives you access to James Clear's MasterClass alongside nearly 200 other courses.
How long isJames Clear's MasterClass?
James Clear's MasterClass is two and three quarter hours' long and consists of 13 video lessons.
Can you get James Clear's MasterClass for free?
Unfortunately you can't get the James Clear MasterClass for free. But MasterClass allows you to sample it for free, has a range of purchasing options and offers refunds if you're not happy.
Can I get a refund if I don't like the James Clear MasterClass?
Yes, MasterClass operates a 30 day refund policy if you purchase directly through them. If you purchase through other providers, their returns policy may apply.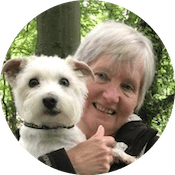 Liz Hurley has 30+ years of high school teaching experience and is one of our senior writers here at Learnopoly.