Both Udemy and Udacity are widely recognized as top e-learning platforms, offering life-changing classes for individuals and businesses alike.
But, which is better: Udemy or Udacity?
In this review, I'll compare and contrast both platforms, considering what they provide, costs, quality of teaching, and platform features.
So, by the end of this article, you'll have have a better idea of whether Udemy or Udacity best suits your needs.
This review is detailed. But, if you're short on time, here are the highlights:
Udemy is one of the largest Ed Tech companies of its kind, with 80% of Fortune 100 companies trusting Udemy to deliver expert employee upskilling. Such companies include Apple, PayPal, Samsung, and Unilever. It has a greater number of registered users and more courses. Its classes are also more varied, from business and technology, to painting and photography
Udacity's focus is on upskilling individuals, businesses, and governments – with a focus on in-demand skills in digital technology. As such, it offers far longer courses than you'd find on other sites. Its Udacity's courses are more specialized, focused on opening new doors for digi-tech careers. Its trademark courses – Nanodegrees – are also longer and more substantial (around 2-3 months minimum)
With both Udemy and Udacity courses, you receive an official (but non-accredited) certificate of completion. You can also buy courses individually rather than commit to a subscription.
Quick Summary
The side-by-side comparison table below provides a comparison of Udemy and Udacity's key differences:
Udemy
Udacity
Average course rating
4.4
4.4
# of users
50+ million
16.9+ million
# of courses
204,000+ across 12 categories
300+ courses across extensive digi-tech categories
Teachers
Anyone can create and offer a course
Expert mentors from Fortune 500 and Global 2000 companies
Pricing
Individual courses from $12.99
Monthly subscription $26.99
Nanodegrees starting at $399/month
Free content
500+ courses
200+ courses
Accredited certificates
No
No
Features
High quality video content and downloadable resources
Massive choice of course content from professional to fun
Non-accredited certification
Exclusive Nanodegree training programs
Industry-expert teaching
Career services to complement courses
Digi-tech specialization
Non-accredited certification
Specialization
Anyone can create and offer courses on any topic
In-demand digi-tech topics
Pros
Impressive range of courses
Frequent sales and 500+ free courses
Passionate instructors with many high profile contributors
Teaches in-demand professional skills as well as fun, hobbyist courses
Expert mentors with real-world experience
Programs designed for businesses, governments, and individuals
Extensive course catalog to build your skillset
Career services to complement courses
Quality content co-created with leading partners
Cons
Course quality varies
Certificates are non-accredited
Focused on "harder" digi-tech skills like data science
Offers fewer "bite-size" courses
Best for anyone who:
Wants access to a wide variety of content (from work-related to fun)
Is not seeking formal certification
Business owners and managers looking to upskill teams
Is seeking a career/promotion in the tech industry

More information
Visit Udemy
Visit Udacity
About Udemy and Udacity
Now let's take a closer look at both platforms to see what they're all about.
About Udemy

Launched in 2009, Udemy has quickly risen to one of the top e-learning platforms out there today. With its diversity in terms of courses and teachers, everyone has the opportunity to teach and learn the subjects they're most passionate about.
At the time of writing, Udemy boasts over 50 million users and offers 204,000+ courses in 12 categories. With its courses ranging from business to music, it really is an all-round learning provider for both professionals and hobbyists.
On Udemy, you can purchase individual courses that are taught by practising instructors. Upon purchasing, you'll have lifetime access to the course, which means you can review the course and its resources as many times as you want. Some courses are also free!
As well as this, Udemy offers a monthly subscription, called the Personal Plan. This gives you unlimited access to 6,000+ top courses for as long as your subscription is active.
For a more detailed look at Udemy, you can also check out our Udemy review.
About Udacity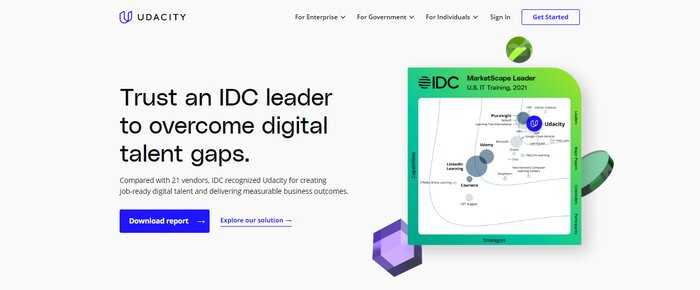 Udacity was founded in 2011 by computer scientists Sebastian Thrun and David Stavens. To date, the platform has over 16 million users and, with partners like Google and Amazon, is considered a breakthrough provider when it comes to digi-tech learning.
There are several ways to buy and learn with Udacity. For their Nanodegree programs, you can either pay as you go (monthly access) or pay upfront for multi-month access. Like Udemy, Udacity also boasts over 200 free courses.
As a market leader in talent transformation, Udacity has created content with Amazon, BMW, Microsoft, and GitHub – to name a few. Through these partnerships, Udacity helps to create job-ready talent for an ever-evolving digi-tech career market.
For more detailed information, visit our Udacity review.
Summary: Though their average course rating is the same, Udemy boasts more registered users and a wider range of course categories. That being said, Udacity is arguably a more in-depth platform considering it specializes in a range of digi-tech skills and career resources. Both also offer hundreds of free courses.
Udemy vs Udacity Courses
This side-by-side comparison of Udemy vs Udacity courses sums up what each platform has to offer:
Udemy
Udacity
# of courses
204,000 courses in 12 categories
300+ courses in 9 categories
Categories
Development
Business
Finance & accounting
IT & software
Office productivity
Personal development
Design
Marketing
Lifestyle
Photography & video
Health & fitness
Teaching & academics
Artificial intelligence
Autonomous systems
Business
Cloud computing
Cybersecurity
Data science
Product management
Programming & development
Career
# of free courses
500+
200+
Now, let's take a deeper look.
Udemy Courses
Udemy offers over 204,000 courses across 12 main categories.
Their classes are generally in a pre-recorded format, and can range from one to 20 hours in length. Each course is broken down into bite-sized sections and is led by an instructor who practises the discipline.
These classes are on-demand and consist of your instructor taking you through a mixture of theory and practical skills in your chosen subject. Each course also has additional resources available, such as downloadable texts and articles.
You can browse Udemy's course catalog by:
Category
Recommended topics
Search bar
To access course categories, hover your cursor over the "Categories" drop-down menu on the homepage. Clicking on any available category will show you all courses available in that subject area.
Once you have started engaging with Udemy, it will begin to recommend suggested courses to your homepage.
Finally, if you're looking for something more specific, enter keywords into the search bar and click enter.
Best Udemy Courses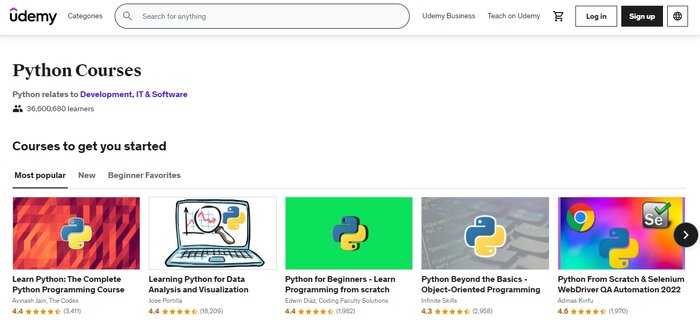 Because Udemy has such a wide range of courses, narrowing these down into the top classes is a difficult task.
And, of course, what's best for you depends on your own interests and what kind of teaching best suits you.
To give you the broadest possible overview, I've grouped together some of Udemy's best courses from each category below. You can also see our article: Best Courses on Udemy for more.
Development: 2020 Complete Python Development Programme: From Zero to Hero in Python Start from the basics and grow your professional Python knowledge
Business: Agile Crash Course: Agile Project Management, Agile Delivery Learn about the key concepts of Agile Project Management
Finance & Accounting: The Complete Financial Analyst and Training Course Learn to perform financial statement analysis, master Microsoft packages, and build a company's Balance sheet from scratch
IT & Software: IT Troubleshooting Skills Training Minimize problem duration, standardize troubleshooting, and practice efficient problem solving
Office Productivity: Microsoft Excel – Excel from Beginners to Advanced Learn the most common Excel functions, use PivotTables, and unlock the platform's potential (#1 in our Best Excel Courses list)
Product Development: Become a Super Learner 2 Master the skills of the world's fastest readers to learn knowledge both easily and quickly (#2 in our Best Speed Reading Courses list)
Design: The Ultimate Drawing Course: Beginner to Advanced Draw faces and figures from your head, master realistic light and shadow, and understand art fundamentals
Marketing: The Complete Digital Marketing Course Grow an online business from scratch, make money as an affiliate marketer, and get hired as a digital marketing expert
Health & Fitness: Cognitive Behavioral Therapy (CBT) Practitioner Certificate Learn to understand and apply cognitive psychology to everyday life and challenges
Music: Pianoforall: An Incredible New Way to Learn Piano and Keyboard Learn piano in weeks from basics to advanced, and play by ear (also featured in our Best Online Piano Classes review)
Udacity Courses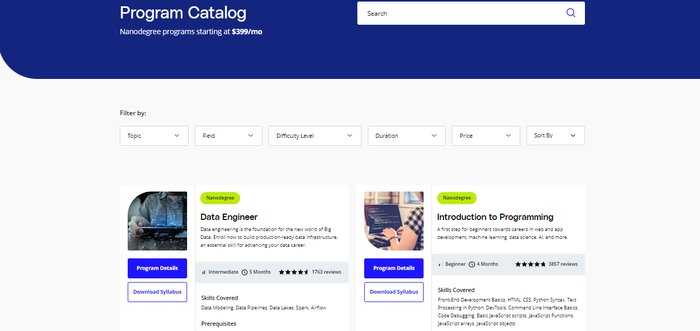 Compared to Udemy, Udacity's courses are a lot more specialized, focused on upskilling individuals, businesses, and governments in in-demand digi-tech skills.
As such, the course categories are more restricted, but also offer more in-depth subcategories to help you excel in your chosen field.
While Udacity offers some traditional programs and free courses, their bestsellers are their Nanodegree programs. These courses span 3 months on average, and are designed to help you grasp a set of skills through practical learning.
In a typical Udacity Nanodegree program, you can expect the following lesson format:
Course units with video content and additional resources
Technical mentor support with human feedback
Project assignments to encourage hands-on learning
Career services to complement your course work
Personalized services including timely project feedback
Like with Udemy, there are a few ways you can search for courses on Udacity:
Course catalog – browse available subjects on the program catalog
Recommended pathways – access course recommendations from current courses
Search bar – enter keywords to find specific fields
Best Udacity Courses

As with Udemy, the best courses for you really depend on your interests. And, more so with Udacity, your career drives are also key factors in determining the best classes for you. So, I've rounded up the best Udacity courses based on the subjects available.:
Artificial Intelligence: Intro to Machine Learning with TensorFlow Learn foundational machine learning techniques, including data manipulation
Autonomous Systems: Sensor Fusion Engineer Detect obstacles in lidar point clouds, apply thresholds to radar data, and accurately track objects
Business: Business Analytics Gain foundational data skills applicable to any industry, analyze and present data using Excel and Tableau
Cloud Computing: Cloud Architect Using Microsoft Azure Learn the skills to translate business requirements into technical specifications
Cybersecurity: Security Engineer Gain crucial skills in protecting organizations' computer networks from attacks
Data Science: Programming for Data Science with R Learn the skills needed to excel in a data science career by grasping the fundamentals of the R programming language
Product Management: UX Designer Design impactful user experiences and build a profile you can showcase to future employers
Programming & Development: Android Basics Learn how to develop Android apps with little to no prior experience in programming
Career: Product Manager Interview Preparation Become versed in understanding mock strategy and technical interviews in order to impress at your next PM interview
Summary: Udemy offers a wider selection of courses, but Udacity offers more course specialities. These are also more career-focused and often include additional resources to help you exceed in interviews or promotions. As such, Udacity's courses are more serious and directional. In contrast, Udemy can be used in both a professional and casual context.
Udemy vs Udacity: teachers and course quality
When it comes to both online and offline learning, teaching and course quality can make or break a class.
It should go without saying that a good teacher will possess both knowledge and passion for their subject, and be able to distil complex ideas in a way that's easy to understand. But, beyond that, they also need to establish clear outcomes for the course.
Ultimately, a great teacher will outline what you will learn by the end of the class. Simply put, you need to know what you'll be able to do or explain by the end of the course that you couldn't do at the start.
So, with this in mind, how do Udemy and Udacity compare when it comes to teacher quality?
Udemy teachers and quality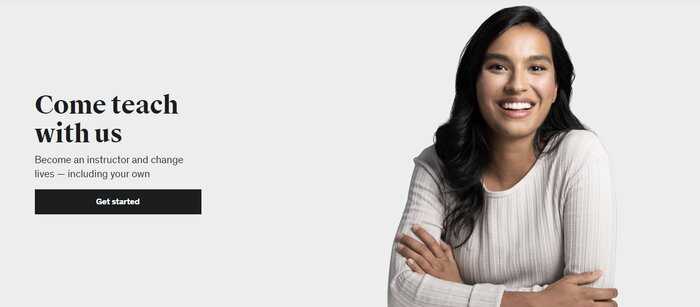 On Udemy, anyone has the potential to create and teach a class in any subject they like. But, there are a few guidelines. Firstly, a course must be 30 minutes long minimum. Secondly, they need to have at least five course lessons. And, finally, all topics must be work-suitable.
Aside from this, it's not essential that Udemy teachers have any formal qualifications in their subject of choice.
However, this doesn't mean that Udemy teachers are lacking in accreditations or experience. In fact, there are many high-achieving Udemy instructors, including:
Rob Percival – web developer and teacher with a degree in mathematics from Cambridge University
Jose Portilla – head of Data Science at Pierian Training, with a current total of 3 million students on Udemy
Phil Ebiner – top-rated instructor with years of experience in video editing – including feature films
You can become a Udemy instructor by:
Signing up to Udemy
Creating learning targets and a class outline
Filming your course and submitting a test video for feedback
Submitting your course for Udemy's approval
If your course meets Udemy's standards, it will be published.
Once your course is released, Udemy ranks it on a 5* system. So, even though Udemy is open to all, only the best courses will make it to the top. At the time of writing, Udemy has an average course rating of 4.4.
Udacity teachers and quality

Like with Udemy, you don't have to be a teacher to teach on Udacity. However, some of Udacity's criteria are a lot stricter.
To become a Udacity instructor, you need to have a demonstrated record of professional experience. You'll also need to undergo an informal interview and submit a teaching sample for approval.
All of Udacity's instructors are industry leaders with 5+ years' professional experience. Esteemed and passionate Udacity instructors include:
Gabe Ruttner – SQL writer and founder of FeatherDocs.
Melissa Hui – founder of Context Leap and builder of Udacity's User Design Capstone Project
Abhinav Singh – Founding Engineer of Amazon's Web Services Strategic Security Transformation Team
Summary: Udemy and Udacity are both open to instructor applications. However, Udacity's criteria for new professors are stricter than Udemy's, with all instructors having to prove a professional history and field knowledge.
Udemy vs Udacity pricing
Udemy
Udacity
Per course
$12.99 – $199
Nanodegrees start at $399/month
Subscription
$26.99 per month (billed monthly) for access to 6,000 curated courses
As above
Free trial
7 day free trial upon subscription
30 day free trial
Refunds
30 day refund on individual courses
Monthly subscription can be cancelled anytime
2-day refund policy when enrolled on a course
Free courses
500 free courses
200 free courses
Udemy cost
Udemy courses range between $12.99 and $199.
That being said, Udemy often has sales and offers major discounts on their courses. For more information, see our article: how often does Udemy have sales?
There are also 500+ courses that can be taken free of charge.
Udemy's subscription service is known as a Personal Plan. This gives you unlimited access to 6,000 curated courses. It comes with a 7-day free trial, after which you'll be billed $26.99/month.
You can cancel your subscription at any time, and you can continue to access all content until the next billing date.
Udemy operates a 30-day refund policy, providing your request meets the eligibility criteria. If you've taken a significant portion of the course already or have been known to request excessive refunds, your claim could be rejected.
For more detail on Udemy costs, check out our article: Udemy cost.
Udacity cost
Because of its Nanodegree programs and various business options, Udacity's costing isn't always straightforward. But, to summarize, Udacity's Nanodegree programs have two pricing options:
Pay-as-you-go purchase: Udacity's Nanodegree prices start at $399/month. With pay-as-you-go, you pay to access the course each month until you earn your certificate
Pay upfront (all-access purchase): By paying upfront, you save around 15% compared to the pay-as-you-go option. This gives you the recommended enrollment period to complete the course, and you can switch to pay-as-you-go if you need longer
Udacity also offers:
30-day free trial
2-day refund policy
For more detail on Udacity's pricing check our article Udacity Pricing.
Summary: While courses vary, Udacity is generally more expensive than Udemy. This is because courses are more specialized and are often a lot longer (2-5 months) compared to Udemy's 30-minute minimum courses. They also come with mentor feedback and additional career resources.
Udemy vs Udacity certificate value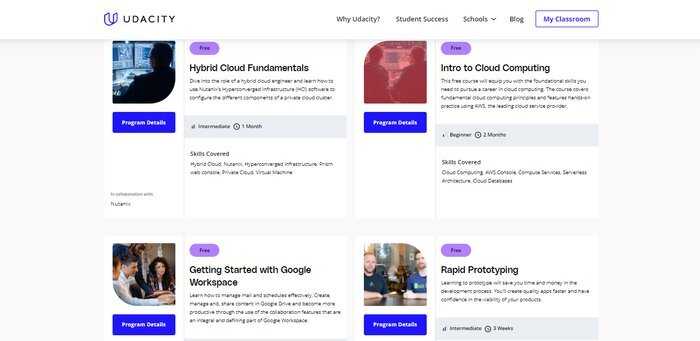 Both Udemy and Udacity offer certificates of completion for their paid courses. However, as neither are accredited institutions, their certificates cannot be used as evidence of formal accreditation.
You can download certificates as PDF or JPEG files, and these can be shared across social media platforms.
Summary: While neither platform offers accredited courses, these certificates are not without merit due to the esteemed professionals teaching the classes, and the field knowledge you'll undoubtedly acquire.
Udemy vs Udacity platform features
Now, let's take a closer look at what each platform offers:
Udemy features
Over 204,000 courses including professional skills and creative options
Open-to-all teaching with many high profile instructors
Individual courses that you pay for separately
A monthly subscription plan giving you access to the 6,000 top courses
500+ free courses
On-demand video lessons and downloadable material
Udacity features
300+ courses, including Nanodegree and Executive programs
10 scholarship programs sponsored by third-party organizations
Individual course purchases
Personalized options for businesses and enterprises
200+ free courses
On-demand video lessons and downloadable material
Udemy vs Udacity customer support
Udemy customer support

Udemy has customer support services available for both students and instructors. These include a customer service webpage with frequently asked questions. You can also browse these by topics, which include account setup, troubleshooting, and refund requests.
If you find that your question is not already covered, you can submit a personal request via Udemy's contact form. After sending your ticket, you'll hear back via email within 3-5 business days.
Udacity customer support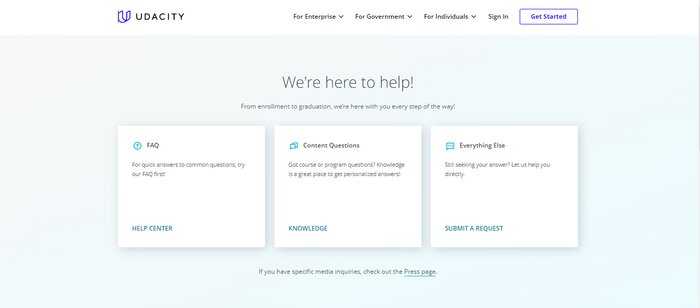 Udacity has a contact page where you can access FAQs and Content Questions. With a search bar function, it's also easy to find the answers to commonly asked questions.
Further to this, though, there's a Udacity Support Community where you can start discussions and exchange ideas. You can also submit a request, which Udacity will respond to via email.
Udemy vs Udacity: which is best for Businesses?
Both Udemy and Udacity offer business-specific services. So, the table below highlights the key similarities and differences between the business features on offer:
Udemy
Udacity
Small teams
Team Plan of up to 20 users ($360 per user per year)6,500+ course and mobile app
Digital Competency Platform focused on ensuring workplace relevance
Larger teams
Enterprise Plan of 21+ users (contact sales)
As above + custom topics and the ability to host proprietary courses
Udacity's Talent Transformation Suite (online consultation)
Tailored transformation journey through workshops
Leadership
Leadership Development Program (contact sales)
100+ Exec courses from top institutions
Live events
AI analytics and insights
Udacity for Nations (online consultation)
As above + GDP consultation
More Info
Visit Udemy
Visit Udacity
Summary: Udemy offers several easy-access business schemes, whereas Udacity works on a case-by-case basis depending on governing body or business type/size.
Udemy and Udacity alternatives
With the growth of e-learning platforms in the last decade, there's no shortage of options available.
Coursera was founded in 2012 and offers 7,000+ courses from top institutions, including Yale and Harvard. Individual courses start at $9.99 but there are also full (accredited) degrees starting at $9,000. So, if an accredited certificate is something you're looking for, Coursera is your best pick.
LinkedIn Learning dates back to 1995 and boasts over 27 million users to date. With over 30 course categories, the platform is far more encompassing than both Udemy and Udacity, and, like Udemy, it offers professional and personal development alike. But, like Udacity, it also offers career services and, of course, is part of LinkedIn itself.
Finally, there's MasterClass. Unlike Udemy and Skillshare, where anyone can host courses, MasterClass is hosted by the best of the best. Namely, they boast celebrity-level tutelage, from Gordon Ramsay to Bill Clinton – to name a couple.
Along with this feature, MasterClass is also known for its high production values and offers cinema-quality video lessons. And, in fact, at only $15 a month for an individual membership, this is pretty great value for money.
MasterClass has also started to offer MasterClass Sessions, which are 30-day courses you follow with a cohort of other students. You can find out more about this here.
If you want to explore these comparisons further, see our article on Udemy alternatives, Udacity vs Coursera, Udemy vs Coursera and Udemy vs LinkedIn Learning.
Udemy vs Udacity: pros, cons, and who they are best for
Having explored both platforms in depth, here's what I liked about each, what could be improved, and who these platforms are best for:
Udemy
Pros
Extensive course range
Fairly priced with frequent sales and discounts
500+ free courses
Passionate instructors with some high profile teachers
Mix of professional and fun/creative courses
Cons
Not all courses are of equal quality
Non-accredited course certificates
Best for those who:
Enjoy learning and are after a wide variety of work-related/leisurely content
Are looking to develop new skills in lesser explored areas
Want to purchase by individual course
Passionate students who want to increase their knowledge in their own time
Business owners and managers looking to upskill their teams
Udacity
Pros:
Expert mentors with real-world experience
Programs designed for businesses, governments, and individuals
Extensive but specialized course catalog to build your skills
Career services to complement courses
Quality content co-created with leading partners
Cons:
Less focused on "pleasure learning"
Specializes in "harder" digi-tech skills like data science
Most courses are one month minimum
Best for those who:
Are already in (or interested in getting into) the digi-tech industry, as individuals, businesses, or government bodies
Want to upskill their teams and maximize the field's potential
Are recently graduated and looking to equip themselves with the best and most current digi-tech skills
Are passionate about a range of data science and engineering subjects and want to expand their knowledge across multiple programs and disciplines
Conclusion: Udemy vs Udacity
In summary, comparing Udemy to Udacity:
Udemy's courses are more varied, Udacity's courses are more field-specific and industry-related
Teaching quality is more consistent on Udacity – though there are plenty of esteemed teachers on Udemy, too
Neither Udemy nor Udacity's courses are accredited
Udacity is the more expensive and specialized of the two
Udemy offers best value for money both for businesses and individuals
So, the answer to the question: "Which is better – Udemy or Udacity?" really comes down to what you're looking for.
If you're seriously wanting to refine your skills and keep up-to-date with the digi-tech industries, then Udacity is well-worth the investment.
But, if you're seeking classes in other categories – particularly those more leisurely, Udemy is probably the better of the two for you.
The good news is that both platforms offer:
Hundreds of free courses for you to sample before committing to a platform
The opportunity to buy courses individually so you pay only for what you're after
Free trials and refunds if you decide the platform/class isn't what you were looking for
Aside from cost and specialty, the main thing that sets Udemy and Udacity apart is the subscription service. With Udacity, you apply for individual programs and pay for each one. Whereas, with Udemy, you can either purchase an individual course or subscribe. If you're interested in investing in a wide range of course, Udemy is probably your better option.
Comparing Udemy and Udacity: our methodology
I searched through each platform to gain all relevant information on pricing, subscription details, range, and quality.
Plus, I even sampled several courses from each to get a better understanding of how the platforms worked and what they focused on. For variety, I tried courses in topics I was familiar with, and also some I was new to. This was a good way to figure out if claims of "beginner-friendly" content really held up.
Beyond this, I looked elsewhere on the Internet to garner other opinions from users with good and bad experiences. This was also a good way to find alternative platforms.
Frequently asked questions
What's better, Udemy or Udacity?
Udacity is better for those focused on a career in digi-tech, whereas Udemy is best for those looking for a wider range of course categories.
Which is cheaper, Udemy or Udacity?
Udemy is easily the cheaper platform of the two. But, Udacity's price point also stems from the course lengths and the personalized features they offer.
Which has more courses, Udemy or Udacity?
Udemy has more courses than Udacity, with 200,000+ to Udacity's 300+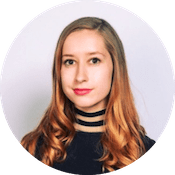 Rebecca graduated from King's College university with a first class honours in English Language, followed by a Masters' Degree in Eighteenth Century Studies.