Founded in 2011, Udacity is one of the biggest digi-tech learning platforms out there.
With over 16 million learners and partnered with industry leaders (such as Google and Amazon), Udacity is unprecedented when it comes to delivering in-demand tech knowledge.
Who wouldn't want to sign up with those names?
But, how does Udacity's pricing work, and how much does Udacity cost? Can I try Udacity courses for free? And can I get a refund if I don't like it?
In this article, I'm going to answer these questions and more. Namely, I'll cover everything you need to know about Udacity's cost. So, let's get started.
What are Udacity Nanodegrees?

Udacity's Nanodegree programs are their trademark courses. Essentially, these are 3-4 month skills-based programs designed to equip you with the expertise needed to excel in digi-tech fields.
To date, Udacity boasts over 80 Nanodegree programs, with more being curated regularly to stay abreast of the modern tech workforce. Subjects include Data Engineering, Business Analytics, C++, and Digital Marketing.
While the course difficulties range from beginner to advanced, Udacity's Nanodegree programs nevertheless require hard work and commitment to complete. So, with courses starting at one month, Nanodegrees include the following:
Course units with video content and additional resources
Technical mentor support with human feedback
Career services so you can optimize your resume
Personalized services including timely project feedback
What are the benefits of Nanodegrees?
In short, Nanodegrees bridge the gap between learning and career. Partnering with real-world leaders who understand the skills needed in the fields, Udacity's Nanodegrees equip you with the competencies needed to excel in your career path.
Also, Nanodegrees allow you to develop a relevant portfolio to showcase to future employers. With over 205,000 certificates awarded and 73% of graduates reporting a favorable career change in the first 12 months, it's clear that the platform delivers measurable results.
To find out more about Udacity as a platform, check out our Udacity review.
How much are Udacity Nanodegrees?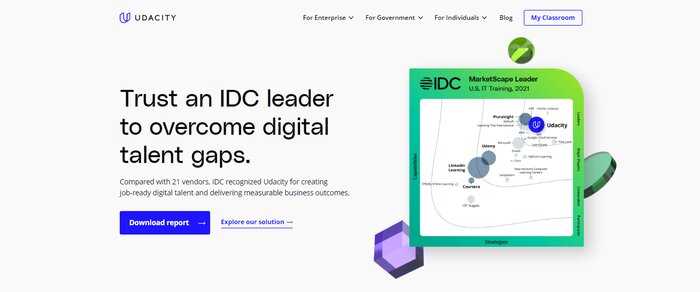 Because Nanodegrees cover a lot more breadth and offer more features than other platforms, Udacity's costs are steeper than other e-learning platforms. On average, for a 3-4 month Nanodegree program, you're looking at $399/month.
Currently, Udacity offers two pricing options for its Nanodegrees:
| | | |
| --- | --- | --- |
| | Monthly access | All-access |
| Features | Pay per month until you earn your certificate | Pay upfront (best value) and switch to monthly if needed |
| Cost | $1,197 in total (for a 3-month course) | $825 for 3-month access (15% saving) |
| Billing | Monthly | Upfront |
| Price per month | $399 | $275 |
| Cancellation | Cancel at any time | Cancel at any time |
| Refund | 2-day refund policy (within first month) | 2-day refund policy (within first month) |
| Free trial | N/A | N/A |
Udacity Nanodegree pricing
| | | |
| --- | --- | --- |
| Nanodegree program | Length | Cost |
| AI Product Manager | 2 months | $718 |
| AI Programming with Python | 3 months | $1077 |
| Android Basics | 3 months | $1077 |
| Android Developer | 6 months | $2154 |
| Artificial Intelligence | 3 months | $1077 |
| Artificial Intelligence for Trading | 6 months | $2154 |
| Blockchain Developer | 4 months | $1436 |
| Business Analytics | 3 months | $1077 |
| C++ Engineer | 4 months | $1436 |
| Cloud Developer | 4 months | $1436 |
| Cloud DevOps Engineer | 4 months | $1436 |
| Computer Vision | 3 months | $1077 |
| Data Analyst | 4 months | $1436 |
| Data Engineer | 5 months | $1795 |
| Data Scientist | 4 months | $1436 |
| Data Structures and Algorithms | 4 months | $1436 |
| Data Visualization | 4 months | $1436 |
| Deep Learning | 4 months | $1436 |
| Deep Reinforcement Learning | 4 months | $1436 |
| Digital Marketing | 3 months | $1077 |
| Flying Cars and Autonomous Flight | 4 months | $1436 |
| Front-End Web Developer | 4 months | $1436 |
| Full Stack Web Developer | 4 months | $1436 |
| Intro to Programming | 4 months | $1436 |
| Intro to Self-Driving Cars | 4 months | $1436 |
| Introduction to Machine Learning | 3 months | $1077 |
| iOS Developer | 6 months | $2154 |
| Java Developer | 4 months | $1436 |
| Machine Learning Engineer | 3 months | $1077 |
| Marketing Analytics | 3 months | $1077 |
| Natural Language Processing | 3 months | $1077 |
| Predictive Analytics for Business | 3 months | $1077 |
| Programming for Data Science with Python | 3 months | $1077 |
| Programming for Data Science with R | 3 months | $1077 |
| React | 4 months | $1436 |
| Robotics Software Engineer | 4 months | $1436 |
| Self Driving Car Engineer | 6 months | $2154 |
| Senior Fusion Engineer | 4 months | $1436 |
| UX Designer | 2 months | $718 |
For reviews of the best Udacity courses, click here.
Is Udacity free?

Although Udacity doesn't offer freebies when it comes to its Nanodegrees, it does have 200+ free courses.
Like its Nanodegrees and executive programs, Udacity's free courses are taught by leading professionals – though they're a lot shorter.
That being said, Udacity's free courses serve as great introductions to Nanodegrees. So, if you find you're invested in a particular topic after trying a free course, you can always upgrade to a Nanodegree after.
Nanodegrees

Udacity's best-known programs, Nanodegrees average $399/month (with an average course time of 3-4 months). While this isn't the cheapest option for online learning, their world-class partnerships and expert teaching make it easy to see the value in these courses.
Of course, the price varies depending on the course length and whether you opt for the pay-as-you-go option or the pay upfront (which usually works out as cheaper). With this in mind, cost is really dependent on which course you go for and how much time you're able to dedicate toward the program.
Executive programs

Udacity's executive programs are carefully tailored packages, with prices dependent on your company size and business goals. These programs are aimed to equip executives with the skills needed to become effective leaders in digital transformation.
These typically include:
4 Nanodegree programs
4 courses
4 unique projects
As businesses need increasingly keener digital knowledge, Udacity has a solution. Its School of Executive Programs is designed to lay the technical foundations for executives and to teach them to hold their own with experts.
Udacity business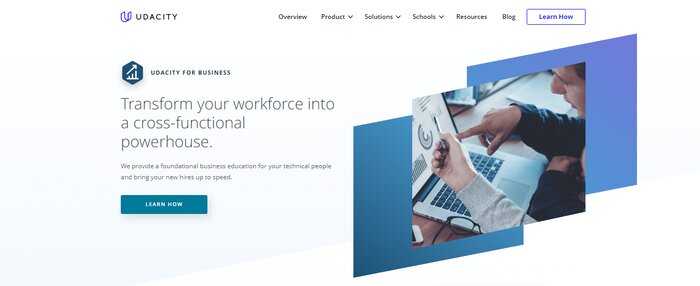 Similarly, Udacity offers foundational technical training for all business levels. These programs are designed to upskill employees and offer learning opportunities for the whole workforce.
Like the executive programs, Udacity business is priced after a consultation. This takes into account your company size, age, and plans for growth, and is also carefully tailored to each company.
That being said, Udacity business typically includes:
9 Nanodegree programs
38 courses
35 unique projects
Is Udacity's price good value?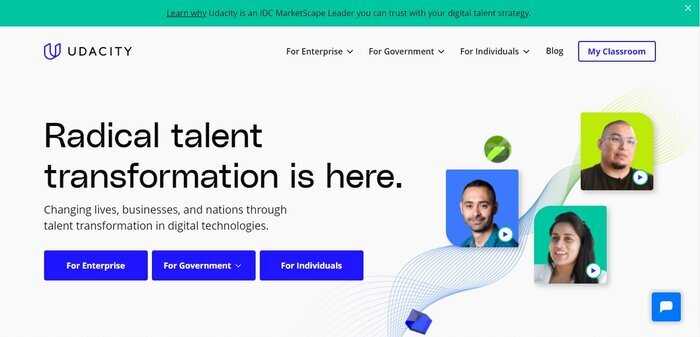 When compared to a college MBA, which is around $40,000, Udacity's Nanodegrees are excellent value for money. And, while Udacity is more expensive than other e-learning platforms, the value you get for your money is high.
As the trusted leader in digital transformation, Udacity creates and nurtures job-ready talent for entry-level and beyond. Plus, founder Sebastian Thrun created the platform with an aim for inclusivity. So, Udacity is a platform that is widely available for a range of students.
With that said, it's important to consider what Udacity can do for you in terms of your career, business growth, and earning potential. Udacity's teachers are from world-leading institutions (including Google, Microsoft, and Amazon).
So, you're not just learning from competent and engaging teachers, you're learning from the best in the business – and the very people that will be looking to hire you. In my opinion, this makes Udacity pretty unbeatable.
How to get the most value out of Udacity

Getting the most value out of Udacity largely depends on what you're looking for. But, in general, putting in the hours and making the most of all resources is a great way to get the best out of Udacity.
Whether you're taking Nanodegrees, free courses, or business-tailored programs, it's worth checking out teachers' resources and engaging with the class projects to the best of your abilities.
Plus, Udacity recommends similar courses based on your current one, so branching out is a great way to cover other knowledge bases and increase your employability.
Helpfully, you can also sort courses by different criteria. These include the best match for you, most reviewed, and highest rated. So, this is a handy way to see which courses are most popular.
Udacity scholarships

With Thrun's aim to provide learning opportunities for all, Udacity also has scholarships to help students from all backgrounds. These scholarships have helped tens of thousands of people globally to land the jobs they want.
You can see what scholarships are available by clicking here. Programs are open to global students aged 18+ with English comprehension. All you need to do is fill in the application form, followed by a tech assessment.
After this (providing you meet the deadline), Udacity will be in touch via scholarships-support@udacity.com or support@udacity.com.
How do I purchase Udacity?
Purchasing a course on Udacity is fairly straightforward once you understand the pricing options. So, here's how to do it:
Once you've selected a course, click the "Enroll Now" button
Select either the monthly access or pay-upfront option
Select your payment method and enter your payment details
Confirm this purchase by selecting the "Complete Order" button
Udacity pricing in different countries and currencies
| | |
| --- | --- |
| Country and Currency | Udacity Pricing |
| US Dollar USD ($) | $718 – $2154 |
| UK Pound GBP (£) | £618.25 – £1854.74 |
| Canadian Dollar CAD ($) | $979.73 – $2939.20 |
| EU Euro EUR (€) | €720.55 – €2161.65 |
| Australian Dollar AUD ($) | $1119.24 – $3357.73 |
*Based on the current exchange rate.
Udacity purchasing options
To purchase a course on Udacity, you can use a couple of methods:
Credit/debit card
PayPal
Affirm
With Affirm, you can create monthly payment plans – selecting how much you want to pay and when. You can make these payments by debit card, bank transfer, or check.
Udacity refund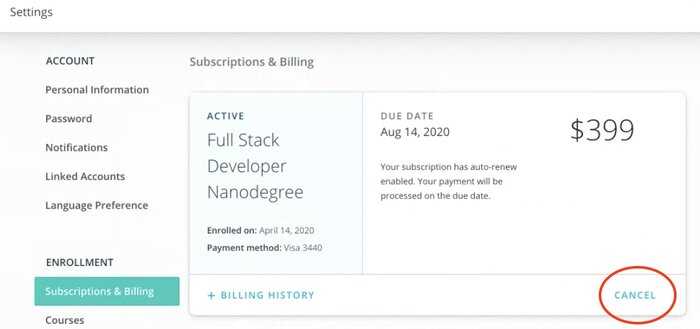 If you're not happy with your purchase, you can cancel your enrollment within 2 days (14 days in the EU) to be entitled to a full refund. And, with the pay upfront option, you can cancel at any time to avoid being billed for the next month.
This policy also applies to business subscriptions and bundle purchases. If you cancel after the refund period, you'll have full classroom access to the end of the current period. But, there'll be no refund for the remaining period of the month in which you cancelled.
Here's how to request a refund:
Go to "Account Settings"
From here, select "Subscriptions & Billing"
Click "Cancel" in the bottom right corner
Follow the prompts to complete the cancellation
Conclusion: is Udacity's cost worth it?

Overall, I think Udacity's cost is worth it – but only for certain people.
If you're aiming for a career in the digi-tech fields or are in the industry and looking to upskill, then Udacity's cost is more than worth it.
Udacity's teachers are trusted leaders in talent transformation, and if you aspire to the same, the value you get out is worth the time and money you put in.
Plus, with additional resources (which include career help), Udacity is an excellent springboard into the digital industries. They're also curating new Nanodegrees and free courses all the time – which is ideal for an ever-changing industry.
On the other hand, if you're a tech hobbyist that isn't looking for a career change or promotion, Udacity's costs might not be worth it.
With this in mind, it's important to weigh up the input vs. outcome of taking a Udacity course. Considering Udacity has helped tens of thousands of students land their dream jobs, the pay-off for hard work and money seems pretty clear.
Not to mention, Udacity offers generous discounts and you can save 15% all year round by paying upfront. So, if you're looking to advance in your digital career, Udacity is easily the best option out there.
Relevant articles: Udemy vs Udacity, Coursera vs Udacity
FAQs
How much are Udacity's Nanodegrees?
Udacity Nanodegrees vary between $718 and $2154. This is dependent on skill level and course length.
How does Udacity's pricing work?
Nanodegrees are individually priced. Udacity also offers bundle packages and business plans, but these are priced after consultations.
How much does Udacity cost per month?
Udacity pricing starts at $399 per month.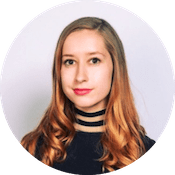 Rebecca graduated from King's College university with a first class honours in English Language, followed by a Masters' Degree in Eighteenth Century Studies.