If you've found yourself drawn to the occult, or are interested in the relations between numbers, the universe, and the self, an online numerology course might appeal to you.
Having been long-practiced in ancient cultures, numerology is becoming a more pervasive study for scholars and casual enthusiasts alike.
So, whether you're a novice or an established learner, I've put together the best online numerology courses so you can find out more for yourself. In this review, I've considered different entry points, interests, and end goals.
With that in mind, this article should have something for you!
Let's get started:
What is the best online numerology course?
My top picks are:
Of these, my top choice is Udemy's 'Mastering Intermediate Numerology for Psychic Development'. As the name implies, this course is geared toward intermediate-level learners and is led by numerology expert, Terri Weston.
With over 4,000 students and 5+ numerology courses on Udemy, Weston is a highly rated instructor. And, this course is an excellent dive into numerology beyond the basics. Delving deeper into the subject, you'll gain a clearer understanding of digit vibrations and origins, karmic debt numbers, and much more.
Besides, as many numerology courses are geared toward complete beginners, it can be harder to find more advanced courses like this! So, if you are familiar with numerology profiles, this is a great step toward more advanced numerology learning.
But, if you are at the beginner stage, a more foundational course, such as 'Foundations of Numerology Practitioner' might be a better choice. With a 4.9 student rating, Katie Youers' five-hour class delivers easy-to-follow numerology fundamentals and is even equipped with 30 downloadable resources.
Many of the courses above are also hosted by Udemy, which is an established and popular e-learning site with visible student reviews, as well as clear syllabus, on every course landing page. Because Udemy gives you lifetime access, it's excellent value for money.
To find out more about Udemy as a platform, see here.
So, ultimately, with so many numerology courses out there, you're more than likely to find a course that's suited to your needs, learning style, and interests.
Read the mini reviews below to get the full details!
Best Numerology Courses Reviews
1. Mastering Intermediate Numerology for Psychic Development (Udemy)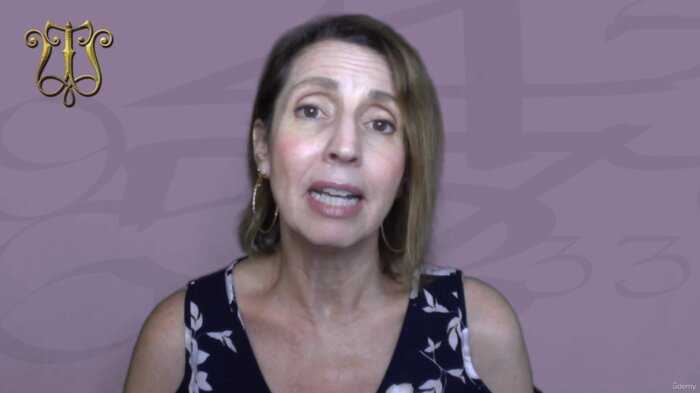 Platform: Udemy | Teacher: Terri Weston | Course length: 28 lectures totalling 4 hours and 45 minutes
Terri Weston is a psychic, numerologist, and intuitive development instructor with over 4,000 students on Udemy alone. Her other courses also explore psychic development through numbers and cartomancy. As she states, this course will boost your psychic skills by going beyond single digits.
You'll learn to:
Build and read an intermediate numerology profile
Find and work through karmic weaknesses
Discover personal and hereditary patterns
Understand vibrations through double-digit origins
Know what is meant by karmic debt numbers
Pros:
Fantastic course for learning beyond the basics
Clearly structured course content
Practical exercises and worksheets
Knowledgeable and coherent instructor
Cons:
Who it's for: This course is best suited to students with some knowledge of numerology. In this class, Weston goes beyond the basics to give you a deeper understanding of the psychic practice. It's also a great course for healing/intuitive professionals looking to further their knowledge for business use.
Overall: A strong intermediary course that complements earlier beginner courses. By the end of the class, you'll have an enriched understanding of single- and double-digit vibrations and will be able to expand your numerology profile.
2. Foundations of Numerology Practitioner (Udemy)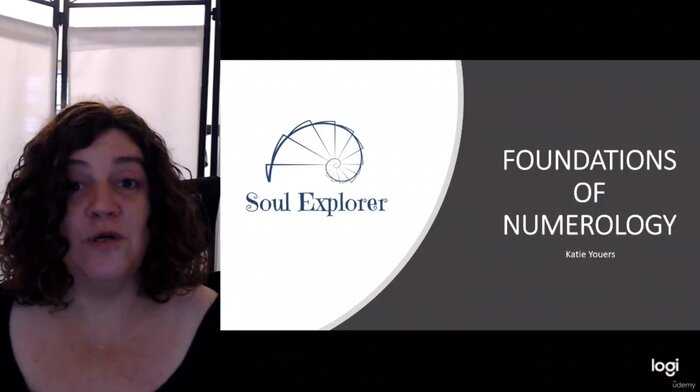 Platform: Udemy | Teacher: Katie Youers | Course length: 29 lectures totaling 4 hours and 45 minutes
Katie Youers is a professional numerologist with years of experience reading for clients world-wide. As she states, even from a young age she's been interested in the 'big questions' such as why we're here, who we are, etc. These questions brought her to numerology, and now she's here to help you discover its foundations.
You'll learn to:
Recognize and understand the number energies
Gain a better understanding of what numerology is
Interpret the core, master, and supporting numbers
Read a numerology chart
Put numerology theory into practice
Pros:
Personable and easy-to-follow instructor
In-depth introduction to number energies
Course is well broken-down into bitesize sections
Helpful overview of the core numbers
Cons:
PowerPoint-style learning, which isn't for everyone
Less attention to the numbers' actual calculations
Who it's for: This course is for anyone interested in numerology, regardless of experience. Covering numerology fundamentals, it's also not exclusively personally- or professionally-inclined.
Overall: Youers is a clear and enjoyable instructor who brings a seemingly obscure topic to life. As it's directed to complete beginners, Youers is plain-speaking and dispels a lot of the mystique surrounding numerology.
3. The Definitive Guide to Spiritual Numerology (Udemy)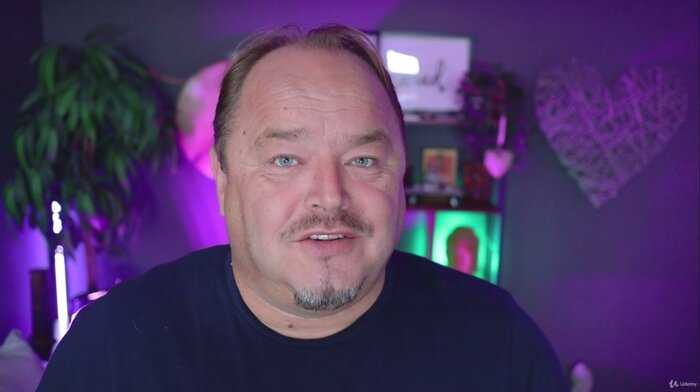 Platform: Udemy | Teacher: Julian Jenkins | Course length: 18 lectures totalling 1 hour and 53 minutes
Julian Jenkins is a spiritual mentor who is devoted to guiding people in their personal and professional lives. With over 40 years' experience and 52,000+ students on Udemy alone, Jenkins has a strong record of empowering others through his teachings. Now, in his numerology course, he aims to share the meanings that numbers have in our lives.
You'll learn to:
Gain a foundational understanding of numerology
Understand different types of numbers and their meanings
Undertake numerological readings for others
Calculate key areas of numerology
Distinguish the three master numbers and their attributes
Pros:
Highly informative course with additional workbook
Gets you started providing readings for others
Confident and easy-to-follow teacher
Good attention to calculations
Cons:
Less attention to modern numerology
Not as detailed as other courses
Who it's for: Jenkins designed this course for people with little to no knowledge of numerology. That being said, it is an excellent starting point for students who are just beginning their numerology journeys.
Overall: A short but informative course that covers the fundamentals of numbers and their attributes. In particular, there is focus on Destiny, Soul, and Personality numbers, as well as a section on Angelic Numerology. By the end of the course, you'll feel confident in making basic calculations and even providing readings.
4. Learn from Lloyd: How to Read a Person Like a Book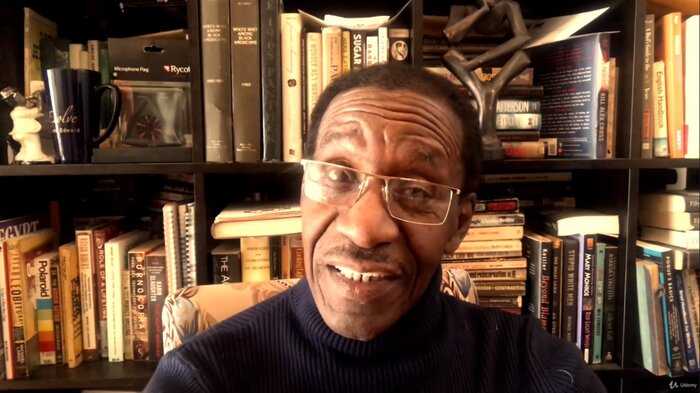 Platform: Udemy | Teacher: Lloyd Strayhorn | Course length: 11 lectures totalling 1 hour and 18 minutes
Lloyd Strayhorn is a world-renowned astro-numerologist, author, and professional with over 40 years' experience and multiple media appearances. Having written multiple books over the years, including Numbers and You (first published in 1980), he brings his knowledge to Udemy to share these skills with a new audience.
You'll learn to:
Grasp the basics of numerology
Understand how to apply numbers in readings
Consider the numerological attributes of your birth date
Interpret the numerological significance of your name
Determine birth dates' greater meanings in relation to destiny
Pros:
Clear explanations and visuals
Strong focus on the 'why' as well as the 'how'
Practical exercises to cement learning
Easy to understand and progress
Cons:
Not as detailed as some of Sprayhorn's other lectures
Audio quality can dip at times
Who it's for: Strayhorn believes his course is for everybody – especially newcomers. That being said, some students have found the course confusing at times, so I think it's better to have some idea of what numerology is and how it works.
Overall: A step-by-step course that teaches you the significance of people's names, birthdays, and life cycles. By the end of the course, you'll understand your own birth date and others' as well as interpreting numerical and spiritual values.
5. Psychic and Intuitive Living by Your Numbers with Numerology (Udemy)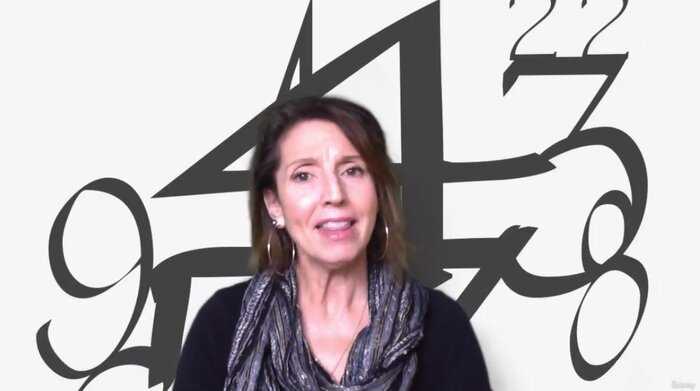 Platform: Udemy | Teacher: Terri Weston | Course length: 35 lectures totalling 6 hours and 23 minutes
Another course led by psychic medium, Terri Weston, 'Psychic and Intuitive Living' focuses on how you can best navigate your life using your numbers, and how this can also lead to success and fulfillment.
You'll learn to:
Build a professional numerology profile
Find your direction for living intuitively
Identify and adjust environmental vibrations
Create a blueprint for your direction
Get rid of limits in your everyday life
Pros:
Easy to follow with clear explanations
Good mixture of theory and practice
Engaging and enjoyable instructor
Strong and detailed examples
Cons:
Quizzes can be confusing due to wording
Fewer downloadable resources than with other courses
Who it's for: This course is best suited to current numerology students who are looking to enhance their understanding and use their study as a tool for further life attainment. If you're a professional looking for more tools to add to your belt, this is also a reputable course for doing so.
Overall: A lengthy course that combines numerology theory with intuitive living. Throughout the class, Weston brings together concepts that form an enriching and success-driven blueprint. By the end of the course, you'll have a clearer picture of your environmental energies and how to progress in life with confidence.
6. Fully Accredited Professional Numerology Diploma Course
Platform: Udemy | Teacher: Dr Karen E Wells | Course length: 10 lectures totalling 33 minutes
Dr Karen E Wells is a best-selling Udemy instructor with over 150,000 students to date. She currently hosts 150+ courses centered on therapy and healing. She has also explored alternative fields such as astrology and, now, numerology.
You'll learn to:
Navigate your life through numbers
Understand numerology's history
Identify the significance of your birth number and personal year
Put together a life plan
Talk confidently about triad numbers and their meanings
Pros:
Good starter material for beginners
Well-structured course content
Easy to follow with practical guidance
Suited to personal and professional use
Cons:
Shorter and less informed than other courses on this list
Most of the teaching is in the manual rather than the videos
Who it's for: Wells devotes this course to anyone with enthusiasm for learning numerology – with no prior knowledge needed. If you're looking to build some technical understanding of how numerology works, or even want to set up as a practitioner, this course is for you.
Overall: One of the shorter courses on this list, Wells' class is easy to follow and is suited to novices. As a therapist herself, a lot of the course's focus is on using numerology to determine your own life path and to move forward toward self-improvement.
7. Numerology Diploma Course (Centre of Excellence)

Platform: Centre of Excellence | Teacher: Various | Course length: 14 modules, self paced, approx. 50 hours
Centre of Excellence's 'Numerology Diploma Course' is a fully accredited self-paced course targeted to beginners. Covering both theory and practice, this course will teach you how to apply numerological teachings to read and plan your own life as well as others'.
You'll learn to:
Understand how numbers relate to the self and the universe
Calculate your destiny, soul, and personality numbers
Read others' numerological attributes
Gain a deeper understanding of what numerology is
Take steps toward becoming a professional numerologist
Pros:
Helpful attention to numerology for business
Self-paced with 50+ hours' course work
Payment plan option to spread the cost
Study group access to enhance learning
Cons:
Lack of 1-1 teaching
Accreditation is not internationally recognized
Who it's for: Centre of Excellence's 'Numerology Diploma Course' is suited to complete beginners. With that in mind, it covers what numerology means, its history, and its developing practices over the centuries. It's also equally suited to those who want to study for personal or professional reasons.
Overall: The longest course on this list in terms of course content (plus additional homework), this course is certified and accredited. Because of this, it's perhaps more suited to those pursuing numerology in a professional capacity. But, regardless of your intent, this course has plenty of helpful breakdowns of numbers and their meanings.
8. Uncovering Your Life Lessons Numerology Immersion (Udemy)
Platform: Udemy | Teacher: Donnalyn Civello | Course length: 15 lectures totalling 1 hour and 45 minutes
Donnalyn Civello has been practicing numerology professionally since 2010 and comes to Udemy to share her knowledge. She is also a certified intuitive life coach and a published author of the book Life Lessons.
You'll learn to:
Understand your life to this point and going forward
Calculate your life lessons and those of people around you
Identify how and why things happen the way they do
Determine a plan for progression with numerology at the core
Explore numerological and spiritual connections and their wider influence
Pros:
Informative and well-presented course material
Responsive and coherent instructor
A practical course that's applicable to real life
10 downloadable resources
Cons:
Not as long as other courses
More life-coaching than numerology-focused
Who it's for: Civello designed this course for anyone looking to transform their lives through an open-minded approach. While numerology is the basis for a lot of the coaching, the class definitely has a stronger self-healing aspect rather than being wholly numerology-based.
Overall: A gentle and interesting course that helps you to map out your life plan, relationships, career goals, and more. Using numerology as the basis, you'll learn about your personality and destiny numbers. Plus, you'll take this further to create a blueprint for your future transformation and improvement.
9. Numerology 101 (Universal Class)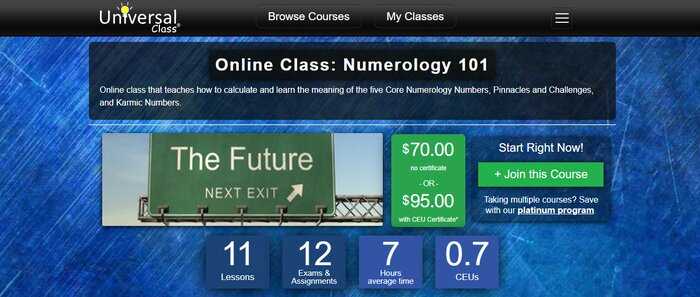 Platform: Universal Class | Teacher: Various | Course length: 11 lessons, self-paced, approx. 6 months to complete
Universal Class is an affordable e-learning platform with over 600 courses and 1 million students to date. With the aim to create accessible learning for all topics, Universal Class brings its 'Numerology 101' class to its bold platform for CE students.
You'll learn to:
Calculate core numbers and interpret their meanings
Identify life paths based on numerological readings
Gain insight into numerology's history and evolution
Understand pinnacles, challenges, and karmic numbers
Progress into other numerology topics, such as major cycles
Pros:
Entirely online and self-paced
Includes printable content, HD videos, and online exams
Accredited CEUs
Consistent lesson assessments plus end-of-course certificate
Cons:
Website seems a little outdated
Less attention to numerology for professional use
Who it's for: This class is geared toward complete newcomers who are perhaps even intimidated by numerology. With all course materials provided and learning 100% online, this class is accessible to all and is designed to be personally relatable and practiced.
Overall: This course is a great introduction to beginner- and even early-intermediary numerology. Throughout the modules, you'll watch HD videos, complete regular assessments, and come away with a keen understanding of the fundamentals. The landing page also lists further recommended courses for continued learning.
10. Numerology Made Easy (Hayhouse)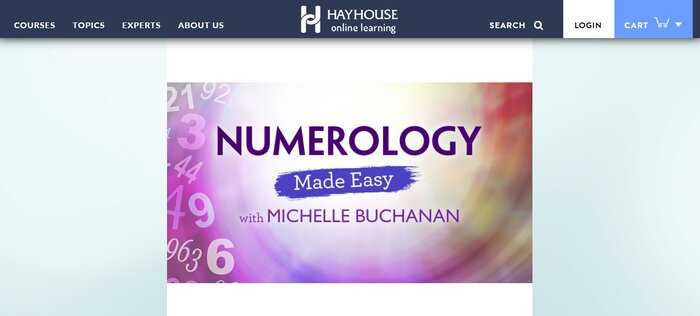 Platform: Hayhouse | Teacher: Michelle Buchanan Course length: 6 video lessons
Michelle Buchanan is an expert numerologist, speaker, and teacher who has studied numerology for nearly 30 years. She provides personal readings, workshops, and seminars to clients all over the world. Now, she brings her new foundation course to you so you can find out how numerology can enhance your life.
You'll learn to:
Develop and read your personal blueprint
Understand the seven personality numbers
Identify karmic debt numbers and how to learn from them
Use numerology to plan for your future
Identify numerical and environmental vibrations
Pros:
Applicable to personal relationships, careers, and more
Helpful starter course for personal users/aspiring professionals
Bonus meditation audio and quiz
Gain a clearer picture of numbers' influence on your being
Cons:
Fewer lessons than with other courses
Downloadable resources aren't always accessible
Who it's for: This course is made especially for those who are new to numerology and is designed to help you interpret and plan for your future. So, if you're interested in helping yourself and others by using numerological readings, this course is for you.
Overall: A basic course that helps you to use numerology to predict and plan for your life going forward. This relates to career options, personal goals, relationships, and more. You'll also learn how to calculate your personality number and birthdate reading so you can better understand yourself.
What are the advantages of taking a numerology course?
In short, there are many! Such as:
Continuing your education with a new discipline
Opening up doors for your career
Better understanding yourself and others
Developing key critical thinking skills
Practicing self-care and improvement
Buyers guide: what to look out for in a numerology course
Choosing the right numerology course can be difficult, especially when you're a beginner. So, as a guide, I'd recommend considering these points before committing to a course:
Teacher experience – does the instructor have provable experience working in this field? For example, are they published, certified, or do they have an established reputation? Moreover, do they have experience teaching, and can they present their knowledge in a comprehensible way?
Develops skills – ideally, a course won't teach you one thing and be done with it. Rather, it should encourage you to continue your learning and build upon your skills
Practical results – because numerology is often a tool for growth, you should be able to see practical results. Namely, if you're using it for self-development, you should be able to see improvements in your life. Likewise, if you're using it professionally, you want there to be positive feedback
Syllabus and skill level – you want the course content and learning goals to be in line with what you want to get out of the course. Also, you want to ensure the course is right for your skill level. If you're a newcomer, you probably won't benefit as much from more advanced courses
Price – of course, you want to make sure the course you select fits your budget. But, it's also worth considering the long-term gain from the class. For example, if a course is twice the price but taught by an instructor with 10x the experience, this could generate more value in the long run
How much do online numerology courses cost?
Classes vary in cost depending on course length, production values, instructor, and other factors. The courses on this list range from between $30 and $200. Of course, it's worth factoring in whether the course is certified/accredited, offers lifetime access, etc. before evaluating the price.
The most expensive course on this list is 'Numerology Diploma Course' at the Centre of Excellence. But, this course takes approximately 50 hours to complete, and is also an accredited diploma course. So, if you're looking to take numerology into professional use, the price could be more than justified.
In comparison, Udemy tends to offer cheaper courses (though Centre of Excellence does host regular sales). For example, Dr Karen E Well's 'Numerology Diploma Course' is $44, which is still cheaper than in-person courses. However, it's not as long as the Centre of Excellence's course, being just shy of two hours.
Generally, the Udemy courses on this list are around the $60 mark, and this is even the case for longer courses such as 'Mastering Intermediate Numerology' and 'Foundations of Numerology Practitioner'. Plus, with Udemy, you can see all the students' reviews even before signing up, which is a great way of seeing whether the course is suited to you.
How long do numerology courses take to learn?
The courses in this list range from under an hour in length to over 50 hours! So, there's no set amount of time it takes to learn numerology. With most courses, too, you have to factor in study time and tests.
With most practical classes, a general guide is to take the course length in hours and multiply by five (this accounts for practice time). But, everyone is different and not everyone learns at the same pace. Plus, with numerology, there are always further branches to learn!
How do we rank our results?
In a nutshell, I've ranked this list according to the courses I believe to be the best. Inevitably, this is subjective, but the factors I've considered are:
Teacher experience
Provides transferable skills
Has a strong and varied syllabus
Is well taught and explained
Student feedback
Production quality
Overall impressions
Wherever possible, I've taken these courses to fully understand its content. But, where this hasn't been possible, I've done extensive research on the course to get a feel for student feedback, production quality, and overall impressions.
Conclusion
Due to the amount of platforms and courses available, it can be hard to know where to start looking for an online numerology course. But, it's also good news that there is so much variety in content, learning style, and syllabus.
Overall, my top pick is Terri Weston's 'Mastering Intermediate Numerology for Psychic Development'. Aside from being an excellent course overall with clear explanations, examples, and additional resources, Weston's course also stands out as one of the few readily-available intermediate courses out there.
That being said, many of the courses on this list are suited to total beginners, such as Katie Youers' 'Foundations of Numerology Practitioner' course. Another highly-rated course on Udemy, Youers' delivery style is down-to-earth, relatable, and free from any complicated jargon. In my opinion, this makes it the best beginner's numerology course.
Of course, the best numerology course for you will be the one that appeals most to your interests, goals, preferred learning style, and is one that fits into your lifestyle and budget!
So, all in all, I hope this article gives you a better idea of the courses on offer and helps you to decide which one is right for you.
And while you're here, why not check out our list of the best online astrology courses.
Numerology course frequently asked questions
How much does an online numerology class cost?
Classes on this list vary in price from $30 and $200. This all depends on production values, teacher, course length, and syllabus.
How long does it take to learn numerology online?
The courses on this list range from under an hour to over 50 hours! But, everyone learns at a different pace and it's also important to factor in study time/course work.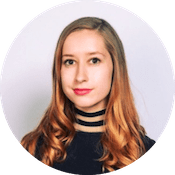 Rebecca graduated from King's College university with a first class honours in English Language, followed by a Masters' Degree in Eighteenth Century Studies.