If you're trying to find the best online martial arts classes for your chosen discipline, you've come to the right place.
With the sheer volume of content available online these days, finding a good online martial arts course can be tough.
And a good martial arts course needs to not only show you the correct techniques, but deliver them in a format that helps you learn them effectively, without picking up bad habits.
That's why we've put together this list compiling the best online martial arts courses across the most popular martial arts you might want to try.
We've considered different aspects of martial arts (self-defence, sport application, spirituality), different skill levels (beginner to advanced), as well as price, value for money, and more.
With all that said and done, let's get to it.
What is the best online martial arts class?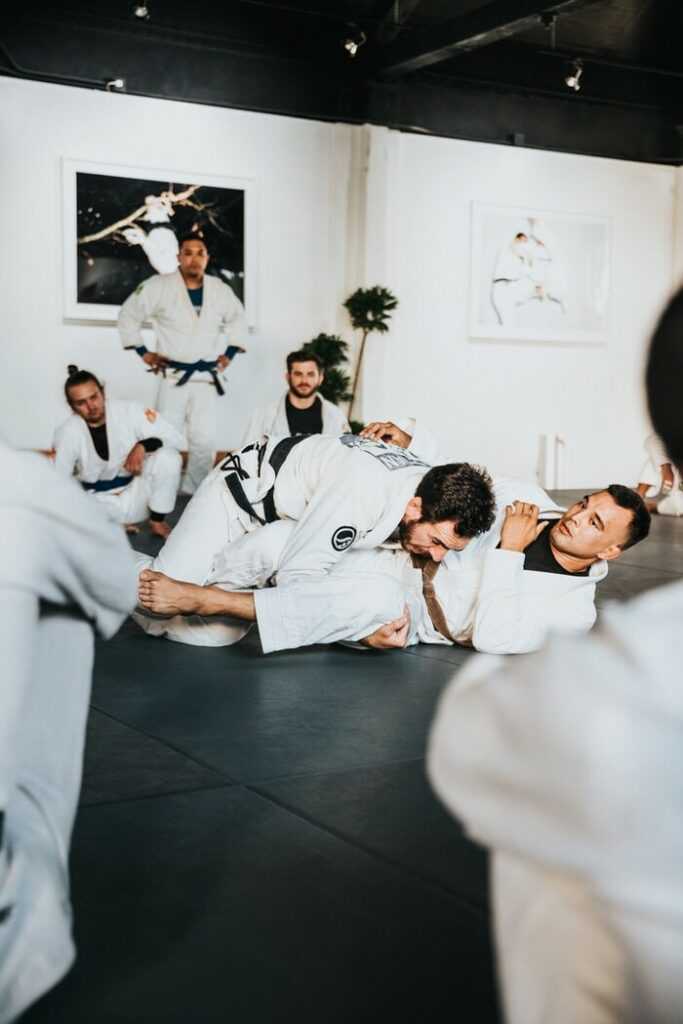 The best martial arts class for you is going to be completely dependent on what martial arts you're interested in learning. So, we've provided a list of the best martial arts courses by discipline, as well as our pick for the best overall online martial arts class. 
Our best online martial arts class by discipline
For the absolute best online martial arts class, we had to go with Fit to Fight Republic's Hard Ready 6. Whilst all the courses we reviewed were excellent at teaching their specific art, Hard Ready 6 gives good instruction in multiple disciplines, covering boxing, wrestling, groundwork, and more.
Plus, Hard Ready 6 features not just one, but 9 world-class coaches across different martial arts to give you the best possible overview of the art of fighting. As well, the self defence aspects of the course make it one of the most practical classes on this list, teaching you skills that could save your life. 
The other courses on this list have been chosen for a variety of reasons specific to each course. What they have in common is they all represent great value for money, detailed instruction and practical application in their respective arts.
Best online martial arts class reviews
Platform: Fit to Fight Republic | Teacher: Ryan Hoover, Kenny Florian, Eli Knight and more | Course length: 9 video lessons totalling 7 hours 49 minutes of content
Within the self-defence industry, there are very few names that are as respected as Ryan Hoover. Hoover is a Krav Maga instructor and self-defence expert with experience training police, actors, and professional athletes. And he's also the co-founder of Fit to Fight, an affiliate program that pushes high-quality, practical self-defence training. He's taught seminars alongside world-class instructors all over the world, many of which are available for viewing on his site, Fit to Fight Republic. 
You will learn:
How to defend yourself on the ground in realistic self-defence scenarios
Escaping bad positions and getting back to your feet
How to use wrestling to shut down an attacker
Maintaining safe distance and fighting in confined spaces
Boxing fundamentals for self-defence
Pros:
Holistic teaching approach, giving instruction in ground fighting, wrestling, and striking
It covers unique self-defence topics such as fighting in different environments
Lessons structured around practical partner drills to help build muscle memory
Learn from world-class instructors in a number of different disciplines
Cons:
Requires a partner and safe sparring space to get the most out of it
Who is it for:
Beginners to martial arts and combat sports who want a crash course in fighting. Any and all martial artists looking to make their skills more applicable to self-defence and the streets. Anyone looking to get in shape and learn practical self-defence whilst doing so.
Student feedback:
"Ryan Hoover is the real deal. I've been a combatives instructor in the Marines, and I owned my own school for several years. In all of my 62 years there are few people I would ever recommend to folks who really want to learn scientific and effective methods/techniques for street survival. Ryan Hoover is among the top five guys." YouTube Commenter
Overall:
If you're interested in learning how to fight but don't know where to start, or you want to learn how to defend yourself in the street, or you just want to get fit and learn some fighting skills whilst you do it, Hoover's 6 part seminar is for you.
The reason I rank this course above all others is it has a wide range of quality content covering several disciplines. If you're not looking for a specific martial art but just want to learn general fighting skills, especially for self-defence, this course is the gold standard.
Not to mention the lessons are all taught by some of the best of the best, including former UFC fighter Kenny Florian and BJJ black belt and self-defence expert Eli Knight.
Platform: Gracie University | Teacher: Rener and Ryron Gracie | Course length: 36 video lessons totalling 18 hours of content
Rener and Ryron Gracie are legends in Brazilian Jiu Jitsu. Grandchildren of Helio Gracie, founder of the style, the brothers are both black belts with decades of experience in the art, and have previously designed BJJ curricula for the US police and army.
Both men can boast impressive sport BJJ careers, with Rener defeating two professional UFC fighters and a BJJ world champion at the first Southern California Pro-Am Invitational, and Ryron being a multiple time GT Gracie World's Champion.
There are few instructors in the world more renowned than these two for delivering high quality BJJ instruction.
You will learn how to:
Escape from dangerous positions such as mount and side control
Use Ground Fighting fundamentals, including sweeps, chokes and arm locks
Fight in the clinch and taking your opponent down
Defend common attacks like haymakers and headlocks
Defend strikes whilst on the ground
Pros:
High quality instruction – longer lessons gives more time for finer technical details
Covers all the fundamental BJJ positions you need to know, from mount to side control to back mount and more
Coverage of self-defence situations often not covered in sport-focussed courses
Gives pointed advice on how to adapt your BJJ techniques for self-defence scenarios
Get to learn from some of the best instructors in the world
Cons:
Primarily a self-defence course, with less attention given to sport BJJ technique (if your primary concern is self-defence, this isn't an issue however)
Who is it for: Gracie Combatives is a beginner-focussed course, and thus may not be appropriate for more advanced BJJ practitioners. However this course is for anyone who's new to BJJ and wants to learn the basics, beginner BJJ practitioners looking for a way to train from home, or anyone who wants to learn effective and practical self-defence.
Student feedback:
"Love it! - travel a lot - so being in a hotel room, I'd rather watch your videos and refresh my training - than watching TV :)" Gracie University comment
Overall:
Gracie Combatives in the gold standard of martial arts technique courses. With a carefully curated curriculum of in-depth technique videos, GC gives you everything you need to begin your BJJ journey and learn how to defend yourself on the streets. If you're interested in self-defence and/or BJJ, I can't recommend it enough.
Platform: Mindful Wing Chun | Teacher: Nima King | Course length: 1400+ video lessons totalling 500+ hours of content
Nima King is an Australia-based Wing Chun instructor with over ten years training experience under the tutelage of legendary Wing Chun grandmaster Chu Song Tin – one of the original pupils of Ip Man.
Since Chu Song Tin's passing in 2014, Nima King has continued to teach Wing Chun at his grandmaster's dojo, and has amassed fourteen years of teaching experience in the process.
Mindful Wing Chun is Nima King's online Wing Chun learning platform, where users can pay a monthly subscription to access hundreds of hours of Wing Chun learning content.
You will learn:
Fundamental Wing Chun strikes and blocks
Important Wing Chun combat principles, helping you understand why it works
How to apply Wing Chun techniques to real life self-defence scenarios
Exercise regimes to build strength and improve your posture
Forms and meditation practice to help you stay mentally and spiritually healthy
Pros:
Holistic teaching approach covers Wing Chun techniques and forms, as well as strength training, meditation and more
Gives attention to why techniques are taught the way they are, giving the viewer a deeper understanding of the art
Provides progressions for harder exercises to make training accessible for all
Breaks training up into 'gradings', making goal setting easier and making the course easier to follow, especially for beginners
Charismatic and dedicated instructor with a deep knowledge and passion for Wing Chun
Cons:
Extensive course content requires a large time investment (not a con for necessarily, but may not be suitable for anyone looking for a condensed overview)
Who is it for:
Anyone new to Wing Chun who's not sure where to start. Intermediate to advanced practitioners looking for a refresher or to learn the more advanced movements. Anyone looking to become healthier in their mind and body, and learn martial arts whilst they're at it.
Student feedback:
"The course is so complete and full of awesome stuff. Watching what will come next got me more hyped!!! Can't wait for week 4 to begin!!!!" YouTube comment
Overall:
Sifu Nima King's course is arguably the most complete online Wing Chun course available. He covers an extensive range of content from strikes to stances to conditioning, and even meditation. Not to mention that his knowledge of the techniques and their meanings and applications is second to none within his style. If you're looking to learn Wing Chun online, as well as delve into the more spiritual and holistic aspects of martial arts, this is the course for you.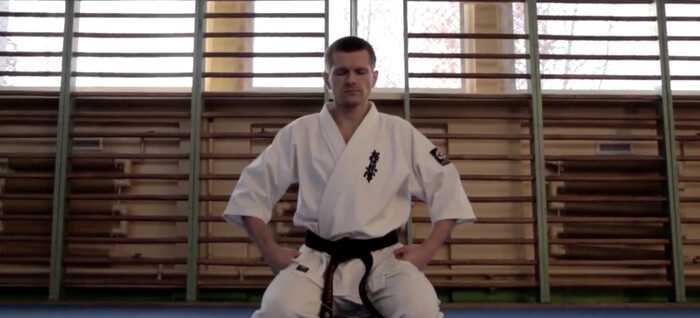 Platform: Udemy | Teacher: Martin Krolak | Course length: 39 video lessons totalling 1 hour 56 minutes of content
Karate is a broad and varied martial art with many sub-styles, and Kyokushin is well-known for being one of the hardest and most powerful styles in the world. Martin Krolak is a black belt in Kyokushin Karate who has been practicing the style for over 20 years.
Now a fully devoted instructor, Krolak founded the Kyokushin Academy as a means of helping new karatekas develop good technique from the outset, and give them resources to study outside of the dojo.
You will learn:
Essential Karate striking techniques such as mawashi geri and ago uchi
How to perform the Karate kata
The different karate stances and how to use them
Workouts to build strength and power, increase flexibility, and lower your chances of injury
Pros:
Curriculum is based around Kyokushin grading requirements, making it a great resource for aspiring Kyokushin karateka
Strong emphasis on biomechanics and good form and posture, helping you build a strong foundation from the outset
Workout videos help you build strength and flexibility, whilst being cognizant of common karate injuries
Provides insightful interpretations of the kata, rarely seen in karate courses
Cons:
Curriculum is designed for beginners, and may not be as relevant to advanced karatekas
Who is it for:
Beginner Kyokushin Karateka who want to improve their technique. Aspiring martial artists who want an introduction to karate style striking and blocking. Anyone interested in learning karate kata and learning the meanings behind the movements.
Student feedback:
"The instructor is very knowledgeable about the art and science of Kyokushin Karate. The instructor takes his time to explain all the technical skills involved in this martial art. I would recommend this course to anyone wanting to learn martial arts" Udemy user review
Overall:
Krolak's course is a fantastic introduction to Kyokushin Karate, with great attention to the finer biomechanics of good karate form. As well as teaching the essentials for kyokushin gradings, Krolak provides a fascinating insight into the meanings behind the kata movements that's sure to intrigue any martial arts fan, and his workout sessions dealing flexibility and avoiding hip flexor injury (a common injury I've suffered from myself) are a welcome addition that any practitioners new to striking should study.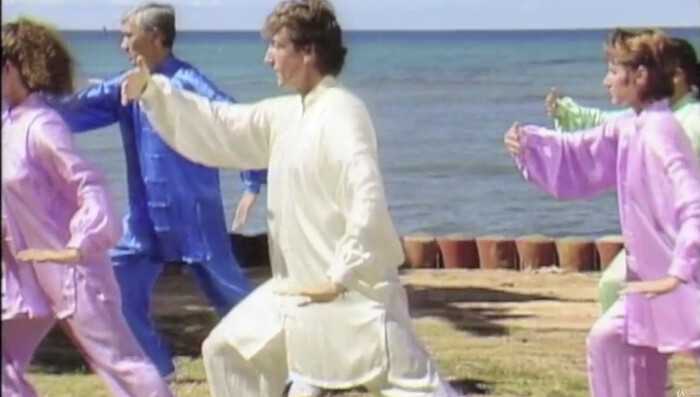 Platform: Udemy | Teacher: David-Dorian Ross | Course length: 80 video lessons totalling 11 hours 34 minutes of content
At one point in time, David-Dorian Ross was nicknamed "America's favourite" Tai Chi teacher. Starting his practice in 1979, David has dedicated his life to the studying of Tai Chi and has accolades to show for it, including being an 8x gold medallist in the US national Tai Chi championships, and earning two bronze and one silver medal at global competitions.
Tai Chi made fun and easy is a compilation of David's 13 part "Tai Chi in paradise", and was originally aired on Hawaiian television in 1995. The series was one of David's most popular projects and helped put him on the map, and is now available in its entirety on Udemy.
You will learn:
What Tai Chi is and how it can make you healthier
The basic Tai Chi forms and their martial art origins
The power of meditation and how to incorporate it into your practice
An introduction to qi and how it relates to Tai Chi
How to get started with chinese medicine and herbs
Pros:
Follow along lessons are easy and fun to get involved with
Gentler pace makes it ideal for older/less fit viewers looking to get in shape
Introduction to healthy concepts outside martial arts like meditation and herbalism
Learn from a former Tai Chi world champion
Cons:
Designed as beginner workouts, may be too easy for viewers with a history of exercise
May be too simplistic for competitive Tai Chi practitioners
Who is it for: David's course has a strong beginner focus, with workouts designed to be accessible to people of all ages. For that reason the course is primarily for complete beginners who want to get started in Tai Chi, and individuals who wish to improve their health and vitality. David's classes are also good for people looking to get started with meditation, or just find a way to destress from a busy day.
Student feedback:
"This is a course that really has given me a significant improvement in life and I love the way things are broken down in small units, so I can focus on each part. Especially, during 2 months of lock-down (Covid 19) it has been a very good tool to keep sane in my solitude. To add to this, I have now implemented this practise in my morning routine and my goal is in 2023 to become a practitioner." Udemy user review
Overall
David's class is a fun and accessible journey into the world of Tai Chi, dripping with 90s charm. Despite being nearly 30 years old, the course's educational quality still holds up, and the follow along structure makes the lessons fun and easy to engage with. Whilst the class isn't going to teach you how to fight, it's clear that it's been designed for a very different purpose, and as a means for less able individuals to gain strength and improve their health, it's one of the best out there.
Platform: Cyber Taekwondo | Teacher: Thomas Huskey | Course length: 14 video lessons totalling 37 minutes of content
Thomas Huskey is a Taekwondo black belt with 20 years of experience practicing the art. He's a 4x state champion and has been picked twice for the all-army taekwondo team. He's also the founder of Cyber Taekwondo, an online streaming service with hundreds of videos teaching Taekwondo from white belt to black belt. Introduction to Taekwondo is Huskey's free class, acting as a primer for those ready to begin their Taekwondo journey.
You will learn:
The correct Taekwondo stance and movement
The front kick, jab, and cross punch
How to combine strikes into combinations
Pre-training warmups and post-training stretches
Pros:
Quality Taekwondo instruction from a veteran of the sport
Techniques progress from one another to help beginners learn faster
Includes a pyramid style workout to help build fitness
It's free!
Cons:
Limited amount of techniques taught – only intended as an introduction
Jab and cross instruction is decent, but it's clear Huskey is more comfortable teaching Taekwondo kicks
Who is it for: Introduction to Taekwondo is for anyone who wants to try out Taekwondo but has no previous experience in martial arts. It's a good course for introducing people to trying out martial arts for the first time and beginning to learn how to control their body. It's also a good introduction to exercise for people who lack physical fitness and want to start training.
Student feedback: "Thank you for this free course. I was very curious of Taekwondo. This is a very great introduction course for people like me. The short lectures, slow motions, different viewpoints and pointing out mistakes are wonderful for me to follow." Udemy user review
Overall
The reason I chose Introduction to Taekwondo over a more advanced course is because it does something unique. It's a chance to give the viewer a taste of high quality instruction and to show off what Taekwondo is about whilst being completely free. Whilst the runtime is short, the classes are clear, well-made and have good production value. 
It's an excellent example of how to teach people who've never martial arts before, and you can walk away from it having learnt something new without having to spend a penny. If you do decide to take this course and enjoy it, Huskey offers a complete Taekwondo lecture series from white belt to black belt on his site "Cyber Taekwondo", which is worth a look if you wish to continue your Taekwondo training online.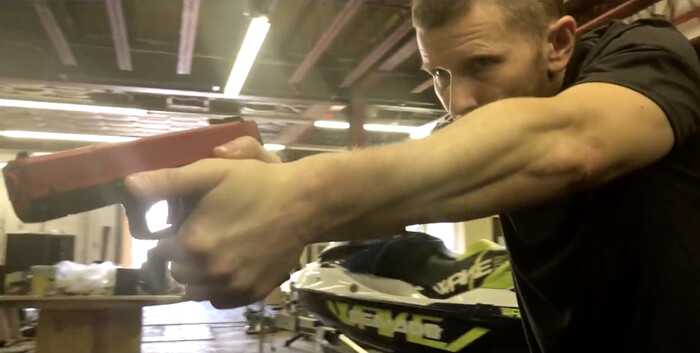 Platform: Fit to Fight Republic | Teacher: Ryan Hoover | Course length: 2 video lessons totalling 90 minutes of content
Krav Maga is a big umbrella term in the self-defence community. Whilst it has its origins in the Israeli army combat program, a lack of standardisation means the quality and content of Krav Maga curricula can vary wildly. That being said, there are few names within Krav Maga more respected than that of Ryan Hoover.
I've already featured one of Ryan's courses on this list so you know I think he deserves respect. This course focuses specifically on Ryan's Krav Maga expertise, as he teaches you how to survive a potential attack and utilise a concealed weapon in self-defence.
You will learn:
How to protect yourself against a sudden knife or blunt weapon attack
Functional padwork drills to help build aggression and fight back
Defending takedowns and surviving on the ground
Distance management and disengaging from an attacker
How to draw and retain a concealed weapon in a high stress situation
Pros:
Covers a variety of self-defence scenarios from blades to blunt objects to takedowns
Details all phases of the fight, from ground fighting to clinching to disengagement and striking
Covers how to use a concealed weapon in a realistic context
Learn from a world-class self-defence instructor with years of experience in the business
Cons:
Concealed carry weapon content may not be relevant to those in countries/areas where weapon ownership isn't permitted
Who is it for:
Martial arts enthusiasts looking for a strictly self-defence focussed course. Beginners in self-defence who want to start learning about defending against weapon attacks. Anyone who carries a concealed weapon and wants to learn how to use it effectively in a real life self-defence scenario.
Student feedback:
"Ryan Hoover helped to author several of the official Krav Maga Worldwide books before going off to head his own brand of "Krav Maga". To oversimplify, it incorporates what he thinks works the best from traditional Krav Maga and works it in conjunction with sport fighting techniques. He stays involved with affiliates to ensure quality. Fit to Fight is legit." Reddit comment 
Overall 
A fantastic DVD for those looking for a martial arts course with a strictly self-defence focus. Hoover is a legend in the industry and shows off his full expertise here, giving a complete instruction on how to survive a hostile encounter on the streets, whatever happens. The CCW content may not be as relevant to viewers in countries where CCWs aren't permitted, but are a great resource for those who carry one, and will teach you how to apply your weapon skills in a realistic context.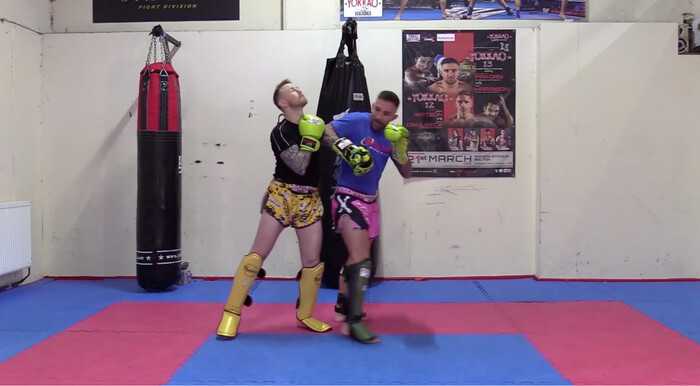 Platform: BJJFanatics | Teacher: Liam Harrison | Course length: 3 video lessons totalling 1 hour 38 minutes of content
If you've taken any interest in competitive Muay Thai, you've undoubtedly heard about Liam Harrison. He's a legendary British thai fighter, having won world championship belts in four separate organisations, and is currently competing in the international combat sports organisation, ONE FC. He's a veteran of the sport who can fight with the best of them, and Power Muay Thai is your opportunity to learn the skills that put him on top.
You will learn:
Foundational striking mechanics for punches and kicks
Advanced Muay Thai techniques like the spinning back elbow
How to defend and counter common muay thai attacks
Building strikes into combinations
Clinchwork and how to sweep your opponent
Pros:
Well-structured curriculum gives the course a good learning curve
Includes drills and instruction for both offence and defence
Teaches both basic techniques and how to incorporate them into advanced combinations
Learn tricks and counters from a world champion in the sport
Cons:
Content may be a little lacking for advanced Thai fighters
Who is it for:
Beginner to intermediate Thai fighters looking to hone their technique and learn some new tricks and combos. Brand new martial artists wanting to build a solid striking technique foundation. Thai fighters without gym access who want some partner drills to tide themselves over.
Student Feedback:
"Striking and No Gi Judo instructionals are a coin flip in reliability, this one is worth the "gamble". Liam is a wonderful fighter, and gives thorough, yet concise explanations of techniques demonstrated. This has fundamentals, footwork, advanced feinting, clinch work, sweeps/dumps, and the unspoken element of striking; defense. I've watched the 2nd DVD twice, and I'm a striking coach (for perspective purposes)." BJJFanatics user review
Overall
Liam Harrison's Power Muay Thai is a fantastic crash course for new Thai fighters, whilst having some details that veterans of the sport will still appreciate. The curriculum structure makes following the course easy, and the way techniques gradually build in complexity gives it a good learning curve to keep you coming back for more. If you're interested in learning Muay Thai but don't know where to start, you can't go wrong with Liam Harrison.
Platform: RondaRousey.com | Teacher: Ronda Rousey | Course length: 80 video lessons totalling 4 hours 7 minutes of content
Ronda Rousey might just be one of the most successful female combat sports athletes in the world. She's a world-class Judoka, having won gold at the 2007 Pan-American games and bronze at the 2008 Beijing olympics.
In addition to that, she's gone down as one of the most successful female UFC fighters, being the first ever female champion and having six successful title defences.
In her Judo101 course, Ronda gets on the mat to explain both fundamental judo technique, and some personal tricks she's used to dominate the Judo scene throughout her career.
You will learn:
Judo fundamentals such as stance, grips, and footwork
A variety of judo throws from basic trips to advanced throws
A full overview of judo ne waza, covering pins, chokes, and Ronda's own famous armbar
How to master ukemi and fall safely when being thrown
Pros:
A thorough overview of Judo, covering every aspect of the sport
Beginner, intermediate and advanced content, has something for everyone
Detailed lessons with a sharp eye for key technical points
Learn unique setups from a former UFC champion
All available for free!
Cons:
Focusses on teaching technique rather than training drills
Who is it for: The course has something for judoka of all levels looking to learn new techniques or refine ones they already practice. Particularly useful for beginner judoka looking for an introduction to the sport or anyone who wants an overview of the throws and ne waza of judo. Also a great resource for intermediate to advanced judoka looking for new things to techniques to try out.
Student feedback:
"​​I like how you make these throws easy to understand. Thank you, Rhonda Rousey!" YouTube comment
"Very informative and clear, thanks" YouTube comment
Overall
A fantastic judo resource with content that judoka at any level can benefit from. Ronda is a great coach with a keen eye for detail, and judo101 is a rare opportunity to get an insight into the unique setups that make her such a fierce competitor, particularly her armbar! Considering as well that the course is 100% free, and easy to navigate on Ronda's website, it's really leagues above many of its competitors. 
Advantages of taking a martial arts class
Taking a martial arts class is one of the best things you can do for yourself, and here's why:
Learn practical self-defence skills
Improve your health and fitness
Join a worldwide community of martial artists
Learn self-discipline and good work ethic
Have fun whilst you're doing it!
Buyers guide: what to look out for
As we've discussed, knowing if an online class is good for you can be tricky, so here's a quick buyer's guide on what to look out for:
Instructor credentials: If you're investing in a martial arts course, it's important to know that your instructor has the necessary experience to teach their martial art effectively. Many martial artists will do this by citing their lineage i.e. who their instructor was, but this is generally unhelpful as it doesn't say anything about the instructor's actual skill. Instead, try and look for achievements like verified sporting accolades and student testimonials.
Training structure: It doesn't matter how good an instructor's techniques are if he can't tell you how to train them. Courses that include training drills and workout structures are typically going to be easier to learn from, especially if you're a beginner.
Syllabus and skill level: Consider what skill level a course is intended for. An advanced course may not cover fundamental technique in as much detail as it assumes the viewer has a basic understanding of the movements already, and likewise a beginner course may end up teaching you things you already know if you're an advanced martial artist.
Price: Making sure your course is within your budget is really important. Make sure you understand what you're getting for the price so you know you're not being ripped off.
For a more thorough breakdown of the does and don'ts of learning martial arts online, check out my other article, "can you learn martial arts online?"
How much does it cost?
Prices vary greatly across different platforms. On Udemy, the courses mentioned in this review are priced between $20 – $90. Even at the high end, this can end up being cheaper than many in-person training sessions.
This is especially important if you're considering getting a course as supplementary material to an in-person class, as one payment of $77 for Power Muay Thai for instance gives you much more material to study from than the equivalent cost of a private training session.
Also consider that you should weigh up the price of the course with the quality of the content, Hard Ready 6 is the most expensive class on this list at $139, however for the quality of training you're getting across multiple disciplines, it's almost certainly worth the price tag.
That being said I've also included some free options, Introduction to Taekwondo and Judo101 are available online for no cost. So if you are running on a very tight budget, know that there's still options out there for you.
How long does it take to learn martial arts?
Course lengths can vary wildly, from about 1-2 hours on the shorter end, to 10 – 20 hours at the high end. Mindful Wing Chun clocks up well over 500 hours, but it's worth understanding this is a subscription service intended to be used over the course of many years.
Even for shorter courses however, you should always factor in practice time. Watching a 90 minute class by Liam Harrison isn't going to make you a Muay Thai champion, and the reality is you'll need hundreds if not thousands of hours of practice before you can say you've truly mastered a martial arts technique.
Learning martial arts is a lifelong pursuit, and there's always room for growth. You can gain a basic understanding of simple martial arts techniques within a couple weeks of consistent practice, but you shouldn't consider yourself "done" at this stage.
Consider these courses your chance to start on a martial arts journey that could last you a lifetime!
Conclusion
If you're trying to learn martial arts online, there are some great options to choose from.
Fit to Fight Republic has some of the best self-defence content available right now, with Gracie University not far behind. If your main reason for checking out martial arts is to defend yourself, these are the two I would recommend.
Udemy also has some good choices if you're looking for shorter overviews of specific martial arts. Their courses are often reasonably priced as well, and frequently go on sale.
Finally, a number of famous fighters offer their own courses, BJJFanatics is a great resource to check out martial arts classes from big names. As the name suggests the primary focus of the course is BJJ, but also hosts courses from MMA fighters like Chael Sonnen, and the previously mentioned Muay Thai course by Liam Harrison.
Hopefully this article has given you some ideas, and gotten you a step closer to starting your martial arts journey!
Frequently asked questions
What is the best online martial arts class?
Our choice for the bets online martial arts class is Hard Ready 6 by Fit to Fight Republic
How much does an online martial arts class cost?
The classes included in this roundup are priced between $20 – $140. However some free options are available.
How long do martial online martial arts classes take?
The classes in this roundup typically range between an hour and a few weeks, though practice time should be accounted for.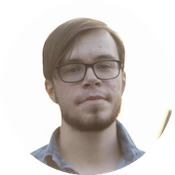 Finn is a post-graduate student at King's College London. He has an undergraduate degree in Sport Science and is currently studying for his masters in physiology. In his spare time he's a keen martial artist and musician.