Want to learn how to cook with Marco Pierre White? What about how to produce music with Mark Ronson?
Having access to insights from incredibly successful household names sounds like a dream come true. And this is exactly what BBC Maestro offers.
With a range of courses on topics such as writing, wellbeing, music and business, BBC Maestro's classes are led by inspiring experts. Boasting great visuals, in-depth case studies and downloadable bonus content, BBC Maestro certainly has a lot to offer.
But is it worth the membership fee? And just how good are BBC Maestro courses? This BBC Maestro review will cover all this and more, to help you decide whether this is the online learning platform for you.
.
Quick summary
Features
Dozens of courses taught by huge names, including Poet Laureate Carol Ann Duffy, superstar producer Mark Ronson and best-selling author Dr Rangan Chatterjee
Wide range of topics from writing and wellness to design and food
Each course comes with downloadable bonus content offering further resources and extra tips and tricks
Pros
Expert tutors who are experienced household names who've achieved incredible success in their industries
Amazing production value with high-quality videos, and fantastic editing and production
Brilliant downloadable resources you can refer to again and again
Cons
As the BBC is British, content is geared towards UK viewers. However, the majority of content is super valuable wherever you live
Can be quite a passive learning experience as no one will be looking at or grading your work
Best for: Anyone who wants to gain new skills, insights and understanding from some of the most impressive artists, business leaders and health professionals working today.
Cost: Check BBC Maestro for latest prices.
Overall: With a slick, intuitive interface, incredible teachers and an exciting range of topics, BBC Maestro is a brilliant opportunity to get up close and personal with your heroes. With new courses released all the time, their ever-growing catalog is sure to have something for everyone!
This detailed review will cover everything you need to know, including:
What is BBC Maestro and who are the instructors?
How much does BBC Maestro cost?
BBC Maestro free trial
What a lesson is like
Best BBC Maestro classes
BBC Maestro for business
How I reviewed BBC Maestro
What I liked about BBC Maestro and thought could be improved
Who BBC Maestro is for
Can I buy BBC Maestro as a gift?
Tips for finding great courses on BBC Maestro
Is BBC Maestro legit
Does BBC Maestro offer refunds
Alternatives to BBC Maestro
BBC Maestro reviews: What others are saying
Evaluating BBC Maestro
How to open a BBC Maestro account
Is BBC Maestro worth it?
Frequently asked questions
Let's dive in!
What is BBC Maestro?
BBC Maestro is a video-based online learning platform offering courses in writing, music, food & drink, art, business and more.
With a mission to bring you teaching from the very best, BBC Maestro's instructors are huge household names with years of experience in their respective fields. Their video courses offer fantastic opportunities to get up close and personal with top talent.
Who are the instructors?
BBC Maestro offers courses from the very best. We're talking British Poet Laureate Carol Anne Duffy teaching Poetry, wellness guru and podcast host DR. Rangan Chatterjee teaching A Blueprint for Healthy Living and superstar producer Mark Ronson teaching Music production.
BBC Maestro brings you face to face with huge names who have proved their talent and expertise time and again.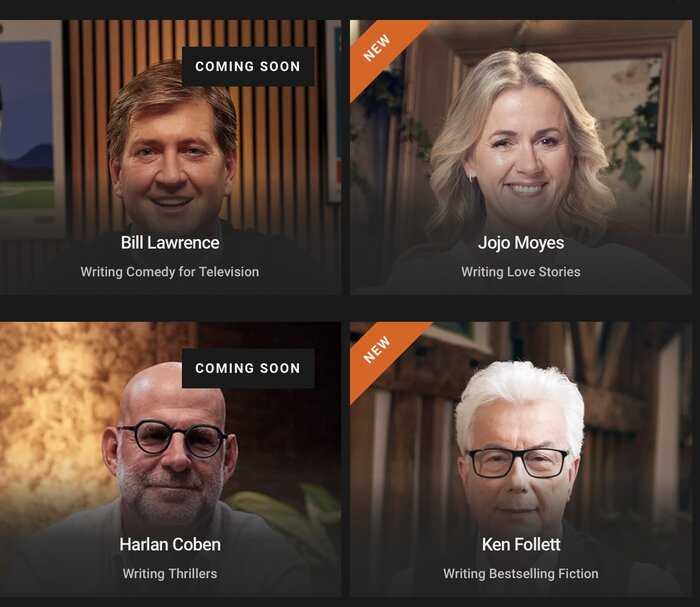 How does BBC Maestro work?
You either pay a fixed annual fee to access all BBC courses, or purchase individual courses without paying for a subscription.
This is a great option if you want to test out the teaching style before committing to a yearly membership.
All of BBC Maestro's courses are delivered as video lessons, which are structured into short, easily digestible lessons.
Assignments are scattered throughout the lessons, and are the responsibility of the learner to complete. Your work won't be seen or graded by anyone. So it's more about getting the most out of the course with active learning than passing any tests.
If you buy a single course, then all the content is yours for life. You can watch the content as many times as you like, as well as downloading resources which are yours to keep. A subscription allows you to access all courses for a year, as well as downloading all additional resources. 
Currently, BBC Maestro covers:
Writing
Music
Food & Drink
Home & Lifestyle
Film, TV, & The Stage
Business
Art and Design
These are thoughtfully produced, high-quality lessons by some of the top names in the arts, culture and the culinary world.
How much does BBC Maestro cost?
As mentioned, BBC Maestro offers a few different purchase options.
Annual Subscription
An annual subscription is $120, which works out at $10 a month. You pay in one annual installment. Then for the whole year you have access to every single course, and all the downloadable resources. That's over 100 hours of video content!
Individual Course
Individual courses are typically $89, and you'll have access to them, and their downloadable resources, for life.
This is an incredible deal for access to some of the best-known figures in their respective fields. In person courses without celebrity tutors can be far more expensive. Many of these courses in skills such as writing, art and design really benefit from expert insights.
Considering the price difference between the individual course purchase and an annual subscription, I'd say the annual subscription is the best value for money.
BBC Maestro free trial
BBC Maestro doesn't offer a free trial, however they do have a 30-day money back guarantee on their annual subscription. So there's a low risk of losing out if you're not happy with the platform.
Additionally, you can sample a lesson from any course for free by entering your email address in the 'get a free lesson' box on each course page.
This is a great way of getting a feel for the content and teaching style before committing either to an individual course, or an annual subscription.
What a lesson is like
Typically, lessons are focused on the course leader speaking directly into camera, or sometimes in conservation with other experts.
With high production value and great video quality, these lessons are accompanied by a downloadable PDF resource that sums up key points, assignments and signposts to further information and resources.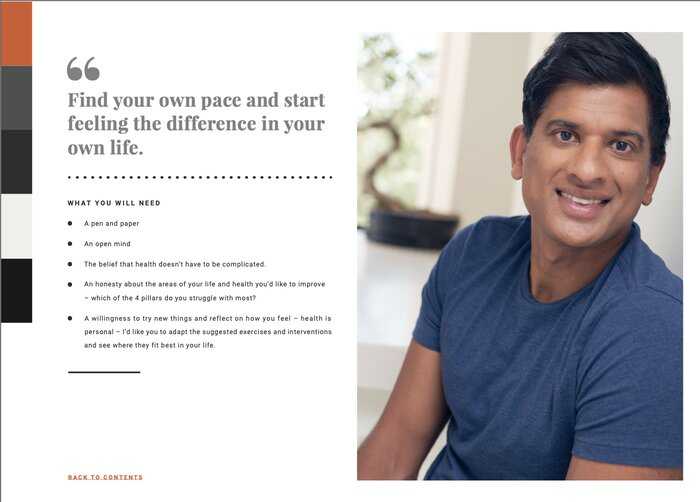 Best BBC Maestro classes
Of course, the best BBC Maestro classes will depend on your experience, interests and goals.
I'm going to take you through the top classes by section, so you can get a feel for the range of content and what you can expect from this platform.
Writing
Writing Love Stories with Jojo Moyes As a New York Times #1 Bestselling author, Jojo Moyes knows a bit about what makes great writing. Her 17 books have won plenty of awards. And her bestseller Me Before You has been adapted into a film of the same name. In this course, Moyes reveals every stage of her writing process. From landing on the right idea, finding your true voice, shaping believable characters and navigating plots, through to more practical tips on editing your works and finding agents and publishers. A great course to get to grips with the novel writing process, with an added focus on love stories and romance.
Writing Poetry with Carol Ann Duffy Award winning former UK Poet Laureate Carol Ann Duffy is a huge name in the poetry world. This course is an introduction to writing poetry informed by your life experiences. So it's a great choice for total beginners, or experienced poets who want to explore new directions and ways of writing. Focusing on finding your own voice, this course covers telling your story, writing poems for special occasions, finding inspiration, connecting to your senses, exploring different poetic forms and engaging with poetry in anthologies. You will also delve into building a collection and developing a writing practice.
Music
Songwriting with Gary Barlow With songwriting credits for Take That, Lily Allen, Shirley Bassey and more, Gary Barlow is one of Britain's best-known songwriters. In this course, Gary offers fascinating insights into his creative process by crafting a song from scratch. Covering the basics of song construction from chords, keys, and collaboration, Gary also shares tips and tricks about creativity, reaching audiences and spotting opportunities. These lessons have a lot to offer for total beginners, experienced songwriters and producers alike. Gary's personal life lessons and years in the industry make this a unique and insightful learning experience.
Music Production with Mark Ronson Superstar producer Mark Ronson takes us into his New York studio to reveal his process for creating hit records. Demonstrating his production techniques and breaking down the secrets of his biggest songs, you'll witness Mark with artist Jon Bellion to create a song, using editing software to add life and dimension. Mark also gives invaluable tips and tricks for the best equipment to make your song shine.
Food & Drink
Classic French Bistro Cooking with Pierre Koffmann With over 24 restaurant-grade recipes, triple Michelin star chef Pierre Koffmann unveils the secrets of delicious French cuisine. From his early inspiration hunting and foraging in the French countryside to watching his grandmother cook and exploring the many great regional dishes of France, Pierre's course is full of delicious favorites informed by the tradition and variety of French food. Recipes include classics such as Quiche lorraine, steak tartare and hollandaise sauce. As well as more unexpected delights such as squid bolognese and venison with chocolate and raspberry sauce.
An Understanding of Wine with Jancis Robinson Voted the world's most influential wine critic, Jancis makes the world of wine accessible and enjoyable in this in-depth course. Covering wine's vital statistics, how to taste, finding the perfect glass and investigating the history and mythology of the world of wine, you'll learn about grape varieties and classic regions. These lessons include practical insights such as reading the label and choosing the right bottle to elevate your tastes and habits. As well as food and wine pairing, and even tips on investing in wine.
Home & Lifestyle
A Blueprint for Healthy Living with Dr Rangan Chatterjee As a medical doctor with over twenty years experience, Dr Rangan is also a hugely successful podcast host and best-selling author. This course offers a truly holistic blueprint for health and wellness. From diet, exercise and sleep to handling stress and working on relaxation and mindfulness. These classes are all about implementing small changes to make your life healthier one step at a time, rather than an intimidating overhaul. Starting with healthy habit formation, you'll learn about stress, diet (in particular how to rethink your relationship with sugar and processed foods), how to exercise in a way that fits your lifestyle, and how to boost your sleep quality.
Happiness with Mo Gawdat As the former Chief Business Officer at Google X, Mo offers a scientific approach to happiness and wellbeing in this in-depth course. Covering cultivating daily contentment, building resilience against burnout and creating a positive work culture, Mo's course is full of fascinating scientific insights and 'mind gyms' designed to deepen your relationship with yourself and boost mindfulness. Perfect for anyone who wants to build long lasting habits for a happier life with a no-nonsense, evidence-based approach.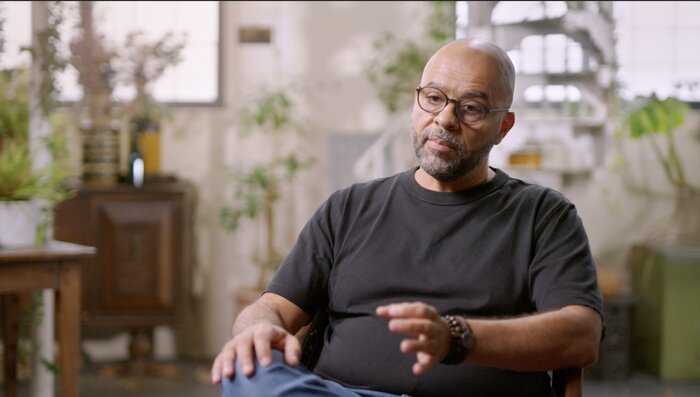 Film, TV & The Stage
Writing Drama for Television with Jed Mercurio Ever wanted to delve into the creation process of edge-of-your-seat TV dramas? Jed Mercurio is one of Britain's most successful TV writers, responsible for huge hits such as Bodyguard and Line of Duty. Covering the entire process from initial ideas, finishing a script to getting it made, Jed offers expert insights and personal tips. You'll cover the foundations of an amazing show, including the relationship between character and setting, set-ups and natural stories, story architecture and subplots. Mastering dialogue and narrative power, you'll delve into the process of rewriting and collaboration. Whether you want to create online series, films or TV shows, this course is packed with invaluable guidance from a master.
Writing and Performing Musical Theatre with Sir Tim Rice If you love all things performance and musical theater then there's no better instructor than the man behind huge shows including Evita and The Lion King. You'll cover Tim's writing process in a mixture of lessons about structure, collaboration, ideas and production. Plus in-depth examples from Tim's own career. With the help of other outstanding artists, you'll delve into music, auditions, acting through song, duels, comedy and ballads. This is an incredibly wide ranging course that will give you a great understanding of the world of musical theater and how to carve a career in it.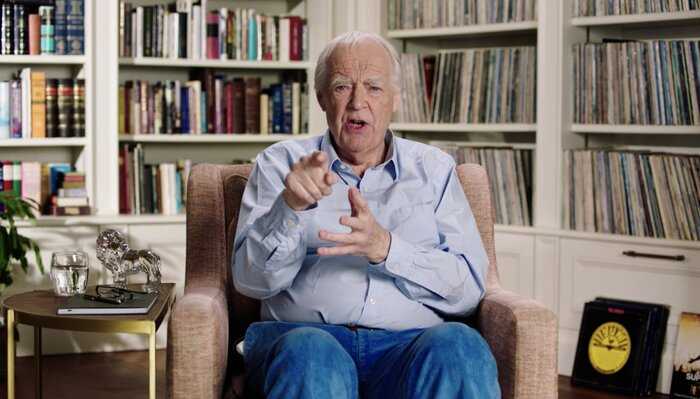 Business
Public Speaking and Communication with Richard Greene As a speech coach, Richard has worked with CEOs and Hollywood stars. In these engaging lessons he'll teach you how to captivate your audience with confident public speaking. A great practical course with plenty of exercises to build your confidence and develop your craft. Whether you're terrified at the thought of public speaking, or a confident converser looking to improve. You'll cover storytelling, tone of voice, body language, facing fear and impostor syndrome. Plus how to structure your speeches, use visual cues, take questions and more. In the final lesson, Richard is joined by public speaking legend Tony Robbins for some inspiring tips and insights.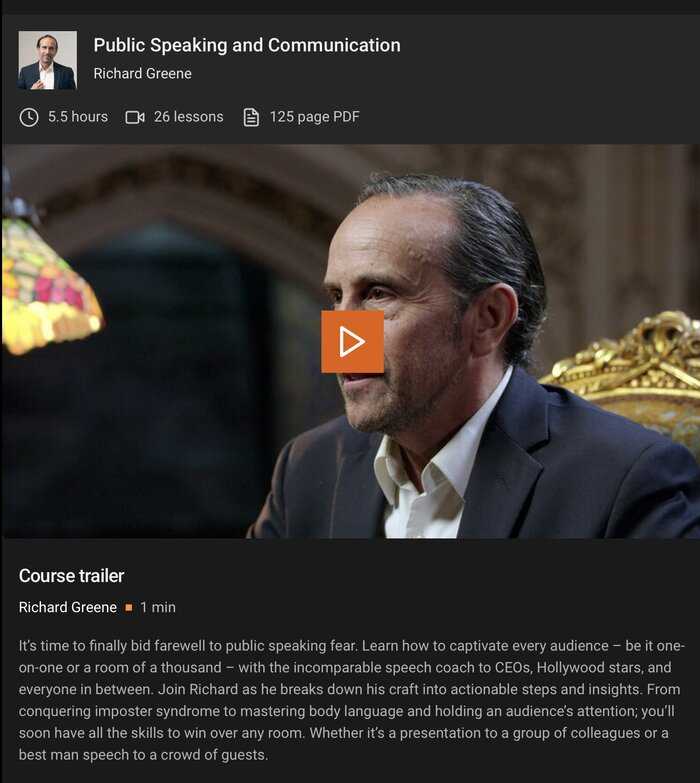 Toolkit for Business Success with Peter Jones Dragon's Den legend Peter Jones has over 40 years of incredible experience in the business world. His practical course draws on his wisdom and insights. Whether you're starting from scratch or already run a business, these fascinating lessons will boost your entrepreneurship and take your business to the next level. Talking you through his ten golden rules, Peter is joined by fellow entrepreneurs to offer a fantastic breadth of experience and advice. From networking and branding to financial planning and creating a team, Peter stresses the importance of putting yourself out there and learning from your mistakes.
Art & Design
An Introduction to Photography with Rankin During his thirty-year long career, Rankin has created extraordinary portraits of some of the most iconic figures of recent years. These have included The Rolling Stones, David Bowie and Kate Moss. Rankin's course is a great choice for anyone interested in building a stunning photography portfolio. Whether you're shooting with top range DSLRs or with your smartphone. Interspersed with practical challenges and assignments to develop your skills, you'll cover the photography basics such as lighting, lenses and manual settings, working from visualizing your ideas to preparing for and carrying out a photoshoot. Rankin shares his insights about creative collaborations and working with your subjects to create extraordinary images.
Graphic Design with Paula Scher Paula Scher is a huge name in the design world, and is the brain behind iconic visuals of MoMA and New York City Ballet. Covering the core principles of graphic design, Paula lays its fascinating history from the 1800s to today. Breaking down some of the most iconic and recognizable logos, Paula helps you understand what goes into making arresting images from first sketch to finished product. With case studies in environmental design and film titles and animation, this is a broad ranging course encompassing a huge range of influences to help you build your practice and learn from a legend.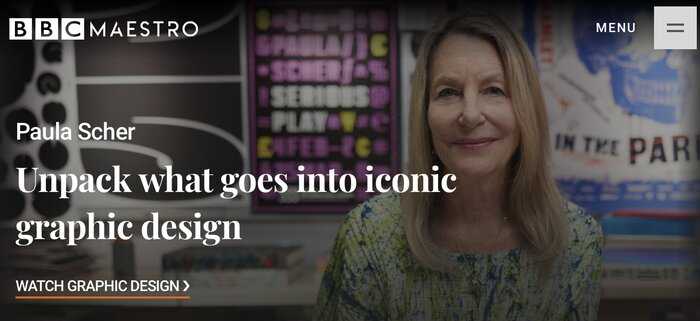 BBC Maestro for business
BBC Maestro is not currently available for business.
How I reviewed BBC Maestro
I signed up for a full BBC Maestro membership to gain access to all areas of the platform. From there I explored their catalog, sampled courses, downloaded resources, read reviews and researched the instructors.
I also compared BBC Maestro to other leading premium course providers to find out what made the platform unique.
What I liked about BBC Maestro
Fantastic expert tutors
These tutors are not only incredibly experienced, they're household names who have achieved incredible success in their industries.There's no way you could have access to insights from celebrities such as Marco Pierre White and Mark Ronson for $10 a month in any other situation. This is a incredible opportunity to glean tips, tricks and insights from some truly extraordinary people.
Amazing production value
These are incredibly high-quality videos, with fantastic editing and production. Participating in these courses is an incredibly slick, intuitive experience that really comes into its own in more practical courses such as culinary lessons or graphic design.
Brilliant downloadable resources
Every course comes with a downloadable booklet of around 100 pages. These highlight key takeaways from the course, signpost further resources and condense important information. They're really well-designed, and a great addition to the visual element of the course.
What could be improved
UK Centric Teaching
The BBC being a British company, it's no surprise that much of the content is more geared towards UK residents. However, the vast majority of content is super valuable wherever you live – this is just something to bear in mind.
Passive learning
Although most courses have plenty of challenges and assignments along the way, you're responsible for your own learning. By that I mean no one will be looking at or grading your work. The content is still fantastic, but you'll need to be self-motivated to get the most out of these classes.
Who BBC Maestro is for
Anyone interested in a career change – whether you're interested in building your own business, becoming a writer or a producer, many of these courses contain brilliant practical advice about entering a new industry and setting yourself up for success
People who want to develop a new hobby – from photography to french cooking, there's plenty on BBC Maestro to inspire and occupy you
Anyone who wants to learn from inspiring experts – these tutors really are at the top of their game
Anyone who wants to build lifelong skills – while the courses themselves average around 5 hours of content, their insights will stay with you long after you finish watching. Who knows where your new skills could lead you?
Can I buy BBC Maestro as a gift?
Yes, you can buy BBC Maestro as a gift.
There's a dedicated section of the website where you can purchase either a single course, or yearly access to the site.
Tips to finding great courses on BBC Maestro
There are a few different ways of finding courses on BBC Maestro. On the home page, you can filter courses by subject and new releases.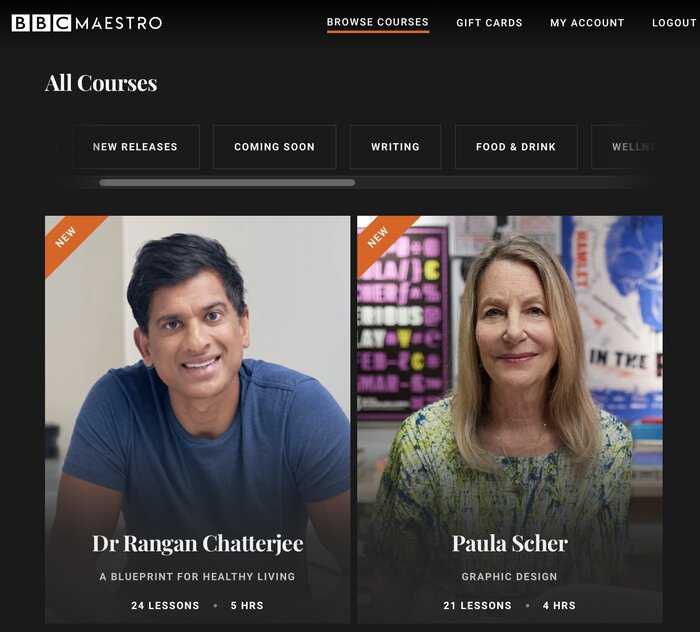 Then, when you've narrowed down your search, you can browse by instructor and subject: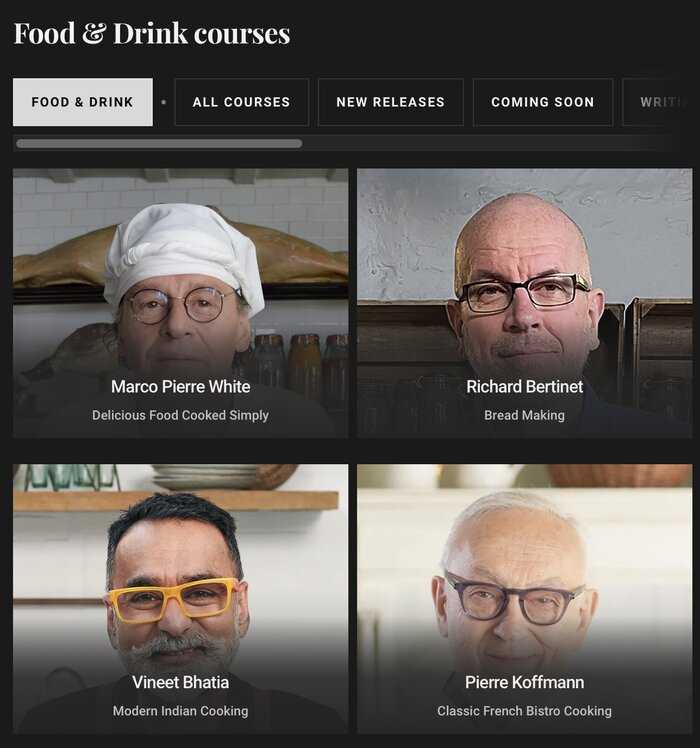 Some of the older courses have a star rating, which will give you a good indication of what other learners thought, but not all courses have this.
Is BBC Maestro legit?
Learning from some of the most influential and successful people on the planet might seem too good to be true, but I can confirm that BBC Maestro is definitely legit!
The BBC is an incredibly well-established company, and I've tested these courses out myself to make sure they're legit!
BBC Maestro refund
There is currently a 30-day refund policy for BBC Maestro if you're at all unhappy with any part of your purchase.
BBC Maestro alternatives
The most obvious alternative to BBC Maestro is MasterClass. MasterClass also offers video classes from industry elites on a wide range of subjects. The price points are very similar. Though BBC Maestro has the option to buy only one course at a time, MasterClass is purely a subscription based platform. The style of teaching and quality of content is pretty similar, so the best way to choose between the two is probably by which celebrity you'd most like to learn from.
Another alternative platform for art and design courses is Skillshare. While their instructors are often professionals in their field, they don't generally have the same celebrity status as BBC Maestro tutors, although they might have more expertise in teaching and coaching.
If you're interested in a more traditional qualification, then Coursera has some great options that are linked to top-level institutions, especially when it comes to business and entrepreneurship. Again, they don't have the same access to charismatic celebrity tutors, but they might offer a more practical way to enter a new professional field if that's what you're interested in.
BBC Maestro reviews: What others have said
I wanted to write the best BBC Maestro review possible, so I took to the internet to find out what other users made of the site.
In general, people seemed to enjoy the classes. They got the most value from being inspired by teachers they personally admired, and from understanding how they approach their craft rather than explicitly practical skills they took away from each course.
One Reddit user took the Alan Moore Storytelling course, and loved it, writing that it was a:
'fantastic insight into  how a brilliant mind approaches his craft'.  
Other users also appreciated how the videos added to their knowledge, with one writing:
'I have become a great fan of these high quality educational videos, they don't only teach you new skills, but also a deeper understanding.'
Another user really valued the expertise of the teachers, as they wrote that:
'The lessons are short and entertaining. More importantly, they're taught by well-respected experts in their field, so you feel confident you're getting the best instruction possible.'
Overall, users are very happy with the service, and love the opportunity to learn from their favorite artists and celebrities.
Evaluating BBC Maestro
Features: An annual membership gives you access to every single course on the site. Plus downloadable resources (usually a 100-page pdf) for each course.
Content quality: With top-quality production, these courses are thoughtfully produced and well-structured to be deeply informative without being overwhelming. With great visuals, well-designed resources and an intuitive interface, these are great quality classes.
Content breadth: Subjects range from business to wellness to art and design. Whether you want to write poetry, develop your public speaking or cook incredible French cuisine, there's something here for you!
Teachers: The teachers really are the main attraction of BBC Maestro. Each are leaders of their field, and many are household names such as Carol Ann Duffy and Marco Pierre White. BBC Maestro offers the incredible opportunity to get inside the head of truly great artists and innovators.
Supporting materials: Each course comes with an accompanying downloadable resource that condenses the main points of each lesson, points to further resources and sums up challenges and assignments.
Payments & refunds: BBC Maestro costs around $120 for a yearly membership, and you can purchase single courses for $89. They offer a 30 day refund policy if you're not satisfied with your purchase.
Support: BBC Maestro has a great FAQ section, plus you can email in if you have any questions.
How to open a BBC Maestro account
It's very easy to open a BBC Maestro account.
Head to their website
Click on 'Sign up'
Enter your details and you're good to go!
Is BBC Maestro worth it?
In my personal opinion, BBC Maestro is worth it if you want to learn from and be inspired by some of the most impressive writers, artists, directors and educators today. These courses are highly produced, easily digestible and full of great takeaways.
If you want a professional course that is going to supercharge your career, then BBC Maestro probably isn't for you, as these classes are meant to inspire rather than give you concrete paths.
Overall, this is a brilliant and engaging platform with great production value and superstar teachers.
BBC Maestro Frequently asked questions
How much does BBC Maestro cost?
BBC Maestro costs $120 for a year's access, or $89 for a single course.
Does BBC Maestro have a refund policy?
Yes, BBC Maestro has a 30-day money back guarantee if you're unhappy with your purchase.
How many courses are there?
BBC Maestro has dozens of courses on offer.
Does BBC Maestro have a free trial?
No, but you can access sample lessons to get a feel for the platform.
Does BBC Maestro give certificates?
No, but you will still be gaining invaluable insights from hugely successful experts.
What languages is BBC Maestro available in?
BBC Maestro is currently only available in English.

Hannah is currently studying a Masters in Modern Literature and Culture at King's College London.  In her spare time she enjoys hiking, writing and cooking.